How To Test My Email Templates?
Testing your email templates will take you a long way in the email outreach journey. That is why we, at SalesBlink, allow you to test email templates so that you can use them in your campaign without making any mistakes. ✨
Here 👇Is How You Can Test Your Email Template:
1️⃣ Go to the SalesBlink Dashboard.
2️⃣ Under "Outreach", click on "Email".
3️⃣ Click on "Templates".
4️⃣ Click on "Send Test Email".
5️⃣ The test email template dialog box will open. Select the campaign and the email address you want to send the test email to.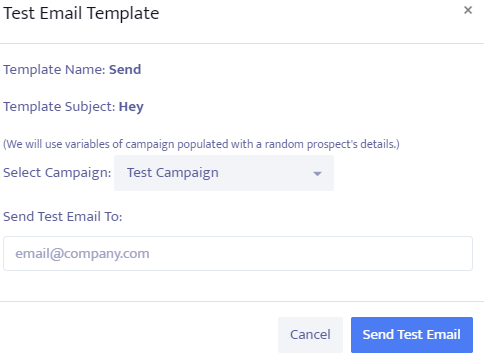 6️⃣ Click on "Send Test Email"
⚡️You will receive the test email. You can then decide if you want to start shooting it to your prospects or not.
 It would help you stay in control of your campaign which is definitely what you would be looking for, right? 🌟
---
Last updated on August 31, 2022