31 Hilarious Sales Memes to Accelerate Any Sales Rep's Day
The power of memes is growing with every passing day. After all, who would say no to humor? At least 60% of the 3 billion people who use social media are looking for humorous content, i.e. memes. Moreover, researchers tracked that almost 10 million people interact with memes daily. And when everybody is having a good time with memes, why can't sales reps? They are the ones who are always on the lookout for a bit of comic relief. And what can be a better way to improve your mood and motivation than with funny sales memes?
In this post, we've rounded up 31 of the funniest sales memes to help you get through your day. From dealing with difficult customers to the daily grind of making quotas, these memes will have you laughing out loud. Sit back, and grab a mug of coffee because it's time to enjoy. Oh, by the way, look out for your manager in case you get caught while looking at these memes during work hours. It's okay with us but not with your manager.
Relatable Sales Memes You Can't-Miss!
1. When you've already closed your first deal on the first day of the month.
If you manage to do this, you're no less than a superhero, to be honest. A sales superhero. Indeed, it's time to call for a celebration.
2. How those pricing discussions be like: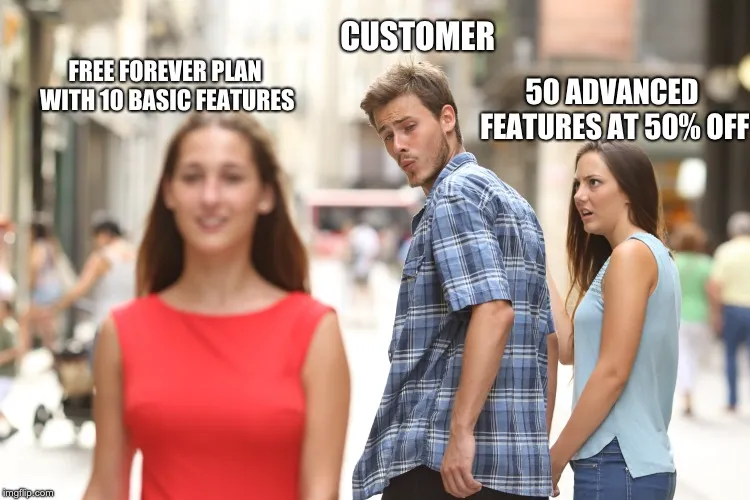 No matter how much effort you put into creating a perfect discounted pitch, the free forever plan of basic features will still draw them towards it. And because of this, many marketers have started using the free-forever trick to grab more deals.
3. Trying to close deals during the last week of the quarter be like: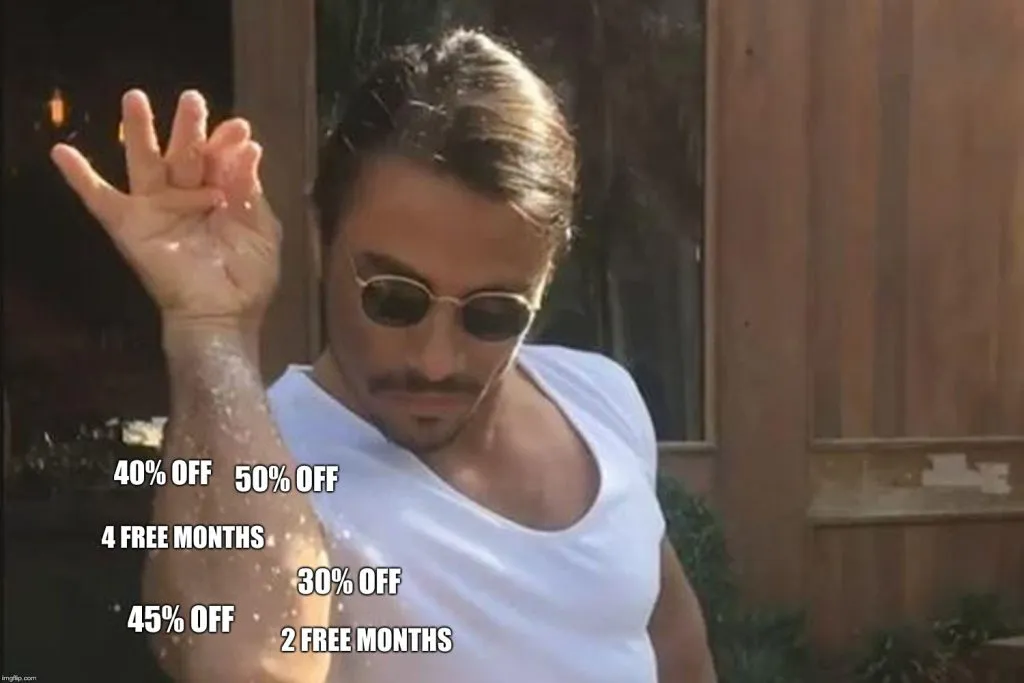 We think you're not the only one who does this. Discounts are one of the best ways to grab your customers' attention. Moreover, if you instill a sense of urgency, it could be even more effective.
4. Nobody:
Those sales reps with already sorted quarter: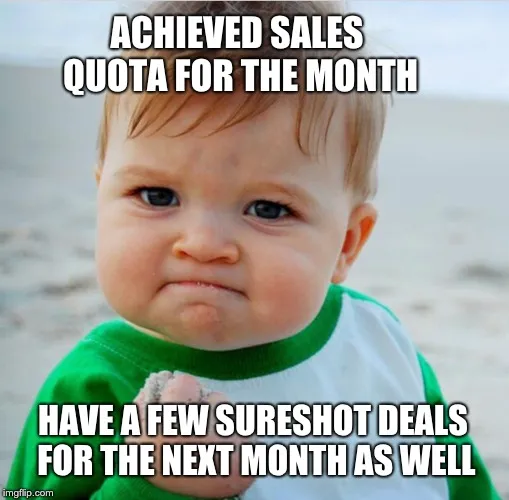 Well, there are sales reps who could hardly even get one deal in a month. And then, there are these reps who already get done with their whole target for the month. Ever wondered what might be the problem? Maybe you're not using your skills, resources, and expertise to your full potential. The solution can be to explore more or observe how others get successful with the same thing.
5. Trying to calculate their "few days" when it's already been weeks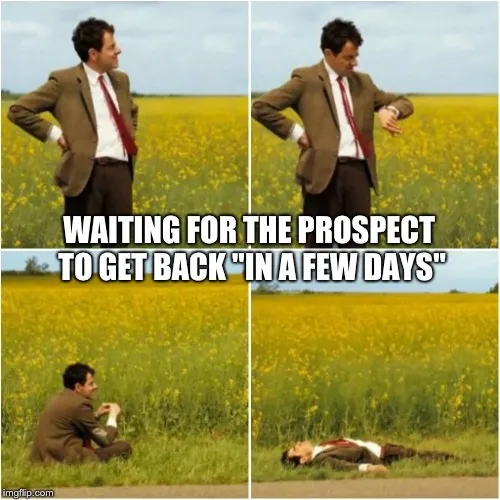 It's no secret that if they haven't already gotten back to you, they are not really coming back. Instead of getting discouraged, you should focus on other leads.
6. The actual life of a sales manager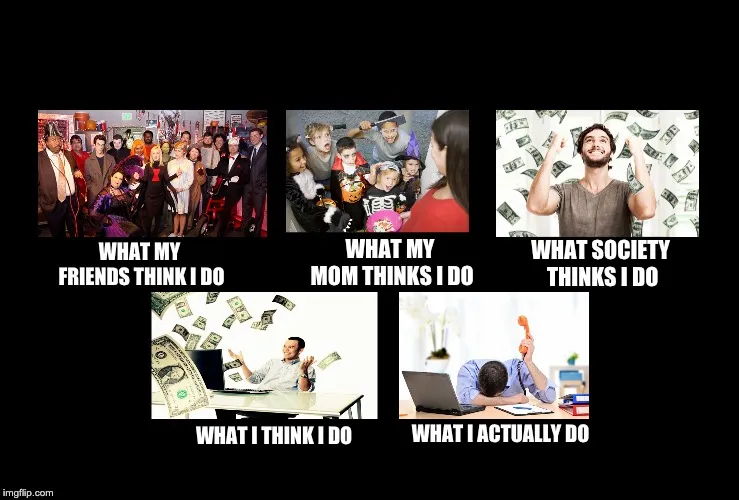 "The grass is always greener on the other side," we hear this all the time. And it's true, not just with sales but with other occupations too.
7. Looks like they got kidnapped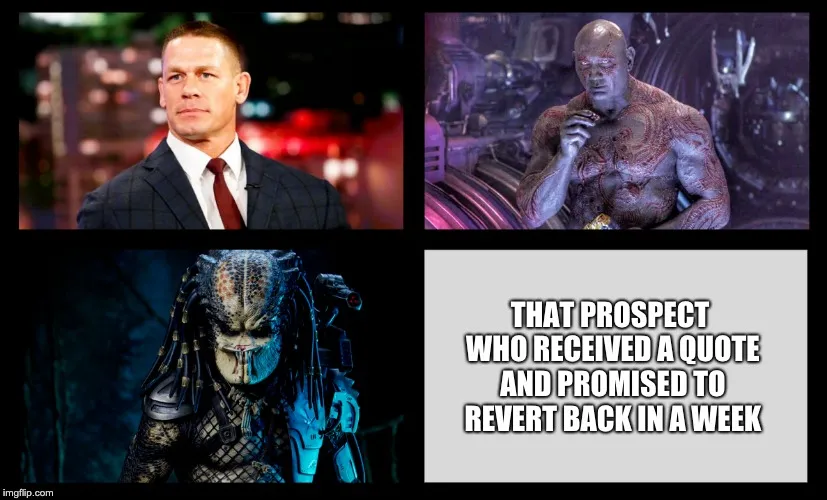 The dilemma of waiting and hoping or forgetting and moving on becomes far real in this case.
8. When you all think sales reps' lives are all fun and glory but it's just this :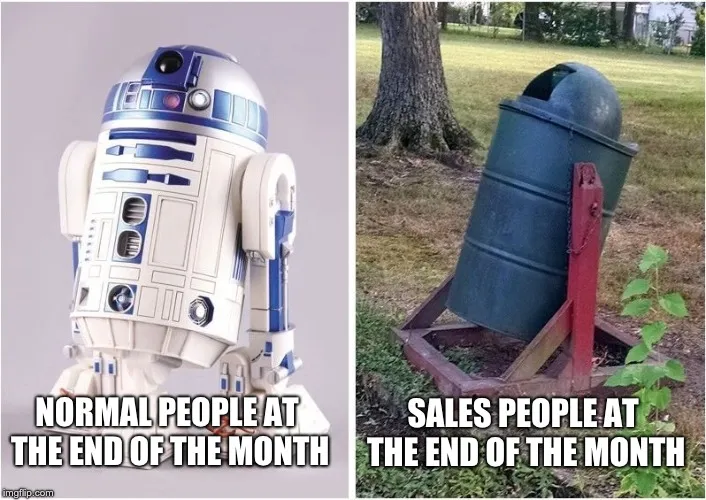 "You might think it's Adidas but it's nothing more than Abibas mate"- this line is for you to say the next time someone says, "life of a sales rep is too easy and fun."
9. It's been 84 years, yes.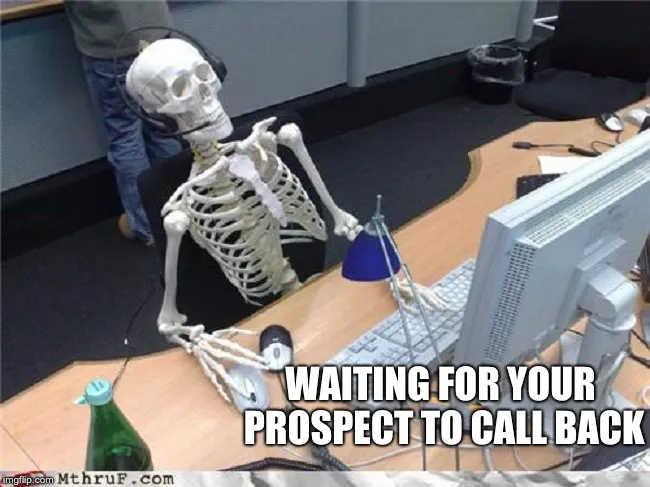 Every sales rep, we repeat, every sales rep would have experienced this in their life. Or maybe they do experience it on a regular basis?
10. Get off my way, I need my dashboard right now!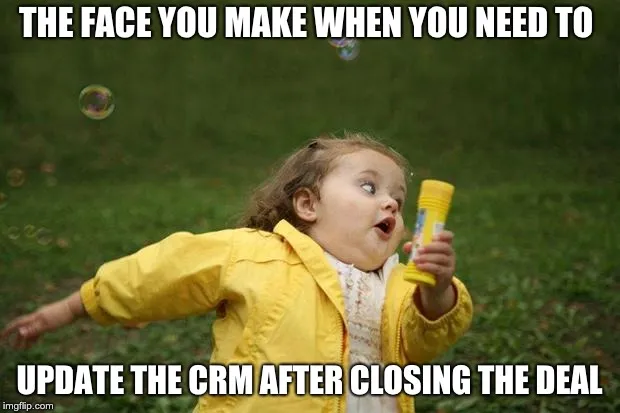 We can't really say if it's lightning that is faster or you in this case. Okay, enough with the extended metaphor, but the essence here is quite true.
11. You think I don't know you marked my email read without even opening it?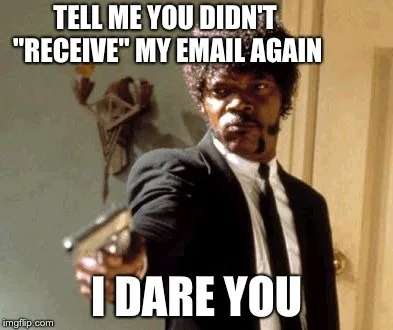 It's so frustrating when your customers think that they can fool you with this one. Because, honestly, this has just become too old of an excuse. Maybe people should come up with new excuses now.
12. Holiday? What're you talking about?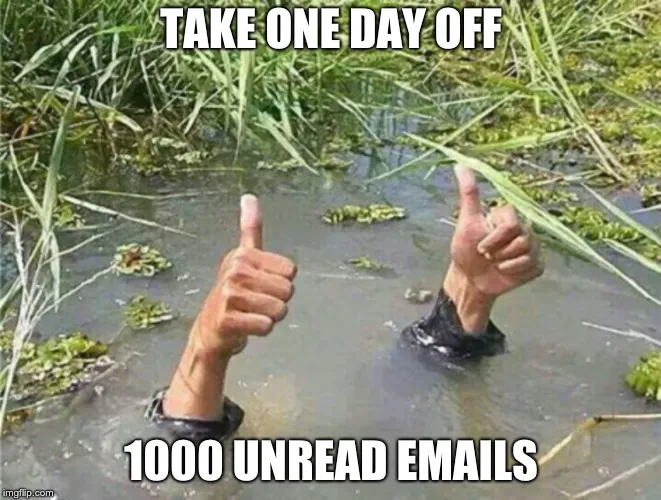 Be honest. How many leaves do you actually take in a month? And what happens when you do?
13. Michael Scott from The Office speaking nothing but facts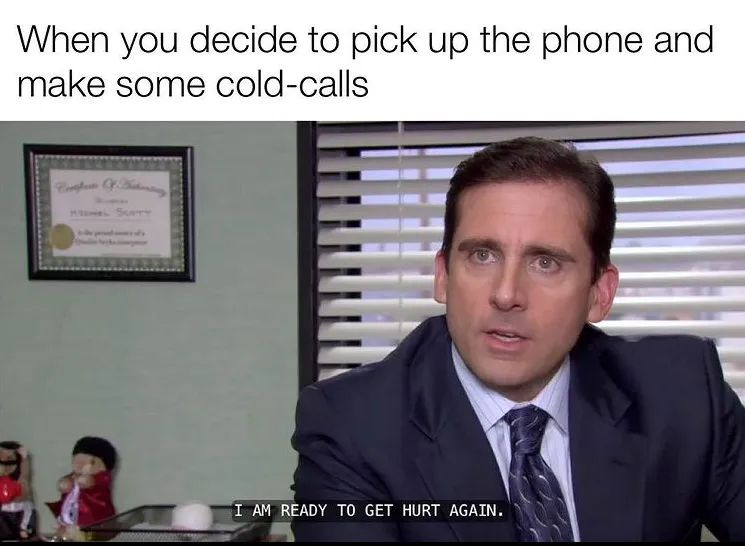 Source: @sales_humor
Don't worry. You're not the only one afraid to do this. Cold calling is yet another word for "awkwardness", but there are always ways to make it bearable. Find them out and get going.
14. All I can do is sleep after lunch :
Source: @sales_humor
Timing is everything when prospecting. According to a recent survey, prospects indicate that Monday before 9 a.m. is the best time to contact them. Don't use Ben Solo as an example here, possibly.
15. You are not the only one. We're together drowning in the pool of hopes: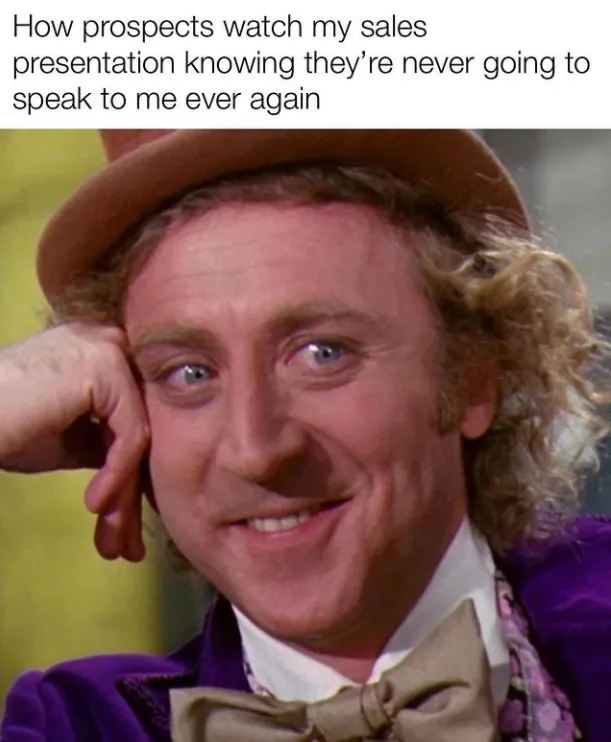 Even if you follow all the necessary steps, not every sales appointment results in a purchase. Follow the best techniques to convert prospects into customers, nevertheless, since this could help you avoid the problem.
16. Waiting for Godot who will never come probably: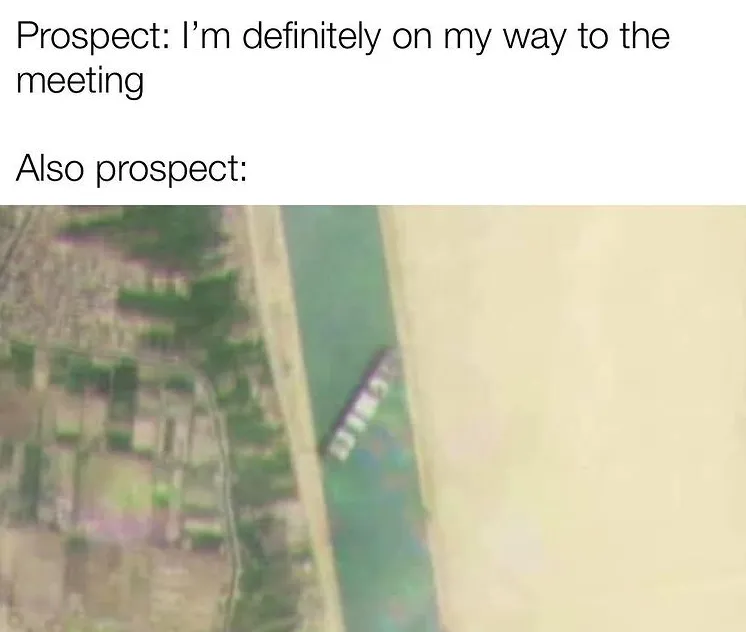 Getting no leads is bad, but the no-show-up game of the prospect is worst. The possibility may arise due to an unqualified lead, incorrect scheduling, or even just a prospect who forgot the meeting was today. And trust us when we say every salesperson has experienced it at least once or more.
17. Are you talking about me every day?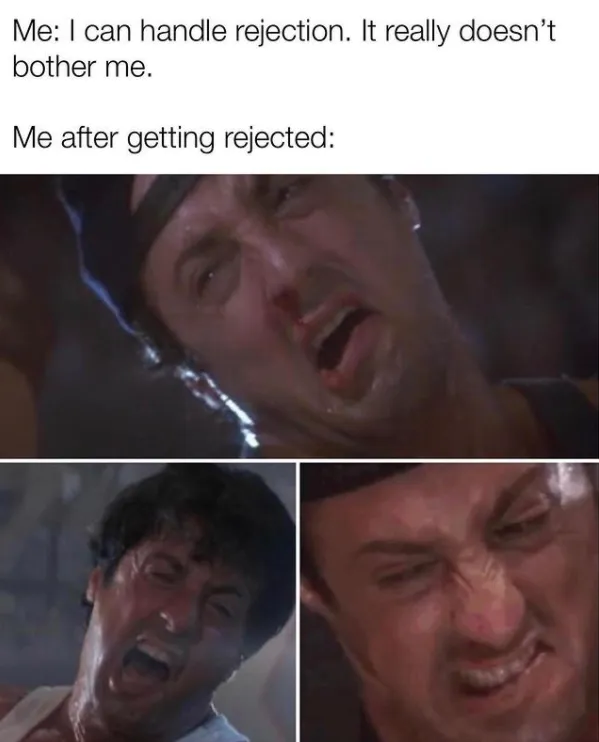 You must first determine whether that was a rejection or an objection. If a prospect rejects your pitch (but has a valid reason), that is an objection, and you might make your way around it. However, if they said a blunt "no," don't take it personally, and move on to the next chance.
18. Hi! From behind 🙂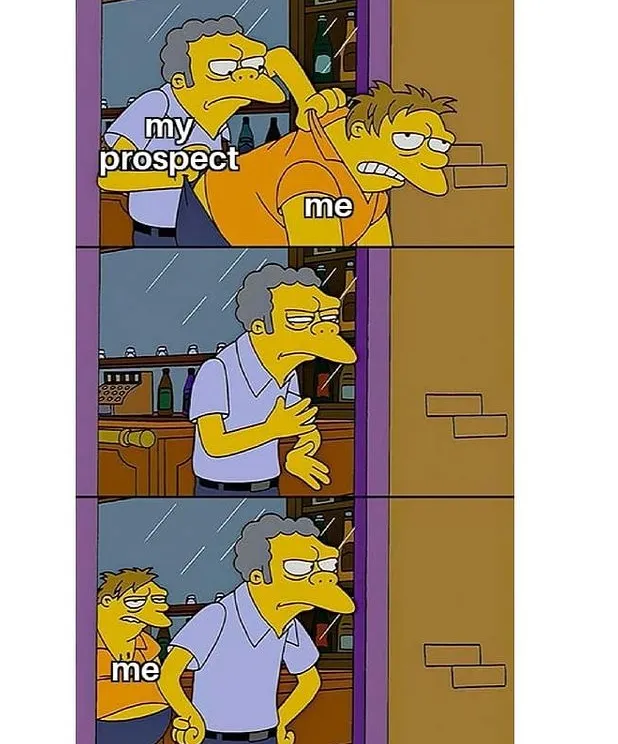 In sales, persistence pays off. The likelihood of receiving a response to your initial email is actually only 30%. Even yet, some salespeople go overboard. The best course of action is to plan your email campaign in advance and use a cadence of three to five email waves.
19. What's next?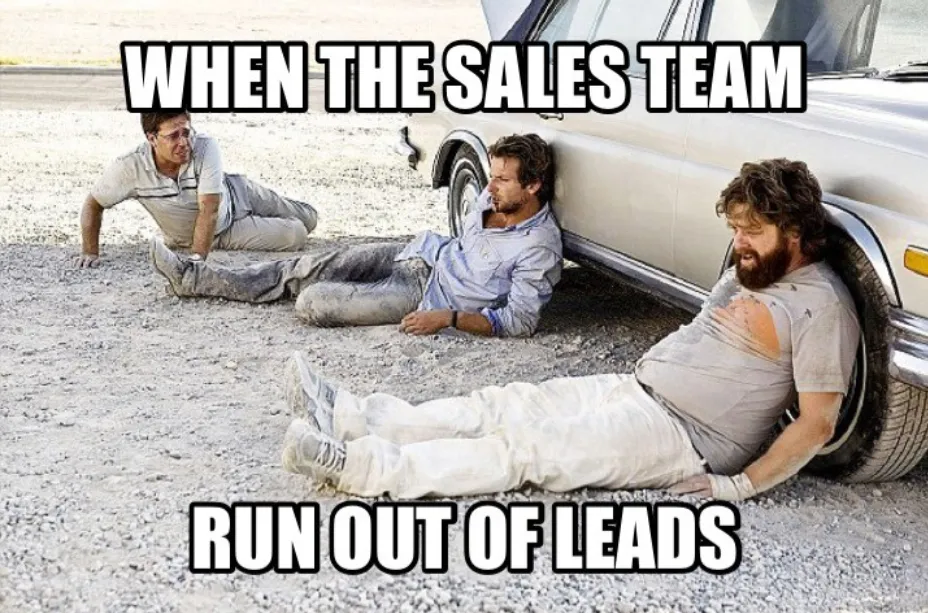 The feeling of drought is definitely real, but we are here to pour you a new glass of qualified leads.
20. Searching on the internet- How much is enough?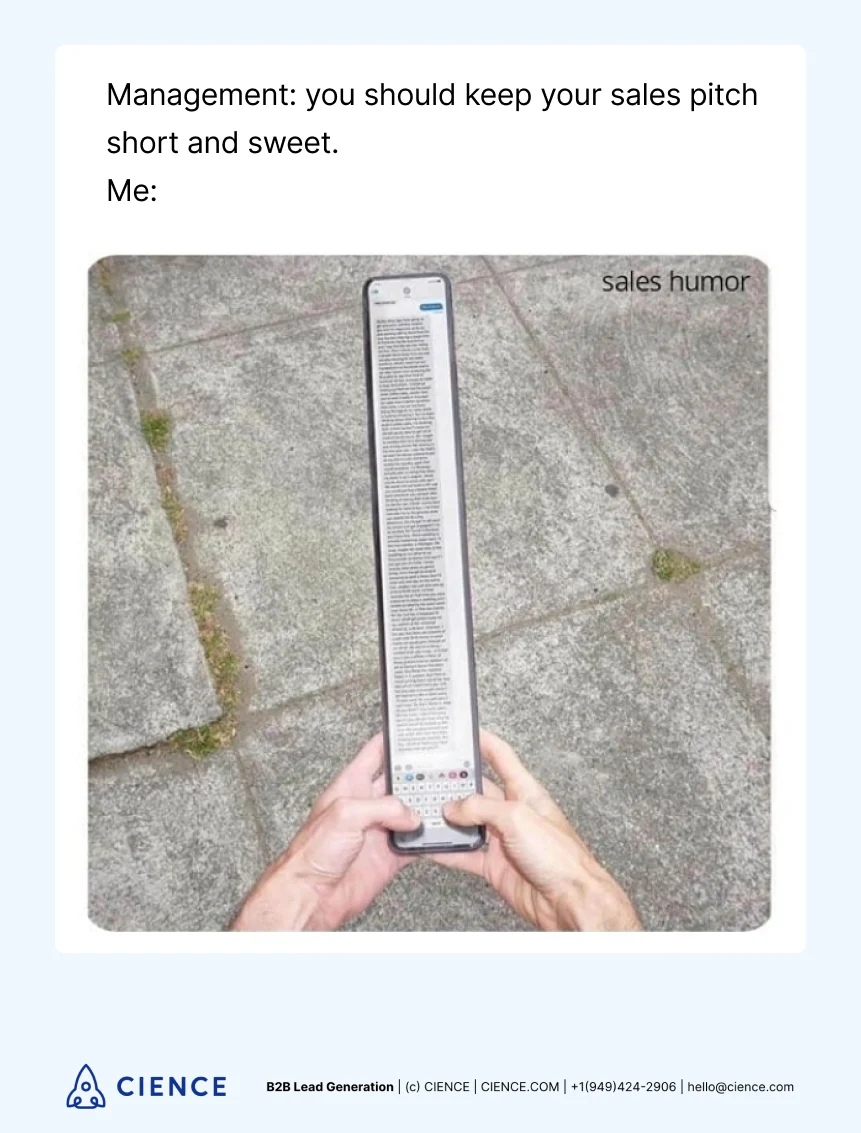 Nobody in your target market wants to read a three-page essay on why they should choose you. Your sales pitch must be concise, packed with value, and address the following three issues: –
Why me?
Why choose my company?
Why now?
21. Well, it was a rollercoaster ride, but here we are!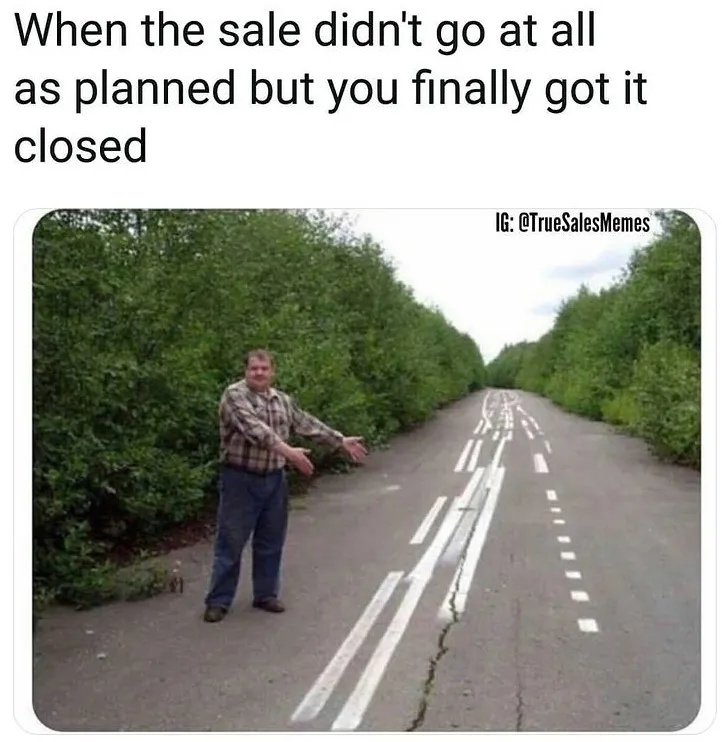 We all have small (hopefully) setbacks at the start of our professions, so don't worry. Contrary to common belief, you are not born with the ability to be a good salesperson. It's a skill you develop and master throughout life.
22. Don't make wait.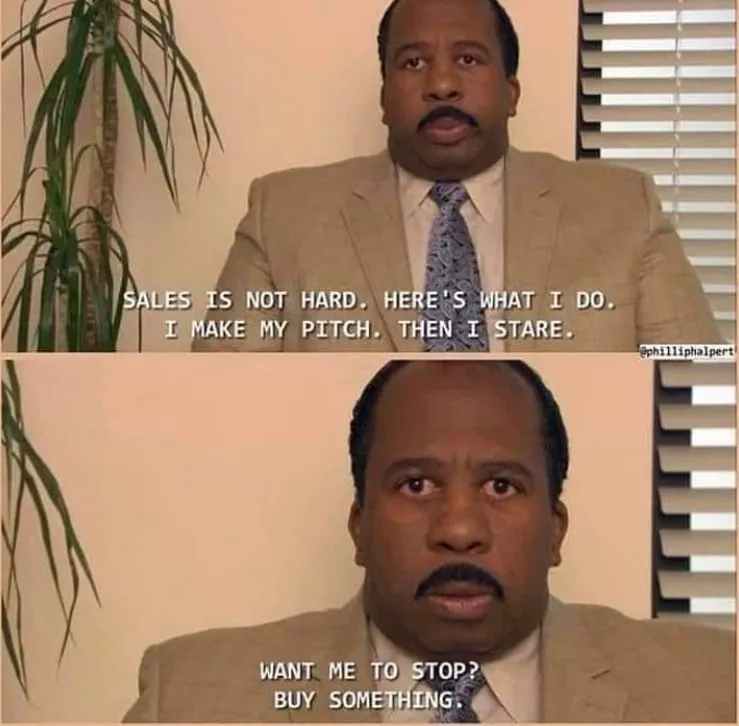 Even during the era of direct selling, this strategy failed. It no longer works as well, but sales executives still occasionally receive weird and embarrassing communications. A pitch like that could only work in funny sales memes.
23. "The most I can do is $8 for this."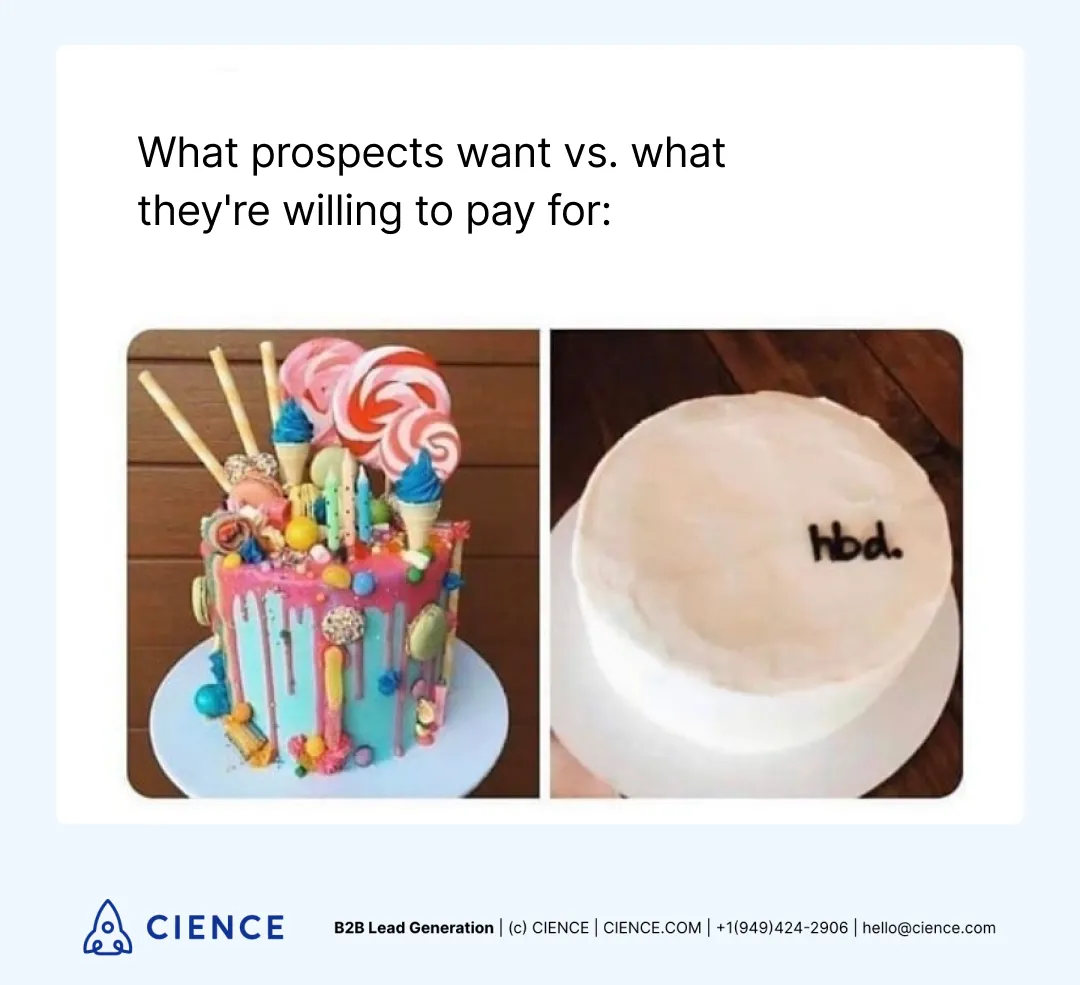 Every piece of work comes with a price. And everybody should get this straight. We are aware that every work has a cost. But keep in mind that if a prospect objects on the grounds of money, it can be a hint that they're not really interested.
24. I need no gym.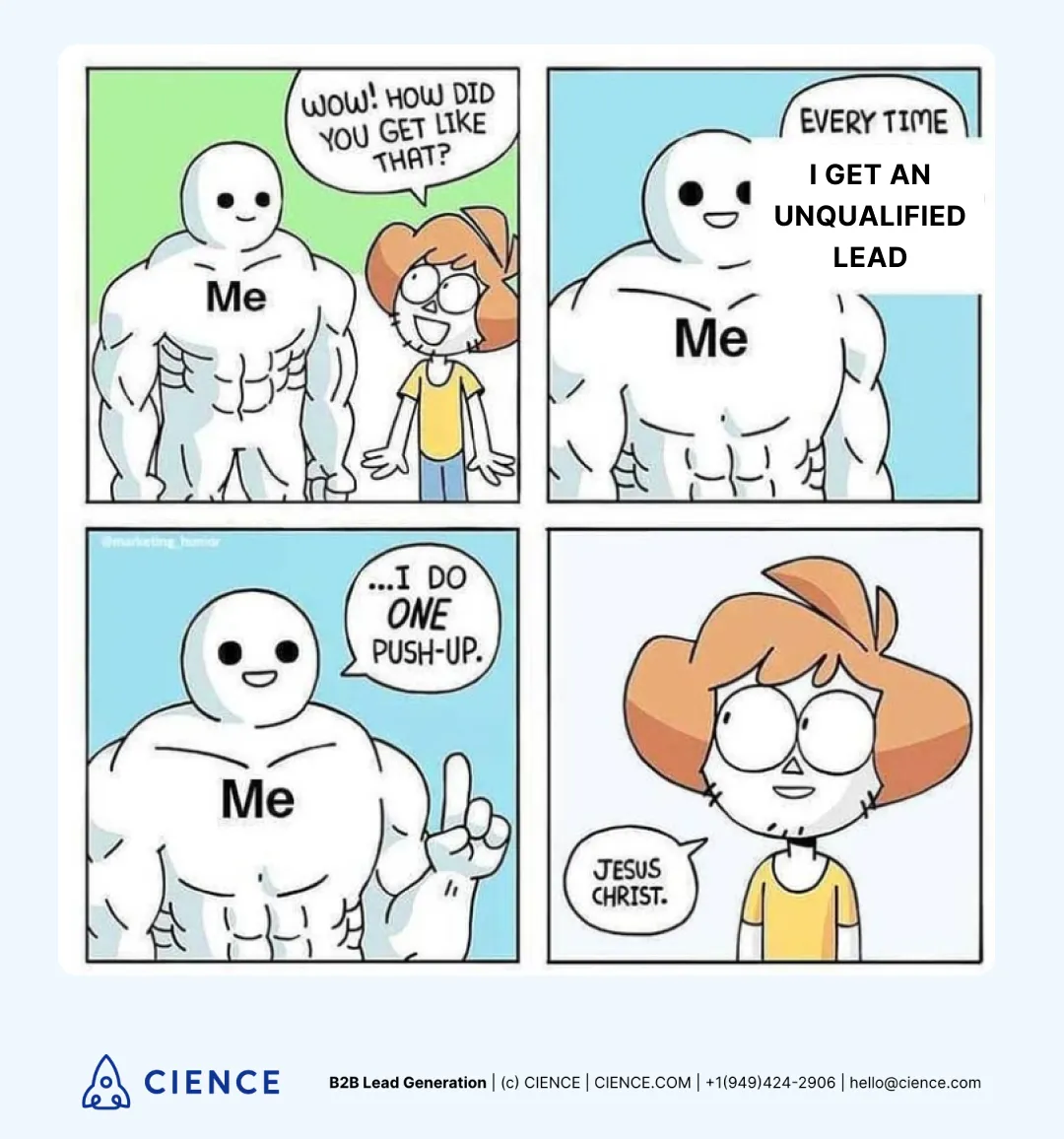 We advise instructing your sales representatives in lead qualification or using tools to prevent this from happening.
25. You know, I'm of an avenger myself.
Sales is already a challenging field, and the worldwide pandemics and WFH reality don't help us out much either. Therefore, you should feel proud of yourself if you are here and continue making purchases or scheduling appointments!
26. This is how I say Goodmorning.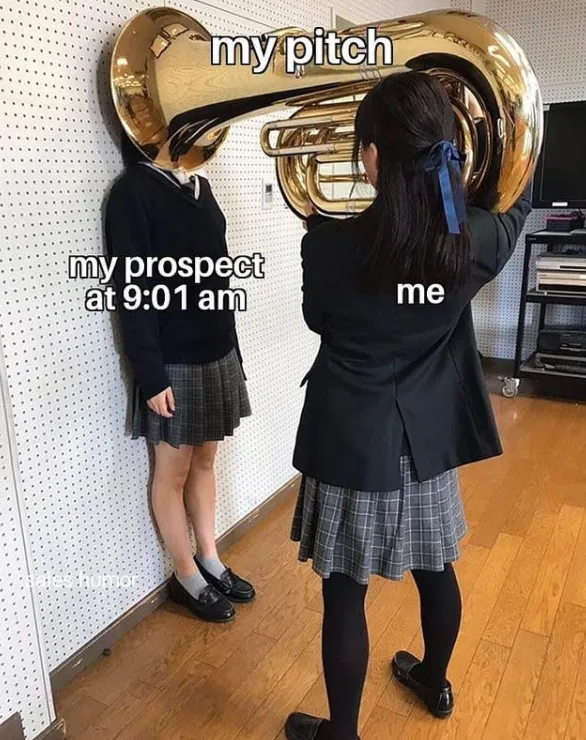 Again, you won't need to "scream" it if your sales pitch is rich in value. Work on it to get better leads.
27. Is my watch not working, or my eyes, or my brain?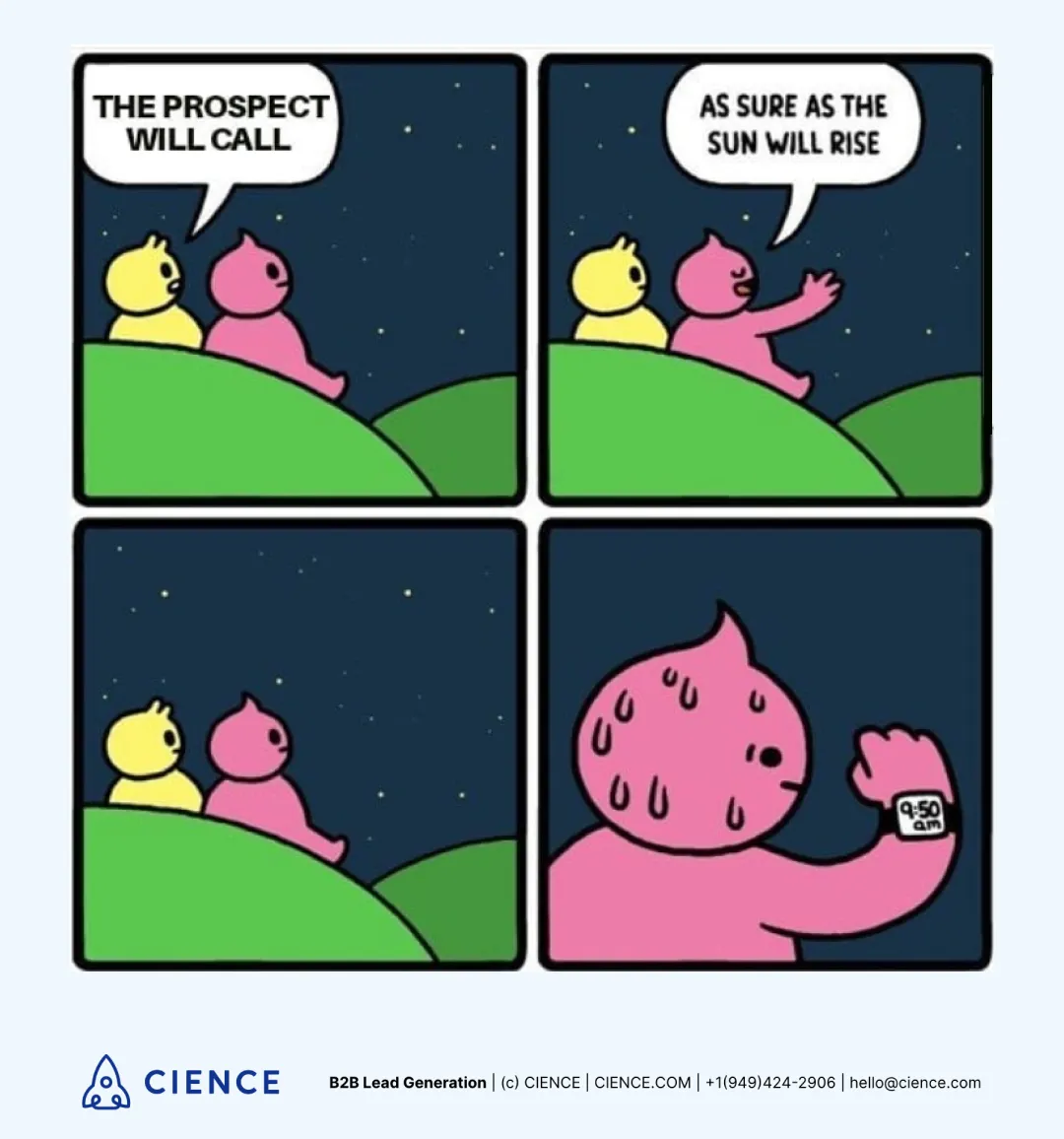 The time here represents the drowning hope. And there's hardly any possibility that can save the boat here.
28. Is it a dream?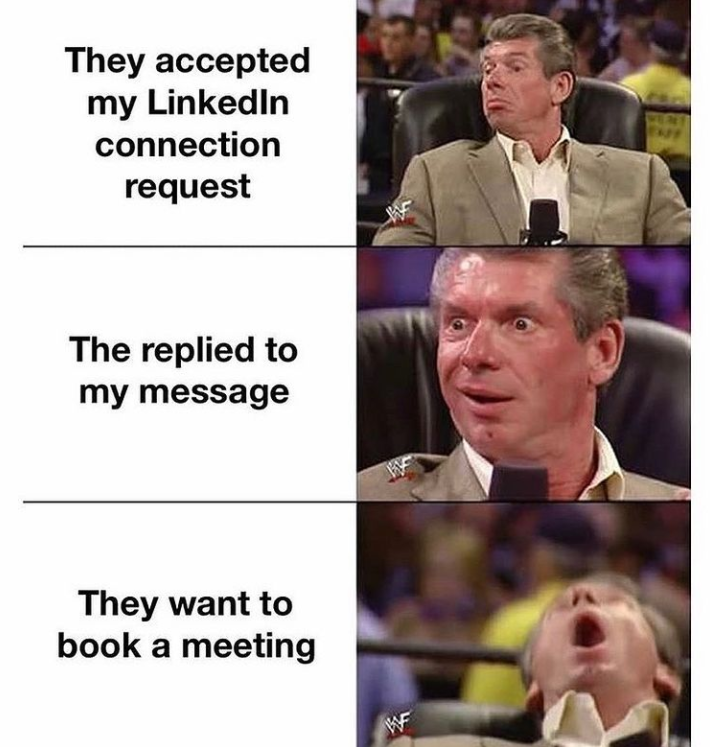 The power of personalization is evident in the fact that over 77% of consumers have chosen, recommended, or paid more for a business that offers a customized service or experience.
29. Sorry? I can't hear or see you.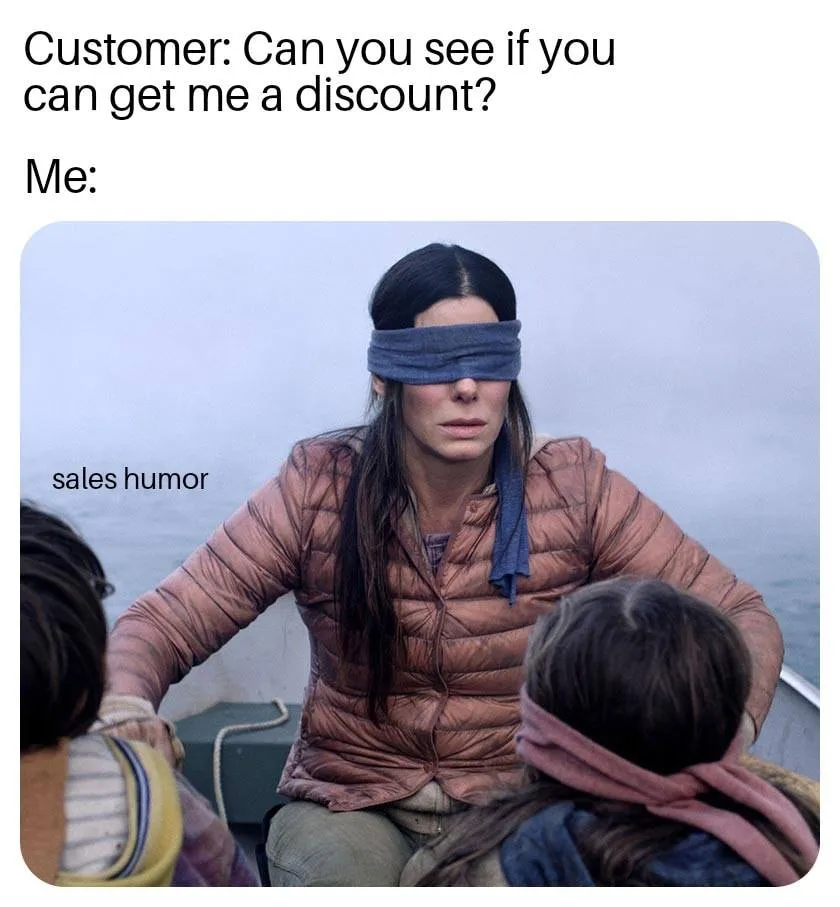 Customers can be really unpredictable at times. When you provide them with good deals, they don't take it. And when you're really tight on giving discounts, they ask for it as if it's just a glass of water.
30. I wait for your reply to my reply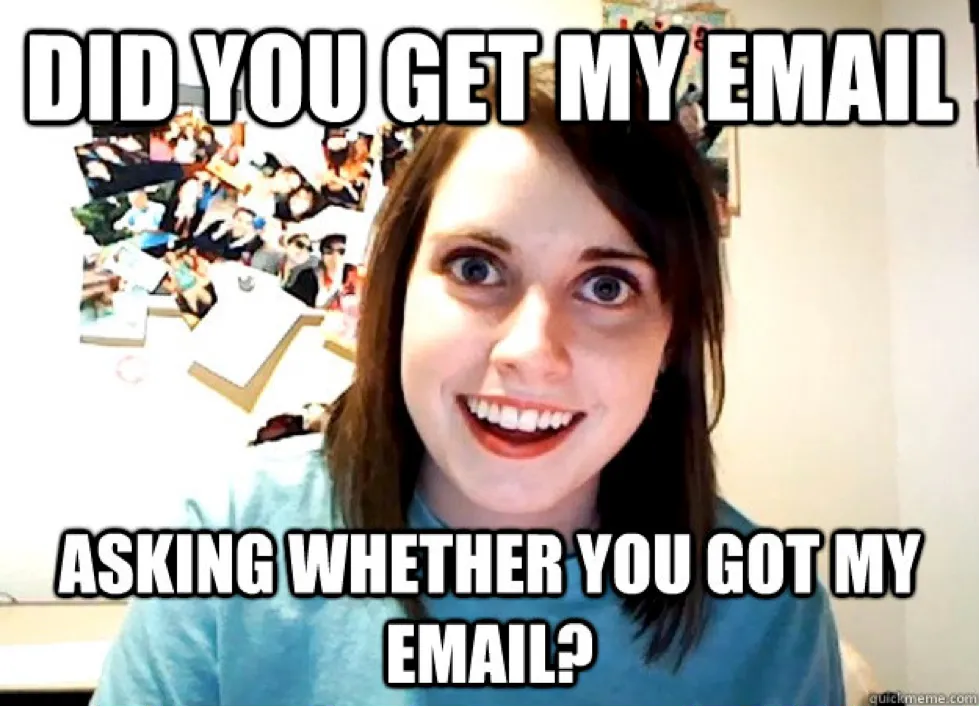 Prospects believe follow-up emails are excellent reminders but wish they come less frequently (according to the latest survey). If this sales meme accurately describes you, you might want to rethink your follow-up plan.
31. We need it to stay in the lane.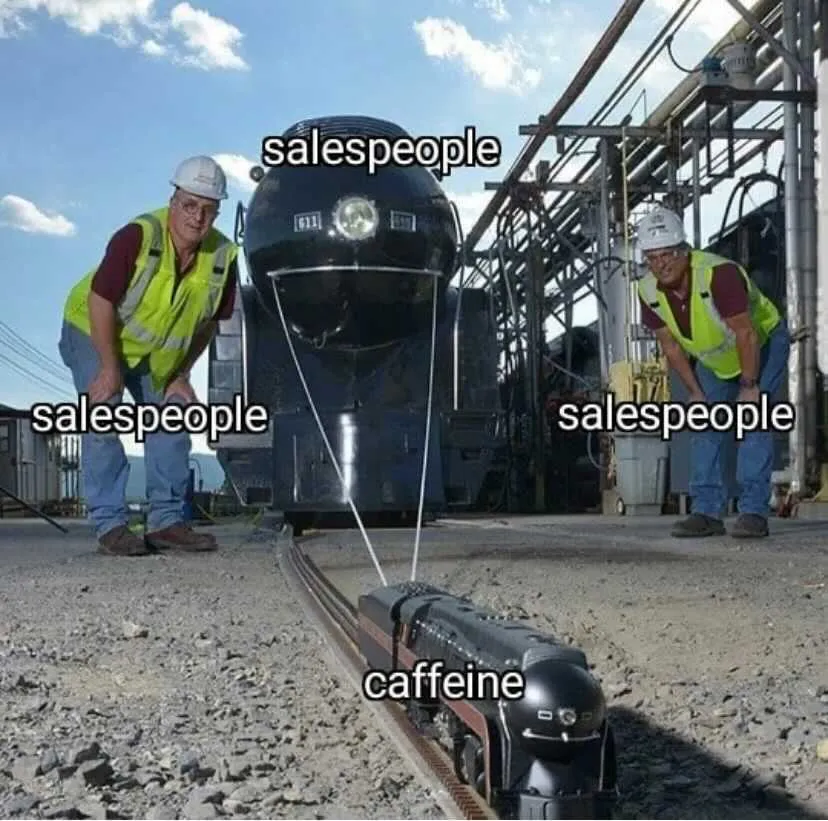 It's just caffeine that keeps all professions in unity. We can't always relate to the joys and disappointments of other occupations but on caffeine, yes.
Sales Memes To Save Sales Reps' Day!
Anyone who works in sales, including sales representatives, account managers, and sales directors, will agree to the mountain of stress it brings along. What is the best painkiller? Humor. For this reason, almost every salesperson we know loves sales memes. Because selling is a wacky profession and the strain never eases due to targets, clients, and pipelines. Sales goals or motivational quotes, and funny sales memes reduce the stress that comes with working in sales.
Hope these 31 hilarious sales memes accelerate your day.
Now, take a chill pill and happy selling!
FAQs
Why are memes best for marketing purposes?
Memes are immensely popular and the 3rd most shared content on social media. As they go viral easily, they are the ideal content type for marketing. Plus, the humor helps reduce stress which is much-needed for sales professionals.
How do sales memes help sales teams?
Sales memes help perk up the performance of sales reps by adding humor to their otherwise stressful life. It can help motivate reps so that they provide great end results.
Does meme marketing have drawbacks?
Yes, meme marketing when gone wrong can affect your brand. If you join the trend too late, you will seem to be outdated. Also, it is difficult to be humorous without offending other people, which can be a challenge.