15 Best ERP Software And Tools To Manage Business Processes
Are your efforts to grow your business resulting in confusion?
You may probably be stuck with an outdated resource management system! The traditional approach of using separate software for every business function and manually sharing records between departments is too inefficient to enable the fast growth of a modern business.
You now need a superior alternative called Enterprise Resource Planning, which is a tech-driven solution that a whopping 96% of successful modern startups apply!
ERP provides a centralized and automated system to speed up and optimize all your business processes. And this takes your speed and efficiency to the next level by breaking the shackles of manual resource management.
So, this blog will help you make the most of Enterprise Resource Planning by covering the ERP system software definition followed by its working, core features, and benefits. We will also provide some suggestions for powerful ERP software to help you get started. Let's dive in!
What is Enterprise Resource Planning And Why You Need It?
Enterprise Resource Planning (ERP) is the process of gathering and organizing real-time business data using an integrated software suite. It refers to the integrated management of major business processes using software systems. Here is why you need effective ERP-
ERP integrates all departments in your organization to create cost-efficient business processes.
ERP systems save lots of time and money by automatically making records and generating accurate reports.
ERP also helps employees to judge their performance and its impact on organizational performance. This insight helps boost their motivation and productivity.
ERP makes your workflow simple and efficient by helping you monitor, streamline, and control all your resources. It also helps you find and eliminate wastages in a timely manner.
ERP helps to get an overview of all resources instantly to support decision-making.
ERP systems offer a centralized cloud platform to store and access organizational data. This helps all departments to collaborate from any location.
ERP tools offer diverse modules to assist you in every business process, ranging from production and marketing to sales and customer service.
ERP also boosts productivity and collaboration by integrating all your processes on one platform.
What Is ERP Software?
Enterprise Resource Planning (ERP) software are business process management software that apply a system of integrated and centralized applications to manage and automate core business operations. These applications use a central, online database that enables high mobility and seamless data flow in the company.
In this way, ERP systems integrate and optimize all your processes. And this ensures effective use of your resources while reducing wastages and delays. Moreover, the diverse feature modules of ERPs make them ideal for businesses of all types and sizes.
Here are the most widely used ERP module types-
Finance
Procurement
Manufacturing
Inventory management
Order management
Warehouse management
Customer relationship management (CRM)
Professional services automation (PSA)
Workforce management (WFM)
Human resources management (HRM)
Ecommerce
Marketing automation
How To Find The Best ERP Software?
Here's what you must do to find an ERP softeware that works for you,
Determine the exact needs of the business. This will help to decide which type of ERP system best meets their requirements.
Research different vendors and products to determine the most suitable solution.
Consider the implementation process and the cost of the software.
Once you establish the needs and identify the potential solutions, it is essential to consider the software's user experience. This can be done by reading reviews, consulting with industry experts, and asking for references from the vendor.
Sign up for a trial of the software to see how it works and make sure it is the right choice.
By researching and comparing different ERP solutions properly, it is possible to find the best ERP software for the business.
Best ERP Software and Tools
Ready to go for ERP software? Wait a minute! It is important to start by narrowing down the options, or the diverse options may leave you bewildered. So, here are some suggestions of leading ERP tools and software to help you during your search-
1. NetSuite ERP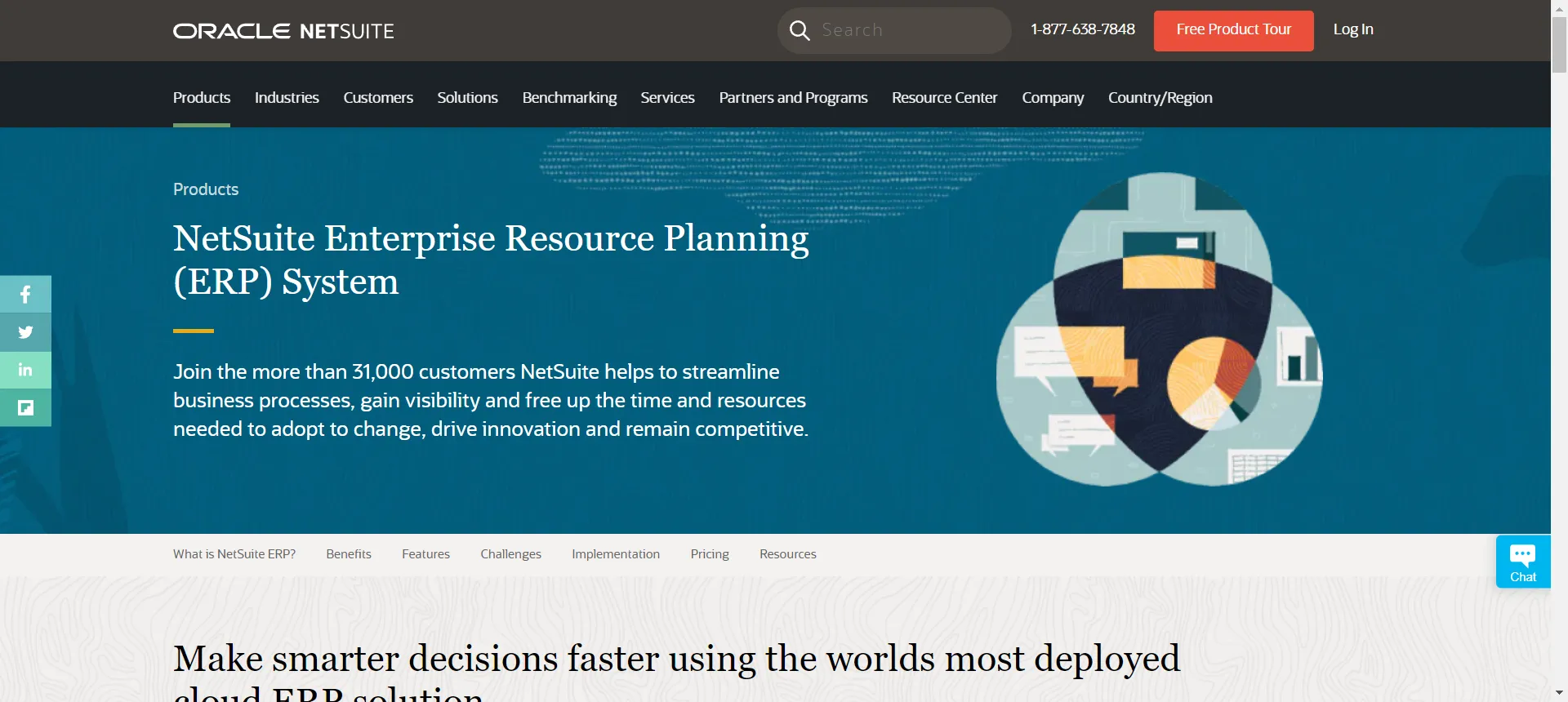 NetSuite cloud ERP is a comprehensive cloud-based business management solution. It automates the core processes of all departments while providing real-time visibility into your operational performance. Here are the main features of the best ERP system around-
Accounting
Asset management
Audit trail
Barcode integration
Budgeting
Case management
Customer relationship management
Customer management
Email integration
Event management
Expense management
Expense tracking
Financial management
Inventory management
Invoice management tools
Netsuite offers customized pricing as per your needs.
2. Acumatica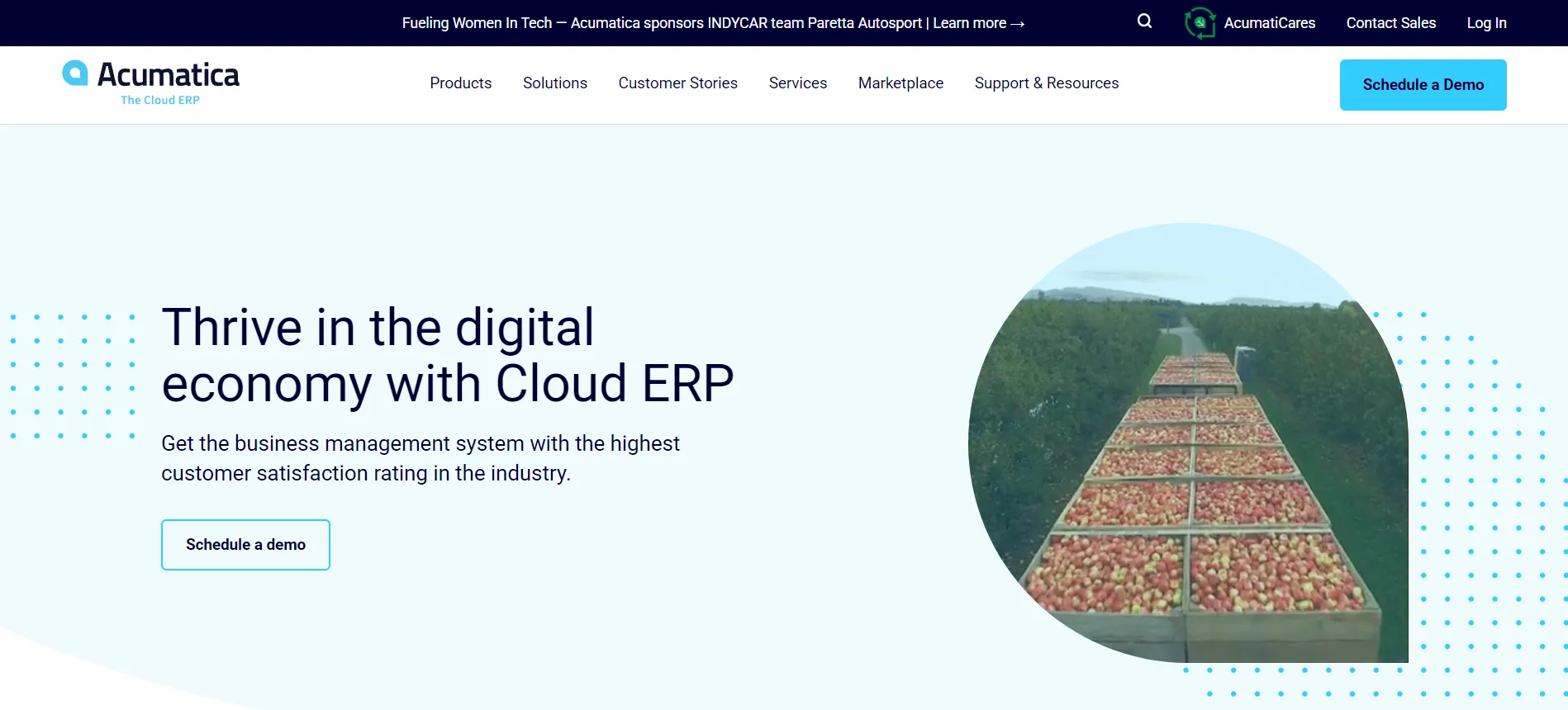 Acumatica Cloud ERP is a fully-featured ERP tool designed to serve startups and growing enterprises. It offers end-to-end solutions for supply chain management, shipping management, enterprise asset management, sales forecasting, and barcoding on one platform. Its key features include-
Financial management
Inventory and warehouse management
Job costing
Project management
Catalog management
Quality management
Bank reconciliation
Cash management
Compliance management
Accounting integration
Relation management CRM tools
Order management
It offers customized pricing as per your needs.
3. Sage Intacct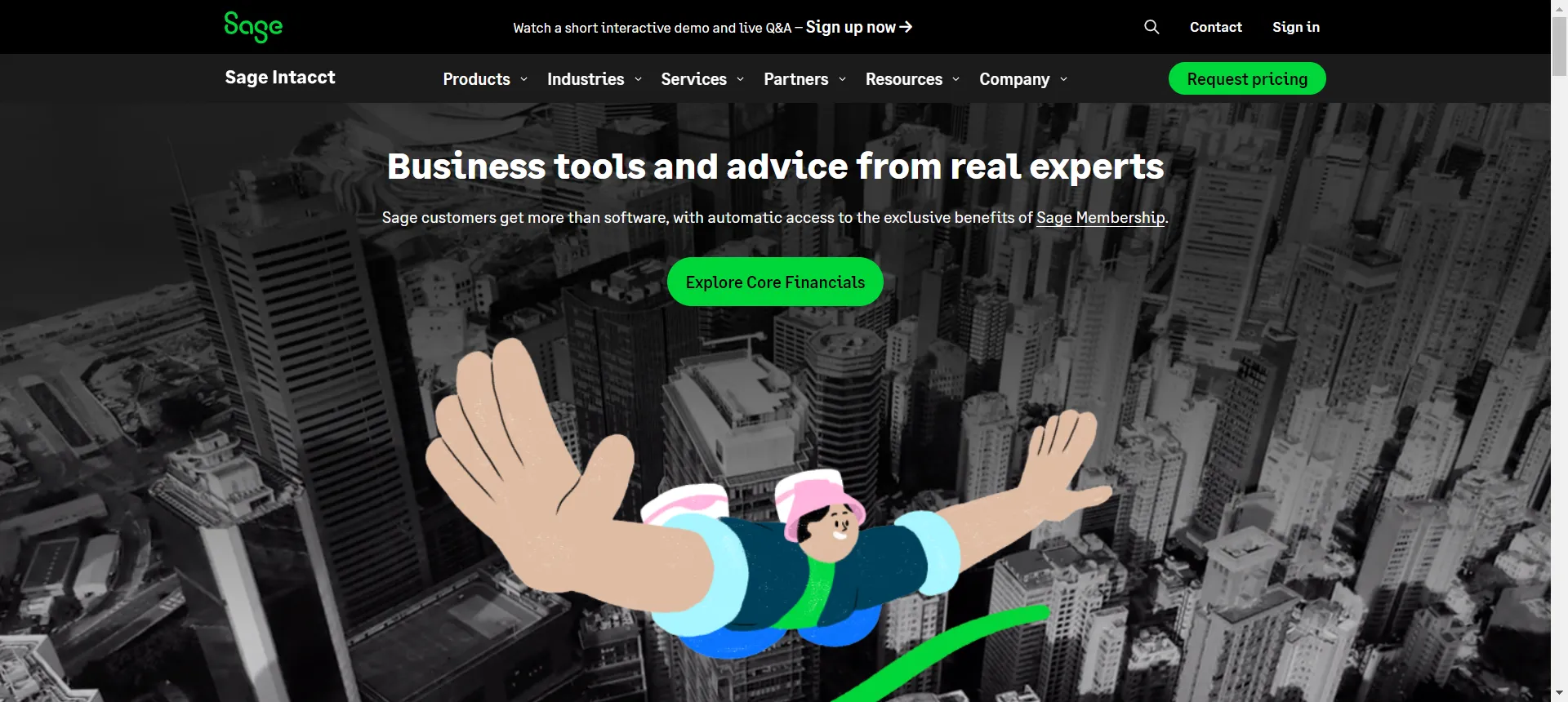 This cloud ERP tool maintains your business's real-time financial and operational visibility. It helps you streamline your business processes using advanced automation to reduce labor and save costs. The Sage Intacct system includes these features-
Accounting
Cash management
Purchasing management
Vendor management
Financial consolidation
Revenue recognition
Subscription billing
Contract management
Project accounting
Fund accounting
Inventory management
Financial reporting
It offers customized pricing per your needs, which usually starts from $15000 a year.
4. SYSPRO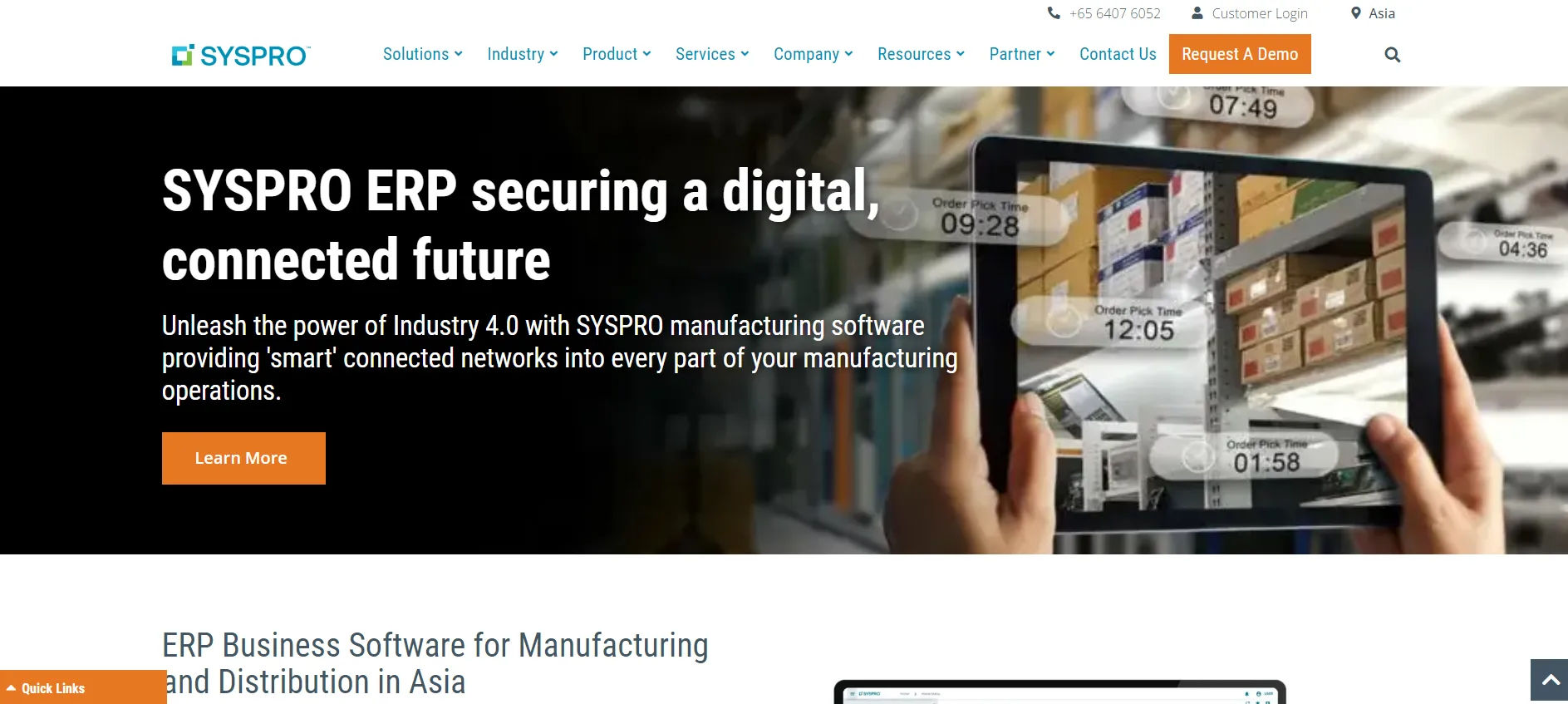 This ERP software solution provides comprehensive capabilities for manufacturing and distribution businesses. SYSPRO delivers the solutions, processes, and tools to assist in data management and analysis, enabling informed decision-making. This solution is easily scalable, and you can deploy it in the cloud, on-premise, or hybrid. So, you can access it via the web or windows applications. The key features of SYSPRO include-
Manufacturing Operations Management (MOM)
Distribution and procurement management
Supply chain management
Accounts payable and accounts receivable
Inventory management and tracking
Automatic reordering
Order management
Payroll management
Reporting and analytics
Customization features
Out-of-the-box integrations and connections with AI, ML, and IoT applications
SYSPRO's pricing starts from $199 per user per month and above based on the features you select.
5. Oracle ERP Cloud

Oracle ERP Cloud is a fully-featured and the best ERP software system designed to serve both growing and established enterprises. It provides end-to-end solutions to manage all your processes from one common platform. Here are the management areas that Oracle ERP Cloud covers-
Financial management
Project management
Compliance management
Order management
Procurement management
Supply chain management
Oracle ERP cloud offers custom pricing plans as per your requirements.
6. Microsoft Dynamics GP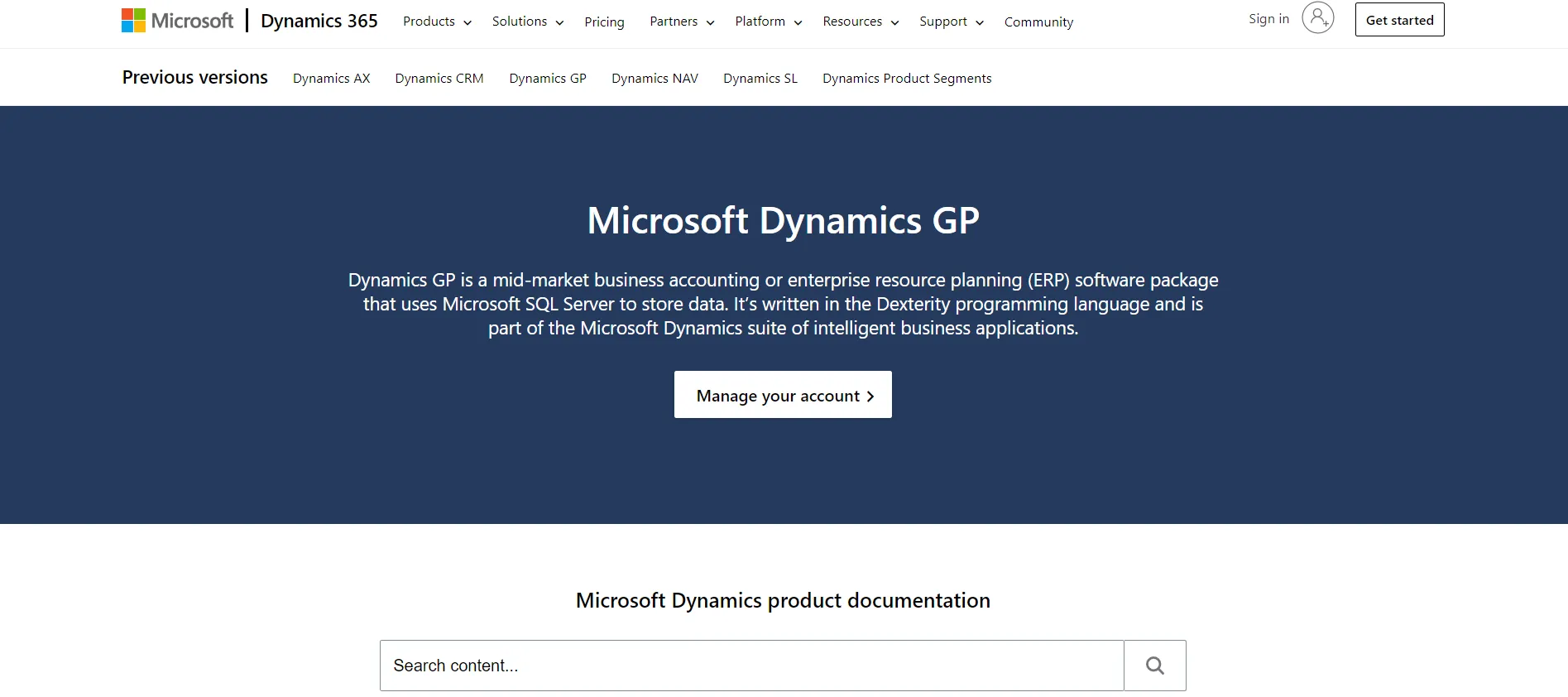 Microsoft Dynamics GP is a popular ERP that delivers comprehensive management functionalities. These range from operations and financial management to human resource and manufacturing management. Moreover, it connects all the moving parts of your organization, giving you overall visibility and centralized control over your business processes. Here are its key features-
Journal entries
Audit trail
Accounts receivable and payable
Invoicing
AP automation
Payment processing
Reconciliations
Purchase orders
Reporting and analytics
Financial statements
Custom reporting and dashboards
Integration with data import and export tools
Role-based user permissions
This software also offers customized pricing as per your requirements.
7. Tally ERP 9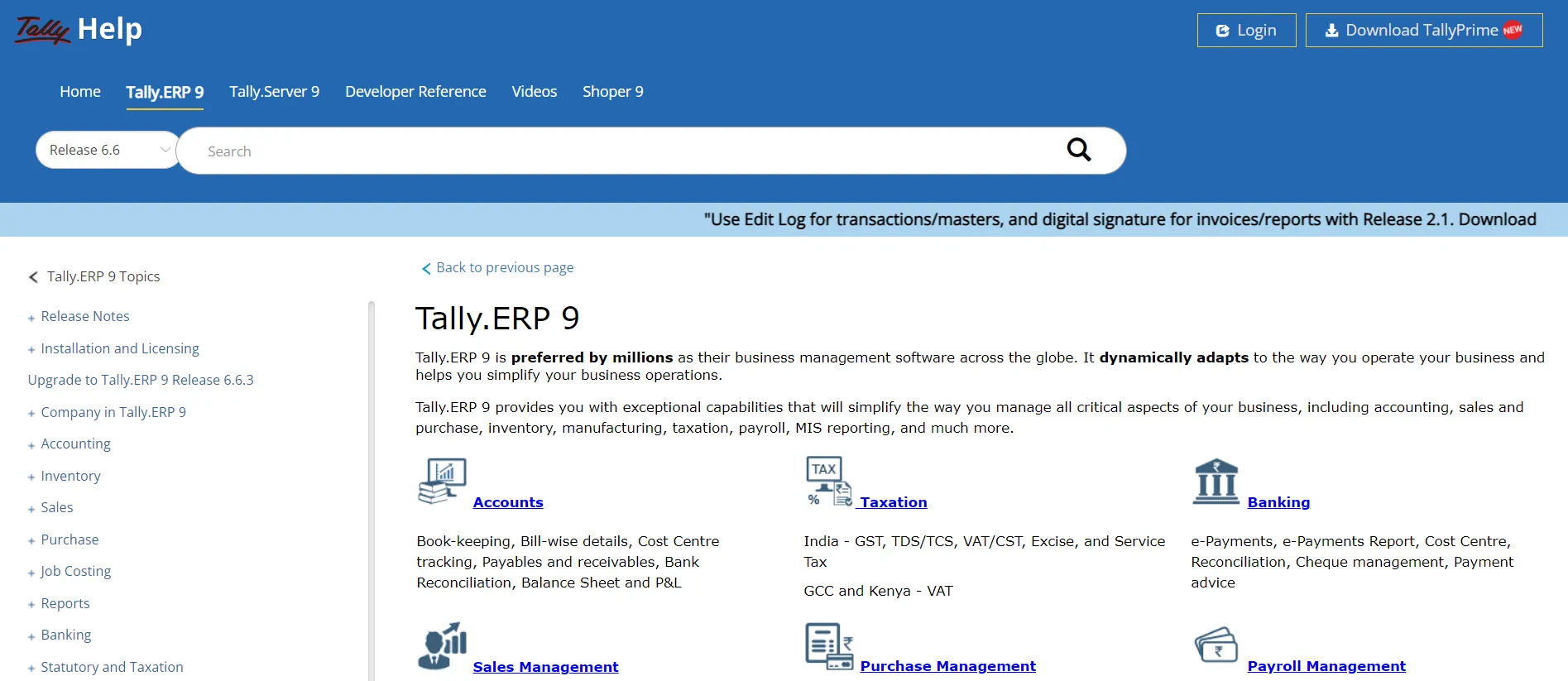 Tally ERP 9 is a time-tested ERP software that lets you manage all your finances from one central platform. It enables you to easily manage working capital, orders, inventory, and accounting. Moreover, it gives you a 360 ° view of your finances through detailed reports on costs, profitability, pending work, and more! Here are the major aspects that Tally ERP 9 covers-
Accounting management
Inventory management
Payment management
Compliance management
Banking support
Instant data sharing and reporting
Support for multiple currencies
Its pricing starts at $360 per year.
8. SAP ERP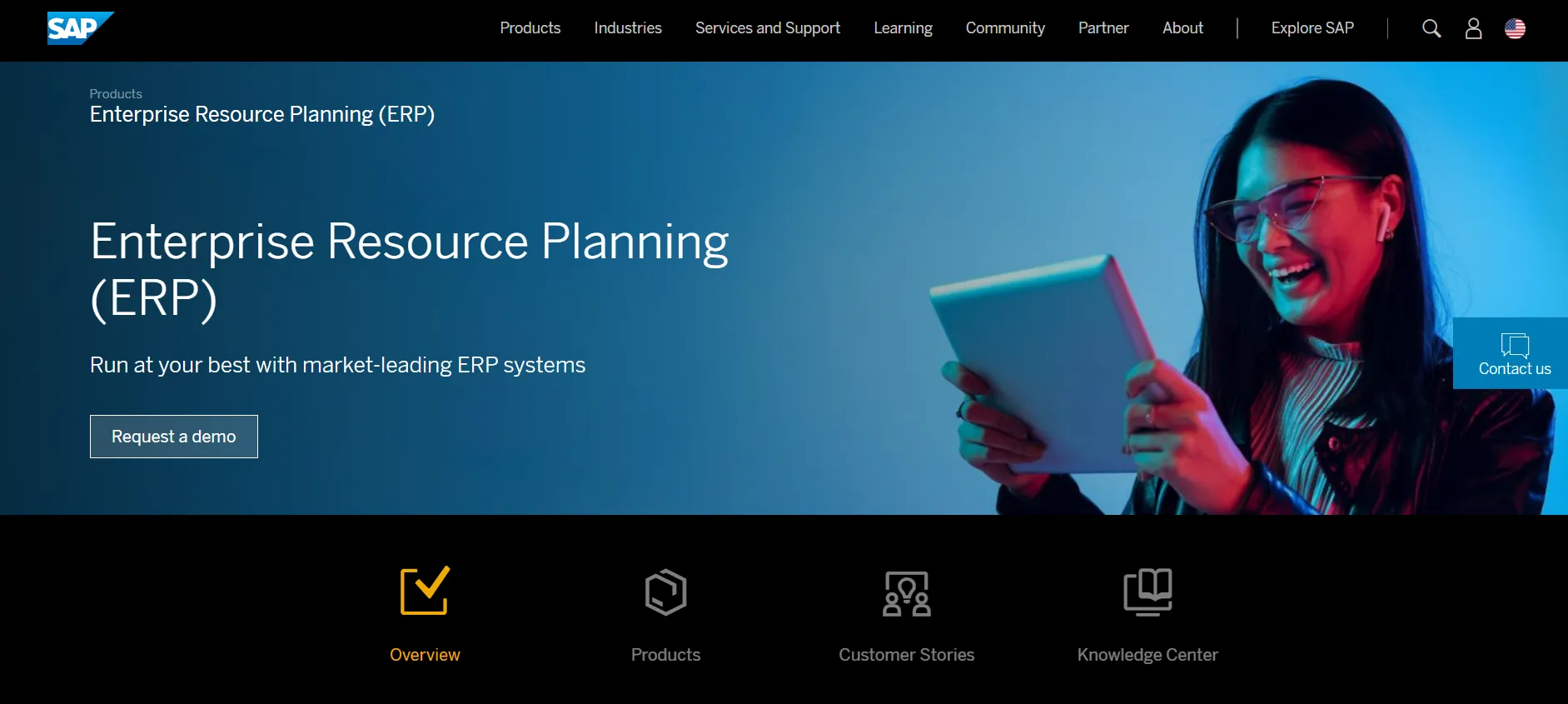 This is an established ERP tool designed to meet the diverse needs of businesses of all types and sizes. It addresses 25 different industries and streamlines business processes across procurement, manufacturing, service, sales, finance, and human resource. Here are some major features of this all-round software-
Journal entries
Audit trail
Custom invoicing
Purchase orders
Payment processing
Reporting and analytics
Financial statements
User, role, and access management
Reporting and dashboards
Integration with data import and export Tools
AP automation
Accounts receivable and payable management tools
Enhanced data security
It offers custom pricing based on your needs.
9. Epicor ERP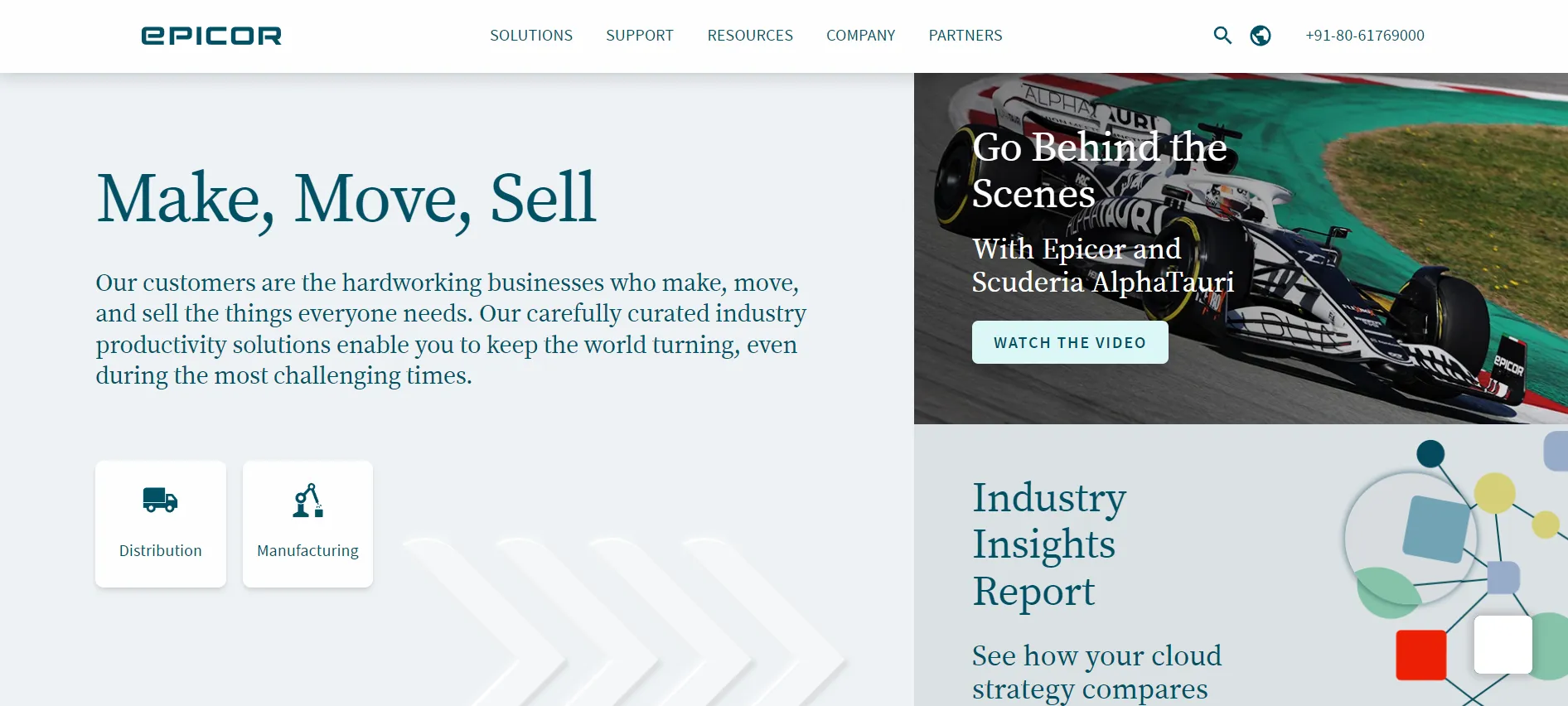 This ERP software offers the choice, flexibility, and agility needed for strategic initiatives. It offers a modular approach with robust capabilities focused on reducing costs, streamlining processes, and improving customer interaction across the company. Here are the aspects it addresses-
Customer relations management
Financial management
HR and payroll
Manufacturing
Project management
Sales and distribution
Invoicing
Purchase order
Purchase management
Supply chain management
Sales management
It also offers customized pricing.
10. ERPNext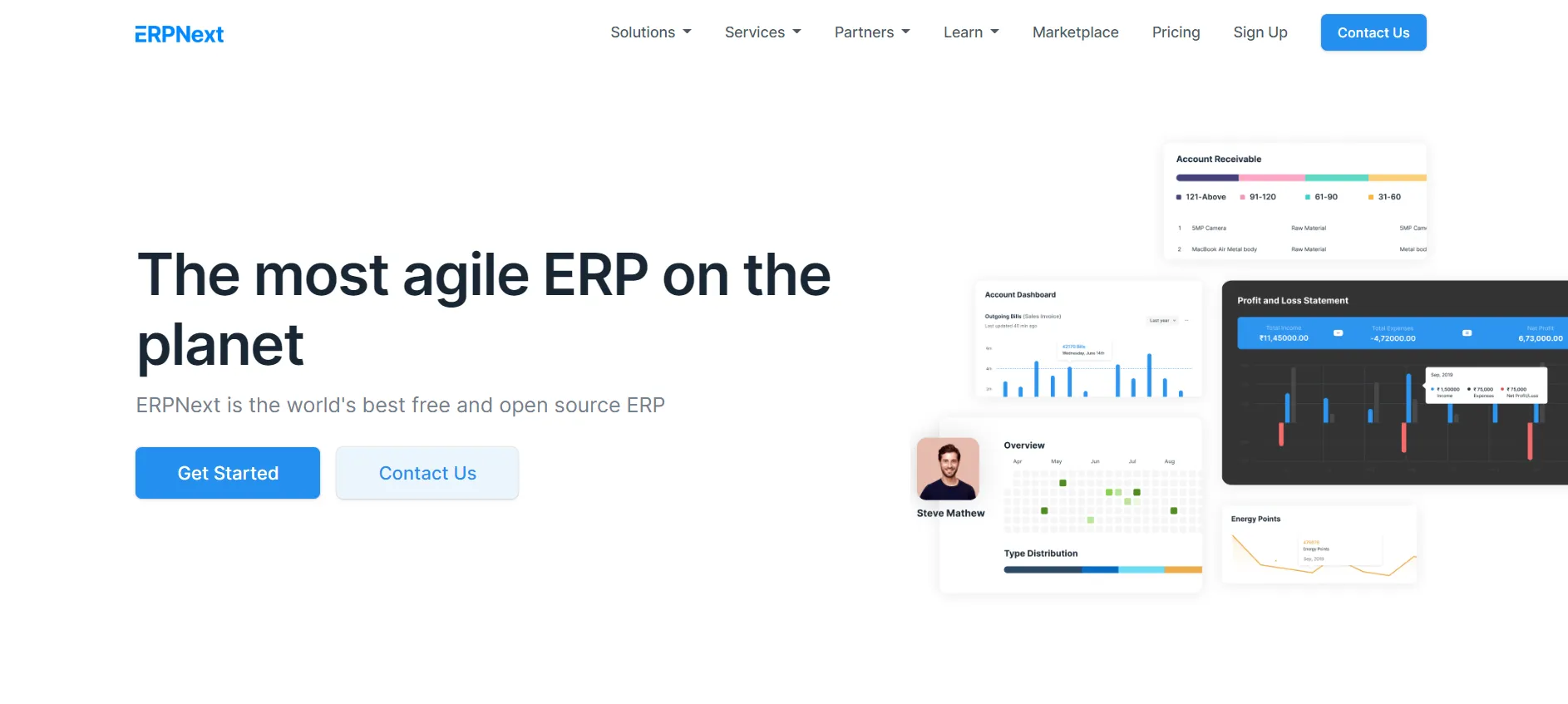 ERPNext is an open-source ERP software system that supports multiple verticals. These include Manufacturing, Distribution, Services, Education, Retail, Education, Agriculture, and also Non-profit. Moreover, this tool provides a convenient interface with unparalleled feature-richness at little to no cost! It offers complete features in each of these management categories-
Finance and accounting management
Customer Relationship management
Human Resources management
Sales and Purchasing management
Project management
Asset management
Order management
Manufacturing management
ERPNext has a free version and many paid plans, starting at $10,000 per month.
11. Sage 100cloud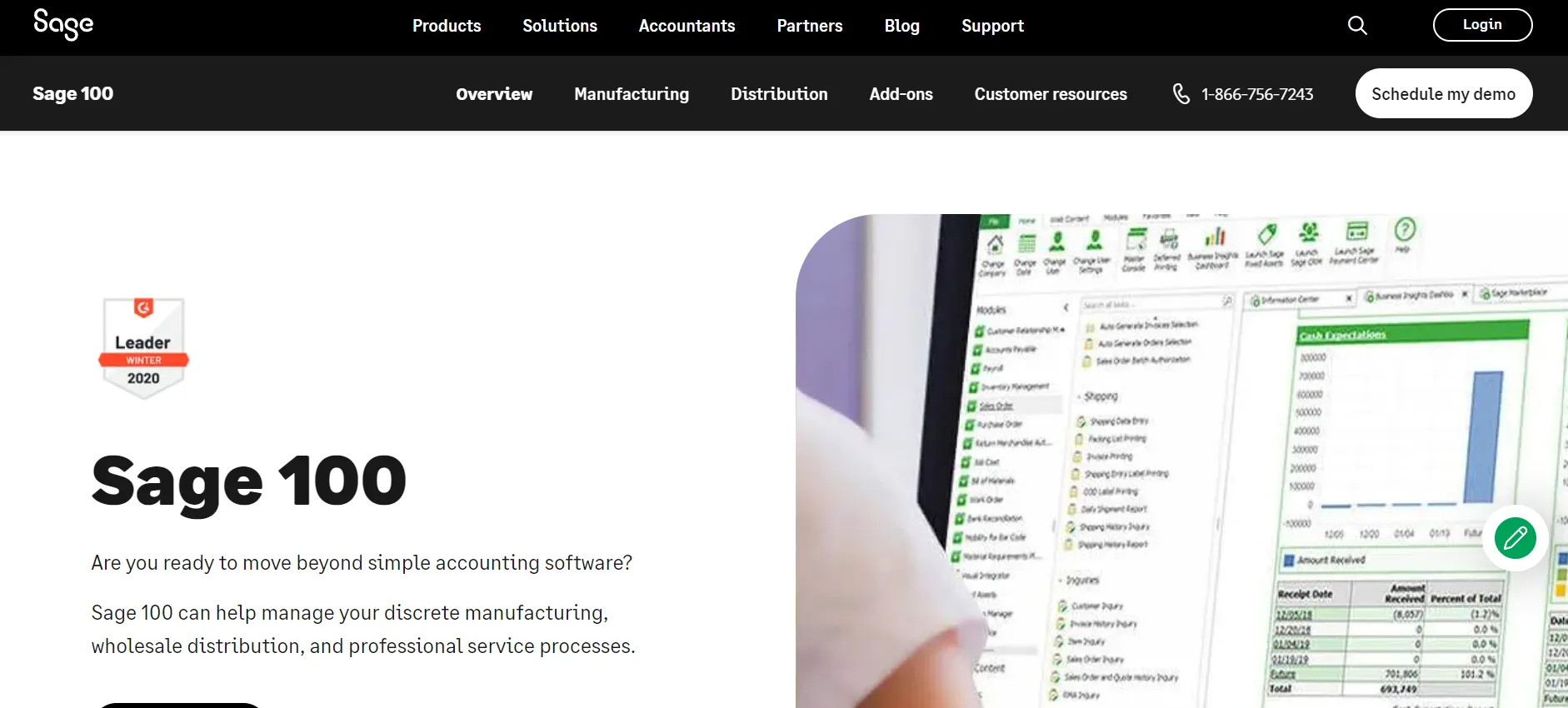 Sage 100cloud helps growing, small, or medium-sized companies manage their process in a cost-effective way. It is a convenient and customizable tool that leverages cloud technology to provide high mobility and collaboration. Here are its most prominent features-
Billing and invoicing
Financial reporting
Purchase order management
Bank reconciliation
General ledger
Inventory management
Budgeting and forecasting
Multi-currency support
"What If" scenarios
Balance sheet management
Order management
Reporting and analytics
Warehouse management
Advanced security and granular tracking
It offers customized pricing to match your needs.
12. ORION

ORION Enterprise is a dynamic enterprise resource planning software that allows you to seamlessly integrate all your teams, functions, processes, and systems. It also uses cloud technology to offer high mobility and cooperation between departments. ORION offers several features in each of these aspects-
Sales management (CRM)
Inventory management
Contracting management
Finance management
Purchase management
Manufacturing management
Administrative modules
Personalization
Reporting that includes KPIs, analytics, and real-time dashboards
It also offers customized quotes to match your needs.
13. Workday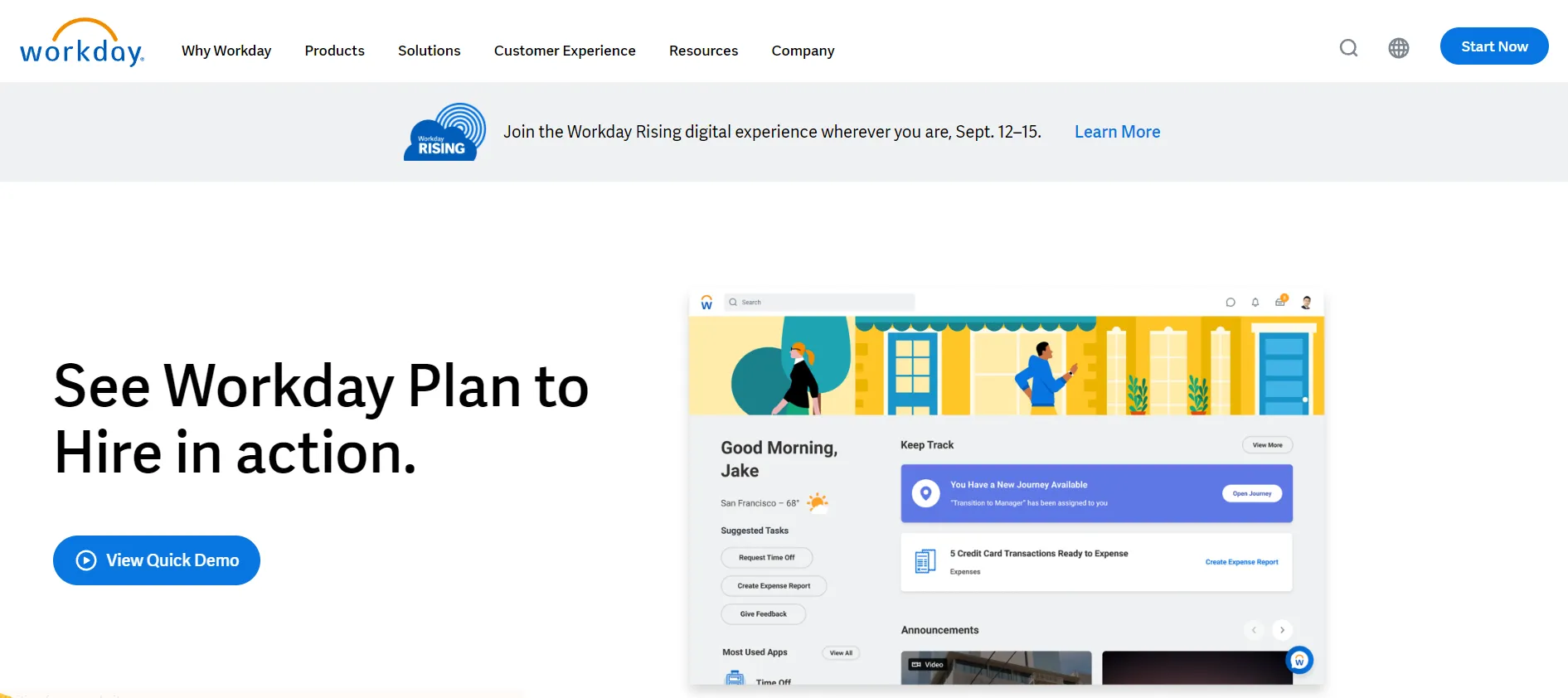 Workday ERP is an advanced SaaS software system for finance, human capital management, resource planning, professional services automation, project management, and business intelligence! With its comprehensive functionalities, Workday is the perfect ERP for managing large enterprises. It is a smart platform consisting of the following modules:
Human resource management
Business process management
Reporting and analytics
Planning administration of benefits
Compensation management
Talent management
Survey framework
Portfolio management
Customer service and support
You can integrate Workday with SalesBlink.
It offers multiple custom pricing plans to match your business requirements.
14. Odoo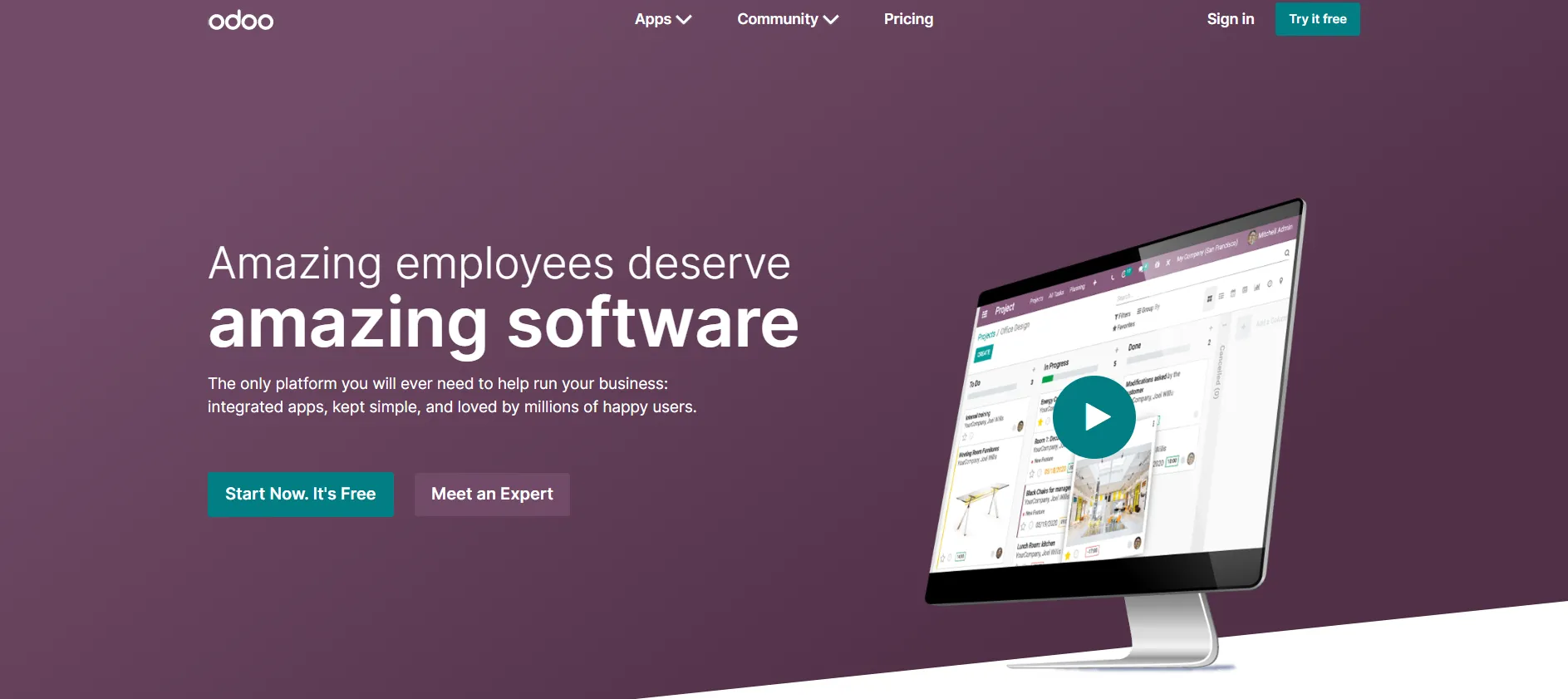 Odoo is an integrated, customizable, and open-source ERP software. It packs hundreds of business applications into one suite that meets all business needs cost-effectively. And this includes applications for CRM, sales, project management, manufacturing, accounting, and more! Here are the key features of this all-in-one software solution-
Invoice customization
Custom reporting and dashboards
Several customizations
User, role, and access management
Integration with data import and export tools
Web messaging
Purchase order management
You can integrate Odoo ERP with SalesBlink.
It is a convenient and affordable ERP tool, but the exact price depends on your selected features.
15. Sage Business Cloud Enterprise Management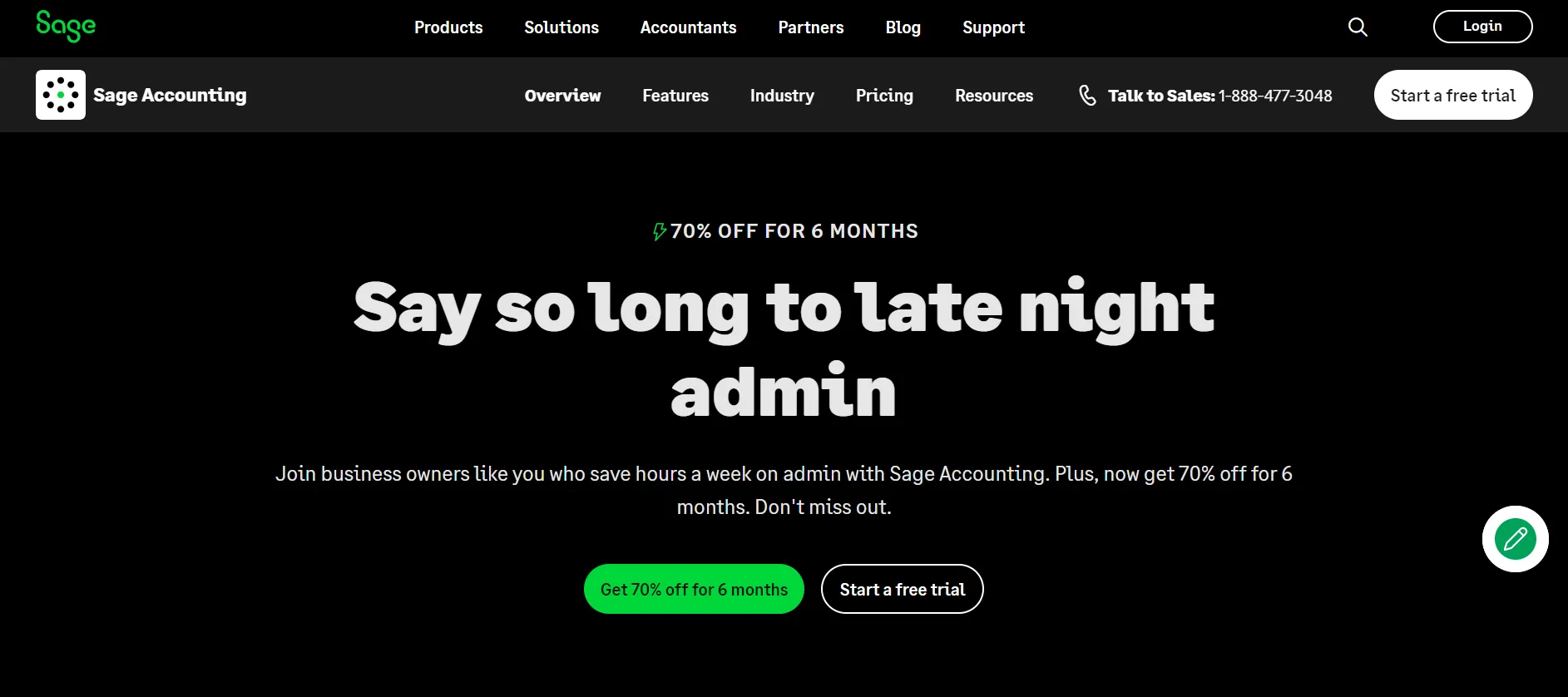 This fully-featured large enterprise ERP software provides end-to-end solutions for Macintosh. It uses cloud infrastructure to offer a central platform for managing every major business operation. Here are the major categories of features it provides-
Customer relationship management
Financial management
Inventory management
Project management
Enterprise asset management
Warehouse management
Accounting integration
Order management
Supply chain management
Distribution management
Enterprise asset management
Reporting and analytics
Purchase order management
HR management
This ERP system offers customized pricing as per your requirements.
So, we now come to an end to the top ERP solutions.
5 Key Features Of ERP Software Systems
There are many types of ERP tools, and each caters to different industries and specifications. However, there are a few core feature sets or modules that you should look for in every ERP software-
Accounting
The accounting capabilities of an integrated ERP surpass that of standalone accounting software. This is because it can create detailed, company-wide reports for every transaction. The key accounting features offered by ERP systems are-
Invoicing
Finance
Consolidation
Profit and Loss
Balance Sheet
Reconciliation
Analytic Accounting
Budget
Website and E-commerce
An ERP system must also offer basic features that let you design and configure your eCommerce website or storefront. This primarily includes the ability to create websites and collect payments. The key eCommerce features offered by ERP systems are-
Website design
Online Payments
Customer Portal
Order Processing
Project Management
Project management features vary based on the target industry. However, some vital project management capabilities should be available in all ERPs. These include production, marketing, sales, HR, customer service, and more! So, here are the major project management ERP features-
Resource management
Change orders
Cost estimations
Project overview
Analytics
Reporting
Task Management
Timesheets
Customer Service
The ERP system must have various features to optimize customer service while reducing data isolation, errors, and waiting time. This is the key to providing the best customer experience that ensures brand loyalty and satisfaction. These features include-
Database management
Helpdesk
Live Chat/Chatbot
Survey features
Record keeping
Human Resources
HR features include all standard human resource tools. These are employee record maintenance, attendance, and payroll management coupled with a database for documentation of employee records. Moreover, some ERPs may include employee training capabilities. Here are the key features under the HR category-
HR recruiting
HR expense management
Performance reviews
Attendance
Training
HR leave management
Employee record management
Operations
This module of an ERP system must offer real-time analysis and reporting of your operations, production, and supply chain processes. It involves automation and advanced analytics to help you make data-driven operational decisions. The operational features include various tools for managing all the key operations-
Product lifecycle management
Quality management
Purchase management
Inventory management
Supply chain management
Sales
ERP tools must integrate various tools to offer a complete sales module. This results in comprehensive features that help you manage your marketing, customer relations, sales, and invoicing processes from one platform. Here are the key sales features that every ERP must have-
Point of Sale functions
Integrated marketing and lead management tools
Invoicing and sales record keeping
Three Signs That You Need ERP
ERP software systems offer diverse benefits for all businesses. But they also involve significant installation and maintenance costs. So, you must be sure that your organization needs an ERP system before purchasing, especially if your business is small. Here are three signs that indicate the immediate need for ERP tools-
You Lack System Integration
You may be lacking system integration if you have difficulty consolidating information across your systems and spreadsheets. And this is where an ERP solution can help by centralizing all business operations in one system.
This centralization allows your company to have one workstation with all relevant information. Moreover, it improves data flow between departments to cut data-related operational delays.
You Have Problems With Accounting And Sales
If your accounting team is facing delays due to a lack of accurate and up-to-date data, you must apply an ERP system immediately! This is because data problems result from poor communication, recording errors, and lack of centralization. And an ERP system solves this by automatically maintaining accurate records and reporting them to all involved departments through a centralized database.
Similarly, an ERP tool will help you if you find it difficult to interpret your sales and their relation to your inventory. This is because your ERP provides your sales, inventory management, and customer service teams with correct and up-to-date information about your orders, shipping status, sales, and inventory.
Your Business Is Suffering Due To The Lack Of Mobility
Mobility is crucial for modern businesses to gain a competitive advantage, increase productivity, and grow profits. So, you need a system easily accessible to all your employees through various devices. This ensures employees get timely updates and have access to real-time information from anywhere!
Benefits Of ERP Solutions
There are several benefits to deploying an ERP system in your organization. And many of them count on the integration, accuracy, and efficiency of ERP software. Let's understand the major benefits of Enterprise Resource Planning solutions in further detail-
Focused and Reduced Cost
ERP software may be expensive compared to specific solutions for every process. But, they actually lower your costs by replacing several tools with one solution.
An ERP can reduce your overall licensing and maintenance cost as you will use one centralized software and database instead of spending on multiple systems. It also provides various modules you can select as required to prevent unnecessary expenditure.
Moreover, Enterprise Resource Planning software can integrate with any third-party apps. So, you are not bound by their features. Besides, you can also reduce training costs since your employees will have to learn only one system as opposed to many small applications.
Improved Employee Productivity and Experience
Another benefit of ERP systems is the rise in employee productivity. It achieves this by applying automation to reduce the time and effort involved in daily business activities.
This way, employees can focus more on the tasks that bring in maximum revenue. Moreover, ERP tools make employee training and onboarding easy and affordable as they have to learn only one tool.
Enhanced Organizational Visibility
ERP software gives you a complete vision and access to all the important organizational aspects. With instantly accessible data from every department, you can obtain a real-time status report on resource usage and employee activity, all on the same platform.
This strengthens your decision-making accuracy and boosts collaboration between your teams. At the same time, it promotes a more streamlined workflow within the company. So, all your departments can cooperate effectively towards the common organizational goals.
Pooled Business Processes For Higher Efficiency
ERP systems bring all your data to a centralized platform, ensuring better cooperation and efficiency. Moreover, they ensure data quality by reducing errors and duplicated entries.
The built-in, interconnecting modules of an ERP system also boost the data flow between the different departments. In this way, ERP keeps everyone in the loop by ensuring the smooth flow of accurate data. This, in turn, enables seamless operations and effective decision-making.
Faster Response Times
A superior speed and quality of customer service offers a significant competitive edge and helps ensure customer loyalty. To enable this, your front-line executives and sales team need instant access to all customer information.
This requires the integration of systems from across departments into one central unit. And the most simple and affordable way to do this is simply using the right ERP software.
Regulatory Compliance and Security
Integrated ERP software also ensure that back-office operations align with industry regulations. This is because ERP solution providers monitor changes in compliance requirements and update their features accordingly.
Moreover, Enterprise Resource Planning (ERP) systems enhance your data security. This involves features like regulated data access, centralized monitoring, and integrated firewall systems.
Mobility and Flexibility
Cloud-based ERP tools streamline data from various departments into a unified online platform. You can access the data anytime, anywhere, and from any device. As a result, there's greater mobility and flexibility for your employees. And this, in turn, ensures higher productivity and instant data sharing, no matter where your employees are!
Better Accounting and Financial Reporting
ERP tools also help you track accounting processes and make detailed financial reports with live data. They provide a centralized system to maintain, update, and analyze financial records automatically. This function becomes especially important as your transaction volume and complexity grow.
How Does ERP Software Work?
ERP systems use a standardized data structure where information entered by one department is immediately available to authorized users across the organization. This real-time data is then applied to processes across departments by their respective ERP modules. Then, the ERP modules from each department work together, with actions in one department triggering actions in another.
The ERP automates these actions as per pre-defined rules based on your company's workflow. And they help to optimize and automate most of the processes of every department. As a result, it creates a seamless cross-organizational workflow that has high accuracy, speed, and automation.
For example, the ERP automatically creates an invoice on receiving an order. This also appears in the accounting and inventory records, where the financial reports are automatically updated.
To summarize, an ERP system takes the role of multiple recording, analytics, planning, and management software. It does this by implementing different modules for its respective department. Following this, all modules connect through a centralized database to ensure that business operations are seamless, automated, and mobile.
In this way, the ERP keeps everyone on the same page, helping synchronize all processes while maximizing efficiency. This ultimately ensures that you use all your resources to their full potential in a planned manner. At the same time, it eliminates all errors, wastages, miscommunications, or delays. And that is what Enterprise Resource Planning is all about!
Explore New Horizons With The Right ERP System!
Enterprise Resource Planning systems provide crucial integration, centralization, automation, and mobility benefits. These streamline your costs and optimize resource usage, providing a significant competitive advantage!
On the other hand, not applying ERP will severely limit your business's ability to scale up its operations. In fact, attempting to grow your business without a proper ERP system is a sure-shot method to create mayhem across your company!
So, it is time you go for the right ERP solution based on the examples and tips discussed in this blog.
However, you must look only for affordable, cloud-based solutions that offer all the required features. Also, you must carry out ERP software planning to ensure that the ERP is usable for your employees and fits in with your third-party software.
With the systematic application of the best ERP solutions, your business is sure to grow exponentially!
All the best!
FAQs
1. What is ERP software?
Enterprise Resource Planning (ERP) software help manage businesses by applying a system of integrated and centralized applications to manage and automate core business operations. 

2. What companies use SAP ERP software?
The companies using SAP ERP software are Coca Cola, 3M, ConAgra
BASF North America, Audi AG, Burger King, and Citrix.
3. What does ERP stand for in software?
ERP stands for Enterprise Resource Planning. It is a software that helps manage the business processes of an organization. It helps minimize delays and speeds up the workflow.