New Sales. Simplified Book Summary – A Quick 17 Min Read
As a salesperson, you would want to learn how to close more deals and hit your target easily. You must be looking for a resource that can help you out with propelling your sales, right? Then, 'New Sales Simplified' is just the book for you. Written by Mike Weinberg, this book has anecdotes, examples, as well as proven formulas that help you with the different stages of the sales process – from prospecting and developing new businesses to closing deals. Getting a steady flow of new opportunities is essential to keep things moving even if your existing customers give you repeat business.
In the book, Mike Weinberg talks about the mistakes salespeople and executives make with a much-needed dose of humor and honesty. Moreover, he offers tips to overcome sales objection.
'New Sales Simplified' is a simple, practical, and relevant book that helps you learn the following,
a. Identifying genuine prospects
b. Drafting a compelling sales story that focuses on customers
c. Perfecting the Cold calling to reach out to more prospects
d. Using email, voicemail, and social media to your benefit
e. Building a rapport with potential customers
f. Preparing for dialogue with buyers
g. Allot time for business development activities.
Hence, New Sales Simplified has an easy-to-follow plan that takes the mystery away from prospecting and boosts your business.
Do read the New Sales. Simplified summary till the end!
About The Author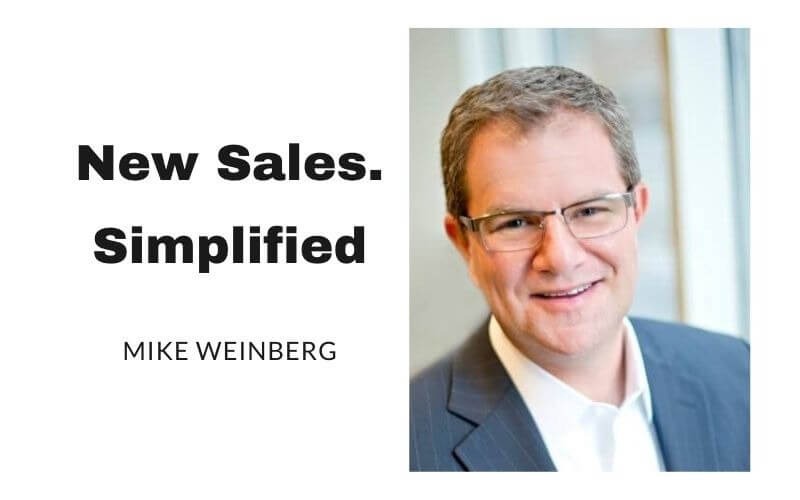 Mike Weinberg is a speaker, coach, consultant, and author who is into new business development and sales management. With his practical approach, he wishes to simplify sales and create salespeople that perform well. Also, he has been working with companies of different sizes and in various industries. Moreover, many publications, including Forbes and OpenView labs, gave him the title of Top Sales Influencer, and 'New Sales Simplified' has been a number one Amazon Bestseller.
One Sentence Summary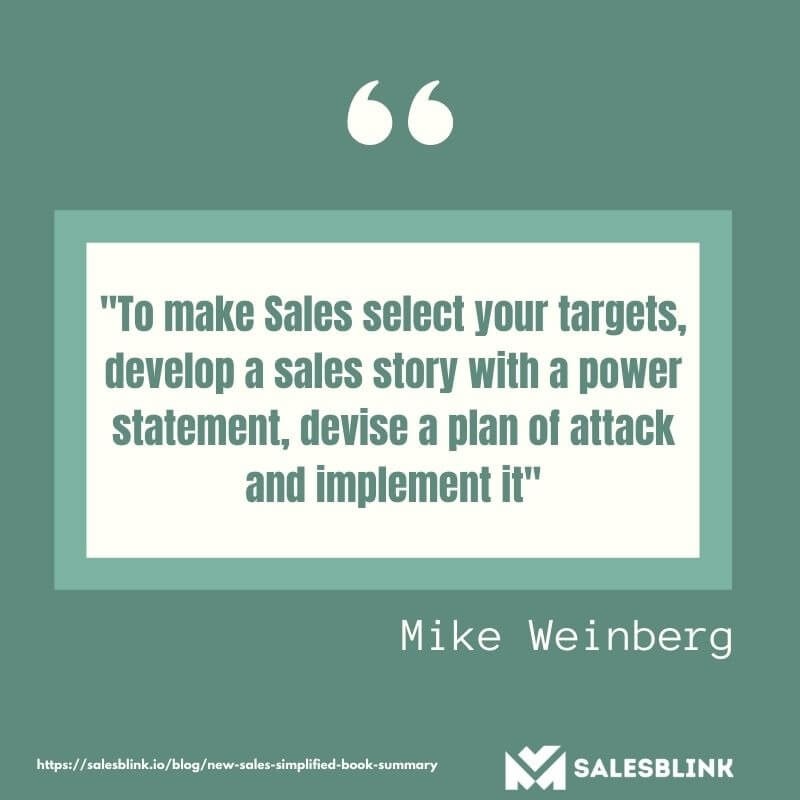 Following the New Sales. Simplified summary in a couple of sentences,
You must select your targets if you want to make new sales. Develop a sales story based on the prospect or customer with a power statement and devise a plan of attack and implement it.
'New Sales. Simplified' Book Summary
The book begins by looking at the fundamental reasons why salespeople fail. The author lists the key stumbling blocks that stop a salesperson from being successful. Weinberg identifies the 16 key paths leading to the failure of salespeople. It has points that you can classify as negative – for example, not having the ability to draw the prospect's attention or displaying a negative attitude. The others seem admirable such as being always ready to pitch in to assist or eager to take care of prospects. However, even they are equally responsible for ruining the success of salespeople in closing deals.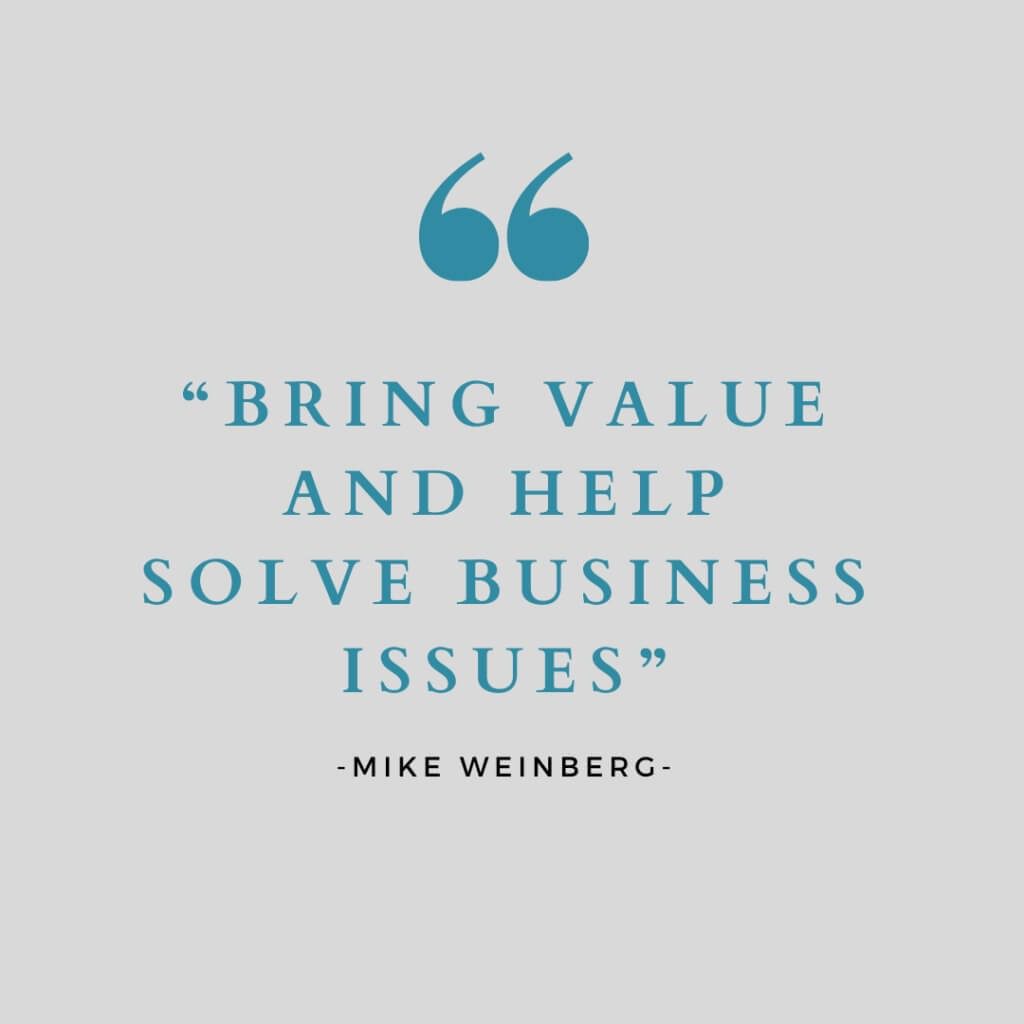 The author then looks at the usually overlooked hindrance to a salesperson's success, the company's leadership. Most companies wouldn't want to admit that the root cause of the problem is the attitude of the executive suite and not just the salespeople. The author further observes that companies create massive walls that stop sales teams from succeeding. In addition, these walls have their base on negative attitudes and the absence of clear focus.
"New Sales Simplified" provides the following insights into the actions a salesperson has to take to find and develop a new business,
1. Selecting targets
– You require action to find new business and not just a reaction. It also has to be selective and focused. The author also reveals how you can develop target accounts.
2. Developing a solid sales story
The sales story should not be about your business or your product. Instead, it has to be about your potential customer and what your offering means to them.
3. Building a connection
The author also teaches how you should connect with your target prospects, and in the list of the tools mentioned in the book, a mobile phone is one. He teaches how one can use the phone effectively in a detailed manner and create Sales meetings with potential customers that eventually bear fruit.
4. Taking control of your sales
All your efforts would be worthless if you can't create an atmosphere that lets you exercise your skills with your prospects. You have to do it for yourself because nobody is going to do it for you. The chances are also that other people, including your manager, might be conspiring unintentionally to prevent you from doing what is essential to be successful. The author offers tools that you would require to control your sales business and control the sales destiny instead of allowing circumstances to ruin your career.
A Closer Look At The Author's Ideas
Now, let's move on to what the main points of discussion are,
1. Nothing is as important as prospecting, but very few salespeople realize that.
You would agree that prospecting is a fundamental activity in sales, but not everyone knows how to do it properly, and some don't wish to. Some feel that they can wait for customers to come, but this is not the right approach. Unless and until you put in efforts to prospect, you won't get new business.
Also, salespeople often overlook the importance of prospecting as they don't know its significance.
2. There is nothing complicated about prospecting, sales, and business development.
Activities like prospecting, business development, and even selling are not tough, and anyone can do them. You can also find clients and show them how your product or service can address the problems that they are facing.
Every business requires new customers to grow. Therefore, prospecting and getting new clients, decide the success of a firm. While this may seem to be a primary business principle, many sales reps don't understand it and are not too inclined towards prospecting. It results in empty sales pipelines. Hence, there is a lack of new leads as the sales reps didn't carry out their research to understand the needs of the prospect companies and try to reach out to them.
3. Salespeople working as 'hunter-farmers' lack the time for business development.
At times, companies commit the mistake of loading the sales reps with customer maintenance tasks. While taking care of customers is essential, how can a sales rep give time to prospecting and selling activities when their plate is already full?
To counter this in small and medium-sized businesses, you can use a hunter-farmer model. In many companies, only a handful of the salespeople are actual hunters, i.e. they are the ones who hunt for new business. The rest of the individuals in the sales team are farmers who help in managing the existing customers.
4. There are many reasons why salespeople can't or won't sell
Though many salespeople can solve problems, manage relationships, retain clients and serve them, they can often get new business. It is chiefly due to the obstacles that lie in the path and prevent them from prospecting and selling. Some hindrances include lack of collateral literature, websites not fully completed, and also lack of sales leads.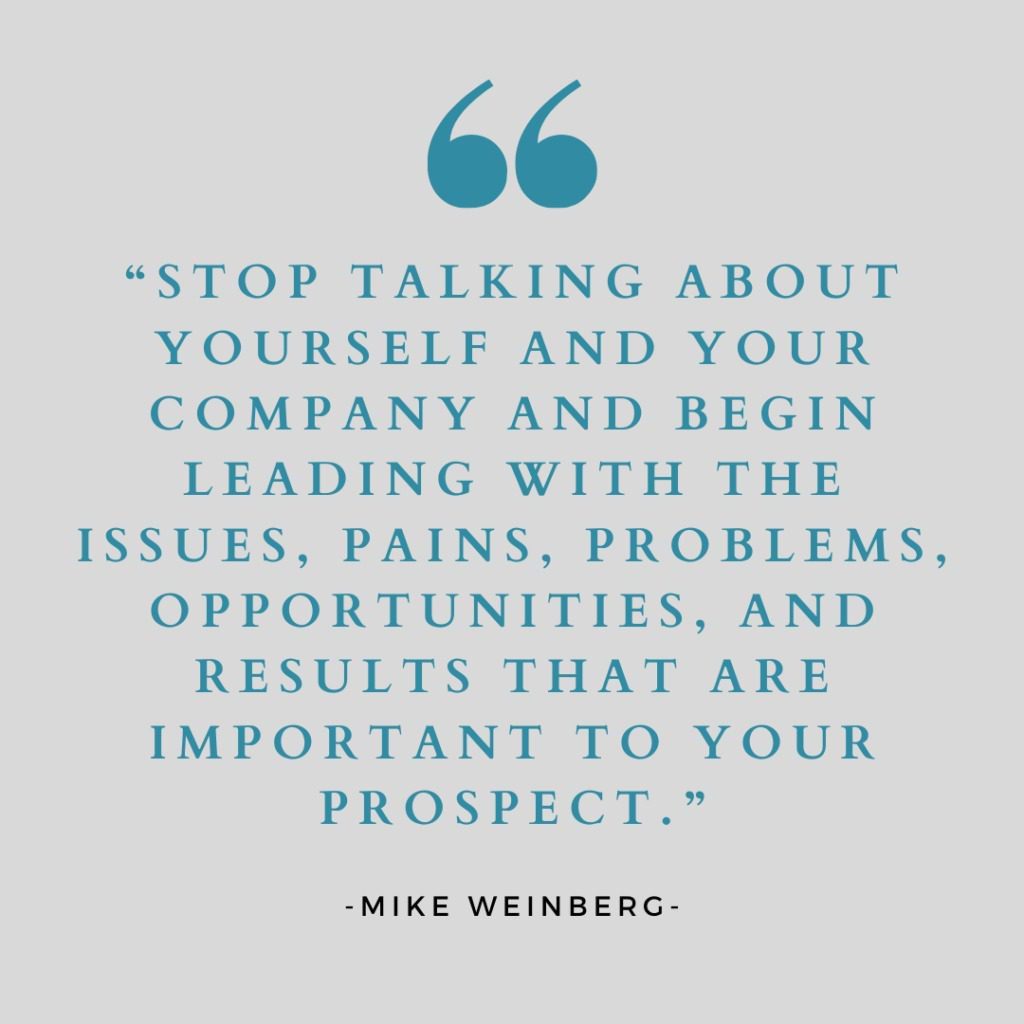 The author mentions the following 16 reasons for the failure of salespeople at developing new business in "New Sales Simplified",
1. Never had to prospect. You didn't have to find new business, so you don't know how to do it.
2. If you are waiting for the company to give you leads, then this waiting would lead to failure in developing new business. Thus, being proactive with the task is important.
3. Being "Prisoners of Hope". As a prisoner of hope, you would stop working on the sales process and pursuing new prospects.
4. Not being capable of telling a sales story renders you incapable of grabbing the attention of people. The audience gets bored as a result. The chances are that you are either too self-focused or present an unclear message.
5. Having an improper target account selection process and poor focus. Such salespeople end up wandering. As a result, they don't have the focus on lists of target prospects or customers.
6. Being late to the party. When you don't actively work on a list of target accounts and enter the scene late, it is difficult to grab an opportunity. Doing so makes the prospect look for solutions similar to yours from competitors.
7. Having a negative attitude and pessimistic outlook. Potential customers don't like those who are negative and disagreeable. Thus, you have to be positive.
8. Being guilty of a fake effort while making phone calls. Some salespeople only pretend to make telephone calls proactively, which is another reason for new business failure.
9. Not being likable, unable to adapt to the buyer's style, and having lower EQ. It is natural for people to buy from salespeople they like. There can also be some habits in you that are stopping you from succeeding. You would need to learn how to manage your emotions well.
10. Being unable to conduct a sales call effectively. The reason for sales calls being ineffective is the salesperson forgetting the meeting's purpose. It is also important to find the pain points and problems the prospect faces and resolve them with the solution. Also, most salespeople are not aware of the difference between making a presentation and selling. They speak too much and don't ask sufficient questions.
11. Prefer babysitting existing accounts. While it is essential to serve the existing customers to sustain a business, there is a need to reach out to new leads to get more opportunities.
12. Busy volunteering to be a good corporate citizen. People will like you if you are a good corporate citizen, but that won't help you get new accounts. That is why you must allot more time to prospecting activities.
13. Not owning or respecting the sales process. Lack of a clear sales path or allowing others to set it can make salespeople fail. There can also be an inability to use the sales process effectively.
14. Not using the calendar to protect your time. There is a need to carve out time for the prospect.
15. Not learning and growing. If you stop growing, it means that you are dying. Few salespeople consider themselves to be professionals, and even fewer put in personal and professional development efforts.
16. Not meant for sales. Some salespeople are not for prospecting, hunting, and also developing new business.
5. Sales compensation plans serve the underperformers more than the overachievers.
Some companies don't plan their sales compensation plan the right way. Such plans don't offer incentives to those who close more deals and bring more business. Salespeople earn good salaries regardless of their performance. So, they earn irrespective of the sales they make. As a result, these sales compensation plans tend to demotivate those who are performing their level best.
Companies should thus compensate salespeople based on their performance. Also, the structure of the plan should be such that it rewards the overachievers.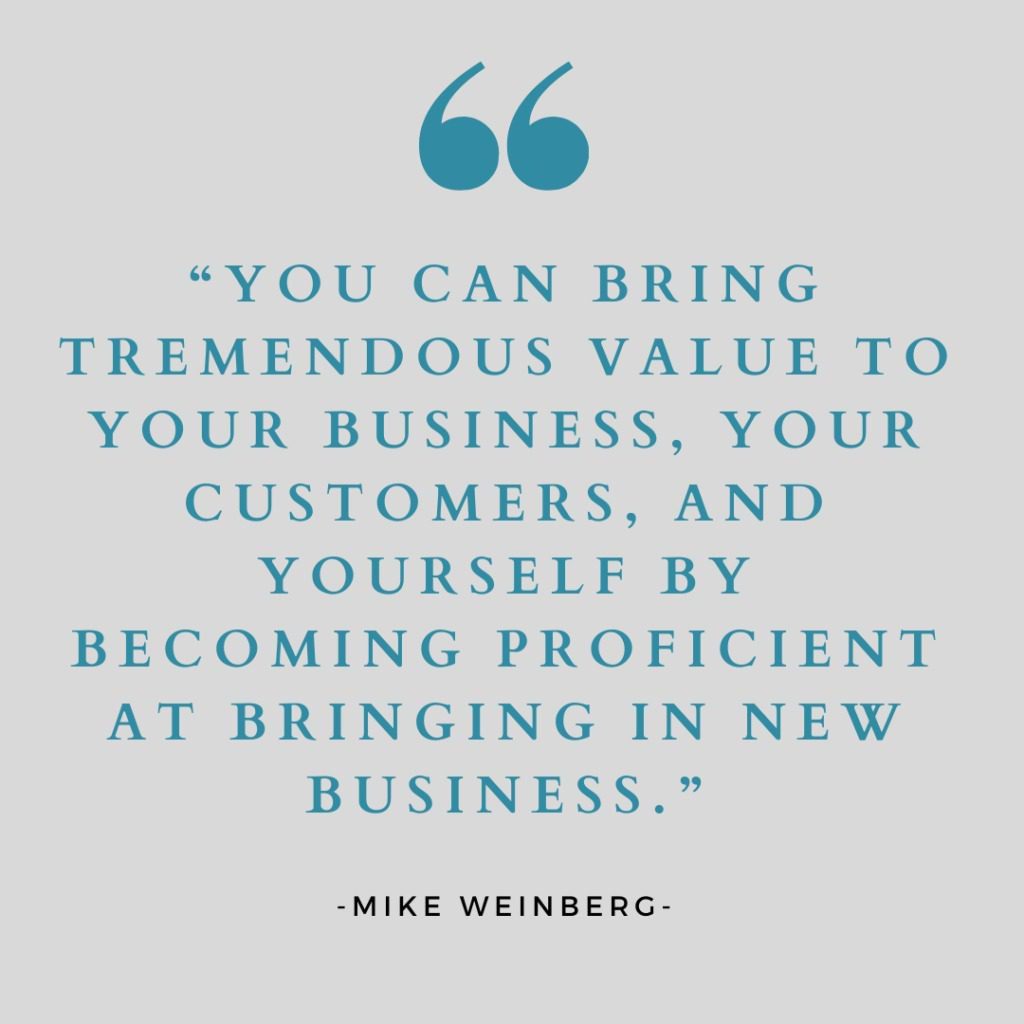 New Sales Driver – Proven Sales System To Maximize Sales
The author says in "New Sales Simplified" that to make more sales, salespeople can use a proven system that comprises of following three components,
1. Choosing and pursuing the right sales targets
For success in sales, it is essential to know which of the prospects are the most suitable for you. These are either the targeted accounts or active accounts. In addition to those, make a list of those who are not purchasing your product or service but can be your customers in the future.
Here, active accounts refer to those salespeople are in dialogue with for sales. It is also essential for salespeople to focus on 'hot accounts' or those at or near the proposal stage.
Ideally, sales reps must try to allot one-third of their time to target prospects, one-third working on active clients, and one-third on paying attention to hot accounts.
As a salesperson, when you decide which prospect you should target and pursue, look for companies that match a specific customer profile. Ask yourself questions like:
a. Who are our best customers?
b. What is common between them?
c. What does our business 'look', 'smell' and 'feel' like?
After setting the targets, it is time to involve the manager. As the most valuable resource of a salesperson is time, nobody would want to waste their time on unproductive leads.
2. Make use of the right sales weapons to close deals
To get new business opportunities, you must try hard to stand out in the crowd of competitors. You can do so by telling a story about how your offering can help the client. You have to keep the story consistent and honest to win the trust of the potential customer.
Weapons that you can use to help close sales faster
1. Networking
Networking is important because when you know more people, there are higher sales opportunities.
2. Social media
You get the opportunity to connect with prospects using social media.
3. Emails
This is a primary way of reaching out to prospects when you make the initial contact.
4. Voicemail
You can leave voicemails that focus on your company's capability.
5. Marketing materials
Choose to send traditional printed marketing material to prospects via physical mail.
6. Online marketing tools
Leverage the power of the internet by posting blogs, videos, podcasts, videos, and sales webinars.
7. White papers
You can help your business gain credibility by preparing reports and information packages.
9. Trade shows
Using trade shows to introduce products or services can help impress potential customers and close bigger deals. When you entertain prospects with lunches, dinners, and much more, it reduces their natural resistance to purchasing the product or service.
The sales story should answer the following:
a. What is in it for the prospect?
b. Why should the prospect choose you over your rivals?
c. Who you are and what your product or service is (in brief)?
The building blocks a sales story should include
1. Clients issues addressed
Pains removed, problems resolved and opportunities provided to the client. Clearly communicate what your product or service has to offer.
2. Offerings
Mention what your products, services, and solutions are in a simple and concise manner.
3. Differentiators
What makes you better and differentiates you from others
3. Plan and execute sales attacks
To succeed in sales, you have to meet several people and sell them your solution. You also have to schedule time for prospecting and activities required for new business development for the same.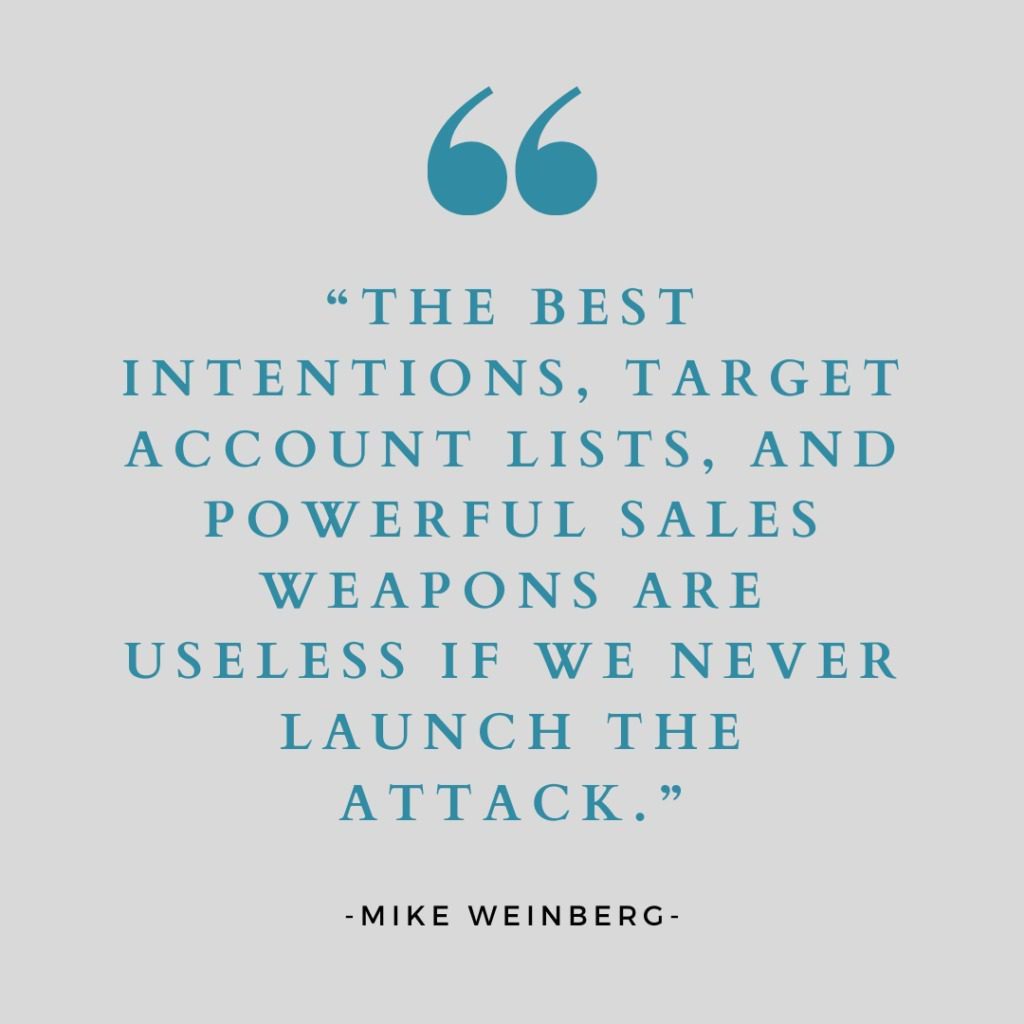 You must know the time you require from reaching out to the prospect to getting them to sign the contract. Following are the steps involved in the process:
a. Initial targeting
b. Initiating the conversation
c. Meeting the prospect
d. Securing important data
e. Making the presentation or proposal
f. Closing the deal
When you know how long this would take, you can easily plan the number of deals you can close each month.
Characteristics Of A Healthy Pipeline
The author reveals in "New Sales Simplified", what the characteristics of a healthy pipeline are,
1. Full
2. Moving
3. Balanced
1. A full pipeline
A healthy pipeline has to be full of deals. Having fewer deals in the pipeline only mean that the sales team has turned into a prisoner of hope. This is surely not suitable for any business.
2. A moving pipeline
A pipeline is no good if nothing moves through it. Also, Opportunities must be moving forward from one stage of the sales cycle to the next one.
3. A balanced pipeline
In a balanced pipeline, you can see accounts and opportunities in different sales cycle stages. Furthermore, pipeline balance predicts future closings well.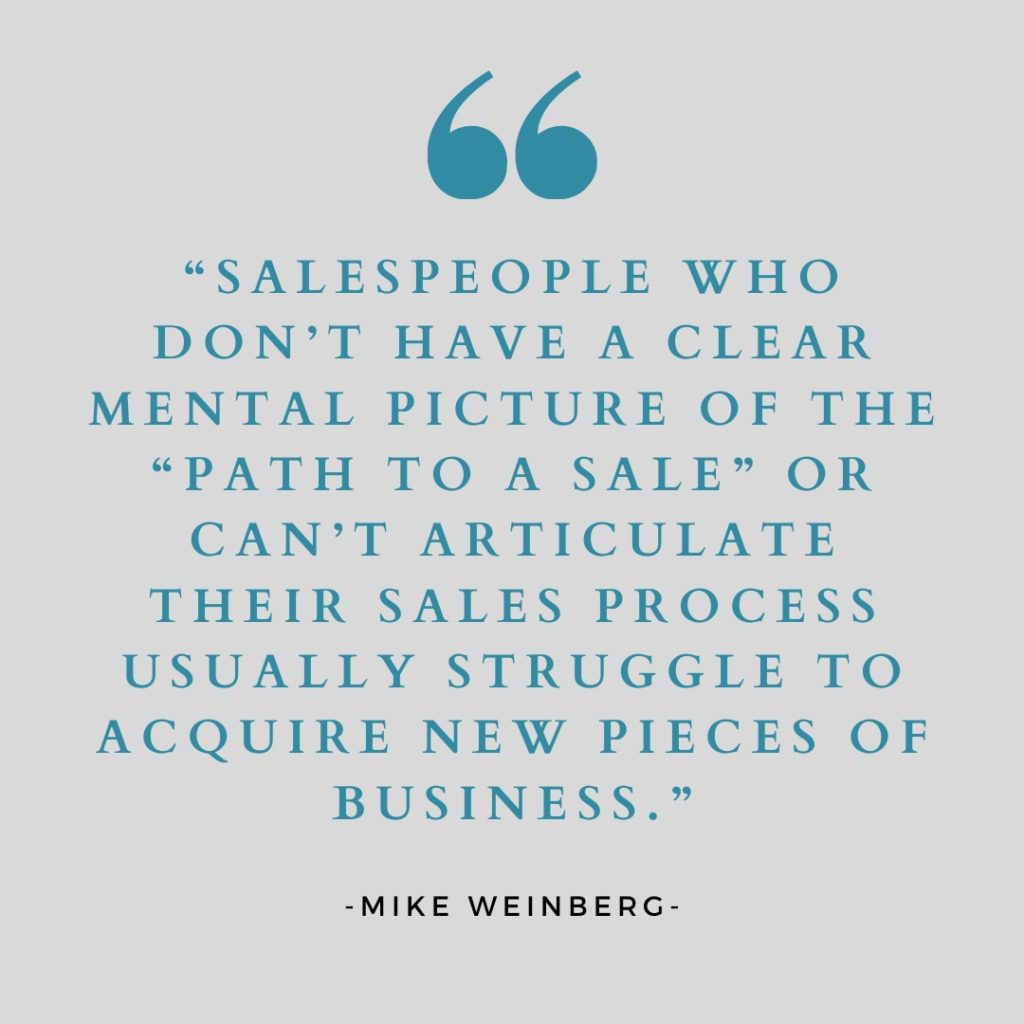 Presentations And Its Drawbacks
Weinberg is not very keen that you should give presentations to prospects. In fact, he has made it very evident in the book.
According to him, you must try not to "Show up and throw up". A few salespeople think that giving a complete presentation is essential so that you get the chance to ask questions to prospects. As an answer to those people, Weinberg says that sharing meaningful information is essential to not just build credibility but to invoke prospect's interest, and warm them up. He also doesn't believe that you should use slides at the starting stage, i.e in the first meeting. However, on a different note, he does admit that a well-made sales presentation can be a powerful sales weapon. However, for the presentation to be effective, it has to be customer-centric.
Key Takeaways From 'New Sales. Simplified'
1. Be a person who offers value and helps in solving the problems businesses face.
2. Have a solid plan when going for sales calls and share it with the potential customer.
3. Set aside time blocks on your calendar for prospecting and stick to them.
4. Know where your company is heading strategically and also what the competition is like.
5. Bring the pay in alignment with business goals. It is better to increase commissions on acquiring new customers while reducing the commissions on retaining customers.
6. Attend trade shows but don't exhibit at them.
7. Choose 4-5 dream clients and work on them for the long term.
8. Instead of talking about your company and your product, ask the prospect about their issues, pains, challenges, opportunities, and outcomes that matter to your prospect.
9. Tell a sales story having three main parts i.e. – addressing client issues, making offerings, and differentiating yourself from the rest.
10. Keep your tone casual and comfortable instead of a formal one.
11. Divide your prospecting time into thirds to cover hot opportunities, active deals, as well as targeted prospects.
Who Should You Read This Book?
'New Sales Simplified' is a book that sales directors should have a look at. The author has written it so well that they can take notes from it and try to implement the strategies Mike Weinberg has mentioned. It provides insight into new business development that is important for every company regardless of the industry. You can check out this book here.
Why Do I Recommend This Book?
In this book, Mike Weinberg injects humor while examining some of the mistakes salespeople commit and provides tips to overcome them. You can learn how to establish trust and prevent the anti-salesperson reflex of customers to scale up your business.
The Final Takeaway
All companies are not the same. Some have a constant flow of leads from marketing machines, which means sales reps have countless leads to pursue without them finding opportunities by themselves. Then, there are those companies that feel that salespeople are not productive. Therefore, Weinberg strongly believes that salespeople are not putting in the time and effort required for developing new business.
To do business, you need a pipeline that is full, moving, and balanced. Without making calls, you cannot see that happening because acquiring customers requires making calls actively.
"New Sales Simplified" is helpful for new business development. It tells you what you should do and what not. The author has listed so many reasons why salespeople fail at developing new businesses. If your team starts working on its shortcomings, surely there can be a drastic change in the business development scene in most companies. Instead of just giving sermons on what to do, the author tells you what you are not doing. He mentions that new business development will succeed when there is sales engagement from managers, leaders, and reps.
I hope you found the New Sales Simplified summary useful.
FAQs
Who is the author of New Sales. Simplified?
Mike Weinberg is a speaker, coach, consultant, and author who is into new business development and sales management. Many publications, including Forbes and OpenView labs, gave him the title of Top Sales Influencer
Who should read New Sales.Simplified?
'New Sales Simplified' is a book that sales directors should have a look at. The author has written it so well that they can take notes from it and try to implement the strategies Mike Weinberg has mentioned
Why should you read New Sales. Simplified?
In this book, Mike Weinberg injects humor while examining some of the mistakes salespeople commit and provides tips to overcome them. You can learn how to build trust and prevent the anti-salesperson reflex of customers