Planning a webinar? That's just what you need to do to get more people to know about you and, as a result, propel your sales. In fact, 89% of marketers believe webinars are better than other lead generation channels.
Marketers are always seeking new methods to improve the results of their campaigns, and webinars assist you in increasing brand exposure, reaching a larger audience, and increasing engagement. Conducting webinars for sales is an excellent method to establish your brand as an authority, which leads to improved long-term sales performance.
The main reason why they are so effective is thar one need not hire a place or deal with complicated logistics that come with presenting in-person events. Therefore, webinars help increase sales without any hassle. As a result, the number of businesses organizing virtual events will increase soon.
Are you not sure about getting started with sales webinars? Take a look at this post to get an idea about planning a webinar for your product or service.
Let's begin if you're ready!
What Is A Webinar ?
First of all, let's begin with what a webinar actually is.
A webinar for sales is a virtual event attended by people online. There is a live audience present for this event.
The other names for sales webinars are webinar sales events, online seminars for sales, webcasts, web lectures, and virtual events.
'Less is more,' but not when you talk of webinars. Despite the recent communication trends toward shorter and faster communication, the average watching duration for webinars increases with every passing year and now stands at 56 minutes.
The webinar market is also growing at a rapid pace. This is for various reasons, including the fact that webinars are quite effective. They also help you save a lot of money. In addition, webinars are live and interactive.
In terms of teaching and education, webinars are appealing because of the high level of engagement, which aids participants in learning and understanding more quickly.
Like a seminar, it needs a host, a presenter, a presentation and, an audience. The main difference is that you conduct sales webinars online to increase sales. The key distinction between sales webinars and online sales videos is that the former allows the presenter and the audience to engage live. The following is a typical template for a webinar,
1. An inspiring story, along with the introduction.
2. The sales webinar's main theme (which includes a video of the presenter talking, plus slides).
3. Attendee questions getting answered live during the Q & A segment.
The possibilities are limitless with webinars. Let's dive in deeper.
Webinar Marketing & It's Use
Webinar marketing is when you use an online seminar to reach out to a larger audience and advertise your product or service. The majority of sales marketing webinars are lead generation tools that deliver free, valuable information in the hopes that attendees would recognize the need to upgrade to the company premium products or services. Sales webinars are a different type of lead magnet than a downloadable checklist or booklet, with the ability to provide much more value and better leads.
Businesses use sales webinar marketing to:
1. Showcase their products and services
2. Elaborate on what is already present in a blog article
3. Showcase their skills in sales
In short, hosting webinars allows businesses to demonstrate their expertise in a specific industry while nurturing prospects.
What Do Sales Webinar Marketing Statistics Say?
According to the Content Marketing Institute, 58% of marketers use webinars for promotion. And over 32% believe webinar marketing will be crucial to their success this year. When you go deeper into the webinar marketing statistics, you'll find even more evidence of how effective webinar marketing can be :
1. According to MakeSocialMediaSell, webinars keep 40% of viewers' attention.
2. According to ReadyTalk, between 20% and 40% of individuals who attend a webinar become qualified leads.
3. According to the Branded Solopreneur, between 2% and 5% of webinar attendees will purchase something from you.
Only around half of those who sign up for a webinar actually show up. Nonetheless, the outcomes of using webinars are self-evident:
1. MakeSocialMediaSell's Jeff Molander received a 29% closure rate from a single webinar.
2. Clean Harris' webinars have a 20% conversion rate.
Why Shouldn't You Give Up On Sales Webinars?
1. Sales webinars keep people's attention
Unlike commercials, webinars aren't at all obtrusive. People eagerly attend your webinar to learn what you have to say. According to MakeSocialMediaSell, 40% of users view webinars from beginning to end. This gives one freedom to promote how your products and services can also solve people's issues at your own pace.
2. Webinars let you warm up leads swiftly
Attendees of webinars are interested in the topics you intend to cover. Perhaps they're at the awareness stage of the buyer's journey, which implies they're aware of an issue and want to learn more about it so they can find a quick solution. They are more likely to remember your brand if you help them solve their problem. Between 20 and 40 percent of the webinar, participants turn into qualified leads.
3. Webinar for sales increase conversions
By organizing a webinar, you may demonstrate your extensive knowledge and show how beneficial your products or services are. Some customers will be ready to place an order with you soon after the webinar, particularly if they need to fix a problem quickly. According to Branded Solopreneur, approximately 2-5 percent of webinar attendees will make a purchase.
Webinars for sales can be used as a lead magnet to attract new subscribers and leads. To accomplish so, you'll need to add a lead magnet to your website and inform visitors about the value you'll be providing. Users will join your webinar for sales and become leads if they find that what you're offering is worth bartering their email address and other details.
Benefits Of Hosting A Sales Webinar
Hosting a webinar for sales has a lot of benefits involved. Let's take a look at them.
1. Reach out to potential customers and generate leads
Webinars for sales are quite helpful in reaching out to the target market and generating leads. Compared to other channels, webinars get you better results in b2b lead generation.
2. Increase brand awareness
You can get the audience interested in your product or service by hosting a webinar. In a way, it will help make your presence felt online and increase brand awareness. The more people know about your business and offering, the higher the chance of conversions.
3. Get connected to a wider audience
As you can have as many as 3000 people as an audience in your webinar event, you can also reach out to many people in one go.
4. Reduces expenses
Unlike other business events where you have to book a venue and gather people, webinars help you save money as you conduct them online. There is no travel expenditure involved, and you can get results in the most hassle-free manner.
Steps To Find A Sales Webinar Topic
Like any other type of content marketing, sales webinars rely on their topic & title to capture people's interest. An excellent title will pique your curiosity while also providing useful information. Follow these steps to find a topic and come up with an intriguing title :
1. Examine your blog for popular themes that can be useful while creating webinars. People who ask questions and provide comments may indicate that they might be interested in a related webinar.
2. Check your social media profiles and ask your customer service team if users/customers ask any common questions.
3. Looking at other webinars around you and selecting a topic you think you can do better.
A Glance At Webinar Sales Funnel
A webinar funnel is nothing but a marketing and sales technique that automatically converts visitors into leads and leads into purchasers. You can employ outbound or inbound marketing methods to generate appropriate visitors to the webinar's registration page. The webinar funnel's purpose is to produce leads and sales.
Why is the webinar funnel successful?
Video prospecting content is quite popular. Consumers prefer viewing a video over reading an article by 72 percent, according to YouGovAmerica. In practice, this implies that hosting a webinar can occasionally generate SaaS leads than providing a free downloadable document like a whitepaper or ebook. On average, 20% to 40% of webinar attendees convert into qualified leads, with roughly 5% of attendees purchasing at the end.
7 Steps To Create A Sales Webinar
You must go through a few stages to develop a webinar for sales based on your product's quality and target audience. This is a general guideline that serves as a blueprint for any webinar.
Following are the seven steps to create a webinar for sales,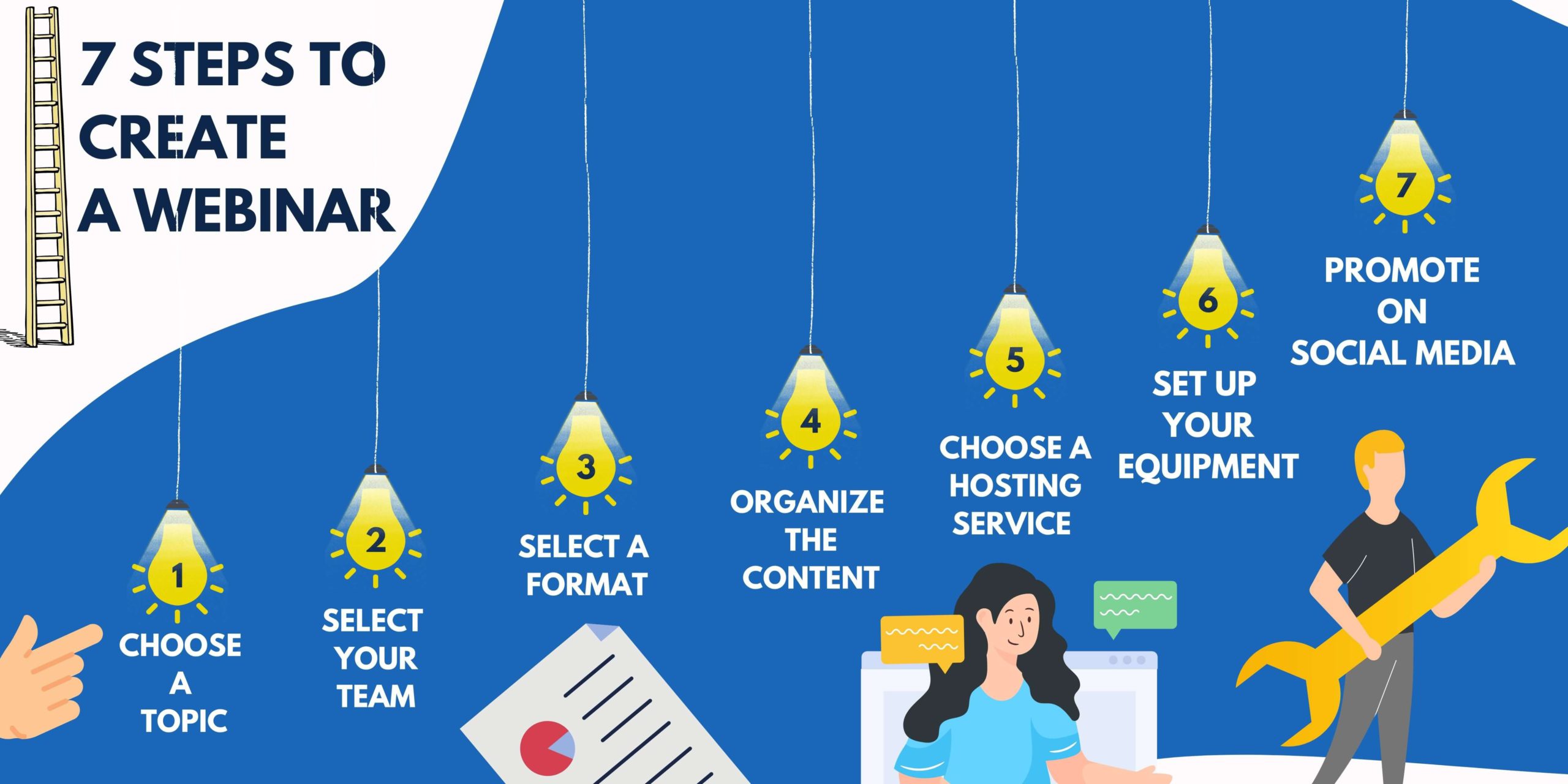 Step 1. Choose a topic
It's preferable to focus on only one topic at a time. Review the content you've already created and see the topics your audience is most interested in as a starting point for your search. Consider frequently asked topics that your speaker can address during the webinar when choosing a webinar topic.
Step 2. Select your team
The more complex your subject is, the larger the team you'll need to run your webinar. You may require a facilitator to design the webinar content, a presenter to conduct a webinar presentation, and an assistant to handle technical issues, FAQs, and anything else that the presenter won't have time to complete. You can also complete the tasks of these three specialists on your first webinar by yourself.
Step 3. Select a presentation format
The simplest approach is to have a single speaker for the entire webinar. An interview, a moderated conversation with multiple speakers, or a Q&A session might all be part of the webinar. Choose the format that will allow you to express your message most effectively and comprehensively.
Step 4. Organize the content
Make sure the presentation you're giving contains a lot of eye-catching visuals. Plain text will not be enough because it is difficult for people to focus on over an extended time. On each slide, it's best to structure your material into lists and supplement it with relevant photos and also infographics.
Step 5. Choose a hosting service
There are several options for hosting a webinar. Zoom is one of the most popular ones. Its free plan lets you host webinars for up to 100 people, but the duration is limited to 40 minutes. You can choose any platform that meets your needs.
Step 6. Set up your equipment and space
This is the most crucial part. You must be calm and attentive to conduct a sales webinar well, especially if you feel dizzy while speaking in front of an audience. Make use of a conference room or any other quiet location. To ensure a reliable signal during the event, use a broadband internet connection and a headset microphone.
Step 7. Promote your webinar on sales in social media
To let people know about an upcoming sales webinar, use the digital marketing channels your audience prefers. Promotion is essential or else how would your target audience get to know about your webinar.
What to do after the webinar is over?
After the webinar is over, you can still do a lot. You can follow up with attendees by delivering exclusive offers, quizzes, thank-you letters, and so on.
Ways To Increase Sales Through A Sales Webinar
Set a goal for each sales webinar
Don't probe into irrelevant content and risk losing customers.
Provide the right and valuable information
Offer free services at the start until they get used to your product or service
Walk down from higher price to actual market value and specify the reason for the discount.
Utilize copywriting by providing essential information while avoiding annoying people with service pitches.
Interact with the participants during transmission and know their mindset for effective pitching.
Have a strong call to action content by providing a bonus, attractive offers, special deals (deal of the day).
Monitor and track the performance of each webinar.
Best Practices For Creating A Sales Webinar
Our users have used the following best practices and witnessed a 45% increase in sales. Here you go,
1. Identify Your Audience
Knowing what your customers require is the first and most important step in developing a service or product that speaks to them.
2. Promote Your Webinar Through Email Marketing
Determine which marketing channels you'll utilize to first promote your webinar for sales. You can now use social media, email lists, paid advertisements, and partner brands. Creating a separate webinar email is the simplest approach to increase webinar registrations.
3. Utilize Your Social Media Accounts
While you may limit yourself to one or two channels, you should try to be as diverse as possible. Try to reach out to as many people as possible to get the best outcome.
4. Closed Questions
Think of webinar interaction as a simple way to keep the audience's attention. They help to maintain the webinar's momentum.
5. Include a prize for those who attend your webinar, as well as Q&A sessions.
For each level of your funnel, here's how you might approach webinar marketing
Create a webinar to raise brand recognition at the top of the funnel.
Use webinars to demonstrate your expertise in the industry and increase thought leadership.
Through your product/service, provide a solution to client pain areas.
To conduct a webinar, you'll need a topic, an internet connection, a webcam, and an audience, as well as the following:
an email marketing tool to advertise your webinar for sales to your mailing list and deliver follow-up communications.
a dedicated easy-to-use webinar for sales platform to set up a professional-looking webinar
An online form builder creates your webinar's sign-up form and captures your registrants' email address.
Two ways that are proven to be effective.
Introduce your topic first, discuss it, and summarize it.
Yet another way to view it is to describe the client's problem, relate your own experience, show them the solution, and demonstrate how they will profit from it. You make your low-key pitch right between the last two portions.
Regardless of the framework you adopt, you're clearly articulating the value participants will receive at the start, giving it in the middle, and reinforcing it at the end.
Tips For An Effective Sales Webinar Marketing Plan
Webinars would be meaningless without context. You must lay the groundwork for your webinar by ensuring that it is completely in alignment with your business and sales goals. To get and keep people's attention, you need to provide relevant, highly targeted material that will assist them in improving their current position. Follow these easy strategies to entice your target audience and increase registrations:
1. Select a topic
You won't have to spend time justifying the webinar's value when you have a topic. The entire advertising process will be a lot easier. To begin, think of a broad concept you'd like to emphasize.
2. Find keywords that drive traffic
Search for traffic-driving keywords. You may boost the video's organic visibility by optimizing its title and description with the proper keywords. It will undoubtedly assist you in attracting organic traffic to your webinar.
3. Create a webinar framework
Come up with an engaging webinar format that will help you keep people's attention and provide as much value as possible.
4. Determine what you want to sell
When arranging a webinar, it's critical to determine what product or service you want the audience to purchase or what action you want them to do next. This will help you tailor your webinar so that the next logical step is to buy the chosen product or service.
5. Keep the audience in mind
Consider the audience and prepare webinar slides based on their degree of experience. When your webinar revolves around the audience, they can relate better to it.
6. Give the best solution
Make sure what you're presenting is the best solution for the problem you're assisting your consumers with through the webinar. Keep the self-promotion to a minimum and concentrate on being helpful. Instead of throwing ideas, make sure they leave with something they can use right away at work. Give generously. Give away a few of your most brilliant ideas. You'll establish your authority and make it more likely that someone will seek your advice. Meeting your audience's expectations, also known as serving user intent, is critical to the success of your webinar.
7. Make it intriguing
You can always brag about how great you are on one of the slides. Concentrate on a particular topic that is of direct interest to your audience.
8. Keep it to the point
Most sales webinars last about 60 minutes, with 45 minutes dedicated to your presentation and 15 minutes for attendees to ask questions. Every three minutes, engage your learners with a poll, a request for feedback, or an opportunity to contribute in chat. To keep your learners engaged, make use of all of the interactivity capabilities available in your online conferencing platform. Just make sure that the webinar's goal necessitates constant participation.
9. Use email and social media marketing
Promote the upcoming webinar with the help of email and social media marketing. Invite prospects who have subscribed to your newsletter as they can have an interest in your brand and your offering.
10. Choose the best webinar software
To ensure a hassle-free experience for your participants and nail your webinar presentation, choose the best webinar software. Make sure it includes certain features like non-downloadable webinars, registration pages that you can customize, tools for effective involvement, and the option to send reminder emails.
11. Set the best time
Set your webinar around a time when most of the individuals you want to target are available. This is most important, especially when your audience is in a different time zone.
12. Analyze your webinar campaign
Use webinar analytics to understand the performance of your campaign. It's simple to incorporate it with your current marketing tools and will help you know what improvements you have to make.
13. Create a landing page that drives conversions
Mix a clear framework, eye-catching imagery, and engaging writing that communicates directly to your target audience. You need a catchy title, description, call to action, and a registration form
14. Create a thank you page
Add CTAs to it, such as to learn more about your product, watch a demo, read a sequence of articles related to the webinar's theme, download a webinar-related eBook or other resources.
Webinar Planning Checklist To Improve Conversion Rates
Here's a checklist that will help you plan your webinar,
1. Choose a topic you already know will be a hit based on the previous content marketing results.
2. Make sure the webinar title is both catchy and instructive.
3. Create bullet points and landing page copy for your registration page. Consider the concept of social proof.
4. Limit your webinar to 60 minutes, with 15 minutes set aside for questions.
5. Ensure the slides are easy to read and you move rapidly through them.
6. Ensure the webinar is relevant to the product you're attempting to sell, and don't forget to include a call to action.
7. Choose a webinar host who can present well.
8. Finalize where the interactive videos will be stored when the webinar is over.
9. Create an email marketing campaign and opt-in forms because email is the best way to advertise webinars.
10. Work on promoting via social media.
11. Include giveaways and incentives
12. Follow up with the participants to build a long-term bond.
We Hope We Answered All Your Sales Webinar Questions!
Webinars for sales are a quick and easy approach to wow your audience. However, to deliver an effective webinar, your webinar marketing plan must be "just right." Create a strategy that focuses on the fundamentals before tailoring it to your brand. Always listen to your audience, provide information on issues in which you are knowledgeable, prepare for a seamless presentation, follow up with your audience, and repurpose your content. Finally, don't forget to keep track of your progress!
Feel free to share your thoughts with us here. We'll be happy to hear from you.
FAQs
1. What is a webinar ?
A webinar for sales is a virtual event attended by live audience online. The other names for sales webinars are webinar sales events, online seminars for sales, webcasts, web lectures, and virtual events.
2. Why is webinar marketing used?
The majority of sales marketing webinars are lead generation tools that deliver free, valuable information hoping attendees would recognize the need to upgrade to the company's premium products or services.
3. How to create an effective webinar marketing plan?
You must lay the groundwork for your webinar by ensuring that it is completely in alignment with your business and sales goals.To get and keep people's attention, you need to provide relevant, highly targeted material