25 Best Sales Techniques Every Rep Must Know To Meet Quotas
Praising your offering louder than your competitors doesn't work anymore. Traditional selling methods have faded out due to the customers' growing awareness, resistance to promotion, and lowered attention span of just 8 seconds! Modern sales techniques are now at the center stage, driven by strategic sales processes that skilled sales representatives apply to understand and convince their prospects.
Sales techniques are not one-size-fits-all, though! You must refine your sales technique through trial and error to ensure your offer resonates with the prospects.
However, various sales promotion techniques have proven their effectiveness in the contemporary market. And you can use these as general guidelines to implement an effective sales campaign for your business.
So, this blog brings you a comprehensive list of the top 25 best-selling techniques you must implement now to boost your sales!
Let's begin with our list of sales techniques.
The Best Sales Techniques
With proper sales techniques, you can ensure a constant supply of new customers for your business. They give a structure to your efforts at approaching, understanding, and convincing your prospects. However, it is vital that you clearly understand the top sales techniques and their uses before you apply them to your sales cycle.
So, here is a complete list of the 25 best sales techniques for the modern consumer market-
1. Be systematic about lead generation
Finding new leads for your sales pipeline can be a very complex and tedious process unless you follow a systematic lead generation approach. You must go for the right mix of time-tested lead generation techniques to target your desired audience instead of just sending messages to everyone you meet! Here are some methods that you must consider with your customer persona and business goals in mind-
Search Engine Optimization
Email marketing
Social media marketing
Pay-per-click advertising
Webinars
Blogging
Online networking
2. Know your sales cycle

The sales cycle includes the chronological steps a salesperson takes to complete a sale. It is a guiding process your sales reps follow to generate sales, from identifying a prospect to closing the sale. Here are the key stages in a sales cycle-
Finding prospects
Contacting potential customers
Qualifying the customers
Presenting your product or service
Overcome customer objections
Close the sale
Generate referrals
You must train your sales reps and explain your company's sales cycle to them to ensure that they work efficiently towards your business's sales objectives. Moreover, you should judge each salesperson's performance at every stage to provide feedback and make improvements.
3. Know your sales quota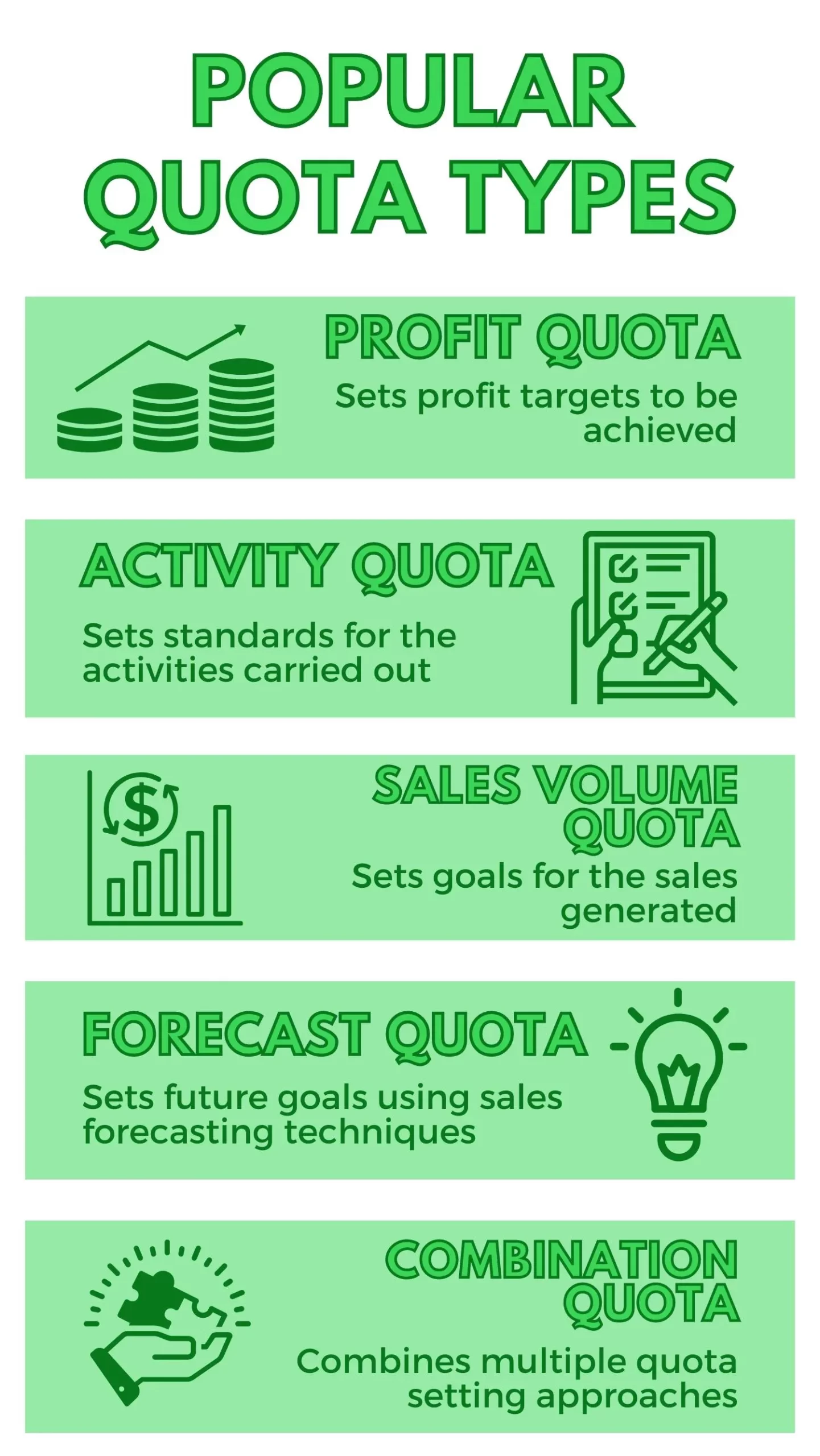 Sales quotas are the objectives your sales representatives must achieve in their respective territories. They set performance benchmarks that help you organize and improve all your sales activities while minimizing unnecessary expenditure. The quota goals also motivate the sales reps to give their best performance and help you judge and reward their effectiveness.
You can set quotas using different standards and methods. Some popular quota types are-
Profit quota- Sets profit targets to be achieved.
Activity Quota- Sets standards for the activities carried out.
Sales Volume Quota- Sets goals for the sales generated.
Forecast Quota- Sets future goals using sales forecasting techniques.
Combination Quota- Combines multiple quota setting approaches.
Designing and communicating the correct sales quota is the first and most crucial step in the sales cycle process. The sales process is bound to be disorganized and unproductive if you do not follow the right sales quota!
4. Perform customer research
You must understand your customer's situation, problems, and desires before convincing them to buy your product or service. And the best way to do this is through detailed customer research using surveys, interviews, focus groups, and ethnographic studies coupled with desk research of online reviews, social media, and digital forums.
Based on this research, you must specify the characteristics of your prospective customers and use them to build an imaginary personality or persona of the ideal customer. The leads you contact for selling are likely to have a similar nature. So, you can be better prepared to deal with them.
5. Focus on your prospect
Your sales approach must focus on understanding the requirements and situations of your prospects and making valuable and personalized recommendations accordingly. This is different to the traditional technique of praising your products and services before your prospects.
This prospect-focused sales closing technique boosts your convincing power when backed by comprehensive customer research and relevant questions.
6. Sell the problem instead of the solution
Sales promotion techniques have traditionally involved telling people about your product or service and convincing them to make a purchase. However, this approach has been overused, and people have started ignoring such standard appeals. It's now time to discuss with customers to find their problems and offer suggestions instead of announcing your solutions!
So, you must directly discuss with the customer to find and highlight the problems they face and follow it up with tailored suggestions that match their situation. This personalized approach ensures that your prospects feel understood and start trusting you before you present the promotional offer. And this maximizes the impact of your sales communication.
7. Be genuine
This is one of the top sales techniques you should learn because the modern customer is well-informed and resistant to standard promotion. So, trying to manipulate them or be dishonest will lead to failure. Your best bet is to make a genuine attempt to help your prospects, and here are some tips for doing this-
Ask relevant questions
Listen carefully
Make personalized recommendations
Maintain a friendly body language
Don't be pushy!
Clients appreciate and acknowledge genuine efforts at helping, raising your chances of closing the deal in your favor!
8. Think from the buyer's perspective
One of the most effective sales techniques is to focus on the buyer's perspective rather than your sales objectives while selling. Ask yourself what your customers face every day, what are their needs and problems, and why they should consider buying your offering. Then, answer these questions with customer research and use these answers to get into the buyer's shoes.
With your buyers' perspective in mind, you can make more personalized recommendations while covering product aspects and use cases that your buyer directly relates to. And this would naturally boost the chances of conversion manifold.
9. Tailor your pitch
Continuing the previous point, you must focus on drafting your sales pitch (persuasion attempts) to match your buyer's perspective. The sales pitch should be customer-centric, relatable, and focused on the customer's problem instead of the solution. You can ensure this through customer research, buyer persona creation, and a genuine attempt at helping the prospect.
10. Show that your solution is unique
The modern buyer will likely research similar solutions on the internet before buying into your offer. And the internet is flooded with promotional offers from your competitors!
So, your pitch must focus on the unique features of your offering that offer greater value to your customers than your competitors. This is also called a unique selling proposition. And a USP-driven sales pitch can boost your conversion rate exponentially by setting you apart from similar offerings. In fact, this is one of the most successful sales techniques to date.
11. Use storytelling
Storytelling is a time-tested and one of the most effective sales techniques that helps you connect with your customer through relevant stories. It is a great hack to engage and convince your prospects quickly.
This sales technique involves sharing an idea, an experience, or a moment in time that is related to your product or service. A good story captures your customer's attention, builds rapport and trust, and makes your product memorable. Moreover, it helps form a lasting relationship with the customer to ensure higher sales and brand loyalty.
12. Address pain points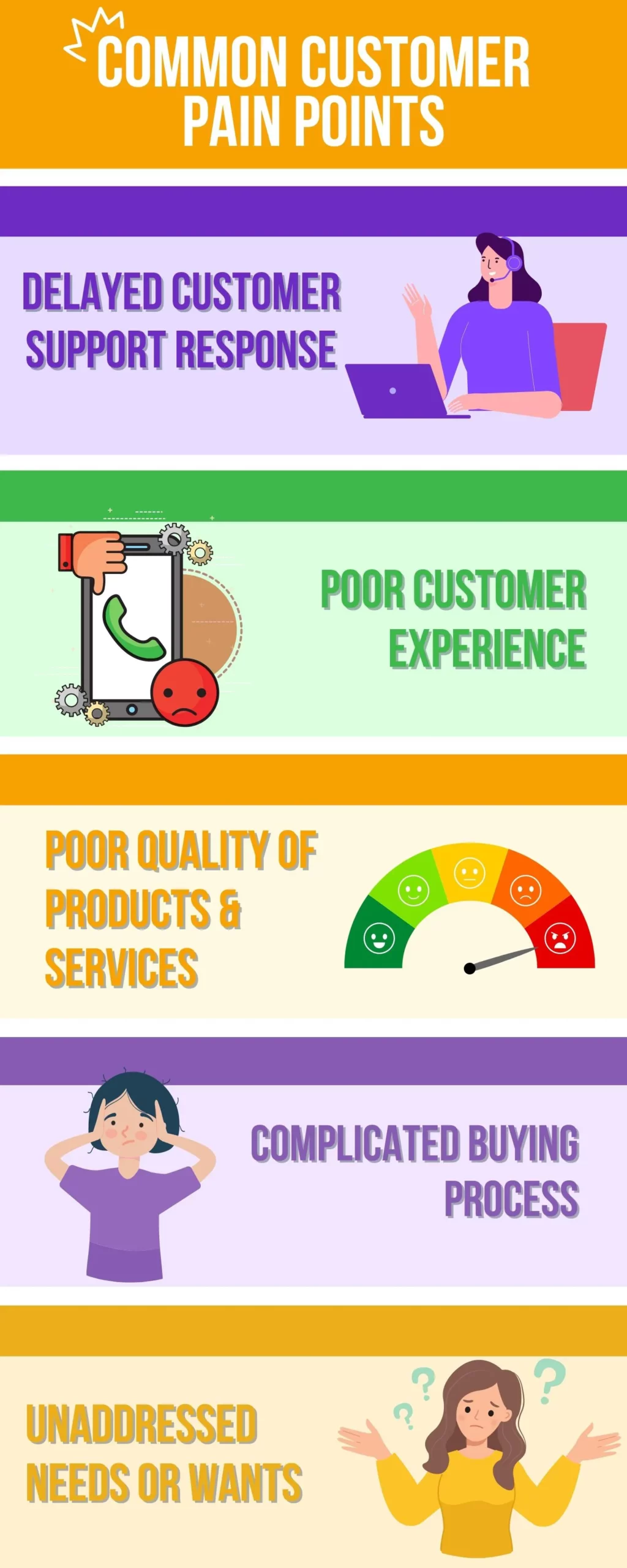 Pain points are persistent issues that cause inconvenience to individual customers or companies. They're unmet needs waiting to be satisfied by a respective product or service, which could be yours!
So, you must focus on finding the pain points of your target customers through customer research and address them in your discussion with them. Here are some common pain points of customers that you must identify and address-
Delayed customer support response
Poor customer experience
Poor quality of products & services
Complicated buying process
Unaddressed needs or wants
13. Show the need for change
Your prospects may tend to maintain the status quo, but you must get them out of their comfort zone by highlighting their problems and the advantages they are missing! You must also emphasize the consequences of the issues and how your solutions can avoid the negative results while giving unique benefits.
By showing a strong need for change, you will likely be able to convince your clients to take the initiative and make the purchase.
14. Pay heed to your body language
The body language of a salesperson must exude confidence, ease, and trustworthiness. This involves optimizing various factors such as nodding, smiling, hand gestures, posture, mirroring, and many other small details! Here are some time-tested guidelines a sales professional should follow while talking to a prospective customer-
Exhibit confidence through your posture and gestures
Connect with the prospect by aligning your language and tone
Be calm and keep smiling wherever appropriate
Maintain eye contact
Use your arms moderately while speaking
Focus on the first impression with a smile, straight posture, and firm handshake
Maintaining good body language is critical for a salesperson as the image formed by the sales reps directly influences the impression of their company and its offerings.
15. Use FOMO
Fear of missing out is amongst the most popular and time-tested sales techniques. It compels the clients into action by presenting and highlighting a time-bound offer they can miss out on if they don't act immediately! It creates urgency by offering a special opportunity within a strict deadline, such as-
Time-bound discounts
Temporary product bundles
One-time deals
Free shipping within a time duration
Special edition products with a limited inventory
FOMO can encourage prospective customers to buy quickly and raise their net order value, shortening your sales cycle and boosting revenues.

16. Ask relevant questions
You must ask the right questions to close in on your client's needs, issues, and situations. The answers will help you tailor your communication and offer to convince and satisfy the prospect effectively. Here are the key types of questions that you must ask, listed chronologically-
Questions to understand the current situation
Questions to uncover the problems and pain points
Questions to encourage buyers to realize the impact of the problems
Questions to help the prospects to understand the effectiveness of your solutions
You must listen closely to the answers and note the major points to steer the further discussion.
17. Build rapport
Don't hurry to promote your offering, as that may seem pushy! Instead, you should build rapport with the prospect through small talk and exchanging pleasantries. To get started, try to find some common ground with general questions and use it to start a one-to-one discussion in a natural and relatable style. Eventually, you must move the conversation to the relevant needs of the prospect and suggest your products or services at the right point in a friendly and helpful manner.
Building a rapport can make all the difference between an irritating promotional speech and a helpful conversation that thoroughly convinces the prospect about the unique value of your offering.
18. Know the prospect's challenges
Your prospects face challenges every day, creating opportunities for solutions that you can tap into during your sales cycle! Addressing the customer challenges effectively will help you build trust and convince the customers easily. Here are some common prospect challenges that you should address in your sales pitch to quickly engage and persuade your prospect-
Unhelpful customer service
Delivery delay
Unavailable products
Poor product quality
Long waits
No company follow-up
Continuous transferring
Poor customer service communication
19. Use social media

Using social media for selling or social selling is amongst the most modern sales closing techniques that allow salespeople to target their prospects and establish rapport with them. This covers all major social media platforms like Facebook, LinkedIn, Instagram, etc.
So, here are some critical steps that will help you make the most of social media to approach and convince your prospects-
Establish your brand's presence on the social platform by creating and sharing valuable content related to your niche. Also, share user-generated content to maximize your convincing power.
Listen to the responses to find potential clients and build relations with them through personalized messages.
Also, approach others in their network to expand your reach amongst potential customers.
Optimize your posts and messages based on the feedback you get on and off the platform.
Take the help of popular social media influencers in your niche.
Promote flash sales and special offers on the platform.
Apart from getting new leads, use the platform for retargeting existing customers or prospects who have shown strong interest but have not completed the purchase.
Be persistent with your efforts, and don't give up if results are not quick to show up. When it comes to organic social selling, you need to trust the process!
Investing some time in organically growing and nurturing your social network will pay significant dividends by improving your brand awareness and sales success rates. In fact, 78% of salespersons using social media get higher results than their peers who do not use social selling. So, you must leverage social media's vast reach and penetration to find your prospects and build lasting bonds that eventually convert to sales.
20. Seek referrals
A rule of thumb for any salesperson is to get referrals from satisfied customers by requesting them to tell people they know about your offering. This is because referrals get you the word-of-mouth advantage at no extra cost! However, directly asking to be recommended can be awkward in some cases. So, here's a way around it.
You must start by encouraging the customers to talk about people they know who might be interested in your offering. Also, take the permission of the satisfied customer to tell the referred people about your discussion. Following this, you may contact the suggested prospects regarding your conversation with the satisfied customer to get to a running start!
Referrals are amongst the most popular sales techniques with great potential. This is because 83% of people are willing to give referrals. You just need to give them an easy and timely opportunity!
21. Focus on scheduling meetings
Look for the right point to request a meeting so you can take the discussion ahead with the prospective customer. This sales technique is very effective when the customer has shown some interest over email or phone but seems reluctant to make the commitment of a purchase.
You can use direct communication and demonstrations to convince the prospects during the meeting, ensuring that they are thoroughly convinced before you ask them to take the final purchase decision. Also, make sure that you are adequately prepared for the meeting and create a good first impression by following some key tips-
Find out about your client through customer research in advance
Locate the right meeting time and place convenient to you and the client through the preliminary discussion.
Prepare your communication media for the meeting
Anticipate objections and prepare the respective arguments
Be punctual and take care of your looks
Maintain a friendly, respectful, and confident demeanor
Ask meaningful, relevant, and non-intrusive questions
Listen to your client and make genuine suggestions accordingly
Personalize your sales pitch to convince your client
You can give SalesBlink a try to schedule meetings effortlessly with the in-built meeting scheduler! It is reduces the back and forth involved in scheduling meetings with prospects by letting them pick a date and time from your calendar.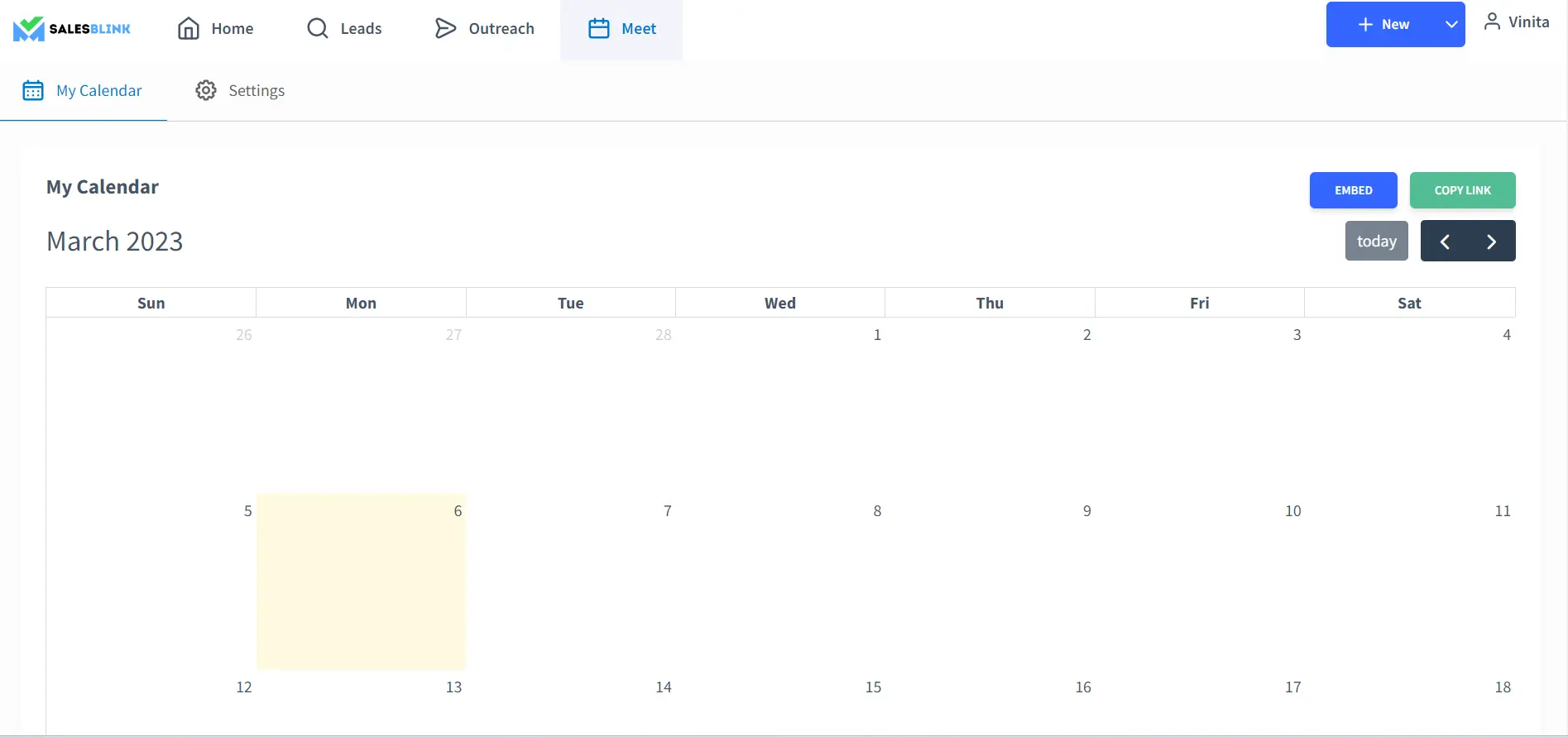 22. Prepare yourself for objections
You must be prepared for common client objections, especially when you make first contact with them. Typical objections during sales include:
I'm dealing with someone else
I'm too busy for this
This is not a good time
Send me details first, and we'll talk later
You must practice what you should say in response so you don't end up confused and lose the lead! In general, you must acknowledge the objections and then reframe your message to answer their concerns.
Also, remember that objections are getting more common as customers get informed. So, you must study the content on the internet about the offering and brand to prepare for relevant objections during the conversation.
23. Listen actively and follow up
Listening to the customer's requirements, problems, and opinions will help you to understand and match their specific needs when you speak. Such proactive sales techniques help you build trust and convince the prospects that your offering is perfect for them.
Hence, you must start with a natural discussion, ask questions to understand your prospect's situation and requirements, and then follow up by incorporating this information into your discussion. This approach will make your statements more personalized, helpful, and persuasive for the prospect. And this will raise the chances of conversion or agreement for future meetings.
24. Maintain the bond even after closing the deal
The sales cycle doesn't end when you close the deal. Maintaining customer relationships is critical to ensure that they remain loyal to your brand. So, you must make sure to follow up to see how your customers are doing and what their current concerns are.
Your sales team must keep in touch with your customers via personalized messages that offer support, updates, greetings, and special offers. If you keep watering the relationships with your customers, you will be able to find the perfect opportunities to upsell or cross-sell to them regularly. And this will help you achieve sales without going through the entire costly sales process. In fact, acquiring new customers is at least 5 times more expensive than retaining existing ones!
25. Find an opportunity to upsell
Upselling is the selling of higher-priced versions of the offering that a customer bought or showed interest in buying. This is one of the top selling techniques that gives interested prospects or customers a chance to make a larger order by purchasing a more advanced version of the original product or service!
Since the leads are already strongly interested, upselling is a quick and easy trick to multiply your profits. Hence, try looking for opportunities to upsell by analyzing your new offerings and the needs of interested clients. You can regularly contact such clients and make relevant suggestions for upselling or encourage buying higher-priced products while discussing with a client who has shown strong interest in the cheaper versions.
Get Ready To Boost Your Sales With These Pro Tips!
We saw that the priority of the sales process is shifting from the seller to the buyer as prospects become more informed and resistant to standard promotion. Sales techniques are now focused on a subtle and personalized approach to identifying, understanding, and convincing prospective customers. And it is critical that you stay in touch with the contemporary approach to maintain a competitive edge.
To help you stay updated with this revolution in sales techniques, this comprehensive list of the 25 best selling techniques has covered everything you need to know for upgrading your sales process. These sales tips and techniques will help you to easily attract, understand, and convince your clients and fulfill your sales quota at a low cost.
So, go ahead and apply the tips in the sales techniques list now to optimize your sales pitch, increase your conversion rate, and shorten your sales cycle.
All the best!
FAQs
1. How would you describe your sales technique?
It is possible to describe a sales technique as an approach reps use to close deals, and there is not just one technique employed. Every business has its own set of techniques, and their use depends on the end results.
2. What are good sales techniques?
Good sales techniques involve knowing your sales cycle, performing customer research, selling the problem, asking relevant questions, understanding the prospect's challenges, building a rapport etc.
3. What are sales skills and techniques?
Sales skills and techniques help sales professionals push leads further down the sales funnel. Most of them are usually tried and tested so that you can use them and get results.