In the SaaS industry, dynamics and volatility are high. Businesses can generate saas leads from cold emails and sell their products using conventional marketing tools. On the other hand, SaaS companies face different challenges.
For SaaS companies with subscription models, customer acquisition and retention are crucial. SaaS companies must develop successful marketing strategies as competition is overgrowing. Moreover, reports say that by 2024, the global cloud computing market may reach $1 trillion, according to a recent study. With such a huge market, the competition is likely to get fierce.
How Can A SaaS Business Be Sustainable?
Does it matter how much revenue you make or how many active users you have? Yes, definitely. An organization's most critical success indicator is not revenue or customers but a steady flow of leads. Businesses can't grow and move forward without it. A growing business with scarce resources needs to take this into account even more.
Despite that, it can still be a win. Marketers who follow best practices for B2B SaaS still generate huge amounts of leads. There are still a lot of opportunities when it comes to SaaS B2B lead generation, whether it comes from SEO or from benefits of content marketing. Then you've landed in the right place if you want fool-proof tips for SaaS lead conversion that actually work, instead of the common tips you've seen everywhere.
What Is SaaS Lead Generation?
In 2011, Marc Andreessen didn't lie when he said, "Software is eating the world.". The SaaS industry continues to grow and will continue to gain market share.
This change is because of technology. Creating SaaS software has never been so easy and affordable. Credit goes to the wide access to the Internet. More companies are competing for customers. There's been a lowering of entry barriers and customers have greater access to the software. Software companies are under huge pressure to perform quickly!
Let's take a moment to understand what SaaS lead generation is before looking at these strategies in detail. You can define leads in various ways based on your business model.
1. Someone submits the inquiry form to get a quote
2. Someone calling a salesperson to know more about the product
3. Someone register for a free plan
4. Someone downloads a company brochure or PDF
5. Someone subscribes to email or newsletter
Increasing the number of qualified prospects that take one of these actions is the objective of a SaaS lead generation campaign. Collect data, analyze it, evaluate it and perform continuous improvement to boost sales.
SaaS Trends And Adoption Market Size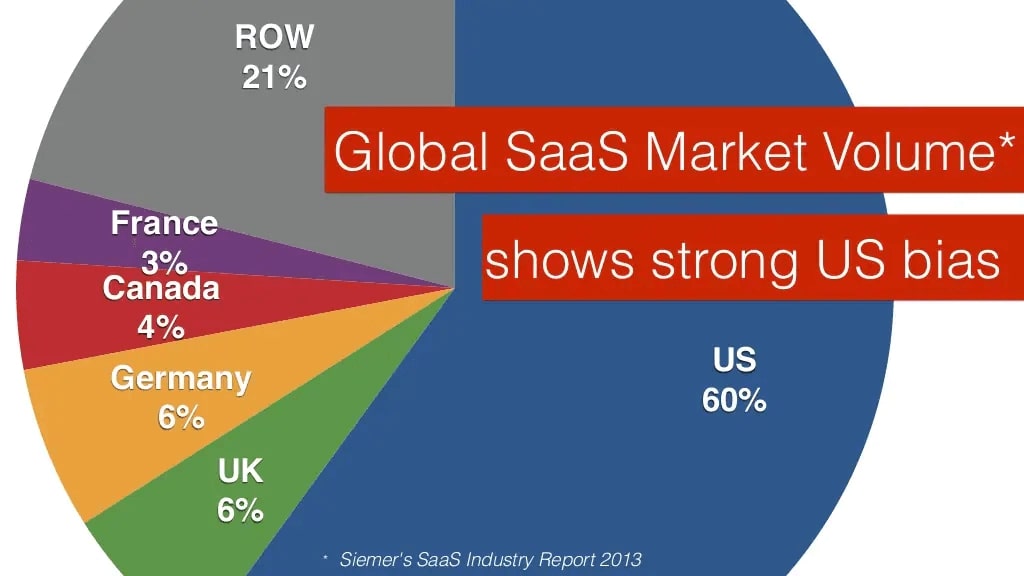 Source: SlideShare
Organizations seeking access, functionality, and versatility in a highly competitive business environment are increasingly choosing software-as-a-service (SaaS). Companies don't need to install and run software applications on their own computer systems or data centers when they can use SaaS software solutions and online data analysis. As a result, these innovations are becoming more popular every year.
SaaS is dominating cloud computing. Gartner estimates that the service-based cloud application market will reach $143.7 billion by 2022 – that's a staggering amount of growth that will shape SaaS trends for 2021.
Several emerging trends such as AWS, platform APIs, app marketplaces, and many others have made developing software as a service (SaaS) easier. This serves virtually all niches. In the last few years, companies have gradually increased their spending on SaaS applications.
Here we can consider how the hospitality and restaurant sector is leveraging SaaS platforms to streamline their operations. According to Forbes, SaaS technology will become the dominant computing solution for businesses by 2018, replacing infrastructure and platform-based services.
Yet many restaurateurs and business owners are still unfamiliar with SaaS, despite its rapid growth. But the pandemic has slapped these kinds of businesses and compelled them to pivot their operations by embracing digital solutions as it has the potential to automate tasks while spending less.
Platforms that won't hinder your business growth
However, if you are engaging with the restaurant business and looking for powerful solutions, considering the below-listed platforms won't hinder your restaurant business growth,
1. E-Delivery by Elluminatiinc is a well-known delivery solution that restaurants can use to automate mobile ordering and delivery operations as it is brimmed with certain modern features.
2. TouchBistro is a popular name that allows restaurants to manage their operations in a smooth manner.
3. GloriaFood is another well-known name that makes it possible for restaurants to digitize their operations.
In addition, you can gain a greater understanding of SaaS trends by reading the following statistics:
1. Current growth rates for the SaaS market are 18%
2. 99% of organizations will use one or more SaaS solutions by the year 2021
3. Approximately 78% of small businesses have already invested in SaaS solutions
4. In the years leading up to 2023, analysts predict that the global SaaS market will be worth $60.36 billion, representing a 9% CAGR.
We'd like to explain how a typical SaaS sales process works; after that, we will focus on lead generation strategies.
How Does The SaaS Sales Process Work?
SaaS sales processes may vary based on the type of product, the pricing model, and the type of company you are targeting. While the majority of SaaS companies follow a few common steps for growing their customer base, there are still some common steps to follow.
In a recent study, the ClickFunnels team analyzed sales funnels from three of the most popular SaaS companies. A SaaS sales process should contain at least four steps, according to their analysis:
1. Brand awareness, when the leads are only learning about your products through online sources, such as social media, content, paid to advertise, lead magnets, etc.
2. Engagement occurs when customers interact directly with your brand, such as website mail, social touch, etc.
3. Lead nurturing, for instance, using customer retargeting campaigns via follow-ups and emails.
4. Conversion, be in the form of order inquiry, product demo request, or actual subscription.
These are the four simple steps that usually take place in the SaaS sales process. Now without any ado, let's discuss lead generation ideas for SaaS businesses.
10+ Foolproof Lead Generation Tactics For SaaS Businesses

Source: BrightTALK
A lack of resources, including monetary resources, is one of the biggest challenges for lead generation, even though 53% of B2B marketers spend half or more of their budgets to attract new customers. There is no wonder that most SaaS companies are constantly looking for lead generation tactics that are as efficient as possible.
If you want to increase SaaS sales without breaking the bank, you should consider these ten strategies.
1. Pay Attention to Content
You can achieve lead generation with content marketing strategies. High-quality content on your online platforms attracts more visitors. 84% of companies employ content marketing is a strategy according to Semrush.
The best method for generating leads is content marketing because it offers valuable information that traditional advertising does not. The following are the several types of content:
– Blog posts
– Podcasts
– Infographics
– How-to-guide
– YouTube videos
Insightful content can help SaaS companies generate leads because it educates customers and encourages them to buy your products. Furthermore, content marketing attracts large audiences at no cost.
You can generate SaaS leads without spending thousands of dollars on TV advertisements with a single blog post. It's also amazing that one piece of content can last you your entire business life, giving you a huge return on investment.
2. Know Your Target Audience
SaaS businesses need to maintain a close relationship with customers in order to generate leads. You could accomplish this by using online forums, targeted advertisements, and blogs. Know exactly where your customers are, keep in touch with them, and do not underestimate this process.
Lead generation does not happen overnight. To create thought leadership, you should also be active on social media platforms, write on platforms where your prospects spend most of their time and contribute to them regularly.
By writing in the most prestigious newspapers or magazines or appearing on business news on television, entrepreneurs or CEOs can lure followers.
3. Outbound Marketing
In any marketing campaign, whether you are advertising a reality show or a billboard you see every day on your way to spin class, paying for your prospects' attention is one of the oldest and most popular methods.
Many SaaS startups can't afford to use the traditional methods, such as TV ads, commercials, and Netflix's $300,000,000 offer for a billboard company. In contrast, pay-per-click advertising on platforms like Google or Facebook allows almost any budget to reach online advertising.
In general, it works best for companies that have just started and do not have the resources to establish other marketing channels. You may be able to gain traction using this technique if you are an unknown entity and no one is searching for you.
4. List On SaaS Review Categories
SaaS review directories provide a new PPC channel in areas where AdWords and sponsored social media are too crowded. Yes, there are many fastest-growing B2B review sites, with over 5,000 business applications in an easy-to-use indexed format, many of which are your future customers.
For instance, if the user searches "best accounting software" or "top 20 project management software", they will see the top review websites that consist of a list of accounting software from various companies with all the basic product details. By clicking on a particular software's name, the user will land on to the website and can know the information about the particular product.
5. Free Trials
For SaaS companies whose services are complex or unfamiliar, free trials are an excellent lead generation strategy. By allowing prospects to try out the full service, they can maximize lead generation, and are more likely to make an evaluation and ultimately a purchase.
You can easily get prospects to sign up for a free trial when you don't ask for too much information (e.g., credit card information, contact details) at sign-up.
6. Leverage Chatbots to Generate Leads
It is common to use live chat software to simulate the in-store customer experience. If you're a small business or a startup, you lack the bandwidth to handle multiple complex requests simultaneously. As a result, it affects customer experience negatively, and revenue can eventually plummet.
In order to generate leads, score, and support customers, AI-powered chatbots are becoming an increasingly popular tool for SaaS companies, from startups to industry leaders.
7. Referral Marketing
It seems that referrals in a lead generation get so little attention that we almost wonder if they don't "count" somehow. Referrals do, however, generate leads, and referrals work just as effectively for SaaS companies as they do for any other business.
You can use any software that's available to the public for SaaS referral marketing. Sales representatives might send out emails asking for referrals or ask if a client knows someone who could use their software.
8. Don't Underestimate the Power of Instant Demo
You can increase lead conversions with an instant demo. By using the chat feature, you can clarify any doubts for the prospect and answer questions, which demonstrates your customer support. Customers you serve well will generate more leads.
Creating an instant demo may look complicated, but your leader will be able to see your screen simply by sharing the desktop or mobile device.
9. Harness the Power of Google Adwords
In addition to the Advantages of promoting your content on Google, you get instant exposure in front of your audience without having to put much time and effort into it. It can also drive traffic to your website and reach a highly targeted audience as an added benefit.
Running tests to see which AdWords strategy yields the most ROI is the best way to leverage AdWords. As a result, you'll determine what type of ads appeal to your target audience the most. Rightly done, lead generation can become one of the most important aspects of your SaaS business.
The two platforms with the most engagement among B2B marketers are LinkedIn and Twitter. By simply searching with the right keywords, you can contact people who are looking for your SaaS product/platform and have questions about it. You can increase inbound sales from social media by being proactive with customers and reaching out directly to them.
11. Build Trust with Testimonials
As marketing trends change, testimonials remain a valuable marketing strategy that hasn't changed. You show your audience what makes your business unique and different by including customer testimonials on the landing page of your website.
You can gain the trust and security of your target audience by sharing positive reviews of your existing or former customers. This practice will also boost revenue growth and the lead generation process.
Ready To Generate Leads For Your SaaS Business?
Now that you know many ways to maximize lead generation and business growth using SaaS marketing, you have a lot of ideas to try out. Whatever industry or audience you're targeting, these strategies can serve as a foundation for a successful lead generation strategy for 2022.
Experiment, blend, and mix all the strategies, and identify what is making your SaaS business more profitable so you can place more emphasis on that method.
FAQs
How can a SaaS business be sustainable?
An organization's most critical success indicator is not revenue or customers but a steady flow of leads. A business can't move forward without them. A growing business with scarce resources has to consider this.
What is SaaS lead generation?
Increasing the number of qualified prospects that take one of these actions is the objective of a SaaS lead generation campaign. Collect data, analyze and evaluate it during the campaign. Make improvements to boost sales
What is referral marketing?
You can use any software or content available to the public for SaaS referral marketing. Sales reps might send emails asking for referrals or ask if a client knows someone who could use their software.