At the moment, there are more apps and tools to help businesses than there've ever been. There's something for businesses of all sizes, big or small. There's a tool that optimizes, automates, or at least assists us in almost every task of our work. It should come as no surprise, especially if you are in the SaaS industry which is now worth over $145 billion. New products and companies appear on the market every day, and the demand for SaaS Software to simplify their workload is constantly rising.
This is all amazing, but the question now is: how do we choose?
How do we pick the best software without spending a fortune on testing different ones or spending forever trying to check our options?
The answer lies in this article. With our help, you will learn about the top SaaS software that every new business should use, or at least consider these days.
Top SaaS Software Every Business Needs
1. Best for UX research – Maze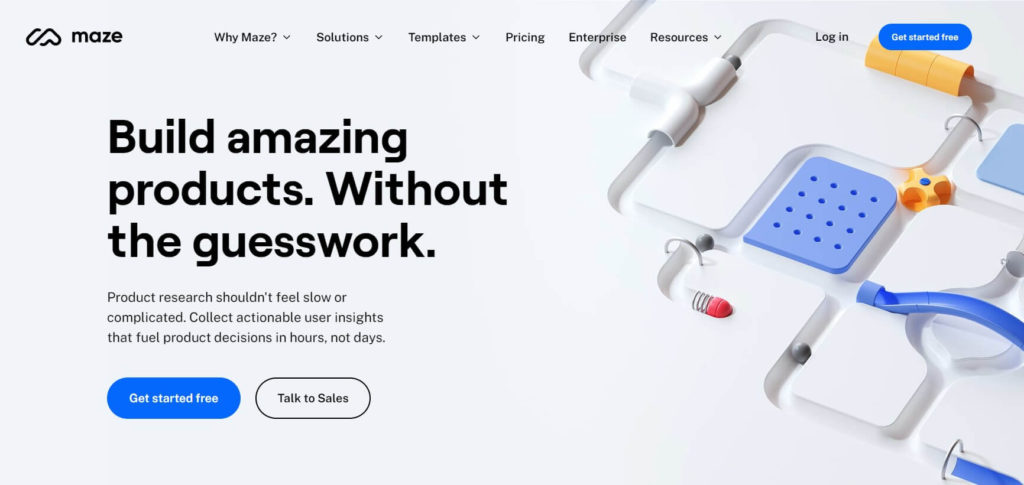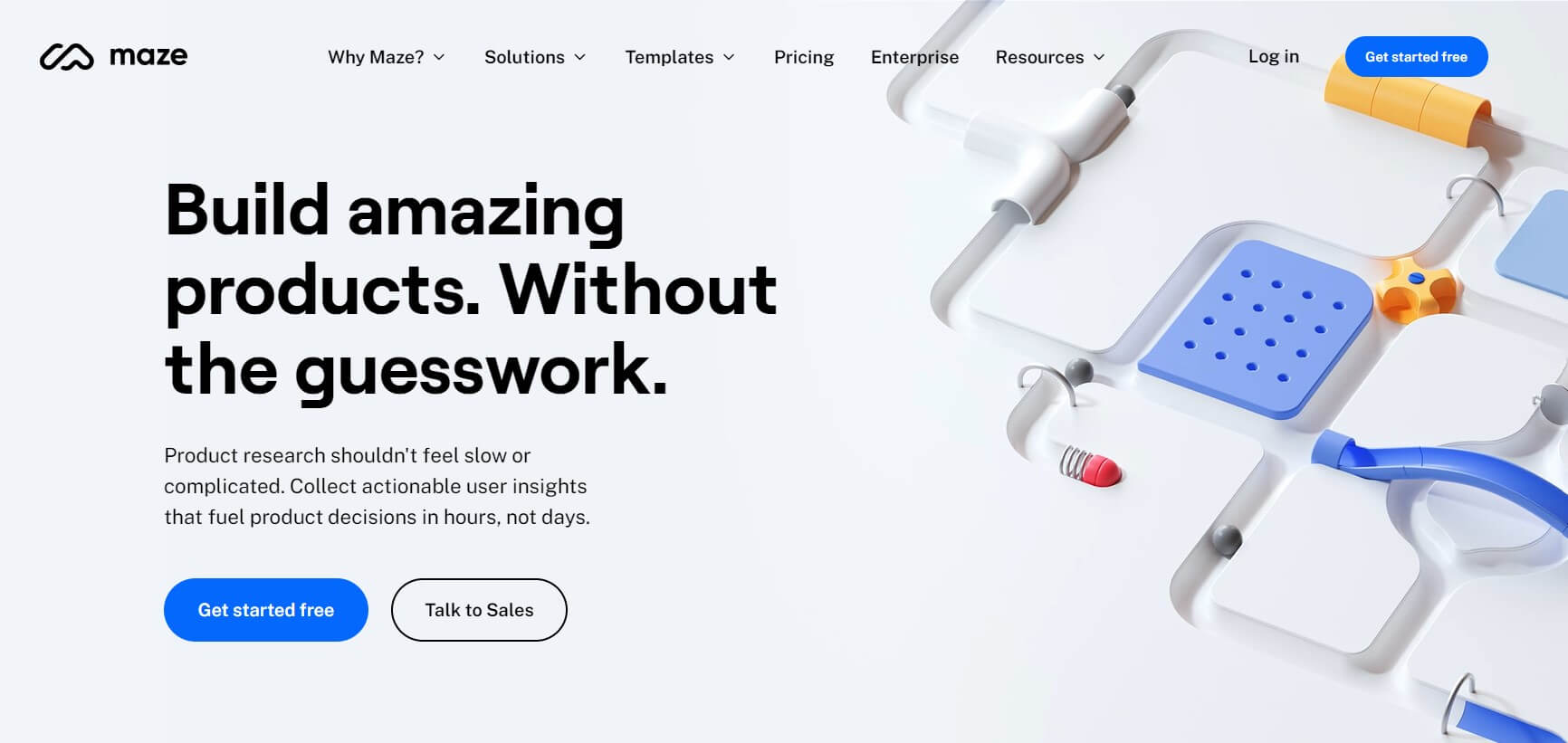 Maze is a tool that every business should try out these days, regardless of their site. It facilitates research for brands, which has become vital for business plans and marketing. When it comes to UX research, this platform is a brilliant solution.
Maze is a testing platform that allows you to create, customize, and test various things. It offers everything from copy to prototypes to round up user feedback. By using it, brands collect actionable insights with minimal effort and can gather more data than ever.
Right now, collecting information from your customers and leads is the best way to improve your brand and its image. Thanks to this tool, you can learn what people think about your products, services, and more.
Maze is a leader in remote testing and usability testing. In addition to this, it offers capabilities such as automated reports, heatmaps, quantitative data, and more. The best part about it is that you can integrate and combine it with other popular SaaS tools you are using such as Adobe XD, Figma, and Sketch.
2. Best for cold emails – SalesBlink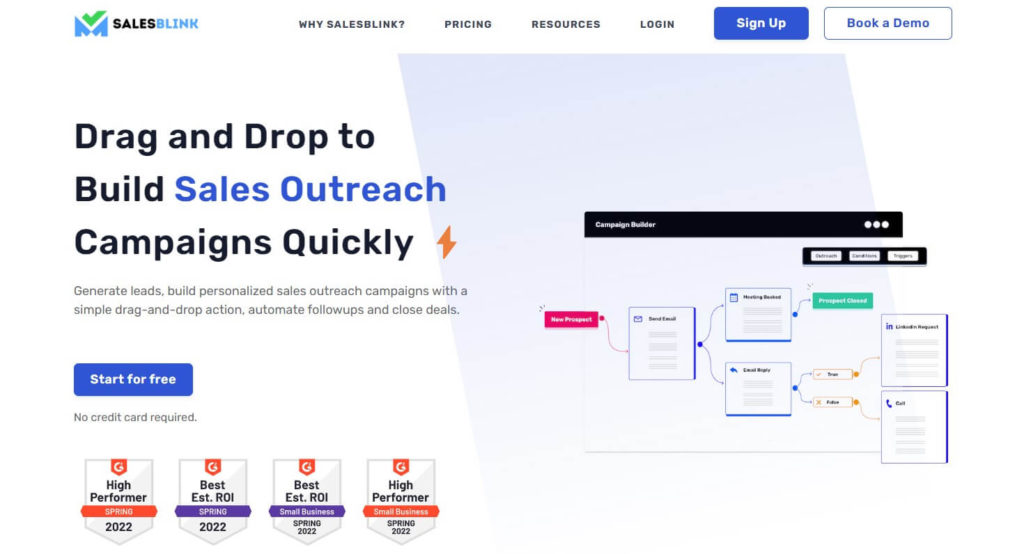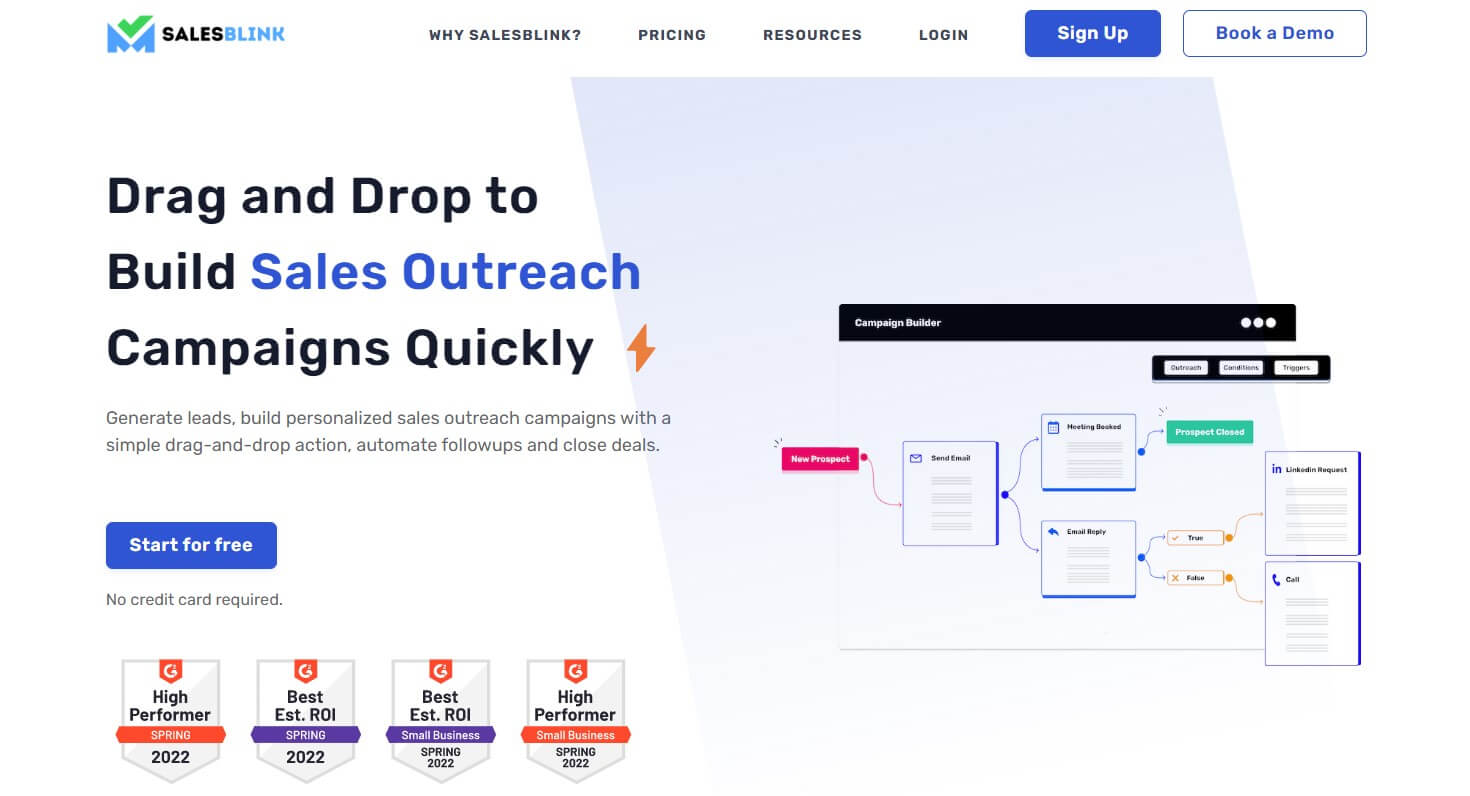 Cold emails are a frequently used method to attract prospects with which you haven't had any contact. This strategy doesn't come with very high open rates (open rates range between 15.22% and 28.46%).
These numbers might not seem high at first, but they can make a huge change for your brand. If you create a great email list of prospects thanks to the data you collected, a 20% open rate can be amazing!
With the right email lines, the right message, and targeting the right audience, you can achieve tons with cold emails. This is where SalesBlink comes into the picture.
SalesBlink is a sales outreach automation tool that works fast and facilitates cold emailing for you. It will take care of many aspects of the sales cycle from finding prospects to sending cold emails to make it reach out to them.
This SaaS software has a domain email search tool that will get you the contact details of employees and businesses. The pre-built campaign templates can be customized to easily create an outreach campaign. On top of that, you can carry out outreach on several channels such as email, LinkedIn, and phone.
3. Best for time tracking: TimeCamp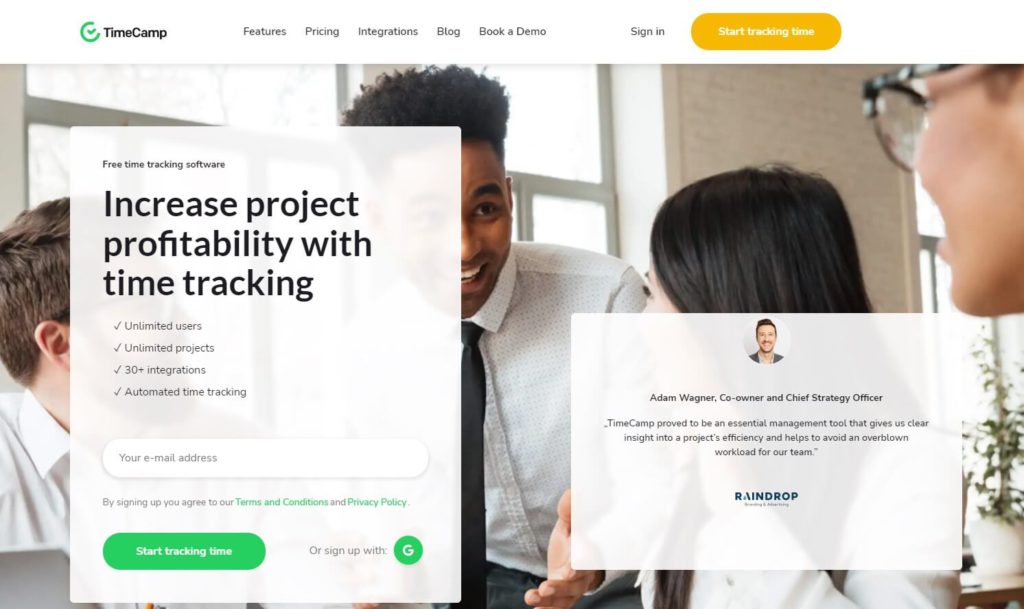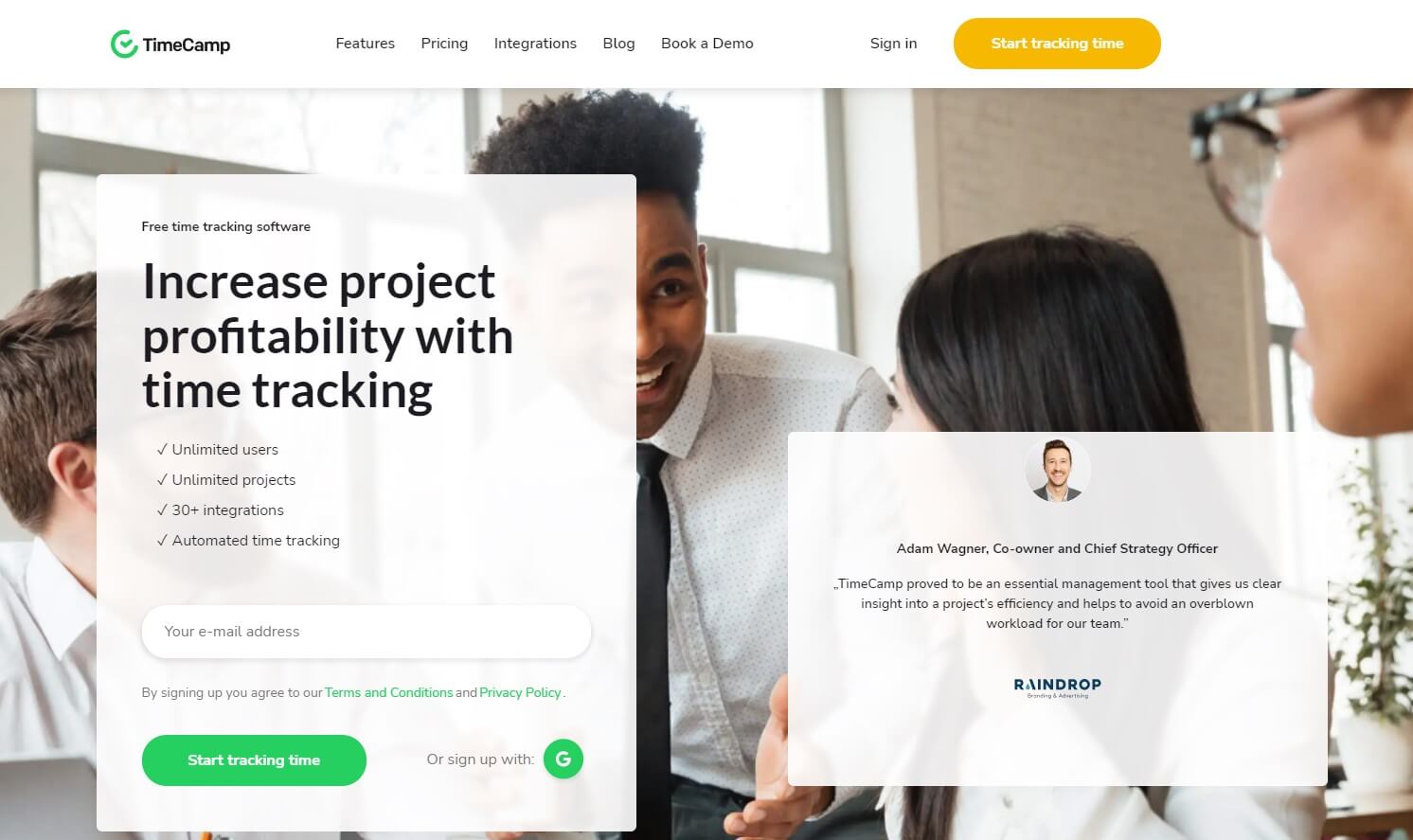 Why guess how much time you should charge the clients for a project when you can bill them according to hours worked? Use TimeCamp, a time tracking software that works in the background and automatically fills your employees' timesheets. All the entries are assigned to specific projects, so you can ensure your company's time is perfectly organized.
Besides the automatic time tracking, TimeCamp also offers features that make it a worth-considering time clock calculator. Its attendance module supports businesses in daily employee absence and leave management and helps create accurate payroll lists.
With TimeCamp, you'll also stay up to date with team performance. Choose from the wide range of built-in reports it offers, or create your own using the drag&drop pivot table.
The tool integrates directly with 30+ tools (or even more, if you use a browser plugin) like Asana, Trello, ClickUp, Monday, Zendesk, or Salesforce. You can import your project structure from them and track time without losing the familiar task organization.
4. Best for knowledge management – Bit.ai
Things cannot run smoothly in your company unless you communicate your ideas and strategies clearly with the right people. This is very important, especially when you are just starting out and cannot afford to make any mistakes.
To facilitate the information-sharing process, there's a robust tool called Bit.ai. This is a knowledge management tool with a wide range of functionalities. Companies use it to search for knowledge, share it with others, create it, as well as collaborate.
At Bit.ai, everything begins with a workspace. You can create different workspaces for your teams, your departments, the partners, as well as based on projects. Inside of every workspace, people can collaborate on shared content libraries and documents.
5. Best for social media marketing – Hootsuite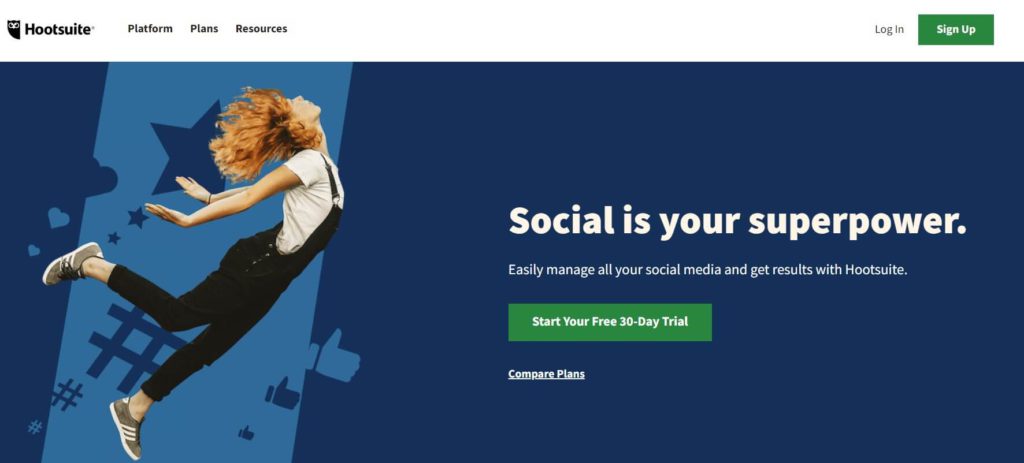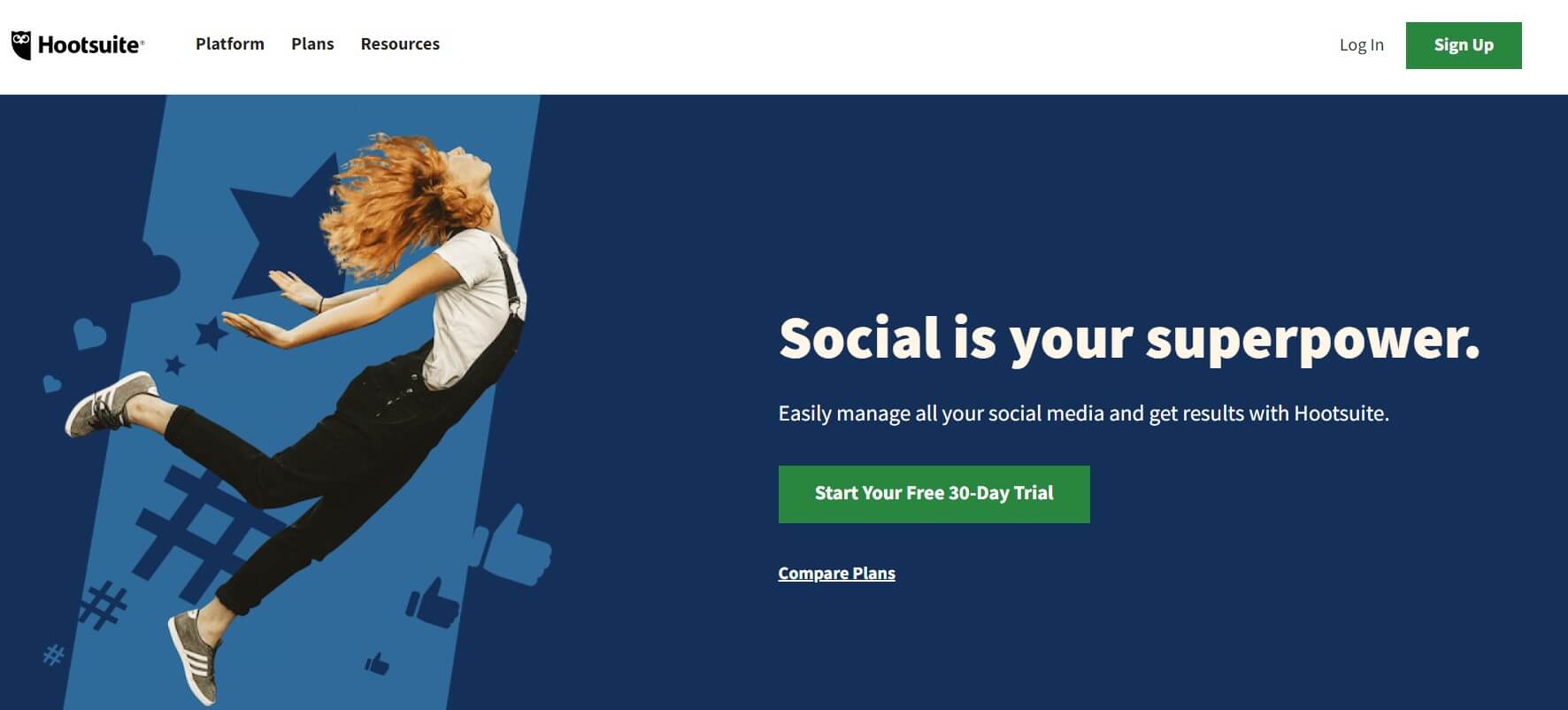 Social media is a grand part of marketing for businesses these days. It is where you can find and reach your target audience, share content to attract them, and communicate with them.
Having a strong social media presence is the key to your online success. SaaS Software like Hootsuite can help you with social media marketing and management.
With Hootsuite, you can view different streams across platforms like YouTube, LinkedIn, Facebook, and Twitter. You can use it to automate post sharing and engage with your followers without having to leave the interface.
Some of the best features of Hootsuite include performance reporting, ad campaign management, post scheduling across platforms, and social media analytics.
6. Best for social media management – Social Champ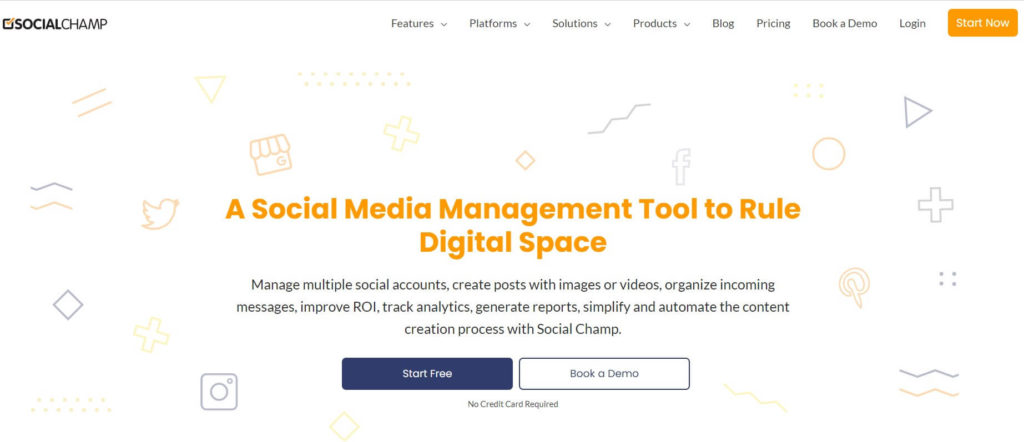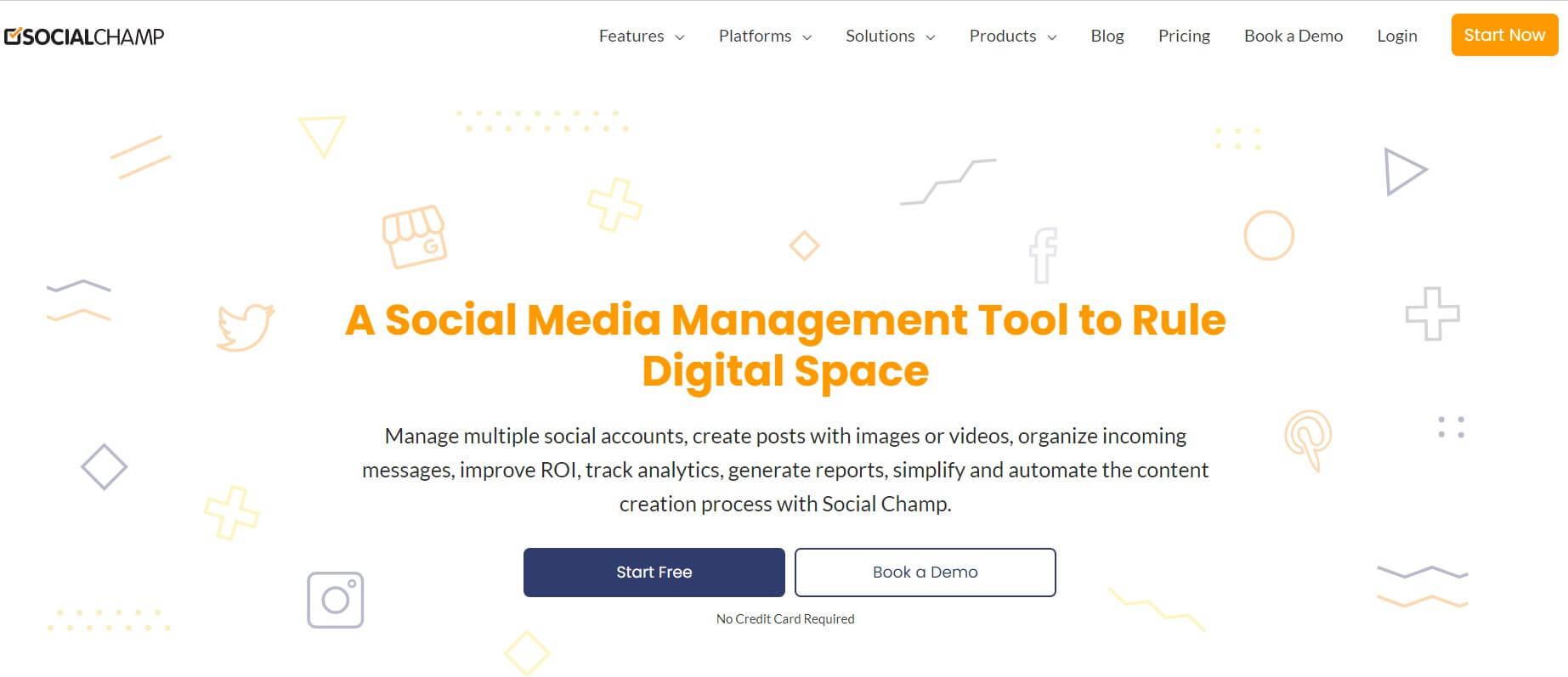 Social media is a proven way to build your brand's identity and introduce it to the world, but building your brand's identity is not enough; maintaining it is most important. It could be a tedious task, from planning your content to posting it on multiple social media platforms.
But Saas software like Social Champ makes your workflow easier. Social Champ is a powerful solution to break your daily social media struggles. An all-in-one tool that allows you to create, edit, publish and analyze your posts on all major platforms such as Facebook, Twitter, LinkedIn, TikTok, Instagram, YouTube, Pinterest, and Google Business Profile. With multiple visual integrations, auto RSS, bulk upload, social media calendar, Social Inbox, and more, the tool is a complete automation solution for management.
The tracking features also enable users to find the best time to post and create platform-specific reports with charts & graphs. You can further use the social media calendar to plan your activities and view all published/ scheduled posts in a grid view!
7. Best for live chat – EngageBay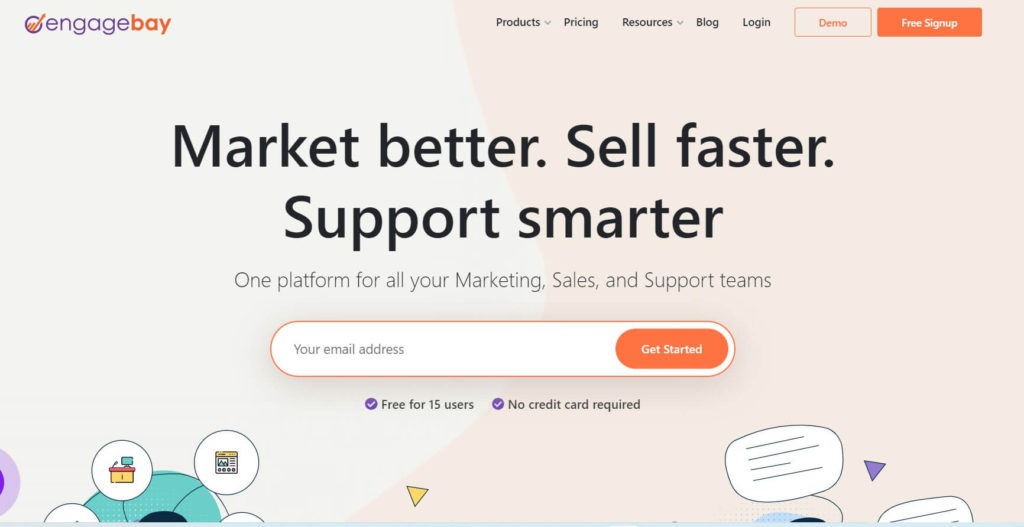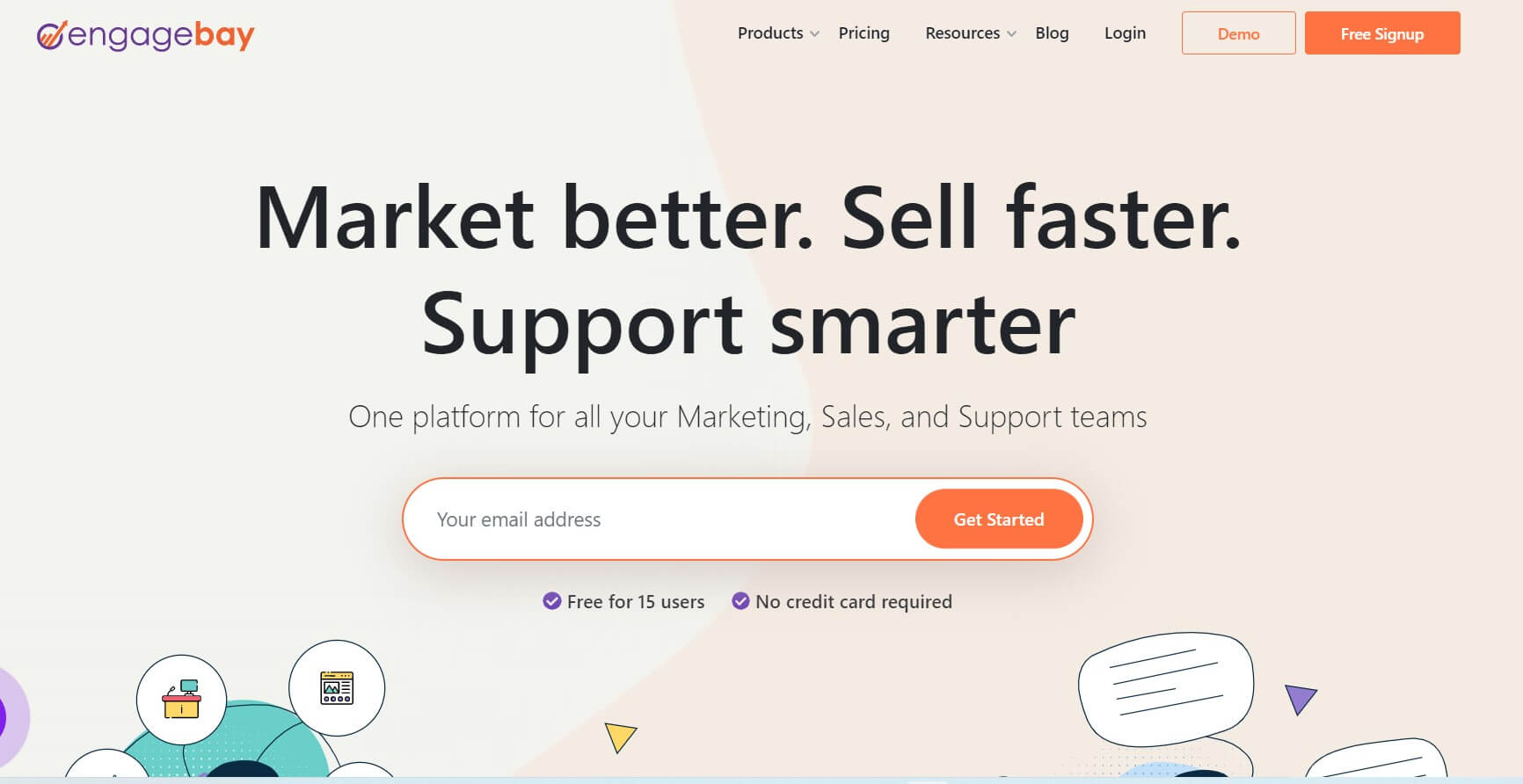 If you want to take your business online and market it to a wider audience, which you probably do, you need a good live chat. Even 71% of customers are more likely to engage with a brand via messaging instead of calling them or sending an email.
Well, there are SaaS Software to help you with this, too.
Have you heard of EngageBay? This is a service and sales platform with a great, free live chat feature. It's designed to meet the needs of new and small to medium-sized businesses.
The live chat feature of this tool will allow you to communicate more effectively and boost the turnaround time for your customer support. You can install it on any website and use the many customization features to make it fit into it.
EngageBay will allow you to create and use answers to common questions and enables easy transfer across different agents in case your customers need to talk to someone else.
8. Best for business intelligence – Google Analytics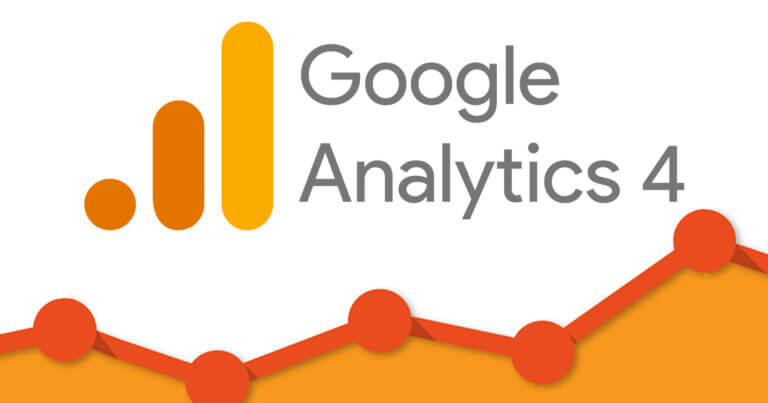 Of course, Google Analytics is on this list! This is a must-use tool for all businesses, including the ones that are just starting out. A product of Google, the most used search engine in the world, the Analytics tool is the perfect way to gain audience insight and important research data.
Google Analytics is a web analytics solution with tools that will help you analyze information for your brand. You can use it to categorize your visitors by different traffic types, measure metrics for your website, and use demographics to group your audience.
Some of the best features of Google Analytics are detailed and instant reports, analytics intelligence, as well as data visualization.
9. Best for human resource management -BambooHR


You can't do things alone. You'll need people to help you achieve your goals and make your business run smoothly. Those people need some guidance and help. This is where BambooHR can help you.
BambooHR is an HR software solution with features like tracking, personnel data modules, and reporting. You can use it to add new job posts and share them across job boards, manage applications, and schedule HR meetings.
10. Best for monitoring employees – TimeDoctor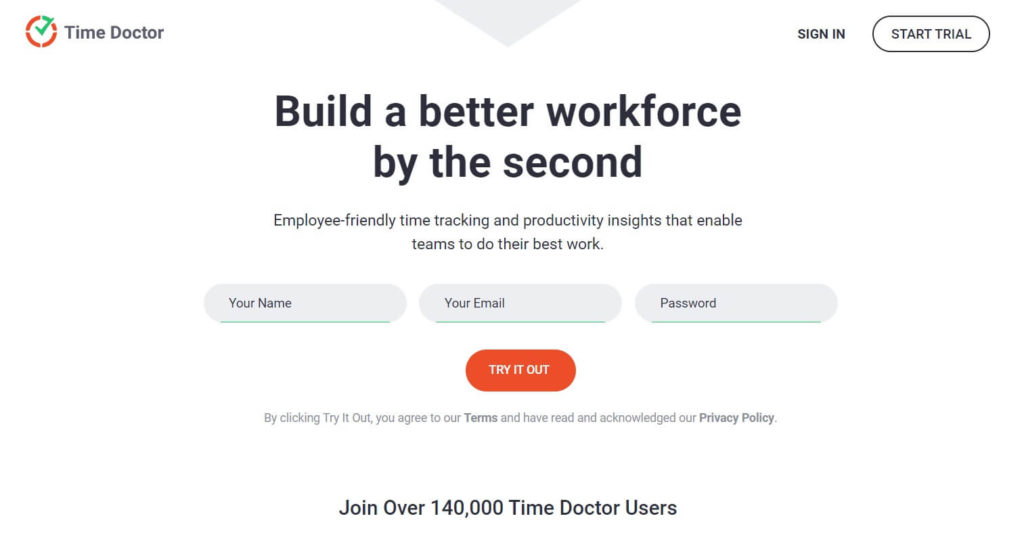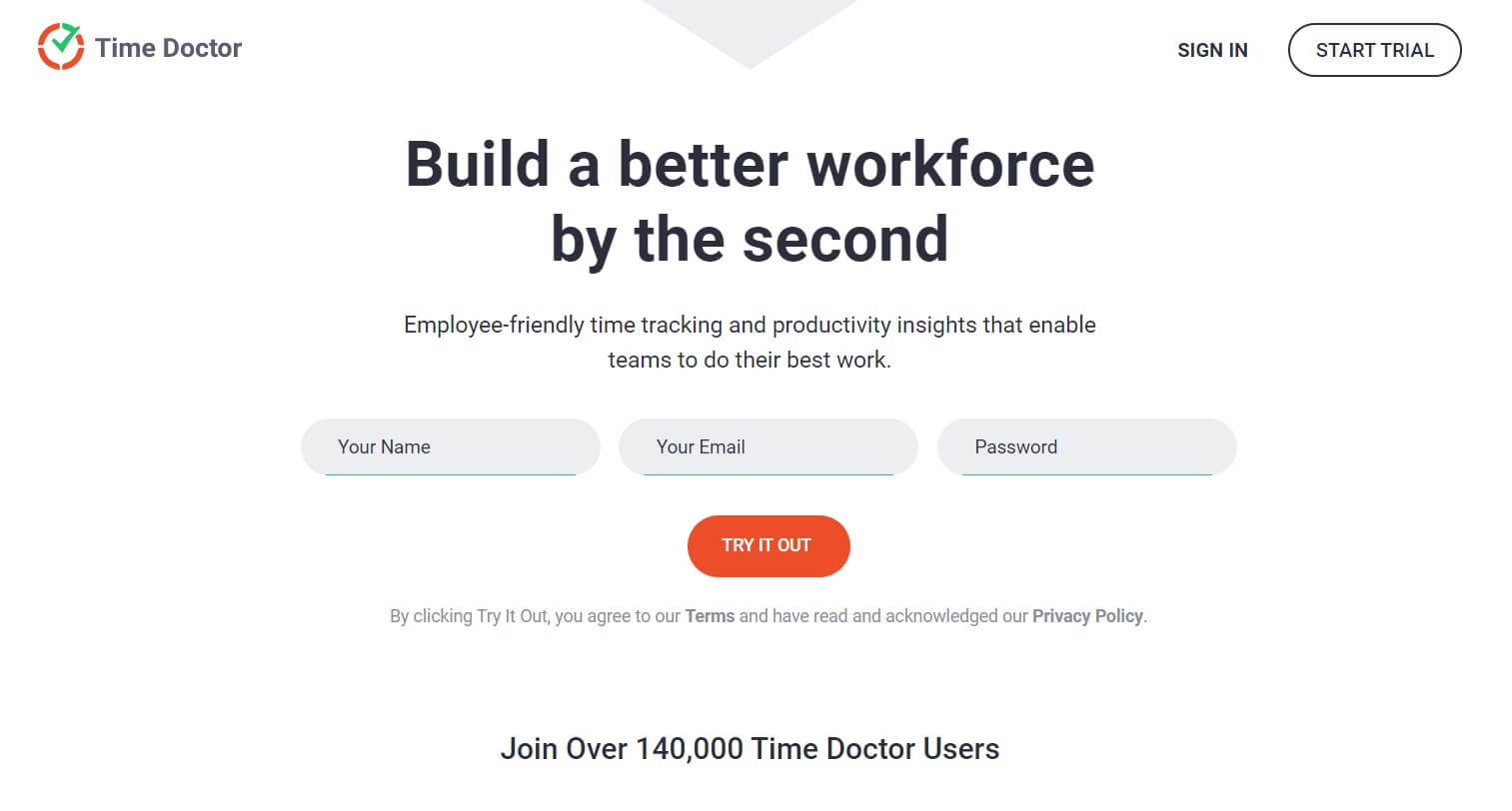 Time Doctor is one of the most popular time management and employee monitoring tools today. This is a time tracking software designed for teams of different sizes. You can use it on a team of 20 people up to one with 500.
This is a time tracking solution for brands, one with features like session monitoring, accurate invoicing, time tracking, screenshot recording, project reporting, online timesheets creation, payroll tracking, and more.
11. Best for content management – HubSpot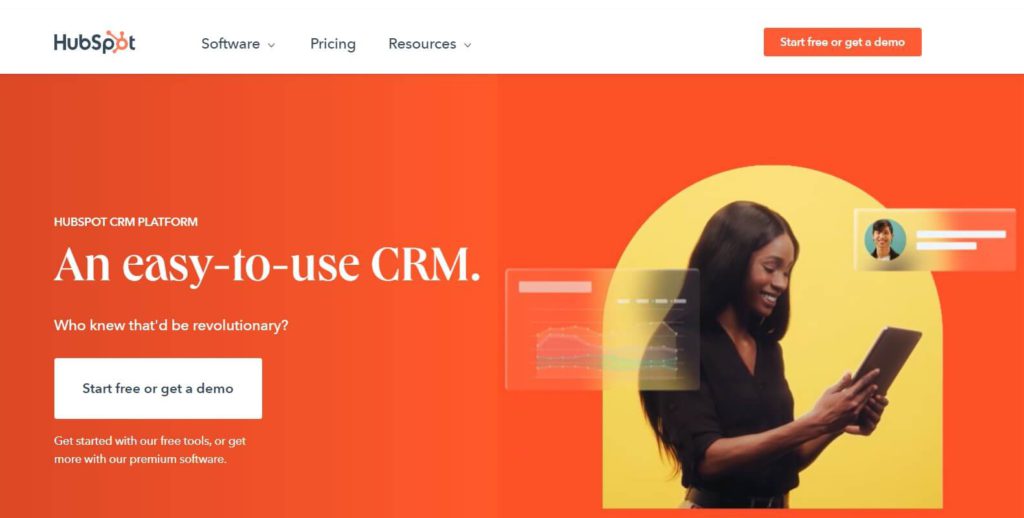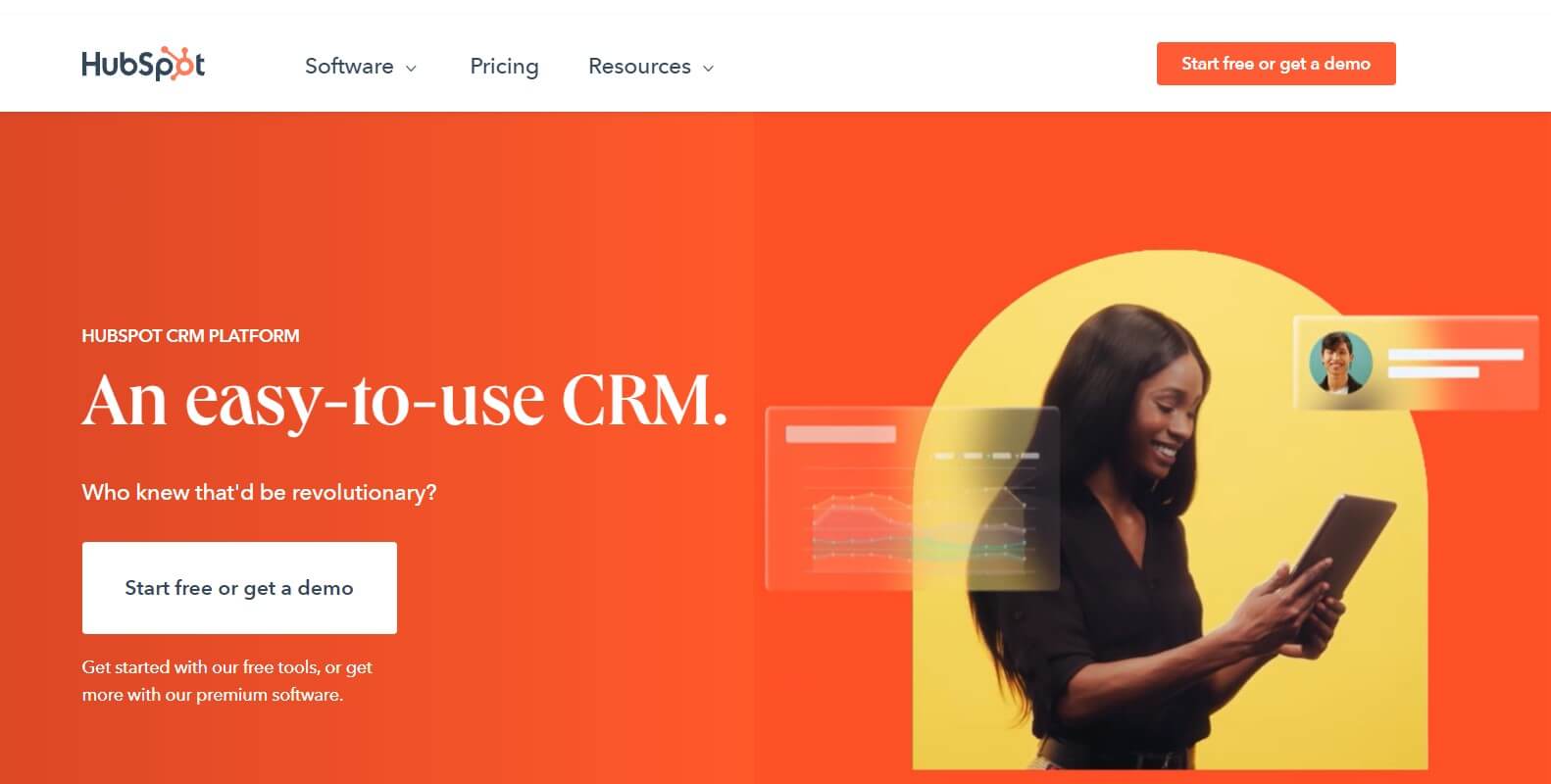 HubSpot is a feature-rich content management tool that will help you create and optimize a website, bring more traffic to it, convert more leads, and essentially, grow your business.
The Hubspot CMS is ideal for creating and editing posts, site pages, landing pages, and even emails. You can use its pre-built templates to easily customize everything from scratch, as well as to share your content across different networks.
12. Best for accounting – Xero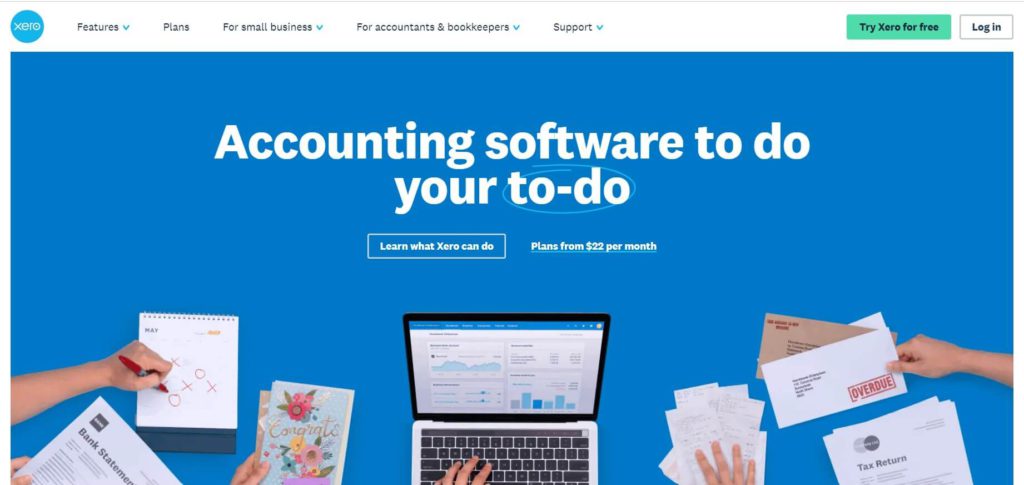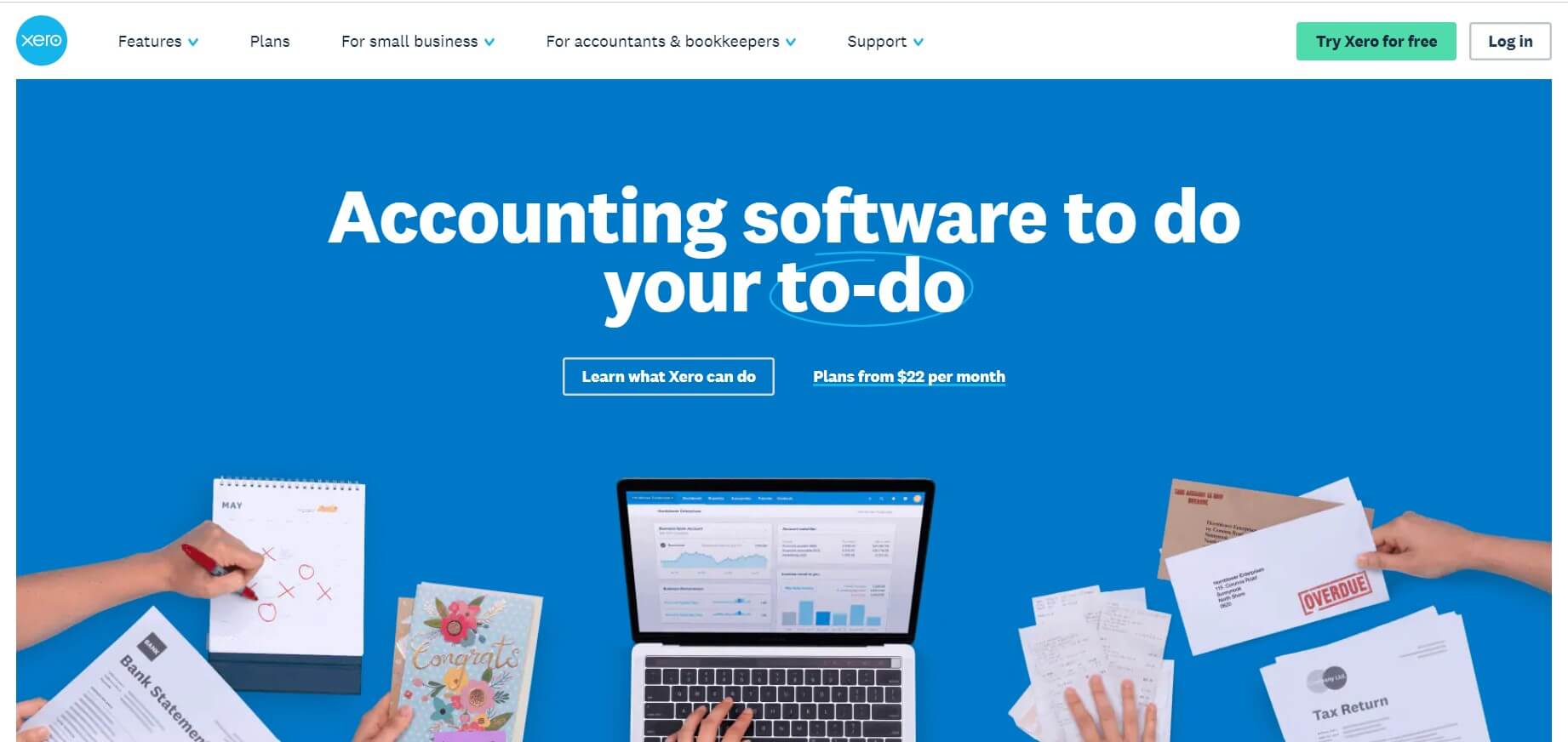 Need some help with your accounting? Even though you're just at the beginning, you need to accurately track and manage your company's finances. Instead of spending a fortune on this, at least until it is absolutely necessary to hire a professional, you can use tools like Xero to handle your finances.
Xero is a web-based accounting solution with robust features that will help you track the cash flow and manage transactions from any location. You can use it to keep track of bills and expenses, therefore minimizing unnecessary costs.
13. Best for time management – Calendly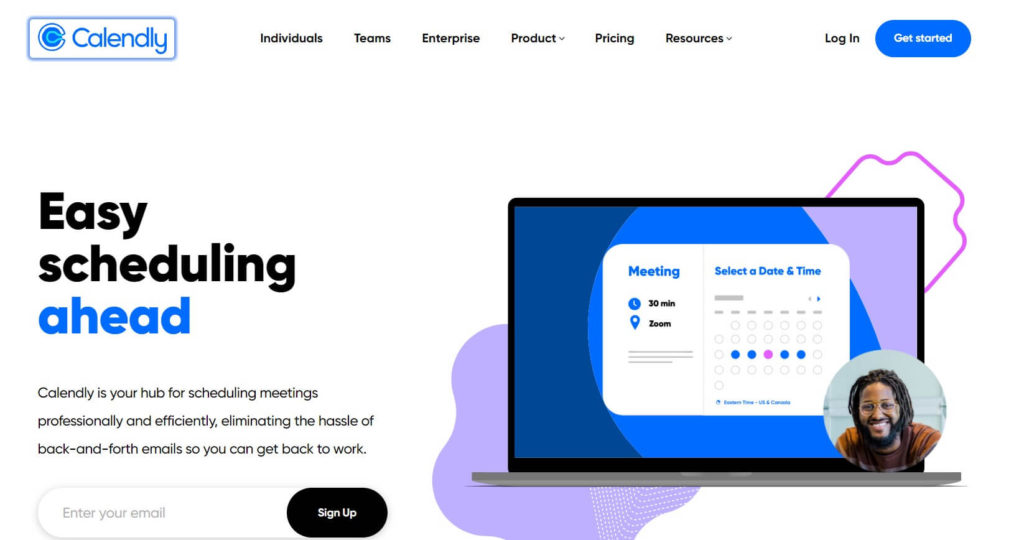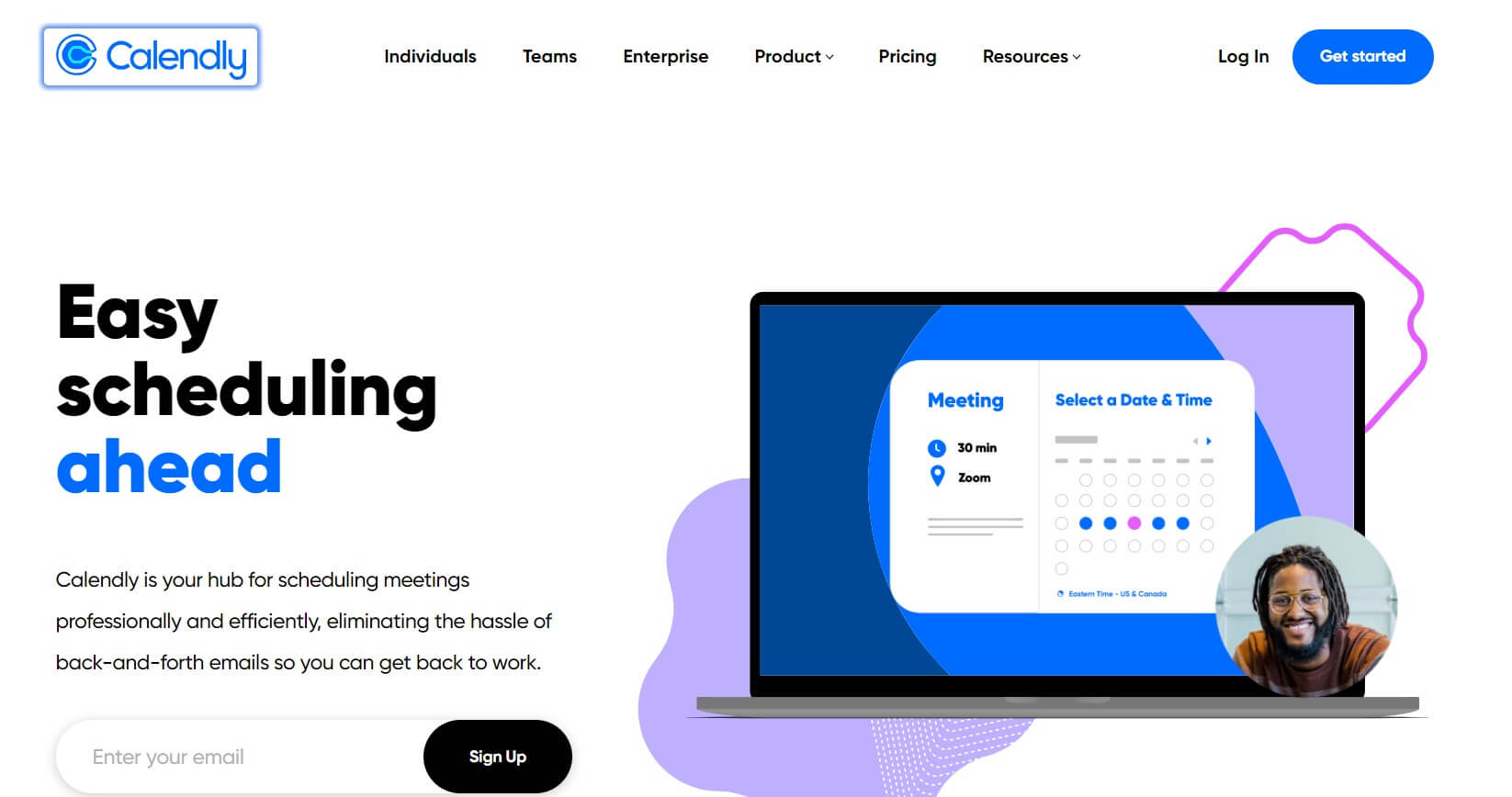 Calendly is a very simple and yet, very powerful meeting scheduling tool. It's designed to save you time and maximize your sales. Instead of old-school scheduling methods like noting things down in a book, you can handle everything from any location thanks to Calendly.
Not only is Calendly easily accessible, but it also minimizes the room for error. You can set appointments, set your availability preferences, and share this with the people you need to connect with.
Time to get to work! Which ones will you be using?
There you have them – the best-rated, most useful SaaS software for new and small-sized businesses. Hopefully, you found what you need in this list. Now it's time to test out the tools and use them to maximize your business' potential.
FAQs
Which is the best software for cold emails?
SalesBlink is a sales outreach automation tool that works fast and facilitates cold emailing for you. It can take care of many aspects of the sales cycle from finding prospects to sending cold emails.
Which is the Best for social media marketing?
With Hootsuite, you can view different streams across platforms like YouTube, LinkedIn, Facebook, and Twitter. You can use it to automate post sharing and engage with your followers without having to leave the interface
Which is the best software for live chat?
EngageBay will allow you to create and use answers to common questions and enable easy transfer across different agents if your customers need to talk to someone else.