24 Best Outreach Tools For Sales To Accelerate Conversions
You would agree that outreach is an essential part of the sales cycle. It involves finding leads and sending them emails, which can be daunting if you do it manually. As a salesperson, automating this phase of sales can be of great help to you. There's absolutely no harm in taking a little help from technology as it will reduce your workload to a great extent. That is why cold outreach tools for sales act as a life savior.
Following is the list of the top outreach tools for sales that you should consider adding to your toolkit.
1. SalesBlink
SalesBlink is an all-in-one full-stack automated sales outreach tool to engage leads. It is designed to find targeted prospects and launch custom outreach campaigns so that you get connected to promising hot leads.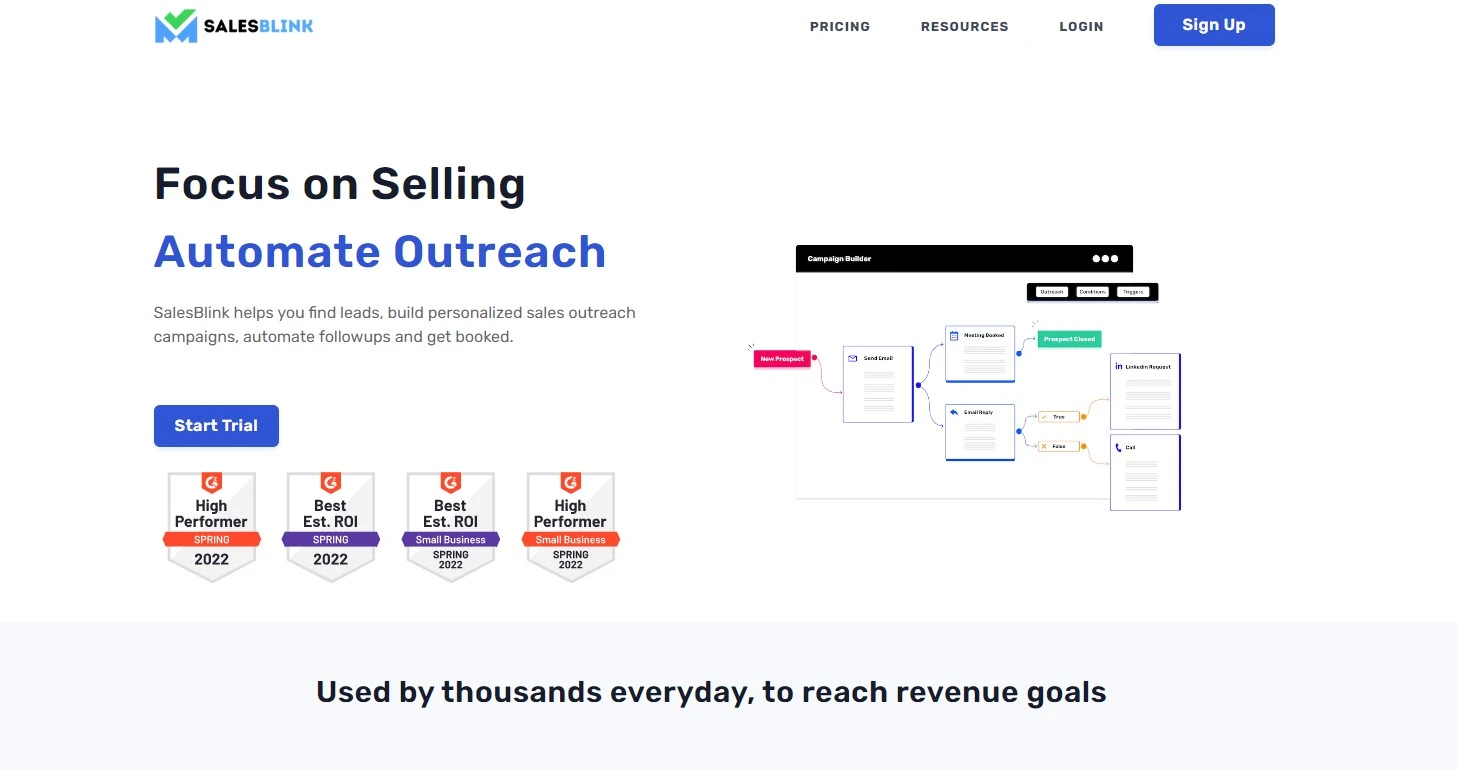 At the prospecting stage, it helps find the contact details of professionals thanks to its vast business database.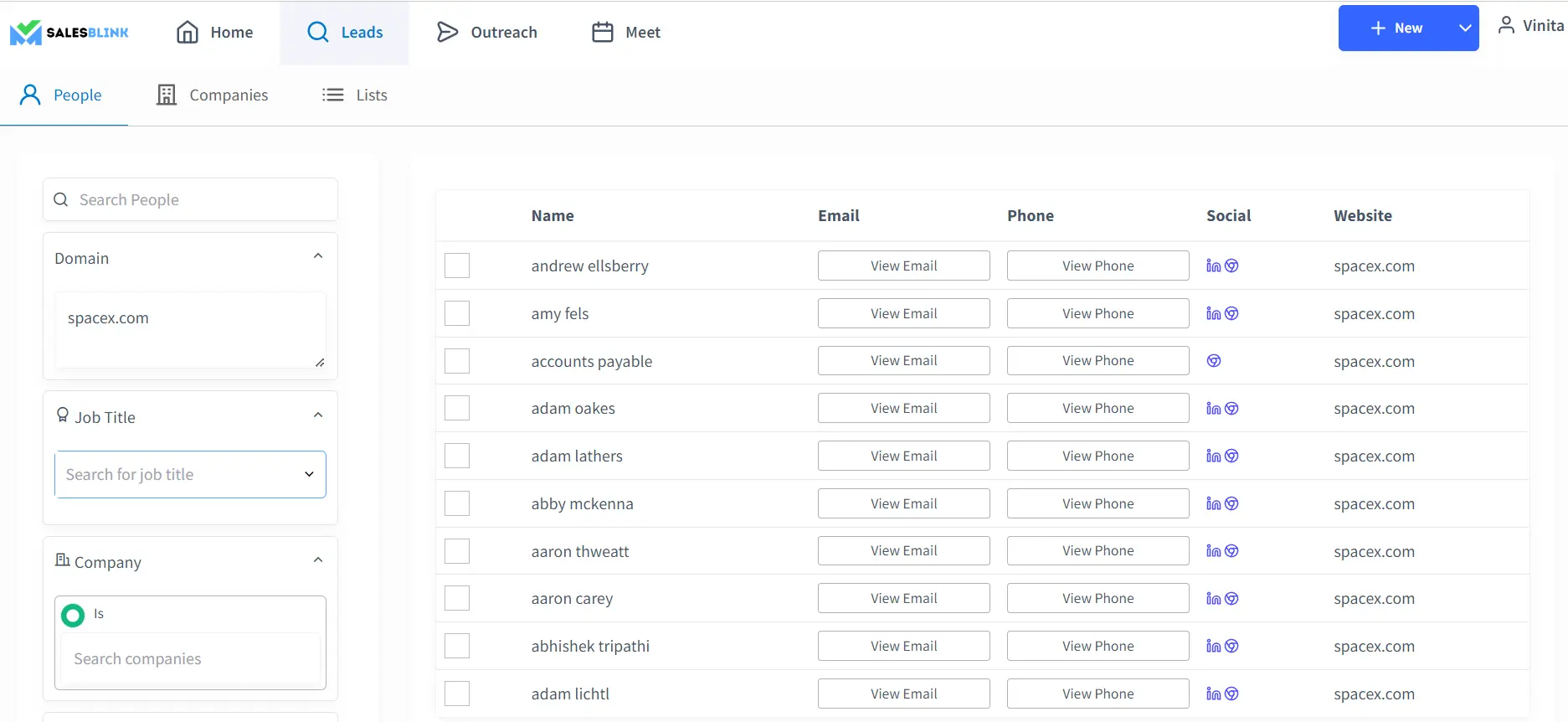 For the outreach stage, it helps launch personalized, multi-touch sales sequences at scale. The outreach channels involve not just email but also LinkedIn.
You can use save email templates and personalize them to get traction. SalesBlink enables image personalization. You can personalize images at scale for your outreach emails.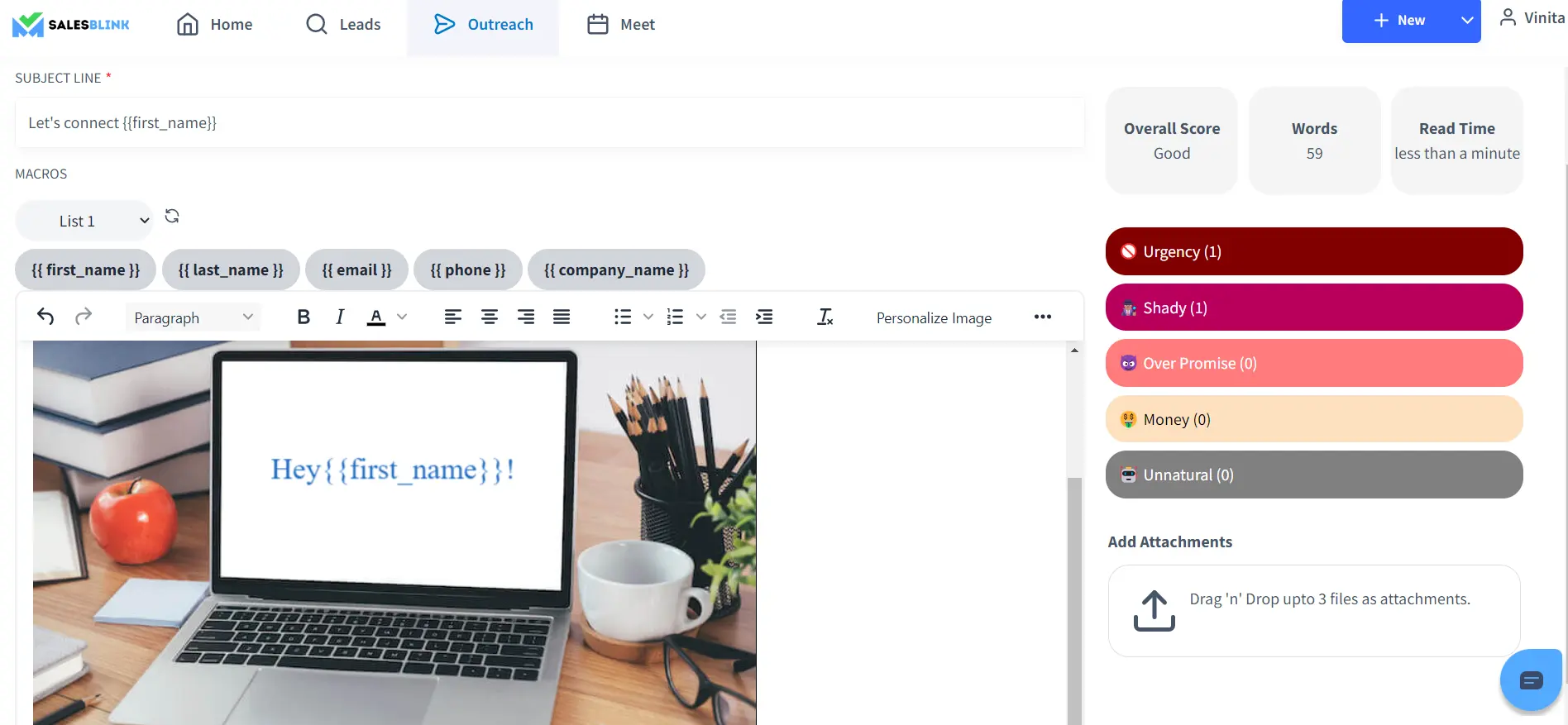 Also, it is possible to automate follow-ups and track opens, clicks, and replies.
You have the meetings scheduler as well that can let prospects schedule meetings with you seamlessly. Just share the calendar link with them and ask them to pick a date for the meeting. The scheduler syncs with your Google calendar so that you know about the upcoming meetings. Plus, with this tool, you are free to customize your availability at your convenience. It is also easy to track scheduled meetings right from your calendar.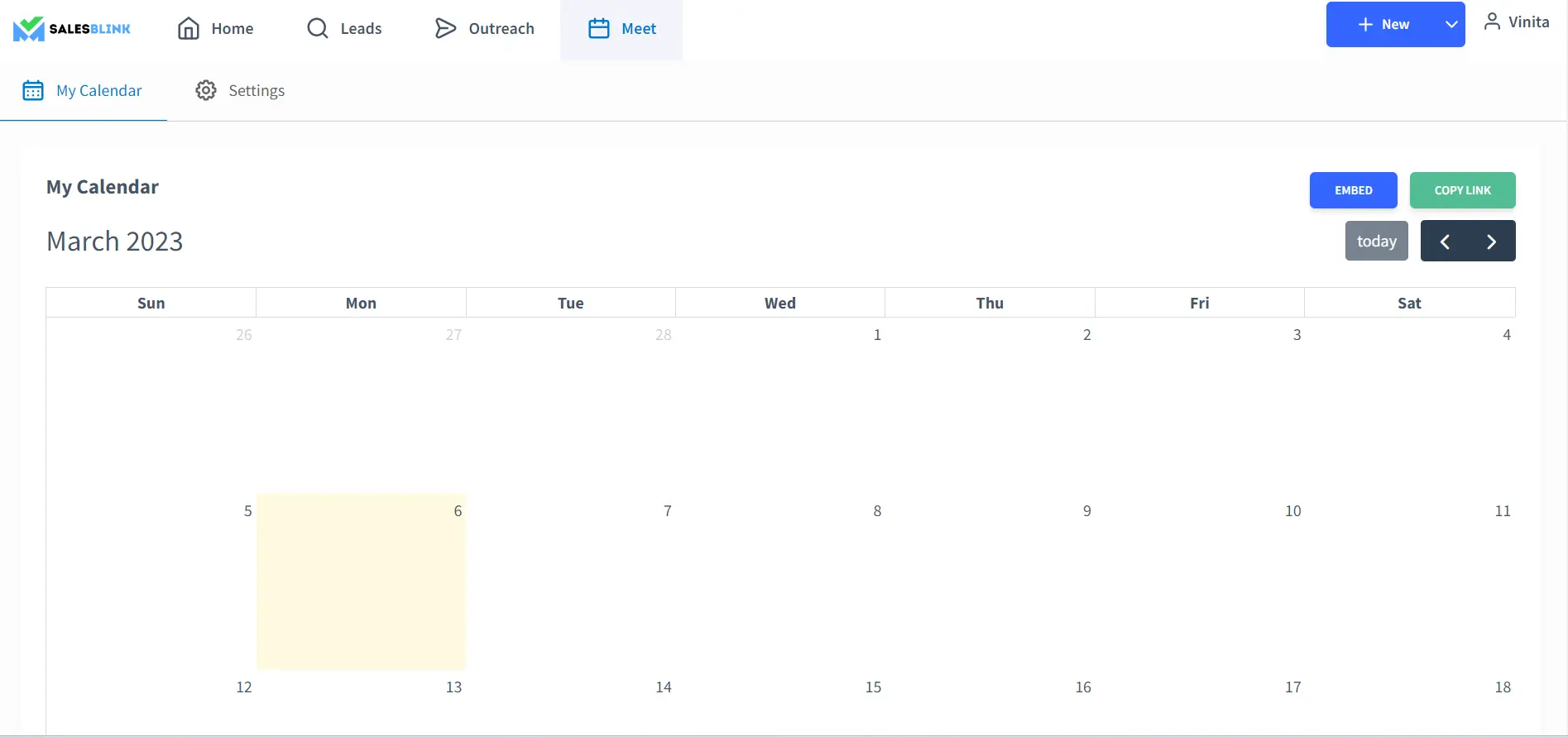 Pricing
The Sales Engagement plans include:
Basic – $49/mo/user
Professional – $69/mo/user
Enterprise – Request Quote
The Prospecting plan includes:
Prospecting Pro Plan – $49/month
Enterprise – Request Quote
The Email Warmup plan is at $19/mo/sender
2. Overloop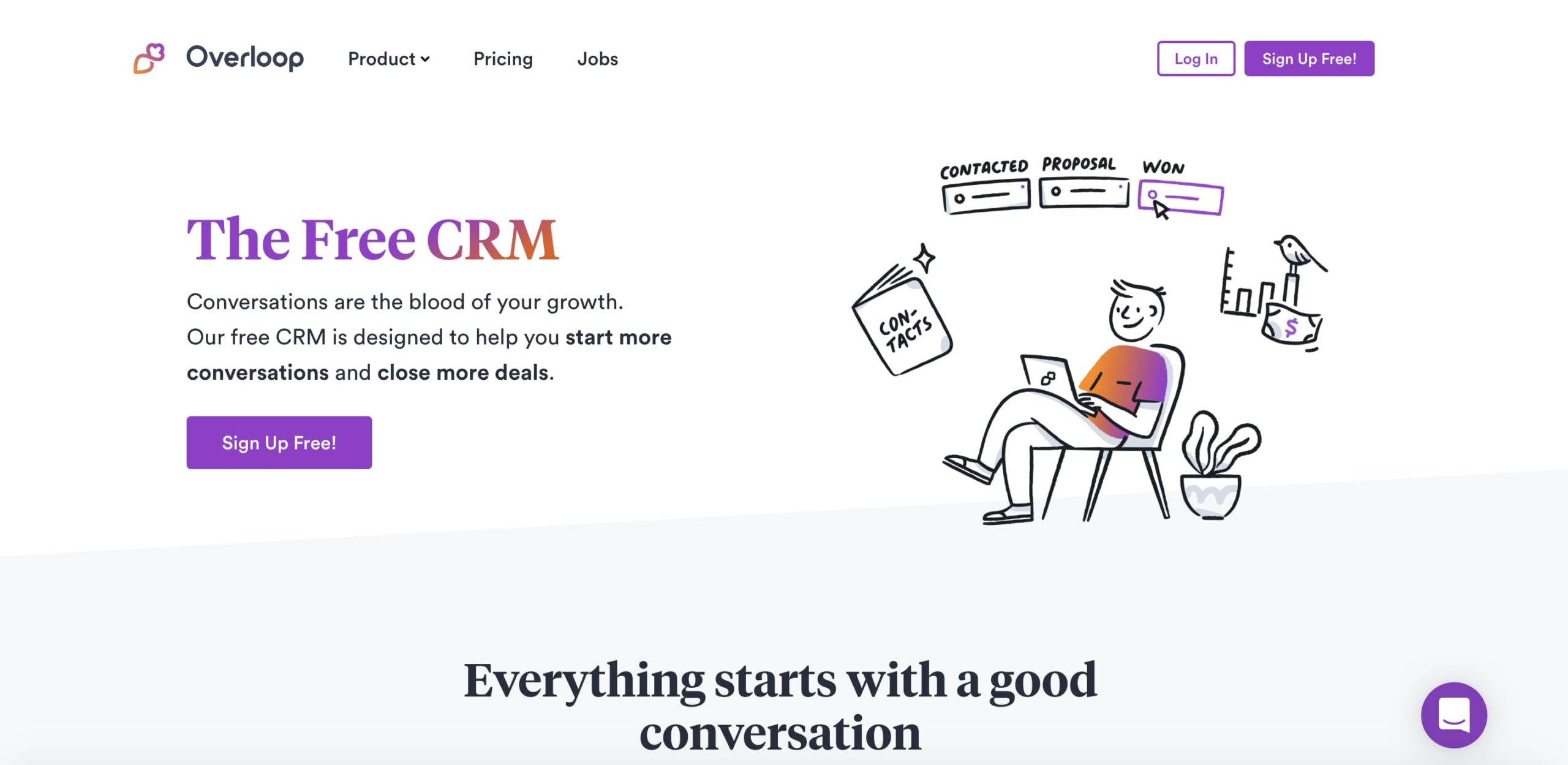 Overloop is a sales automation platform meant for outbound sales. It is designed for small and midsize businesses and offers several tools and features that improve your cold email outreach in many ways. Essentially, you can use the tool to find prospects and create automated email sequences and follow-ups.
The software also lets you analyze the campaign's data. For instance, you can track the number of clicks and opens to know how the campaign has performed. It will help you make the necessary tweaks to improve future campaigns. Moreover, it is easy to integrate the platform with your CRM.
Also, you can integrate Overloop with SalesBlink.
Pricing
The Essential plan starts at $79 per month.
The Business plan starts at $129 per month.
3. SalesHandy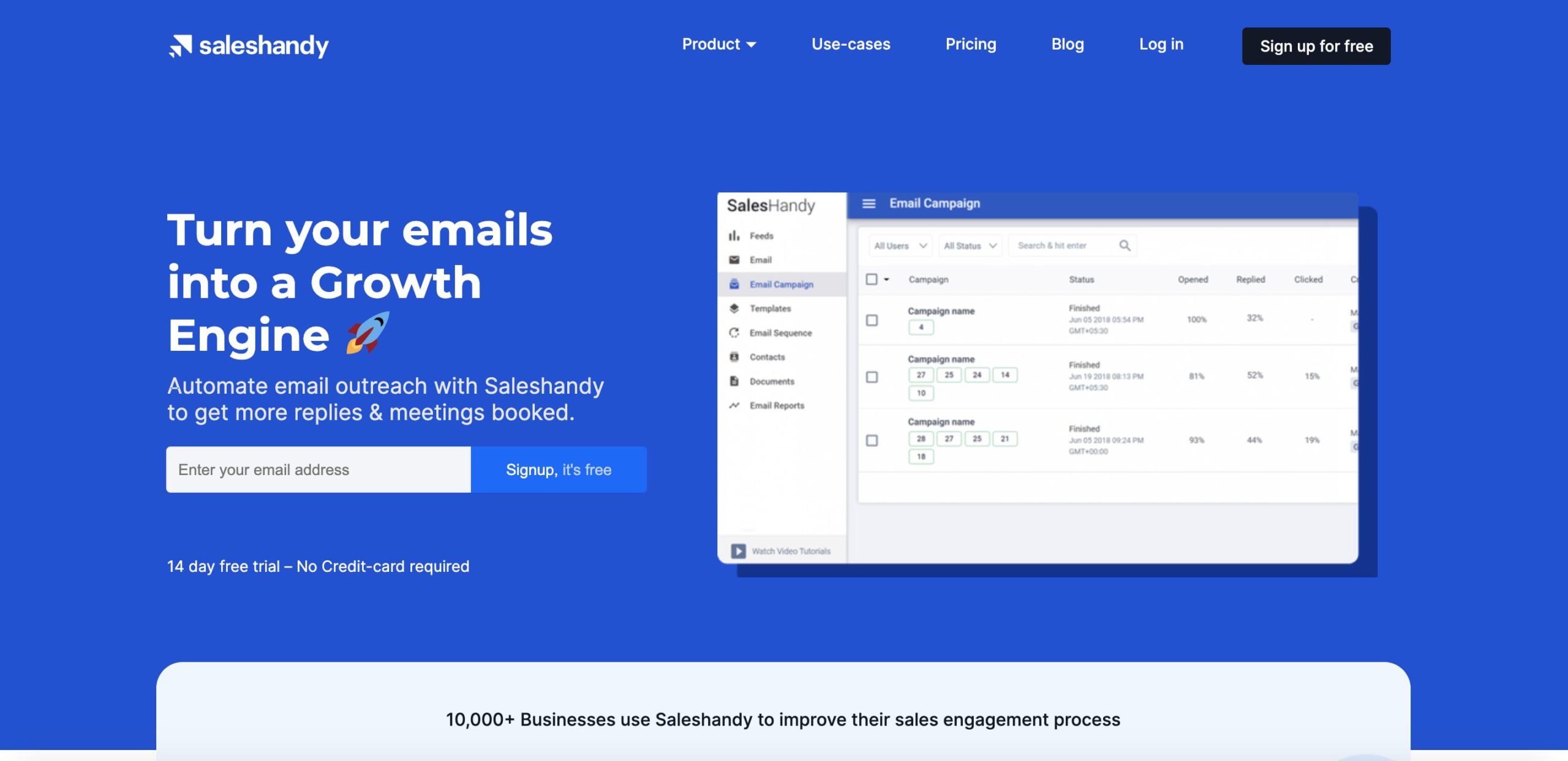 SalesHandy is one of the best email outreach tools for sales with several automated features like merge mail, email personalization, email templates, email scheduling, automated follow-ups, and a lot more. The tool is well-suited for salespeople, marketers, bloggers, and recruiters. With advanced email analytics, you can track opens, clicks, replies, and bounces.
When you use this tool for email outreach, all the emails hit the recipients' inbox and don't end up in the spam folder or promotion tab, unlike other business emails. In addition, you are free to integrate it with Zapier and connect it to web apps of your choice to get more tasks completed. The tool is compatible with most major email providers such as Gmail, G Suite, Outlook, Outlook 365, etc. 
Also, you can integrate SalesHandy with SalesBlink.
Pricing
The Regular plan costs $12 per user per month
Plus plan costs $27 per user per month
Enterprise plan costs $59 per user per month
4. Woodpecker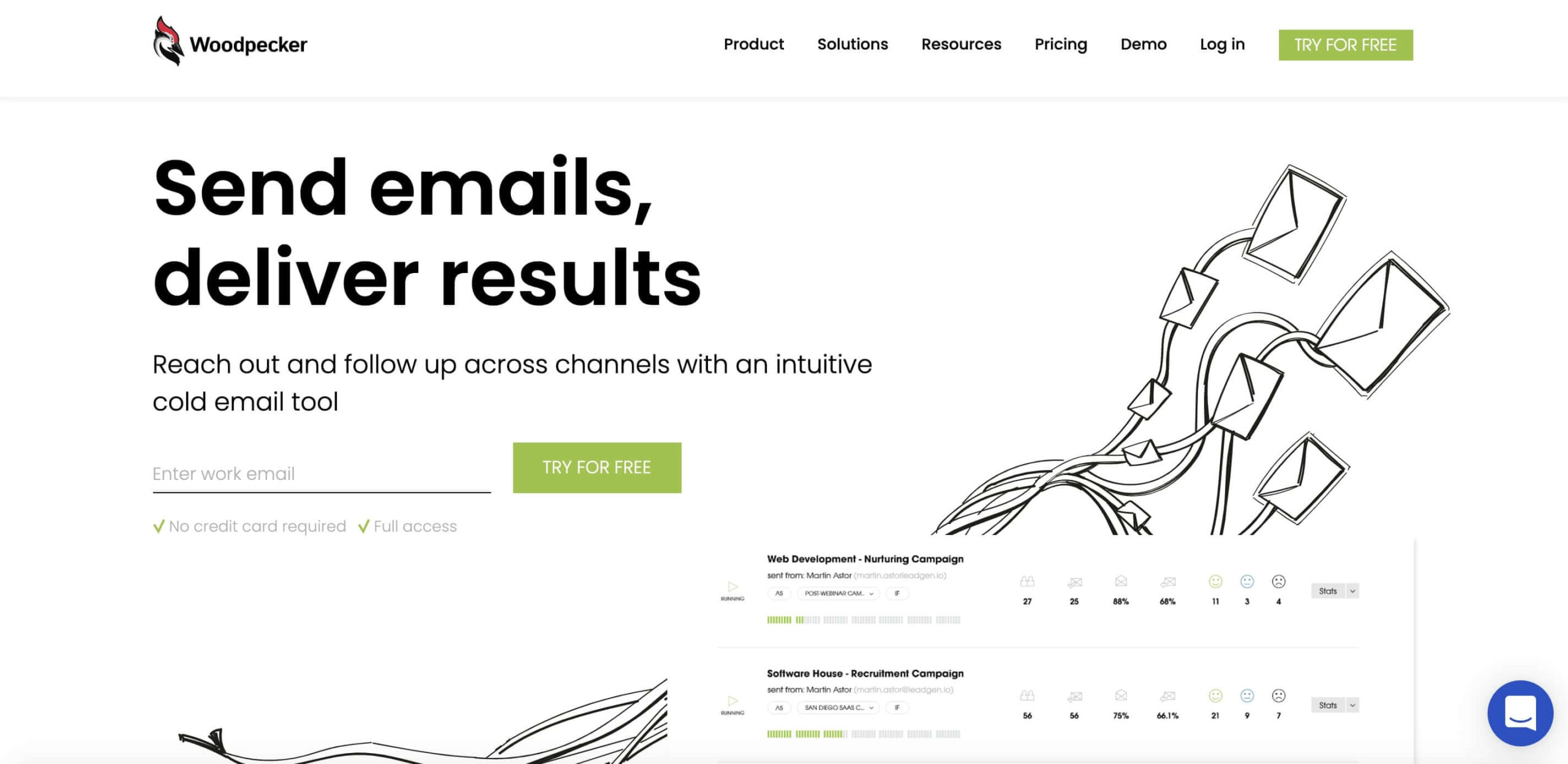 Woodpecker is one of the best sales outreach tools, suitable for reaching out to prospects at scale through cold email campaigns. The tool has a shared prospect database to ensure that a prospect will get emails only from one person of the sales team to prevent chaos. It works well in streamlining things for larger sales teams.
It is possible to integrate the tool with other platforms like HubSpot, Zoom, Hunter, Zapier, Sheets, and Pipedrive. The unique features of Woodpecker include smart sending, reply detection, and email sequencing. 
Also, you can integrate Woodpecker with SalesBlink.
Pricing
Start-up plan costs $40 per seat/month
Team Pro plan costs $50 per seat/month
There is custom pricing for the Enterprise plan.
This tool offers a free 14-day trial.
5. Wiza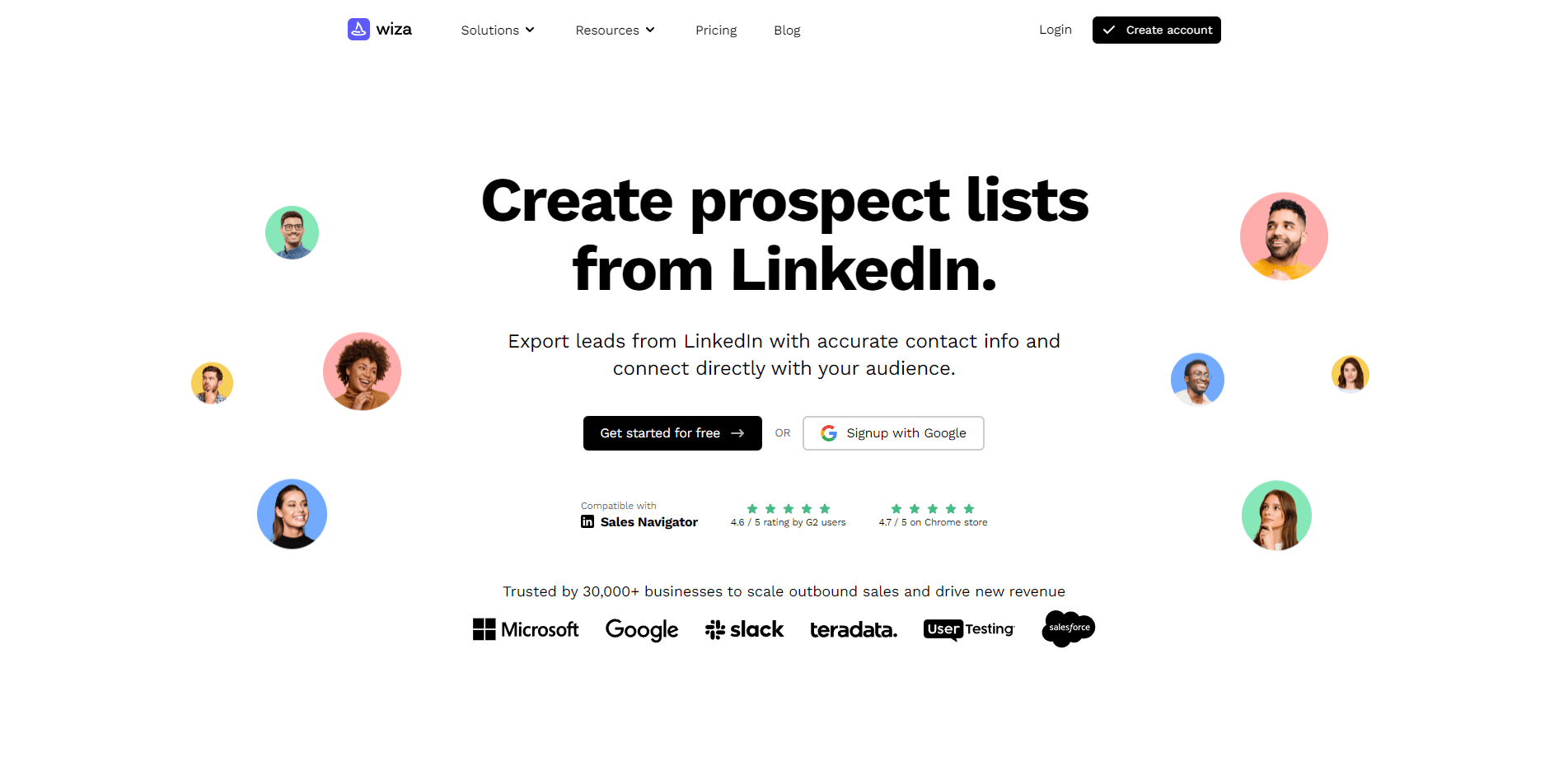 Built specifically for LinkedIn sales outreach, Wiza is an excellent tool for building your email lists through LinkedIn prospecting and exporting the contacts directly from LinkedIn Sales Navigator to your CRM.
Using Wiza, you can scrape and find up-to-date contact information and use it to reach out to relevant prospects and can have a list with contact information and real-time data ready within a few minutes. This saves hours of time by eliminating manual tasks in Linkedin Lead Generation. It helps generate hundreds of valid emails in a single click. Wiza integrates with any CRM or marketing platform and makes it easy for you to share the list of prospects with your entire sales team.
To start using Wiza, you need to download the Chrome extension. Once the tool is set up, leads of users will be available for download as a CSV file in their account dashboard. You can export these leads directly to your CRM along with exporting custom searches and saved lead lists. Just click on "Export Leads with Wiza" in the saved list, and Wiza does the rest for you. You are charged for each valid email instead of a usage-based payment model.
Pricing
You can start using Wiza for free, but the number of emails for validation will be limited. Subscription plans start at $50.
6. Teams.cc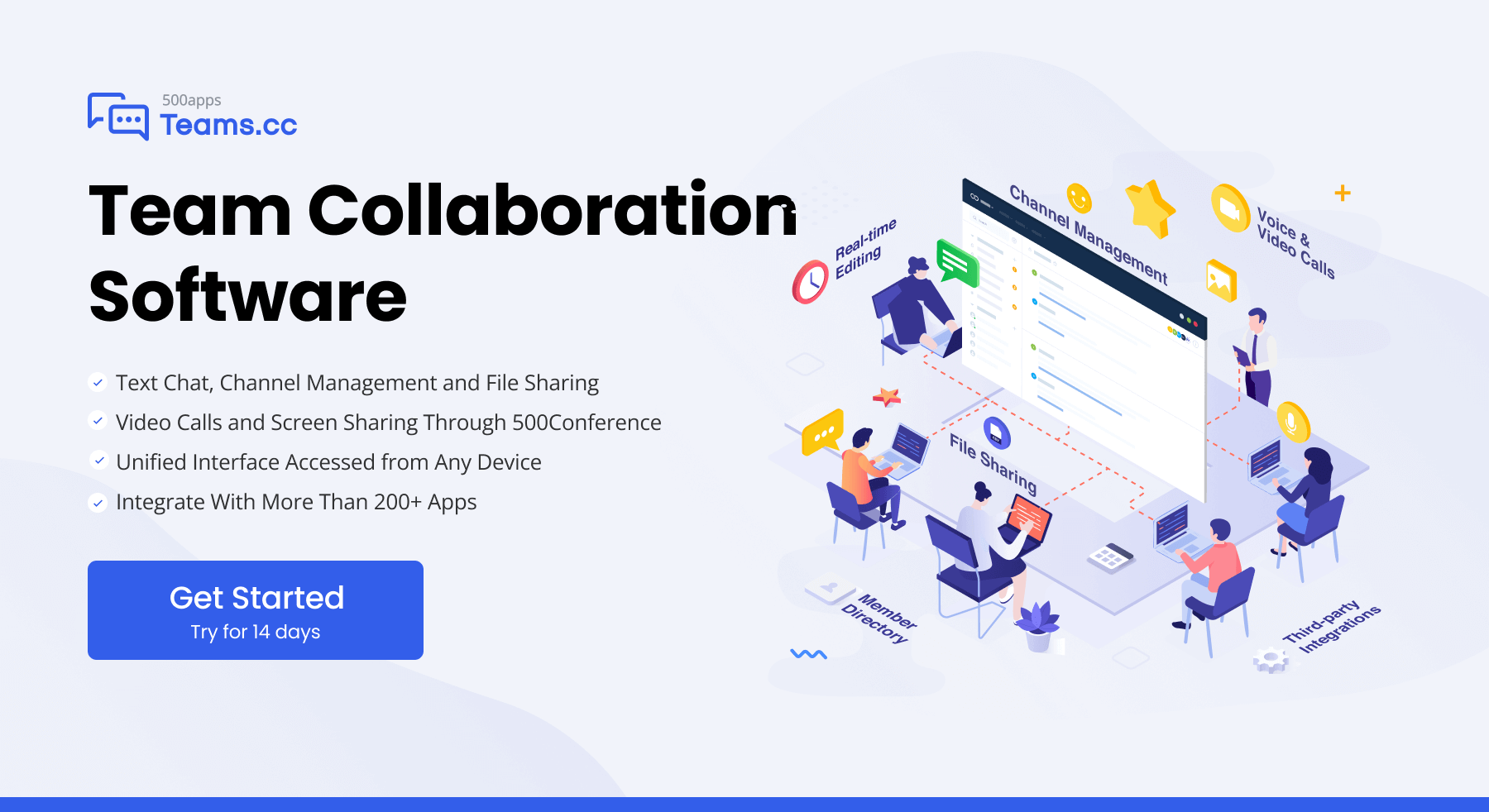 Teams.cc is a simple and fast AI-powered team chat application that helps teams of any size connect and cooperate more effectively.
It offers a variety of services for your team, including in-app video chatting, encrypted file sharing, channel management, and powerful productivity tools.
You can improve it by merging it with other third-party applications. You may use this tool to link calendars, CRM, and helpdesk services in addition to email and 200+ applications. The program is reasonably priced, with a per-user subscription costing only $14.99. I'm a member of the Teams.cc team.
Key Features:
File-Sharing- Teamwork is sped faster when files are shared. Without moving windows or tabs, share cloud-stored documents, images, and links. Presentations, spreadsheets, and papers are all made easier with file sharing. Exchanges of files and messages are instantaneous. Transfer times are sped up by attaching files. Files are protected when they are shared via Secure File Sharing. Files that are important to you should be pinned. All shared files and direct conversations should be synchronized.
Private Messaging- Task management is improved with a prioritized list. Assist your employees with their regular activities. Direct and category correspondence may be on daily to-do lists. Divide daily goals into manageable chunks to improve speed and focus. Organizing your to-do list will help you operate more efficiently. To effectively manage chores, group them together.
Channel Management- To improve cooperation, workflow, and organization, create and manage channels. Allow everyone to contribute by opening channels. Send and receive files and messages. Over secure channels, team members may speak and share files. Team members have the ability to make judgments while maintaining confidentiality. Send unlimited conversations to your team via public and private channels. In groups, many people can connect.
Third-party Integration- Integrate Teams.cc with over 200 apps, such as AgileCRM, Asana, Gmail, and Google Drive, to boost the efficiency of your workflow.
Pricing
Paid-$14.99 per user.
Free up to 10 users
7. SmartReach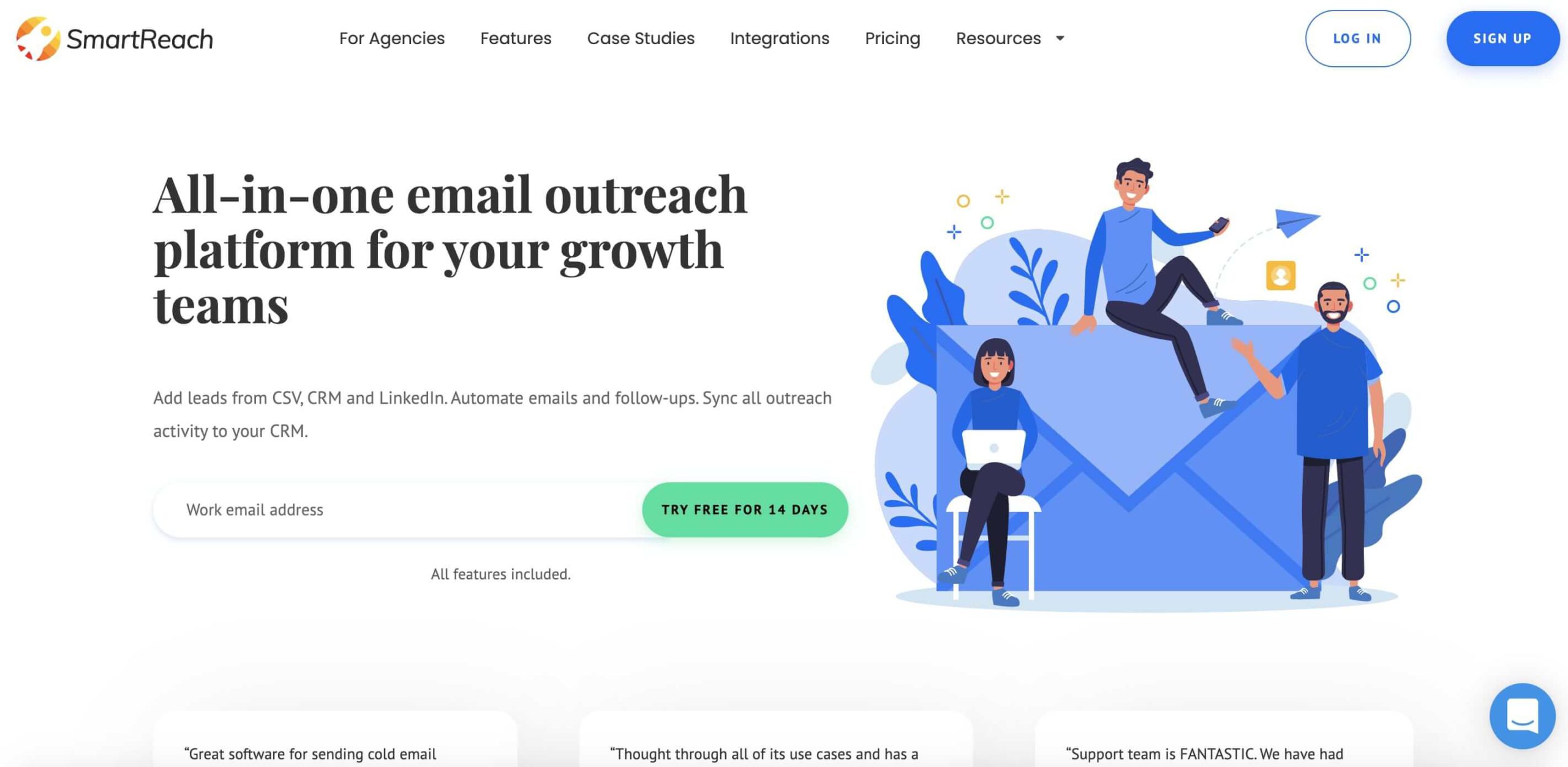 SmartReach is yet another one of the best cold email outreach tools for sales that is simple and user-friendly. It is well-suited for both large and small businesses. The tool helps in sending automated email sequences and follow-ups. Using SmartReach, it is possible to personalize emails. It lets you use conditional statements in email templates to personalize the campaign. In addition to that, you can analyze the progress of the campaign with ease. With the help of the visual progress bar, you can understand which campaign is out of prospects and which one has the maximum amount of error rates.
You can integrate SmartReach with other tools and platforms like Zapier, Exchange, Pipedrive, SalesForce, Zoho CRM, SendGrid, Mailgun.
Also, you can integrate SmartReach with SalesBlink.
Pricing
The Standard plan costs $99 per month (5 users)
The Pro plan costs $149 per month (5 users)
The Ultimate plan costs $199 per month (5 users)
You can begin with a free 14-day trial.
8. Yesware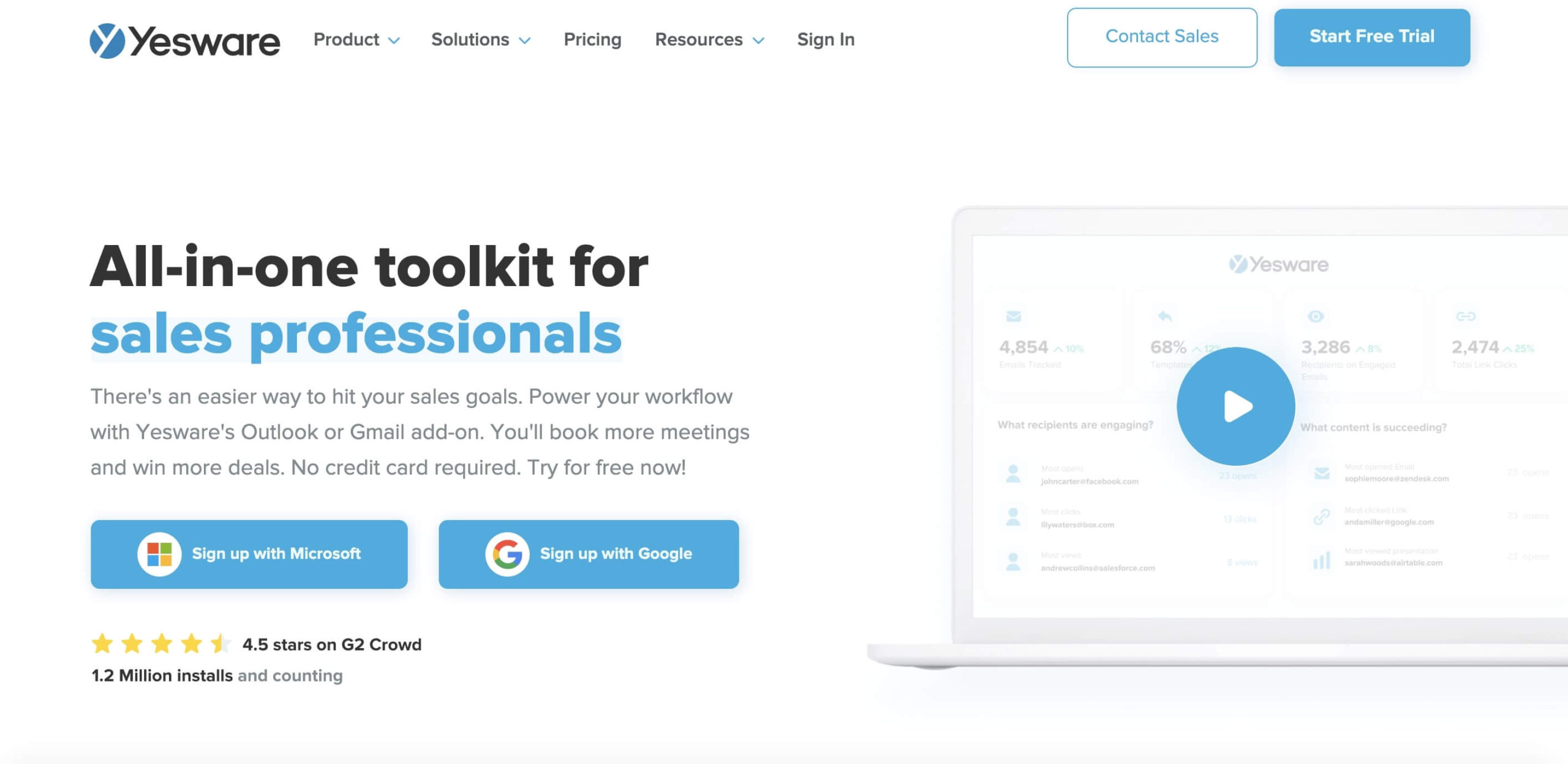 Yesware is one of the best outreach tools for sales. It is an all-in-one toolkit that can help salespeople tremendously. It is a plugin for email clients like Gmail or Outlook and has many email sales tools.
Yesware offers email templates to speed up the outreach and make it scalable. Also, Yesware lets you create personalized emails in large numbers without any extra effort from your end.
Its Mail Merge feature allows you to send emails straight from your Gmail or Outlook interface. That helps keep your conversations in one place, i.e. the inbox, without using an external tool for it. Additionally, there are automated follow-ups to help you get the maximum responses to your emails. Also, using its Calendar Sync and Send Later features, you can organize email campaigns well.
The tool has an email tracking feature that gets you insights into the campaign's performance and helps you understand how prospects are engaging with your emails. Based on the outcome, you can modify future campaigns as per your requirement.
You can integrate Yesware with other platforms like Salesforce, LinkedIn, DocSend, Clari, and Highspot to streamline your tasks.
Pricing
Pro plan costs $12 per user per month
Premium plan costs $25 per user per month
Enterprise plan costs $55 per user per month
You can start a free 14-day trial.
9. Mailshake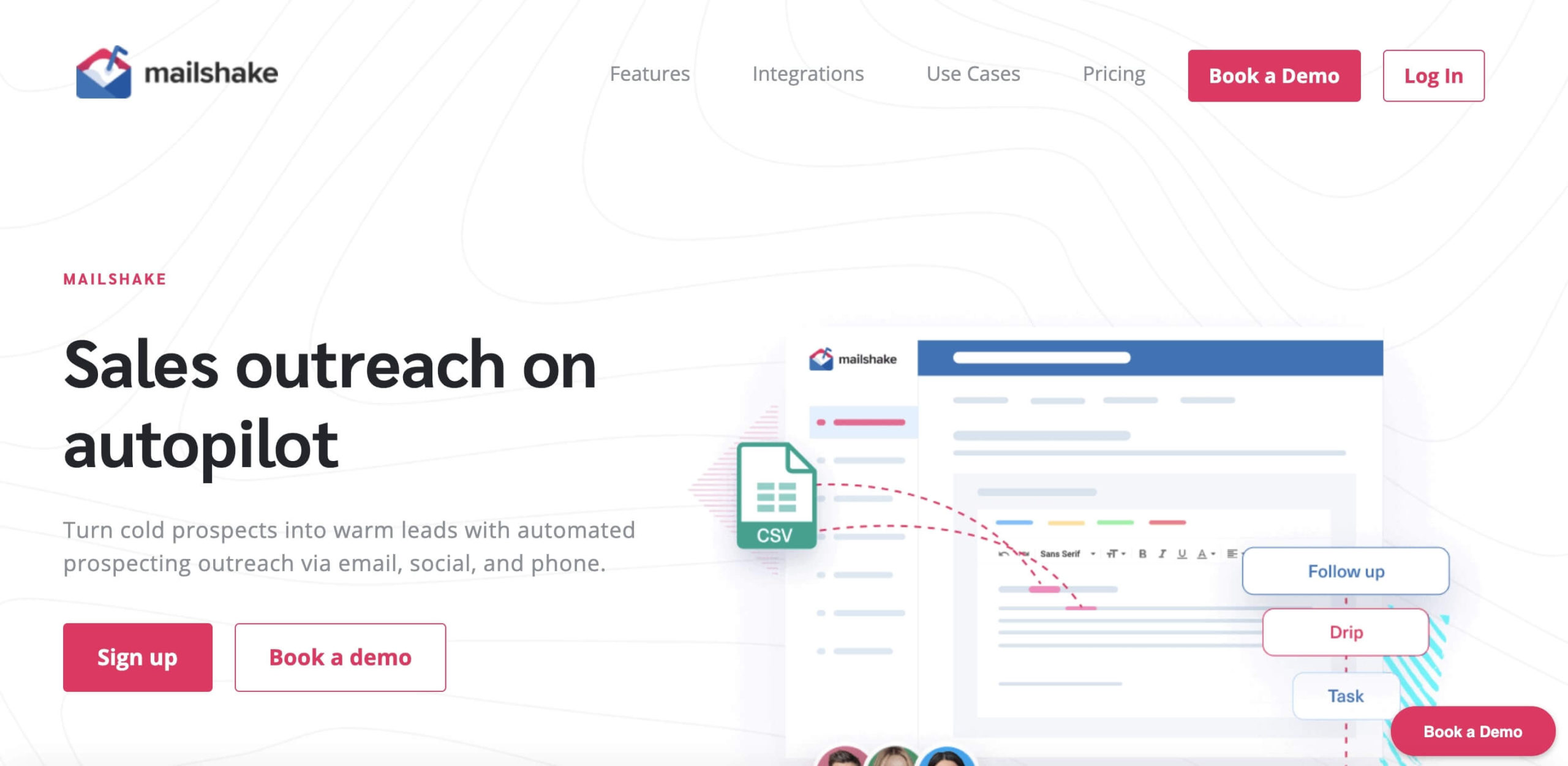 Mailshake is a platform that helps salespeople create multi-channel outreach campaigns. However, it is not just meant for sales. You can use it for recruiting and PR too.
Mailshake is easy to use. It enables searching for prospects, planning campaigns, creating and personalizing automated emails, along with follow-ups. Furthermore, the email outreach software enables you to create campaign settings of your own. In addition, you have the flexibility to pause the automated messages in the event of a response from the prospect.
Also, you can track bounces, clicks, opens, and replies using the tracking feature.
It would help you know which of your emails have the highest engagement.
In addition, Mailshake offers dynamic suggestions to help you get better results.
Another most important feature of Mailshake is that it integrates with most other platforms and tools. Also, you can integrate Mailshake with SalesBlink.
Pricing
Email Outreach plan costs $59 per month/user
Sales Engagement plan costs $99 per month/user
10. Reply.io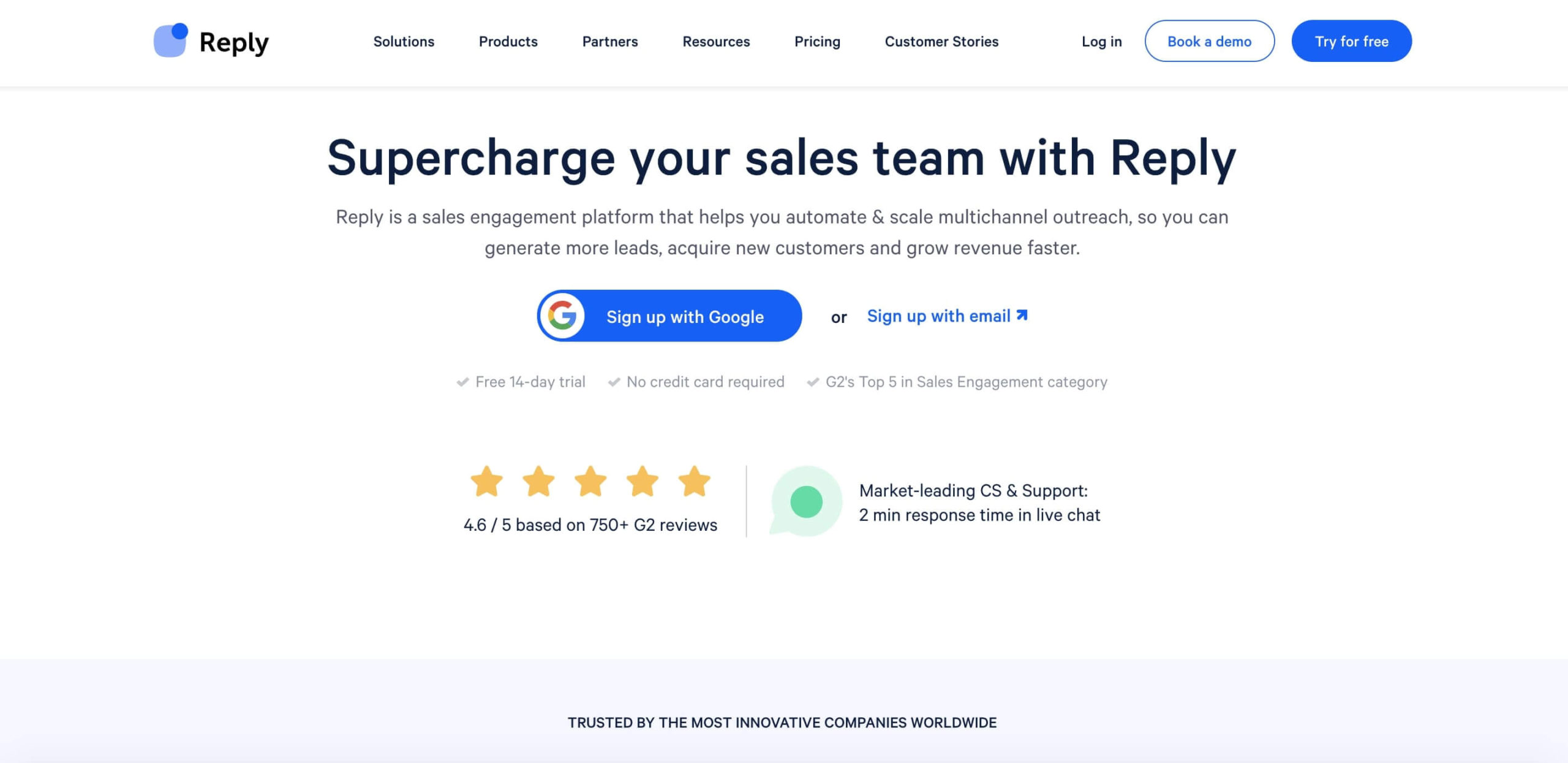 Meticulously designed, Reply.io is a sales engagement platform that you will find on every list. In addition, it is available as a chrome extension.
Using it, you can schedule email and follow-up sequences in no time.
With its chrome extension, it is possible to find verified emails on professional networking sites like LinkedIn, Sales Navigator, etc. Also, adding them directly to the outreach sequence is quite simple.
Reply.io also handles outreach through other channels such as calls, SMS, Linked In, and more. The tool enables users to monitor all the activities from its dashboard. Also, it lets you keep a tab on campaigns in every outreach channel.
The most prominent features of this tool are email automation, email sequencing, and email tracking. With Reply.io, there is no problem in managing prospects at all.
Additionally, it is easy to integrate Reply.io with Salesforce, Hubspot, Pipedrive, Copper, Zapier, Vidyard.
Pricing
Its plans start from $70 per user per month.
11. Klenty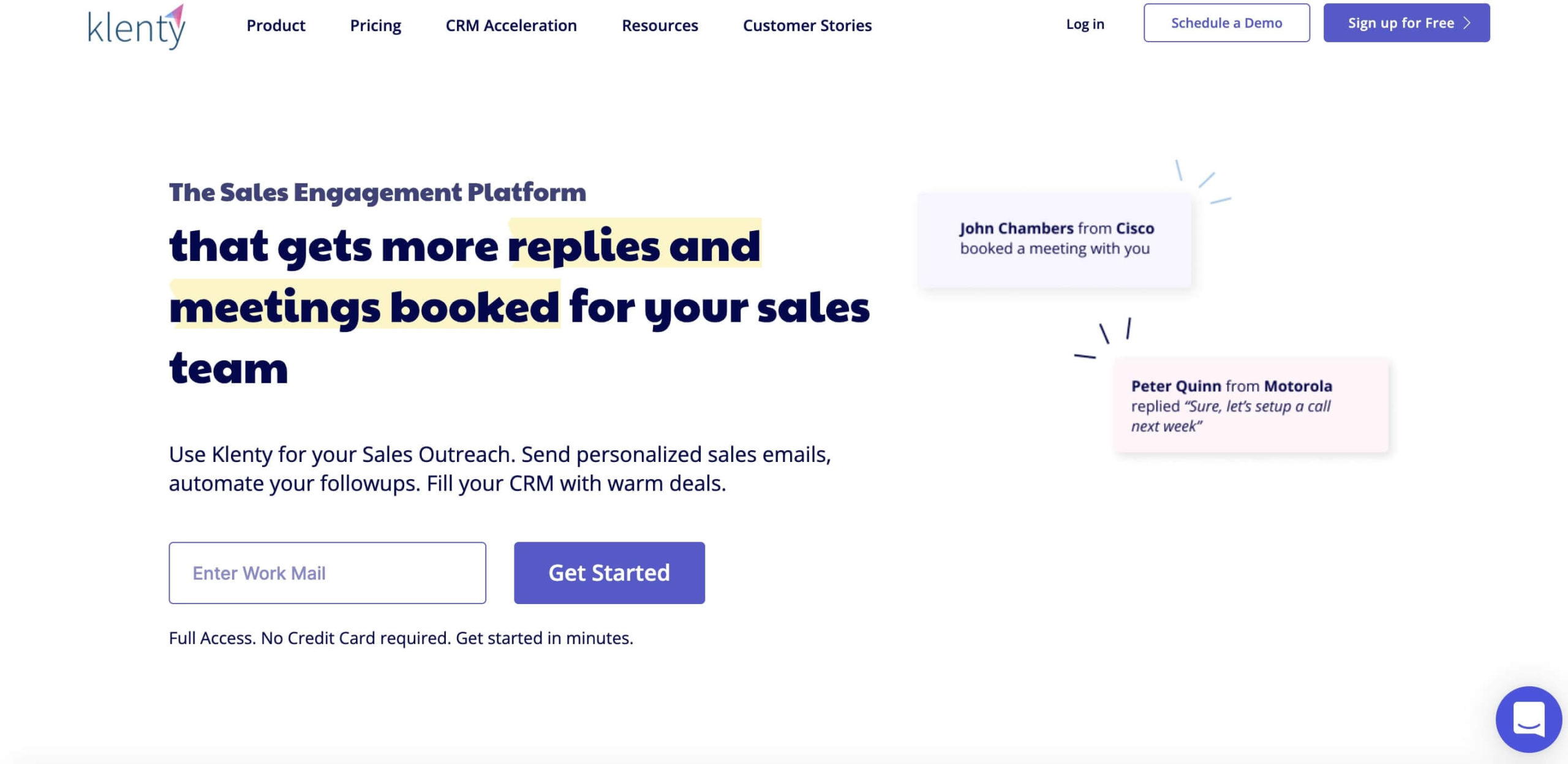 Klenty is yet another highly recommended outreach tools for sales that works well for growing sales teams. Using the solution, you see an increase in outbound and inbound sales.
The working of the tool is quite simple. First, when you upload a list of prospects into it, the system creates personalized emails and follow-ups and sends them over to the prospects. Next, the tool detects and sorts the replies and bounces so you don't waste your time checking every email you receive from prospects.
Klenty works well for phone outreach, too, as it has a click to call feature using which you can cold call prospects easily. The best part about Klenty is that it is available as a Gmail plugin that enables users to perform basic tasks right from Gmail.
You can integrate Klenty with your CRM to get a full-stack cold outreach tool. The most popular tools you can integrate Klenty with are Pipedrive, Salesforce, Hubspot, Zoho, Slack, and Zapier. 
Also, you can integrate Klenty with SalesBlink.
Pricing
The Tall plan costs $25 per month.
The Grande plan costs $50 per month.
The Venti plan costs $80 per month.
12. AutoKlose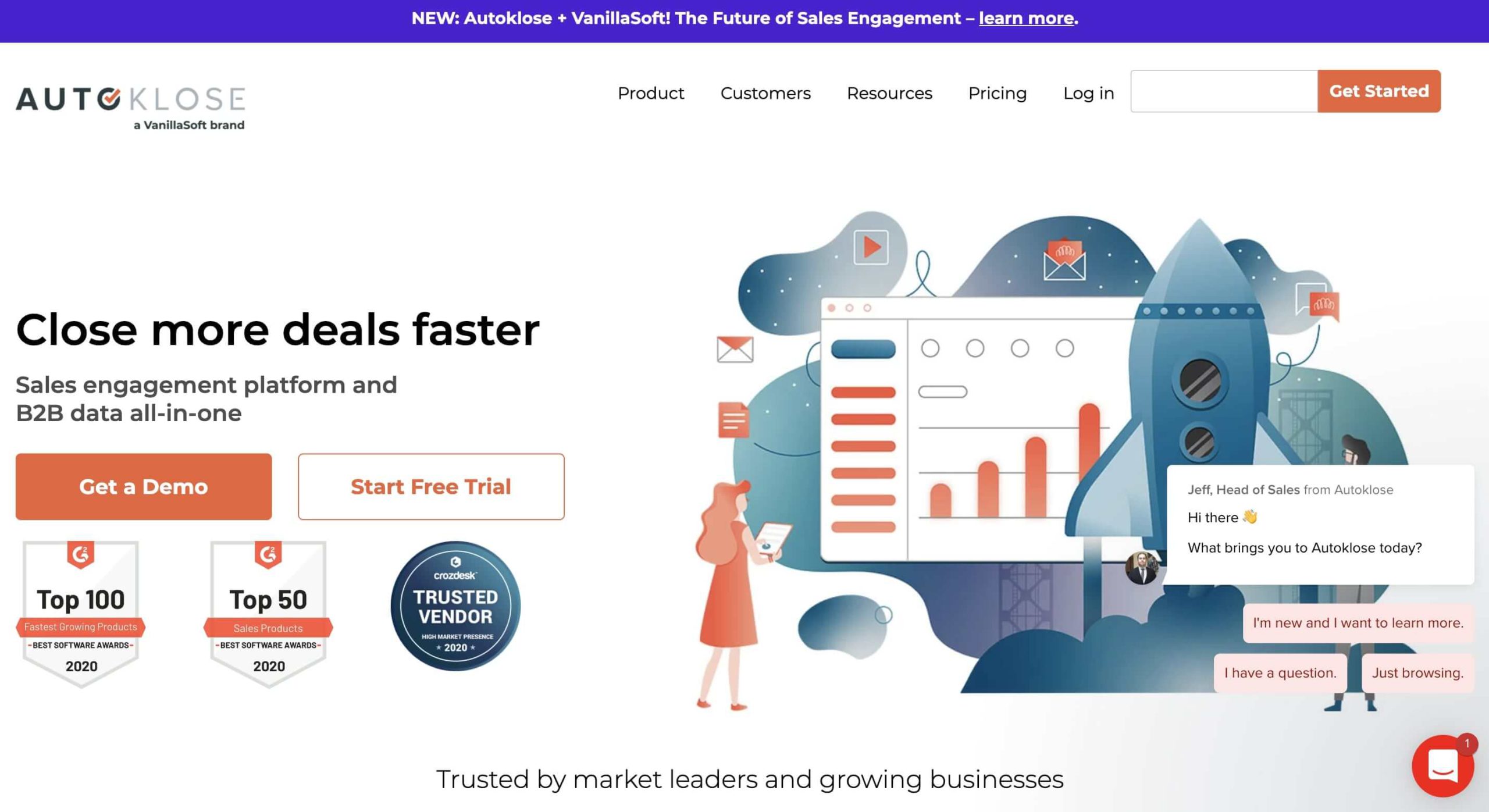 AutoKlose is an email outreach tool that has a basic and easy-to-use interface. It is a tool that can help salespeople build a close relationship with their prospects. AutoKlose is ideal for those who are having a tough time finding B2B leads.
As a user, you would get access to a vast database of verified leads from different industry verticals. Using filters, you can narrow down your search for prospects, after which you can move on to the next step. In the next step, the tool helps create customized email sequences and automates the sales process.
You can integrate AutoKlose with SalesForce, Salesflare, Pipedrive, Calendly, Copper, and HubSpot. 
Also, you can integrate AutoKlose with SalesBlink.
Pricing
The Starter plan costs $49.99 per user per month.
The Small business plan costs $149.95 per user per month.
There is custom pricing for an Enterprise plan.
AutoKlose provides a free 14-day trial.
13. NinjaOutreach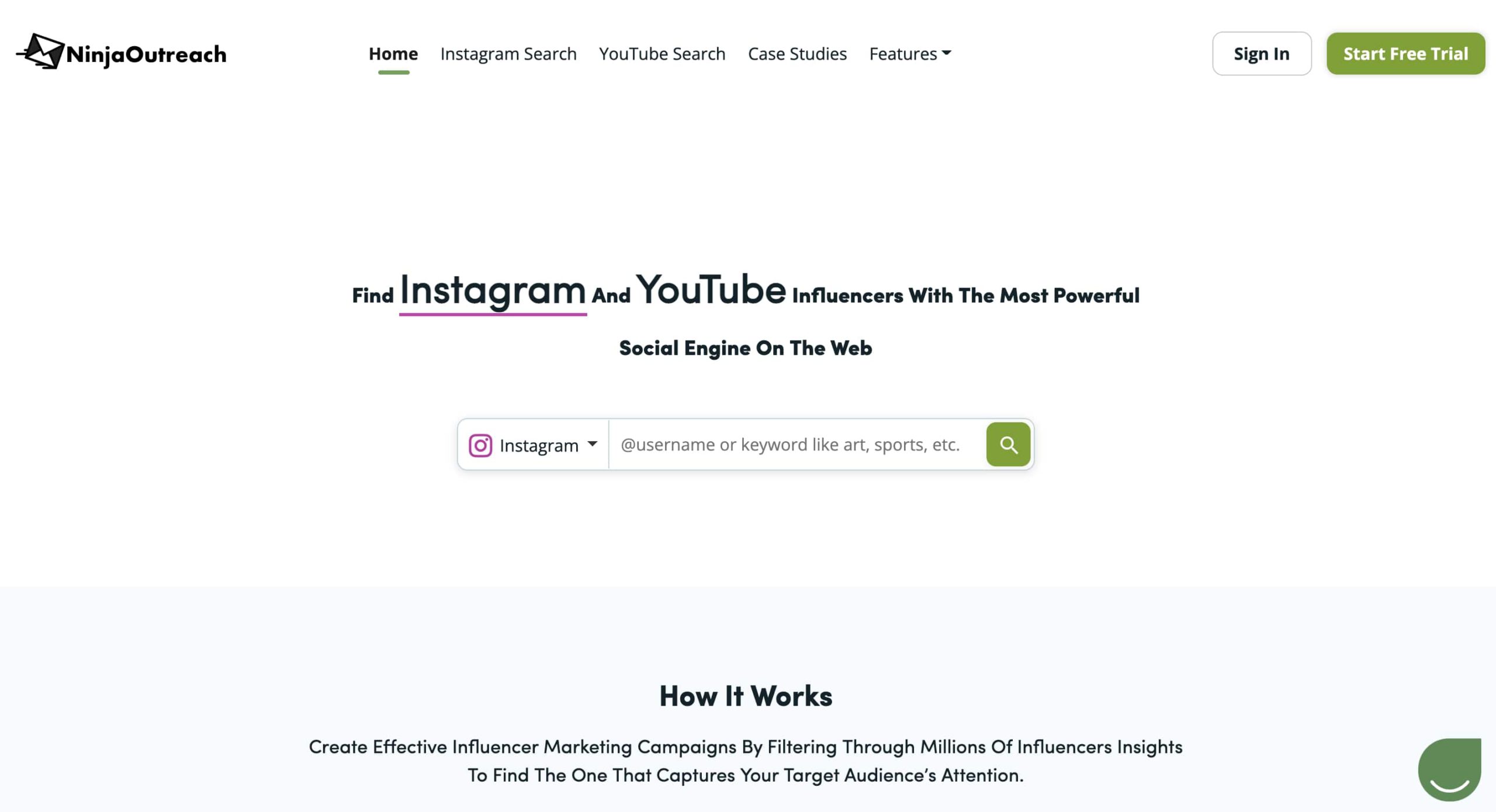 NinjaOutreach is one of the most ideal outreach tools for sales for you if influencers are your target audience. This tool automates the task of reaching out to leads. In addition, NinjaOutreach has a massive database that helps find business profiles and email addresses of individuals.
Your job is to create a list of influencers you want to reach out to, select the email template, and set the schedule. Then, the tool will take care of the remaining things. It manages email outreach campaigns well. Plus, it allows you to measure the outcome.
You can integrate it with other tools and platforms like Mailchimp, Zoho, HubSpot, Infusionsoft, Zapier. 
Also, you can integrate NinjaOutreach with SalesBlink.
Pricing
There is a 7-day free trial plan.
The Flex plan costs $119 per month
The Pro plan costs $199 per month.
14. SendPulse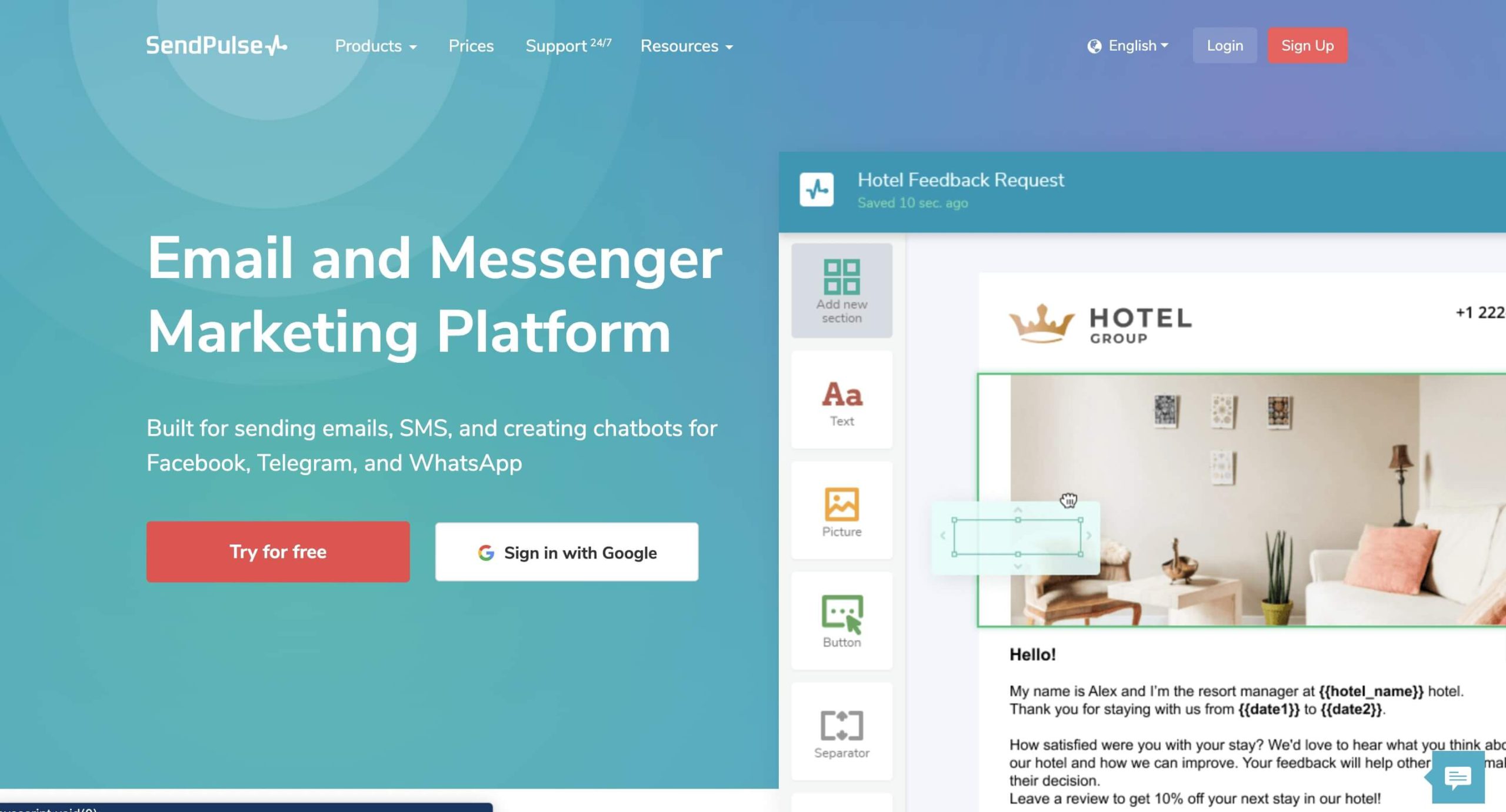 SendPulse is a top email outreach tool that offers 130+ email templates to choose from. It also allows users to create email templates from scratch by themselves using a simple drag-and-drop function.
The tool effectively automates cross-channel outreach campaigns. The main channels are emails and SMS text messages.
This tool has an interesting "Resend' feature that is a savior for salespeople. It resends unread messages to the same prospects but with different subject lines, which helps in saving a lot of time and effort.
SendPulse is ideal for you if you want something that does the job but at the same time isn't too technical.
Also, you can integrate SendPulse with SalesBlink.
Pricing
The tool is free of cost, and you have to pay only for the additional packages you require.
The paid plan costs $9.85 per month and lets you send unlimited emails to up to 2,500 prospects.
15. PersistIQ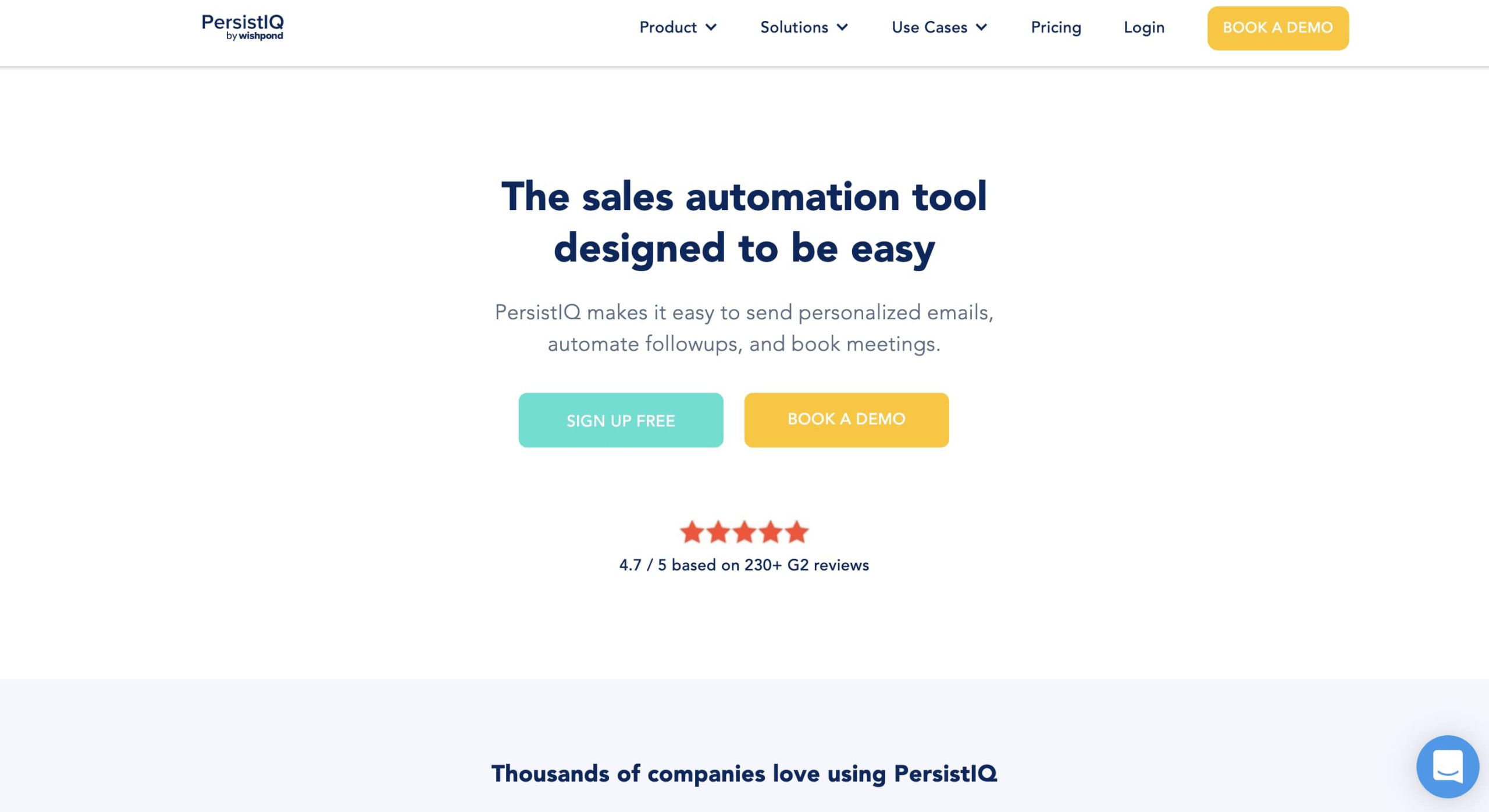 PersistIQ is an easy-to-use email outreach app that is best suited for small teams. It is a minimalistic app with a clean design that doesn't take long to master. Using this app, you can find new customers, begin conversations and streamline your outreach.
PersistIQ creates highly personalized emails that are free of errors. The app is 'Smart' as it identifies errors and formatting issues in emails. You can reach out to prospects through the phone as well with the built-in dialer in the tool. It even helps organize the prospects in PersistIQ's smart database by filtering out prospects based on open replies and statuses.
It is available as a Chrome extension and helps in gathering data from other domains.
You can integrate this with most other tools such as HubSpot, SalesForce, Pipedrive, Zapier, Copper. 
Also, you can integrate PersistIQ with SalesBlink.
Pricing
There is a free plan that allows you to send 20 emails a day.
The Growth plan costs $29 per month per seat
The Premium plan costs $69 per seat/month
There is an option of a custom plan as well.
16. Snov.io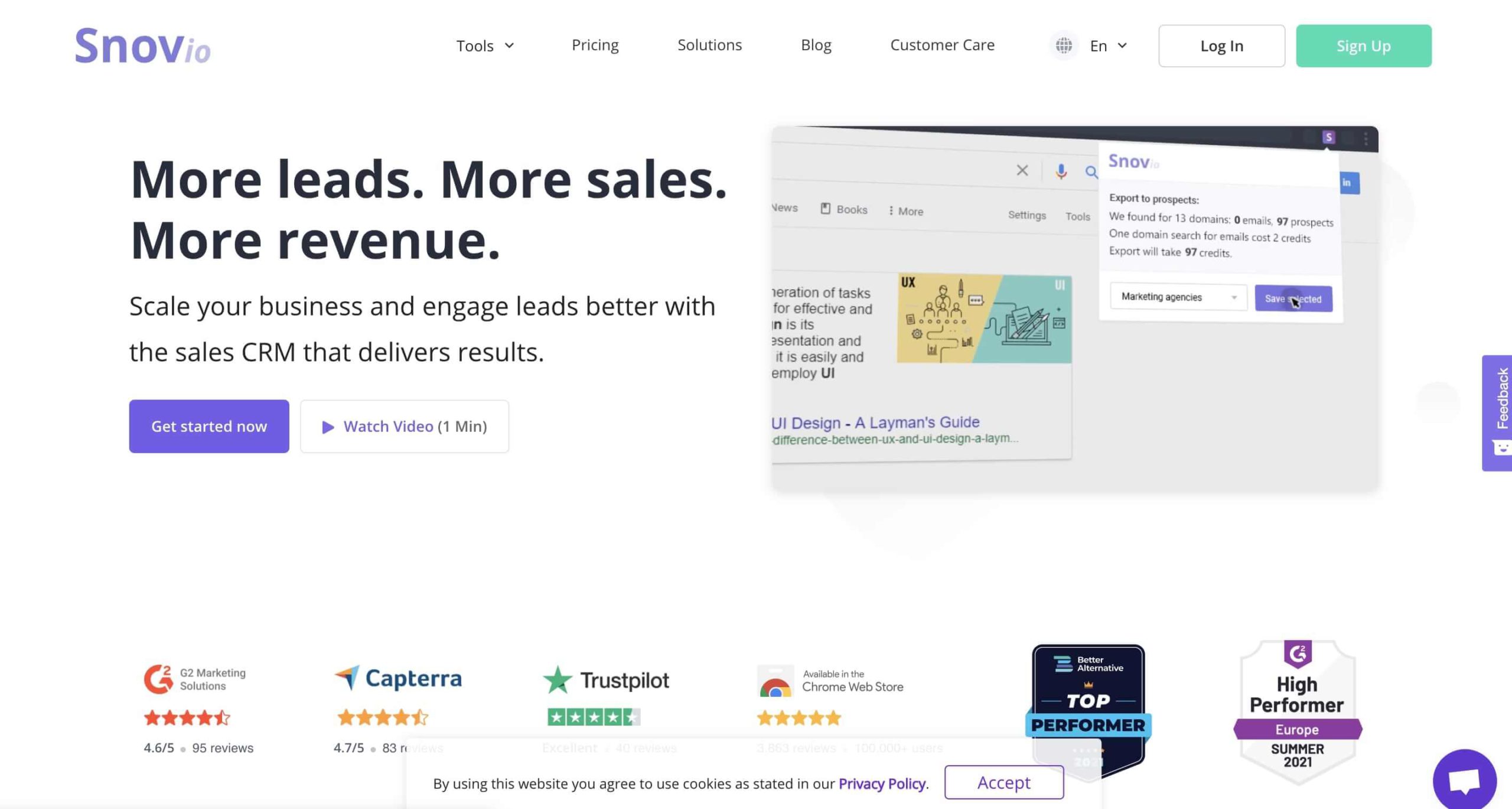 Snov.io enables the automation of cold email outreach. And is one of the best outreach tools for sales. You can find the contact details of new prospects, verify the information and then plan an email campaign whereby you use the tool to send the emails automatically.
The tool is effective in creating personalized email drip campaigns. It is an ideal tool for newbie salespeople and marketers to propel cold outreach. Snov.io enables tracking several metrics of the email campaign as well. That includes ones like open rates, click-through rates, and replies.
The main highlight of using Snov.io is finding out the lead generation strategies used by your competitors. It is easy to find the complete company profile of competitors and know the technologies they use. In a way, this helps find out what your rivals are doing better than you. You can then make changes to your strategies accordingly.
You can integrate Snov.io with other platforms like LinkedIn, Facebook, HubSpot, SalesForce, Slack, and Pipedrive. 
Also, you can integrate Snov.io with SalesBlink.
Pricing
There is a free plan with a limit of 100 email recipients per month and 50 credits.
Paid plans: Plan S costs $39 per month
Plan M costs $69 per month
Plan L costs $129 per month
And, Plan XL costs $199 per month
17. Vocus.io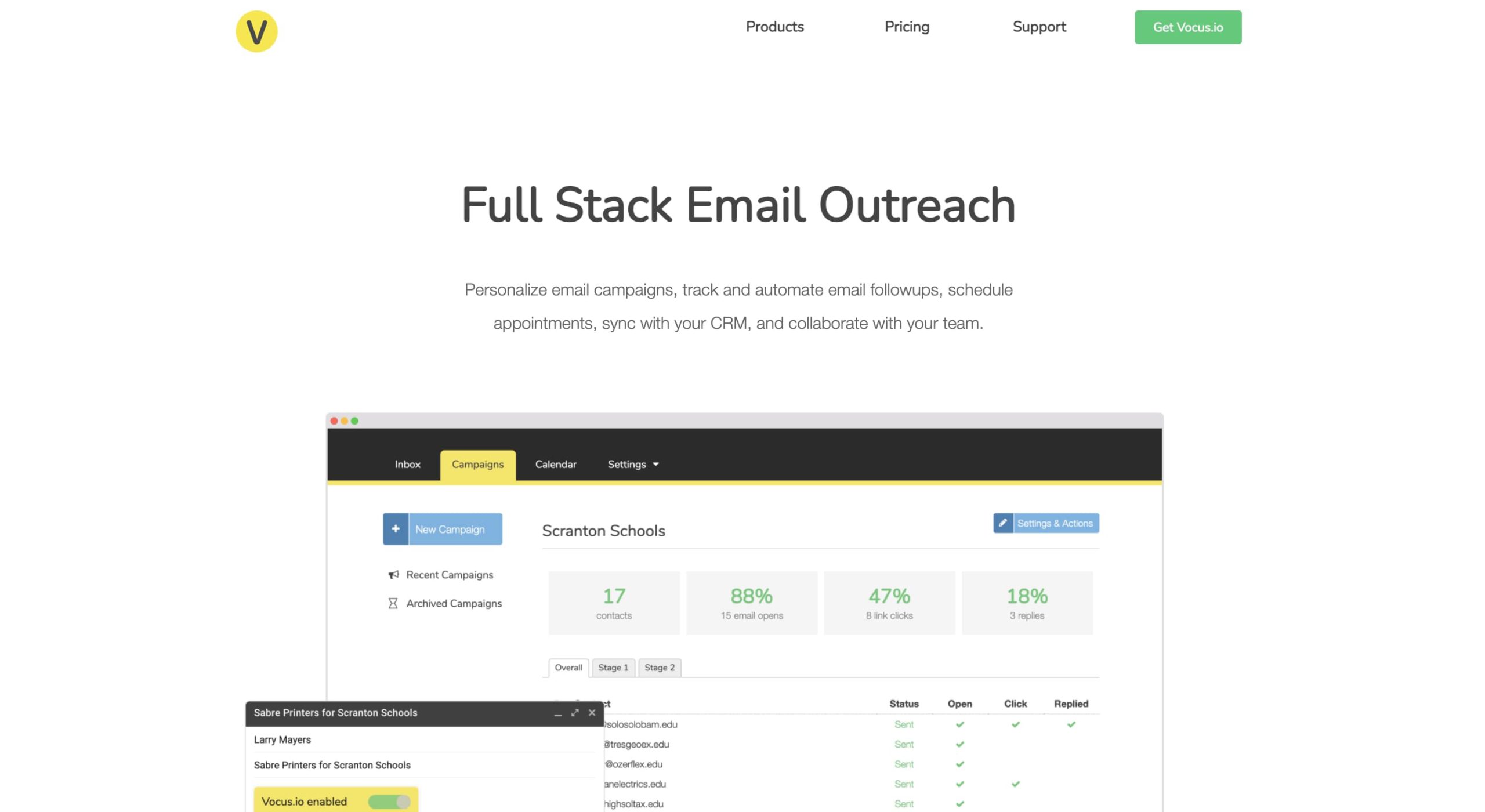 If you are looking for Gmail outreach tools for sales, Vocus.io is the best tool for you. The all-in-one solution is available as a Chrome extension.
It helps find email addresses, customizes email templates and schedules automated follow-ups and reminders, enables email and link tracking. You can send several personalized emails using this tool with a few clicks. The tool works well for simple emails as well as complex drip campaigns.
Apart from this, you can use the tool for mail merge and coordinating meetings. There is a dashboard to monitor metrics which you can share with the entire team to review their performance.
It is easy to synchronize the tool with the CRM you are currently using. Also, you can integrate Vocus.io with Salesforce, Pipedrive, Webhooks, and Zapier.
Pricing
You can start with a 30-day free trial.
The following are the paid plans :
The Basic plan costs $5 per month
The Starter plan costs $10 per month
The Professional plan costs $20 per month
18. Lemlist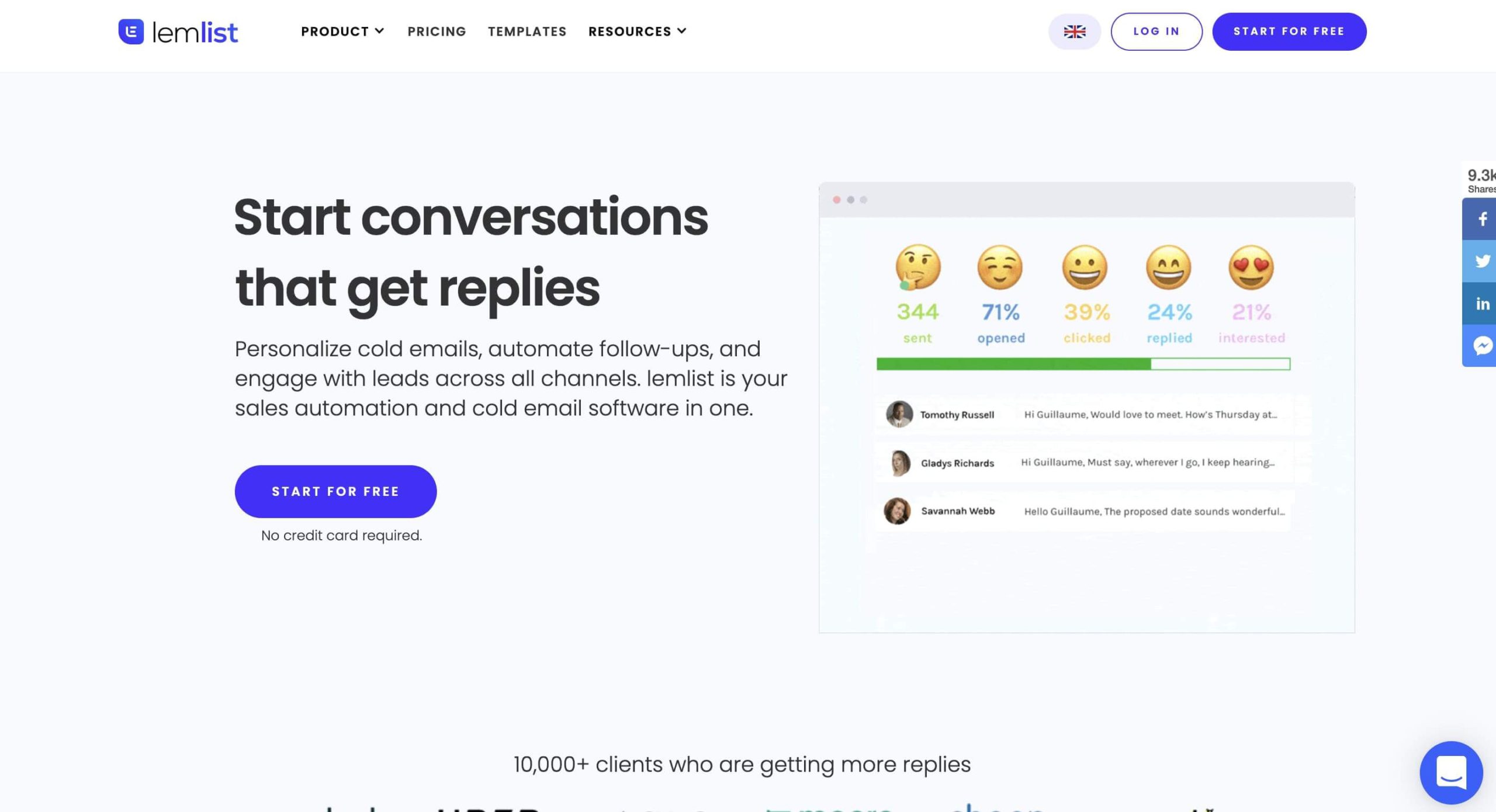 Lemlist is the best outreach software for you if you want some help in personalizing your emails. Personalization increases the chances of the email being read. However, it may not be easy to personalize every email of your outreach campaign, and that is why there are tools like Lemlist which automate the process for you.
With this tool, you can personalize pictures as well as videos. The interface of Lemlist is such that it will make you feel at home when you are using it. Also, using Lemlist helps in improving email deliverability by using algorithms. The tool also has an email warmup feature that ensures that your email hits the inbox and doesn't go to the spam folder. 
Also, you can integrate Lemlist with SalesBlink.
Pricing
There is a 14-day free trial and a paid plan that costs $29 per month.
19. Mixmax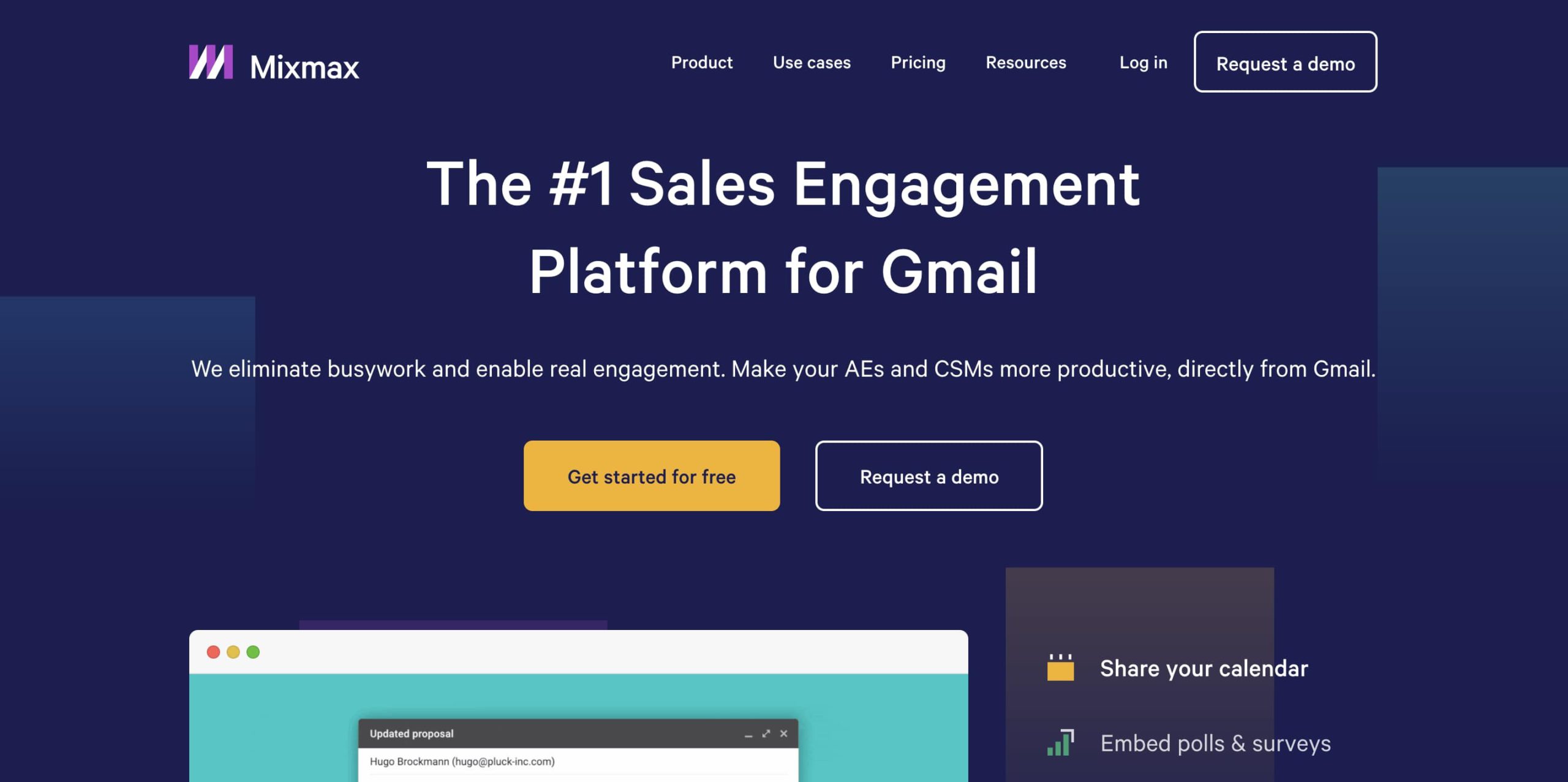 To convert prospects to paying customers, you have to ensure that you give them a clear CTA or call to action. A CTA that is easy to follow will make them take quick action. When you have the option of automatically embedding CTAs in emails, you would want to go for it. Mixmax is the tool just for that. It is one of the best outreach tools for sales that lets you embed CTAs into outreach emails. The tool helps improve sales performance, keeps the team members on the same page, and automates redundant tasks.
The best part is that using MixMax, you can create logic-based email sequences and schedule them. You can also use the tool to schedule meetings with your prospects and keep track of the analytics to learn what you can do better in future campaigns. 
Also, you can integrate Mixmax with SalesBlink.
Pricing
You can get started with the free plan having basic features.
The starter plan costs $9 per user per month.
The SMB plan costs $24 per user per month.
The Growth plan costs $49 per user per month.
There is an Enterprise plan as well with custom pricing.
20. Rebump
The task of replying to every prospect you reach out to in your campaign is very daunting. Rebump is an email outreach tool that helps enable automated replies to leads so that the conversation continues. The tool helps business owners by offering automated email follow-ups that help in improving response rates. The biggest advantage is that the tool makes the follow-up emails seem less automated and more personal. The tool lets you schedule follow-up emails sequences, customize emails, monitor them, and track them.
Also, you can integrate Rebump with SalesBlink.
Pricing
The Unlimited plan costs $5 per month
The Unlimited Plus plan costs $12 per month.
21. Outreach.io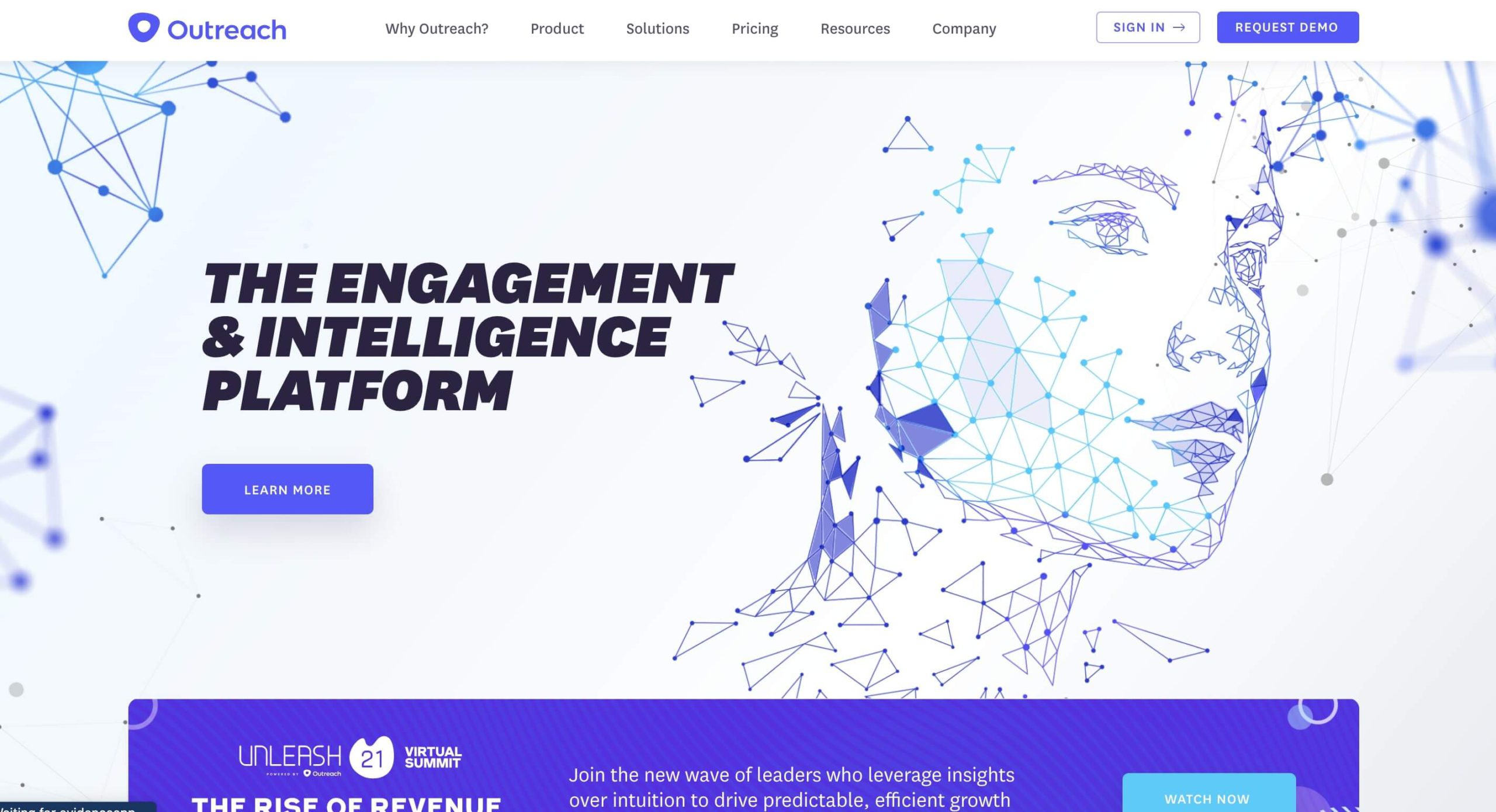 If you are looking for a B2B sales outreach platform, Outreach.io will be a good option for you. With this tool, you can drive your team towards better outreach through four channels: email, social media, voice, and text.
Being an integrated platform, Outreach.io will help you customize outreach campaigns and fine-tune them for better outcomes. Using the features that Outreach.io has to offer, you can begin more conversations with potential customers.
The tool enables smart follow-up with the help of an Always-On-Assistant that runs on AI and ML. Using the tool, you can access all the critical tasks of the day, right from scheduling meetings to replying to customers. Moreover, you can do this from one central hub.
This outreach tool for sales integrates with Salesforce. It logs in the booked meetings, calls made, or emails sent in Salesforce with a highly reliable bi-directional syncing.
Pricing
The tool has customized pricing plans.
22. SendBloom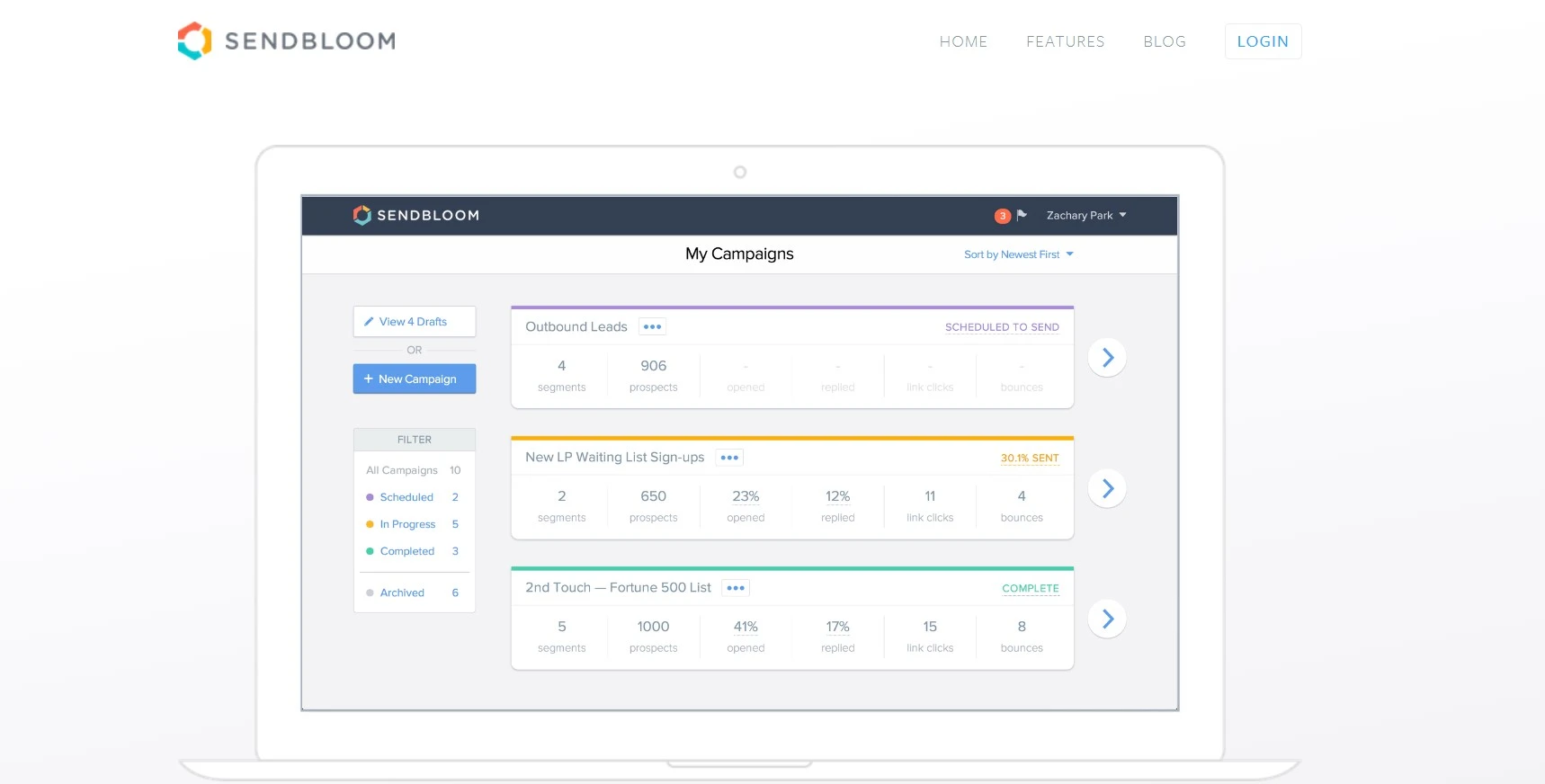 If you are looking for outreach tools for sales to help you with scheduling emails and creating email follow-ups, you should consider using SendBloom. Using the tool, you can set the time and the count of follow-ups. You can use it not only for email outreach but also for phone outreach and LinkedIn outreach. It is simple, and easy to understand.
You can integrate this tool with Salesforce CRM.
Pricing
SendBloom offers customized pricing plans.
23. UpLead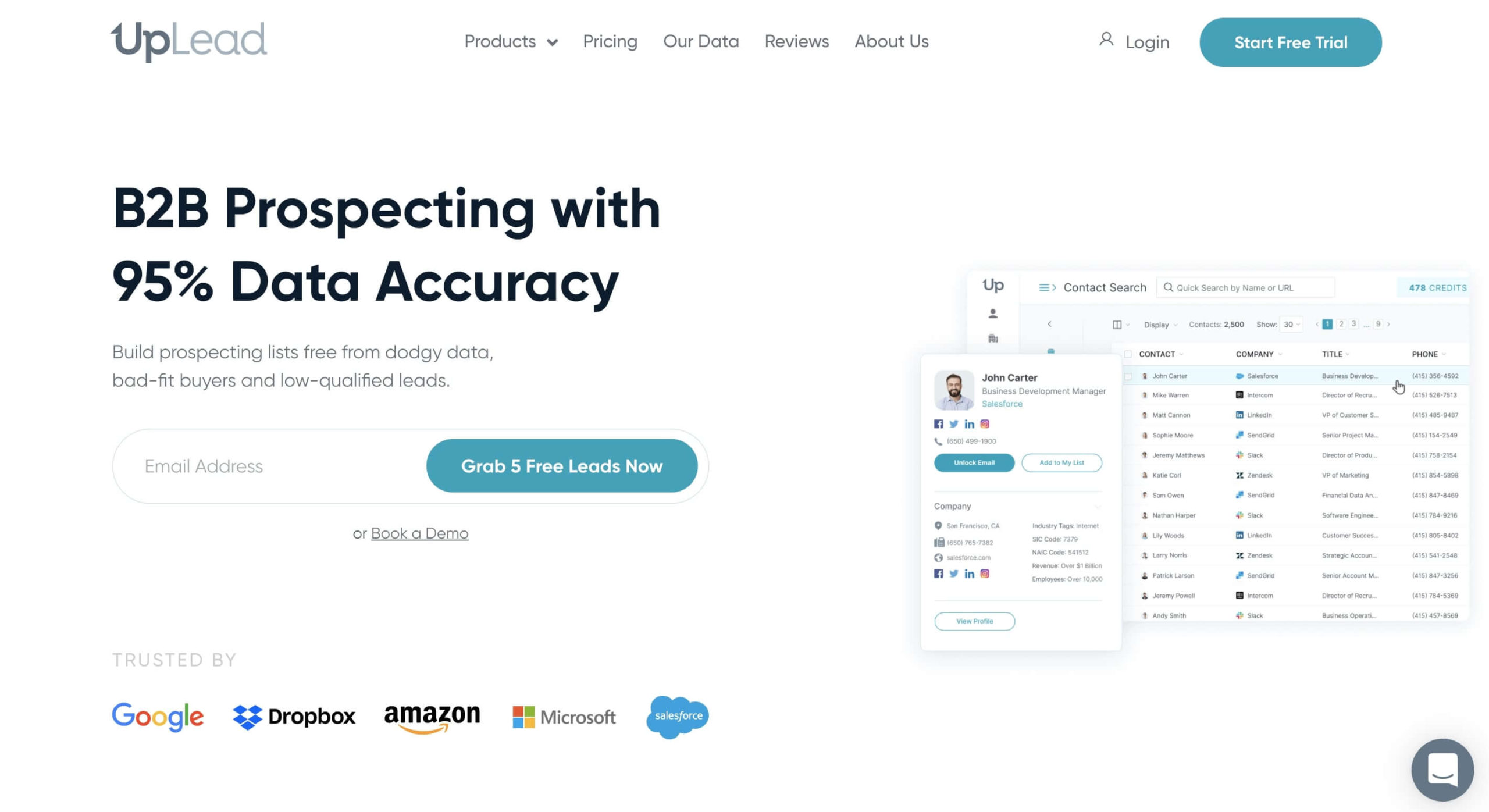 UpLead is a handy email-finding tool that lets you access more than 54 million B2B profiles. It is easy to find the email addresses of prospects. UpLead guarantees a data accuracy of 95%, unlike most other tools that don't reveal their level of accuracy. Moreover, the tool performs real-time verification of all the emails before you download them. And you need not pay for emails that are not verified. Verification will stop you from sending emails to unverified addresses and help save both time and resources.
It is easy to find emails on UpLead as you can search them by company or URL. When you use a URL, you will get all the email addresses concerned with it. This way, you would know who you should contact. Furthermore, after knowing the email, you can find more details such as the company's history and the technology they are using so that you can personalize the cold email you are about to send.
Apart from letting you search for thousands of emails and profiles within seconds, the tool exports the information to a spreadsheet or the CRM you use. 
Also, you can integrate UpLead with SalesBlink.
Pricing
Essentials plan costs $99/mo
Plus costs $199/mo
Professional costs $399/mo
24. Hunter.io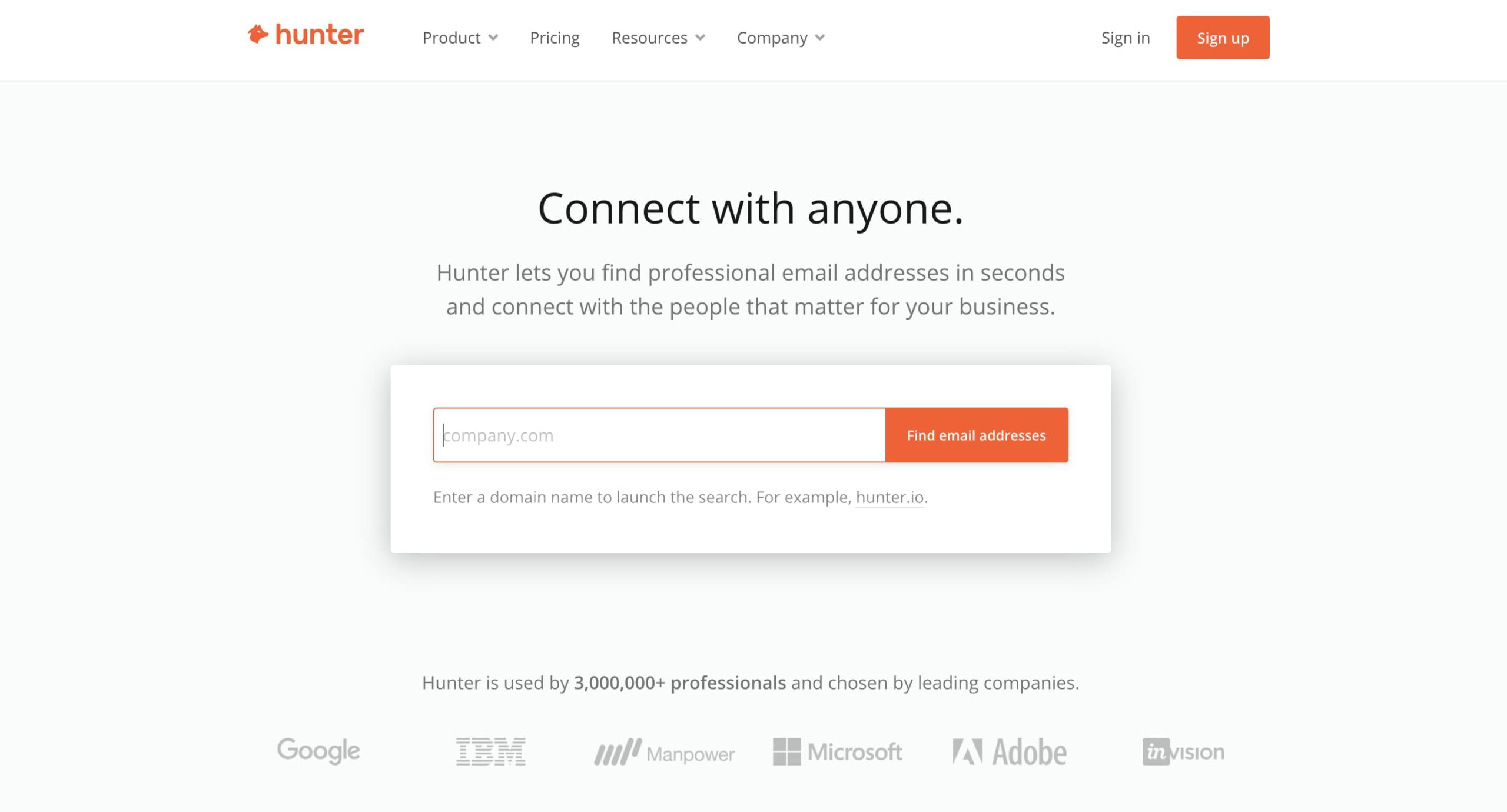 Hunter.io is one of the most popular outreach tools for sales that has a user-friendly interface. It is a free tool that makes it easy to reach out to new leads. In addition, it helps in finding thousands of email addresses in bulk and enables you to send cold emails to prospects.
With this tool, you can search for emails using the domain name, company name, or prospects' full name. Apart from that, you can verify emails using the email verification feature of this tool.
You can use this tool to compose simple cold email campaigns and schedule cold email campaigns directly from your Gmail account. There are more than 200 best-performing email templates to choose from.
You are free to add elements of personalization to each message. The tool performs email tracking to enable you to find out what happens after you send the email to prospects. 
Also, you can integrate Hunter.io with SalesBlink.
Pricing
The tool has a free plan that offers basic functionality.
The Starter plan costs $49 per month.
The Growth plan costs $99 per month.
The Pro plan costs $199 per month.
The Enterprise plan costs $399 per month.
Moreover, managing files for sales cycles also appears difficult. This is when the software or even an online converter comes in handy. To maximize a company's productivity and salesforce, file management is required. Also, theonlineconverter.com is always available to help you convert files for free."
With this we come to the end of the outreach tools for sales.
Sales Outreach Techniques To Bring In More Leads
Here are a few techniques that you can use to increase the number of leads you bring into the funnel,
1. Qualifying your leads
Lead qualification is essential as it helps you know whether the prospect has the potential to buy your product or service or not. There are high chances that the person in concern doesn't have the authority to decide, or their organization cannot afford what you have to offer. Qualifying leads is a prerequisite if you want to increase your conversion rates.
So, what do you need to do to qualify leads? The answer to that is to build an ideal client profile.
The first step you must take for qualifying leads is to build an ICP or ideal client profile. You have to find clients what least match one of the criteria listed below,
1. Your product or service addresses their pain point
2. Your sales cycle is in sync with the prospect's buying cycle
3. The price of your solution matches with their budget
You can look at historical data to find out what they have in common with the deals you successfully closed in the past.
By implementing the ideal profile, you will get better-quality leads. It would ensure that your sales reps can channelize their energy towards more prominent clients instead of focusing on unqualified leads.
You have to compare prospects with your ICP, and you can do that by using web forms that you can make leads fill. You can also use chatbots to determine whether a lead is suitable for you or not. Another method is using social media to find information to check whether the client matches the ICP.
2. Sending cold emails
Cold emailing is an effective way of reaching out to prospects as, most often, business communication is via email.
You can get prospects interested in you by sending them a personalized email. Show them how your using product/service can provide. Try using different personalization tactics like finding a common interest, mentioning a mutual contact, using the prospect's name in the subject line and email body, paying them a compliment or congratulating them for their achievement.
You can do prior research, gather all details and mention them in the email, for instance, about the technology they currently use in their organization or their pain points. It will make the prospect think that you are well-aware of their issues. Craft your email in such a way that it makes them feel that you can provide them with a solution to overcome the problems they are facing.
3. Making cold calls
Cold calling is another outreach technique that lets you communicate with prospects in real-time. It may be a little daunting to reach out to those you don't have previous connections with over the phone, but it does work well. Before making the call, you must have the prospect's details with you, such as their name, job title, name of their company, their pain points, and how your product can solve their problems.
You have to start with an engaging opening line if you want to engage the prospect. There are only a few seconds for you to make your cold call successful at striking the prospect's chords. Your knowledge of the prospect's company can go a long way in helping you grab the prospect's attention.
Always mention what you have in store for the client and at the same time acknowledge that they are busy and you won't take too much of their time. You have to try your best to impress them.
4. Reaching out on social media platforms
You can use social media and networking platforms to reach out to prospects. LinkedIn is one platform where you can find help to get connected with professionals. You can choose to provide valuable content on social media and build a good image as a problem solver. Prospects will most probably come to you when they want to buy the solution. So, you have to focus on trust-building.
Start Using The Best Sales Outreach Tool To Grow Sales Revenue
These were the top 22 outreach tools for sales. As you now know their features, choose the tools that best suit the needs of your business. In the list above, you can find some best-suited tools for small businesses without burning a hole in the pocket. Once you arm yourself with the right tools, you can ace the outreach game, and then there will be no looking back!
FAQs
1. What is an email verifier tool?
Using this email verifier tool, you can verify the list of email addresses you just got from the software's database. Having a tool to check each of the emails in real-time helps remove invalid addresses from your list
2. What is a meeting scheduler?
You can let prospects schedule meetings with you seamlessly using the meeting scheduler. Just share the calendar link with them and ask them to pick a date for the meeting. The scheduler syncs with your Google calendar
3. What is a subject line generator?
When you draft emails for outreach, you would want catchy subject lines to increase open rates. There are free email subject line generator available online to help you with subject lines.