What Is The Difference Between ERP And CRM? (With Functions)
You must have heard about the terms ERP and CRM quite often. You would be surprised to know that companies usually invest in CRM technology within the first 5 years of their launch. On similar lines, ERP has helped 95% of businesses improve their business process.
These both are software systems that aim to generate revenue, automate tasks, and boost productivity. However, their approach is different. You would obviously want to invest in them if they fetch you better end results, right?
If you are not sure about how to get started, you have landed at the right place. In this blog post, we'll find out what ERP and CRM stand for, what they do, what is the difference between ERP and CRM software and why you need them.
So without much ado, let's get started.
What Is CRM?
CRM stands for Customer Relationship Management. It is a software system that manages your organization's relationships and interactions with existing and potential customers. CRM aims to make customers happy with an improved customer experience and build a long-term relationship with them. CRM software is mainly used by the sales and marketing teams of an organization.
Here's what a CRM can do for you,
1. Help in filing the information of your clients and prospects
2. Assist when you try to acquire new customers
3. Help nurture your relationship with your existing customers
4. Store the data in a database
5. Carry out the analysis of the data
CRM Benefits
Investing in CRM software is a great idea as it helps identify, understand, and assist customers. It has several benefits to offer,
1. A Better organization of information
With a CRM, you can store a huge list of customers, their details, and all the essential information regarding them in one place. It enables categorizing all the data and interactions with customers and prospects for future reference using organizational software. With CRM, it is possible to get access to the information you are looking for. It will help save the time of sales and marketing teams.
2. Improved access to information
CRM is quite helpful for providing great customer service as it provides detailed information of customers to anyone who needs it in the organization. The person assisting the customer can easily access the details, and that way, the customer needn't repeat their issues and preferences once again. So, it doesn't matter who is in conversation with the customer as the CRM makes all the information available. This way, you will have happier customers.
3. Automation of tasks
In sales, there are several tasks that you have to take care of as it is not enough to find and nurture warm leads. These tasks include filling forms, taking care of legal matters, and so on. However, the burden can get off your shoulders with CRM systems that automate repetitive tasks to help you focus on addressing customer pain points and closing deals.
4. Information access to multiple teams
A CRM system stores all the emails sent and phone calls made to the customer in one place. Communication with customers and prospects in one location allows all the organization's teams to access the information they need. Teams such as marketing, sales, and support can work together seamlessly that ultimately benefiting the business.
5. Better analytics and reporting
CRM enables you to get your hands on analytical data. It is possible to integrate CRMs with other platforms and generate accurate reports. It helps in measuring the sales performance of the organization and making strategic decisions to make improvements.
Cons Of CRM
While Customer Relationship Management (CRM) tools can benefit businesses, they also have potential drawbacks. Here are some cons of CRM tools:
1. Complexity
CRM systems can be complex and challenging to set up and use. In addition, training employees to use the system can be time-consuming and costly.
2. Cost
CRM tools can be expensive, especially for small businesses or startups. Additionally, ongoing maintenance costs can add up over time.
3. Data Quality
A CRM tool is only as good as the data you enter. It can undermine the system's usefulness if it is incorrect or incomplete.
4. Integration
Integrating a CRM system with other business systems, such as accounting or inventory management, can be challenging.
5. Security
Storing sensitive customer data in a CRM system creates potential security risks. Therefore, businesses must ensure that their systems are secure and protected from cyber-attacks.
6. Customization
Some CRM systems may not be flexible enough to meet the unique needs of a business. In addition, customizing the system may require additional resources and technical expertise.
7. Adoption
Even after investing time and resources into a CRM system, there is no guarantee that employees will use it. Resistance to change and lack of motivation can be significant barriers to adoption.
What Is ERP?
ERP stands for enterprise resource planning. ERP software system that enables running the whole business includes the core processes such as finance, HR, manufacturing, supply chain, procurement, etc. The aim is to smoothen business operations. With enterprise resource planning software, all the departments can get access to updated information.
Here's how an enterprise resource planning software can help you,
1. It enters data, and you can find it everywhere in the system where it matters
2. It can optimize the departments of your organization
3. It connects every department and automates the workflow
4. It offers a centralized database to manage your enterprise
ERP Benefits
Here are the main benefits of enterprise resource planning software that makes it an important investment for every organization,
1. Increase in productivity
As ERP smoothens and automates all the core processes of a business, it can help an organization get better outcomes with lesser resources.
2. Source of information
An ERP works as the main source of information for an organization, and it helps in providing answers to questions that are crucial for the business.
3. Better reporting
With ERP, you can speed up business and financial reporting and share the results easily. You can act upon them and make improvements in different aspects of the business.
4. Reduced risk
Having ERP software increases control in an organization, making it possible to comply with can spam act. Similarly to SaaS tools for business continuity management, It helps predict upcoming risks and thereby makes it possible to prevent them.
5. Grab new opportunities
As you gain access to real-time data and streamlined processes, it is possible to identify opportunities faster and take action.
Cons of ERP
Enterprise Resource Planning (ERP) tools integrate and automate business processes across departments and functions, but they also have potential drawbacks. Here are some of them,
1. Complexity
Implementing an ERP system can be complex and time-consuming, requiring significant investment in time, money, and resources.
2. Cost
ERP systems can be expensive, particularly for small businesses or startups. In addition to the initial implementation costs, there may also be ongoing maintenance and upgrade expenses.
3. Customization
While many ERP systems offer a wide range of functionality, customizing the system to meet the specific needs of a business can be challenging and costly.
4. Integration
Integrating an ERP system with other business systems can be challenging, particularly if the systems are from different vendors or have different data structures.
5. User adoption
Employees may resist using a new system or may lack the necessary skills or training to use it effectively. This can undermine the benefits of the ERP system and limit its effectiveness.
6. Data quality
ERP systems rely on accurate and up-to-date data to function effectively. Poor data quality can result errors, delays, and other problems.
7. Security
ERP systems contain sensitive and confidential business information, which can be vulnerable to cyberattacks if not adequately secured.
The Difference – ERP vs CRM
Let's get to the ERP and CRM difference. The main difference between ERP and CRM is that CRM manages the relationship between your organization and the customer while ERP manages the whole organization, including potential customers and clients.
Both ERP and CRM software aim at increasing the profit of the business, but their approach is different.
An ERP system concentrates on minimizing overheads and bringing down costs with the help of automation tools . It increases the efficiency of business processes, and ERP ensures that there is minimal expenditure on them.
A CRM helps an organization earn more profits by making more sales. It is a central repository of customer data. It makes it possible for everyone in the organization to use the data to improve relationships with customers that can help you earn their loyalty and make more sales.
Another difference between ERP and CRM is that while CRM is meant for front office activities, ERP takes care of the back office ones.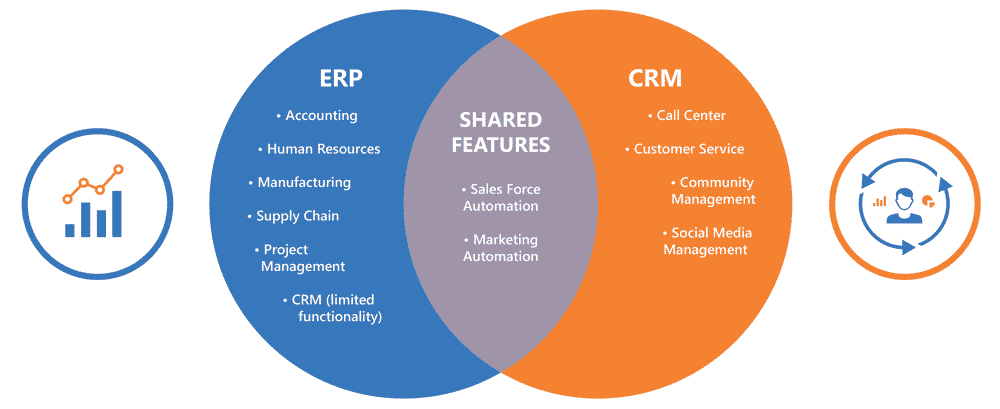 ERP vs CRM – How Are They Similar?
There is much confusion around the two terms CRM and ERP due to a lack of information. Most people know what a CRM system offers but are not aware of whether an ERP would have the same functions or not. You have to understand that while ERP is a superset, CRM is a subset. A majority of the ERP systems have some CRM components, and it would let you integrate with a 3rd party CRM. However, the CRM components offered by ERP systems usually cannot be at par with the specialized and stand-alone CRM systems available in the market.
As you have already seen, both CRM and ERP have one big commonality: both systems aim at increasing the company's profitability even though their approaches are different.
There are other similarities between them, such as they both use a relational database for the storage and analysis of data. Businesses use both systems either through SaaS or on-premises models.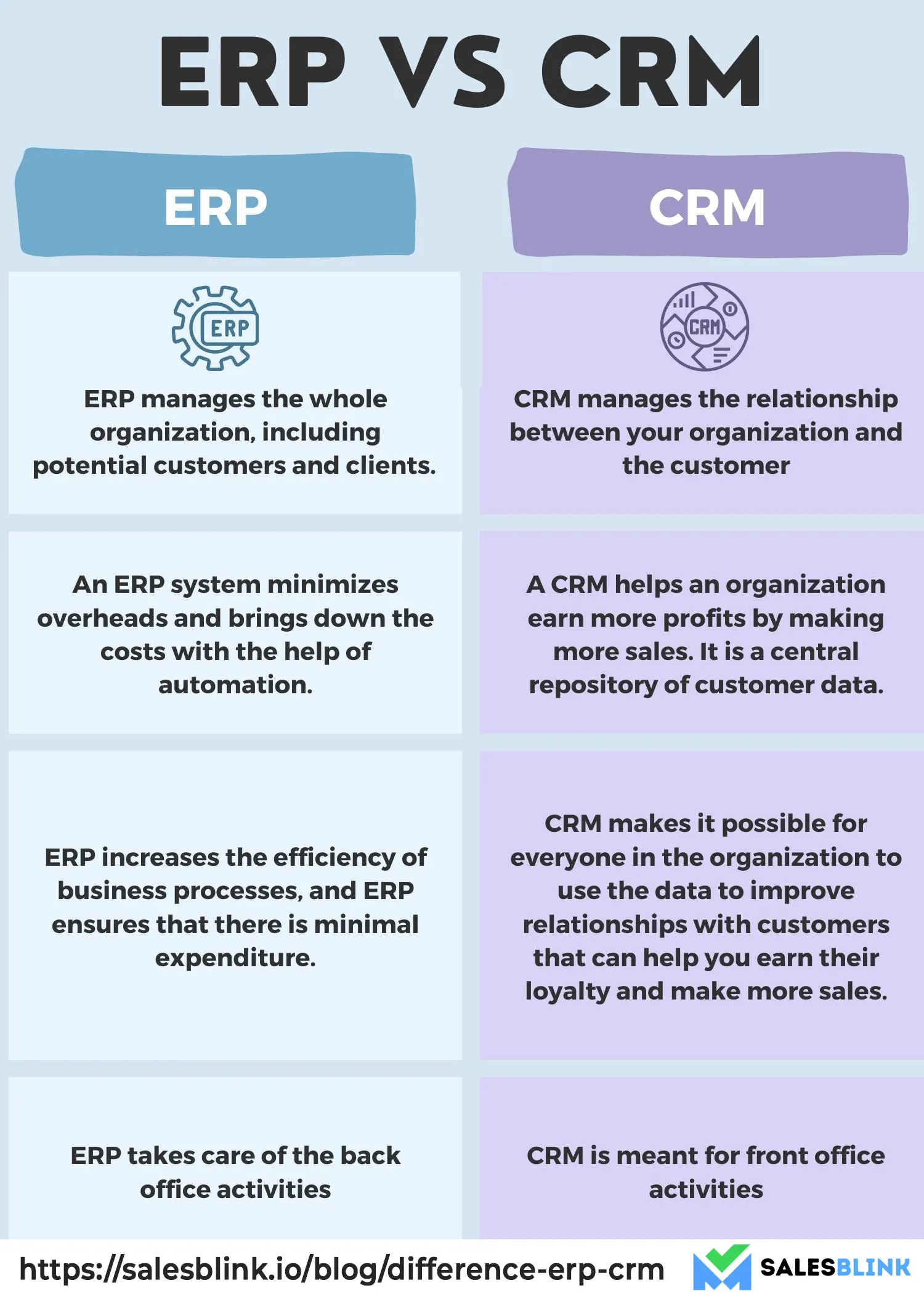 Common Functions Of ERP
While all enterprise resource planning software is not the same, here is what you should look out for in your ERP solution,
1. Financial management – Financial management and accounting tools form the basis of all the business processes. Having financial tools enables the organization to stick to budgets. The basic accounting functions like accounts payable, accounts receivable, ledger, etc., are a must-have. It would be great if there are financial forecastings and calculation of tax.
2. Human capital management – HCM or human capital management tools are the ones that let you schedule employee hours, approve leave, distribute salaries, and so on. There are more features that let you see the projects your staff is working on to allocate resources as required.
3. Customer relationship management – There are ERPs systems that offer CRM functionality. Though they are not full-fledged, it would be helpful for companies that need only basic CRM functions.
4. Inventory management – The common functions in inventory management are getting notifications when the stock levels are low and reordering items automatically. It is most often a part of distribution and manufacturing management.
5. Supply chain management – Inventory management is a part of supply chain management, and there are other functions like managing purchase orders, monitoring quality, checking for compliance, etc. The capabilities of the software in this area vary from one vendor to another.
Common Functions Of CRM
The main purpose of customer relationship management software is to help you nurture leads and provide the best customer experience. Here is what you will normally find in most CRM software,
1. Contact management – Contact management enables tracking and editing the customer details. It becomes easy to assign contacts of prospects to sales reps. You can monitor the role of the client in the buying process and store invoices, contracts, and other files.
2. Client interaction tracking – With this tool, you can track previous client information and make further enhancements to the sales process. Reps can also choose to segment prospects based on various criteria.
3. Database management -This tool enables everyone in the organization to find the information they need from a central repository. They can use it for analysis and nurturing prospects.
4. Marketing and campaign management -It makes it possible to find targets for campaigns and measure the performance of campaigns using email metrics. Some CRM tools allow integration with email apps to make it easy to upload contact details and send marketing emails.
5. Lead management -You can route leads gained from multiple sources and see how they move in the pipeline. This function makes it easy to assign leads to sales reps.
ERP vs CRM – Deciding Which One You Need
When choosing between a CRM and an ERP, you have to consider three main factors.
1. The needs of your business
While CRM and ERP are related and have a common aim of helping a business earn profit, they are a little different from each other. While CRM works towards boosting sales, ERP works at reducing the cost of making each sale. So, based on what you need for your business, you can choose between CRM and ERP.
2. The investment you are willing to make
The cost of a CRM system is less than that of an ERP system. An ERP is customized and needs plenty of technical expertise. Moreover, the infrastructure required to host the services on the cloud is sky-high. Together the labor, software, and hardware can be a costly affair. So, you will be making a larger investment when you go for ERP.
On the other hand, when you go for a standalone CRM, a basic one can be free. But, if you choose a high-tech, feature-loaded one, t can cost you more than a thousand dollars a year. With CRM, there are always budget-friendly options that have enough features to offer. So, you can choose between an ERP and a CRM based on your budget.
3. The scale of your business
CRM is beneficial for small and medium-sized organizations that are growing, and an increase in sales will help them. Conversely, ERP offers benefits to large organizations that can grow better when there is a reduction in overheads, and efficiency in processes can help them grow. Most large organizations use integrated CRM and ERP for the best of both worlds.
ERP vs CRM – Why Do You Need Both?
You have seen the factors that help you decide whether you need ERP or CRM for your business. However, there are several advantages of having an ERP system integrated with CRM functions apart from helping you stay updated & informed,
1. Better allocation of resources
ERP integrated CRM systems help in bringing down costs and help earn more revenue from sales. The ERP helps reclaim the capital stuck in inefficient processes, and the CRM helps increase the profits. Both CRM and ERP, when combined, can direct capital to where there is maximum need.
2. Improved access to information
It is possible to reduce the workload of all the organization's employees with integrated ERP and CRM systems. From the HR department to the manufacturing department, employees know where to find information when needed.
3. Increase in automation
With ERP-CRM systems, it is possible to automate tasks that you did manually. Learn more about sales automation. You need to make the settings, and the program will carry out the tasks. The software can take care of the most time-consuming tasks like recording customer transactions, generating reports, filling forms, checking stocks, etc.
4. Better decision making
If you want to try selling your products to a new target market or make some other strategic change, using ERP-CRM systems makes it possible to improve your decision-making abilities. The data-backed programming lets you test your decision and find whether your organization has the resources and processes to implement the change.
So, that was about the relationship between ERP and CRM and how you need both.
ERP vs CRM – Ready To Use Them For Your Business?
CRM (customer relationship management) builds a strong relationship with prospects and customers over the long term. On the other hand, ERP (Enterprise resource planning) brings various departments of the organization together so that it is possible to share information between them in real-time from a centralized system.
Both ERP and CRM have their benefits to offer to businesses and should be a part of organizations.
We just saw the functions of each and why businesses need them. If you feel that it is time for you to take the plunge, we wish all the best!
FAQs
1. What is CRM?
CRM stands for Customer Relationship Management. It is a software system that manages your organization's relationships and interactions with existing and potential customers.
2. What is ERP?
ERP stands for enterprise resource planning. ERP software system that enables running the whole business includes the core processes such as finance, HR, manufacturing, supply chain, procurement, etc
3. Which one to choose CRM or ERP?
While CRM builds a relationship with prospects and customers over the long term, ERP brings various organization departments together so that you can share information in real-time from a centralized system.