What Is CAN-SPAM Act? 7 Do's & Don'ts To Follow To Be Compliant
Every business these days uses email marketing. And you should too, as it helps you earn $36 for every $1 spent. Emailing is a great way to reach out to your audience who opted for your emails and newsletters. Also, as an email marketer, you must be aware of formatting and scheduling promotional emails. But, do you know that you must comply with federal guidelines, CAN-SPAM, which aim to protect the consumer? If you fail to do that, you will land in trouble!
To be on the safer side, let's find out how to comply by the CAN-SPAM Act. We'll also be busting most of the cold emailing myths in this post so stay tuned!
What Is The CAN-SPAM Act?
The CAN-SPAM Act is The Controlling the Assault of Non-Solicited Pornography and Marketing Act of 2003. This US act protects consumers from unwanted emails from businesses and brands.
The Act identifies the difference between a commercial email and a transactional one. You need not worry about CAN-SPAM compliance if you send an email to a customer service inquiry. Or even if you send a purchase receipt via email. The Act is for emails that have customer solicitation or marketing information.
The point to note is that the legislation focuses on marketing emails. But, it also applies to transaction emails. Transaction email is the one that,
1. Confirms a commercial transaction that a recipient has given consent to.
2. Provides information related to the warranty, safety, or security of a product or service.
3. Gives information about changes made in terms of features of memberships, subscriptions, accounts, loans, or commercial relationships.
4. Contains information about employee benefits and employment relationships.
5. Delivers products or services as a transaction to which the recipient gave permission.
Even when a marketer adds a little bit of marketing content to a transactional email, they still fall in the transactional category and not the promotional one. The email is transactional when its intent is transactional. It is a promotional email if its intent is marketing. How you place content in your email also matters.
Penalties For Violating The CAN-SPAM Act
As an email marketer, you have to make sure that you don't violate the act's guidelines. Your emails must comply in three areas. They are content, unsubscribing, and sending practices.
In case of CAN-SPAM Act violation, every email involved in the act can draw penalties of up to $43,792. The law can hold more than one person responsible for the violation. For example, the company from which the email originated and the company whose product the email promoted, both are legally accountable to attract a penalty. There can be additional CAN-SPAM act penalties as well. These include imprisonment for the following violations,
1. Accessing another individual's computer to send spam without seeking permission.
2. Register several email accounts or domain names using false information.
3. Trying to relay or retransmit spam messages to mislead people about the message's origin.
4. Harvesting email ids or using a dictionary attack to generate them. A dictionary attack involves emailing addresses that consist of random letters and numbers so that the email reaches valid addresses.
5. Using open relays or open proxies without seeking permission.
Also, when you follow the guidelines religiously, the spam filter will not mark your email as spam, and it would see the light of the day by hitting the inbox of the recipient. This can be beneficial to you as too many spam complaints can block you temporarily. Or in some extreme cases, even permanently.
So, that was about CAN-SPAM act fines. Let's now move further ahead.
3 Types Of Email Messages – Should They Comply With CAN-SPAM?
There are the following types of email messages:
1. Commercial – These messages are the ones that are meant for promotional purposes or are an advertisement. Such messages have to comply with CAN-SPAM laws.
2. Transactional – The emails are the ones that the customer receives after the completion of a transaction. It can be a confirmatory email or a receipt. There is no need for such emails to comply with CAN-SPAM.
3. Other – All other emails that are chiefly a one-on-one conversation between people CAN-SPAM exempts them.
How To Comply With CAN-SPAM- Do's and Don'ts
Using 3rd party email services can make it easier for you to comply with the act's guidelines. However, it is good to be aware of how you can stay compliant.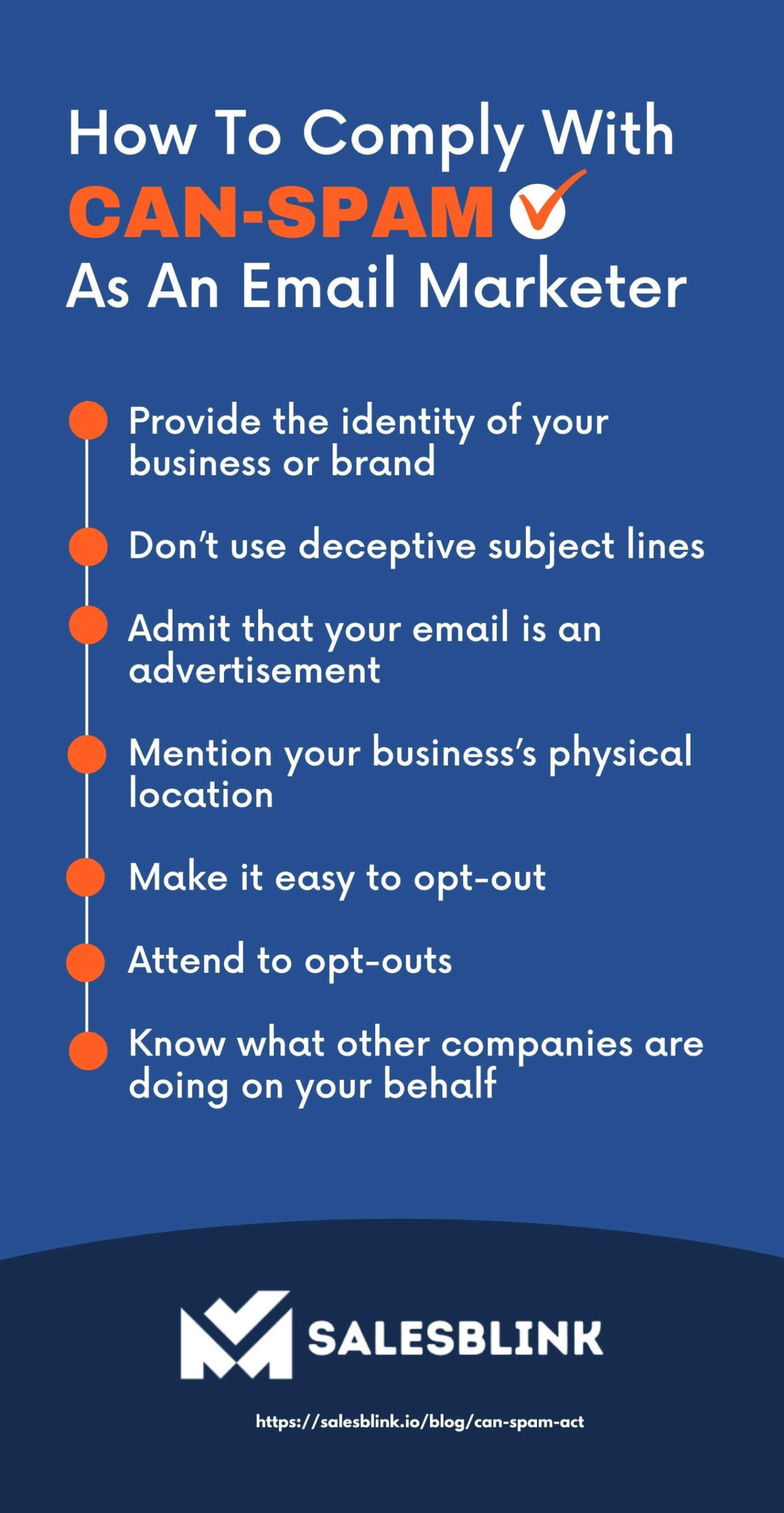 Do read this post even if you are a pro email marketer. You might be missing out on something without realizing it. It's better to take precautions instead of landing in trouble, isn't it? So, you should know the CAN-SPAM act requirements
CAN-SPAM Act Do's
1. You must provide the identity of your business or brand
Some marketers tend to pose as a different company or organization to increase the chance of recipient opening their email. As per this act, it is important to mention the name of your business or staff member. The originating email address, domain name, the 'from', 'to', 'reply to', and other information must be correct.
2. Admit that your email is an advertisement
As per the CAN-SPAM Act, you have to mention somewhere in your business email that it is an advertisement. However, there is no need to mention that in the subject line of the email. But, you can add a text at the bottom of your email body stating that it is an advertisement.
3. Make it easy to opt-out
Getting an opt-out request is never pleasant, but you can't avoid it. As per the CAN-SPAM Act, every commercial email you send should have a way to opt out of the email list. Not only that, you must make sure that the process of opting out is not complicated in any way. It has to be easy for people of all age groups. Usually, you have to provide directions to unsubscribe at the bottom of the email. Also, keep in mind that you have to stick to the 'Universal unsub rule' that lets recipients opt out of all your future marketing emails.
4. Attend to opt-outs
You should process the opt-out request of email recipients within 10 business days. Following is a list of what all you are NOT allowed to do,
a. Levying an unsubscribe fee.
b. Asking for personal information other than the email address of the recipient.
c. Asking the recipient to unsubscribe by following steps beyond sending a reply email or going to a webpage.
After an email recipient opts out of your email list, you cannot sell or transfer their email address. There is, however, an exception to this rule – You can transfer the email addresses to a company that works for you to comply with the CAN-SPAM Act. If you have employed a contractor that takes care of online marketing or advertising, the contracting company has to ensure that it doesn't violate the Act's rules.
5. Know what other companies are doing on your behalf
The CAN-SPAM Act says that even if you use the services of another company to handle your email marketing activities, you are responsible for ensuring that the emails are compliant with the Act. You should know what that company is doing on your behalf as you are the answerable one. So, ensure that the third-party company is not violating the Act's guidelines in any manner.
CAN-SPAM Act Don'ts
1. Don't use deceptive subject lines
Your email subject line has to reflect what is there in the email body. Most often, people use click-baits to make recipients open the email. However, you shouldn't use deceptive and misleading subject lines. You have to be honest and use a subject line relevant to your email's content. As per the CAN-SPAM Act, your subject line has to reflect the email content accurately. It cannot be misleading in any manner. Thus, the best practices are being honest, keeping the subject line short, and creating a sense of urgency. You can also use SalesBlink's free subject line generator.
2. Don't forget to mention your business's physical location
Every commercial email you send must contain the current and valid physical business address. In case you don't receive mail at that location, you can use a P.O. box instead. You have to place this at the bottom of all the emails you send.
How CAN SPAM Act Affects Cold Emailing?
We have seen what the guidelines are for commercial emails. However, businesses also send cold emails apart from marketing emails. Are you wondering what the difference between cold email and email marketing is?
Cold emailing aims to reach out to prospects. While email marketing builds brand image and trust among customers and potential customers. Also, in cold emailing, you choose the email recipient, and they don't know who you are.
Also, they wouldn't expect to receive an email from you. On the contrary, in email marketing, the recipient chooses you by subscribing to your newsletter and agreeing to receive emails from your company periodically.
People have a misconception that cold emailing is illegal which is not true! It is definitely not spam. When you ensure that you follow all the guidelines mentioned above, you can stay out of trouble. In addition, Sending cold emails by sticking to the guidelines of the CAN-SPAM Act is completely legal. In order to ensure that the email service provider doesn't mark your email as spam, here is what you must try to follow,
1. Personalize the email so that it doesn't look like a template sent to many people at the same time.
2. Provide valuable information and don't depend only on automated content.
3. Try to craft the email to show that you want to build a bond with the recipient.
4. Don't add too many links in your cold email, as it would activate the spam filters.
5. Use minimum punctuation, and make sure that you use a conversational tone in your email.
6. Using out-of-the-ordinary fonts can trigger spam filters. So, it is always better to use the default options in your email service provider.
7. Avoid using too many high-resolution images in the email. Or else the email service providers can mistake them for spam emails. Therefore, those emails may never hit the inbox. If at all you have to add images, compress them before sending.
8. Avoid using words like "sale", "promo", and "urgent" so that the spam filters don't mark it as spam.
9. Comply with the guidelines of the CAN-SPAM Act. Add your physical address and an unsubscribe link. Also, make sure it is easy to unsubscribe from your emails.
Busting Top Myths About CAN-SPAM
There are a lot of myths and misconceptions around the CAN-SPAM Act. You must know about them and fact-check them as an email marketer,
Myth 1: I am a B2B marketer, and therefore CAN-SPAM doesn't apply to me.
Fact: CAN-SPAM applies to all commercial emails.
Myth 2: Transactional emails need an opt-out. If this is missing, you can violate the act.
Fact: A transactional email doesn't require an opt-out. However, at times, marketers combine marketing content that can turn them into marketing emails. You have to also see what kind of message the email is sending across. Some marketers include an opt-out link by default in the footer of their emails to provide good customer service. Others don't feel the need to do so for transactional emails.
Myth 3: Email Deliverability decreases when you add a marketing message to a transactional email.
Fact: The type of message in the email doesn't affect its deliverability. It depends more on the fact whether the recipient is expecting it or not, along with other factors. As people wait for transactional emails, they have better deliverability. There can be similar anticipation for marketing emails. Therefore, don't fear reduced deliverability when your transactional emails have marketing content in them.
Myth 4: The opt-out is safe and secure inside the preference center
Fact: It is not OK when your preference center needs a login. As per the guidelines of CAN-SPAM, the unsubscribe button has to be visible to the recipient. It should also be easy to unsubscribe without any hindrance. Asking the recipient to log in for unsubscribing is a hurdle. Thus, it is a violation of the act's guidelines.
Myth 5: When a person unsubscribes, you have to immediately remove them from the email list
Fact: You get 10 days to remove a recipient from your list. It is better to let the user know about this in your unsubscribe form. Or else he or she might mark your email as spam when they continue to receive your emails. They may feel that you have not unsubscribed them. Try to remove their address from your email list as fast as you can to prevent deliverability problems at a later stage.
GDPR And CASL
While we are discussing the CAN-SPAM act, we should also talk a little about GDPR and CASL.
GDPR is General Data Protection Regulation, and it has rules to protect the privacy of EU citizens on the Internet. As per its guidelines, those who collect personal data have to protect the data from misuse. Failure to do so will draw a penalty.
CASL stands for Canada's Anti-Spam Legislation. Canada's anti-spam law for commercial emails requires organizations sending them within, from, and to the country to get the recipient's prior consent.
Ensure That You Are CAN-SPAM Compliant!
As you just read, the CAN-SPAM laws protect consumers from unwanted emails from businesses and brands. Thus, as an email marketer, you have to follow the guidelines you just saw above to prevent CAN-SPAM violations and getting penalized.
We hope you know about CAN-SPAM act compliance after reading this post!
FAQs
1. What is the CAN-SPAM Act?
The CAN-SPAM Act is The Controlling the Assault of Non-Solicited Pornography and Marketing Act of 2003. This US act protects consumers from unwanted emails from businesses and brands.
2. What is the penalty for violating the CAN-SPAM Act?
In case of non-compliance to the CAN-SPAM Act, every email that violates the act can draw penalties of up to $43,792. The law can hold more than one person responsible for the violation.
3. What is GDPR?
GDPR is General Data Protection Regulation, and it has rules to protect the privacy of EU citizens on the Internet. As per its guidelines, those who collect personal data have to protect the data from misuse. .