19 Best Apps and Tools To Schedule Meetings
Do you know that salespeople spend 12% of their average day on internal meetings, and 34% of their time interacting with prospects. It means meetings take a major chunk of sales reps' time! Moreover, it is usually tough to move back and forth to finalize a date and time for a meeting with prospects. They also tend to lose interest if the process gets cumbersome. Therefore, you need to find a way to make it easier, and what can be better than using tools to schedule meetings!
Let's first look at the benefits of using tools to schedule meetings, followed by 19 ultimate meeting schedulers. So keep reading till the end!
Benefits Of Using A Meeting Scheduling Software
1. No human error
Scheduling meetings manually is possible. Still, there is always a chance for human errors such as scheduling it on the wrong date and time, forgetting to enter the meeting details in your calendar, and overlapping meetings. When you are dealing with multiple prospects simultaneously, there is a higher possibility of committing such errors. With a trusted meeting scheduler tool, human errors get out of the way.
2. Helps save time
Using tools to schedule meetings yourself can be a waste of time. In addition, from entering the details of the meeting in your calendar, there are other time-consuming activities like responding to emails to confirm the meeting. When this process gets automated, the scheduling is faster and more accurate.
3. Smooth functioning of operations
By choosing to automate the process of using tools to schedule meetings, things get streamlined. Instead of worrying about your meetings, you can focus on tasks that require your undivided attention. Using the right tool to take care of your meetings can also help you connect with your prospects and customers without affecting other activities.
4. Better prospect experience
The tech-savvy younger generation doesn't like the conventional way of scheduling meetings. An automated tool would let your prospects schedule a meeting in a couple of minutes without any hassle. Also, giving your prospects a straightforward and cooperative experience will work in your favor as there will be more chances of a referral.
5. Availability even after office hours
Being available even after office hours is difficult. However, when you use a scheduling tool, prospects can fix up meetings anytime they want to without thinking about the business hours. In a way, it enables giving prospects the freedom to book meetings 24/7.
Top Meeting Scheduling Tools
Here are the top tools to schedule meetings that you can consider using,
1. SalesBlink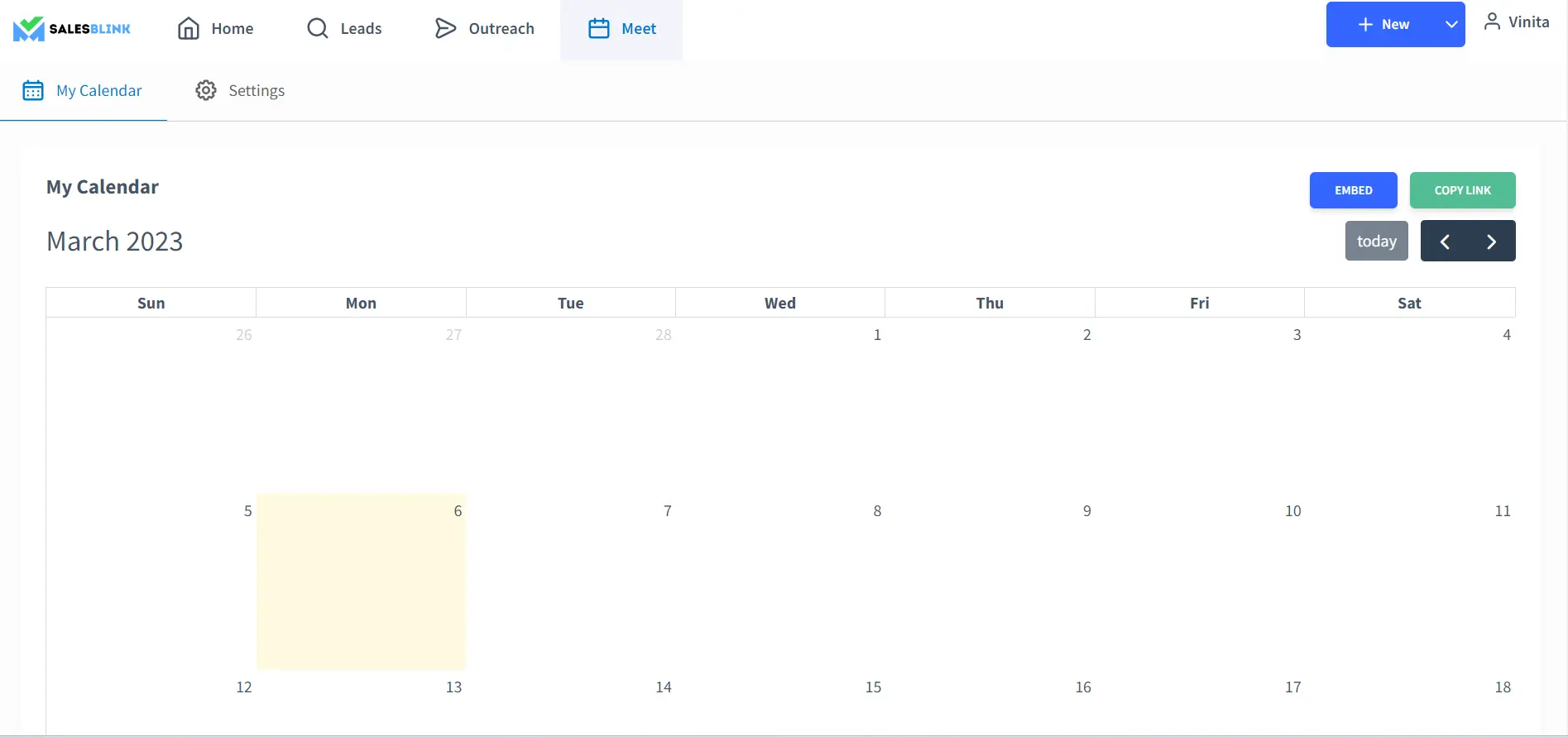 SalesBlink automates sales outreach and is the go-to tool for salespeople. As booking meetings with clients is the most important part of the process, our tool provides an in-built meeting scheduler that enables prospects to schedule meetings with you based on your availability. All you need to to do is share your calendar link and scheduling a meeting will be a piece of cake.
To use the meeting scheduler, you have to purchase a plan.
Pricing –
The Sales Engagement plans include:
Basic – $49/mo/user
Professional – $69/mo/user
Enterprise – Request Quote
The Prospecting plan includes
Prospecting Pro Plan – $49/month
Enterprise – Request Quote
The Email Warmup plan is at $19/mo/sender
We'll take a closer look at how SalesBlink's meeting scheduler works later in this post, so stay tuned!
2. Booknetic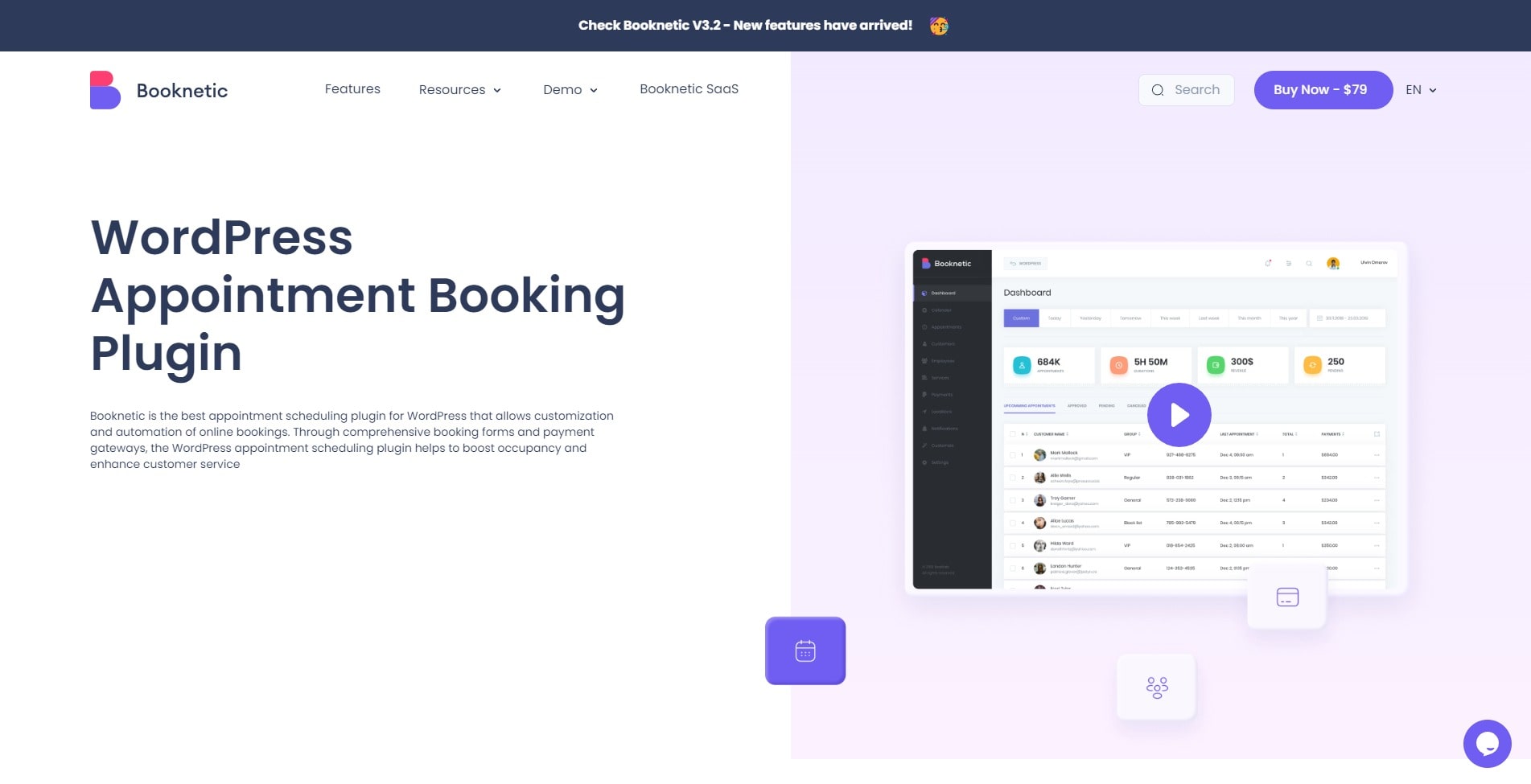 Booknetic is easy to use and helps you stay organized. You can create a booking form that includes all the information you need, such as the date, time, location, and duration of the meeting. You can also add details about the meeting, such as the agenda and attendees. Booknetic automatically sends reminders to attendees so they don't forget about the meeting.
If you need to reschedule or cancel a meeting, Booknetic makes it easy to do so. You can send an email or text message to attendees to let them know about the change in plans. There are also PayPal and Stripe & Mollie & Square & Razorpay integrations to facilitate your payments. It also offers SMS, WhatsApp, and Telegram integrations to send and automate SMS reminders.
Booknetic is a great tool for anyone who needs to schedule meetings effectively.
Pricing – You can get Booknetic at a $79 one-time payment.
3. Acuity Scheduling
Acuity scheduling is an appointment scheduling app that helps you customize the process to schedule meetings. You can allow customers and prospects to reschedule or cancel the appointments they have fixed. There is also an option to change the interval between the start times of appointments, and bookings can be made far in advance. The app has a "Make me look busy" option to hide your availability. You can make a booking page live when you are ready. Share it using a direct link or embed it into your website.
Moreover, the app is easy to use and can help you run your business smoothly as it integrates with other business tools.
Pricing – Starts at 15$ per month
4. SimplyMeet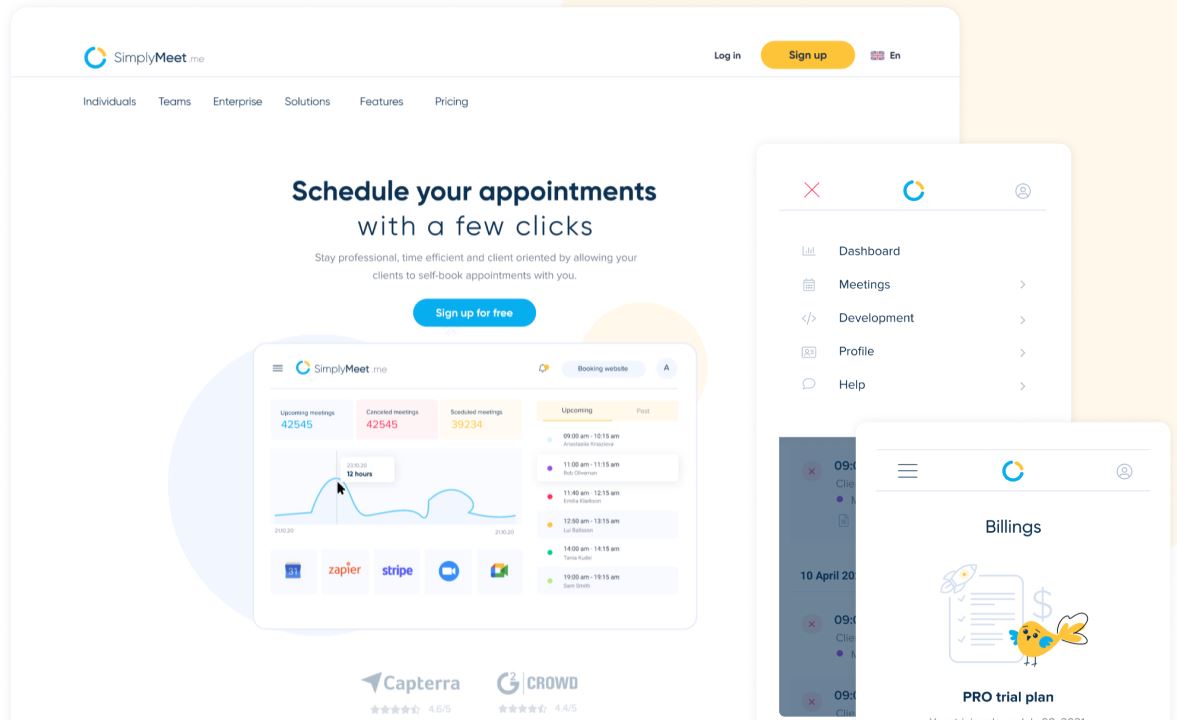 SimplyMeet.me allows users to easily connect their personal and work calendars and lets people effortlessly schedule one-on-one and team meetings. It offers integrations with multiple external calendars and is compatible with CalDAV calendars. Additionally, the number of video calling platforms that integrate seamlessly with the meeting scheduler makes it an ideal candidate for remote sales consultations and collaborations. It is an essential tool for those who want to schedule their time efficiently and want something simple, easy to use, and clean looking. The cherry on the top: Free Forever for individuals!
SimplyMeet.me pros:
Super easy to set up
Two-way sync with an extensive range of calendars
Integrates across multiple platforms
Customized schedule blocking for seamless meetings
Possibility to accept payments upon booking
Live Chat 24h during the working week ready to help immediately
According to Ryan W, in Marketing and Advertising:
"SimplyMeet.me has a clean interface and is comparable to Calendly. What sets them apart, is the ability to work with almost any calendar system out there."
Pricing – Paid plan starts at $11.99 per user per month
5. BIGContacts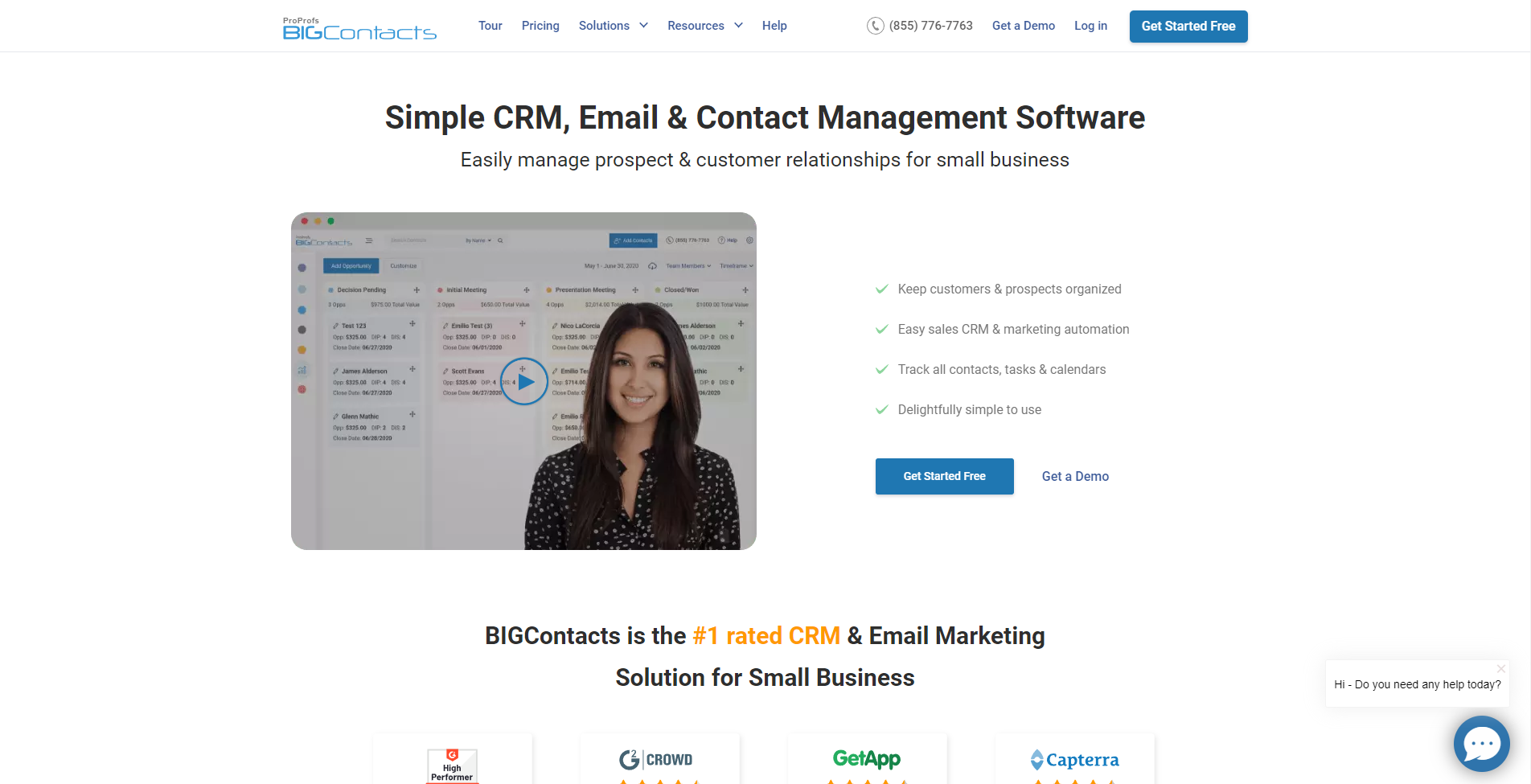 BIGContacts is a powerful CRM and task management solution that can be used to schedule and manage all your meetings. You can set up meetings with contacts and specify the subject, date, time, attendees, location, and other details related to these meetings. BIGContacts also enables you to schedule reminders, so important opportunities are never missed.
The tool lets you set up recurring meetings and stay updated with upcoming meetings using a comprehensive calendar view. As a centralized repository of business data, BIGContacts can provide you with all the context you need for your business meetings. You can also integrate the tool with applications such as HubSpot, Zendesk, Google Contacts, and Intercom to further improve the productivity of your operations.
Pricing- Starts from $5/user/month
6. Calendly meeting scheduler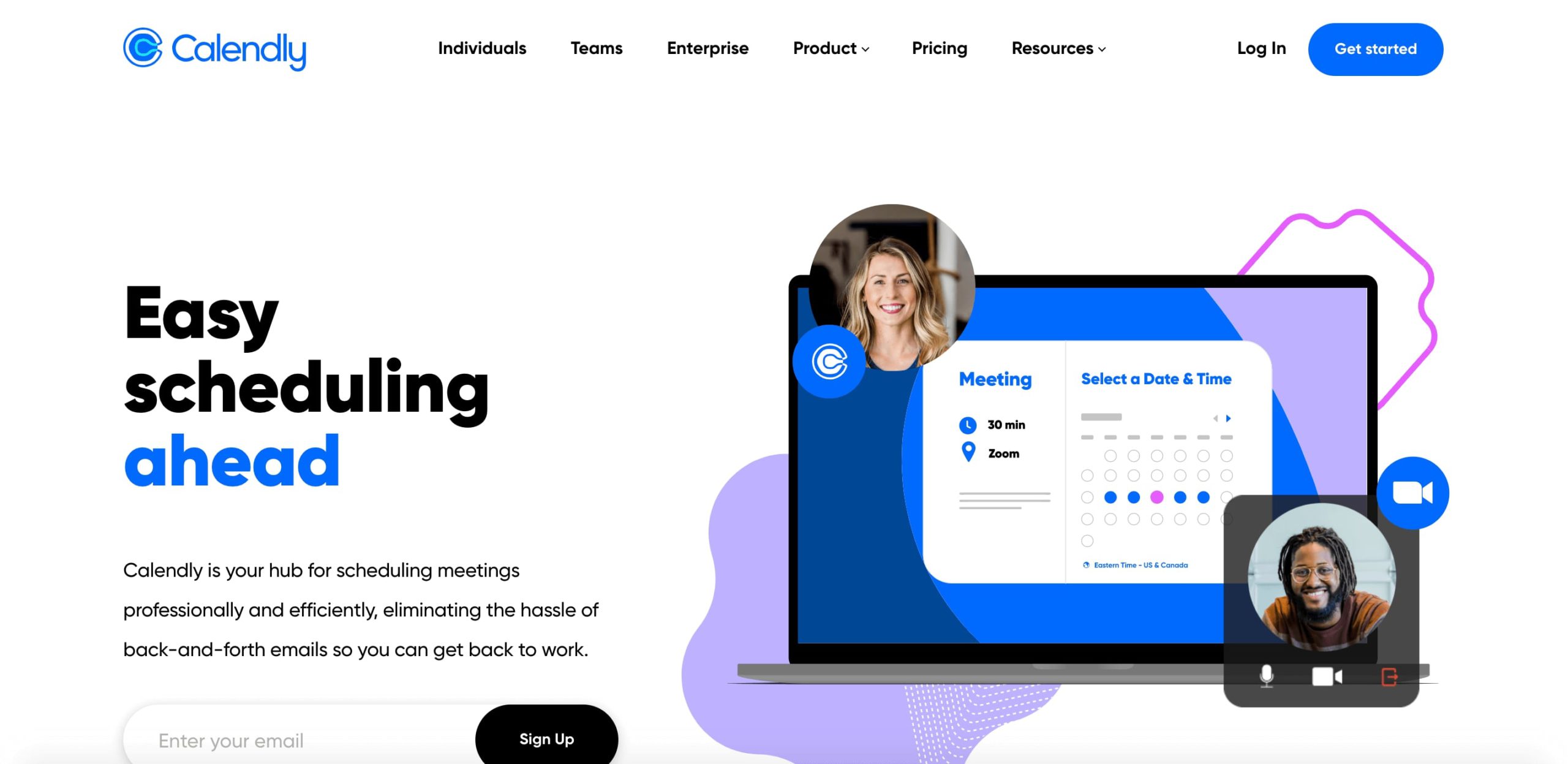 With Calendly, you can show your availability to others and allow them to schedule meetings with you. It is a simple tool that works for anyone who receives a lot of meeting requests. You have to connect it with your calendar, i.e. Google calendar or Microsoft Office 365, or Outlook calendar. You can create options for the different types of meetings you offer, send a link that lets others see when you are available, and finalize the date and time of the meeting. An event gets created in the invitee's calendar as well.
With Calendly, you have many integration options. You can integrate it with Hubspot, Zoom, Zapier, Salesforce, and many more tools with Calendly's paid plan. Integration further simplifies tasks for you.
Pricing – Starts at $10 per seat per month.
7. Arrangr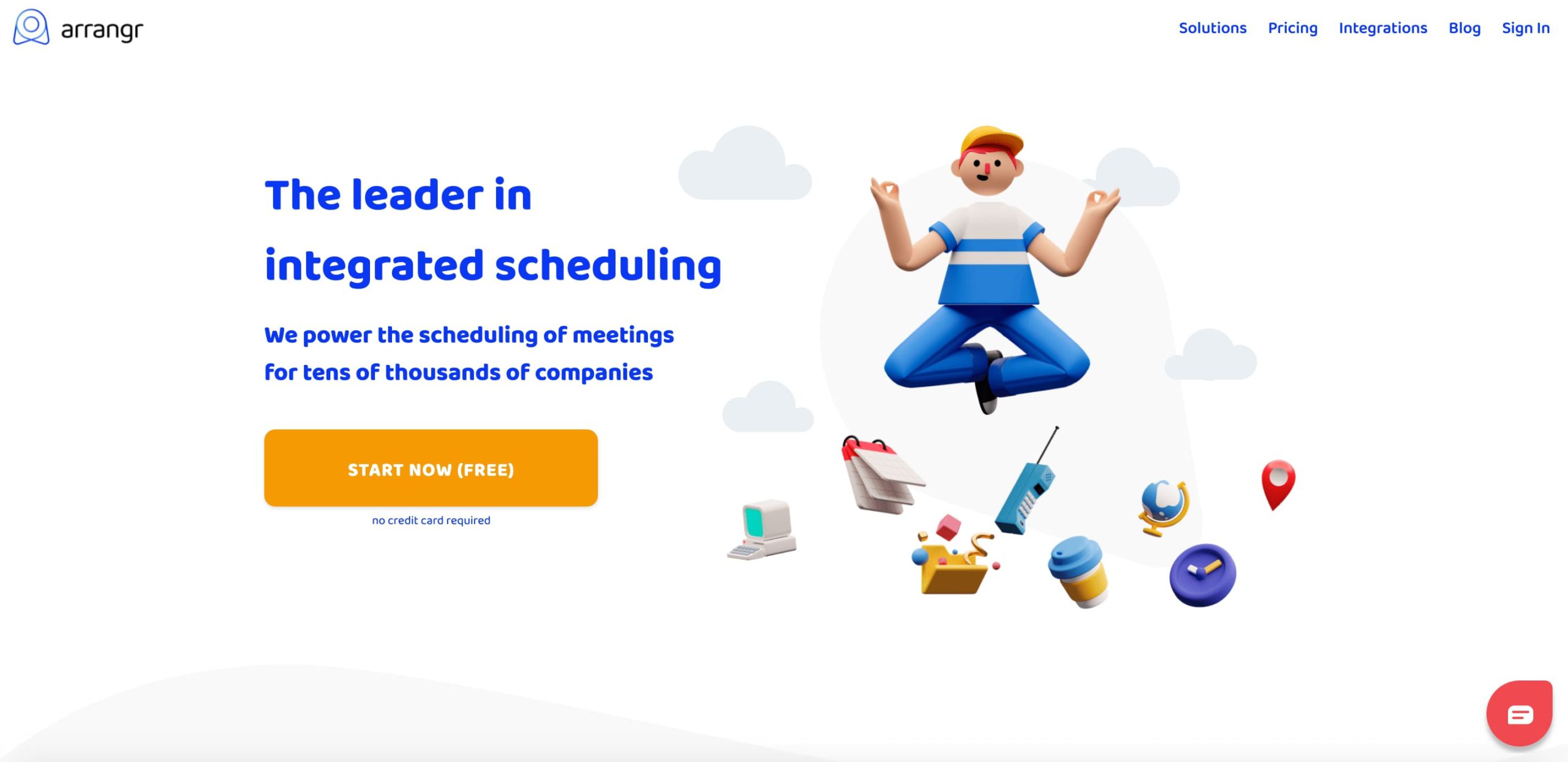 Arrangr is a meeting scheduler that can schedule online or in-person meetings. You can use it for business and personal needs as well. In addition to that, the tool schedules group events easily. It can also suggest the best meeting location for parties based on your preferences. You can integrate it seamlessly with your calendar and CRM.
Pricing – The paid plan starts at $3.99 per month.
8. Demodesk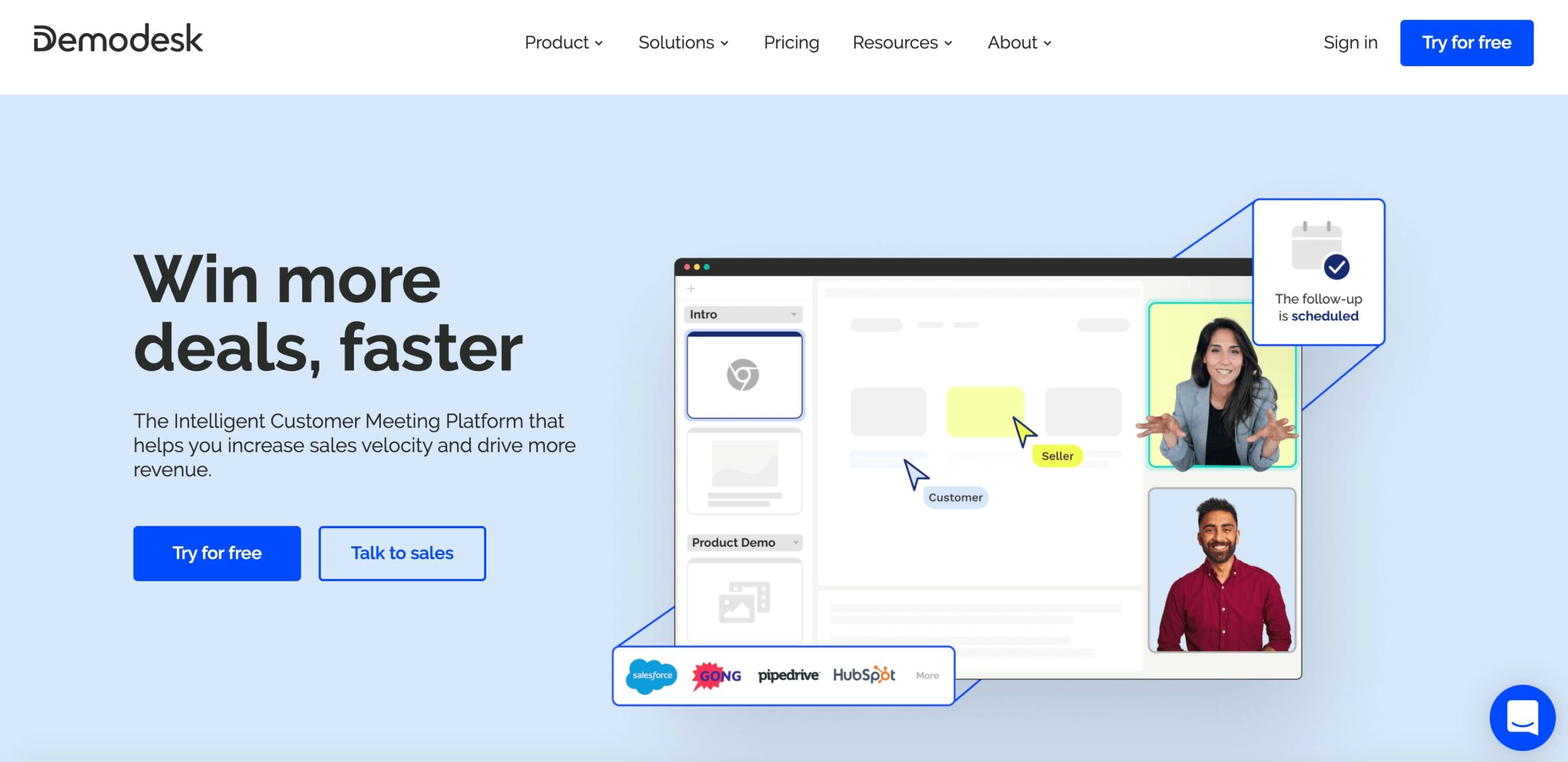 Demodesk is a tool meant for scheduling sales demos. The all-in-one meeting scheduling tool provides custom booking pages, lets you sync your calendar, and offers meeting analytics. Apart from that, you can make use of the screen sharing feature and virtual display option. The tool is easy to integrate with CRM platforms.
Pricing – The paid plan starts at $25 per month.
9. Calendar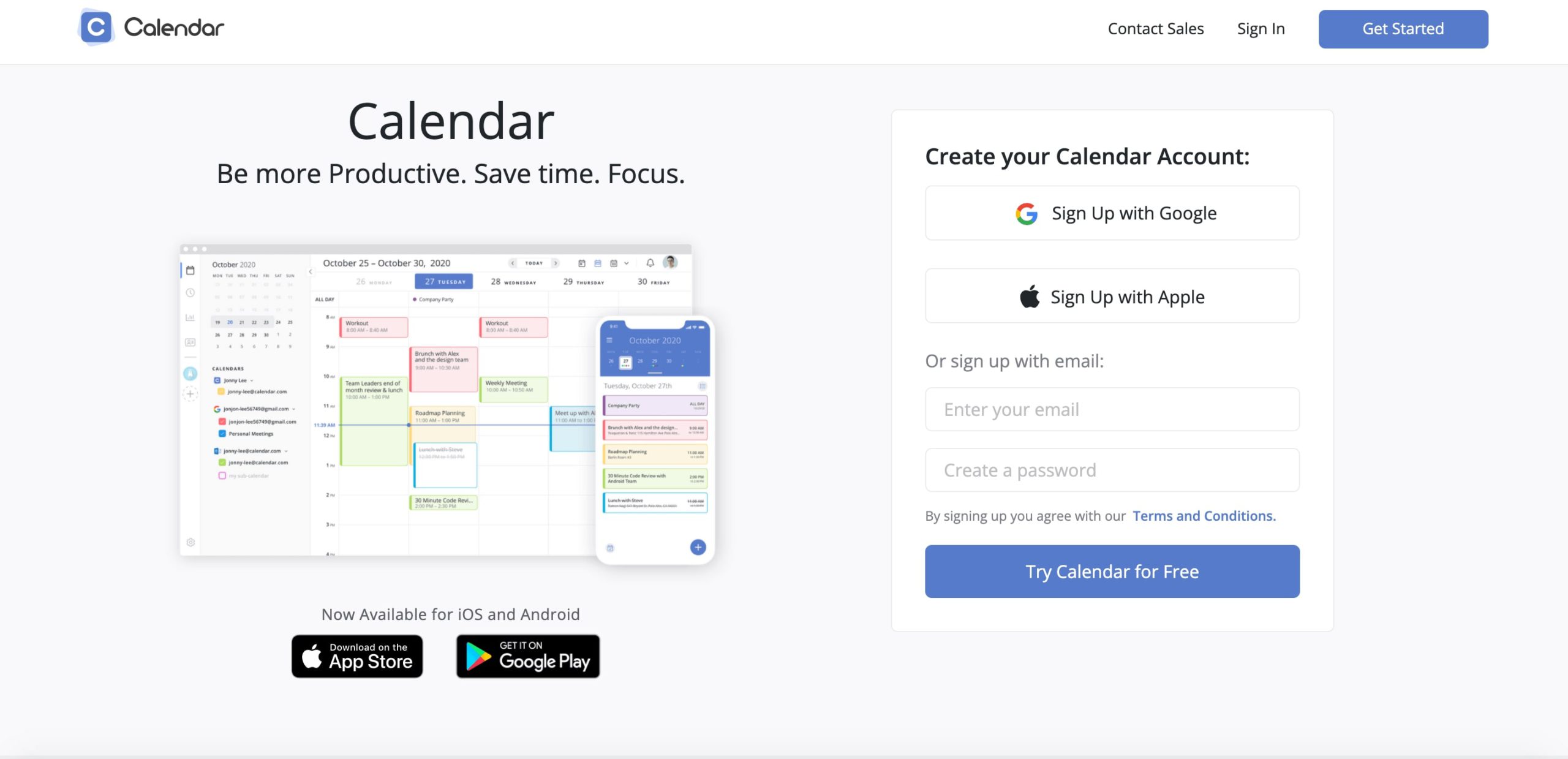 You can schedule meetings in a hassle-free manner with Calendar. It is a free tool that allows you to set your availability and list the people they want to meet. There are two ways of scheduling meetings called the outbound and inbound approaches. In the first approach, the tool sends out emails to all the individuals to get their preferred day and time. The meeting gets scheduled once the time gets determined. There is another inbound approach where you send your URL to users to let them check when they are free and pick a time to meet you.
Pricing – The paid plan starts at $6 per month
10. NeedToMeet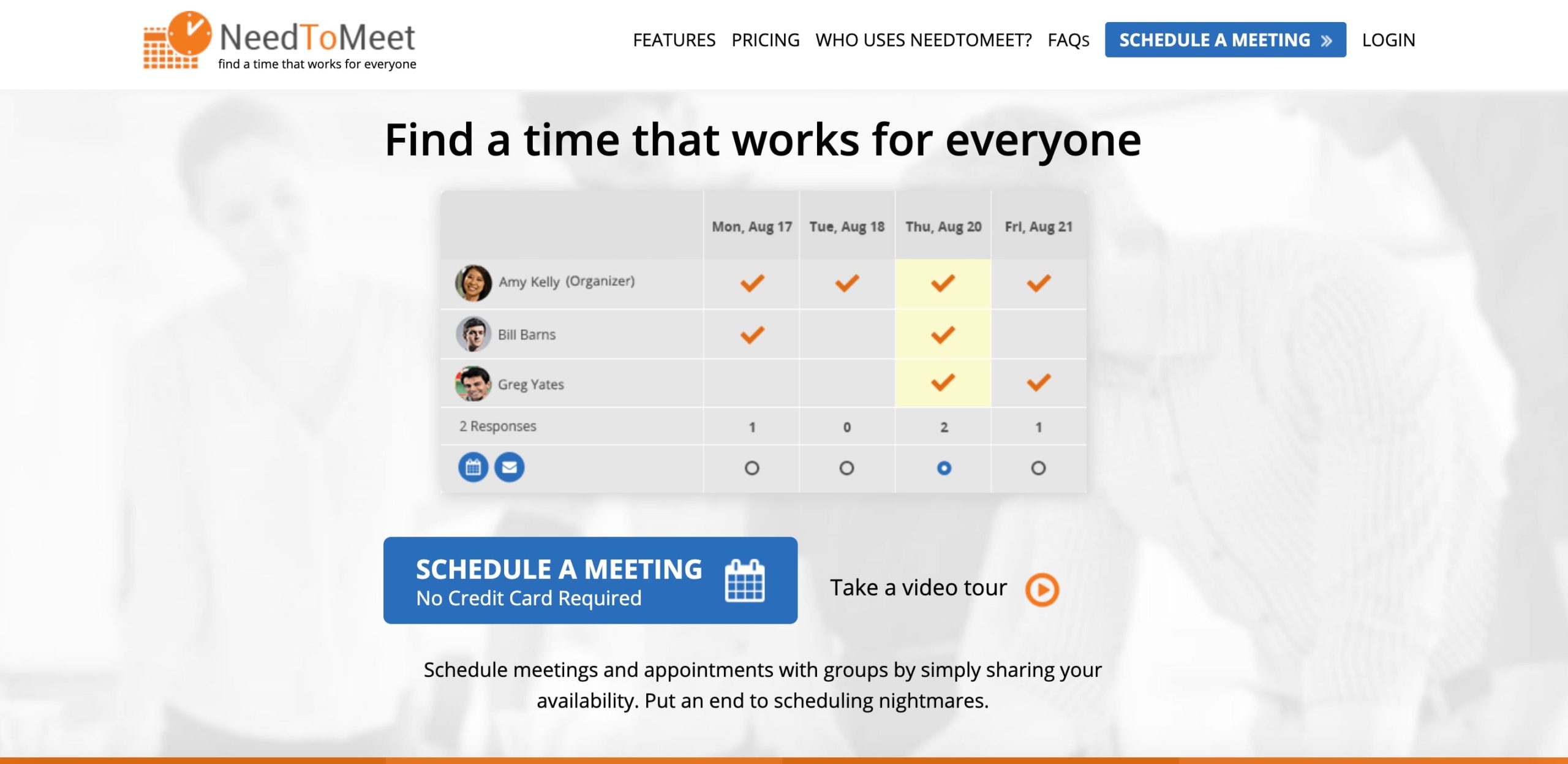 NeedToMeet is a simple tool that helps you schedule meetings. You can enter the purpose of the meeting, block your availability and send a link to others attending the meeting. If you want to sync your calendar with the tool, you must choose the paid plan that enables integration with Outlook.
Pricing – The paid plan starts at $12 per year per user.
11. Pick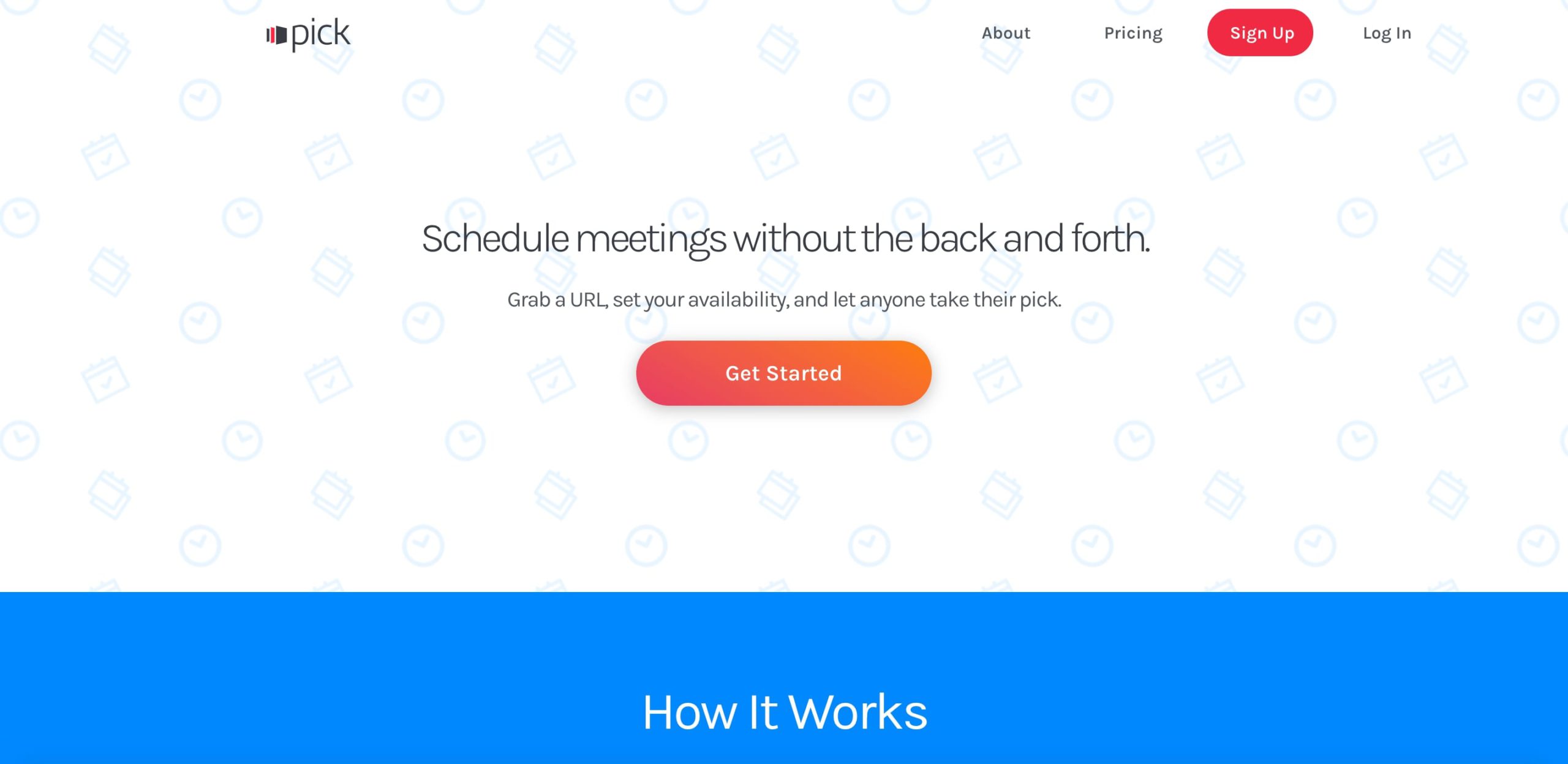 Pick is a tool that finds available slots by scanning all the attendees' Gmail calendars. It comes up with a list of times when all the attendees are available. The app lets you send invites to all attendees. However, everyone wants to be on Pick if they wish to share their availability. The tool provides a shareable link that enables you to send it over to people asking for a meeting.
Pricing – The tool costs $9 per month.
12. CalendarHero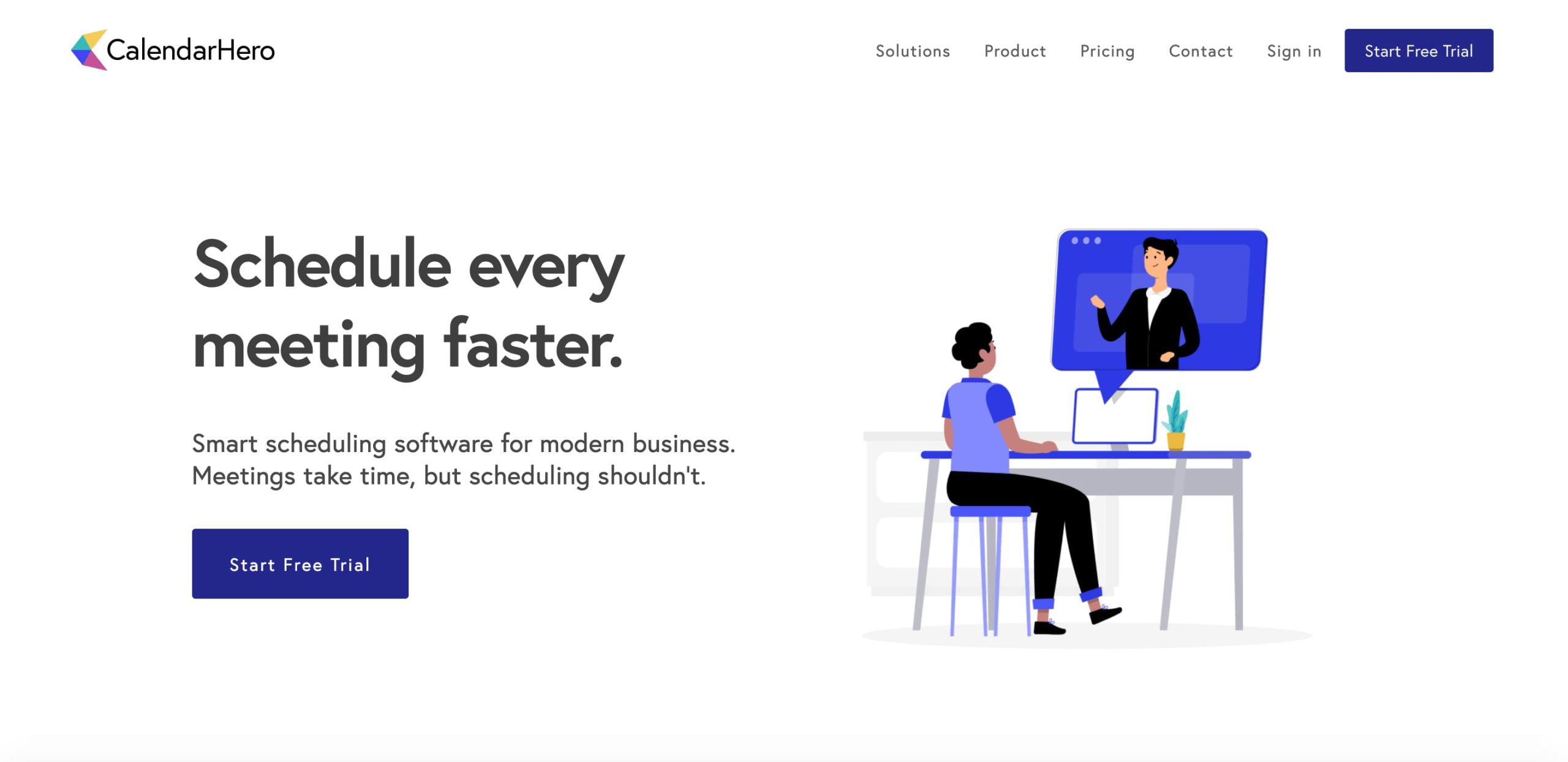 Previously known as Zoom.ai, CalendarHero is a meeting scheduler that lets you create different meeting types. You can send shareable links to others to make it easy for them to schedule a meeting with you. It is possible to link the tool with your calendar to enable it to know about your availability. Additionally, you can customize the event, add location details in case of an in-person meeting, and video call details for online meetings. Overall, it is a meeting scheduling tool with useful features to offer.
Pricing: CalendarHero's paid plans start at $8/month.
13. Chili Piper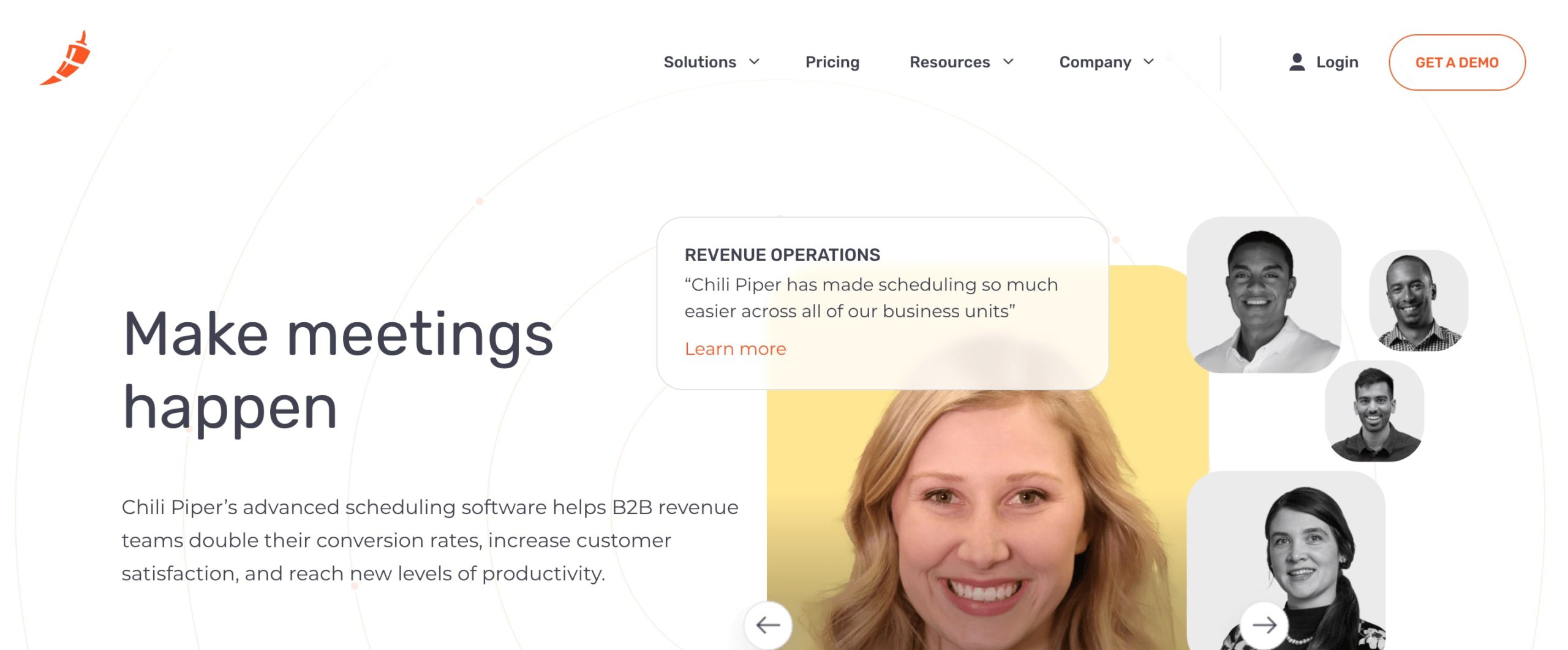 Chili Piper is automated scheduling software that helps to schedule meetings easily. It helps marketing and sales teams schedule appointments with prospects and clients with a click. Moreover, you can integrate Chili Piper with other business apps like Google Calendar, Outlook, Salesforce, and Zoom. The Chili Piper extension helps reps to book meetings from other apps and transfer leads in an instant.
Pricing: The paid plan starts at $22.50 per user.
14. ScheduleOnce by OnceHub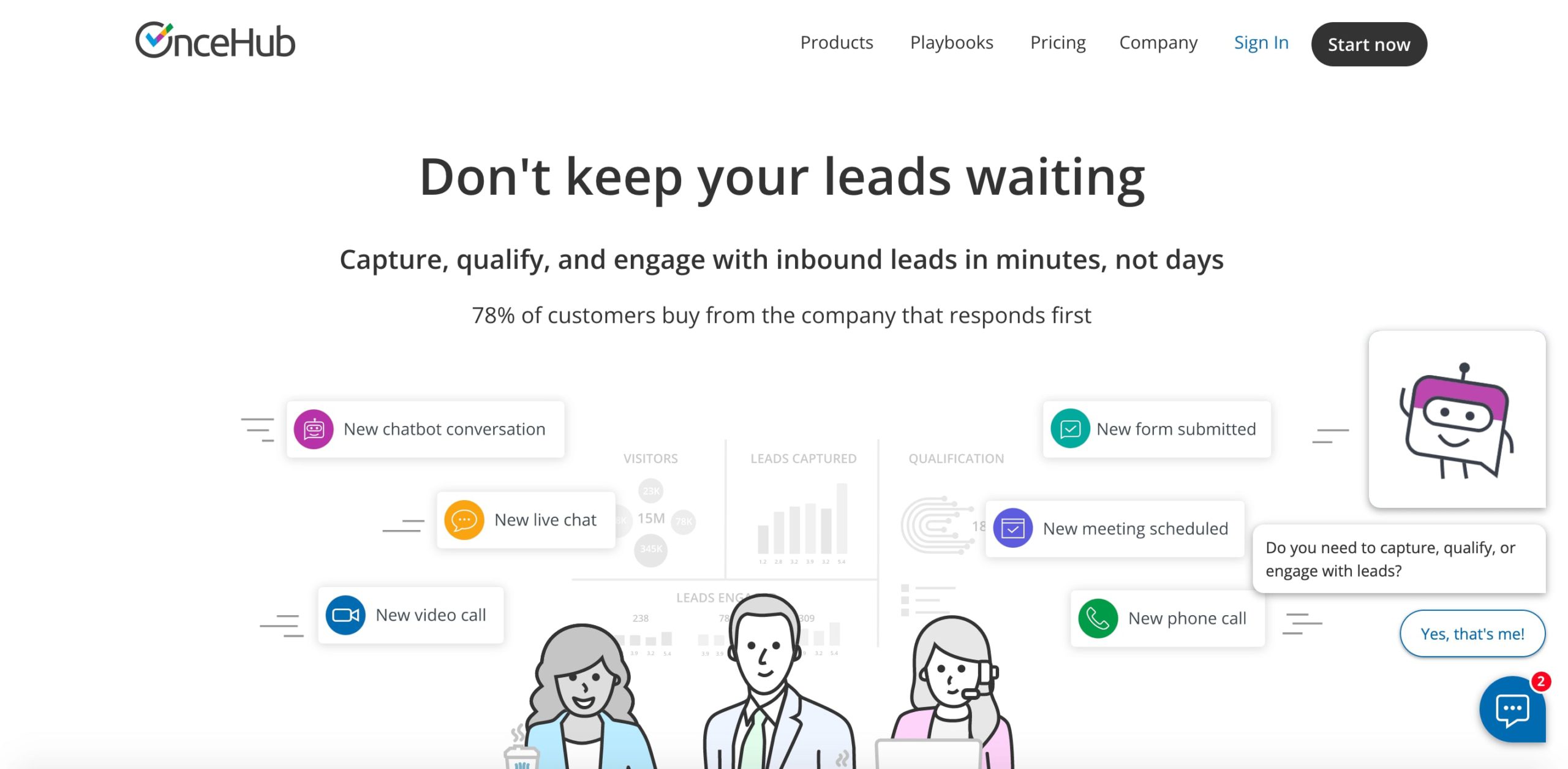 ScheduleOnce is a handy tool for sales teams. It helps schedule meetings and focuses on making a quick connection between the prospects and the sales teams. Using ScheduleOnce, you can create several meeting types that include the typical 15, 30 and 60-minute meetings. You can share a link with prospects to help them pick a date and time of their choice from your calendar. You can also embed the tool into your website and email campaigns. In addition to that, the app is easy to integrate with most other software platforms.
15. Appointlet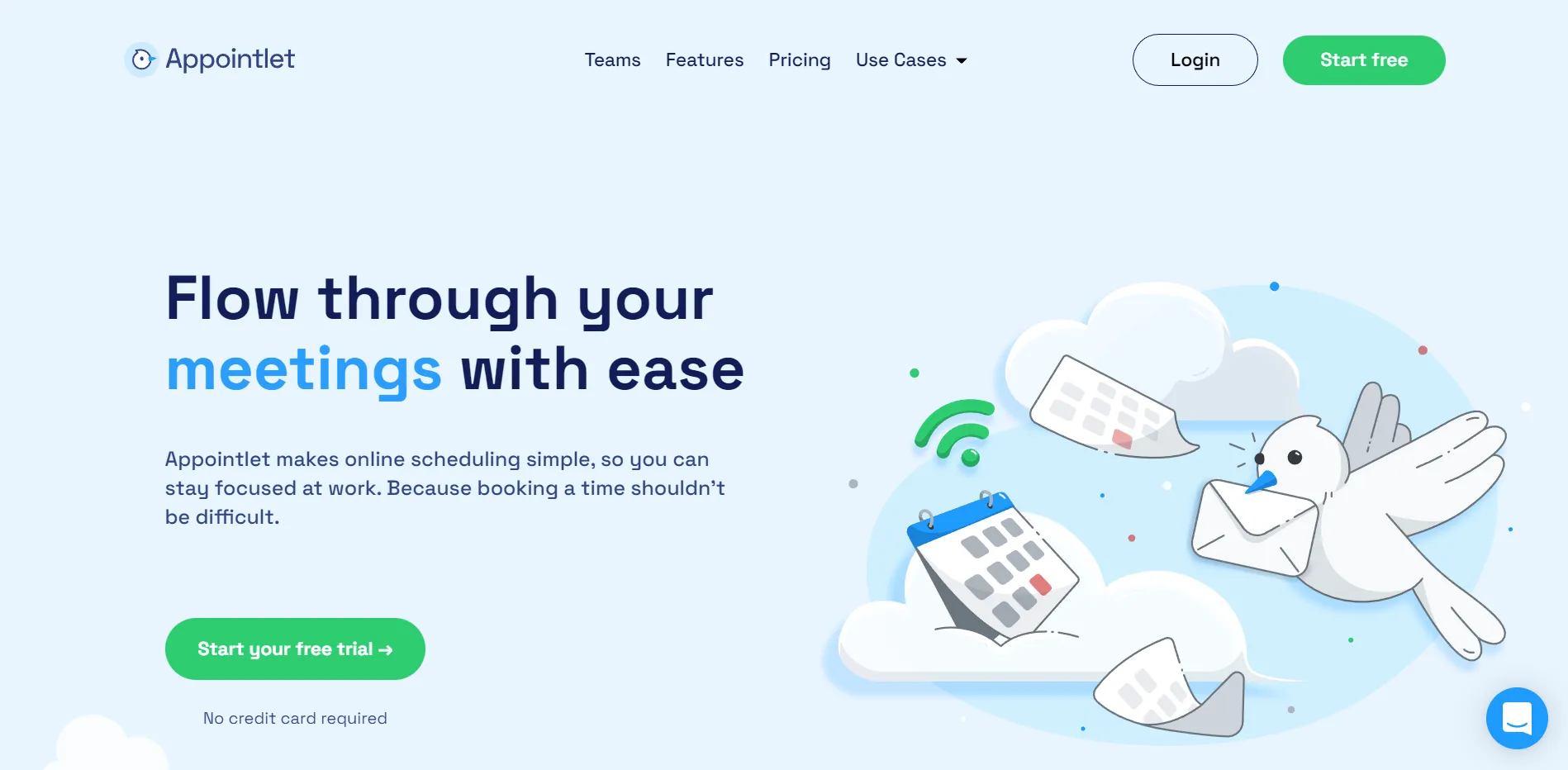 Appointlet is a popular tool that helps sales teams book meetings with leads. It boasts of additional features such as CRM and web conferencing integrations. It is also possible to embed the tool into your website using custom URLs and code snippets.
To let prospects book a meeting with you using Appointlet, you have to share the booking link with them so they can pick a convenient time and date.
Pricing – The paid plan starts at $8 per member per month.
16. Vyte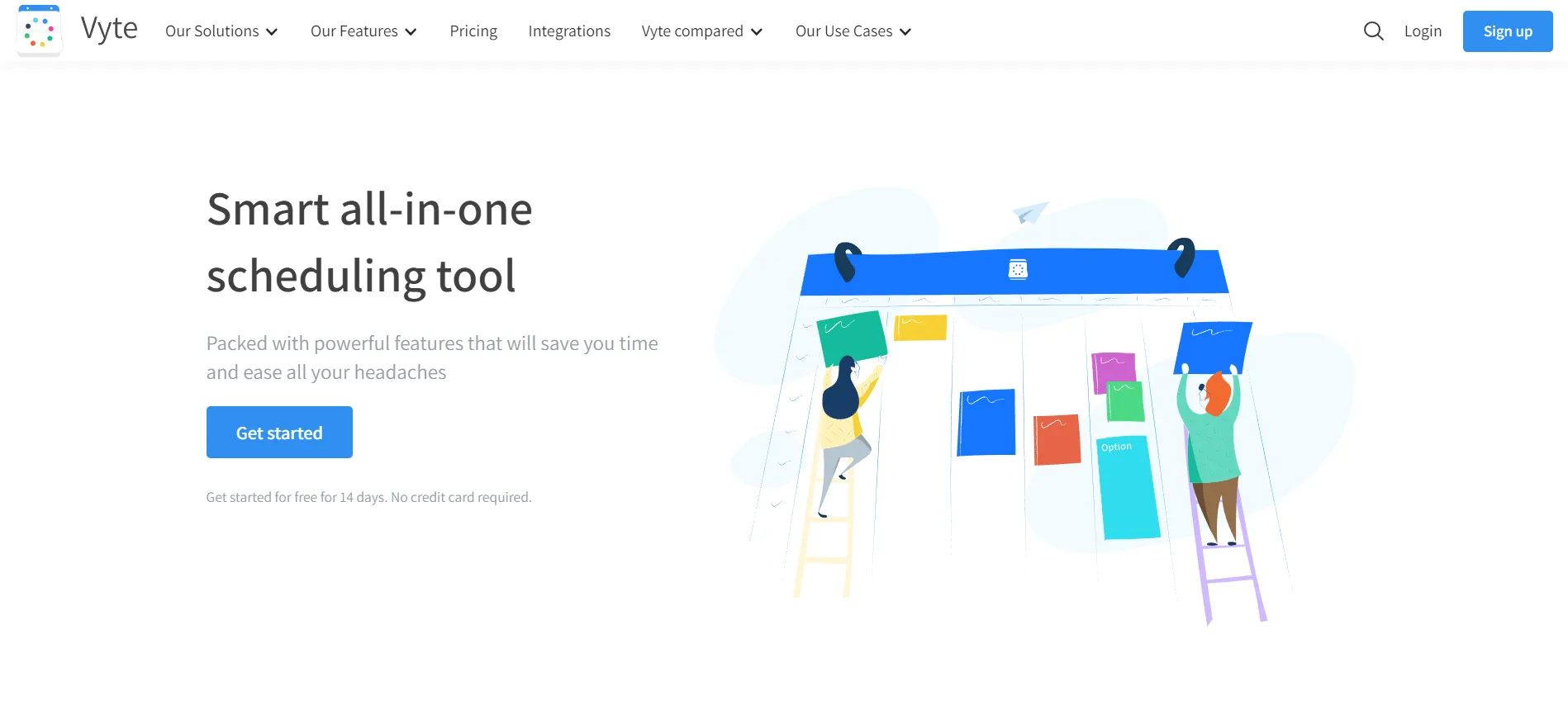 You can use Vyte to schedule meetings with clients seamlessly. Connect your calendar to the tool, mention your availability, send links and get booked! The tool can also help you schedule group meetings effortlessly. In addition, it lets you create a unique booking page to make it look more professional.
Pricing – The paid plan starts at $10 per member per month
17. FreeBusy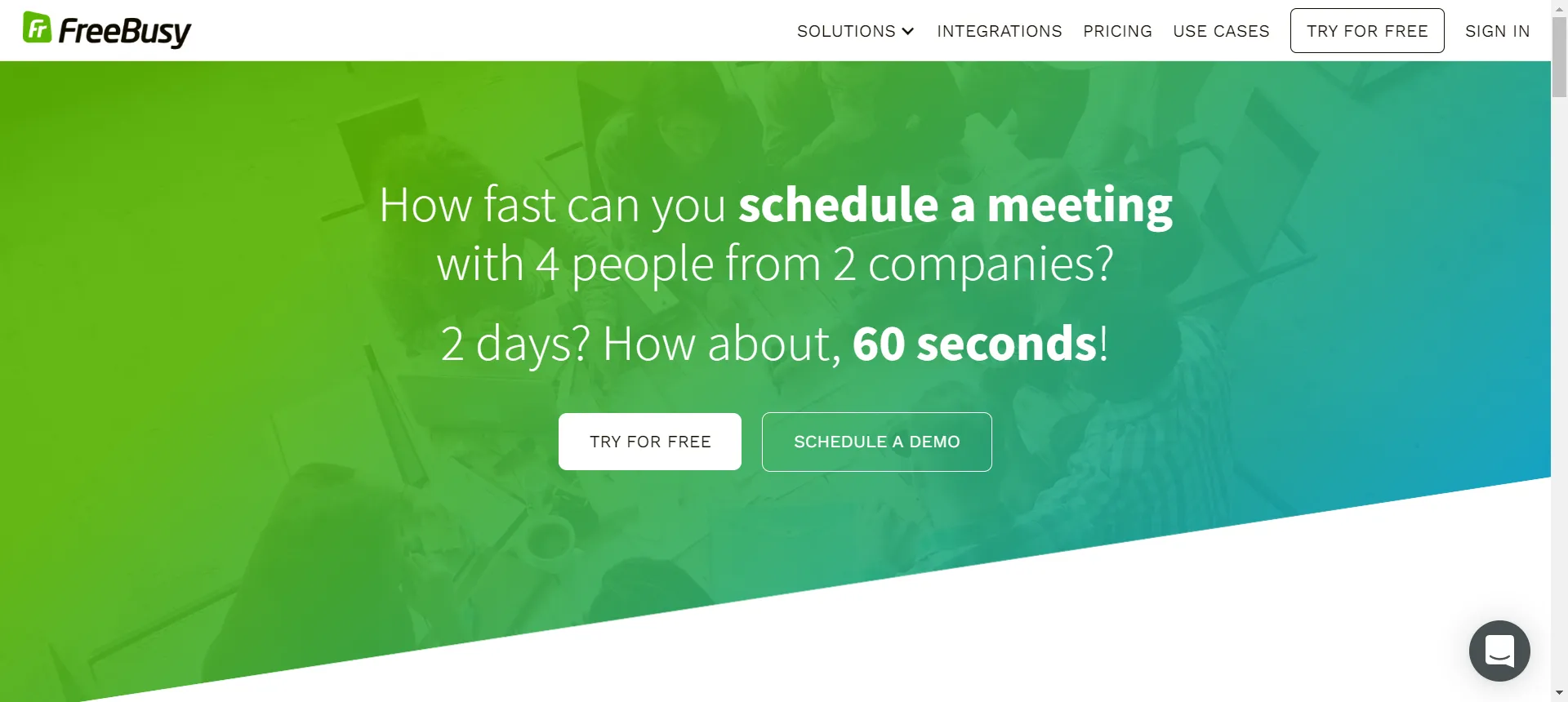 While most tools let you schedule 1:1 meetings, FreeBusy enables scheduling meetings with people from your end and the prospect's end in no time. Additionally, you can create live meeting polls to streamline everything using this AI scheduling assistant. Also, the tool integrates with your web conferencing platform enabling you to join with one tap.
Pricing – The paid plan starts at $15 per month
18. Doodle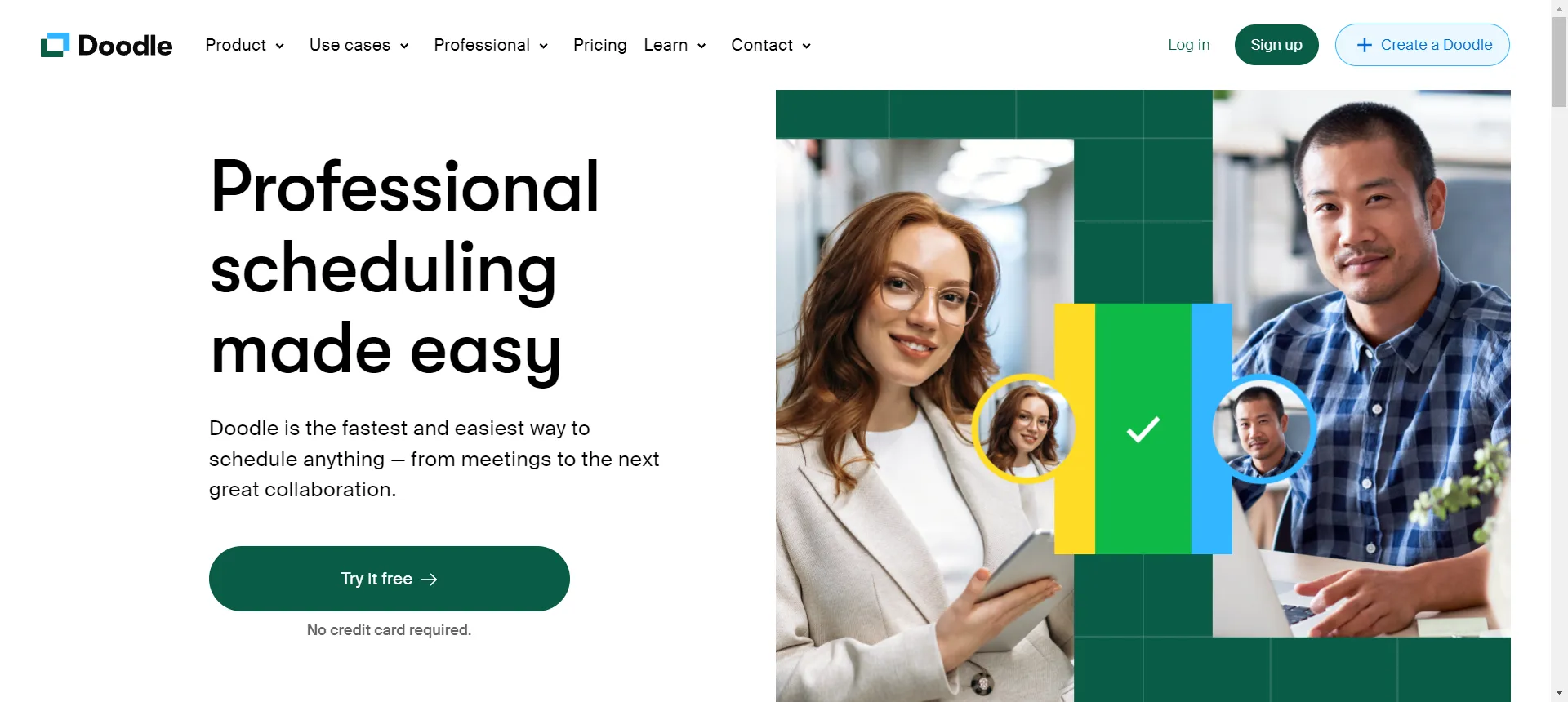 With Doodle, you can schedule meetings with several people simultaneously. The tool offers suggestions, and the participants can select suitable slots. Once they do that, the events reflect in everyone's calendar on their own. The tool is ideal for individuals and businesses of all sizes. It even collaborates with the other tools you are currently using.
Pricing – The Pro plan costs $6.95 per user per month
19. Cogsworth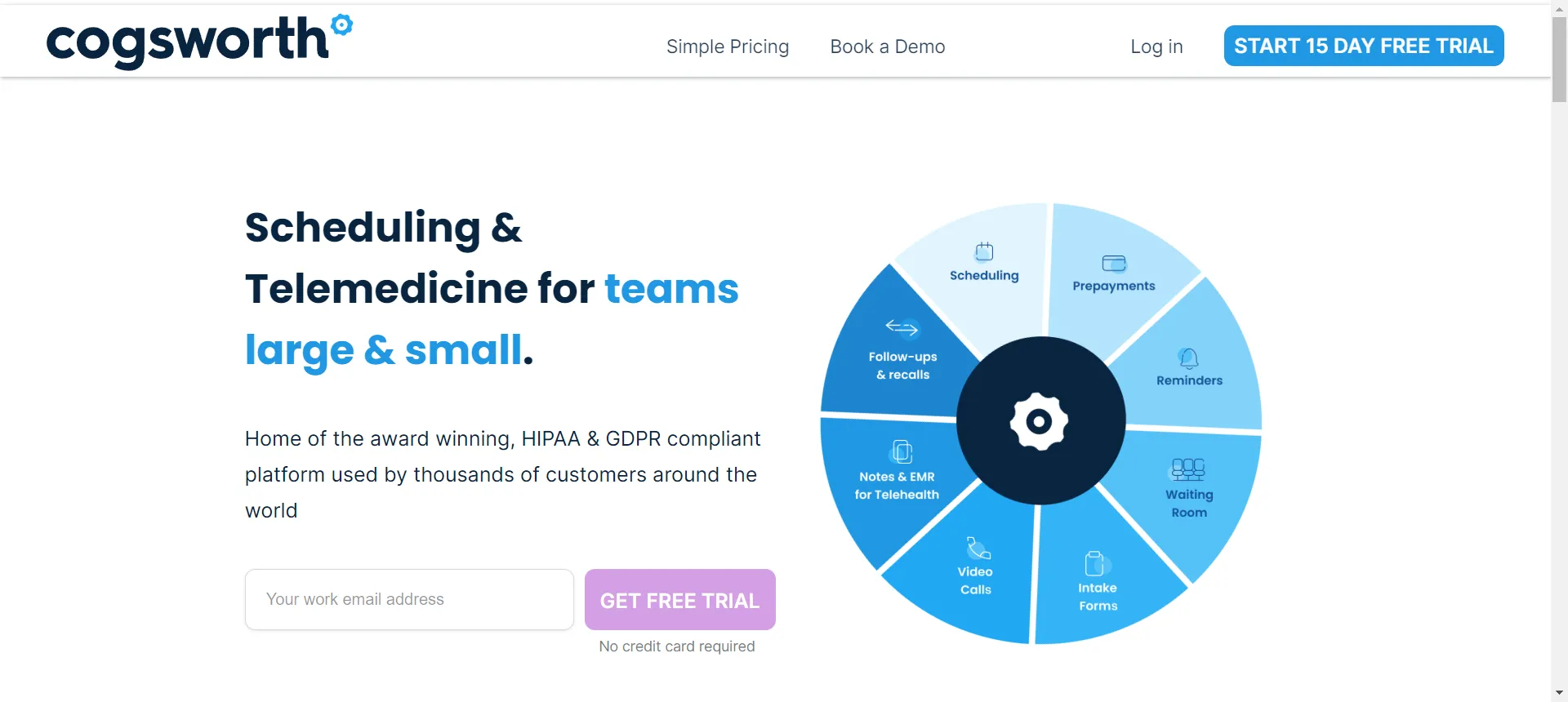 Cogsworth is a meeting scheduler that lets you send your availability link to your prospects so they can book a call with you. The striking feature of the tool is that it enables you to translate the booking page in several different languages, thereby removing the language barrier with international customers. The tool also sends reminders to participants to ensure everyone joins on time.
Characteristics Of A Reliable Meeting Scheduling Software
Now that you know the advantages of using tools to schedule meetings, you might want a tool to suit your needs. So, here are a few characteristics that you should look for before choosing a meeting scheduler.
1. Ease of use
The purpose of using tools to schedule meetings is to help you save time. The daunting and time-consuming task of sending emails back and forth to fix an appointment is made easy by a meeting scheduler. However, if the tool is difficult to use and requires you to invest time in it, there is no point in using it. Using your meeting scheduler should be both convenient and time-saving.
2. Ability to integrate with other tools/platforms
You might want to integrate your meeting scheduler with the Google Calendar, video conferencing software, and also other advanced tools and platforms. Things will work more smoothly when you can integrate the meeting scheduler with the tools you are already using.
3. Security and privacy
A meeting scheduler would want you to permit it to access your calendar, contacts, and other data. When you are allowing it to use your data, you would also want it to be trustworthy. It must have a privacy policy stating how it uses all the data you provide. Moreover, you cannot compromise on the privacy and security of your data.
4. Value for money
Using tools to schedule meetings comes in handy, it has to provide value for money. The cost of the tool should correlate with the time and effort it saves. Choose a meeting scheduler having all the features you want an ideal tool of this category to have. But make sure it has competitive pricing and provides good value for money.
5. Ability to run on multiple OS and devices
The tool should run on all operating systems such as Android, Mac, Windows and iOS. Also, there shouldn't be a problem while using the tool on different devices such as smartphones and tablets. For more smooth usage of the tools, make sure your device has enough space. If you are using Mac, clear up storage and enjoy using various scheduling software.
How Do Online Meeting Schedulers Work?
Online meeting schedulers help a prospect or client schedule a meeting on their own by looking at the available time slots on your calendar.
You have to connect your calendar with the meeting scheduler and mention when you are available for meetings.
The scheduler will then allow prospects or clients to look at the available time slots. The slots that are already taken won't be there for booking.
A client or prospect can schedule a meeting with you when convenient to them using a scheduler. Also, all this can be done without the need of you calling or emailing you.
It is just that you have to find the best online meeting scheduler.
How to Schedule a Meeting With SalesBlink's Meeting Scheduler?
SalesBlink's Meeting Scheduler
SalesBlink is a sales outreach automation tool. While you use Salesblink for automating lead generation, building cold email sequences, and closing, there is a tool to schedule meetings with prospects and clients.
Following is a step-by-step guide on how to use SalesBlink's meeting scheduler.
Go to the home page and click on 'Meet' from the menu on top.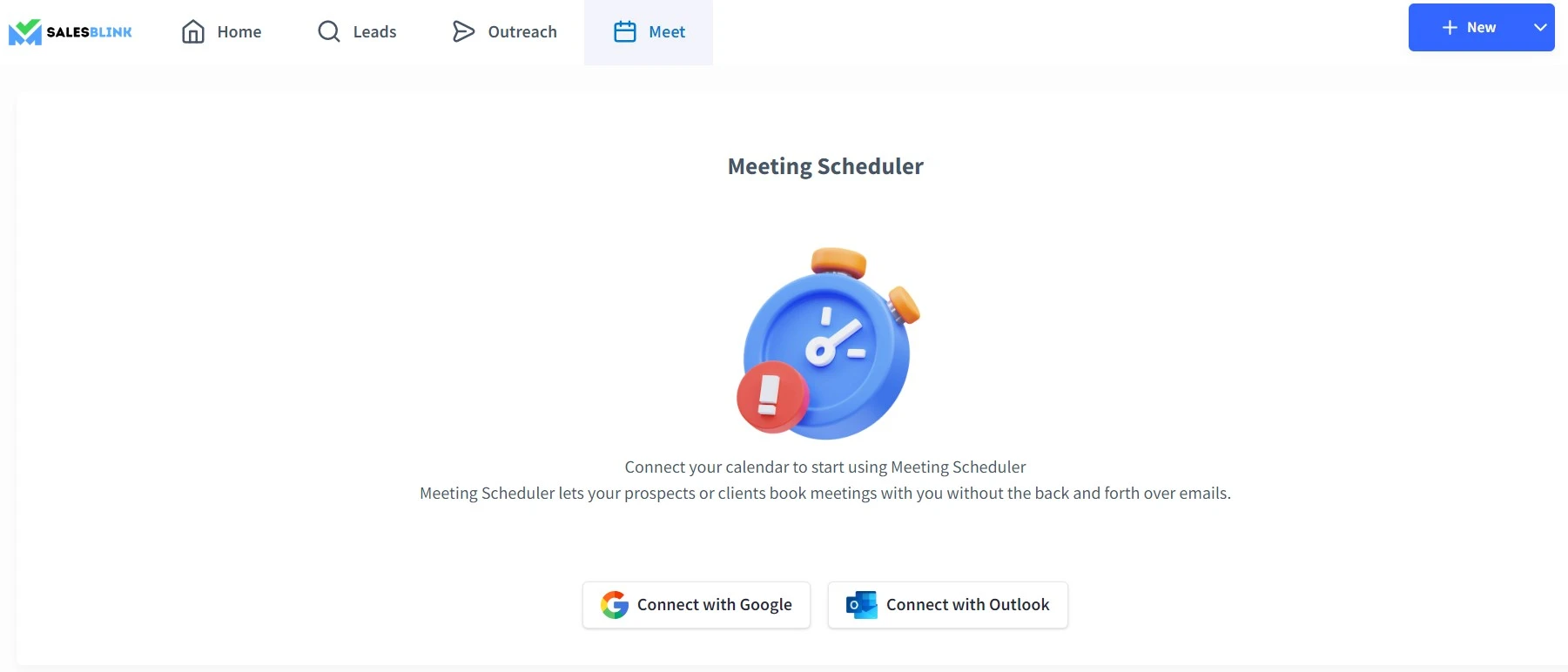 You have to connect your Google or Outlook Calendar and provide access to SalesBlink.
2. Next, create the second half of your meeting scheduler link.

3. Choose the calendar (if you have multiple ones) where you want the meetings to be saved.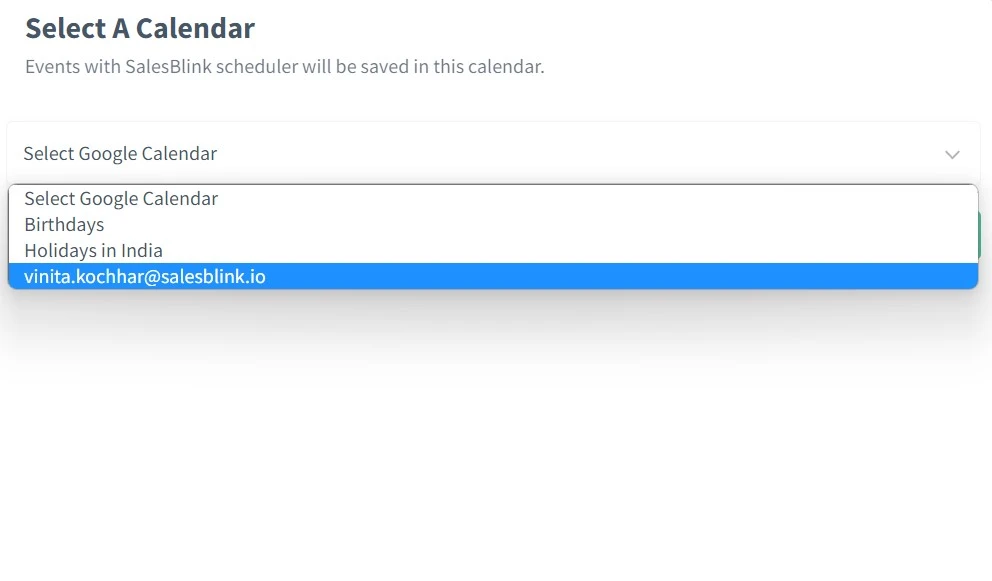 That's all about setting up your scheduler.
Now, all you have to do is share your calendar link with the prospects in the email you send. They can simply click on it and look at the dates you are available for a meeting. The prospects can then pick a date and time convenient for them and schedule the meeting. Doing so helps reduce the confusion and piles of emails you would otherwise need to send and receive to finalize a date and time.
Your meetings will appear in the calendar so that you don't miss out on the dates. This way, it is easier to plan your day based on the number of engagements you have.
You also have the complete freedom to customize your availability as per your schedule. You are free to open or close slots so that your day at work runs smoothly without having to miss a meeting in between.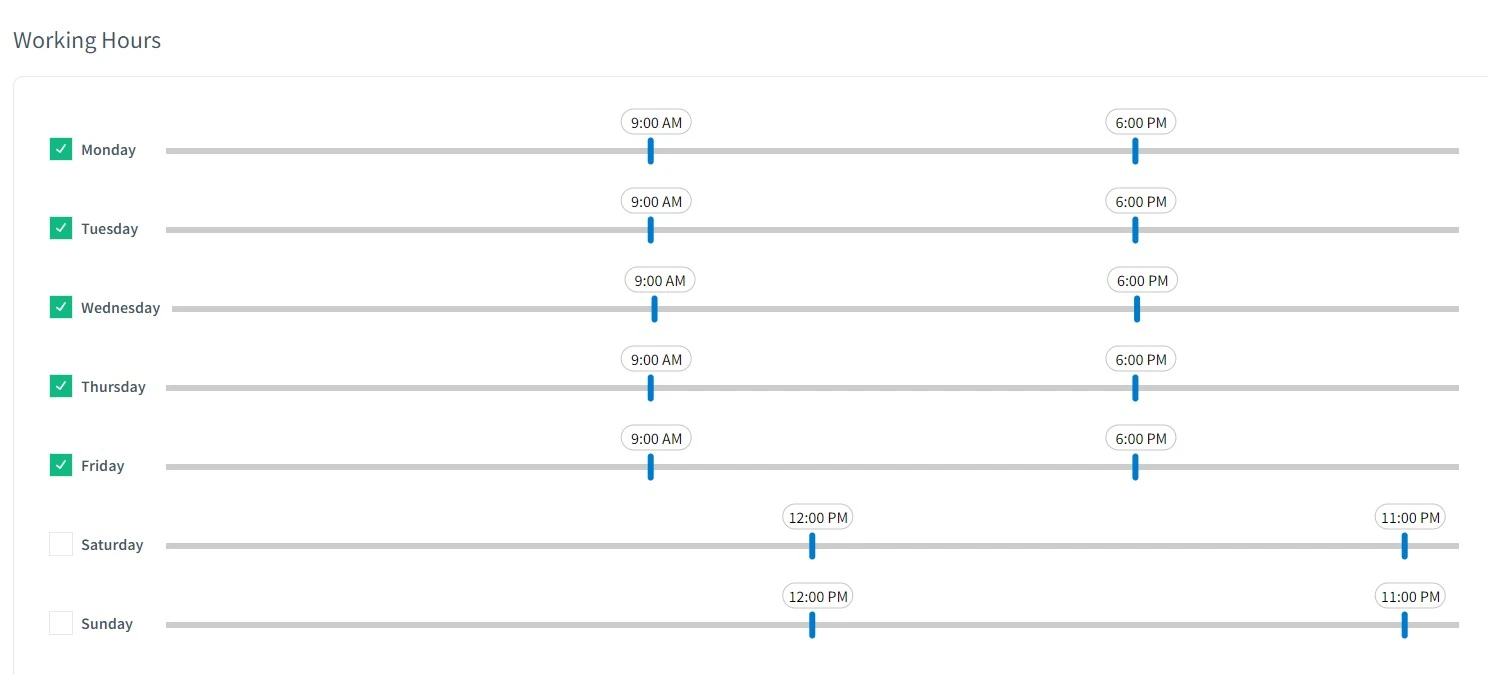 Given that the prospects are free to choose their dates based on their time zone, they can fix online meetings without worrying about the time zone difference across countries. That is the biggest plus of using tool for scheduling meetings.
Start Using Meeting Scheduler Software And Look Professional!
To sum up, the use of automated tools to schedule meetings and fix appointments makes the whole process seamless. It reduces the chances of errors, saves time, and provides a better experience to prospects/clients. It enables scheduling meetings even after business hours. However, you have to ensure is to choose a tool that meets your needs.
We hope we have made it easier for you pick the best meeting scheduler!
FAQs
1. What are online meeting schedulers?
Online meeting schedulers help a prospect or client schedule a meeting on their own by looking at the available time slots on your calendar. Also, all this can be done without the need for you to call or email you.
2. Why use automated meeting schedulers?
Automated meeting schedulers reduce the chances of errors, save time, and provide a better experience to prospects/clients. It also enables scheduling sales meetings even after business hours.
3. Are online meeting schedulers secured and private?
A meeting scheduler requires access to your calendar, contacts, and other data. When you allow it to use your data, you would also want it to be trustworthy. There should be a privacy policy on how it uses all your data.