Push and Pull Marketing – Top Differences You Need To Know
Did you know that 71% of customers stated their preferences for pull marketing strategies over push marketing?
You might be wondering what exactly is push and pull marketing? Well, fear not, because we will clear all your confusion.
All marketing strategies can be broadly classified into two distinct categories – push and pull.
Both the marketing strategies are fundamentally different from each other. And before choosing between the two, you need to decide on the long-term and short-term goals for your business. Consequently, this decision will aid you in picking the right strategy.
To help you make an informed decision, we will underline the push and pull marketing strategy. We will also discuss what the future holds for them in the marketing world. Let's begin with our in-depth comparison of push and pull marketing. push and pull marketing strategy
What is Push Marketing?
Push marketing is a promotional marketing strategy that involves taking your products or services directly to consumers. Brands push their products and services to the prospective customer. This promotional strategy is also known as 'direct marketing.' It is worth noting that push marketing is a form of general advertising.
Brands utilize the strategy when they want to launch a new product or get special patronage in a market. They broadcast their products and services openly and the customer gets introduced to the product through the brand's vigorous advertising instead of finding the product through their own research.
Push marketing is a good tactic for introducing new products or dealing with first-time customers.
Here's an example of push marketing,
Business ABC has launched a new product. To get attention for this new product, ABC pulls out all the stops – they post on social media, host webinars, and organize product launch parties. To conclude, they leave no stone unturned to promote their product.
Push Marketing Strategy
A push marketing strategy is when a business attempts to take its products to its customers without any middlemen. It broadcasts its products exuberantly and induces the customers into purchasing them. In other words, the business tries to 'push' its products onto the customers through various marketing tactics. This marketing strategy is also known as the 'push promotional strategy.'
The main objective of this strategy is to bring your products to the customers' attention. Businesses try to reduce the time gap it takes the customer to see and purchase a new product. Basically, businesses try to shorten their sales cycles.
This method is mostly used by firms that wish to increase brand awareness for their products. They do so by using aggressive marketing and advertising tactics to push their products to the customers. Push marketing strategies focus more on closing a sale rather than cultivating a relationship with the customer.
Push Strategy Examples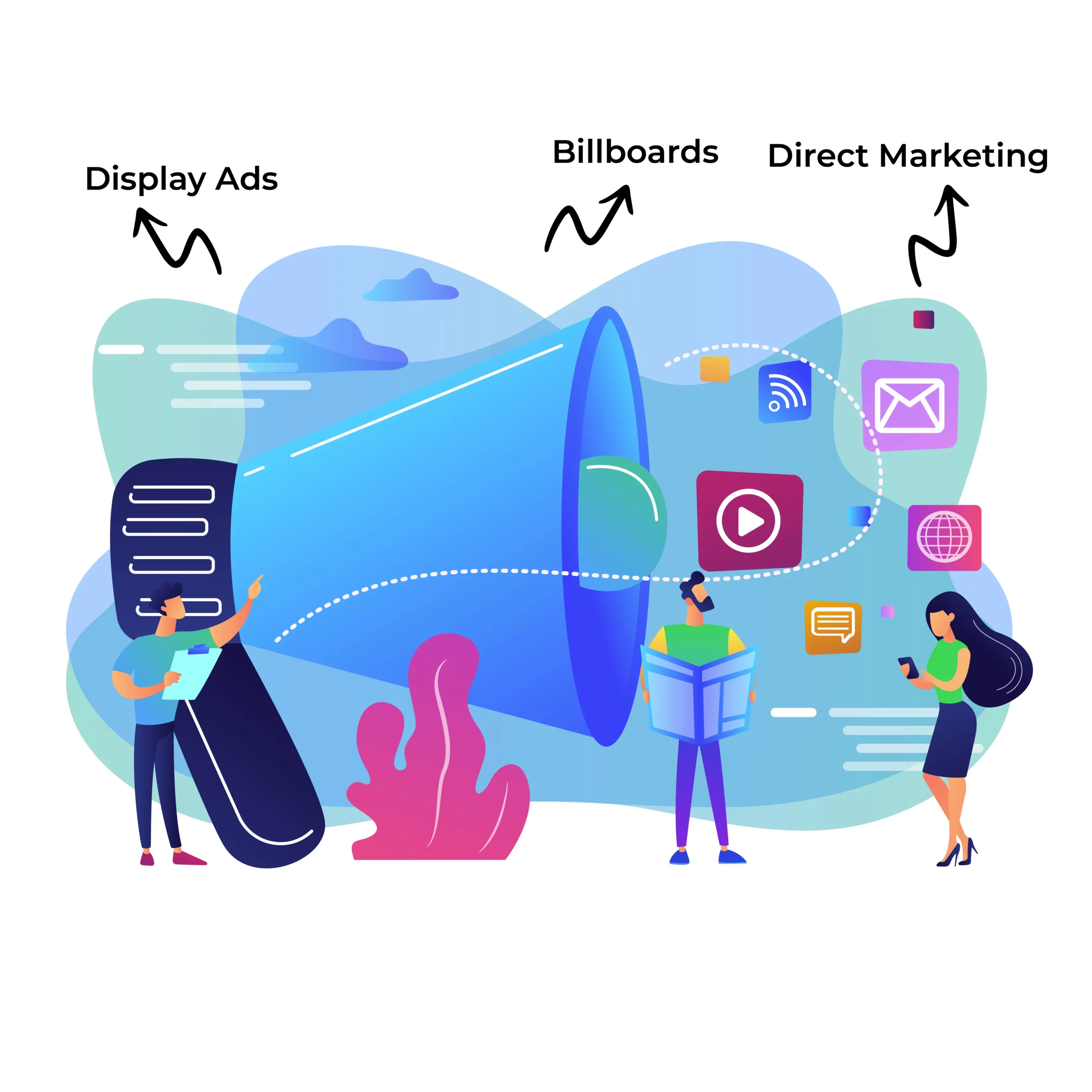 Here are some examples for you to understand push marketing strategies in a better way –
Display Ads
Display ads are a key example of digital advertisements that brands put on several online platforms. These platforms include social media, search engines, websites, or streaming platforms. So, display ads are an effective way to garner someone's attention while they are surfing the net.
Billboards
Billboards are also known as billing boards. They are huge outdoor advertising structures used by firms to promote their products. You usually find them in high-traffic areas to garner a lot of attention. Billboards are traditional push marketing tactics many firms use to generate awareness.
Direct Marketing
When sales reps talk with a customer about one of their products, they directly market their product to the person. Direct marketing involves any marketing tactic which relies on direct communication with consumers. There are no third parties involved in this marketing strategy.
What is Pull Marketing?
A pull marketing strategy is a marketing strategy whereby businesses try to 'pull in' their customers with subtle marketing. The companies try to garner organic traffic with this method. Firms create high-value content for their target audiences. They try to lure their customers in naturally. As per this strategy, customers discover the products or services of a business by themselves.
Firms that use pull marketing strategies seek to establish interpersonal relationships with their customers. They are aiming for long-term business growth.
Pull marketing tactics take a lot of time and effort before bearing positive results. Brands must put out a lot of high-quality content consistently over a long period to gain a wider organic audience.
For example,
Sarah wants to buy a new mobile phone. Naturally, she goes to look for viable mobile phones on the internet. While she is doing her research, she suddenly remembers a blog post she read about iPhone 13. It talked about all the new features and advantages of the iPhone. In the end, Sarah ends up buying an iPhone 13 just because of the blog post. It was so catchy that she ended up making the purchase.
Pull Marketing Strategy
A pull marketing strategy refers to a marketing strategy that 'pulls' the customers in to view your products. The customers find your products through their own research. This strategy is also known as the 'pull promotional strategy.'
The main objective of this content marketing strategy is to entice the customer to seek out your products actively. Businesses are more focused on long-term goals rather than short-term goals. They want to build better relationships with their clients instead of just making sales. Better client-firm relationships mean more brand loyalty, in turn. As a result, their customers will keep buying their products in the long run.
A pull marketing strategy works to increase the market demand for the products organically. Firms market their products directly to their customers. In response, the customers actively seek out the products to make purchases.
Pull Strategy Examples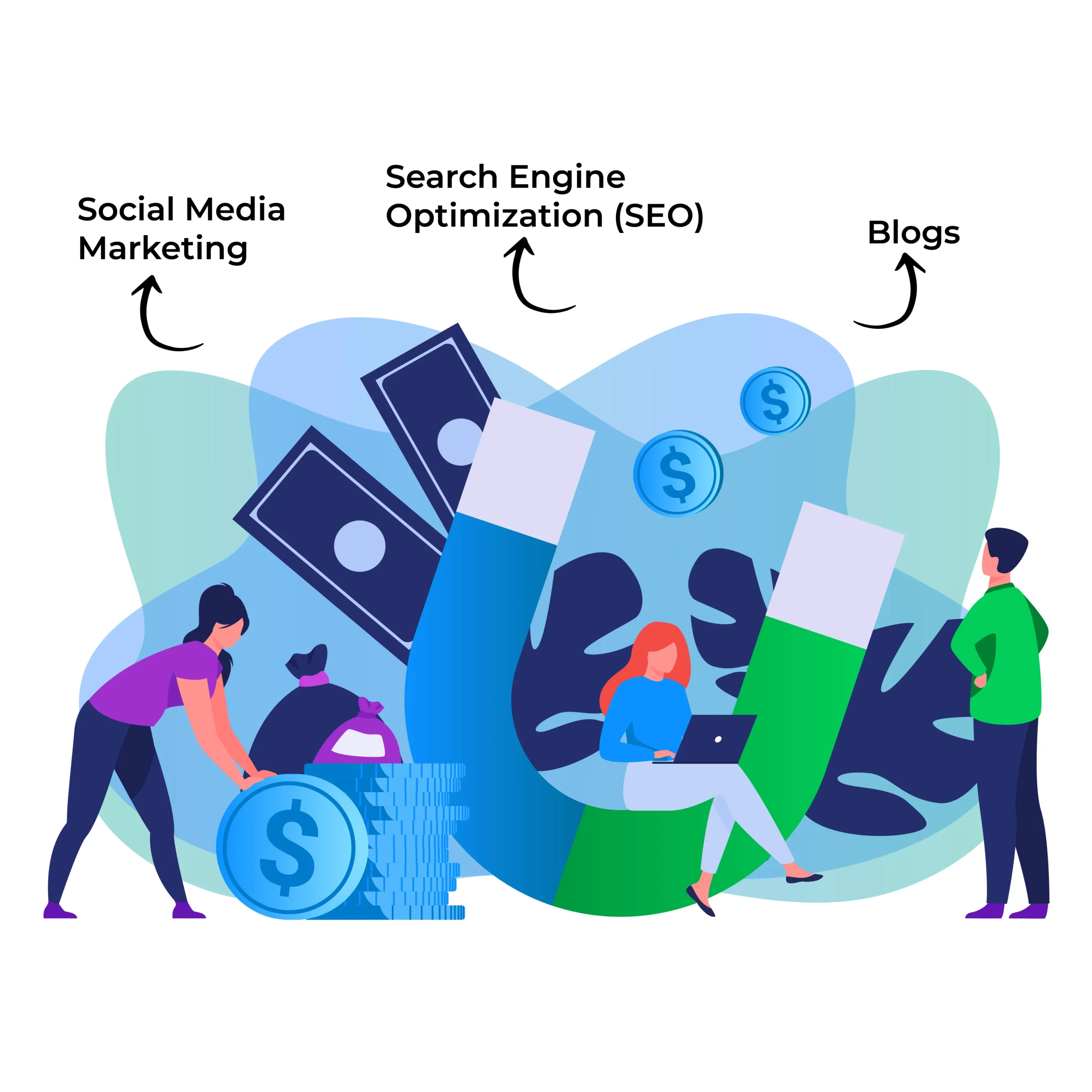 Let's look at some examples of pull marketing strategies –
Social Media Marketing
You can use social media marketing to assist your pull marketing strategies. You can create short video tutorials or sponsor an influencer to talk about your products. Moreover, you can create beautiful infographics and post them on your social media platforms. Collaborating with other companies to co-market your products is also a great way of attracting attention.
However, it is important to note that paid social media ads do not come under pull strategy examples.
Search Engine Optimization (SEO)
You can leverage the search engine optimization (SEO) strategy to increase your business's visibility in search results. SEO techniques make your content more visible to people searching for relevant phrases and keywords.
SEO is a great way to promote organic growth. When you add trending SEO keywords and phrases into your content pieces, you are more likely to draw your target audience. It allows you to contact your buyer personas without being too pushy.
Blogs
Blogs are conventional pull marketing tactics used by many firms. You can use them to create educational and informative content about your products and your brand. All the content you put out through your blogs will certainly help your consumers to make informed purchase decisions.
Using SEO and blogging tactics together proves to be very effective when it comes to marketing. You can optimize your blogs with SEO keywords to enhance the content of your blogs. Optimized blogs also garner wider traffic and engagement.
Push and Pull Marketing Difference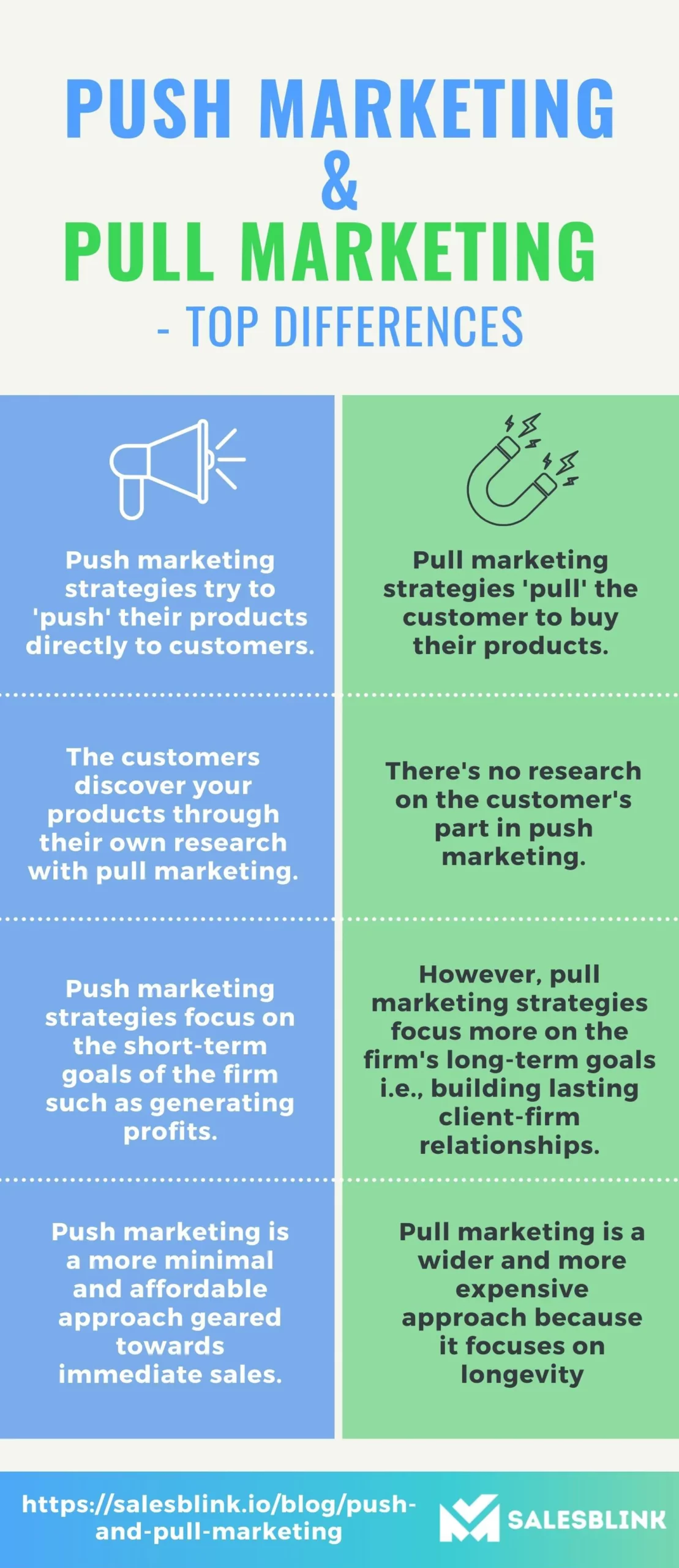 Even though both push and pull marketing are very similar in their approaches, there are still a few differences. Here are some of the differences between the two marketing strategies:
Push marketing strategies try to 'push' their products directly to customers. On the other hand, pull marketing strategies 'pull' the customer to buy their products.
The customers discover your products through their own research when it comes to pull marketing. There's no research on the customer's part in push marketing strategies.
Push marketing strategies focus on the short-term goals of the firm i.e., generating profits. However, pull marketing strategies focus more on the firm's long-term goals i.e., building lasting client-firm relationships.
Push marketing is a more minimal and affordable approach geared towards immediate sales. On the other hand, pull marketing is a wider and more expensive approach because it focuses on longevity.
Which is More Effective – Push or Pull Marketing?
Both the strategies are effective when it comes to marketing. It depends on the business to decide what type of strategy they want to utilize. As different businesses have different objectives, different strategies will work for them. What works for one firm might not necessarily work for another firm.
When deciding what marketing strategy to adopt for your business, you need to consider how you want to approach your customers.
It is advisable to use push marketing tactics to attract more attention to your products quickly. Similarly, you should use push marketing if you have a newly-established business and want to get the word out.
If you have enough budget for advertising campaigns, you should go for push marketing. However, you should employ pull marketing tactics if you run a small business with minimal capital. Many small businesses use social media platforms to create buzz about their products when they cannot afford to advertise their products in mainstream media.
Push marketing will work if your primary goal is to sell your products and clear your stocks. On the contrary, if you want your customers to patronize your products continuously, you should use push marketing tactics.
A majority of marketers use a multi-channel approach – they employ both push and pull marketing strategies to gain more traffic.
Tools Used For Push and Pull Marketing
There are many tools you can use for push and pull marketing. Let's look at some tools you can utilize.
Customer Relationship Management (CRM)
Pull marketing uses Customer Relationship Management (CRM) software as a tool. CRM takes care of your firm's interactions with your existing and potential customers. It enables your customers to have a seamless experience with your company. It streamlines all your customer data and organizes it effectively thereby optimizing your marketing and advertising efforts. Even SalesBlink has an in-built CRM that helps manage prospects.
Search Engine Marketing (SEM)
Search Engine Marketing (SEM) is yet another strategy used for marketing. It helps increase your business's visibility in search engine result pages(SERPs). SEM primarily uses paid advertisements to garner organic traffic for your website.
Google Ads
Google has made an online advertising platform known as Google Ads. It was formerly known as AdWords. Google ads fall under the pay-per-click (PPC) marketing channel. You can pay Google to display your ads on its advertising platform. On average, each ad costs between $1 and $2 per click. Google Ads can display your ads on Google and other search engines apart from it, too.
Marketing Automation Tools
Marketing automation tools handle routine marketing tasks without human assistance. You can use these tools to reduce your workload. These tools can send triggered emails or buy and nurture leads on your behalf. There are many marketing tools available for you. Some of them are HubSpot, Mailchimp, Eloqua, and Automizy. They all have different functionalities. You can choose the marketing automation tool you like best and use it in your marketing strategy.
When Should You Use Push and Pull Marketing?
You should use push marketing when you want to –
Launch a newly-established business
Release new products
Drive sales
Make use of temporary promotional campaigns
Generate quicker cash-flow
Clear out a product off the shelves before the end of a season
On the other hand, you should utilize pull marketing when you want to –
Focus on long-term business growth
Improve customer loyalty
Garner more customer engagement and visibility
Improve your social media presence and increase website traffic
Bring organic traffic to your brand
Increase the amount of revenue during the long-term
Make use of an affordable marketing strategy
Pros and Cons of Push Strategy
Let's take a look at the pros and cons of the strategy,
Pros:
Push strategy increases consumer awareness of your brand.
It helps to close sales more quickly.
It increases the exposure and demand for your product in the market.
It works best for manufacturers trying to create an efficient sales channel.
Cons:
It needs a big advertising budget to fund all the various promotional activities.
The market demand is for a short time period since the push strategy focuses only on the short-term.
Push strategies might even deter some customers from buying your product. A lot of times, people consider push strategies as too sales-y.
Pros and Cons of Pull Strategy
Pros:
It helps to build customer loyalty.
Customers become patrons of your products.
Pull strategies focus more on establishing brand equity and product value.
There are chances to secure more sales as customers themselves reach out to buy your products.
Cons:
It might take a long while to generate an adequate amount of sales.
Lead time is long when it comes to pulling strategies.
Requires consistent effort from the marketing team to advertise the products.
Creating a buzz around the product might be difficult in a highly competitive marketplace.
How Does Push and Pull Marketing Work Together?
Most marketers create a mix of push and pull marketing strategies when designing their marketing strategy. You can use both inbound and outbound marketing to get the most out of your marketing efforts.
Push marketing creates customer demand and product awareness in the market. You can push your products by constantly developing product upgrades and offering them at stores. Later on, you can create buzz around your product upgrades by advertising them on various platforms.
As both push and pull strategies have their own pros and cons, it is advisable to use a mix of both. An integrated marketing approach will bring the best of both worlds.
What Does The Future Hold For Push And Pull Marketing?
Push notifications are quickly gaining traction as one of the most widely-used push strategies. A lot of marketers are making use of push notifications to promote their products via mobile.
Similarly, pull strategies like leveraging social media for promotion seem to be highly advantageous. Most brands are advertising on platforms like Instagram and TikTok to attract a wide audience and lure them in.
There's a bright future for both marketing strategies. Push and pull techniques are tried and tested by many marketers time and again. So, firms will surely continue to use both in future. A good mix of both strategies can build a comprehensive marketing strategy that is bound to bring more sales to your firm. Therefore, it is in your best interests to start using these strategies as soon as possible!
In this post, we saw the push and pull marketing strategies, their pros, cons, and the various tools you can use to make use of these strategies.
We would be glad when you utilize all that you have learned in this blog while building your marketing strategy!
FAQs
What are push and pull strategies in marketing?
Push marketing is a promotional marketing strategy wherein businesses take their products/ services to customers. A pull marketing strategy involves businesses trying to 'pull in' customers with subtle marketing.
What is the difference between push and pull marketing?
Push marketing is about pushing your product/service to customers & it focuses on generating sales. However, pull marketing focuses on pulling customers towards them & building relationships with clients.
How do technology-push and market-pull influence customer needs?
Using the market-pull approach, it is easy to provide products that customers need. On the contrary, the technology push approach offers new products to the market regardless of the need.