14 Most Used Email Lookup Tools And Methods
Prospecting can be tricky. Did you know that almost 40% of salespeople feel that it is more challenging than other phases of the sales process? If you feel the same, you are not alone! It's tough to build a connection with leads when all you have is a lead's name or company website at hand. There is no doubt that a valid email address is worth its weight in gold as you can directly connect with your prospect but how do you find it? Email lookup tools can be of use help here.
Most often, while prospecting, you may know exactly who you want to connect with but not have their email. While you can manually dig publicly available emails online, it can be time-consuming.
Have you been in this situation before? It can get too overwhelming at times and may result in you losing the lead for good.
Email search tools solves this difficulty and save you from racking your brains over a task you find tough to do. We have curated a list of the top-rated email lookup tools for you. But before that, let's take a look at what email lookup tools are, their features and how to pick the right tool for yourself.
What Is An Email Lookup Tool?
An Email Lookup Tool is an automated software that assists a company or individual to find emails on the internet from numerous platforms using a domain name. The majority of the tools are robust and efficient, making your job easier.
Functions Of Email LookUp Tool
Email address lookup tools parse HTML pages and locate email addresses published online. You can use the tools to search email addresses in single or bulk email searches. 
On the other hand, some tools house an extensive database of business email addresses to provide you with what you are looking for. SalesBlink is one such tool.
Ways To Find Email Addresses
1. If I only have the prospect's entire name and the firm name, how can I get their email address?
Many possibilities are available with email lookup services. If you need to find a person's email address, simply enter a person's full name and the company's domain name, and the email lookup tool will handle the rest. Use the Mass Email Search tool to find emails in bulk by uploading a CSV file with columns for prospects' first name, last name, and domain name.
2. If I know the company's website, how can I get the email address of its team?
You might want to compile a list of potential candidates who work for the company you're considering to reach out. Use the email domain lookup option in this scenario. All you need is the domain name of a company. If you still don't know how to set up your domain name, you can visit this website for additional information. The tool will generate a list of persons you can sort by position. Their email addresses will appear as soon as you add them to your list. Bulk Email Search makes it simple to obtain employee emails from various organizations. Here you have two choices —You can use your PC to upload a CSV file containing domain names or select one of the companies from the lists you've found already.
3. If I have links to prospects' social media accounts, how can I obtain their email addresses?
Using Social URL Search, you may find email addresses in bulk on LinkedIn and Twitter. You must supply a CSV or TXT file containing links to these social media sites. After that, the email finder will generate a list of their validated emails.
Why Should You Use Email Lookup Tools?
You may need to use email address lookup tools for marketing or sales purposes. In the prospecting stage of the sales cycle, reaching out to people for business-related communication using email is quite effective. Also, it's critical to verify that the email address you've obtained is authentic. Because you don't want your email marketing newsletter to bounce, you should double-check as soon as possible that you're working with real people.
14 Best Email Lookup Tools
There are numerous email lookup programs available to assist you in locating any person's email address. Some work as separate apps or websites while some work as browser extensions.
Here are a few effective email lookup tools for locating someone's email address
1. SalesBlink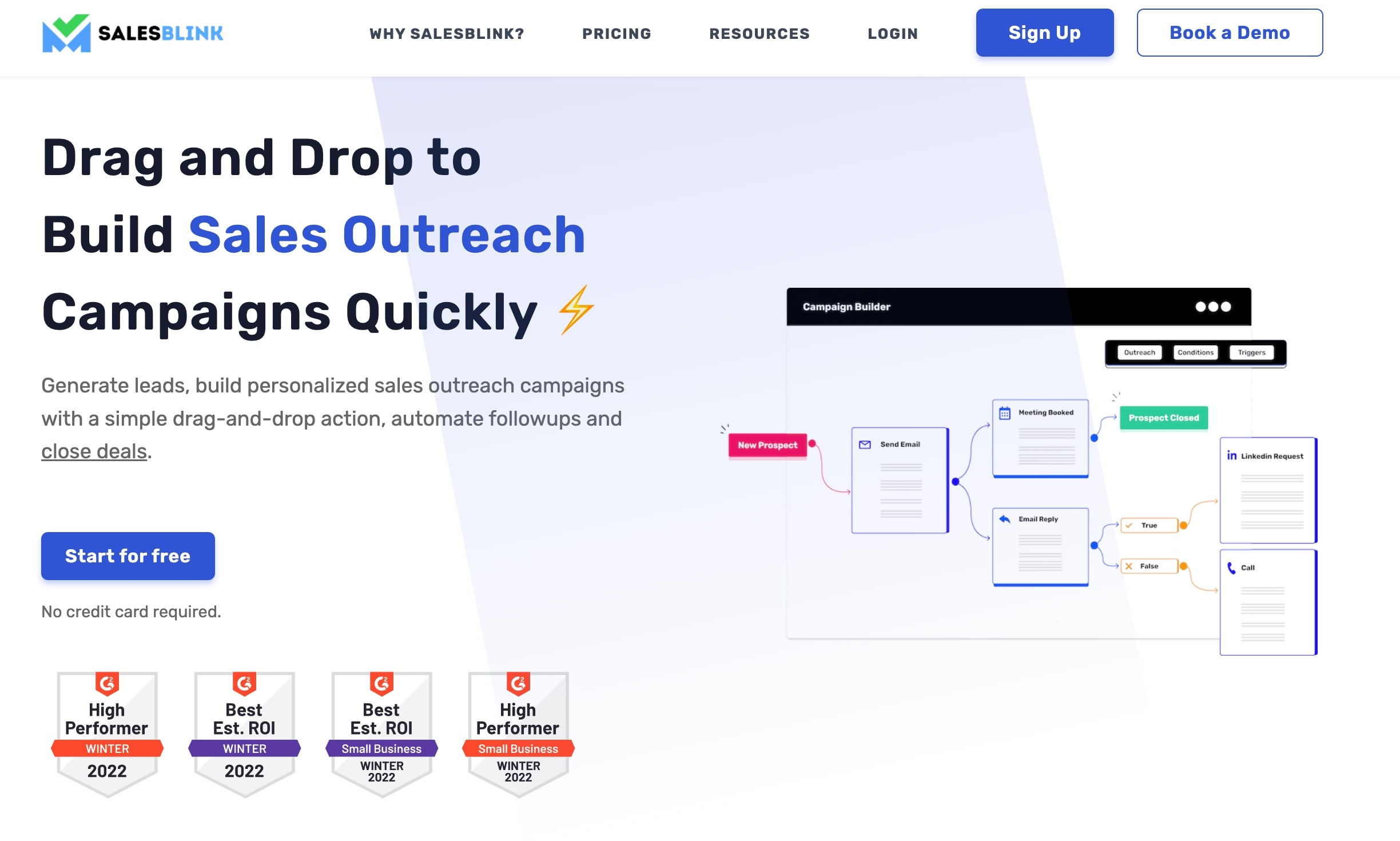 It allows you to look up a lead's email address by their first name, last name, and company domain. There is no limit to the number of searches you can perform on a single email or in bulk. You obtain verified email addresses from a database of over 1 billion email addresses with 99% accuracy.
It lets you find a single email address or search for addresses in bulk by uploading a CSV file. You don't have to buy a separate email search and email verification tool when you have SalesBlink. With verified emails, there is a lower chance of email bounce.
Apart from prospecting, SalesBlink takes you through outreach and closing rather effortlessly. It helps automate email outreach and helps with LinkedIn Outreach.
Pros
Has a user-friendly interface and is easy to use.
Has a built-in tool to verify email addresses.
Provides the option to craft email templates using AI.
Has much more to offer than just prospecting.
Cons
Pricing –
The Sales Engagement plans include:
Basic – $49/mo/user
Professional – $69/mo/user
Enterprise – Request Quote
The Prospecting plan includes
Prospecting Pro Plan – $49/month
Enterprise – Request Quote
The Email Warmup plan is at $19/mo/sender.
2. Hunter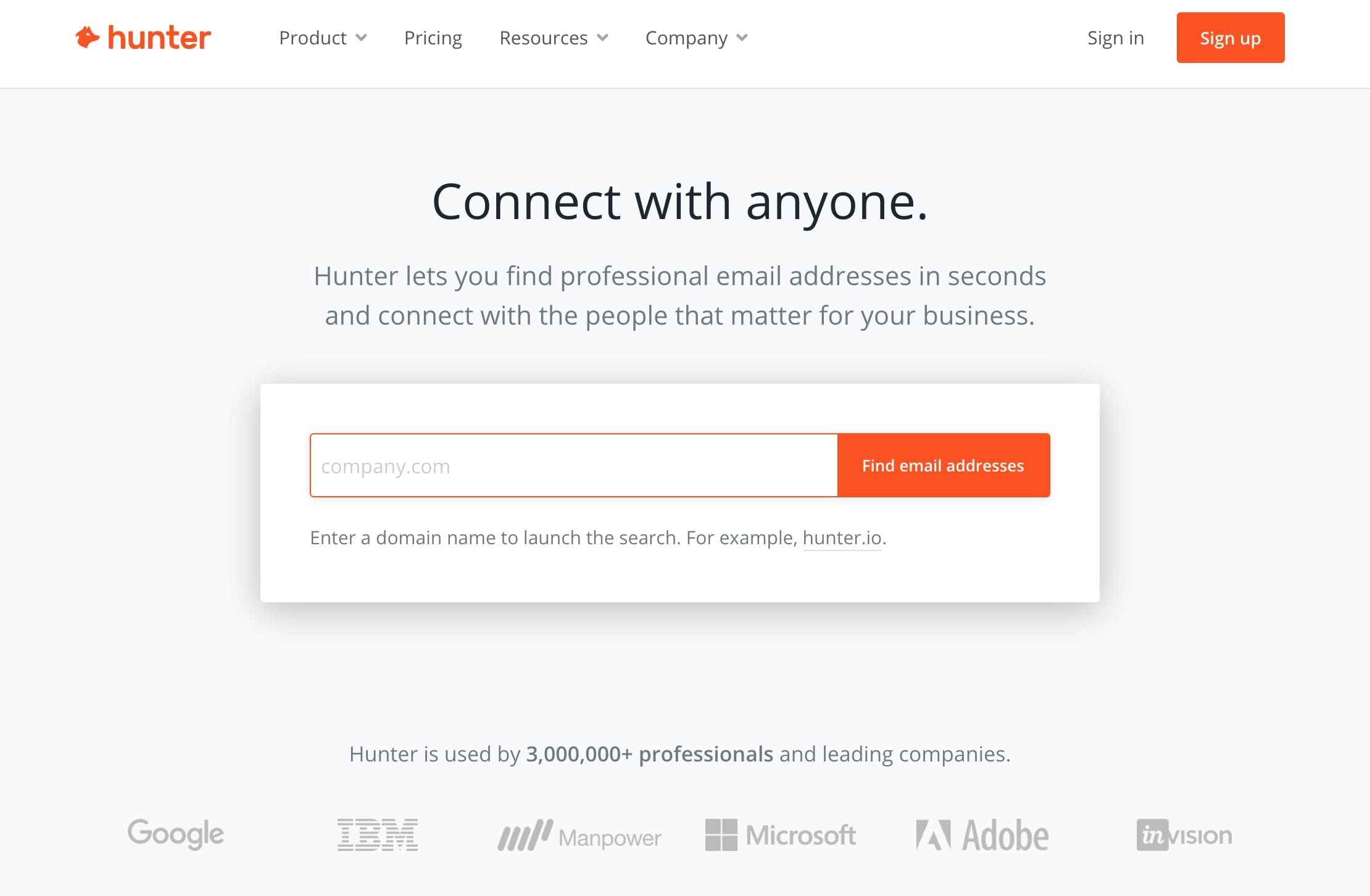 It is a tool that allows you to quickly find email addresses for your company. You can make a list of all of your personal and role-based email addresses and even double-check them.
Hunter presently has almost 100 million email addresses in its database. Hunter displays either a confidence score generated using its sophisticated algorithms or a verification mark that indicates that the email is valid. Simply enter a firm's URL into the tool, and Hunter will return a list of emails belonging to that organization.
Pros –
Is beginner-friendly.
Is available as a Chrome extension.
Cons –
Pricing –
A free plan for 100 email searches is available. Paid plans for 1,000 requests start at $39 per month.
3. HireEZ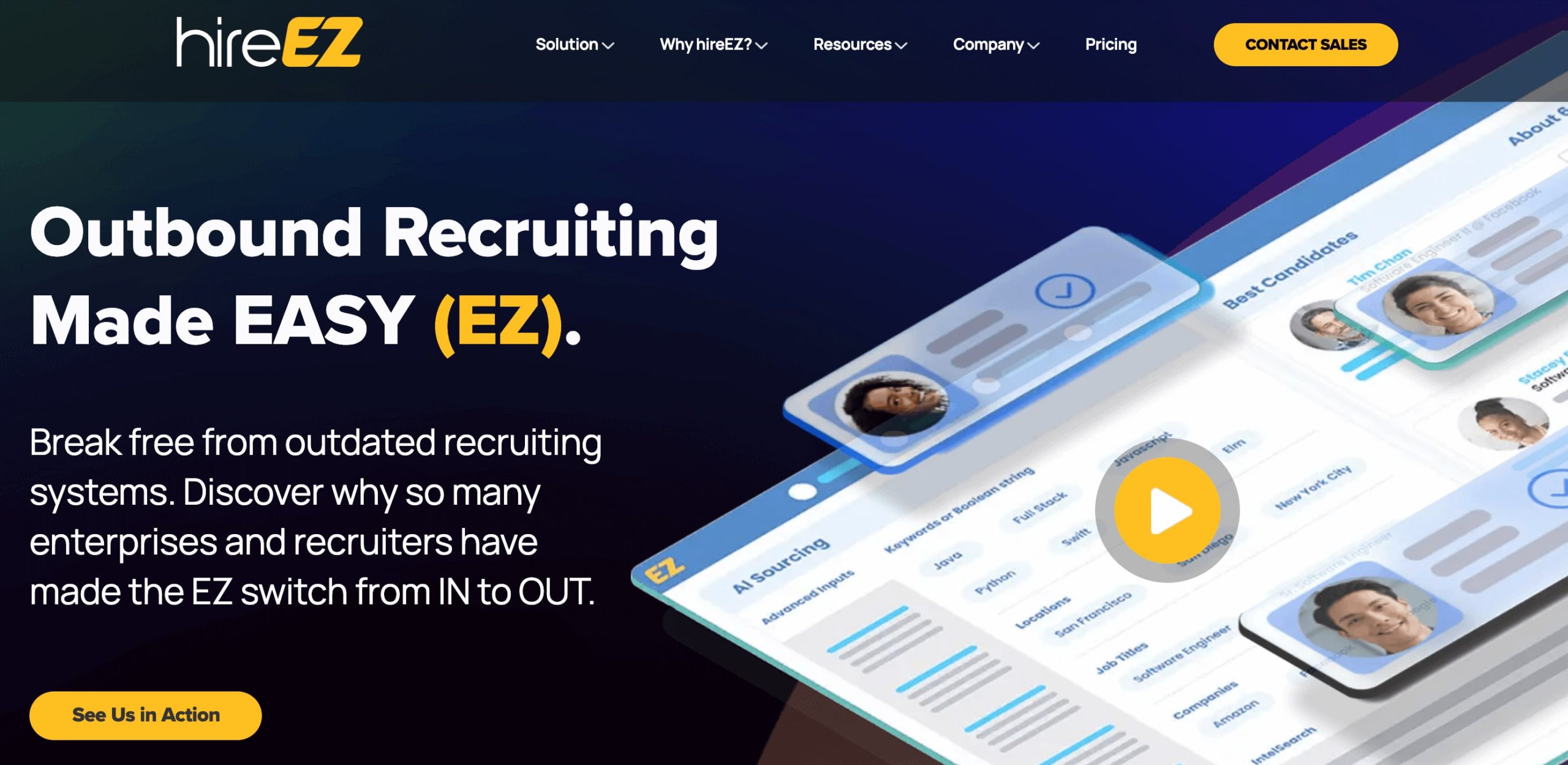 It's a powerful chrome addon that not only retrieves email addresses but also gathers extra details such as experience, seniority, and salary range. HireEZ also includes an AI-powered sourcing assistant. You can submit sourcing assignments, and the AI assistant will do the work for you.
Pros –
Supports both Gmail and Outlook
Has AI-assistant
Is available as a Chrome extension
Cons –
Pricing – A free trial that allows you to conduct 10 searches each week, and a premium subscription that allows you to perform 200 searches for $89 per month.
4. Voila Norbert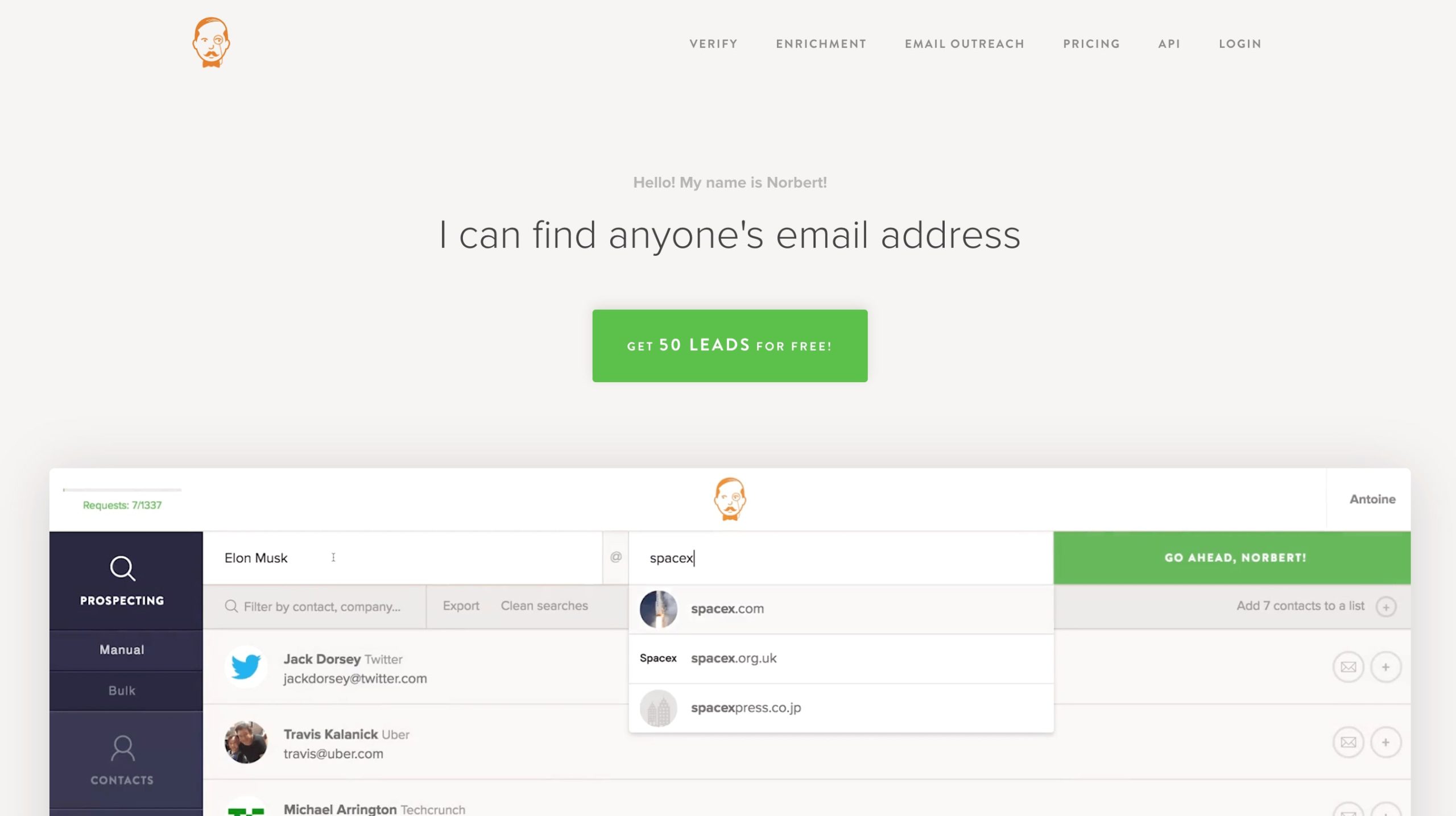 Norbert, a virtual assistant, was created to assist salespeople and other professionals find more correct email address information. Instead of using a plugin or a separate program, you'll use your browser. You can enter whatever information you have right now, and Norbert will conduct an online search for the rest of the information you require. You can also confirm emails in real-time to ensure that your messages don't get bounced.
Pros –
Offers high accuracy
Is easy to use
Cons –
Pricing– The starting package is $49 per month for 1,000. You can also buy credits on a pay-per-lead basis for $0.10 per lead.
5. Anymail Finder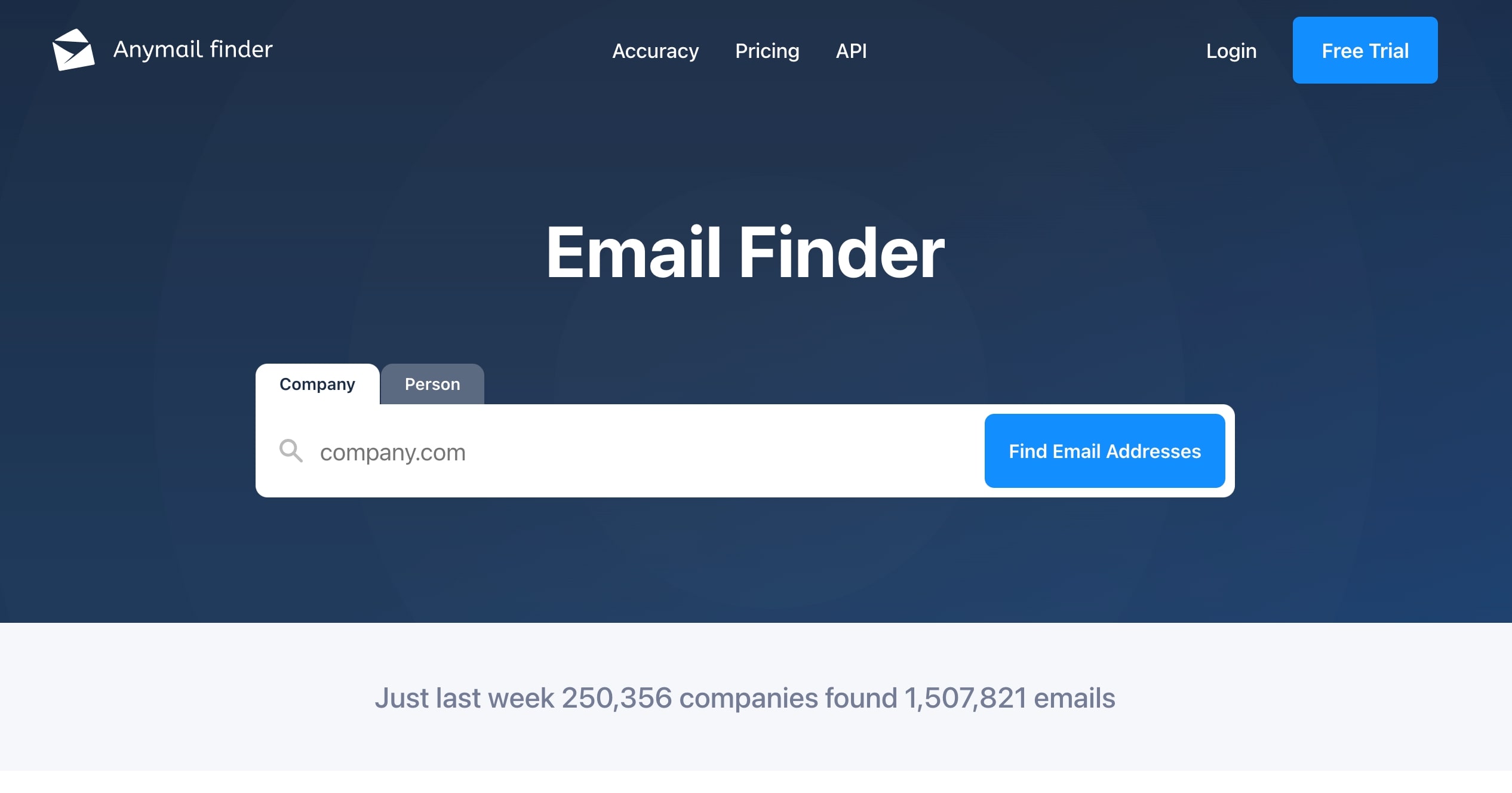 This program allows you to search for emails individually or in bulk. When you enter your prospect's name and company website, the tool will predict their email address and allow you to copy it with a single click. Anymail analyzes billions of web pages and conducts direct server validation to find emails. They only charge for successfully verified email addresses that are unique.
Pros –
Verifies email addresses
Has a user-friendly interface
Cons –
Cannot find phone numbers
Pricing – You can try the tool for free without creating an account. Signing up, you'll get access to 20 free searches. Premium plans cost $49 per month and include 1,000 confirmed emails. You only pay for emails that will not bounce, according to Anymail Finder.
6. Sellhack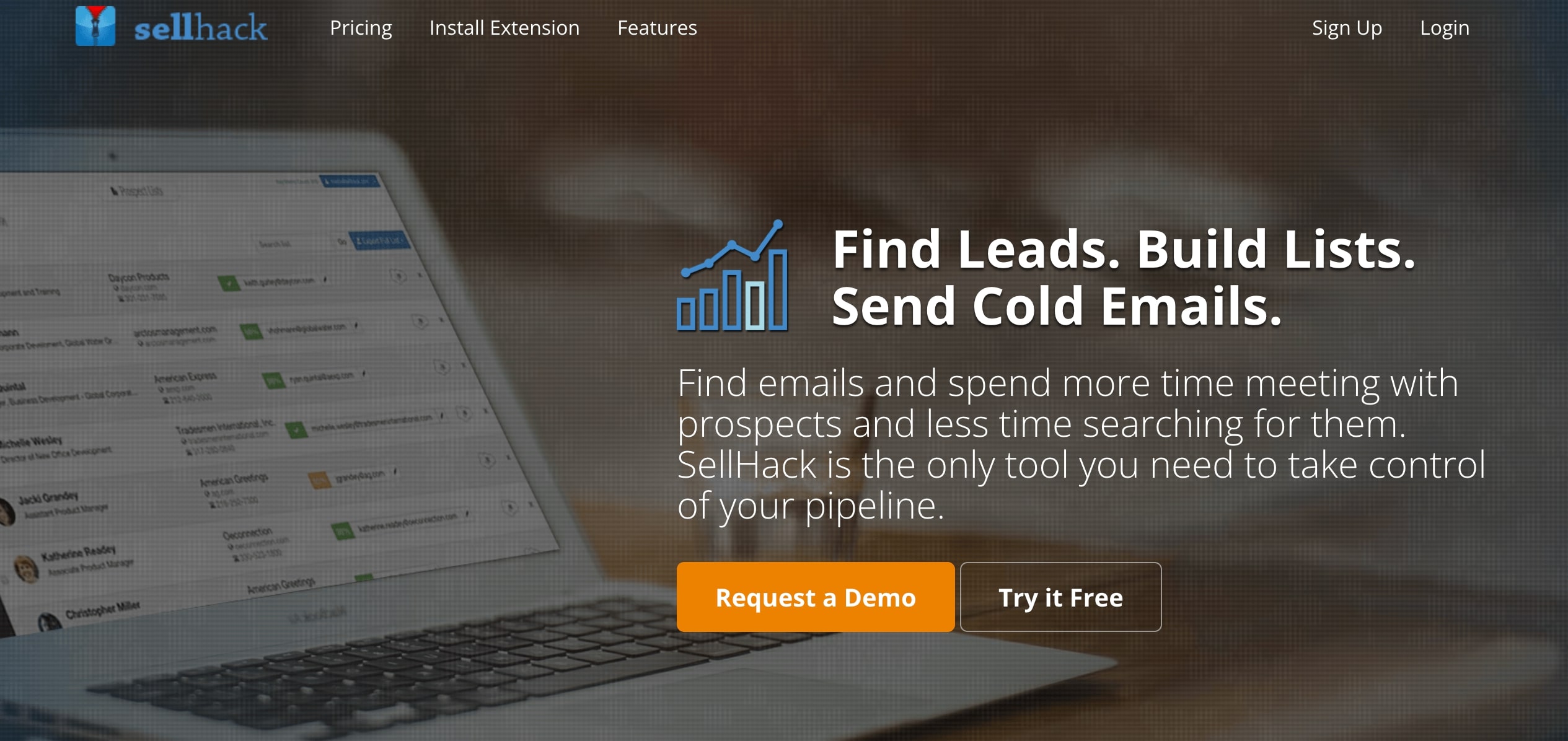 It is a simple and effective browser extension and lead generating tool that helps you find email addresses, develop lists, and ultimately close more sales. The service employs a "industry-leading" 12-step email verification engine to identify accurate email addresses.
You may even send tailored cold emails directly from your email account to the prospects you locate using one-click integration. A bulk email lookup option is available.
Pros –
Is compatible with LinkedIn Premium
Is available as browser extension
Cons –
Email validation can be better
Pricing – You get the first 150 search credits for $19 per month. The "Starter" plan is for $49 per month while the "Pro" plan costs $99 per month.
7. Rocket Reach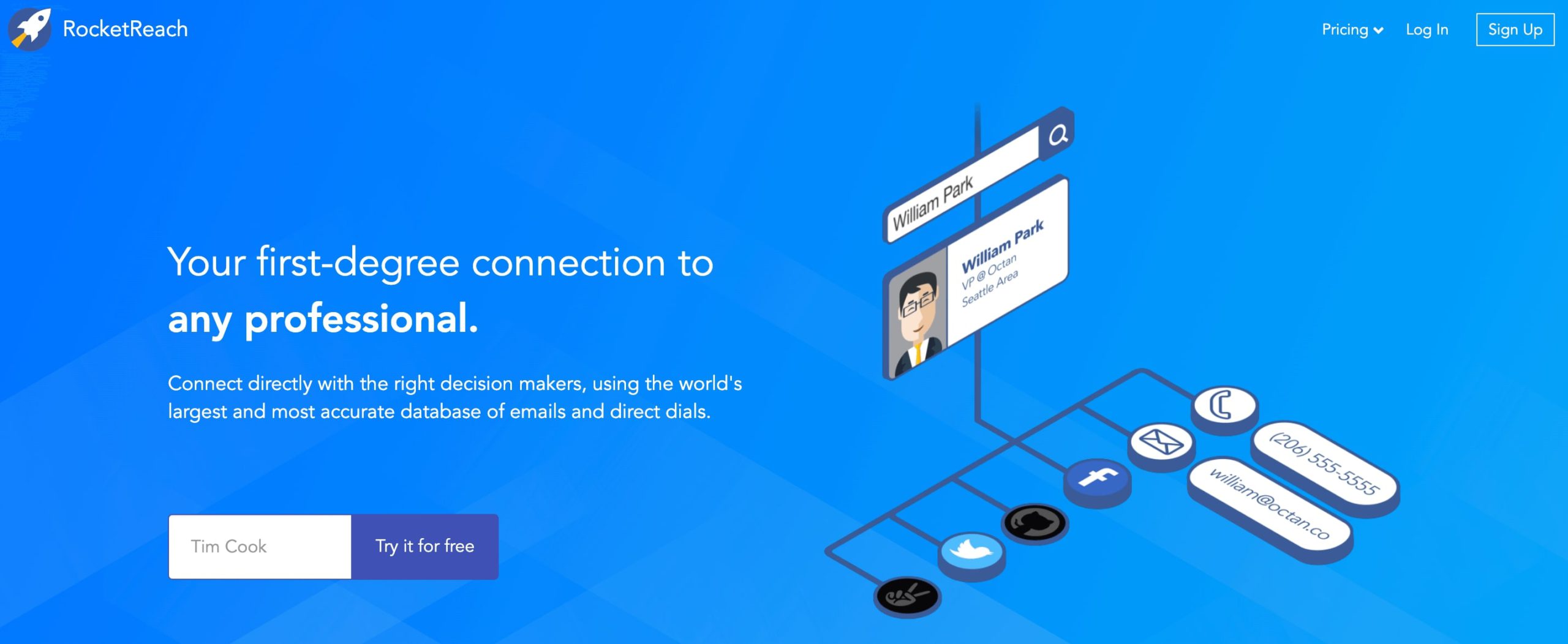 It is the most accurate and user-friendly email finder. It will return emails and social links for at least 85 percent of your prospects. To ensure that emails do not bounce, they are all SMTP verified. For optimum accuracy, emails get checked in real-time. Find the email, social media, and phone numbers of over 250 million professionals worldwide. RocketReach provides an extensive database of potential contacts.
You can search this database for information on your prospects, such as email addresses, phone numbers, and other profile data, and then validate it. You'll even be able to find phone numbers to follow up with. You'll never have to waste time prospecting manually again. The RocketReach API and 170 custom lookups are available for $49 per month.
Pros –
Is easy to use
Provides LinkedIn integration
Cons –
Database is not large enough
Pricing – Free lookups for the first five searches each month. 125 monthly lookups for $59, 300 monthly lookups for $119, 1,500 annual lookups for $468 and 10,000 annual lookups for $2388.
8. Vocus.io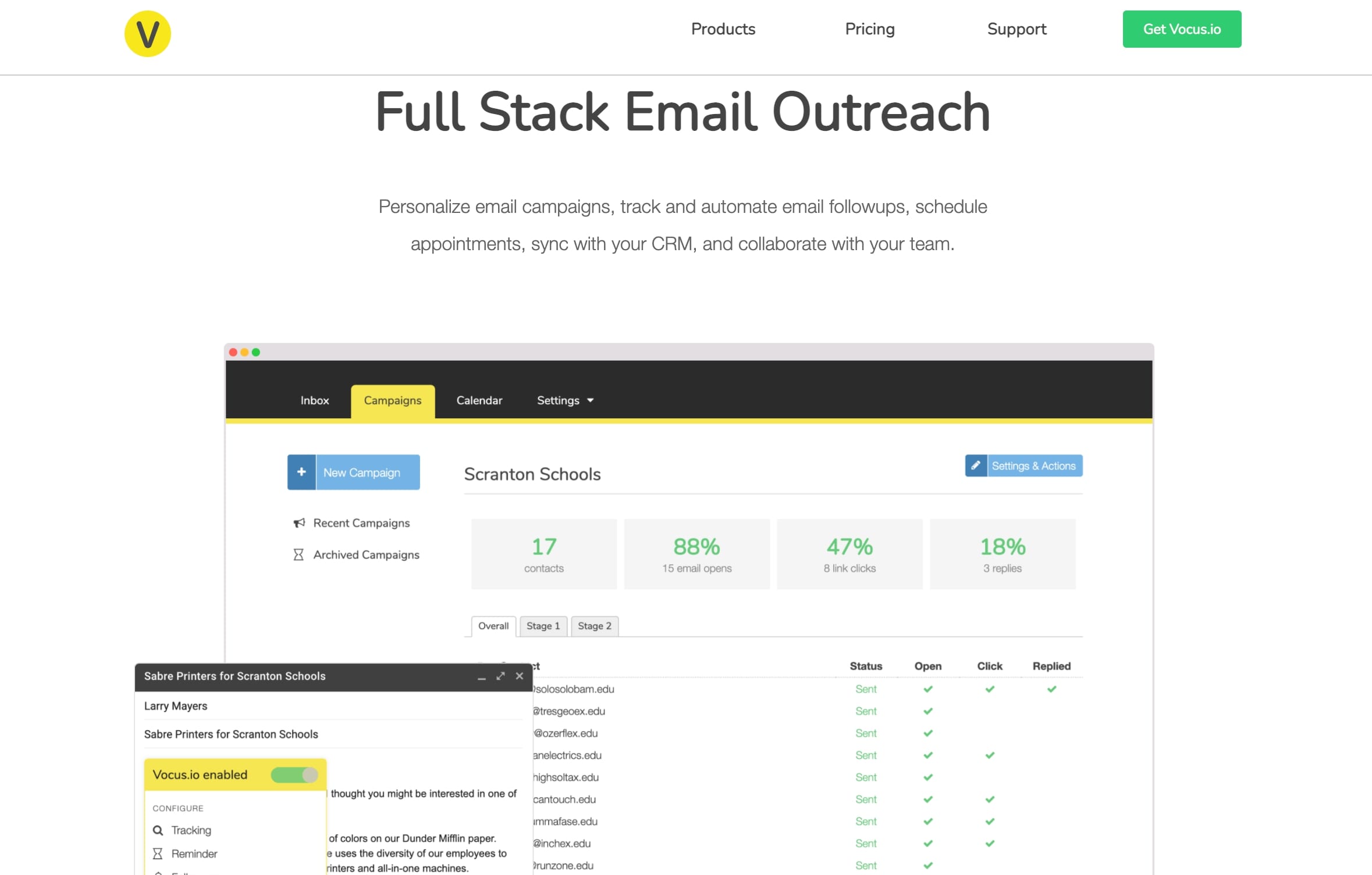 It's a Chrome extension. When you enable it, you can put in anyone's name and see if they have an email address. After you enter a company's domain, the extension will provide a list of possible email addresses for that person. It can swiftly narrow down the possibilities to the correct ones when used in conjunction with its email verification tool. Other capabilities of this program include email scheduling, automated reminders, and integration with CRMs. It does not support bulk searches at the moment, but it specializes in customized searches.
Pros –
Is feature-rich
Is easy to use
Cons –
Hyperlinks have Vocus tracking links
Pricing – The free 30-day trial includes 3 prospecting credits every day. The $5/month Basic plan comes with 20 prospecting credits and 100 email validations per day.
9. FindThatLead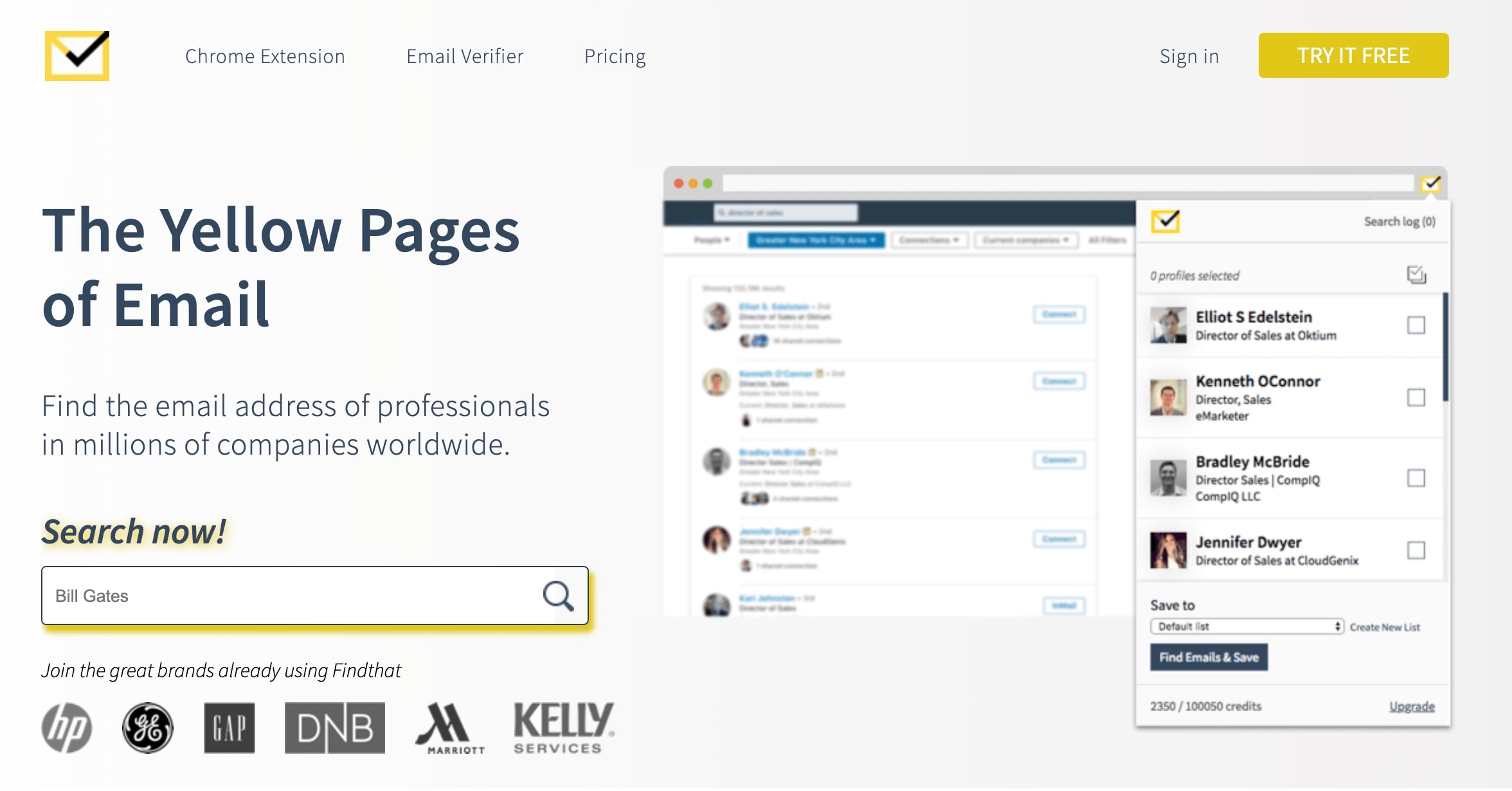 It is the Yellow Pages of email, according to its website. It allows you to type a person's name and domain and then receive a set of possible email addresses which fit those specifications. The search engine ranks the emails based on how sure it is that the email address is the "right" one.
Pros-
Is a simple tool
Allows integrations
Cons-
Pricing – You'll get 50 searches each month and 100 credits to spend to verify different email addresses with the free plan. There's even a Chrome add-on to help you with your searches. The $29/month Starter package comes with 250 search credits and 1,000 verified credits.
10. WebDef
It searches billions of web pages for millions of company emails and compiles them into a single prospect list. You can use WebDef to enter a firm's website and instantly generate a list of email addresses for that company. Some of these addresses will be automatically validated, while others may require manual verification before sending an email.
You can be sure of emailing the appropriate person as you'll be able to see a list of boxes that contains all the email addresses. You may also export all of your emails to a CSV file to keep track of them.
Pros –
Is easy to use
Offers a free trial
Cons –
Pricing – You get 200 searches each month with the free trial. They currently offer one Pro package for $29 per month that allows you to conduct 2,000 searches each month.
11. The Datanyze Insider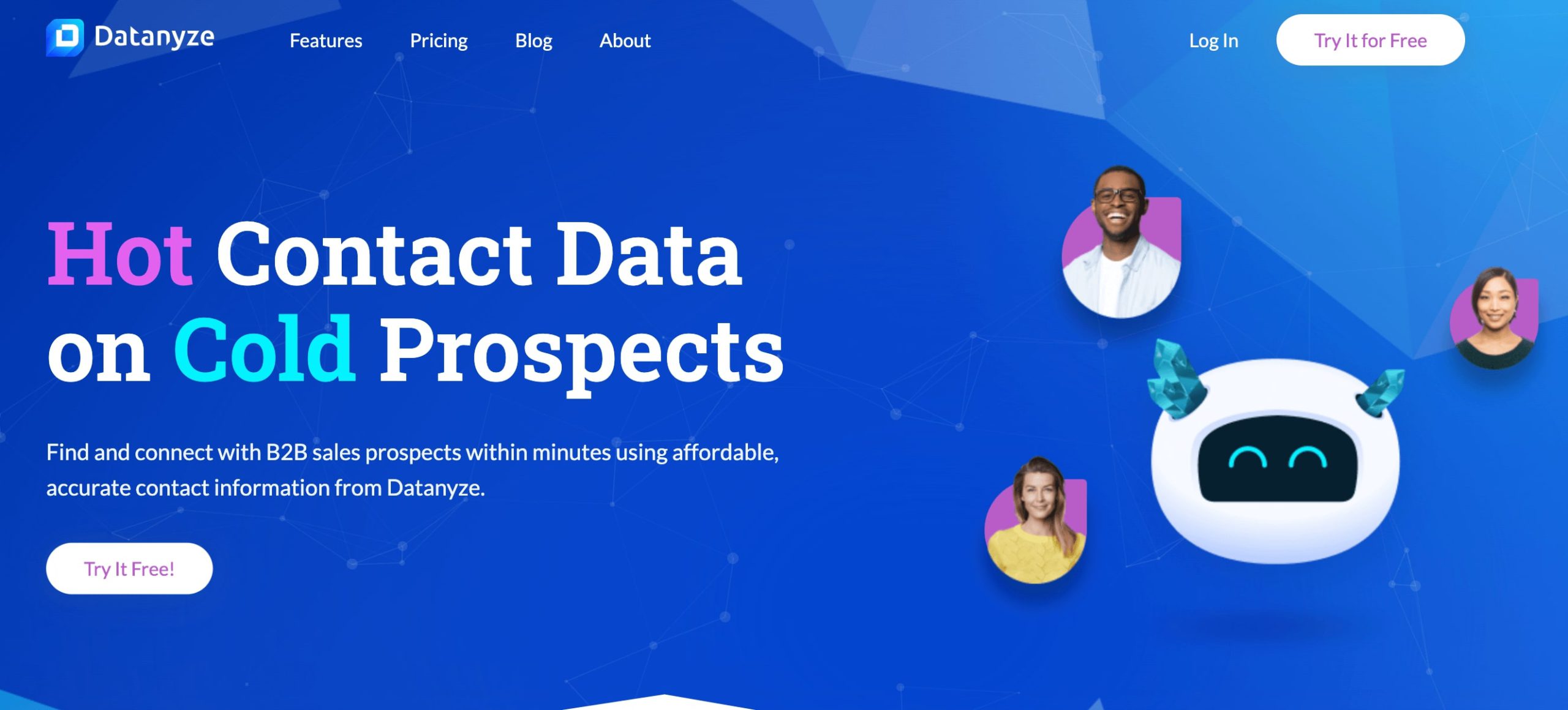 It's a browser plugin that allows you to find email addresses by simply highlighting someone's name wherever it appears on the internet. The email finder then pings several email addresses to determine which one is the most likely. You may use it to create prospect lists, possibly including information from your CRM, and it will automatically pull data from social media and some other online sources. Once you have their email addresses, you may export a list and use it as needed in your sales process. You can also use the web to highlight someone's name and generate a list of possible email addresses for just that individual.
Pros –
Is available as a Chrome extension.
Has a vast database
Cons –
At times provides outdated details
Pricing – Datanyze's modest plan includes a 90-day free trial and ten credits per month. Nyze Pro 1 plan includes 960 credits per year for $29 per month or $21 per month if paid annually. Nyze Pro 2 plan gives you 1920 credits every year for $55 per month or $39 per month if you pay yearly.
12. Lusha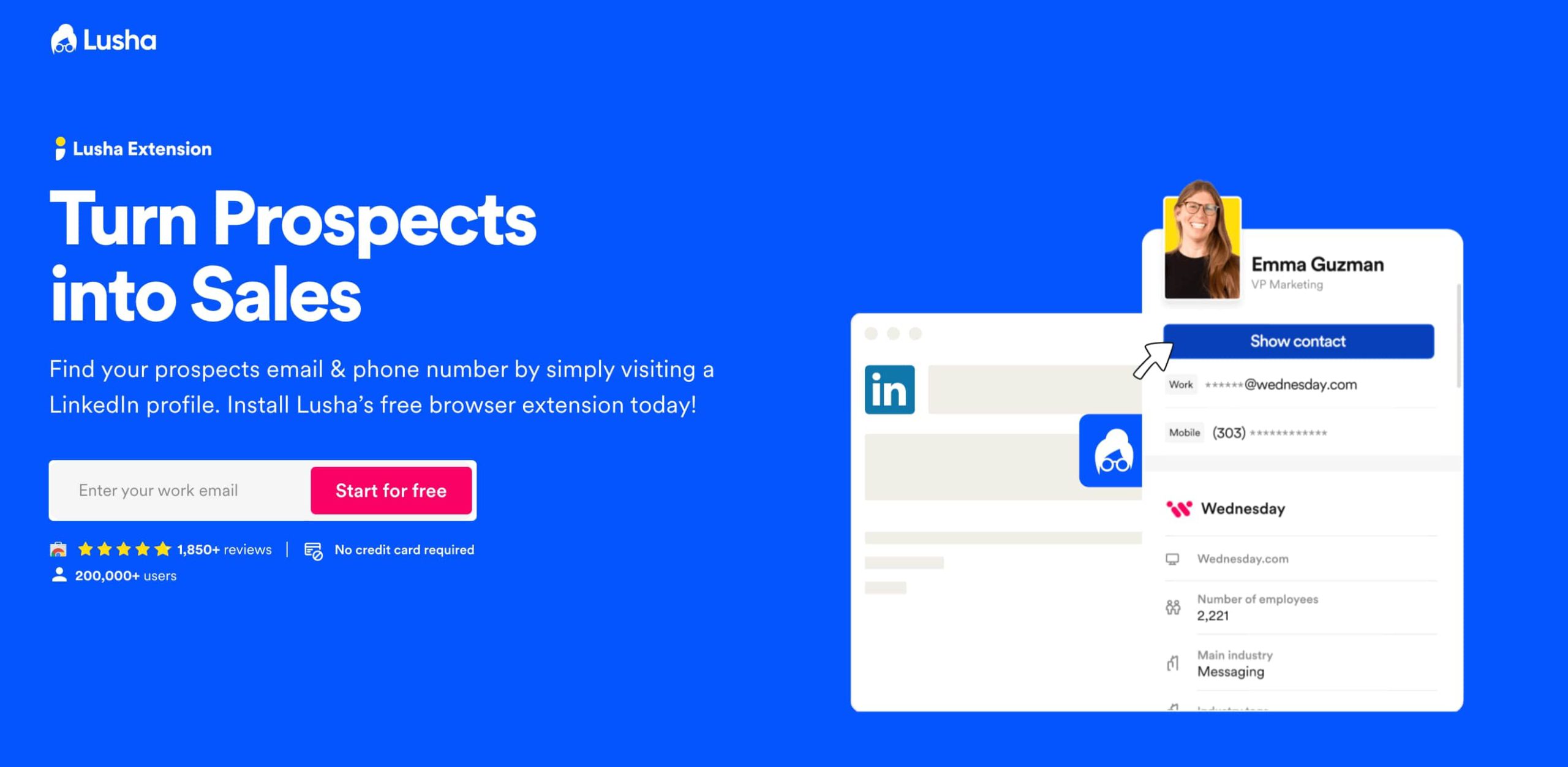 Lusha is an email-finding tool that you can use to find sales leads as well as job opportunities. It presently contains 36 million company profiles, more than 30 million C-level profiles in its database. Lusha is a Chrome extension that gives phone numbers and emails for your contacts, making it a viable choice for multi-channel outreach. Lusha is ISO 27001 certified and CCPA and GDPR compliant, so you can rest assured that you're always abiding by the law when you're using it.
Pros –
Has a simple UI
Has a vast database
Cons –
Pricing – It costs $0 per month for 5 credits per month initially, then $99 per month ($79 per month billed yearly) for 100 credits per month. For 300 credits per month, the Premium plan costs around $249/month ($199/month invoiced annually) and they also offer custom pricing for custom quantities, especially for enterprises.
13. Overloop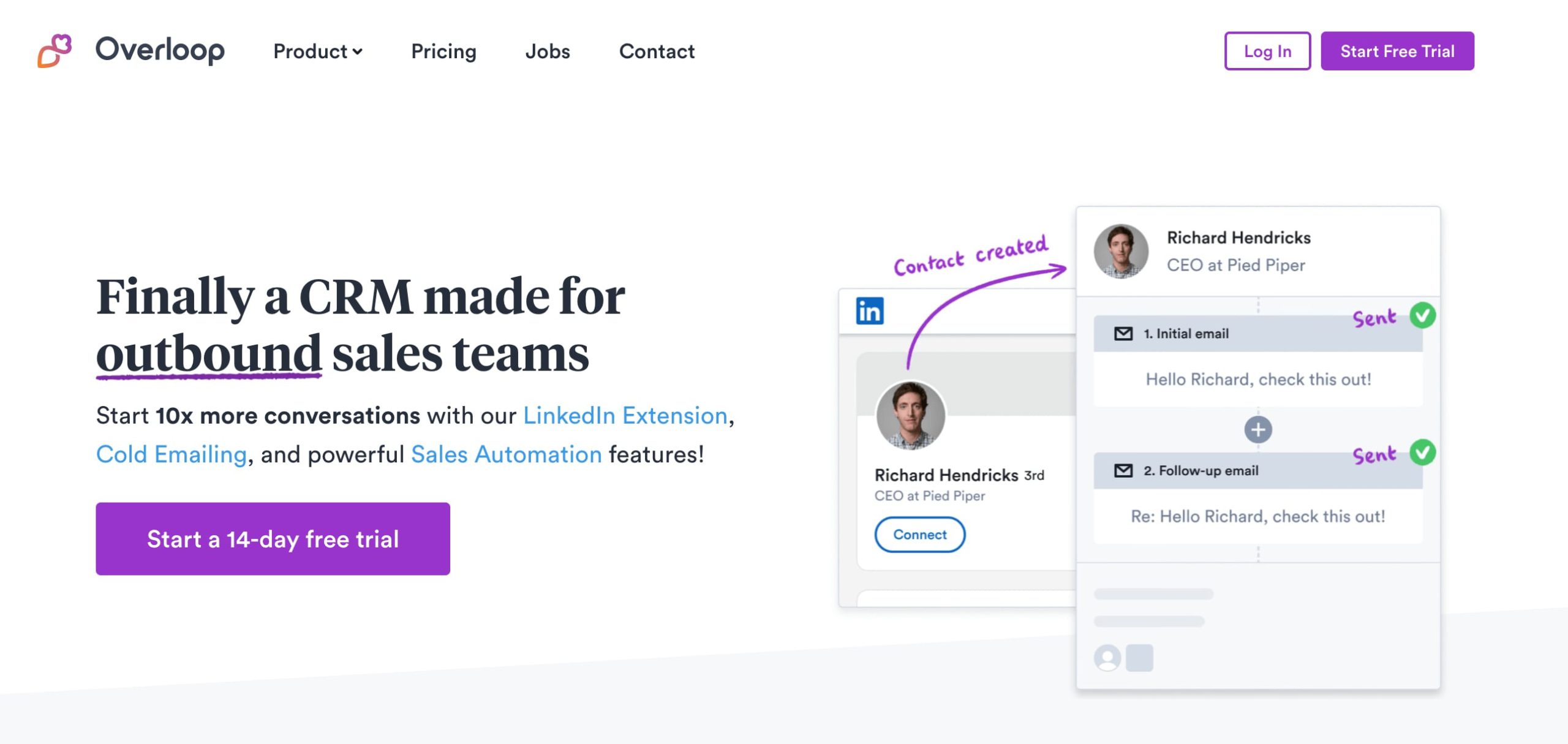 This email finder tool is a part of the sales automation platform. It allows you to harvest email addresses of the leads that are publicly available in seconds. Search for individual and bulk emails using a prospect's name and a company's domain. Extract single or many email addresses using LinkedIn profiles and business websites, including prospects' names, job titles and firms using the Chrome extension. You can export prospect lists in CSV and Spreadsheet formats. Google Apps, Hubspot, and Outlook are just a few examples of tools that you can integrate with prospect.io. You may incorporate email search into your application or CRM using this API.
Pros –
Has email verification features
Creates email campaigns
Cons –
Pricing – $79 for 250 email credits each month.
14. Clearbit Connect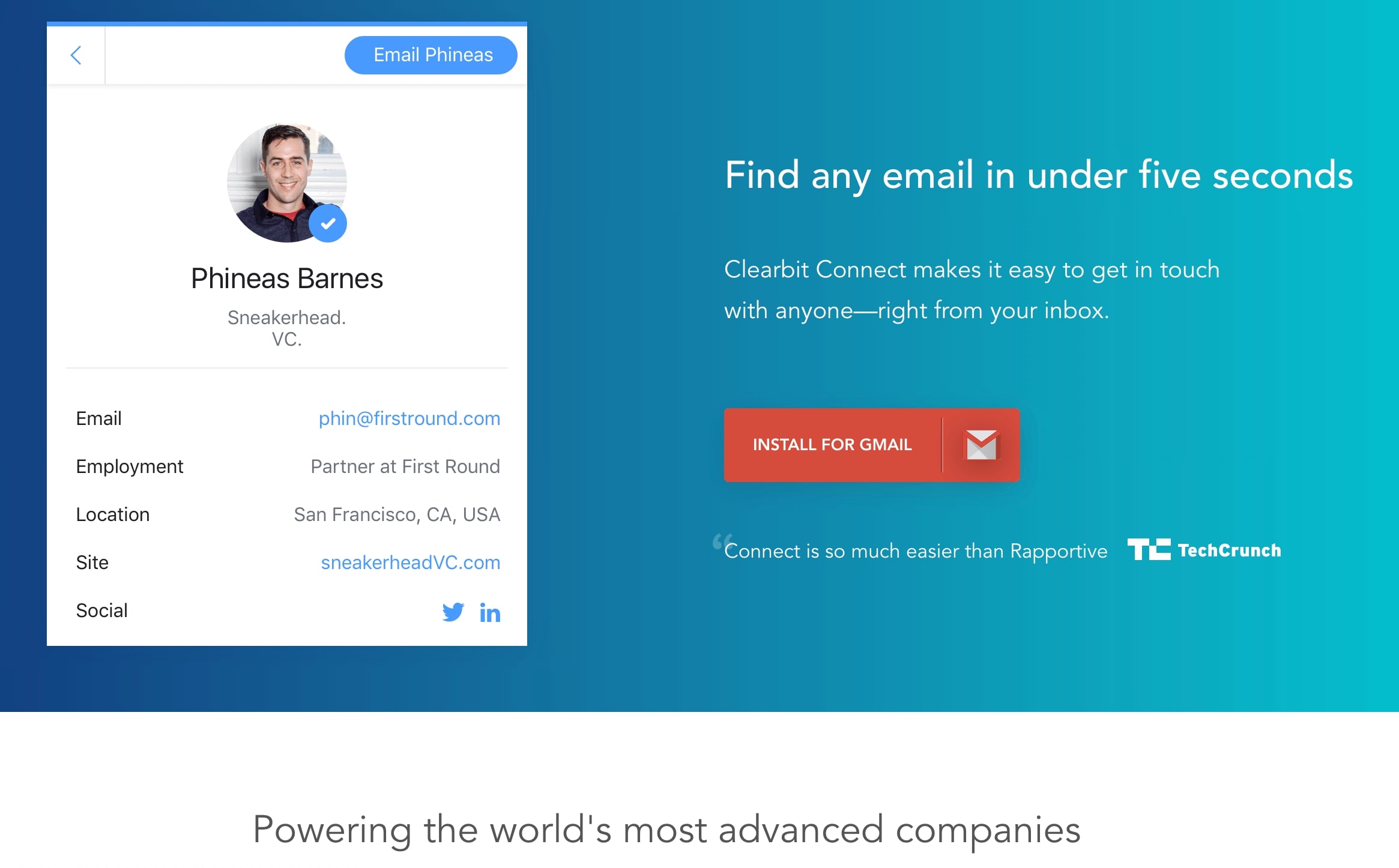 This is another Gmail plugin that lets you search for someone's email address directly from the compose screen. Non-Gmail users need not worry as Clearbit also has a web browser utility. It's a free Gmail extension which lets you search for contacts directly from your inbox using their domain or company name. Each user can use upto 100 free lookups each month. It also allows you to quickly locate any business email address, even if it's not in your address book. From simply a firm name and title, it will provide a name, title, location, and email address. To get started, simply click the Clearbit symbol in the compose box of Gmail.
Pros –
Has a vast database
Is easy to integrate
Cons –
Pricing – They offer tailored plans.
15. LeadFuze
LeadFuze is a SaaS tool for prospecting. It allows users to build targeted prospect lists by using advanced search filters, and it also integrates with popular CRM systems for easy management of leads.
With LeadFuze, users can find contact information for potential customers, including email addresses, phone numbers, social media profiles, and more. The platform uses advanced search algorithms to help users find leads that match their target audience, and it also includes tools for email outreach and lead tracking.
Pros –
Is easy to use with a user-friendly interface
Has a range of integrations with popular tools and services.
Suitable for businesses of all sizes, including startups, small businesses, and enterprise-level organizations.
Cons –
Is not very cost-effective
Pricing – The paid starts at $147/mo.
Tips To Choose The Right Email Lookup Tool
Picking the right email address lookup tool is very important. But how will you know which one is the right tool? Check if the email lookup tool meets the following criteria before making your decision:
1. Goals
Define your goals while keeping in mind the size and scope of your firm. Shortlist Lookup tools while keeping your sales goals in mind. These objectives will direct you in the right direction.
2. Pricing
Many businesses adopt a freemium business strategy and provide a free trial for about a month. They offer these free trials for a very short period, after which they will charge you for services. Find a plan that is a perfect fit for your needs and stick with it. Compare your plan to the different services available and make an informed decision.
3. Data protection
Make sure that the tool gets you accurate email addresses because an invalid email address will bounce and affect your sender reputation.
4. Delivery rate
Find out how long the tool takes to fetch you. Some individuals expect immediate results, while some tools can take days to get results.
If you're still unsure about which email lookup service will bring you the most success, have a look at what other businesses have to say about the email search tools they've tested or are now using. On sites like G2 and Capterra, you may find a lot of user experience comments.
Features Of A Good Email Lookup Tool
Here are the features that a good email lookup tool must possess:
1. Accuracy
It is the most critical feature of any email finder tool. Check if the tool you use has a strong track record of locating the correct email addresses.
2. Multiple ways to search
Single and bulk searches are among the types of searches available in email finders. You'll want to locate a tool that allows you to run searches in both ways while ensuring accuracy.
3. Provides search filters
You can narrow down your search using email finding tools based on domain, sector, geographic region, the domain of the industry, etc. You can conduct quick searches via hundreds and thousands of social media platforms even if they don't always guarantee results.
4. Performs email verification
Verifying emails is a must so that your sender's reputation doesn't get affected by emailing invalid addresses. To avoid the need for another tool for verification, use a good email lookup tool that also performs email verification.
5. Intuitive User Interface
If a tool is difficult to use, it will take you more time to get the results and thereby hamper your productivity.
6. Easy Integrations
Most users do not utilize email finders on their own. Check to see if the tool you're considering integrates with the rest of your stack. It would be great if it integrates with your other tools.
7. Searches using a domain name
If you have the company's website and need the email addresses of its staff, you can conduct an email domain search. All you need is the domain name of the company.
8. Chrome Extension
Using a Chrome extension enables grabbing email addresses while browsing the web. Add an email finder extension to your browser. This allows you to collect emails, business profiles, and personal information from your prospects from any website, LinkedIn or Twitter account.
9. Easy Exporting
Use any email lookup service tool's easy export choices to put your data to work for you. You may download data from Domain Search or Email Finder to your smartphone in seconds using its simple export option.
Get Ready To Make Prospecting Easier With Email Lookup Tools
Finding a prospect's email address is essential in cold email outreach. Once you have their emails, you'll want to deliver the ideal message, at the perfect moment, with the perfect follow-up, and you'll want to know if they opened it and clicked on your links at all times (for which you need email tracking software). The procedure is time-consuming and requires commitment. That's when email lookup tools come to the rescue, providing a variety of options for how your team might use them.
You have seen the list of tools and we feel that it will be easy to pick a solution based on your requirements. Happy prospecting!
FAQs
1. What is an email lookup tool?
An Email Lookup Tool is for email search. It is an automated software that assists a company or individual to find emails on the internet from numerous platforms using a domain name. The majority of the tools are robust and efficient
2. What are the functions of an email lookup tool?
Email address lookup tools parse HTML pages and locate email addresses published online. You can use the tools to find email addresses in single or bulk email searches.
3. Why should you use email lookup tools?
You may need to use email address lookup tools for marketing or sales purposes. In the prospecting stage of the sales cycle,reaching out to people for business-related communication using email is quite effective.