Are you looking for the best email verification tools? You have landed on the right place as we have 23 tools for you along with the main factors you should consider while picking one.
But why do you need email verification tools in the first place? You must be aware that your email deliverability should be good when reaching out to prospects. Your emails shouldn't rot in the spam folder, right? At the same time, the sender's reputation affects email deliverability, and you can ruin it by repeatedly sending emails to invalid email accounts. Therefore, your priority should be to maintain a clean email list and use email verification tools to verify email addresses periodically.
So what are we waiting for? Learn the basics of how to check if an email is valid and jump to the tools.
What Is Email Verification?
Email verification ensures that your contact list is accurate and error-free and that the email addresses you have are live and belong to the people you wish to contact. It prevents emails from getting marked as spam, your sender score being lowered, or your IP address being blacklisted and added to a blacklist.
By verifying the legitimacy of senders, email verification protects you from attacks and dangerous attachments. Email verification aids in the refinement of your contact list, allowing you to segment leads based on where they are in the purchasing process. This gives you useful information for weeding out inactive subscribers and also uninterested leads.
As the name suggests, an email verification tool finds out whether an email address is valid and in use. The tool can usually identify spam traps and malicious email addresses. It is important to steer clear of such email addresses to prevent your sender's reputation from getting damaged. The email service provider will block your account if you are sending emails to such traps too often.
There are other reasons for an email address becomes invalid and they include the following:
1. The change of job or position of the email user resulting in an inactive email address
2. Shutting down of a company makes the domain non-existent
3. Typos or syntax errors in the email address
4. Email service provider closing down the business
Are you now convinced that you need an email verifier that cleans your email lists from time to time? It is your responsibility to maintain your sender reputation, and that is why you have to put in the effort to keep a clean email list.
Email verification tools can check if an email is valid or not along with helping you in many ways, and they are the following:
1. Keeps the email list updated and helps save money
There are various reasons why email addresses become invalid over time, and we discussed those above. So, your database may have emails that are not valid anymore. If you send emails to those addresses, the bounce rate will be high, and that can negatively impact your sender reputation. Regular email verification with the help of a tool can remove the invalid addresses from the list. It frees up storage space and shrinks your database in size, which helps save money because storing data comes with a price. Now, you will store only active and genuine email addresses. It will ensure that you are sending emails to the right individuals.
2. Increases conversions and fetches better ROI
Sending emails to 50 quality leads is better than emailing 100 leads with unverified email addresses. It is always quality over quantity. You might get better results when all the email addresses in your list are genuine. You'll see better engagement and a higher conversion rate. All this means a better ROI..
3. Prevents the trouble of fixing bounces
When you send emails to an unverified email list, bounces come in after a short while. Using an email service provider will help track bounces and note their count. When the bounced emails cross the threshold set by the email service provider, you will get a warning. If you continue this practice of using unverified email lists, the service provider can blacklist you. You can avoid this scenario by using an email verifier right before beginning the campaign. When there are no invalid email addresses, there would not be any bounce backs.
4. Protects sender reputation
If you are sending emails to unverified addresses, the chances are that they may bounce back, or the user may mark you as spam. In both cases, your sender reputation can get affected. When you use a tool for email verification, you know that you are sending emails to valid addresses and the recipients are more likely to open your email and engage with it. It helps in giving a boost to your sender reputation.
5. Helps get more accurate statistics
You can check the performance of your email campaign by looking at the metrics like open rate, bounce rate, response rate, conversion rates, and so on. However, when you send emails to invalid addresses, it gets challenging to assess the statistics. Using an email verifier, you can better gauge the campaign's performance better as the tool removes all the invalid addresses from the list. It will help you make future marketing decisions better.
It is clear that a tool for email verification helps you in several ways, and it is more of a necessity than a choice. If you want to search for a suitable email verifier, it is essential to keep the following important factors in mind.
1. Pricing
Though you would want nothing but the best for your business, it comes with a cost, and you can only afford what is within your budget. A high-cost product doesn't always mean the best, and it applies to email verifiers as well. You should compare the features of different tools and see which one gives you the best value for money. It is also better to be aware of the latest developments.
2. User reviews
Always read the reviews of the tool you are about to purchase, as it will help you get an idea of the tool's performance. The experience of other users matters if you get to know that a tool is not good enough before investing in it, you can prevent your money from getting wasted. So, instead of falling for the product features, it will be better to read the reviews.
3. Ease of use
An email verifier has to be easy to use. If the interface is complicated or difficult to use, it is better to switch to something simpler. Nobody would want unnecessary complications in life when there are better options available.
4. Customer support
As a user, it is natural to want efficient customer support when you choose a tool. When you are having trouble with the tool, you would like to get it resolved as soon as possible. So, it is better to choose a tool that has robust customer support.
There are certain features that an email verifier should have, and they are the following:
1. Accuracy level
A good performing tool for email verification is the one that gives you a higher accuracy level. Some tools offer over 98% accuracy, whereas some don't prefer to reveal their accuracy level. You have to check for the level of accuracy of tools and carry out a comparison before making a decision.
2. Types of verification done
The type of verification you need depends on the nature of your business. You get to choose from bulk, real-time and quick verification. If you want to generate leads, you would require regular verification in bulk. Opposed to that, if you are looking for sign-ups for your newsletters, you would want to verify every subscriber so that there are no fraudulent entries. You have to keep your requirements in mind while choosing an email verifier.
3. The integrations supported
For email outreach automation, there are many tools, and most businesses use them. Therefore, your tool for email verification has to be easy to integrate with your existing tools. It will ensure that your work goes on smoothly because everything is in sync with each other. Having an odd-man-out-like email verifier will only complicate things for you, which is not what you are planning to do, right? So, check what all integration the tool supports before investing in it.
4. Time taken to provide results
You would want to invest in a tool that does its job fast, and this is one feature on which you should never compromise. It matters the most when you are checking emails in bulk. You can't spend one day only on email verification as you have other tasks to complete. Therefore, choose a tool that has a lower turnaround time.
5. Compatibility and software requirements
Check whether the tool you choose can work on different devices. It is good for you if it is compatible with more than one device as it becomes easy to use. Also, check whether the tool needs any other software to function to know what else you need apart from the email verifier.
Now that you have seen all the features your email verifier should have, you will feel that SalesBlink is a perfect match.
SalesBlink is a sales outreach automation suite that offers 99% accuracy which is great in the upkeep of your sender reputation, as the higher the accuracy, the lesser the bounce rate. Moreover, the tool verifies email addresses in real-time. Also, you wouldn't require any other software or tool to use this email verifier so feel free to use Salesblink's email verifier tool.
Here's a step by step guide on how to use the tool,
1. Click on 'Email Verification' on the menu under tools.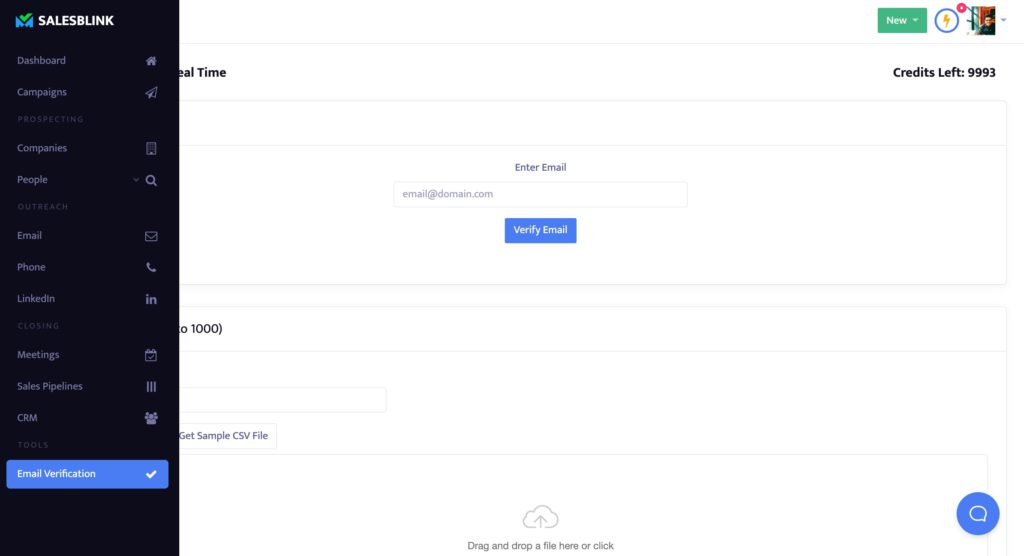 2. Enter the email address you want to verify

3. The tool will tell you whether the email address you entered is valid or not.

The tool also lets you verify email in bulk, you can drag and drop a CSV file in the bulk email verifier. It lets you verify 1000 emails in one go.
There is an address by address analysis of each email address in the list. The following are the deliverability statuses,
1. Deliverable
An email we check with several validation methods to find out that it can receive emails from a sender. We mark this into the "valid" category.
2. Catch-All
A catch-all email server collects all the messages addressed to the domain name's right or wrong email addresses. So it's very difficult to tell if that email exists or not. We mark this into the "risky" category.
3. Undeliverable
An email we check with several validation methods to find out that it can not receive emails from a sender. We mark this into the "invalid" category.
You can refer to the following video for a comprehensive tutorial on using SalesBlink's Email Verification tool.
So, with SalesBlink's email verifier, you can find out which emails in the list are valid and which are not. It will help you remove the invalid ones from the list and keep it clean. As already mentioned above, verifying your emails is crucial for your sender reputation.
Now that you know how to choose an email verification tool, here is a list of the best email address validation tools –
1. Reoon Email Verifier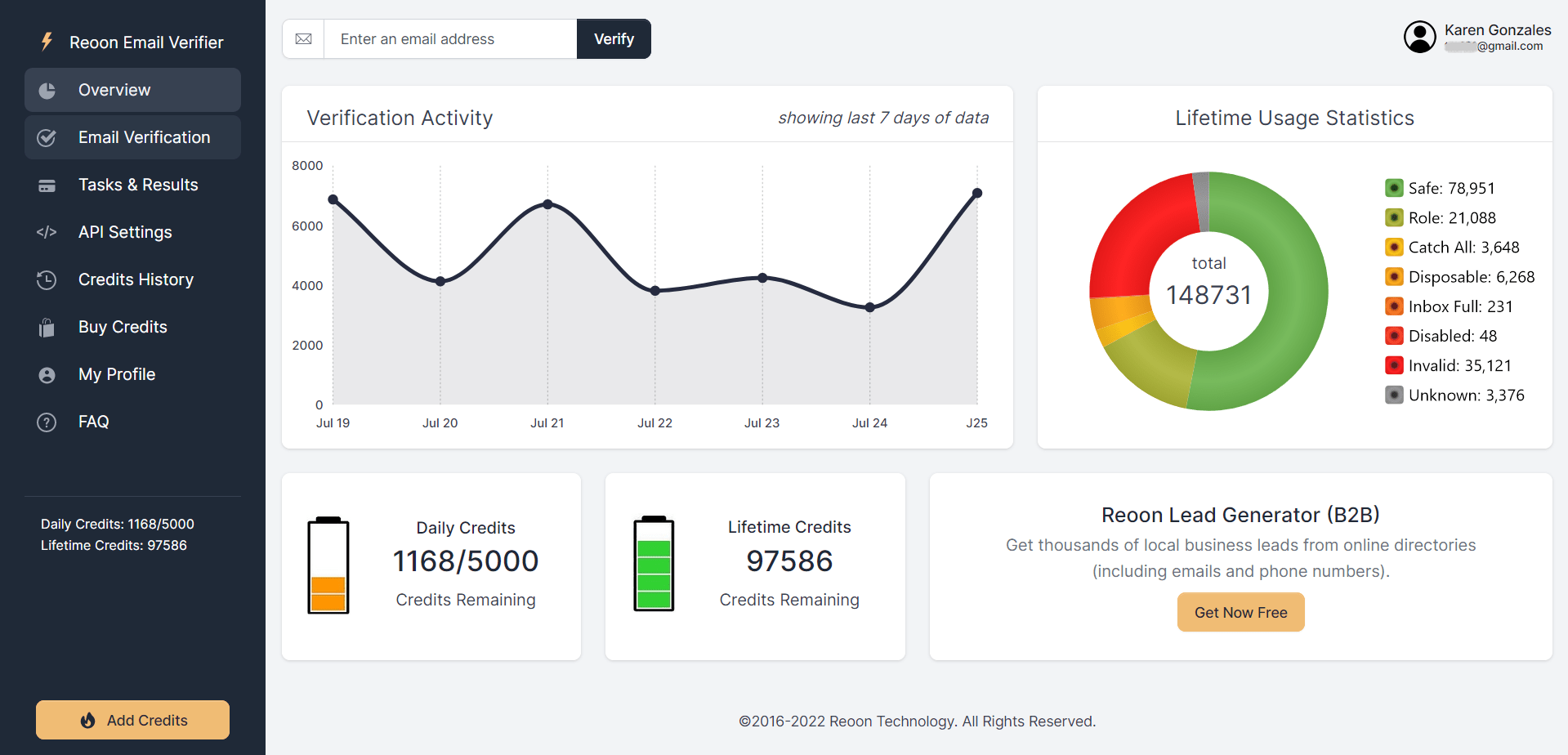 The Reoon Email Verifier is an online email verification service by Reoon Technology that check email address validity. Users can upload their CSV files or copy-paste the emails directly to their website. The verification process is fairly fast with high accuracy and provides a lot of information for individual emails. It checks the email addresses for syntax, server availability, MX records, individual inbox availability, inbox full status, catch-all domain, expired address, temporary/disposable address, spamtrap etc. It stands out because of its incredibly powerful verification process at a very affordable price.
Reoon Technology is well known for providing different business-related software services including lead generation tools, email validation services, data scraping tools, dropshipping software, etc.
Pros
– Consistent results with 99% accuracy.
– Can verify most difficult domains including Yahoo and Microsoft.
– Dynamic temporary/disposable email detection.
– Real-time API can verify email addresses within 0.5 seconds.
– Daily renewing free credits available with affordable lifetime credits.
Cons
– 3rd-party integrations can be done using API only.
2. Finder.io – Email Verifier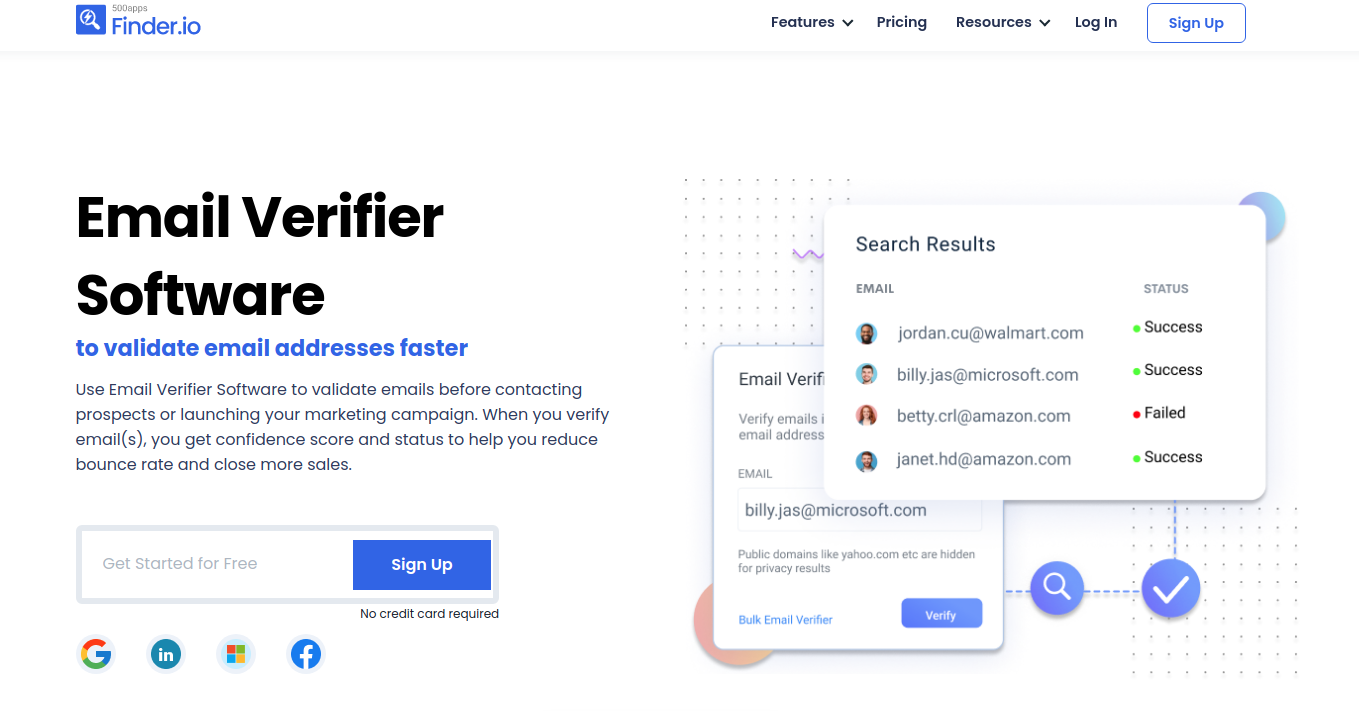 Finder.io is a fantastic email verifier software designed by 500apps to verify emails. You can use the software's database of about 430 million email addresses. The only thing you need to do is sort the emails according to your company's requirements.
Finding the relevant consumers' email addresses is easier than ever before thanks to Finder.io's lead mining technology. Checking for essential people's email addresses is made easier with an email verifier that lets you find their email addresses.
You can verify any email in a matter of seconds and find out if it's authentic or not. Your email open rates will skyrocket thanks to this new functionality. With the bulk email validator, you'll also have access to a wealth of data about the source of email addresses.
If you're looking for a deal, 500apps charges $14.99 per month for finder.io and 37 more apps. Single use plans for finder.io are also available on a month-to-month or year-to-year basis. To get started, go to finder.io right now.
3. ZeroBounce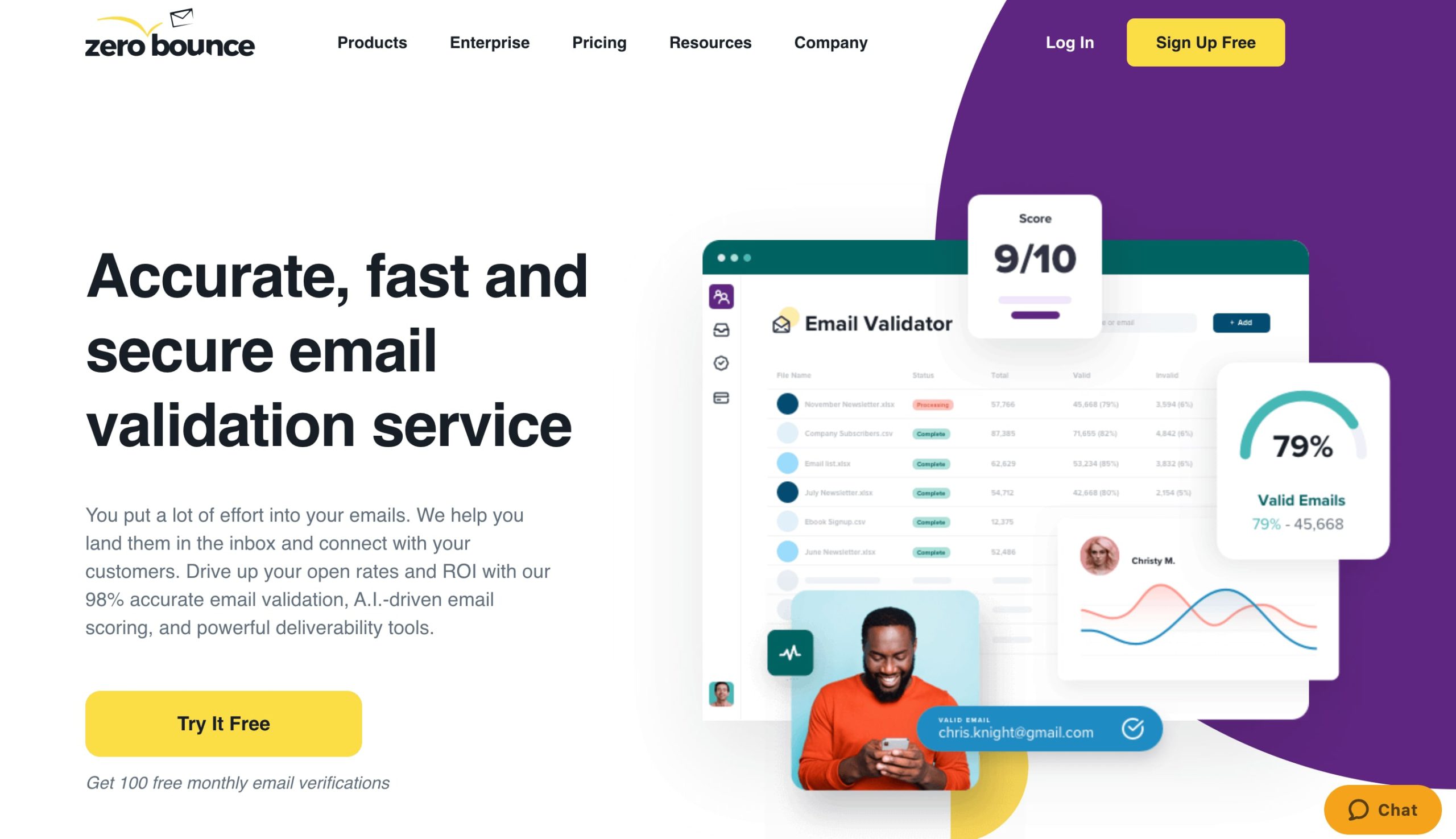 ZeroBounce is a well-known solution to check email address validity that works with various marketing platforms, including Cloudflare, Mailchimp, and Constant Contact. It claims to have a 98 per cent accuracy rate and employs artificial intelligence to identify whether or not the addresses in your email list are active. Also, it does an excellent job of deleting invalid and misspelt addresses.
It may also detect and eliminate spam traps, known abusive addresses, and addresses from non-accepting domains. ZeroBounce also provides a deliverability test. It allows you to find out and correct any misconfigurations before sending messages to your email list. Therefore, it is one of the best email verification tools.
Pros
– Free package with lots of benefits
– Consistent results
– Affordable
Cons
– The initial setup is perplexing.
4. Debounce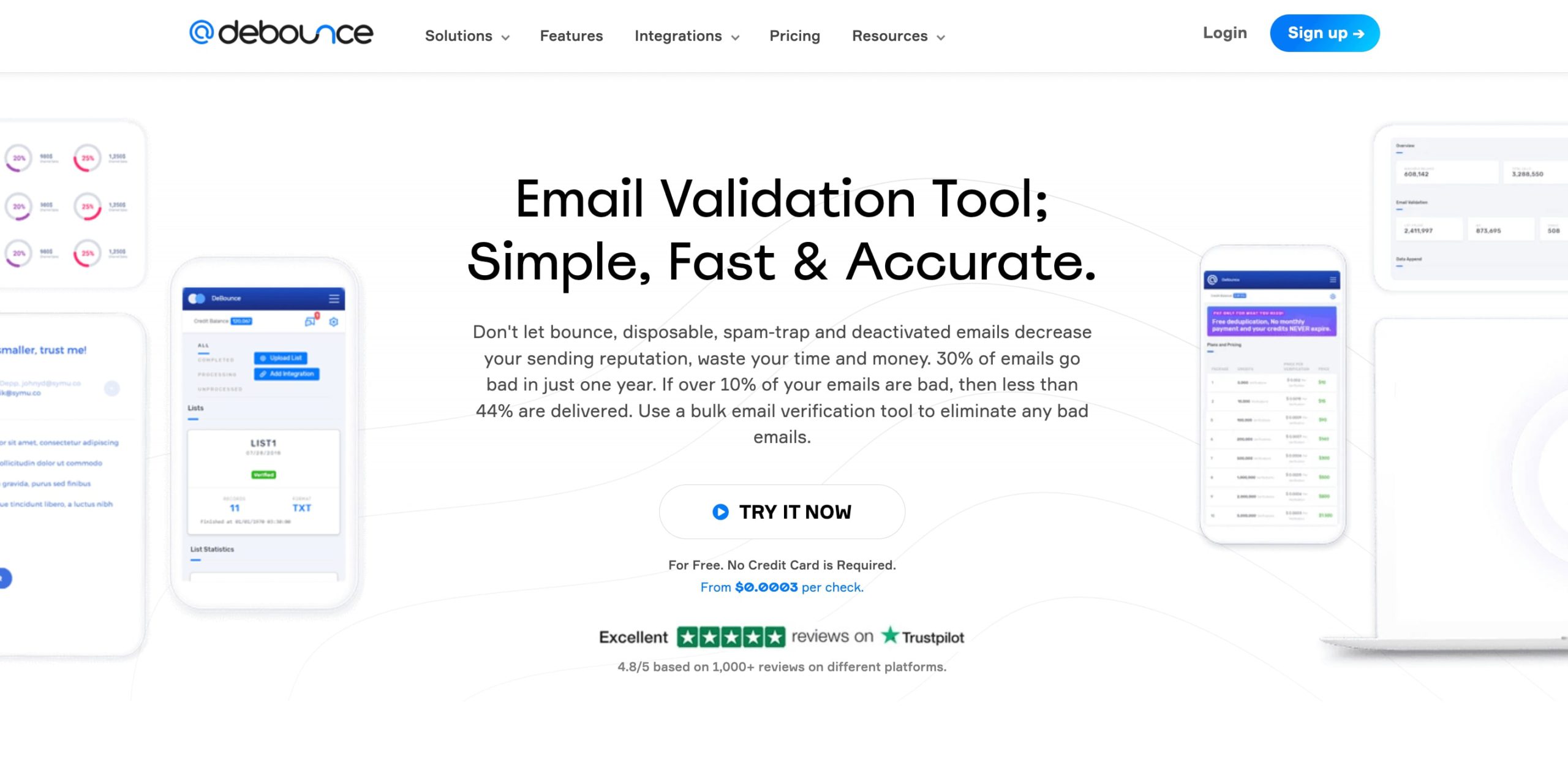 DeBounce is a well-designed email verification application that can reduce bounces by deleting addresses from disposable mail providers, emails with syntax issues, addresses that appear several times, and more.
It is a sophisticated email verification software application. It stands out because of its incredibly simple three-step verification process, which makes it ideal for less experienced marketers who are just starting with email verification.
DeBounce is a highly-rated email address checker available, with a 4.8 out of 5-star rating on Trustpilot.
Pros
– Simple to use
– There are a lot of third-party integrations.
– Positive user feedback
5. NeverBounce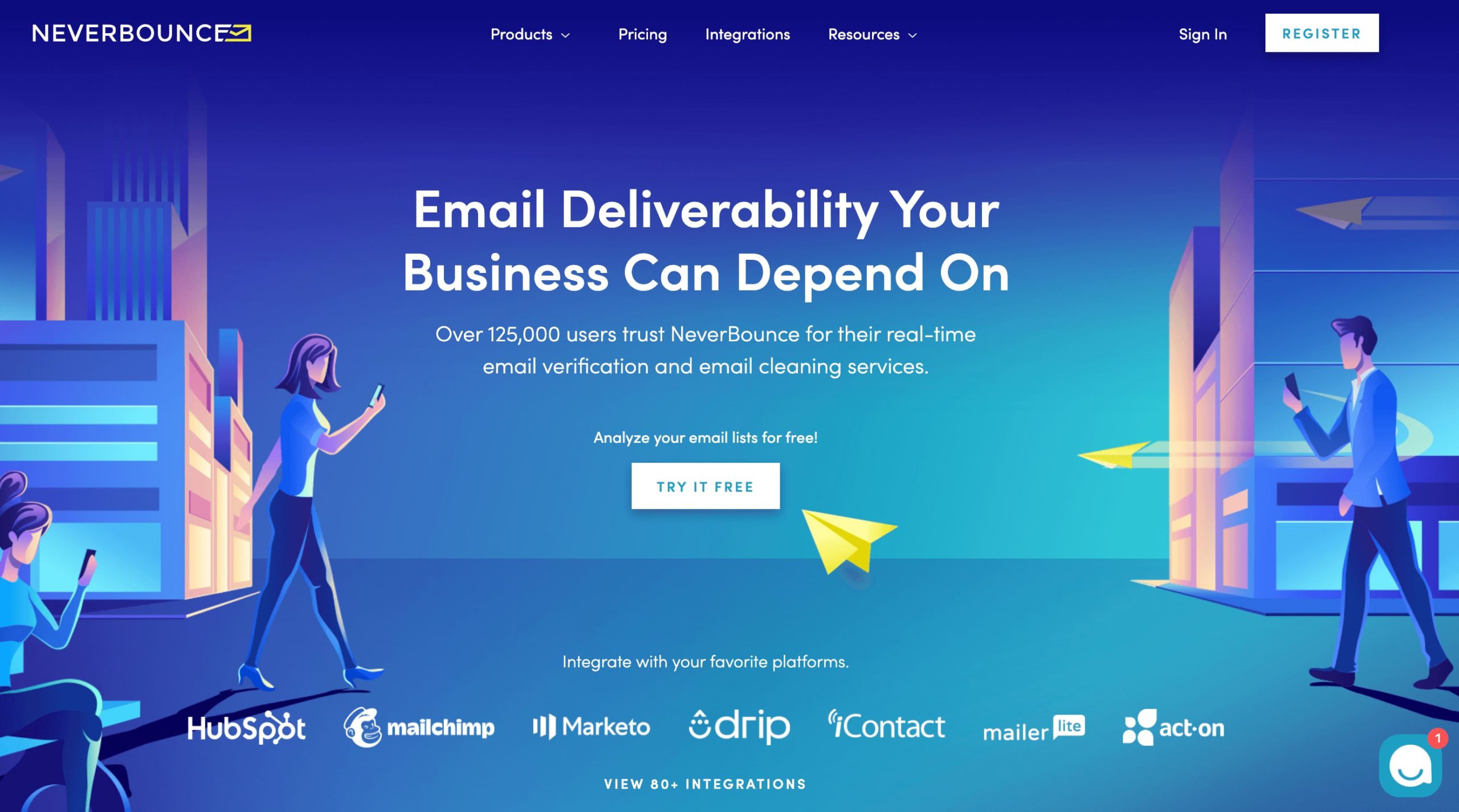 It is an email verification and list cleansing solution that enhances deliverability and assists organizations in adhering to tight email service provider (ESP) rules. To achieve real-time verification, the email checker employs 20 cleaning processes, including mail server validation, health checks, and risk identification. It's one of the easiest ways to double-check email addresses and therefore one of the best email verification tools.
Pros
– User-friendly
– Ensures delivery of up to 99.9% of the time
– Provides both subscription and pay-as-you-go pricing options.
– Many third-party integrations are supported.
Cons
– Emails are sometimes marked as "unverifiable."
6. XVerify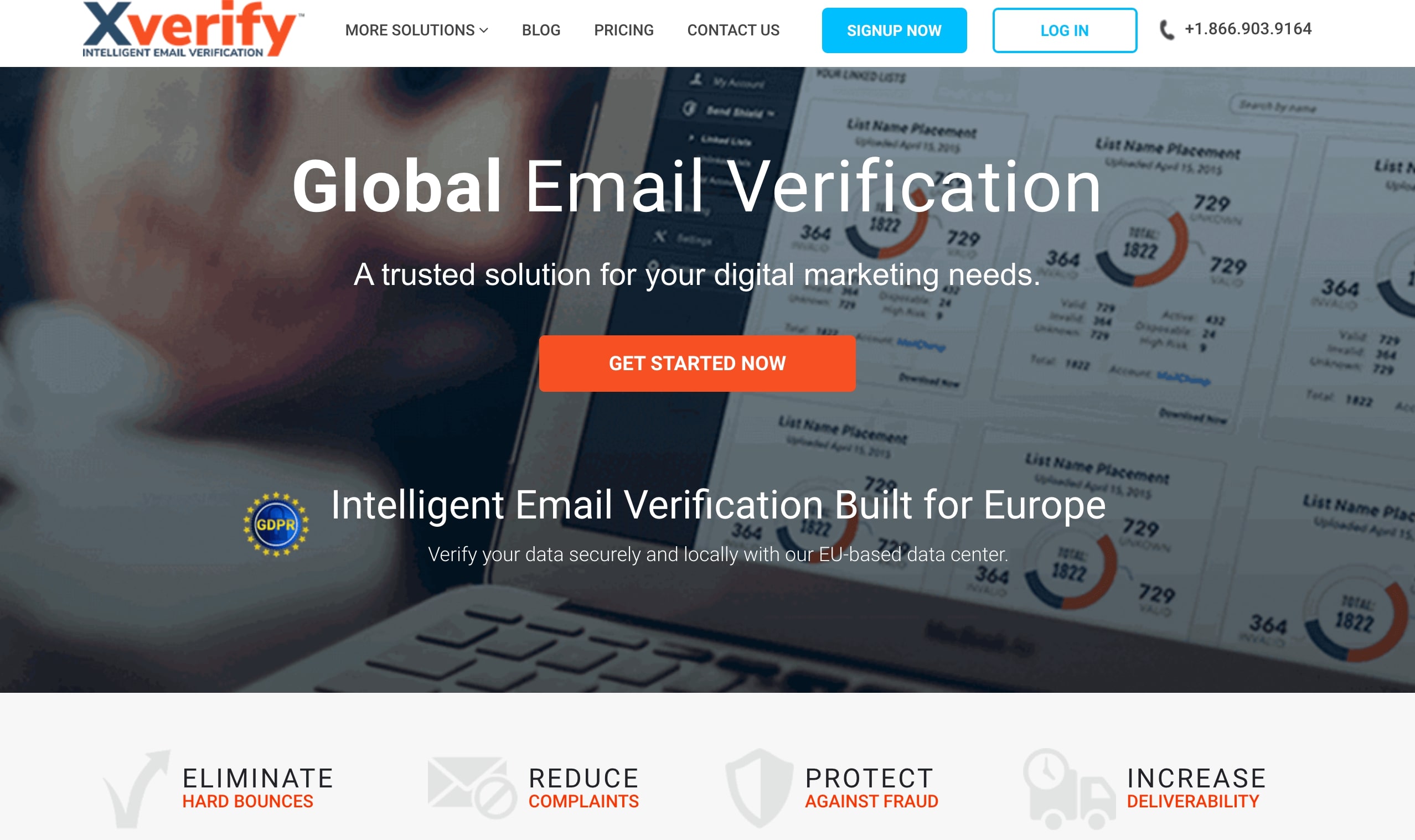 Xverify is an email verification tool that works in real-time. It boosts email marketing results by decreasing the risk of hard bounces, lowering spam complaints, and reducing fraud. Bulk email verification, domain check, spam trap detection, and disposal email detection are the tool's primary features.
This product is ideal for marketers looking to increase deliverability by reducing hard bounces, lowering spam complaints, and reducing fraud. Xverify also gives 100 free verifications so you may try out the tool.
Pros
– Integrated anti-fraud protection
– All major email domains are 98 percent accurate.
Cons
– Completing longer lists takes a lot of time.
7. Verifalia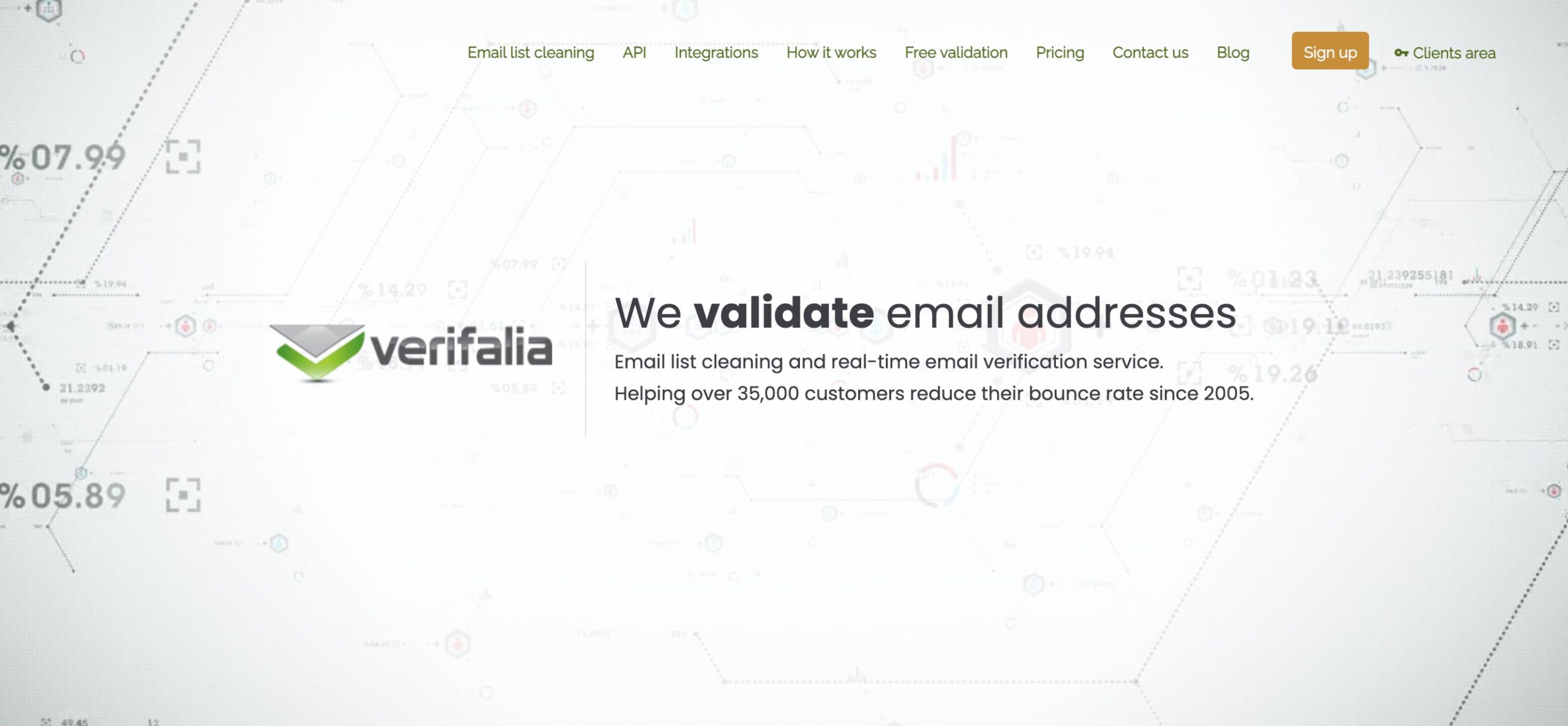 Verifalia has comprehensive syntax validation, spam trap detection, catch-all server detection, mailbox availability check, and disposable email detection. It is perhaps the least popular of the tools listed here, but that doesn't imply it doesn't work.
The tool is designed to be quite secure, making it one of the top-most email verification services out there.
Pros
– API for real-time verification
– HTTPS/TLS encryption
8. Quick Email Verification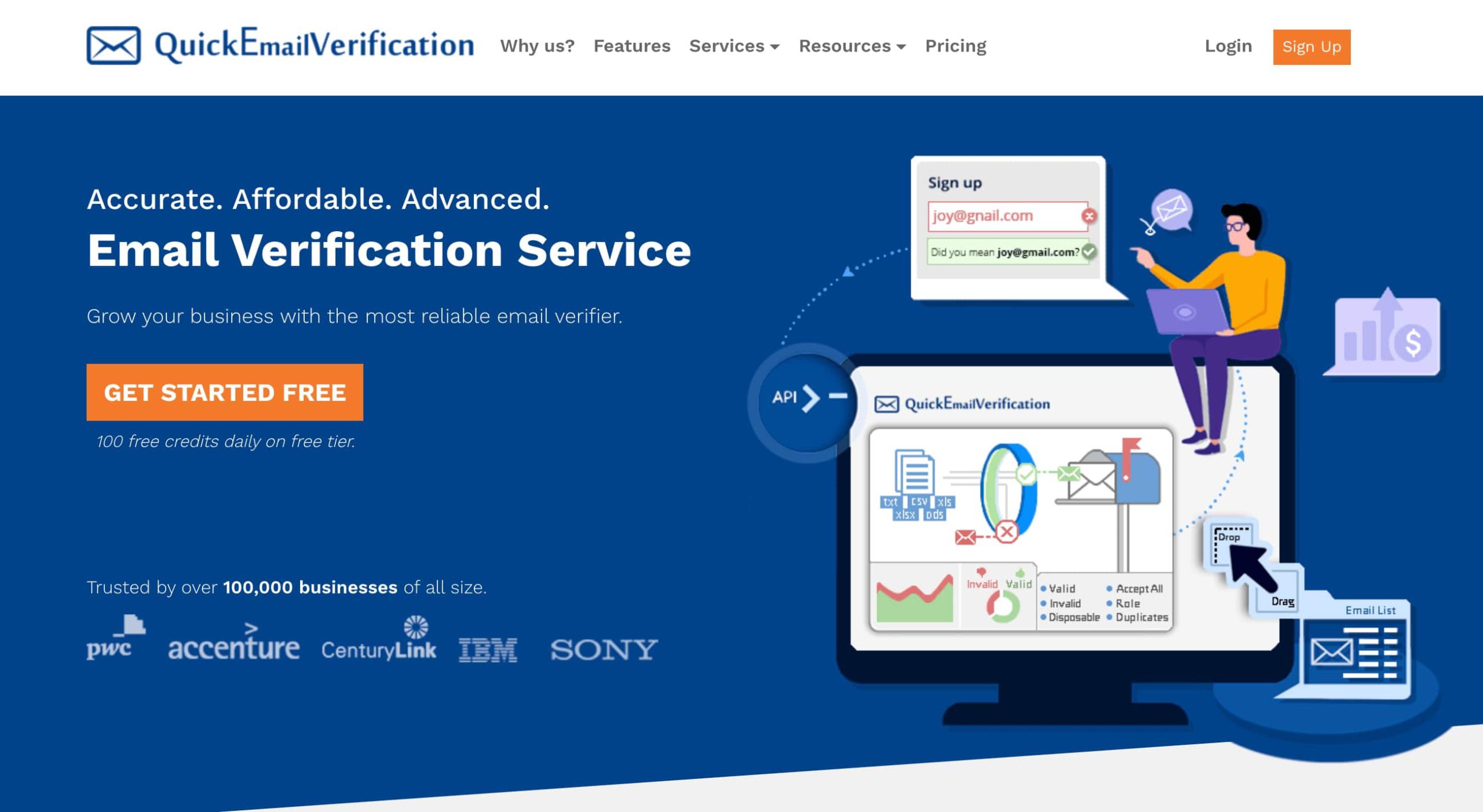 It's a low-cost email verification service used widely. With QuickEmailVerification, you can verify both existing lists of email addresses as well as do real-time email address verification; whichever method you select, you can count on excellent accuracy and quick processing.
QuickEmailVerification is ideal for small business owners and entrepreneurs just getting started. It offers features, such as support for multiple upload formats, anti-greylisting technology, in-depth verification reports, and encrypted storage.
Pros
– Free package with lots of benefits
– all user data is stored in encrypted form;
Cons
– Customer service is solely available via email.
9. Clearout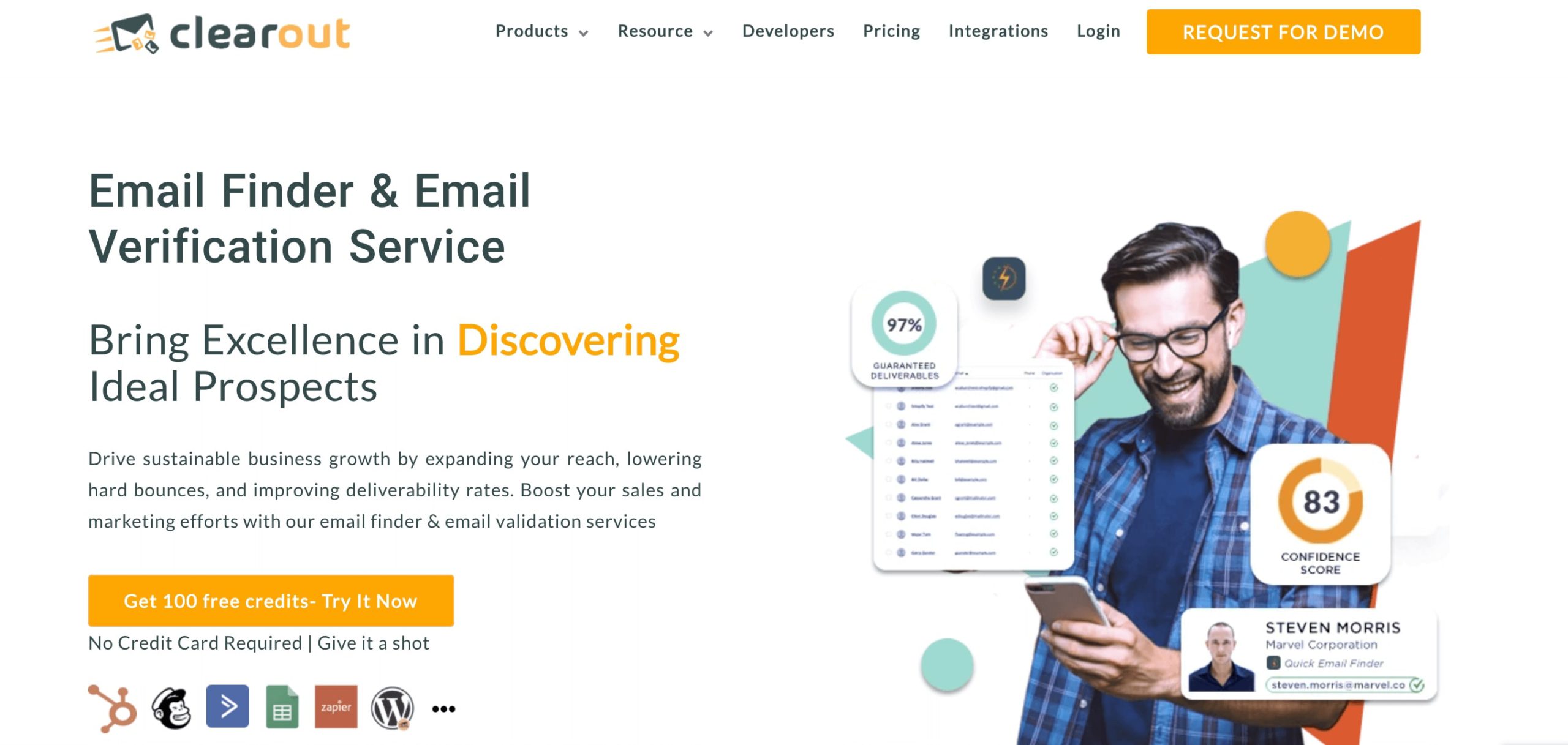 Clearout's email verification and validation tool provides 98 percent accuracy and more than 20+ improved validation checks. Syntax validation, disposable email detection, duplicate removal, and identification of catch-all type emails are some of the primary features of Clearout's email list cleaning tool.
Pros
– Can discover prospective B2B leads ahead of time
– Connects to well-known services
– Allows you to verify up to 100 emails for free
Cons
– Setting up third-party integrations might be difficult.
10. Bouncer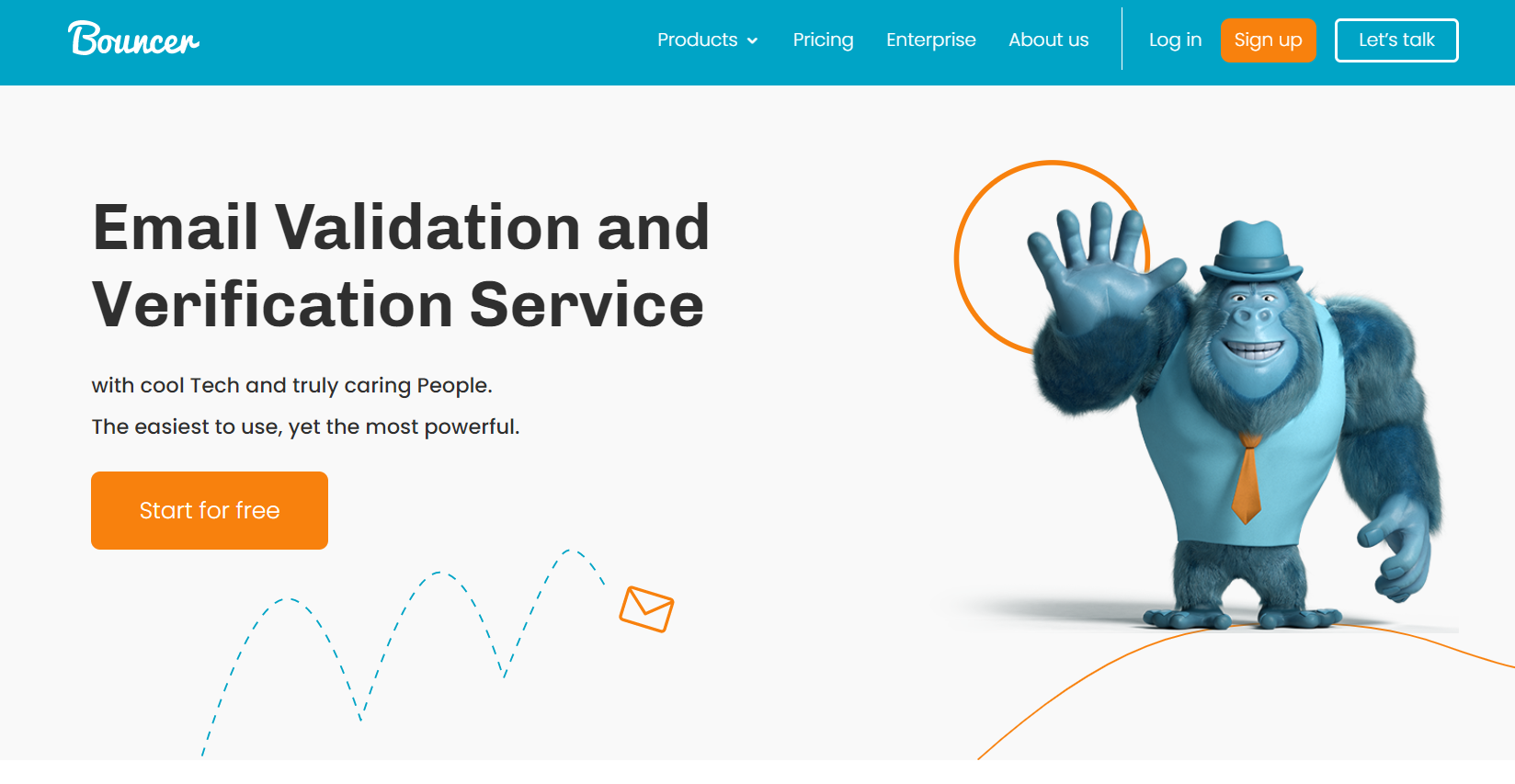 For people who value flexible pricing and GDPR compliance, Bouncer is one of the best email verification tools. It's simple to get started with,thanks to its user-friendly UI. We wish the interface was a little more modern, as it's starting to seem a little dated. If you have any discrepancies in using the tool or connecting it with the rest of your marketing toolset, you can reach out to their customer support.
Pros
– The user interface is straightforward and relatively easy to use.
– Email verification API that is simple to add
– Flexible credit verification packages
Cons
– User UI that is a little dated
11. BriteVerify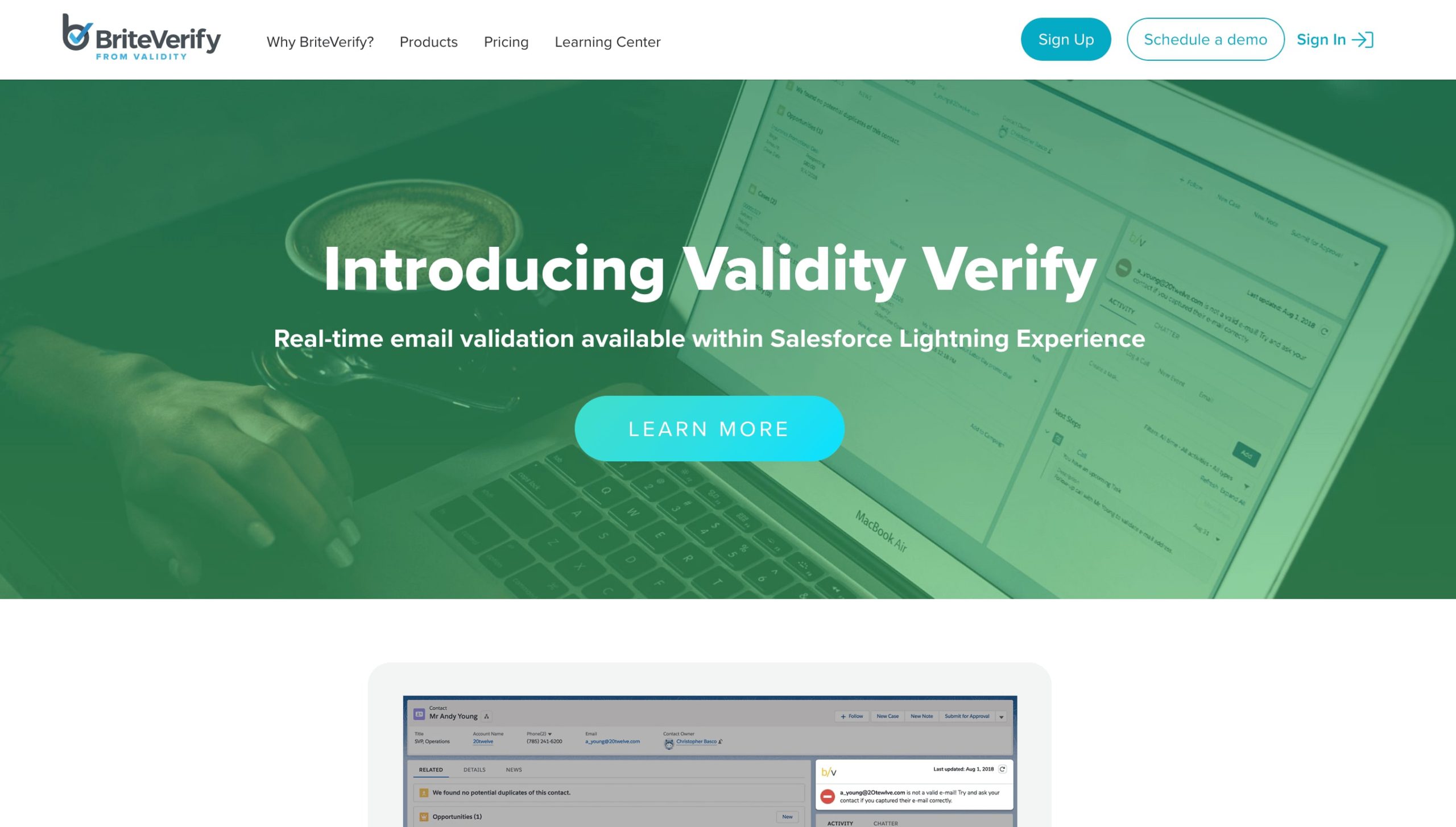 It's an email validation and verification tool that aims to boost email data quality, inbox deliverability, and marketing ROI. This email list cleansing tool determines the email address syntax and validates the validity of email addresses in real time.
Pros
– Accuracy
– User-friendly
– The model is based on a pay-per-use system
– It is economical
Cons
– A database aspect of similar products allows us to identify any known SPAM traps.
12. BulkEmailVerifier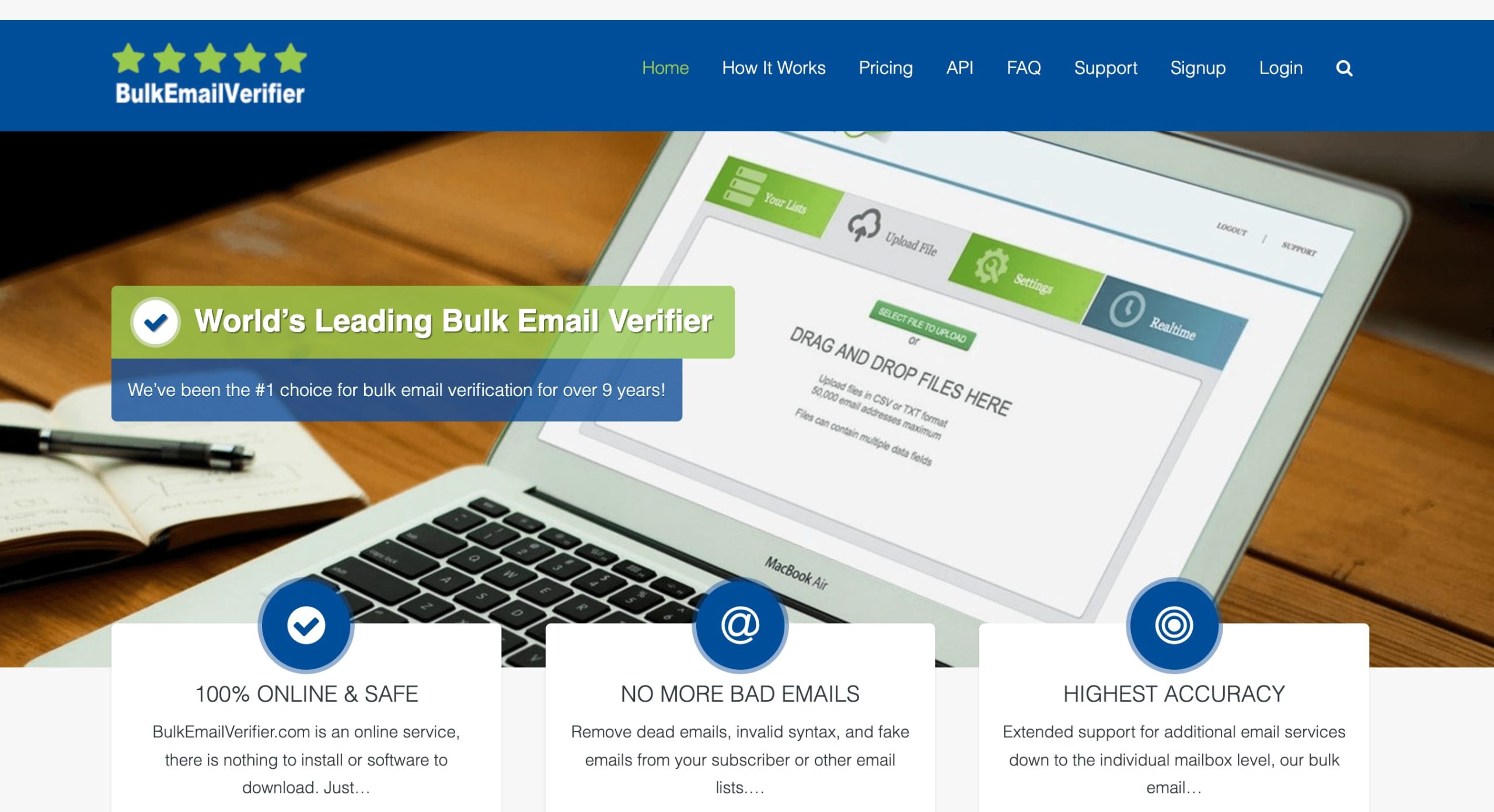 It is a SaaS-based email validation tool that can help you lower your email marketing bounce rates. It connects to the email server to verify whether or not an address is valid and real. Bulk email verification, mail server validation, and syntax checking are among the main features of this tool.
Pros
– Feature-rich
– Secure
13. Atomic bulk email verifier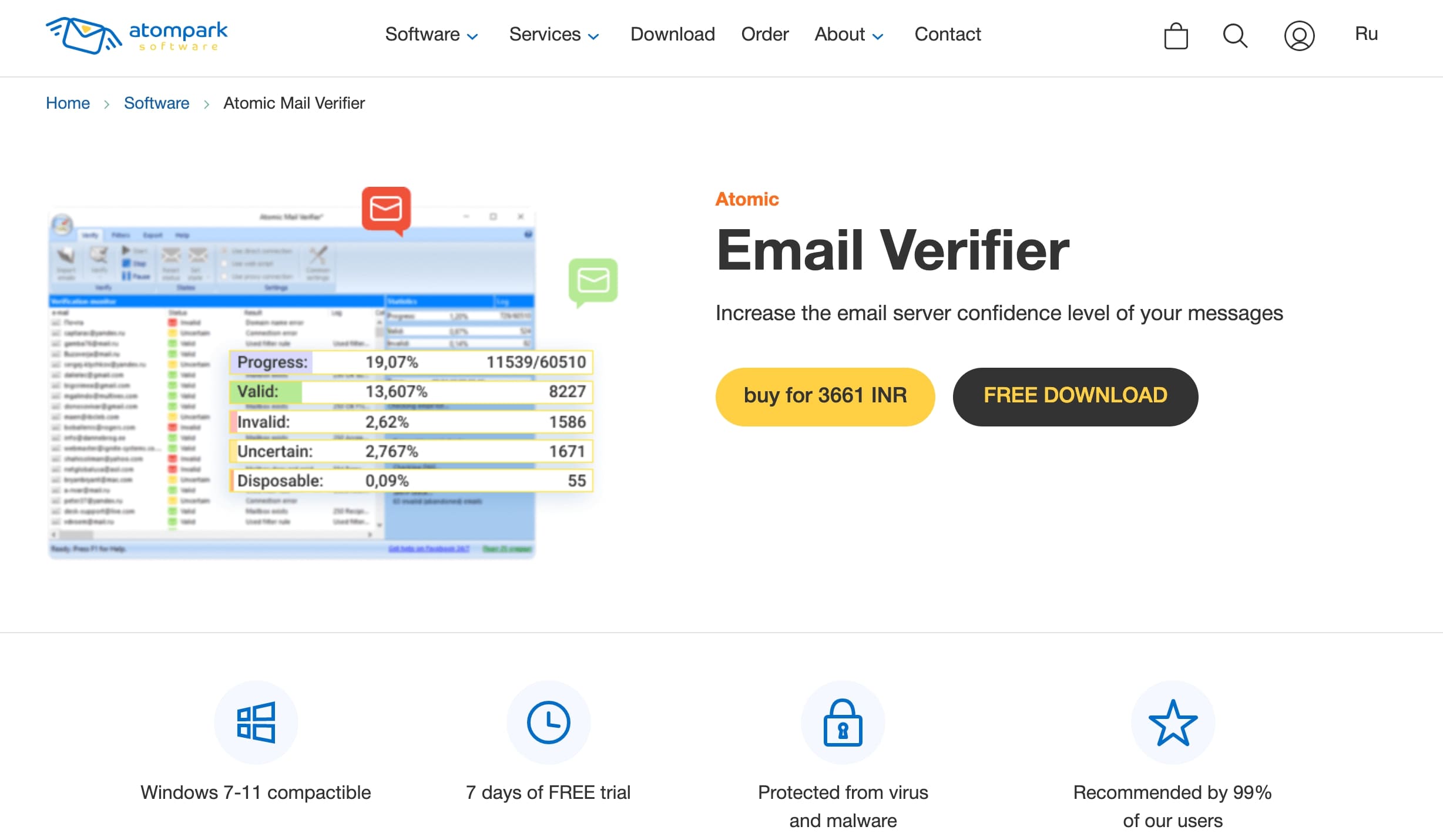 It is an email verification software that helps to improve email deliverability by removing non-existent email addresses. This tool assists email marketers in maintaining an up-to-date database and lowering the bounce rate of email marketing campaigns.
Pros
– Your email list can be uploaded in any format and from any source.
Cons
– Lot of uncertain data detected
14. Emailable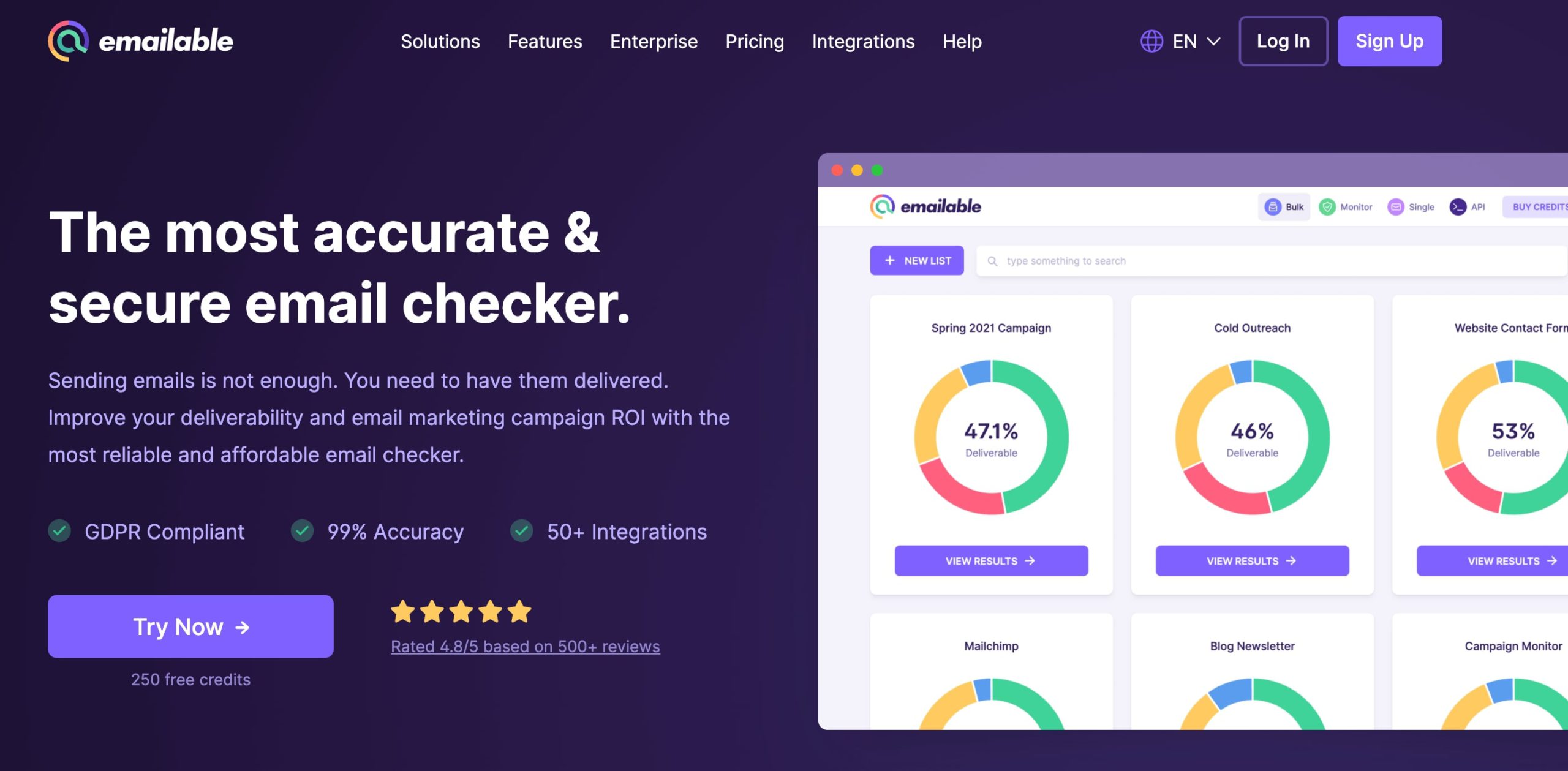 Domain check, email detection, syntax check, mail server validation, SMTP server monitoring, and reporting are all features of this email validation application.
The Emailable email list cleaning solution may comb through a marketing team's contact database, filtering out dead/spam addresses and optimizing campaigns. It also gives addresses a quality score and performs a domain-specific verification to confirm the service's existence.
Pros
– Integration employed i.e Active Campaign is simple to set up and use.
Cons
– For the price, it's a little restricted.
15. HuBuCo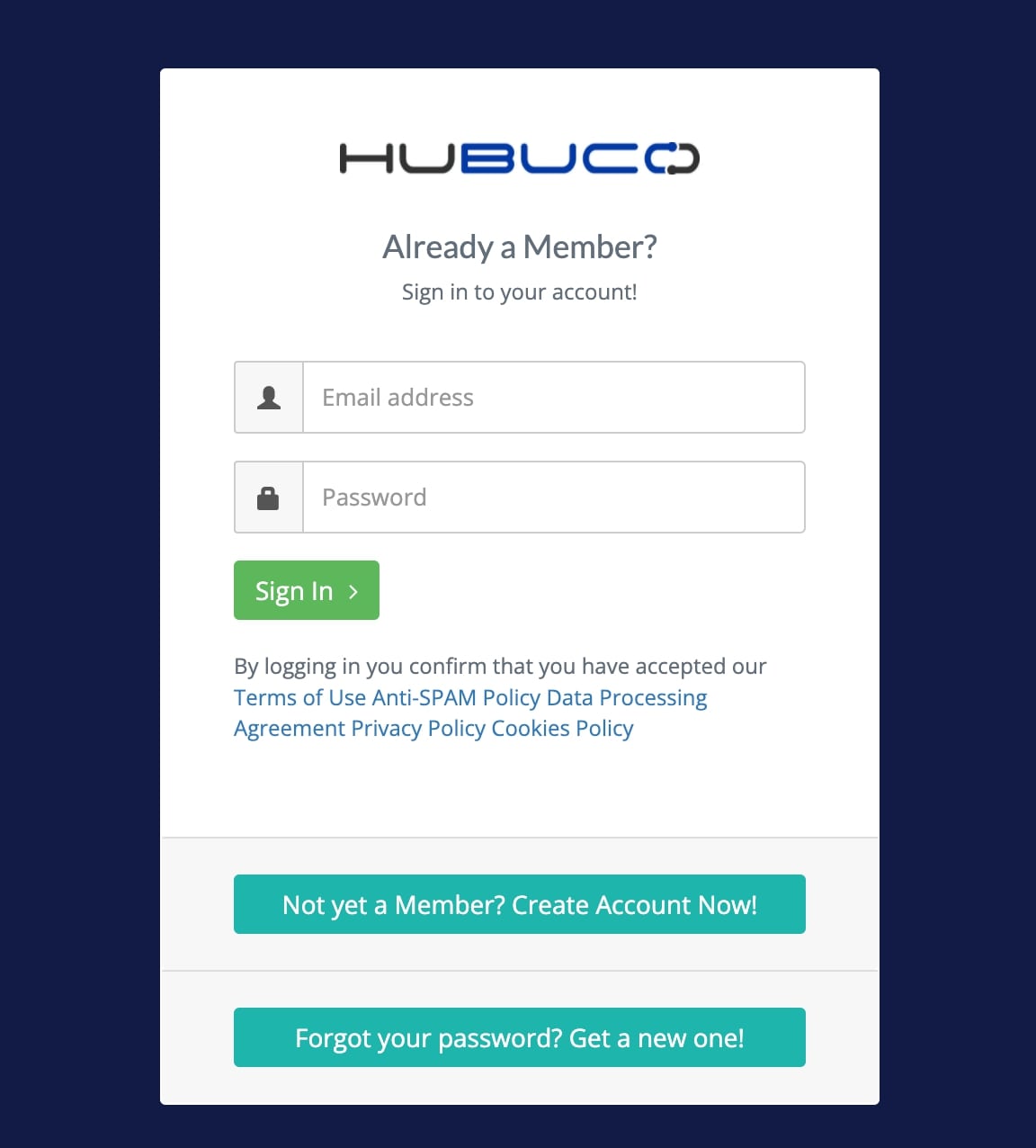 It's an email list cleaning service with a real-time API and file upload for manual and bulk email checking to ensure that they get delivered. This cloud-based email list cleansing solution is designed to maintain their email reputation and prevent message bouncing, to improve email deliverability.
Pros
– The software is really easy to use.
– The online assistance is very user-friendly, and the dashboard is fairly simple to browse
Cons
– They have a monthly subscription service that is misleading.
– There isn't a second sign-up option.
16. MyEmailVerifier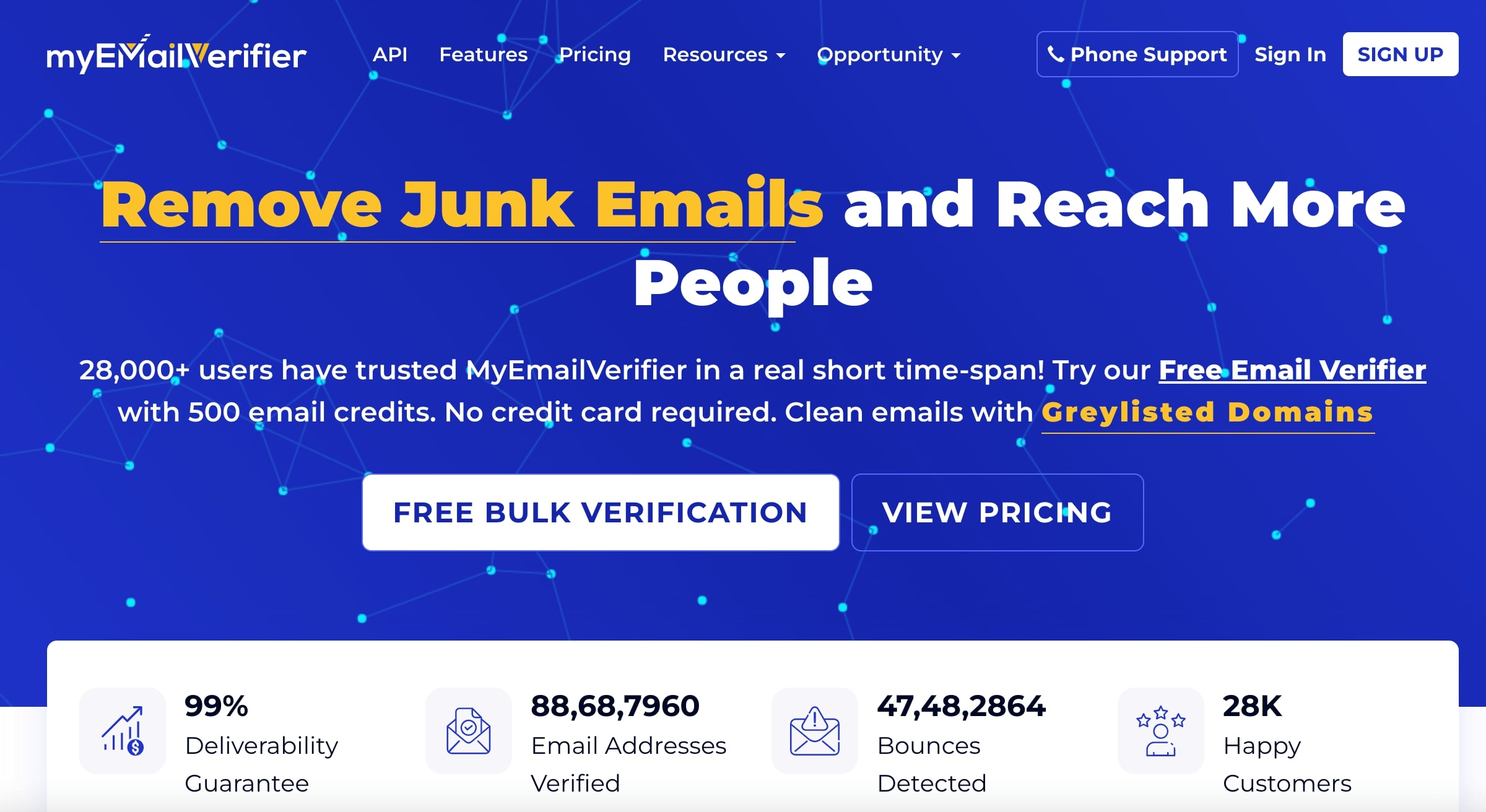 It conducts all of the expected checks and provides a real-time API, quick turnaround, email address detection based on roles, and spam trap detection to verify email addresses and improve email deliverability without the need for a subscription plan.
MyEmailVerifier provides standard checks, as well as providing a real-time API, quick turnaround, role-based email address identification, and spam trap detection.
Pros
– Cost-effective pricing
– Customer satisfaction is 99.9%.
– Real-time API with high performance
Cons
– The free trial period is highly restricted.
17. Mailfloss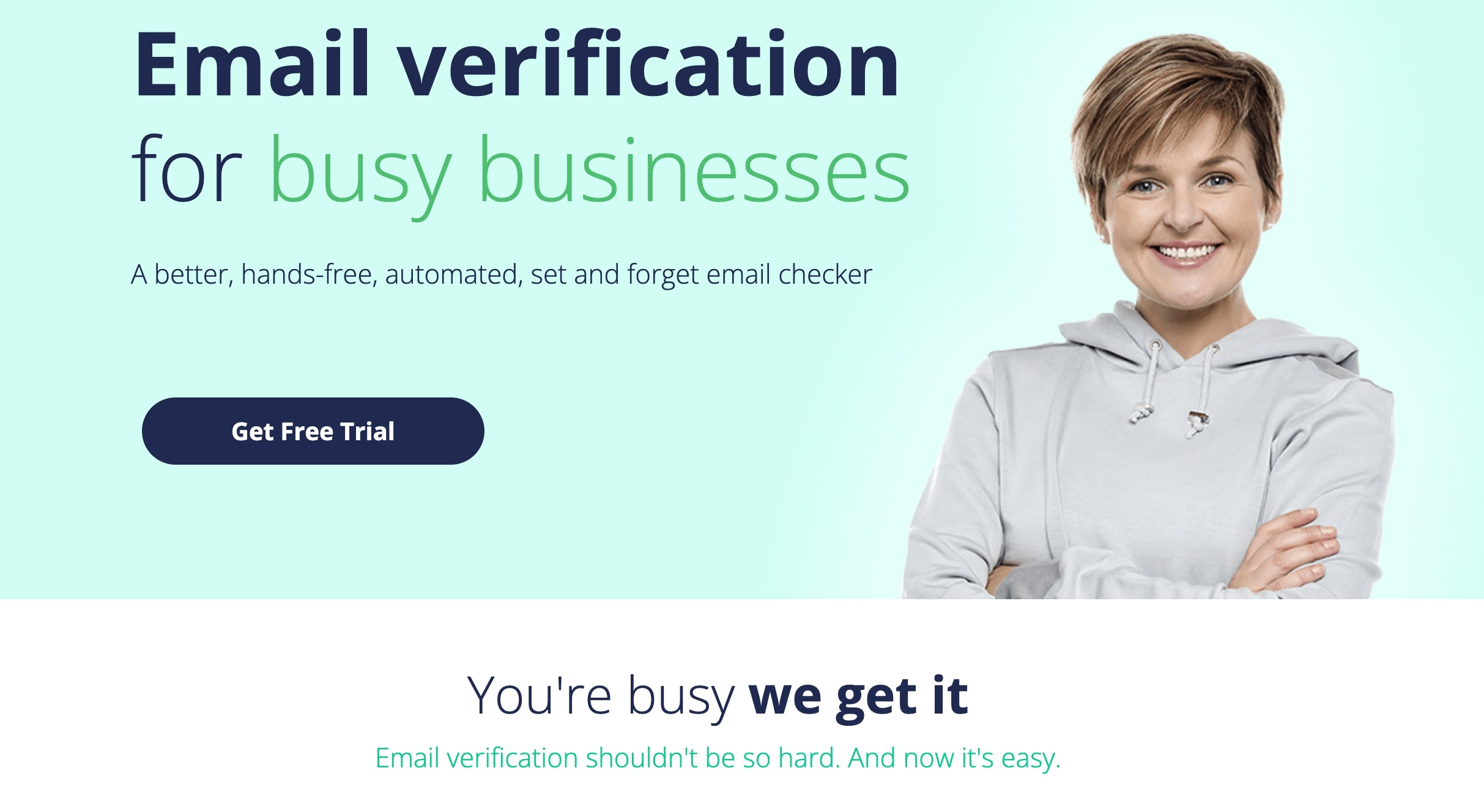 Mailfloss is an automated email verification software solution designed to keep your marketing campaign's ROI from being lowered by false and invalid addresses. Many typical errors are automatically corrected by Mailfloss and synced with your service provider.
Pros
– Free 7-day trial
– Errors that are commonly encountered are fixed.
– Third-party marketing services are integrated.
Cons
– In certain sections, the user interface is unintuitive.
18. MillionVerifier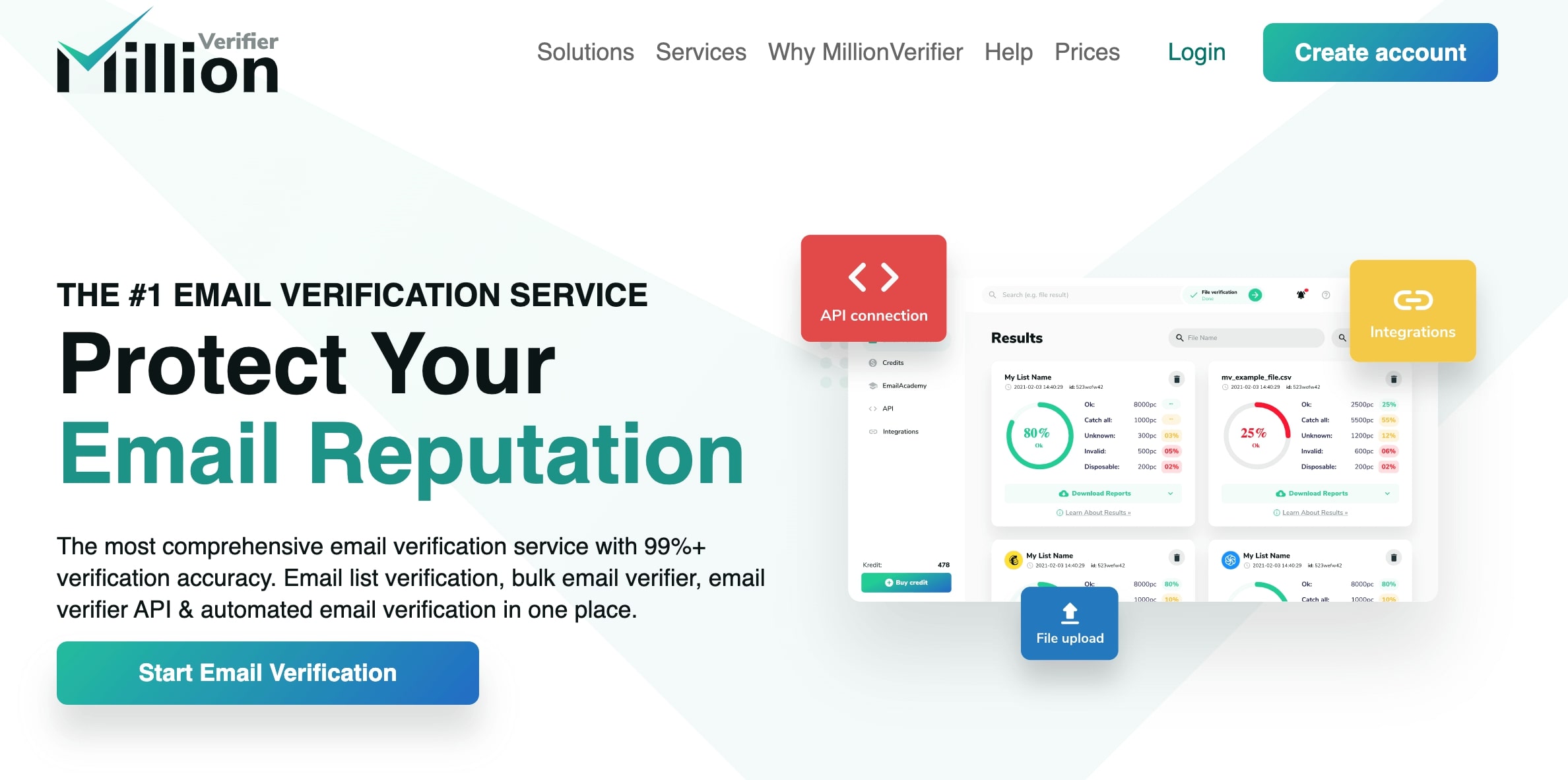 MillionVerifier is a low-cost email verification that is extremely accurate. It is not only competitively priced and inexpensive, but it is also extremely customer-friendly.
Pros
– Excellent verification accuracy
– Offer a complete money-back guarantee.
– Credits for verification do not expire.
Cons
– The sight and feel of a casino isn't for everyone.
19. EmailListVerify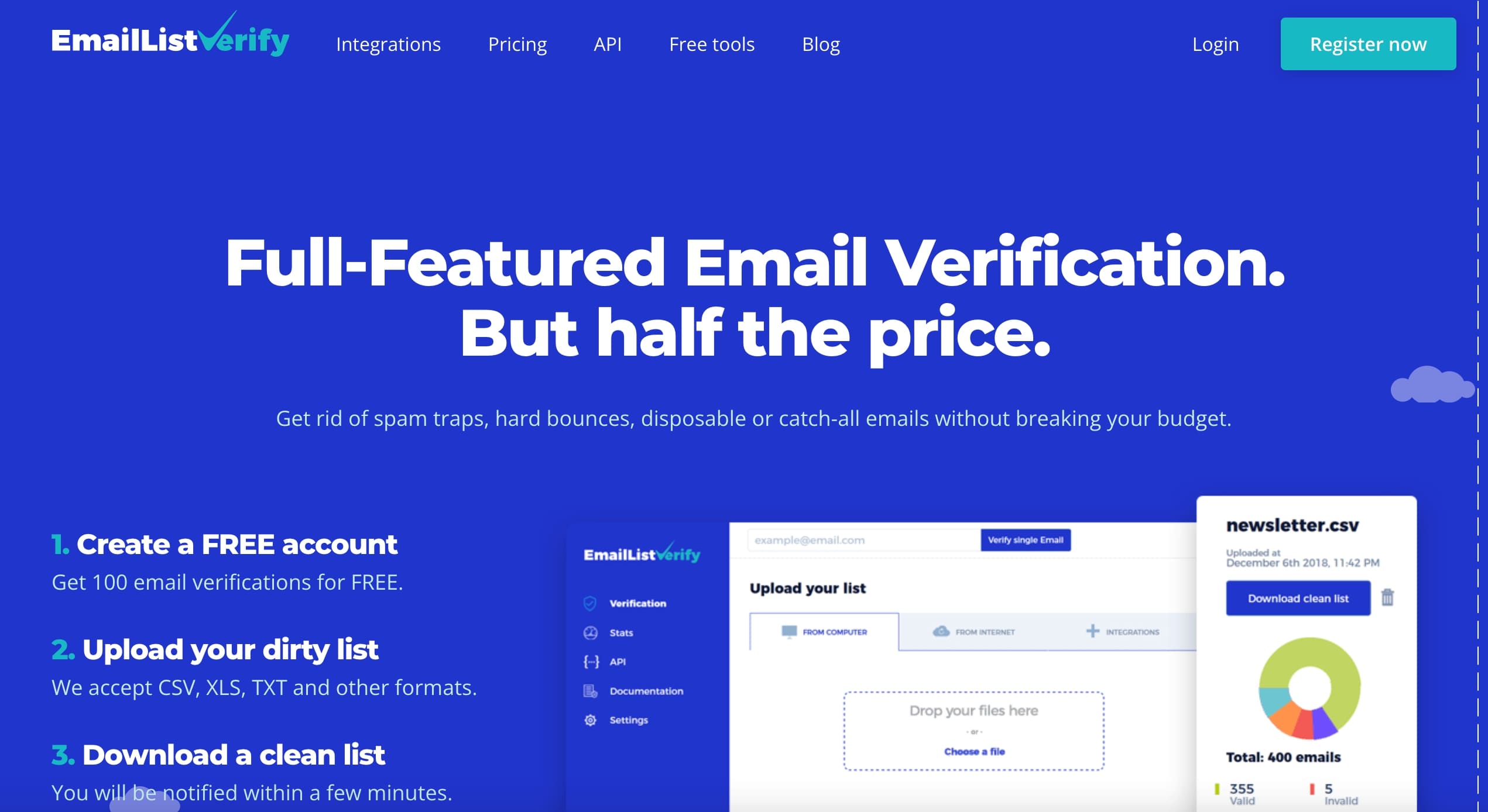 EmailListVerify advertises itself as a low-cost alternative to the most popular email verification services. It provides the same functionality at a reasonable cost. The tool verifies emails by doing domain and SMTP validation, spam trap identification, hard bounce and syntax error checks, and more, much like any other reputable email verification tool .
Pros
– There are no false positives and is 99 percent accurate
– The online interface is straightforward and clean.
Cons
– User interface can be a little perplexing at times.
20. Pabbly Email Verification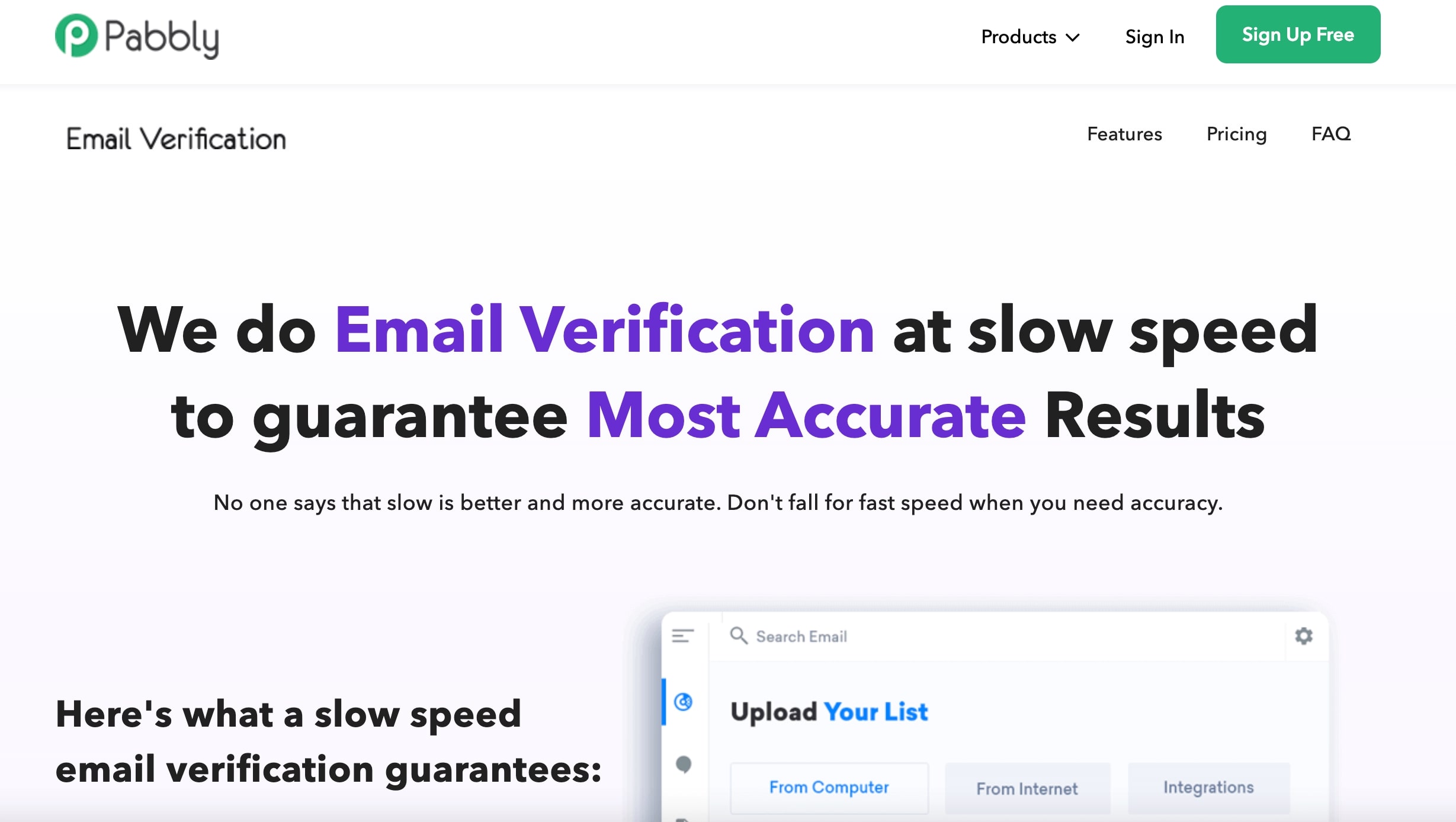 The service is accurate but it operates at a slower pace. Pabbly's slower speed results in fewer errors and a deliverability success rate of up to 98 percent. Pabbly employs a manual, human-assisted approach that ensures superior results to the competition. It removes duplicate entries right away and uses anti-grey listing technology.
Pros
– Pricing is scalable and cheap
Cons
– Not all catch-all addresses are filtered out.
21. CaptainVerify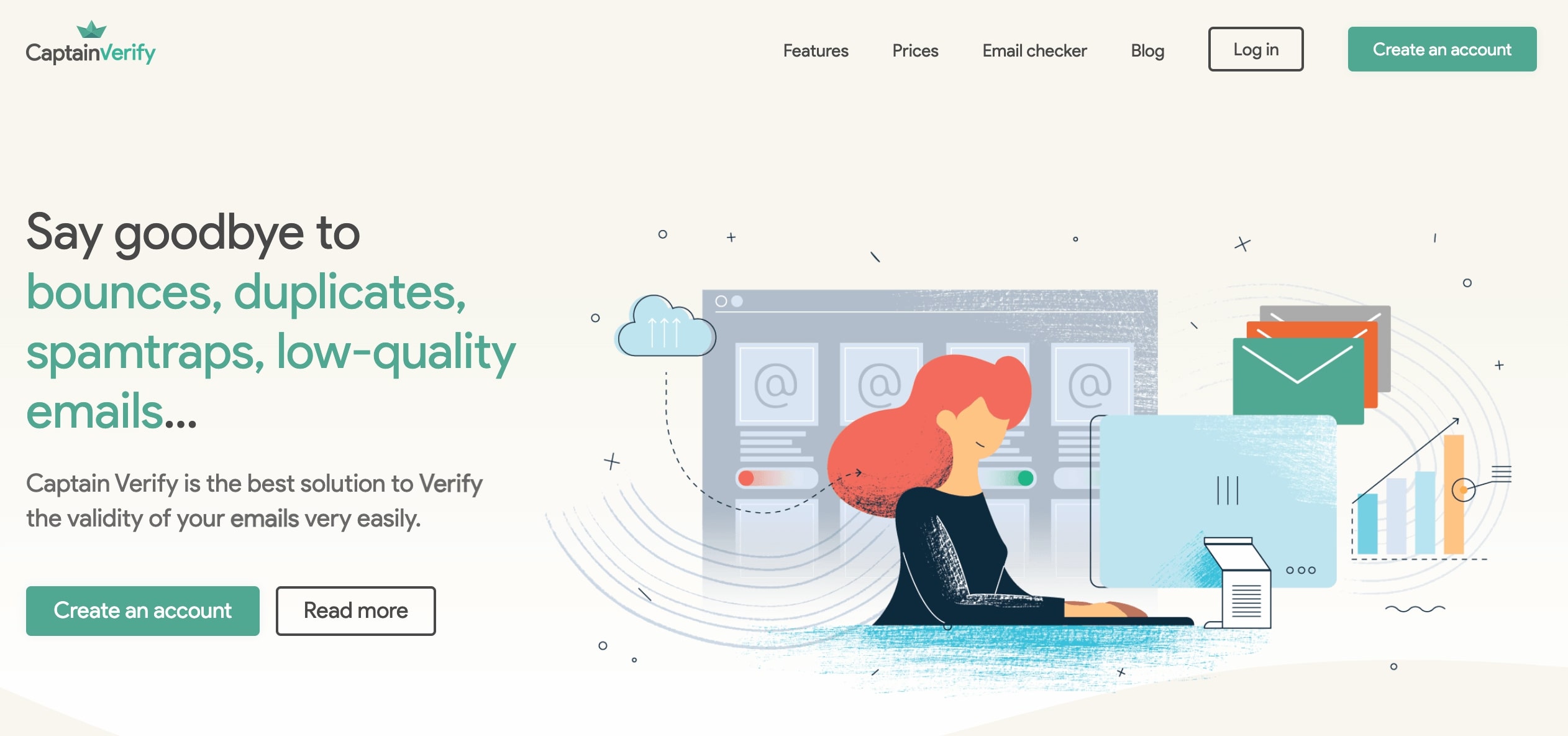 CaptainVerify runs a series of checks to properly clean up your email databases and improve deliverability. It removes misspelled and invalid addresses along with spam traps and honeypots. It provides secure email verification that is GDPR compliant and has a straightforward pricing approach.
Pros
– Available in various languages
– Simple pricing strategy
– Offers numerous features
Cons
– Verification takes a long time.
22. Mailbox validator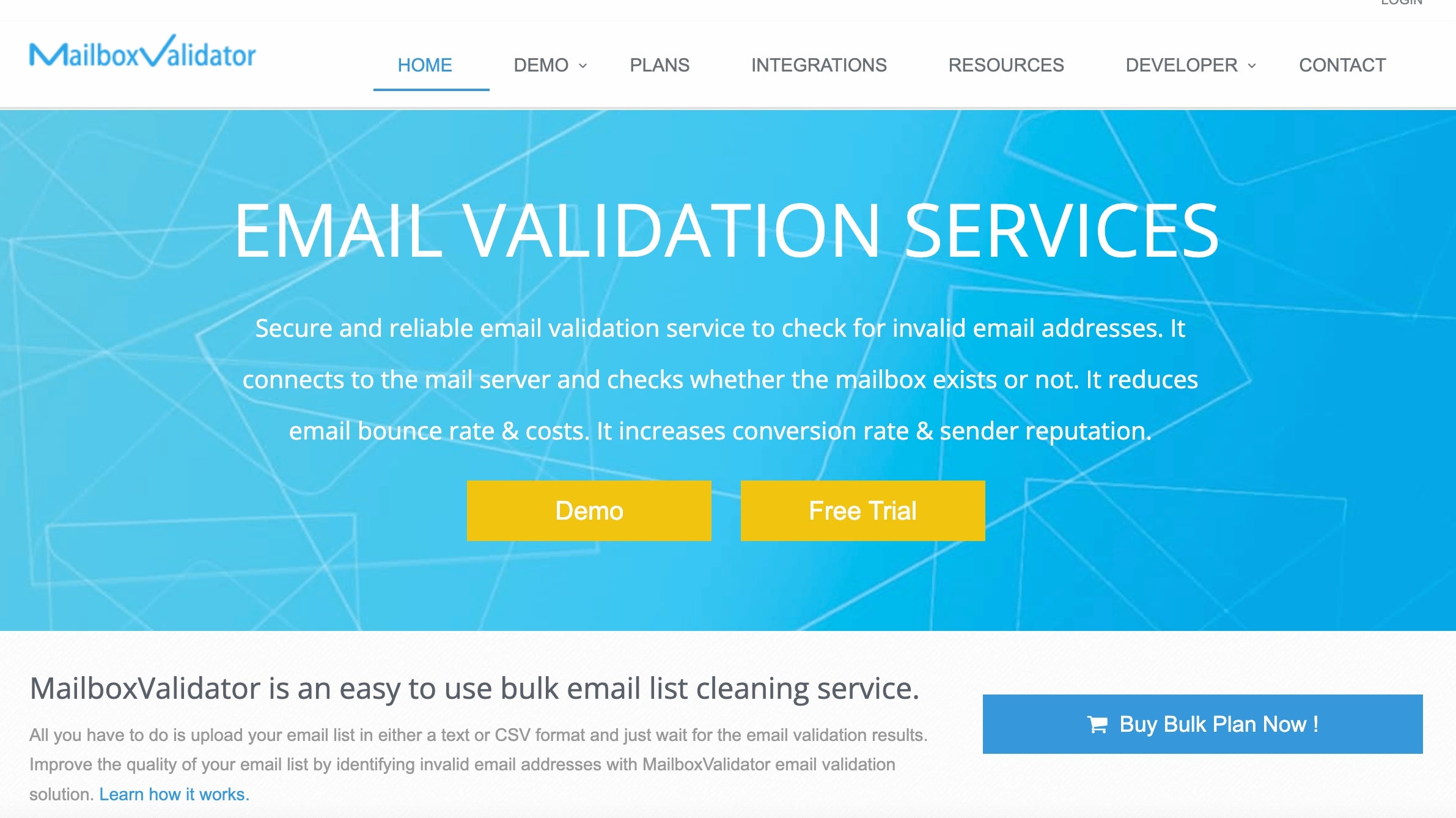 MailboxValidator is a no-frills email address verification tool that is both easy to use and inexpensive. To get started, upload your mailing list in text or CSV format and wait for the software to handle the rest. You will receive your results in a short time. According to MailboxValidator, validating 500,000 emails takes around a day, so most users won't have to wait more than an hour, given the size of the usual mailing list.
Pros
– Full compatibility with leading platforms
– Demo versions are available.
– Developers have access to a wealth of resources.
Cons
– Customer service might be improved
23. Email checker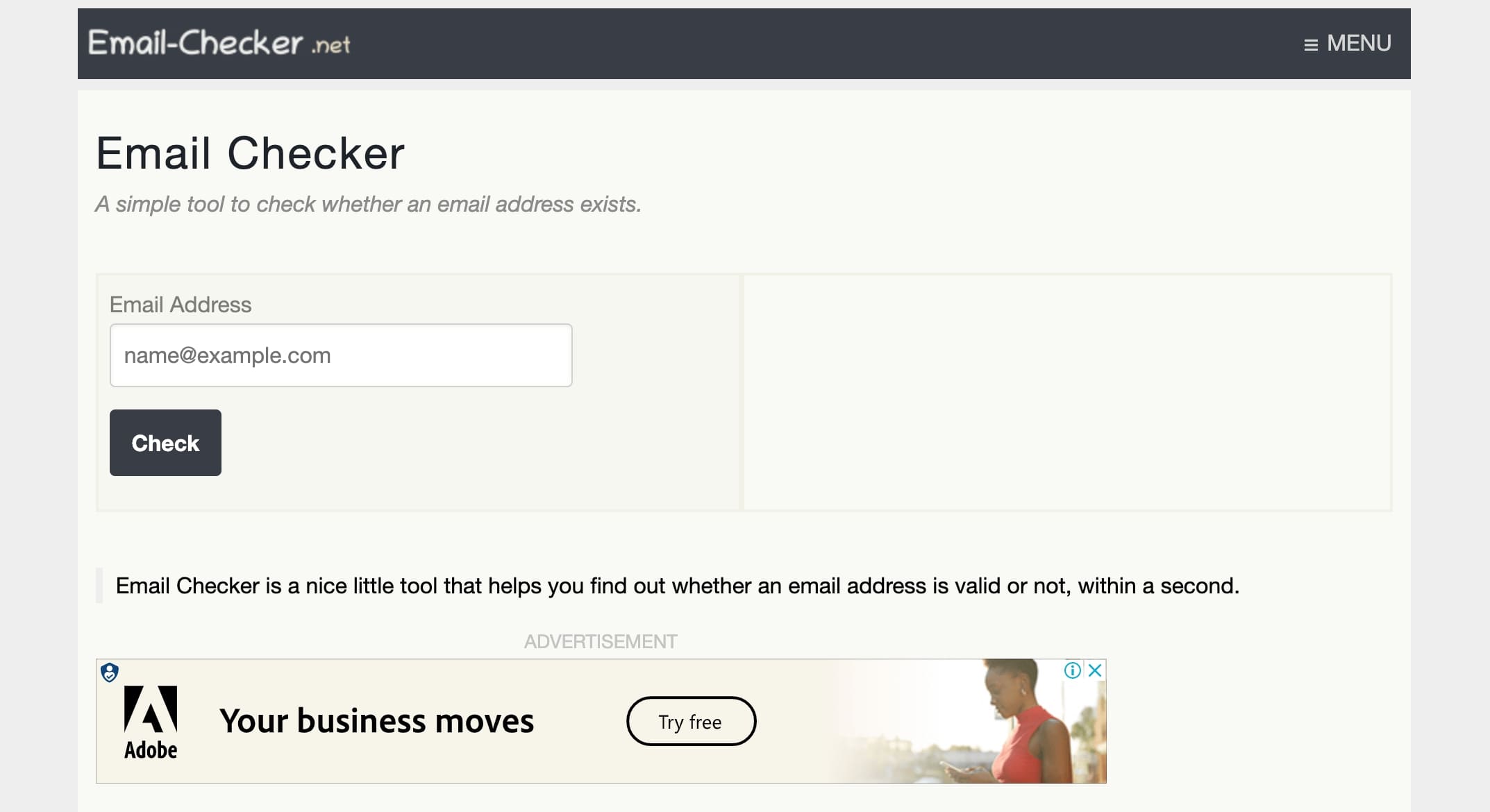 Its robust email validation tool runs several checks to catch everything from syntax flaws to domain name problems to known spam traps. The user interface of Email Checker is based on a drag-and-drop interface. The dashboard is simple, but it isn't visually appealing. It has a flexible pricing plan to offer.
Pros
– Bulk email verification made simple
– Integrations with e-commerce systems are also available.
– Typos are automatically corrected.
Cons
– The user interface is simple and unappealing.
24. Hunter Email Verifier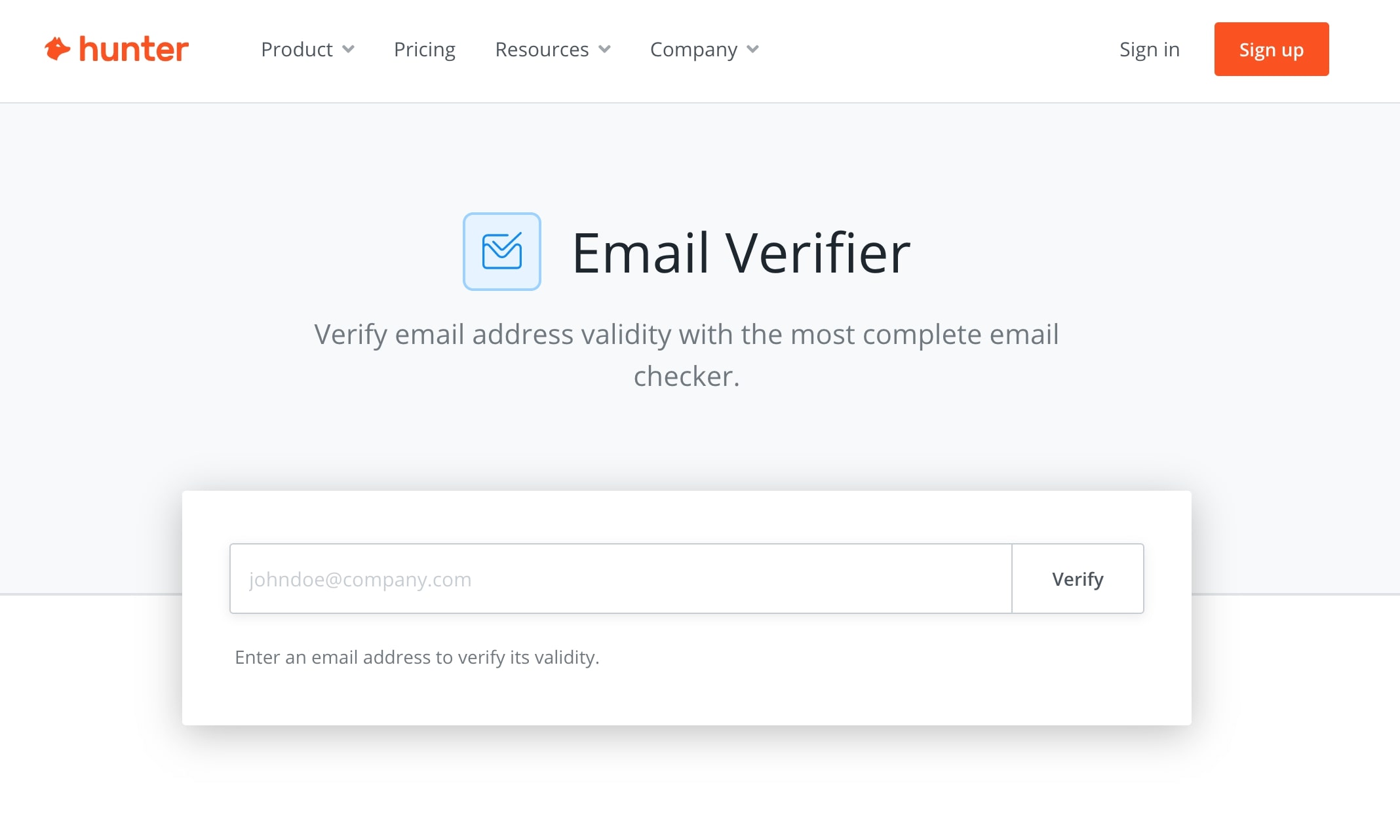 Hunter Email Verifier is a straightforward email verification tool that comes as part of Hunter's email toolkit, which also contains an email finder that allows you to quickly find the email address of a professional or corporation. Unlike independent email address verification software, Hunter Email Verifier concentrates on the essentials: bulk and API email verifications.
Pros
– Single email verification is free
– Extensions for web browsers
Cons
– There are no major platforms that it integrates with.
– There is no choice for a one-time purchase.
Get Started With Email Verification
As you have already seen, using an email verifier can help you out in so many ways. It helps save money, gets better ROI, improves your sender reputation, and keeps your list clean to get accurate statistics of the campaign's performance. Moreover, as a salesperson, it is mandatory to have an email verification tool, or else you can land in trouble without a valid email list.
We hope we have successfully narrowed down your search and you know which tool top go for!
All the best with verifying emails!
FAQs
1. What are bulk verification tools?
An email verifier is an outreach tool, plugin, or SaaS product that lets salespeople verify email addresses and ensure that they exist and are valid. These days, most email verifiers are available as online services
2. What are real-time verification tools?
With real-time email verification tools, it is possible to check email addresses when you collect them. The tool catches invalid addresses even before you add them to your list.
3. What are ongoing/automated verification tools?
Automated verification tools remind when email list cleaning is required or automatically scan your database of email addresses periodically and remove invalid and risky addresses.