The first question we should start with is why your business needs B2B lead generation? The answer is simple. Leads are the source of your bread and butter.
Qualified leads are critical to achieving success. You have to identify the correct leads that are most likely to convert and contribute to your bottom line.
However, the best lead generation strategies can work their magic only when strong tools support them. With the top-rated lead generation software, you'll enjoy invaluable support to accomplish this task.
The best tools allow you to see who visits your site, what engages them and also let you convert them into revenue-generating customers.
Below is a comprehensive list of the best tools to generate, manage, as well as convert leads.
But before jumping into the listicle, let's learn everything there is to know about lead generation software.
What is Lead Generation Software?
B2B lead generation tools automate the process of capturing leads and gathering their contact information. Basically, these are time-saving tools that help you connect with interested visitors without any manual effort.
Lead generation tools boost your customer base by taking care of the leads. This way you can spend more time on other critical areas of your business. They also integrate with your existing CRM software. This means, all the captured leads automatically go to your CRM, where you can further manage and nurture them.
You can follow the sales procedure and scale your business rapidly with the best quality leads.
20 Best B2B Lead Generation Software
With the best lead generation software, you can generate and convert high-quality leads from various channels. This further boosts your overall sales and revenue.
Explore this list of the best lead generation tools in 2022 and pick the one that best suits your needs.
1. SalesBlink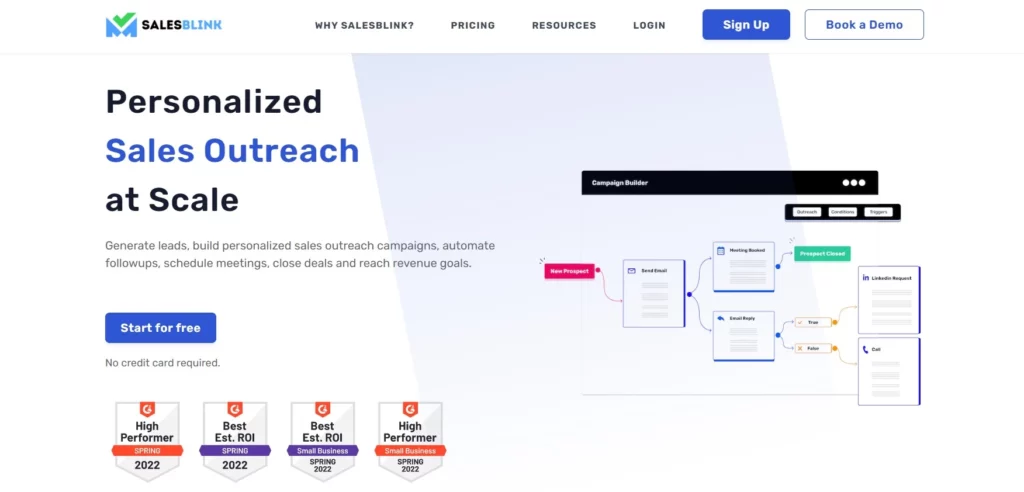 SalesBlink has emerged as one of the best lead generation tools for sales as it focuses more on smart work than hard work. The software uses the cold email and LinkedIn outreach method to connect with prospects in a few minutes while maximizing the chances of a response.
With the visual campaign builder option, you can gather leads from multiple channels in minutes. Also, you can get an ideal list of prospects with its B2B company finder feature. It helps you filter companies based on their country, industry, and team size.
Key Features of SalesBlink
Manage prospects and their history on a centralized dashboard
Get verified emails and perform single or bulk searches
Filter out companies and pitch globally
Schedule automated follow-ups across channels
Pricing
SalesBlink offers 3 pricing tiers:
Email Warmup: $11/user/month
Email Outreach: $29/user/month
Sales Outreach: $89/user/month
2. ProProfs Survey Maker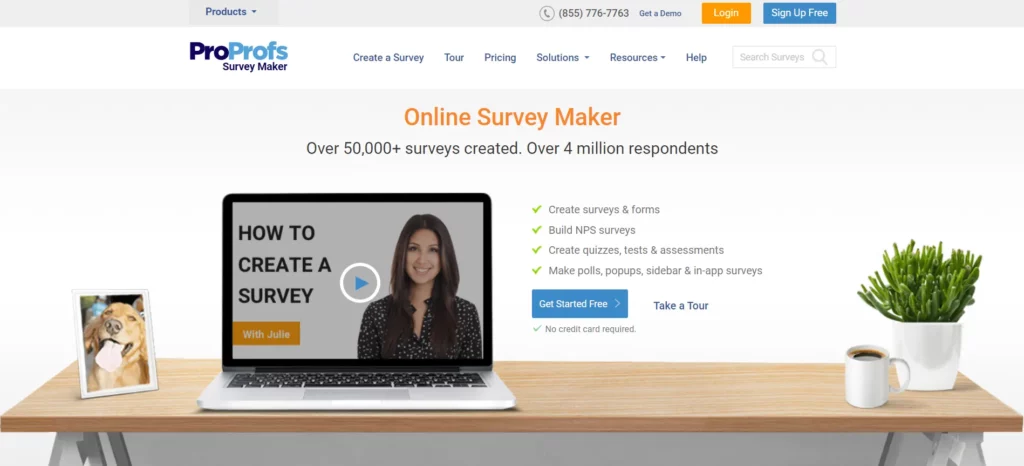 ProProfs Survey Maker is a flexible and versatile lead generation tool with a free trial option. It is a simple tool with robust features that helps you create different surveys as well as web forms such as Contact Us.
The tool offers over 1,000,000 ready-to-use survey questions and 100s of pre-made survey templates for creating beautiful surveys and web forms in minutes.
You can share these surveys via email, as a direct link, or directly on social media. Not just this, you can also embed them on your website and make it easy for website visitors to contact you.
Key Features of ProProfs Survey Maker
Customize your surveys and web forms with your favorite themes and colors
Add skip logic and branching to your surveys
Track who took your survey and how they answered with smart reports
Capture respondents' information and automatically send it to your CRM
Pricing
ProProfs Survey Maker comes with three pricing tiers:
Free: Forever free plan
Essentials – $0.05/response/month
Premium – $0.10/response/month
3. Qualaroo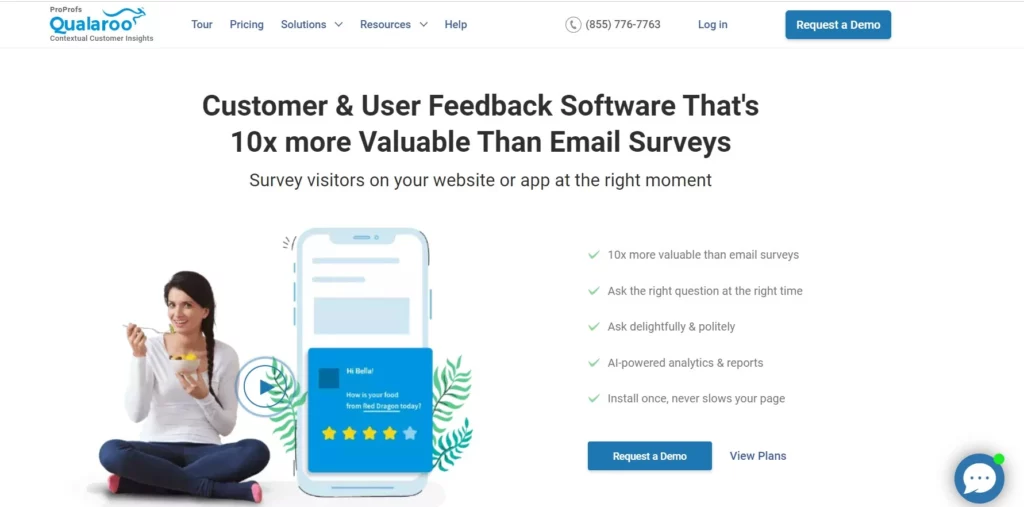 Qualaroo is one of the most advanced user feedback and lead generation tools in the market. You can create targeted surveys and lead capture forms in minutes for your website, mobile app, social media, or other channels.
Its in-depth targeting options let you target niche visitor behavior and actions to show the lead form to the right prospects. And with seamless integration APIs, you can automatically push these leads to your CRM and start closing the deals.
Key Features of Qualaroo
Offers 14+ question types and skips logic
40+ advanced targeting options to show the lead forms to the right people
Supports over 6 channels to collect high-quality leads.
Integrates with popular tools for quick data and lead management.
Pricing
Qualaroo offers three pricing tiers for interested marketers:
Essential: $80/month
Premium: $160/month
Enterprise: Available on request
4. Picreel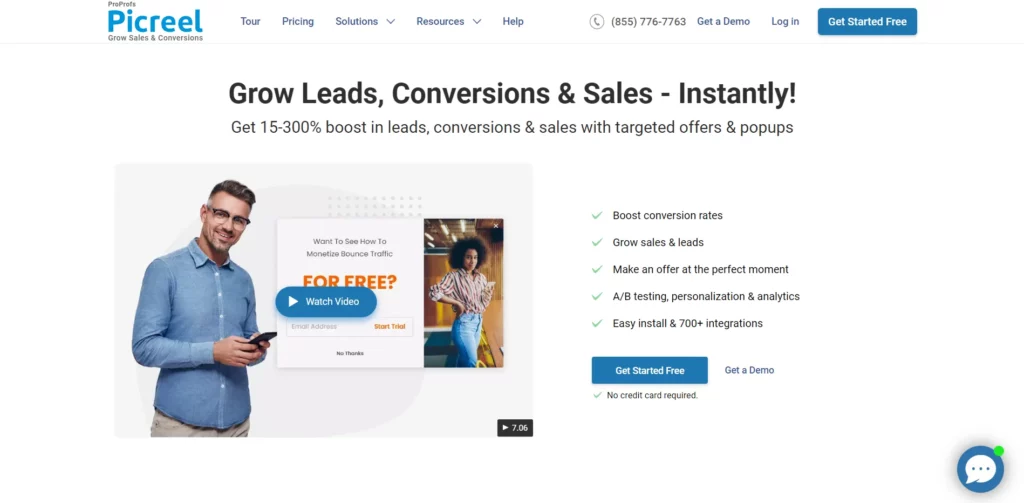 Picreel is an exit-intent popup and conversion optimization tool that helps you capture the right visitors at the right time. It helps you create beautiful popups and display them right when visitors are highly engaged or about to exit your website.
With these popups, you can lure visitors into giving their contact details in exchange for an attractive offer, such as a discount, freebie, or free subscriptions. Once you have the data, push it directly to your CRM and let your sales and marketing teams work on the leads.
Key Features of Picreel
100+ beautiful templates to create popups
A/B testing, personalization & analytics
Smart trigger and targeting options
Built-in reports to measure campaign performance
Pricing
Picreel comes with four pricing tiers:
Starter: $14/month
Basic: $52/month
Plus: $112/month
Pro: $299/month
Enterprise: Available on Request
5. ProProfs Chat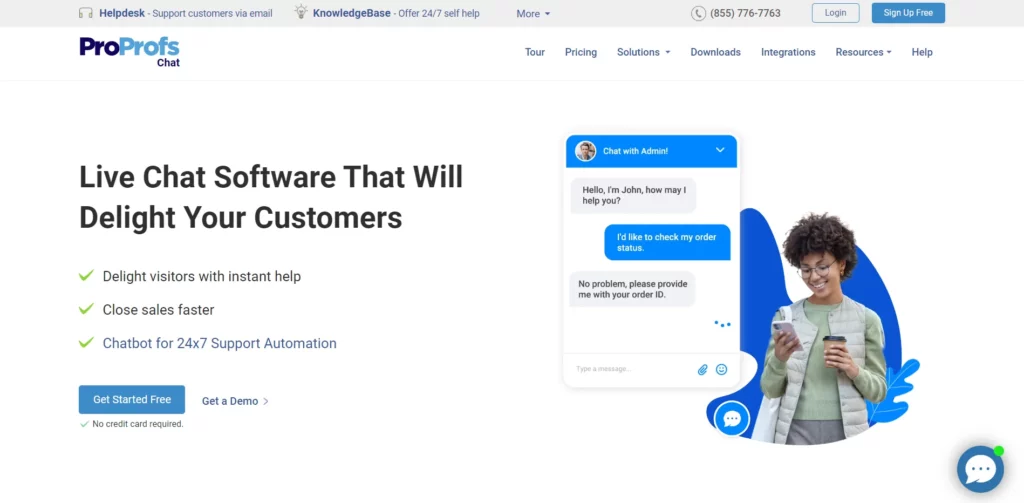 ProProfs Chat allows you to connect with website visitors proactively and offer instant, real-time assistance. In doing so, you can also capture valuable information using pre-chat forms. You can then transfer this information to your CRM for your sales and marketing team.
The tool also allows you to monitor visitor activities on your website and target them with personalized messages. Its advanced features, such as chat routing, help you direct visitors to the right operators to maximize your chances of conversions.
Key Features of ProProfs Chat
Push visitor details to your CRM systems
Route chats to the right operators for meaningful conversations
Automatically answer standard questions with ProProfs Chatbot
Track operator performance and customer ratings with reports
Pricing
ProProfs Chat comes with four pricing tiers:
Essential: $10/operator/month
Premium: $15/operator/month
Enterprise: Available on request
6. OptinMonster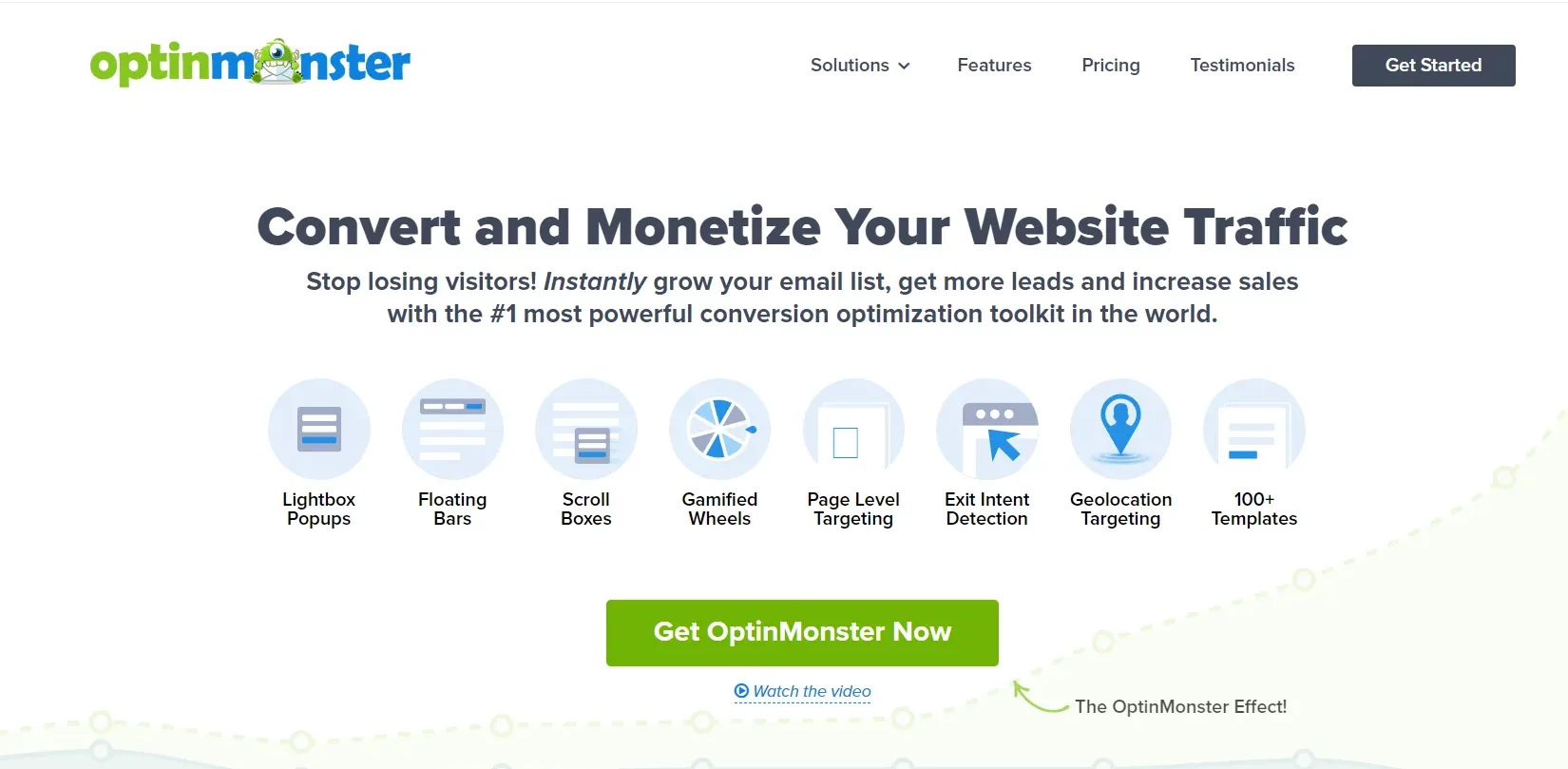 OptinMonster helps you convert website visitors into leads and paying customers. This tool offers more than 100 customizable templates, so you don't have to begin from scratch while creating overlays, popups, and forms. You can also segment your leads through its advanced page-level targeting features and target them with personalized offers.
Furthermore, the tool also provides deep insights into your high and low converting pages. It can, therefore, bring improvements to your lead generation strategies.
Key Features of OptinMonster
Create visually appealing opt-in forms for high conversion rates
Use multiple campaign types for maximum engagement
Display appropriate campaigns to the right people with smart triggers
Enjoy seamless integrations for fast conversions
Pricing
OptinMonster comes with five pricing tiers:
Basic: $9/month
Plus: $19/month
Pro: $29/month
Growth: $49/month
7. HubSpot
HubSpot is one of the best free lead generation tools. It offers a range of tools to boost your marketing, sales, and customer support efforts. The tool is an all-in-one solution for inbound marketing and comes with insights to improve and measure your campaigns.
Its marketing hub comes with all the necessary features you need to capture visitors at scale through effective campaigns. You can optimize your content for SEO, manage and track ads, and also offer real-time assistance through live chat.
Key Features of HubSpot
Track and manage ads on social media platforms
Live chat support functionality
All-in-one tool with separate hubs for better efficiency
Tracking, scheduling, email templates, and engagement tools
Pricing
Hubspot lead generation software comes with two basic pricing tiers:
Free: Free plan
Professional – $800/month
Enterprise – $3200/month
8. Leadfeeder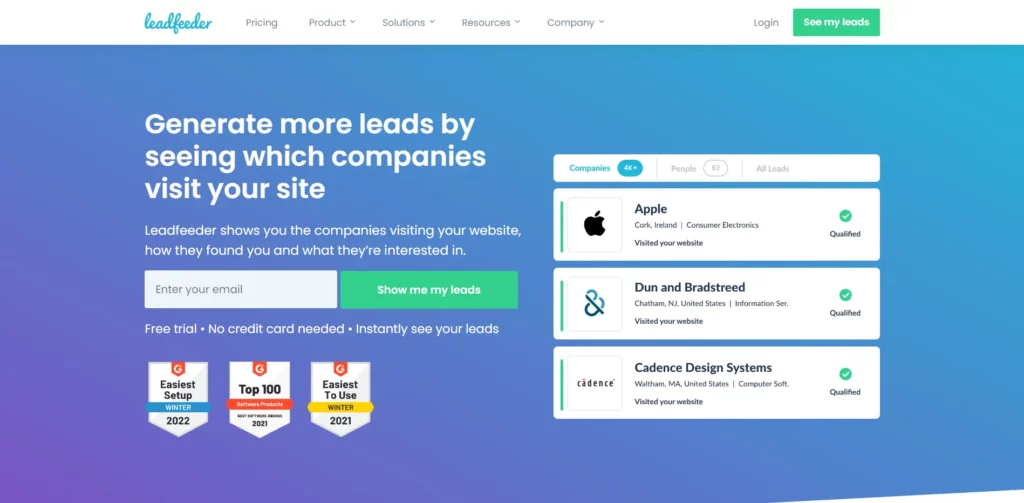 Leadfeeder is a powerful tool for lead generation. It helps you identify the names of companies coming to your website, track their behavior, and anticipate their needs even before you make a sales pitch. You can filter quality leads and send them directly to your CRM, where you can nourish them further.
You can instantly know every time new leads come up with its real-time notifications. Further, it is even possible to score leads and prioritize only the high-quality ones.
Key Features of Leadfeeder
Get email alerts when targeted leads visit the website
Automatically sends leads to your CRM with seamless integrations
Most qualified leads find place on top with automated lead scoring
Connect the tool with Google Analytics to monitor your marketing campaigns
Pricing
Leadfeeder comes with two pricing tiers:
Lite: Lite version is free
Premium: €79/month
9. monday.com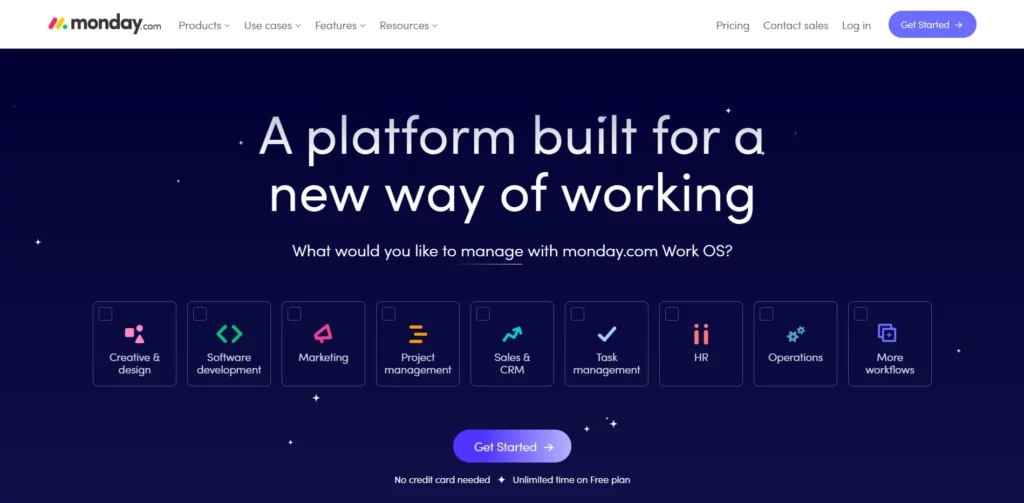 monday.com is undoubtedly one of the best free lead generation tools that act as an all-in-one platform for project management, CRM, and collaboration. Its sales CRM and marketing tools are designed to bring all your leads and marketing campaigns to one centralized place.
You can also get a 360° view of all your campaigns and maximize the efficiency of your workflows with automation. Overall, the tool offers a hassle-free way to manage all leads, track the status of your deals, and track interactions.
Key Features of monday.com
Visualize sales pipeline and manage interactions from a single place
Customizable dashboards for more clarity on sales activities
Custom workflows for highly efficient teams
Powerful integrations to help you get more done in less time
Pricing
monday.com comes with five pricing tiers:
Individual: Forever free plan for two members
Basic: $6/seat/month
Standard: $10/seat/month
Pro: $22/seat/month
10. Pipedrive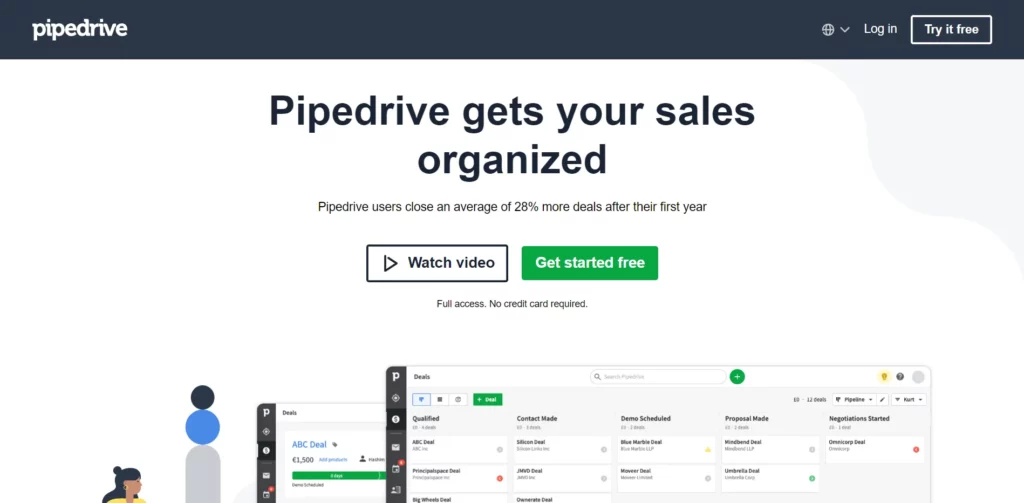 Pipedrive is an ideal software for sales and lead generation. The tool provides an all-in-one space to visualize your sales pipeline and track all interactions with leads. Furthermore, its AI-powered automation gives you access to high-quality leads so you can channel your efforts in the right direction.
What makes Pipedrive a lucrative tool is its robust integrations with marketing automation, survey, and resource management tools. These integrations certainly help you make the most of Pipedrive and improve your conversions. Pipedrive is one of the popular lead generation software, hence you can also consider other Pipedrive alternatives if you need more advanced sales features.
Key Features of Pipedrive
Integrates with over 250 other tools
Import contact details directly from spreadsheets or your CRM systems
Get automatic alerts and stay updated on your deals
Collaborate internally on your deals
Pricing
Pipedrive comes with five pricing tiers:
Essential: $12.50/user/month
Advanced: $24.90/user/month
Professional: $49.90/user/month
Enterprise: $99/user/month
11. Intercom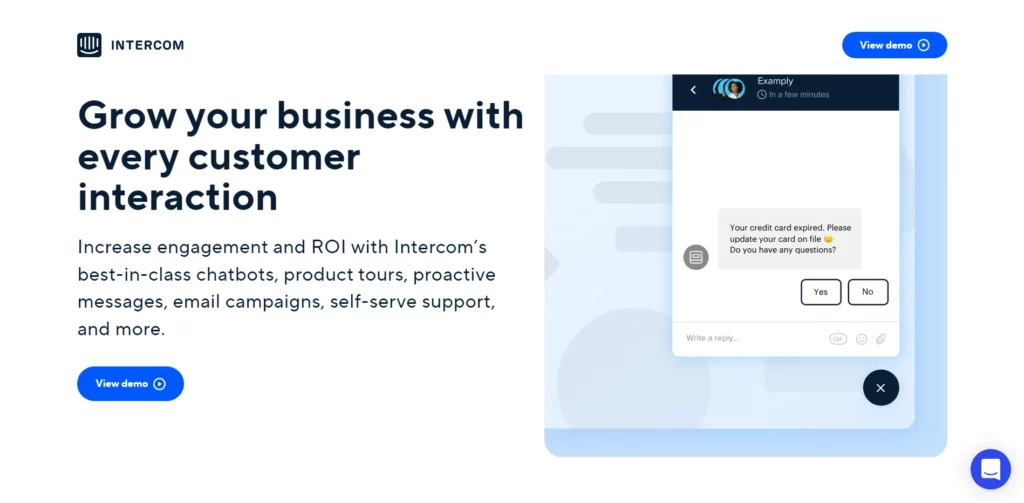 If you are looking for the best lead generation tools for small businesses, Intercom perfectly fits the bill.
It provides a modern messaging service to increase engagement with your website visitors. The tool helps you set up rules for engagement where the message will not pop out unless a visitor is on the pricing page for several minutes. Intercom also offers custom bots to answer all visitor questions quickly.
What's more? You can also create multi-channel campaigns and connect meaningfully with visitors across all touchpoints.
Key Features of Intercom
Offer personalized messages and real-time support through its mobile app
Provide self-service support and answer visitor questions instantly
Integrate with 300+ other tools
Get access to visitors' historical data to provide personalized experiences
Pricing
Intercom's pricing structure depends on the number of site visitors and the number of employees on the plan.
12. ActiveCampaign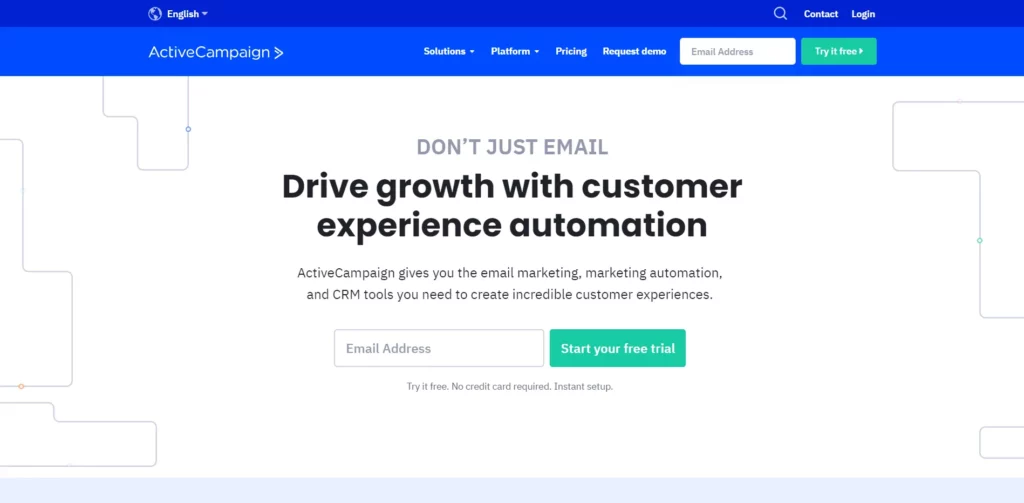 ActiveCampaign is a popular marketing automation and lead generation tool that provides email marketing, CRM, and sales engagement solutions. It enables you to launch effective email marketing campaigns and, therefore, build long-lasting relationships with prospects.
The tool allows you to send messages that people actually want to see with email segmentation. You can also track visitor activities, analyze their interest level and target the right people who show visible signs of conversion.
Key Features of ActiveCampaign
Email segmentation for personalized marketing
Monitor visitor activities and CRM data from the tool's mobile app
Track visitors' behavior, preferences, and other custom attributes for effective outreach
Automatically Send emails to contacts who have expressed an interest in your products.
Pricing
ActiveCampaign comes with five pricing tiers:
Lite: $9/month
Plus: $49/month
Professional: $149/month
Enterprise: Available on Request
13. Hotjar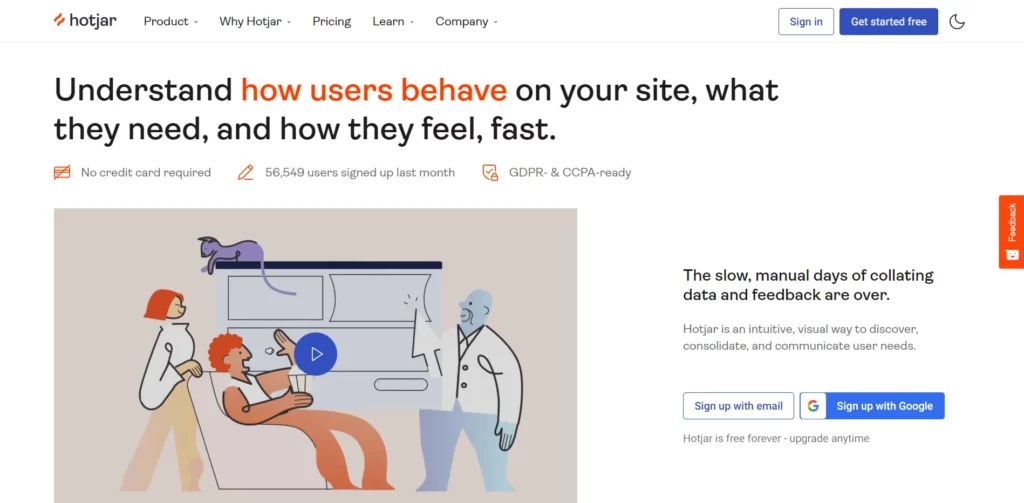 Hotjar is a heatmap tool that helps you visualize visitor behavior, closely track their activities, and share surveys to learn how they feel.
Its heatmaps give you a peek into what attracts visitors the most and also what they prefer to ignore on your website. You can also map the entire journey of a user right from the moment they enter your website till they finally exit. Such analysis helps you engineer impactful marketing campaigns.
Key Features of HotJar
Trigger surveys after certain user actions
Export heat map analytics data
Integrate with popular tools like Slack and Hubspot
Simple drag and drop builder to create surveys
Pricing
HotJar comes with five pricing tiers:
Basic: Free plan
Plus: $31/month
Business: $79/month
Scale: Available on Request
14. Leadpages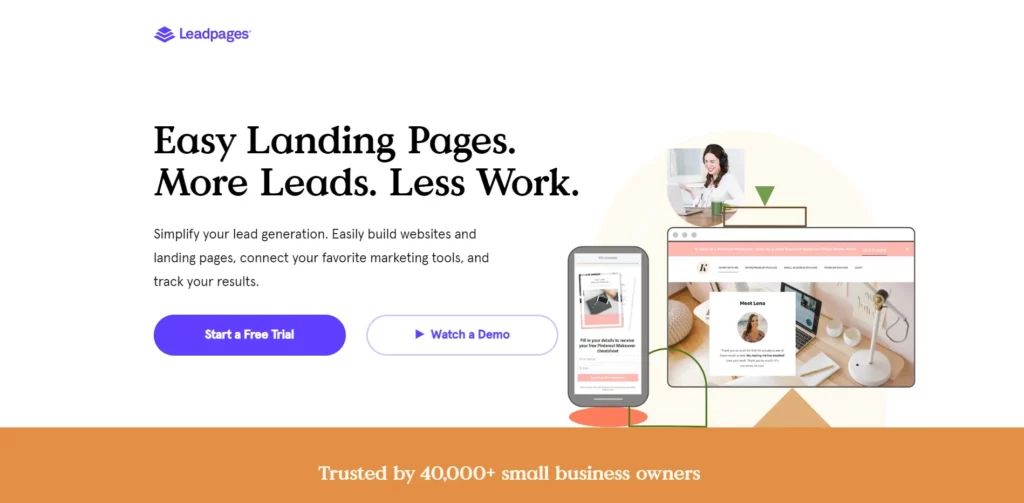 Leadpages is an ideal lead generation software for small businesses. It allows you to create, optimize, and track the sales performance of popups, landing pages, and social media ads. 
The tool helps you create engaging, code-free websites through its drag and drop builder and beautiful templates. You also get a complete conversion toolkit, including checkout forms, pop-ups, and alert bars, that are useful for lead generation and conversion optimization.
Key Features of LeadPages
Real-time guidance to develop the best lead page for SEO
Beautiful templates to get you started in no time
Seamless integration with 1000+ tools
Trigger the right popups at the right time
Pricing
LeadPages comes with four pricing tiers:
Standard – $37/month
Pro: $74/month
15. MobileMonkey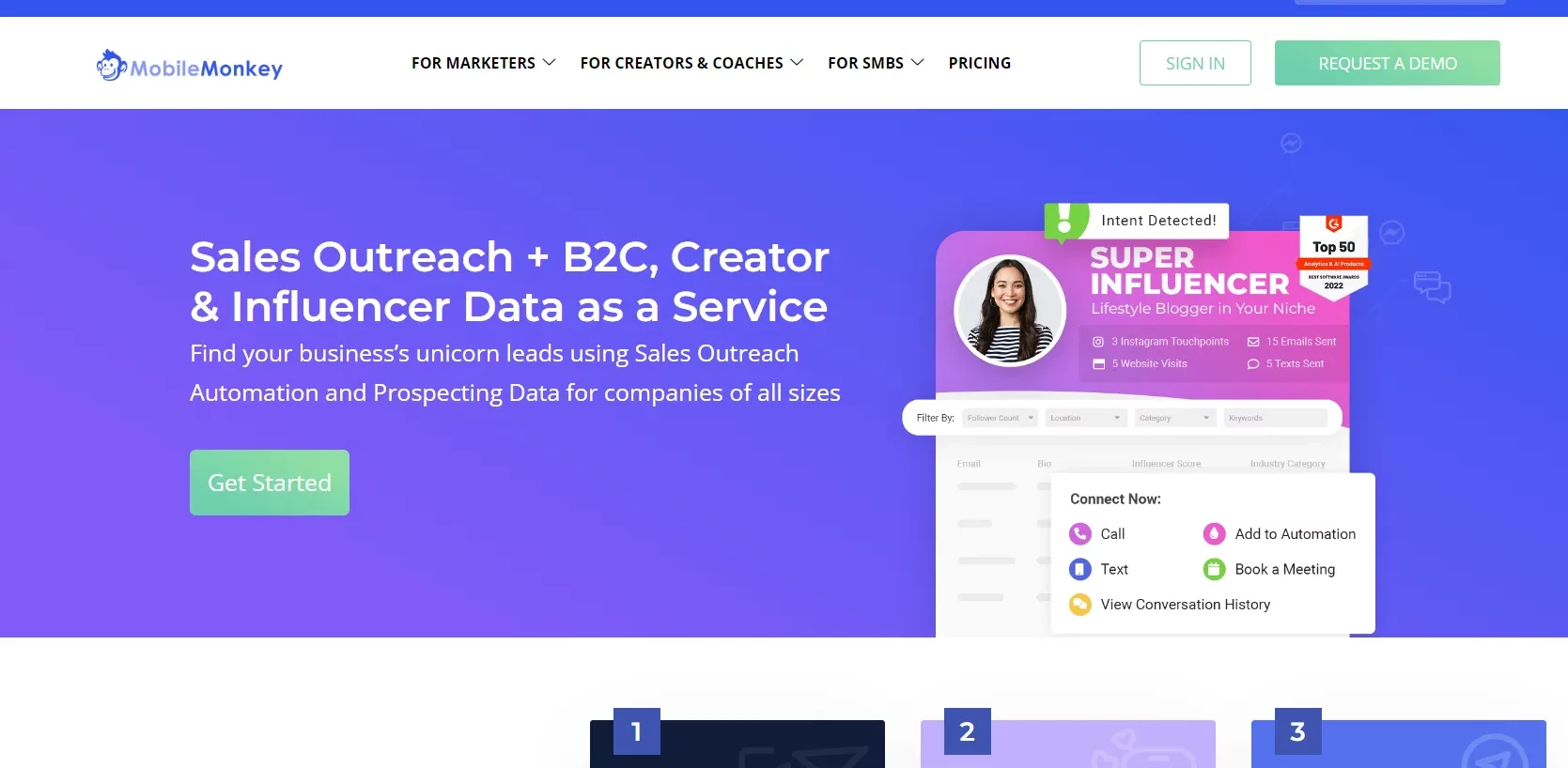 MobileMonkey is one of the best social media lead generation tools that automate messaging across Instagram, Facebook, and Webchat, to gather leads and build better experiences. This certainly makes way for your business to stay active and instantly connect with visitors 24×7 on all the social media platforms they use.
The tool's Omnichat technology also allows you to send SMS surveys and promotions to your audiences, so they can fill them on the go.
Key Features of MobileMonkey
Built-in chatbot for sales
Auto-respond to visitor comments on Facebook
Get instant notifications about leads via emails and SMS
Organize drip campaigns to nurture leads
Pricing
Not mentioned
16. LinkedIn Sales Navigator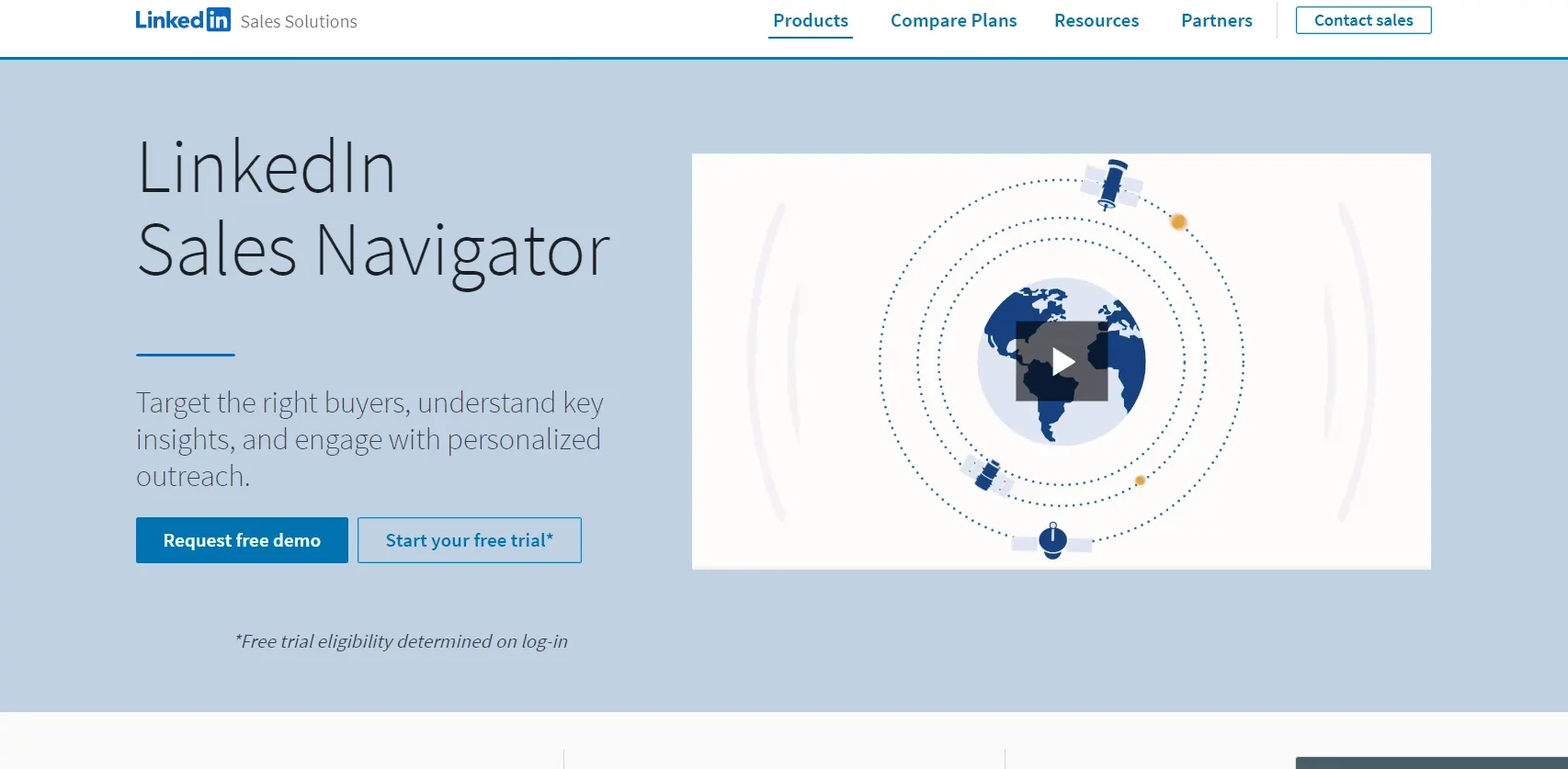 When it comes to the best LinkedIn lead generation software, nothing can be better than the LinkedIn Sales Navigator. The tool gives you valuable lead recommendations which are then automatically saved in your CRM.
With real-time sales updates, you can make informed decisions and ensure that you don't miss out on important opportunities. The tool also provides a way to keep your contact data organized and secure with internal tags and notes.
Key Features of LinkedIn Sales Navigator
Send in-mail messages even if you are not connected to a LinkedIn member
Seamless integration with other sales tools
Sync with CRM tools for better lead management
Get useful insights to boost your selling efforts
Pricing
The LinkedIn Sales Navigator software comes with four pricing tiers:
Core: $79.99/user/month
Advanced: $125/iuser/month
Advanced Plus: Available on Request
17. Drift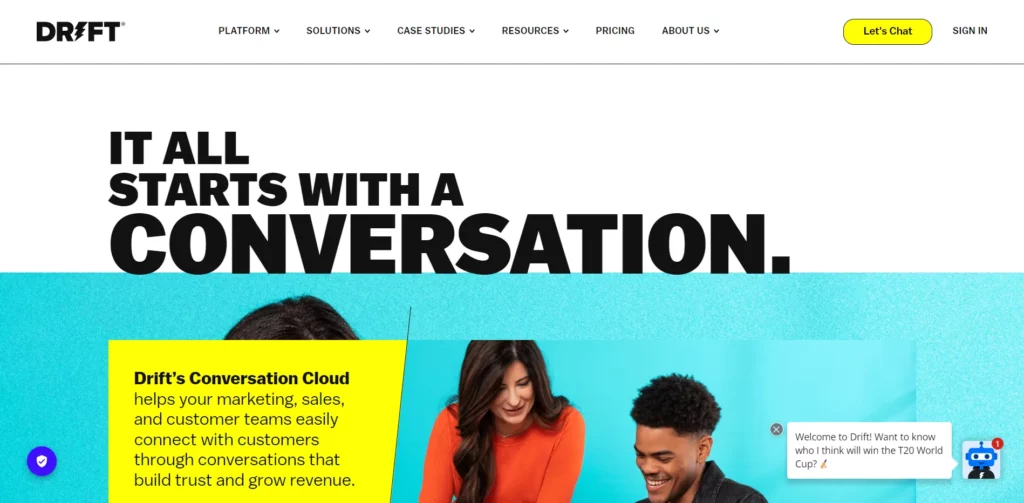 Drift is a popular tool notable that helps marketing and sales teams establish meaningful connections through great conversations.
Whether it's chat, email, or any other channel prospects prefer, Drift allows you to have impactful, conversion-focused conversations. You can use marketing automation data to keep visitors engaged and have context-specific conversations with them.
Further, the tool offers live chat, chatbot, conversational AI, and many other solutions, providing resources you need to capture and convert leads.
Key Features of Drift
Gain real-time insights into visitor activities, and close deals faster
Provide 24×7 support through the tool's custom chatbot
Manage all sales activities on a centralized platform
Schedule meetings and calls with visitors 24×7
Pricing
Available on Request
18. Hootsuite
Hootsuite is the ultimate social media lead generation tool for small to big business organizations. The tool allows you to review social media posts and automatically schedule them for a suitable time. You can also monitor social conversations and trends, and even reply to comments – all from a single dashboard.
Its built-in social analytics is a great feature for gaining actionable insights into your top and poor-performing content. The best part is this tool makes social media advertising super easy with multi-channel functionality and analytics.
Key Features of Hootsuite
Automatically schedule social media posts
Measure content performance through built-in analytics
Easy monitor engagement across social media channels
Real-time collaboration on marketing campaigns
Pricing
Hootsuite comes with four pricing tiers:
Professional: $25.27/month
Team: $99.49/month
Business: $593.73/month
19. Mailchimp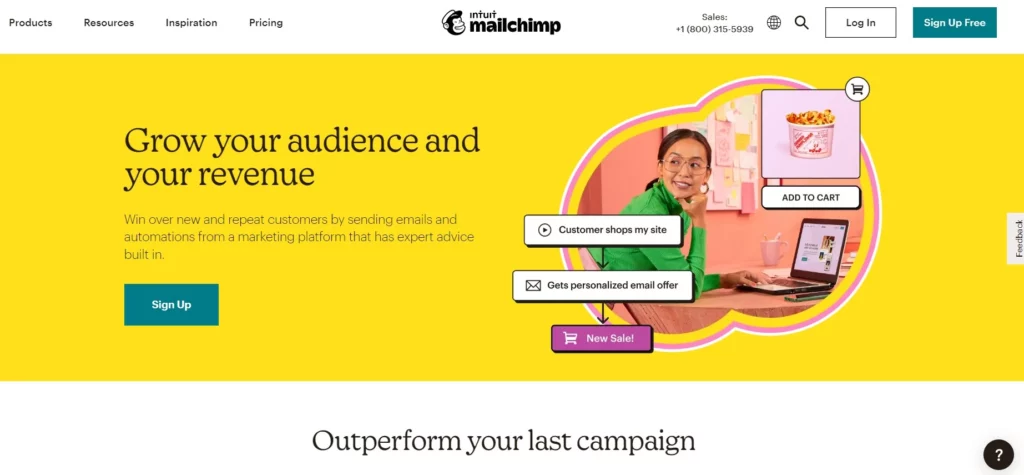 Mailchimp is a popular B2B and B2C email marketing tool that helps you engage with prospects and market your brand. It basically offers an easy-to-use platform to track all your leads data, marketing channels, and valuable insights without switching tabs.
The tool basically lets you to create multi-channel campaigns to reach your audience right where they are and maximize conversions. From creating personalized emails and landing pages to targeting visitors through digital ads and social media posts, Mailchimp provides an all-in-one solution for lead generation.
Key Features of Mailchimp
Use drag and drop builder to build crisp, clean emails
Get real-time and detailed data on your email campaigns
Create social media posts, digital ads, and landing pages
Get real-time insights and recommendations through reports
Pricing
Mailchimp's lead generation solution comes with four pricing tiers:
Free: Free plan
Essentials: $10/month
Standard: $15/month
Premium: $300+/month
20. Zapier
Zapier is a popular tool that is noted for its ability to connect different apps together so you can work in a hassle-free way.
The tool automatically connects all apps, giving you more power over your tech stack. Its easy editor helps you build workflows without the assistance of a developer, which makes it a decent tool for those who lack technical skills.
Moreover, you can use it to automate over 3000 apps, which can include lead generation software as well. This certainly saves you from the headache of setting up your own integrations.
Key Features of Zapier
Easily automate routine tasks
Works with 3000+ apps
Create workflows in minutes with its easy editor
Use branching logic to create advanced workflows
Pricing
Zapier's lead generation software comes with five pricing tiers:
Free: Free plan
Starter: $20/month
Professional: $50/month
Team: $307/month
Company: $616/month
Land More Leads With the Right Lead Generation Software
With this comprehensive list of the best lead generation software, seize the opportunity to boost lead generation and make your business a grand success. Equip yourself with the right tool and start clocking leads for your business today!
FAQs
What are the 2 different types of lead generation?
There are 2 types of lead generation:
Inbound – Here, the prospects show interest in the brand & want to know more about it.
Outbound – Here, the brand approaches the target audience to get their attention.
What are the best lead generation software?
Here are the top lead generation tools that can help you generate quality leads:
SalesBlink
ActiveCampaign
Qualaroo
OptinMonster
HubSpot
Is paid lead generation software better than free tools?
Free tools are majorly for small businesses that don't aim to scale up. However, if you are aspiring to grow, you must invest in paid tools to generate quality leads that are more likely to convert.