As a sales professional, you need to have effective communication skills to connect with clients better. If they cannot appeal to their clients, they will not be able to make sales.
Additionally, you need to stay on top of all market trends, updates, and news to satisfy all their clients' queries because 94% of buyers conduct online research before their purchase decision. Therefore, it is important for a sales rep to possess all the requisite knowledge and skills to be successful in their industry. Along with that there's the need to have a solid sales communication strategy in place.
A carefully laid out sales communication strategy maps out objectives for every step in the sales process, from opening pitch to closing deal, and establishes effective communication between the buyers, sellers, and internal business representatives.
In this blog, we will see how you can build the right sales communication strategy for your business, its key elements and ways to improve your strategy.
What Is Sales Communication?
Mercuri states sales communication is the passing of meaningful messages between customers and sales reps. Thus, both sales reps and customers send messages and receive messages, when they interact, whether face to face or through other channels.
An integrated sales strategy establishes an excellent communication channel between all sales reps and their customers. It enhances the experiences of the customers with the sales reps. A good communication channel also ensures that sales reps stay updated with all the necessary market updates to pitch better.
A sales communication channel has two-way communication. The managers can communicate with the customers through their sales reps about their offerings. Similarly, the customers can notify the management about their feedback and queries via the sales reps. Basically, sales reps act as mediators in both lines of communication.
Why Does Sales Communication Strategy Matter?
A good sales team should always be at par with the strategies, quotas, incentives, and knowledge of the business and its different objectives. Only then can you achieve satisfaction in all areas. The reps interact with prospects and gather knowledge about them. This knowledge helps them pitch their products better to the prospects. Needless to say, personalized interactions work better and engage the customers better. Sales reps can meet the needs of their prospects more effectively if they have enough information about them.
With sales communication, reps get information about the backgrounds, interests, likes, and dislikes of their targeted buyer personas.
Trained sales reps who know what they are selling can successfully persuade prospects leading to higher conversions. They maintain better relationships with them by answering all queries regarding the firm's services.
A great sales communication strategy ensures that your client is getting a seamless experience and support. They can get their queries resolved, and feedback heard without hesitation. This further strengthens the interpersonal relationship between the company and the client.
An integrated sales communication plan helps the higher management stay informed about all the issues, complaints, or feedback made by customers about the products or services. This enables them to make the necessary improvements. So, you can see the importance of a sales communication strategy.
With better sales communication techniques, lead conversions to increase in numbers. Increased leads fill up your firm's sales pipeline and help you achieve your goals faster. Hence, sales communication is essential.
Who Takes Part in Sales Communication Strategy?
The sales communication pyramid includes sales reps, sales managers, and customers. They communicate with the help of different channels..
Customer Relations (CR) representatives are also a part of the channels to get updates on consumer feedback.
An effective sales communication strategy prepares proper communication channels to circulate information after checking the sources on all ends, ensuring that the information they are sending out is precise and accurate.
When drawing up a sales communication plan for your firm, you should decide what the best modes of communication would be. Nobody knows your firm better than you do, so you should involve yourself directly in the planning process.
No matter what type of channels you create for your sales communication strategy, you should make sure that they prioritize effective messaging and communication.
Every message should contain the following key components:
Source: The source refers to the origin of the messages. It is not necessary that the message's creator sends those messages. The creator and the source might be two separate entities.
Audience: The audience consists of the people the message is intended for. The audience receives the delivered message and takes action accordingly.
Purpose: The purpose outlines what the message is about. It might be asking the receiver to meet a deadline, initiate changes, or even communicate the message further. The message's purpose decides the level of immediacy and urgency to be given to the message.
Immediacy: This level determines whether the message is urgent and needs to be prioritized or not.
What Are The Primary Channels of Sales Communication Strategy?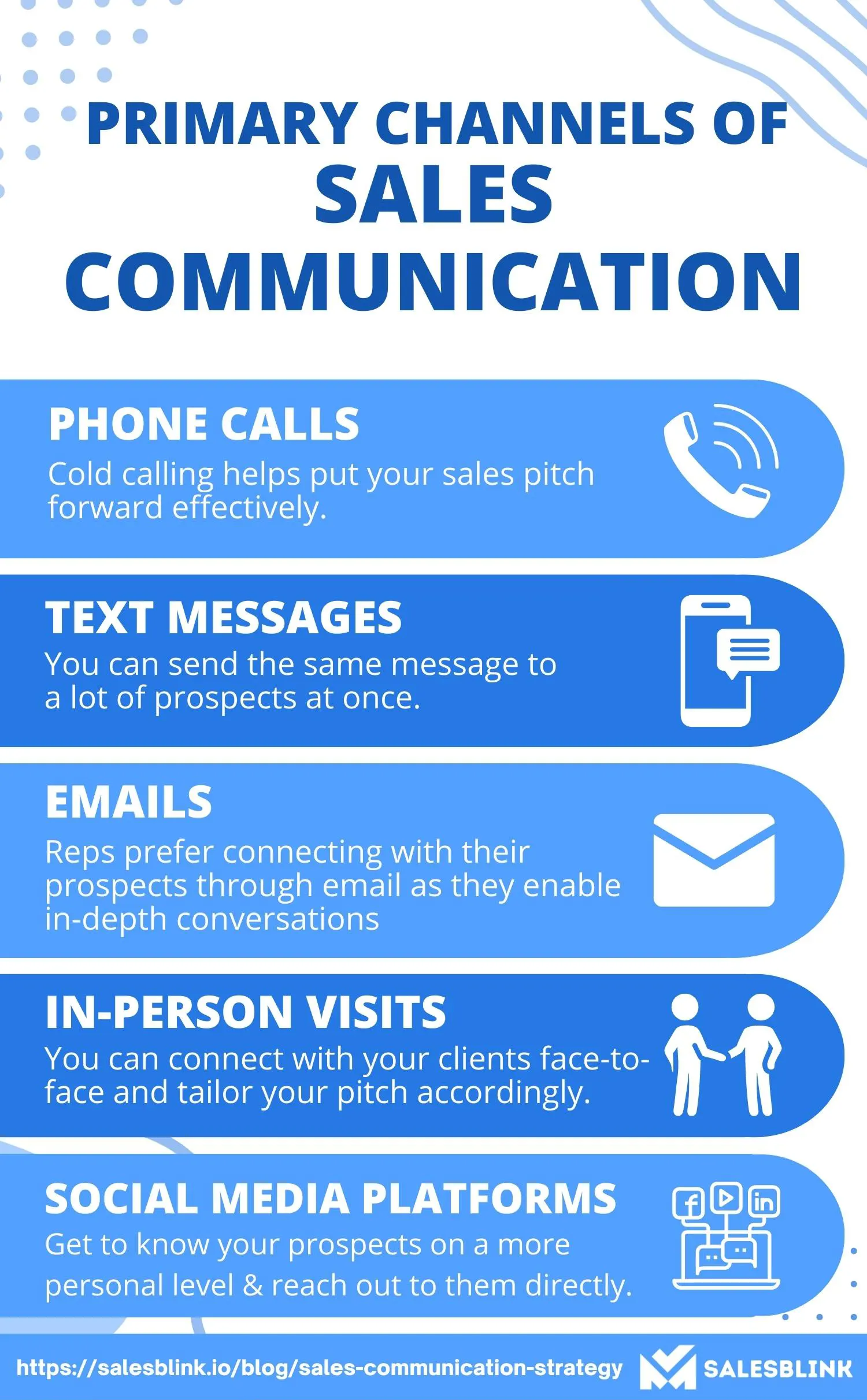 A sales communication strategy should enable the sales reps to communicate better with their prospects. Having different communication channels ensures that communication is efficient and effective.
The most common channels of communication are:
Phone Calls – Cold calling is a tried-and-tested method of contacting your customers. Phone calls help put your sales pitch forward effectively while having a pleasant conversation.
Text Messages – Text messages are great as well. You can send the same message to a lot of customers at once which is why a lot of companies send their promotional offers via text messaging. However, your messages should be engaging enough to induce your customer to open and respond to it.
Emails – A lot of B2B companies' reps prefer to connect with their prospects through email. Emails enable easy in-depth conversations. Do give SalesBlink a try as you can perform much more than email outreach using it.
In-Person Visits – In-person visits are great from a customer satisfaction point of view. You can connect with your clients face-to-face and tailor your pitch according to the needs of your customer. What gives this channel an edge over the other communication channels is the human touch.
Social Media Platforms – These days, businesses are using social media platforms most often. These platforms help you build a rapport with your prospects. You can get to know about them on a more personal level through their social media handles. Social media also provides a direct and easier way of communication so that you can solve your prospect's queries directly on those platforms.
Key Elements of a Sales Communication Strategy
The critical elements of an effective sales communication strategy are:
Set Objectives
Setting Clear and concise objectives for your communication strategy will help you build it easily. This includes –
Who you should include in the channel, why you should make the channel, what messages you should deliver, and how you should deliver these messages.
Draw Up a Research
Research how you want your sales workflow to go. Collect information about your products, backgrounds, competitors, market trends, and prices. This information will help the sales reps know about the product they're marketing. Use this research to supplement what all you know about your target audience and tweak your pitches to appeal to them better.
Define Your Audience
Create buyer personas and define how to appeal to them in your sales pitches. Focus on the key demographics, their backgrounds, likes, dislikes, and social environments. It is essential to draw up a list of all the people you want to connect via the channel.
Develop Clear and Concise Messaging
Always ensure that your messages and sales pitches do not contain extra information and are always to the point. Crystal clear messages will help relay information faster. There's no need to beat around the bush.
Select Channels
Select the channel through which you will provide your information.
You can pick channels of communication based on the list you saw above, like audio and video, emails, and social media.
How To Create a Sales Communication Strategy Step-by-Step?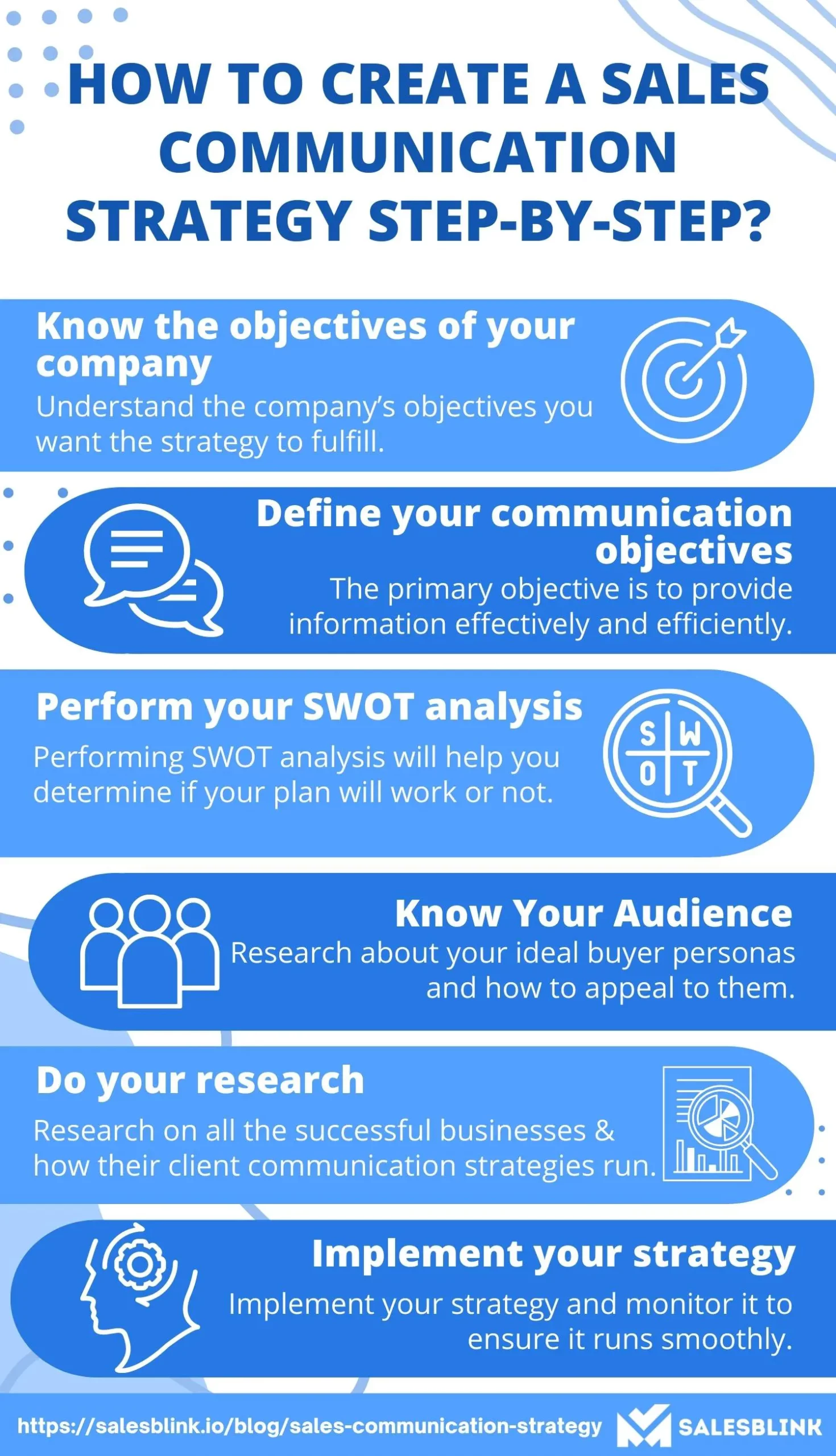 Follow the underlined steps to create a sales communication strategy that works for you –
Know the objectives of your company
Know what your company stands for. The first and foremost step towards drawing up an effective sales communication plan is to understand the company's objectives you want the strategy to fulfill.
Define your communication objectives
Draw up what objectives you want this communication channel to fulfill. The primary objective is to provide information effectively and efficiently. Focus on what communication loopholes and problems your firm is currently facing and how you can fix them by implementing this strategy.
Perform your SWOT analysis
SWOT implies 'Strengths, Weaknesses, Opportunities, and Threats.'
Performing SWOT analysis will help you determine if your plan falls short in any way before you implement it. It might also bring any previously-missed opportunities to your notice.
Know Your Audience
The most crucial step of establishing a proper sales communication strategy would be to gather enough information about your target market. Research about your ideal buyer personas and how to appeal to them. Make a list of all the communication channels you can use to reach them based on your knowledge.
Do your research
Research on all the successful companies and how their client communication strategies run.
You also need to research all the necessary information regarding your
product or service so that your sales reps are ready to answer customer queries.
Implement your strategy
After everything is ready, you need to implement your strategy and monitor it to ensure it runs smoothly.
Top Sales Communication Skills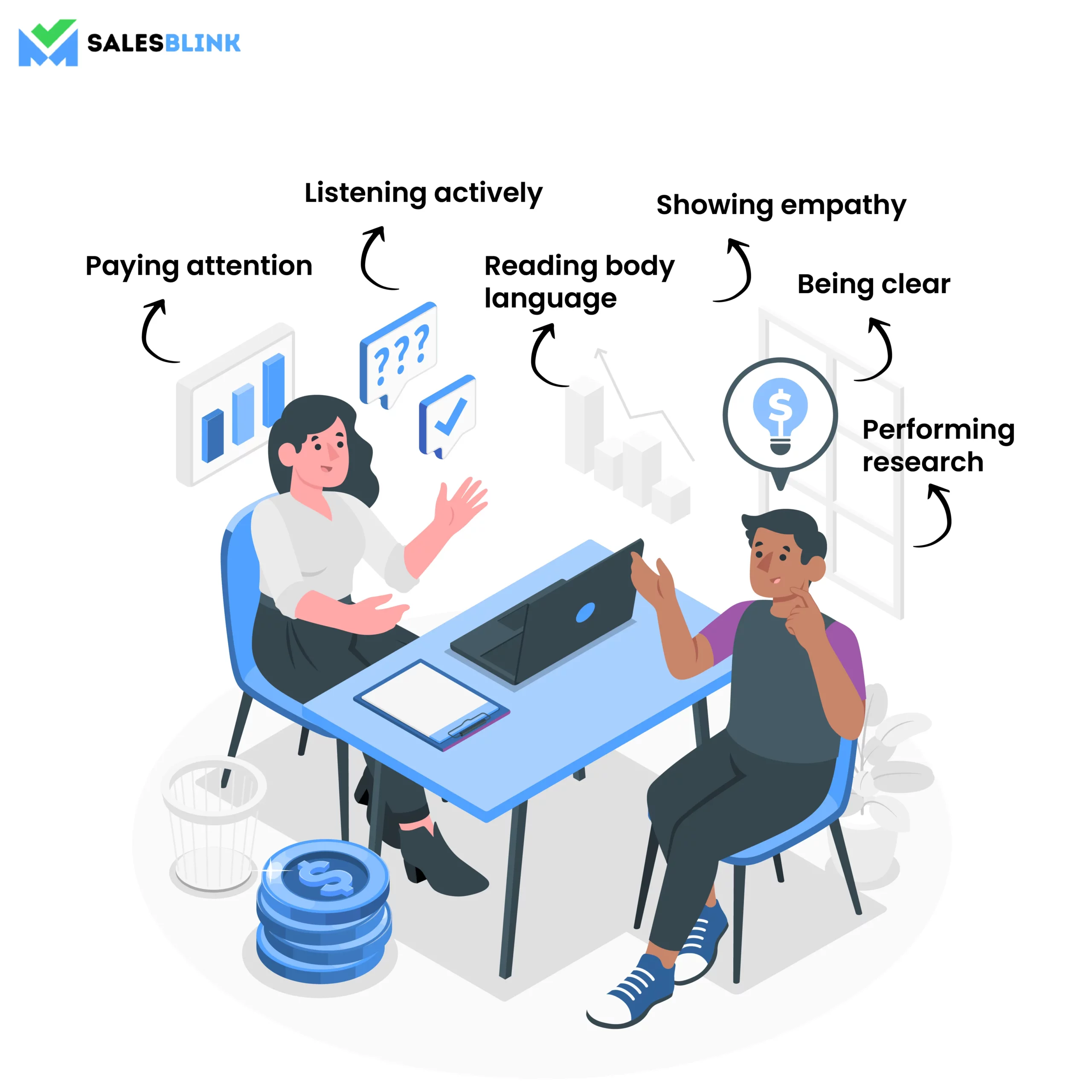 Anyone can become a sales rep. But being a great one who closes deals regularly is what makes all the difference. Here are the top sales communication skills that a good sales rep needs-
1. Paying attention
Devote your 100% attention to your prospect. Pay attention to what your prospect says actively so that you don't miss any crucial details.
2. Listening actively
Just paying attention is not enough. You need to actively listen to your prospects and make sure you understand their needs and requirements.
3. Reading body language
Reading and understanding your prospect's body language is an excellent way of understanding what your prospect is feeling, even if they do not put it into words. Are they slouching? Are they listening to you with a smile? Do they look disinterested? Body language is a crucial indicator of where the conversation is heading.
4. Showing empathy
The best sales professionals always try to put themselves in their prospect's shoes. It makes them understand the prospect's needs. Being empathetic would help you connect with your prospects better and increase your chances of closing a sale.
5. Being clear
Make clear, concise, and to-the-point statements while pitching your product. Nobody will be interested in your pitch if you keep beating around the bush.
6. Performing research
Perform research about your product, company, competitors, prospective customers, and market trends. This research will help you be adequately prepared for whatever your prospect asks you.
How To Implement a Sales Communication Strategy?
Okay, you've done just about everything. The only thing left is to implement and execute the strategy you have built. Here are some guidelines you can follow to execute your strategy flawlessly –
Establish a Sales Cadence
Sales cadence refers to the flow of sales activities a firm uses to ensure lead conversions. It includes all the engagements a sales rep has made with a prospect, including social media interactions, cold calling, and emails.
Build a Customer Profile
You need to build a profile of your target audience to set up an effective sales cadence. You need the target audience's background, interests, social engagements, and so on. A customer profile helps identify the modes of communication you can use to interact with your prospects.
Set Up Modes of Communication
An effective sales cadence incorporates a multi-channel approach to communicate with their prospects successfully. You need to list all the viable communication channels you can use for your strategy. These might include social media, push notifications, messages, emails, or webinars.
Keep in Touch With Your Prospects
An effective sales communication strategy plans out the frequency and timing of the sales cadence. Sales reps should follow-up with their prospects to engage with them. However, the follow-ups should not be too many in number, nor should they be too sales-y. Your prospect mustn't feel bombarded with your engagements.
Monitor Actions
Monitor your strategy by setting up sales performance indicators and measuring your plan's progress against them. If you find any deviations, correct them.
Refer to The Plan
Refer to the plan you initially set up periodically to ensure everything is going according to it. Make changes in your implementation, if necessary.
Adjust Your Deviations
Adjust any deviations that might occur after the implementation of your plan. Work on improving them to get back on track.
How To Improve Your Outreach and Sales Communication Strategy?
Here's how you can improve your Sales Communication Strategy with prospects and your outreach approach.
Focus On The Right Audience
Find your target audience and focus on them. There would be many people who do not need your product, but if you focus on those that do, you'll have a significantly higher chance of closing a sale.
Pick The Right Channels
Pick the communication channels that will work the best to pitch your product. Generally, cold calling and emailing works but you have social media these days. Find out what works best for you and stick to it.
Personalize Your Pitches
Make your prospect feel special. Take notice of prospects and their demands and feedback. Individualize your sales pitch according to what will resonate the most with your customer. Collect, organize, and use data on your leads to cultivate compelling propositions that will entice your prospect.
Be Proactive
Be the one who makes the first move. Contact potential clients and try to persuade them to close deals with you. Update your knowledge about your product regularly. A good sales professional has lots of knowledge about his industry. All the information helps them to make their pitches in a better and more effective manner.
Integrate Sales and Marketing
Marketing and sales go hand in hand when closing a deal. Marketing and sales in a company should always be in sync with each other and the company's objectives.
Your firm's message and branding should be consistent with your sales pitches. Your marketing team can draw up methods to improve your sales performance, and your sales team can use your marketing campaigns to close more deals.
Remember to Follow Up With Your Prospects
You must contact your prospects regularly so that they do not forget about you and your product. However, being pushy would only drive them further away. Therefore, do not bother them too much and use a balanced approach.
Get Ready to build a successful Sales Communication Strategy
So, now you know how necessary it is to establish an effective communication strategy. We saw all the aspects of building one and the various attributes a successful salesperson possesses when dealing with prospective clients. They would ensure your firm's success with an increase in lead conversions if you apply them right.
If you follow the tips and pointers, you can expect positive results in your sales performances. Keep these inputs in mind and develop an effective sales communication plan which works for you.
Start a better sales journey now!
FAQs
What are the types of sales communication channels?
The different types of sales communication channels include cold emailing, sending newsletters to prospects, webinars, social media, phone outreach. You can use any of them to reach prospects.
What makes a good sales communication strategy?
Any strategy that sends the message across effortlessly & gets the right information from the prospects can be a good sales communication strategy. It helps reps get all the information they need to tweak their product pitch.
What are examples of effective sales communication strategies?
Here are the most effective strategies of sales communication,

Focusing on the right audience
Choosing the right channels
Personalize your pitches
Be proactive
Integrate sales & marketing
Remember to follow up