Are you aware that today 70 to 80 percent B2B prospects prefer remote sales interaction over old-school in-person meetings? This is not surprising, thanks to the pandemic and the unpredictable times we are in.
What does this development mean for sales professionals? It indicates that you have to engage more in virtual selling. Prospects favor online interactions, and you must assist your sales team in that direction. It may seem different from presently used sales models, but you can look at it as an opportunity to obtain a competitive advantage over others.
It's not too late to get virtual control over your sales approach, and that's exactly what our client Bob did. The guy is relentless, and with the help of our input, he has mastered virtual selling. He saw a good 35% increase in conversions, and we want to help you achieve the same.
Let's understand virtual selling, how you can do it and what best practices to follow to emerge as a winner.
What is Virtual Selling?
In the virtual selling approach, sales take place online, chiefly through videos. Salespeople communicate, coordinate, and connect with prospects using the technology of their choice from any place. When combined with internet tools and strategies, virtual selling allows sellers to nurture leads, share information, hold demos, and arrange meetings without having to meet in person.
Why choose the virtual selling approach?
Businesses chose virtual selling owing to the circumstances that cropped up as a result of the pandemic. However, as we emerge from the recession, the shift to virtual sales seems here to stay. While in-person selling will continue to be a part of sales interaction, many companies believe that virtual selling will soon become the norm. The concept appeals to both salespeople and customers because of its convenience, safety, and lower travel costs.
Let's now take a look at some statistics.
Since 2015, i.e. the pre-COVID times, 60% of salespeople have increased the time they spend engaging with prospects online. Additionally, as more than 65% of people in North America work remotely, contacting them virtually for sales is the easiest way out.
According to 63 percent of sales leaders, virtual sales meetings are as effective as or more effective than traditional face-to-face meetings. These virtual selling statistics certainly hint that the trend is here to stay.
What are the benefits of virtual selling?
Here are the top benefits of virtual selling,
Gives access to the global market – Today, globalization is more than just a trend; it's a necessity. Therefore, salespeople must have the flexibility and reach to contact clients across many geographies.
Allows flexibility – Rather than sticking to a single, unchanging plan, a flexible model increases cooperation and adaptability to change. This fluidity works well for the customer's dynamic purchase journey. Interactions with customers no longer follow a set logical path.
Adapts to the changing needs of customers – You must keep track of the changing needs of your customers if you want to make more sales. It can be tough to do that when you have to arrange travel and adjust to the unexpected changes in customer's plans. Virtual selling addresses all of these issues. It lets you conduct meetings without the need of the customer's physical availability.
Speeds up trust building – Salespeople fetch better results when prospects consider them to be advisors. With virtual selling, it is easier to do so because you connect with customers anytime, which increases interactions. If you use the approach the right way, you can become a trusted consultant for your clients thereby increasing conversions.
Virtual Selling Best Practices

It is now time to know how you can go about virtual sales. Here's how to sell virtually:
1. Create prospecting templates
For sales outreach, you will have to build campaigns that include multiple channels. That means you will have to email prospects and connect with them over phone call. Therefore, it is advisable to use templates.
You have to create templates for emails, voice calls and phone calls. It can be cumbersome to do so, but it will help streamline your process to a great extent. When your sales team has templates in hand, they will be able to work on other activities, such as nurturing prospects. Ensure that the entire team can access the templates.
The best part about using pre-made templates is that it reduces human error substantially. Reps are less likely to mess up when they have a template. It also reduces typos or slips of the tongue in phone calls and voicemails. Once you provide templates to the team, you can see your campaigns run in a more organized way.
2. Always be prepared
Some sales professionals make virtual selling seem like a piece of cake. It is not so easy; it is just that those professionals take the job seriously and practice well before they meet the prospect. They succeed because they keep practicing in the background. Do you want to know what you should do to become a top-performing sales rep? Take a look below,
Get in touch with colleagues
Before meeting the prospect, asking a colleague about how they usually handle similar prospects is a good idea. It is also ideal to watch videos created by other employees and read any material related to it. This way, you will have a preformed idea about how the meeting will go about, which can instill a sense of belief and confidence in you.
Keep practicing your pitch
To look flawless in front of the prospect, you can record your page and get your senior to review it so that they can find errors and you have a chance to improve them. Better safe than sorry, right?
3. Personalize
In B2B, the best way to meet the prospects' expectations is by hyper-personalizing each interaction you have with them. The first touch point would obviously be an email, so you must try to keep it as personalized as possible so that the prospect has an interest in you right at the beginning. Do some research and mention something specific about their industry for the pain point they face. It is also ideal to share resources that add value to the prospect.
Turn to video prospecting that will further engage the prospect and make them feel special. It will go a long way in leaving a good impression on the potential customer. Similarly, you can personalize cold calls too. You know that cold calling techniques is quite effective and will not vanish from the sales scene anytime soon. That is why you have to leverage it!
The opening line in a cold call should provide a valid reason why you are reaching out to the prospect. At the same time, show that you have done your research before dialing their number by mentioning customer pain points that they are currently facing. You will get the prospect interested in you and take the conversation ahead.
4. Impress prospects with presentation skills
Wondering how to make your meeting with the prospect a success? Here's what you need to do
Value the prospect's time – Your virtual meeting with the prospect must be quick and compact because you shouldn't waste their time. You have to build a connection with them. As you are meeting online you can leverage that by recording the call. However, that would require the prospect's permission. We don't need any privacy breach, right? Recording will help you revisit the conversation you had in the meeting and work on improving it.
Build a rapport – As your meeting online, it can be challenging to build a bond with the prospect. However, when problems arise, just get your creative hat on and see how to turn it into an opportunity. You can always send meeting kits and refreshments to the prospect online to give them a better experience than the real-world meeting. Make the most of your time and get to know them by asking discovery questions.
Make the meeting interesting – To make your meeting more interactive and engaging, try using recorded videos that are relevant at the moment.
Handle the meeting well – Your meeting should have an agenda, and you must ensure that you don't go off track in the flow. If the meeting is too long, you can have a few breaks but make sure you keep a few minutes to conclude the meeting logically and discuss the next course of action with the prospect. It would help if you sounded persuasive enough at this stage.
5. Build connections even on video conferencing
The virtual world is here to stay. You have to find ways to connect with prospects effectively over video conferencing. Therefore, instead of looking at the other person as a business entity, try to consider them as a person just like you. If you successfully connect with them personally, it will go a long way in taking your conversation forward. However, you don't have much time in this case because your meetings will not be longer than 30 minutes (mostly).
As the prospect can see you and note your body language, you have to be careful not to give them a wrong signal. Also, try to understand what is going on in the prospect's mind by looking at their body language. You needn't be a Sherlock Holmes to understand whether they are interested or not. If, at all, you find them drifting away, put in your best effort to get them to hear you out and help solve their pain point. Also, ensure to ask casual questions to build a bond with them.
6. Follow up
After a meeting or a demo, the next logical step is to follow up with a prospect. You can not underestimate the power of follow-up, as maximum sales happen only after 5 follow-ups, so you cannot miss out on the opportunity to close a deal by being lazy. Even after a call, you can follow up with the prospect by leaving a voice message and a voicemail. Nevertheless, at the same time, you have to be very careful about how you follow up because there is a difference between being persistent and pushy. Build an outreach cadence so that news spreads out your follow-up that the prospect doesn't feel claustrophobic.
7. Nurture relationships
If you think you can stop after you close a deal with a customer, you are wrong. You have to nurture the relationship even after the sale, which requires you to connect with the customer regularly and discuss the latest happenings in the industry, share resources and nurture the relationship. One good way of doing so is by recording video messages and sending them over to the prospect. They are a reasonably good replacement for face-to-face interactions. However, ensure that you personalize your videos so the prospect feels important.
8. Use technology
There is nothing better than using technology to increase your team's productivity. Use tools that help you reduce effort, save time, and deliver results faster. It is an intelligent decision to delegate the repetitive work to a tool so that you can do more of the stuff that only a human can handle, such as nurturing leads and building a bond with them, which no bot can do (at least for now).
What Are The Top Virtual Selling Skills You Should Have?
You obviously need a set of skills to win at virtual sales. Let's take a look at what they are:
1. Tech-savviness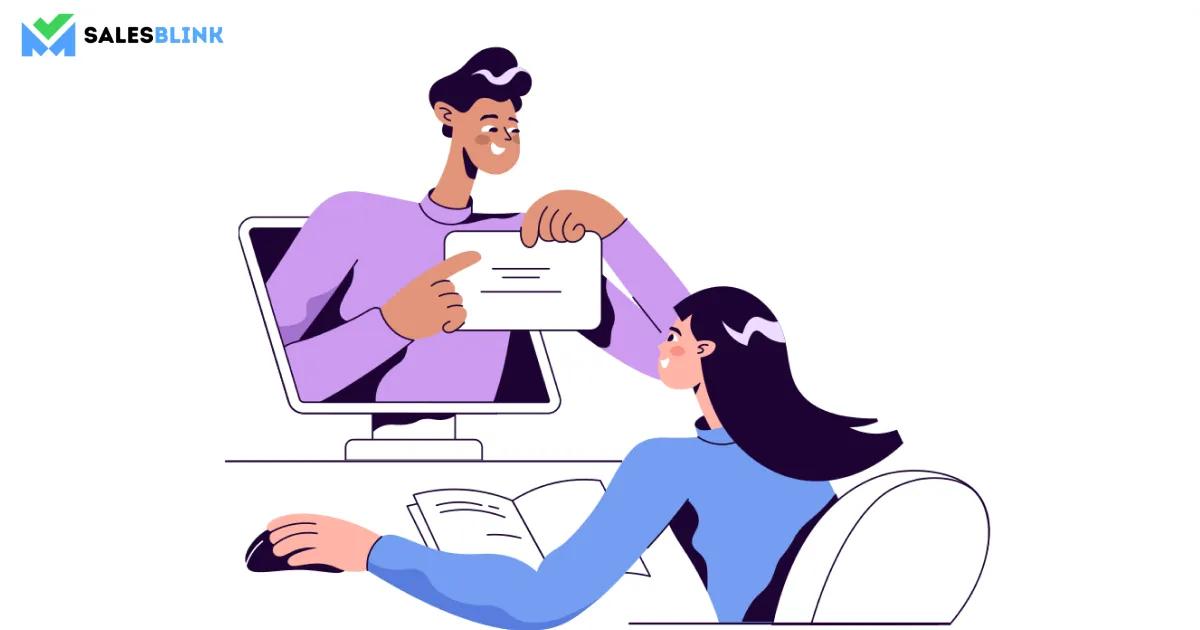 You need to be able to use different technologies when you are into virtual sales. It would help if you were a pro at video conferencing as you will communicate with the prospect using that. Also, you have to be able to record sales videos by yourself, learn how to communicate effectively through email, and use social media for selling (social selling).
During a meeting, there is a possibility of having technical issues, and you should be capable of helping the prospect with audio or video issues that arise. You can't afford to look like a novice when interacting with potential customers through video conferencing. So, put your best foot forward and embrace technology so that you look like an expert not only in your industry but overall.
2. Ability to communicate effectively and build a network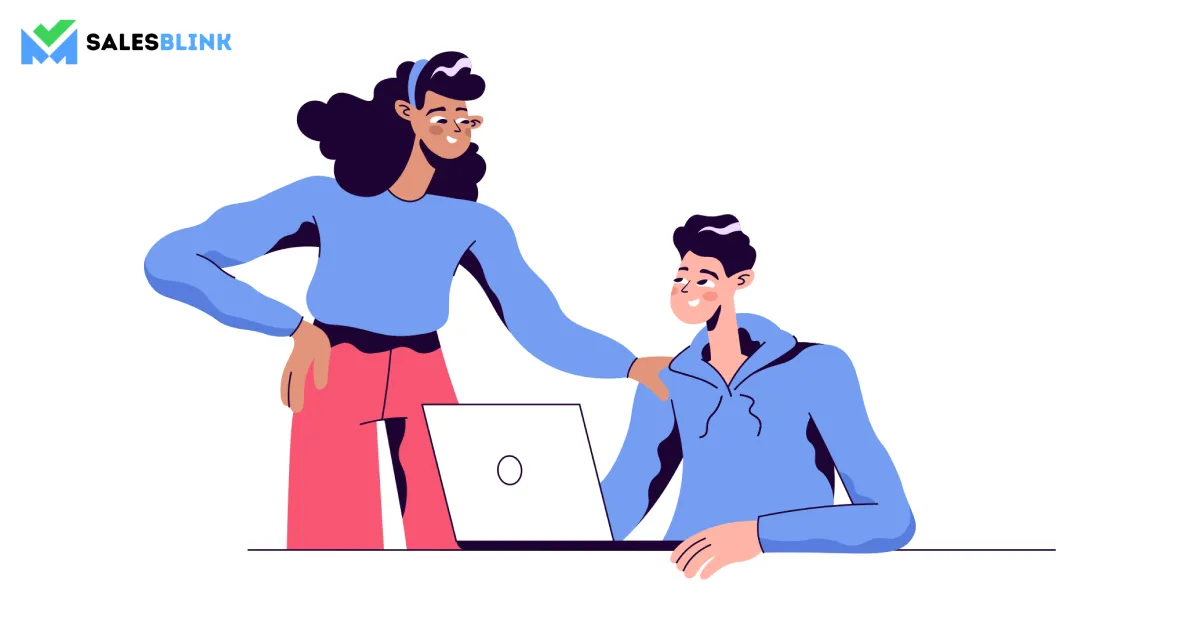 This is a prerequisite for virtual sales. Work on becoming a pro at communicating your thoughts effectively or you cannot convince the prospect to seal the deal. You must be clear while writing emails or speaking to a prospect through video conferencing or over a phone call. Similarly, the objective of LinkedIn connection request messages is to allow users to network with professionals they are unfamiliar with. and social media accounts. Most often, you would have to engage with people on LinkedIn as that is the platform for B2B sales. 
Also, try to interact with potential customers on social media by liking, commenting, and sharing actively. It is worth noting that networking skills are not innate. Nevertheless, you have to put in the effort to learn them, and trust me it will pay you in the long run.
3. Ability to stay positive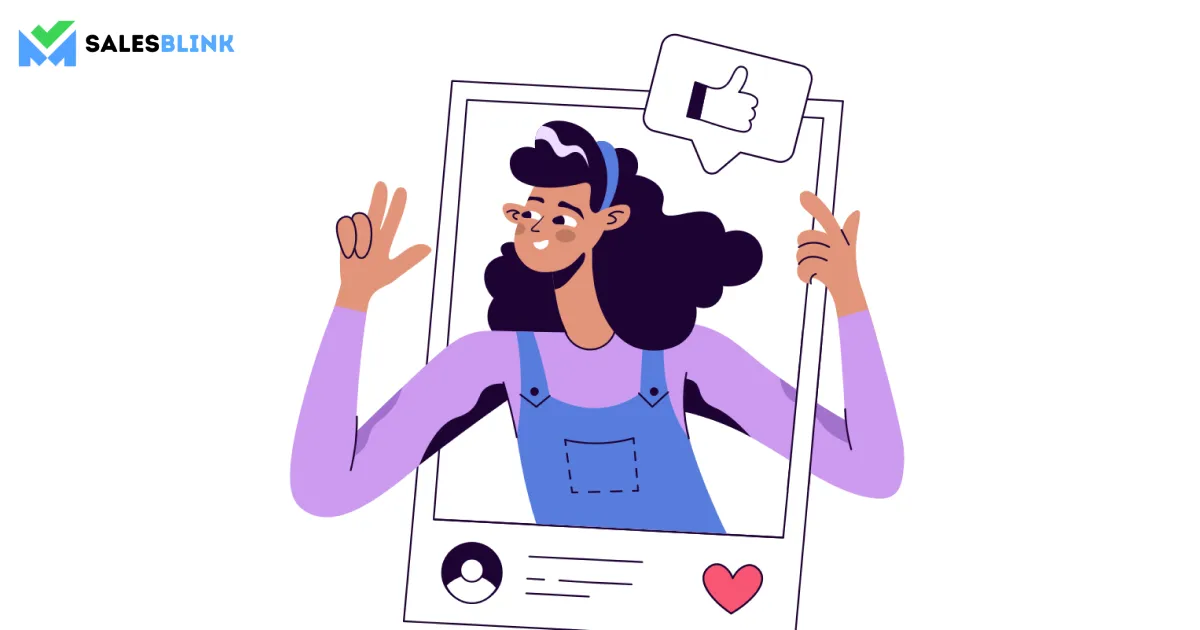 As a sales professional, you must know that there can be setbacks, and prospects may reject you upright. You shouldn't let that deter your spirit. A positive mindset and the ability to recover from a detection can help you climb the ladder of success. If you feel your work is overwhelming, start breaking it down into smaller chunks that you can manage easily and ask for assistance whenever you feel you need it.
Virtual Selling Tips That Work
It is now time to combine the skills with a few time-tested tips that can help you meet your sales quota.
1. Create Engagement
As you already saw, try creating a pre-recorded and personalized video for prospects. Doing so will give the prospects the freedom to watch the video whenever and wherever they want to, thereby boosting the chances of them showing an interest in your product or service.
2. Switch on video cameras
It is essential that you switch on your camera when the prospect has his on too. These are basic etiquettes you have to bear in mind while video conferencing. When you see each other, you can have a more realistic conversation that gives a feeling that you are there with the other person throughout and are giving them complete attention. This way, they will be able to follow what you are saying better.
Surprisingly, even studies reveal that switched-on cameras lead to 40% more closed sales (a solid reason to turn your on!). If the prospect hasn't turned his camera on, you can request them to do so. Just say, "We'll get to know each other better and you'll be able to understand all the concepts well."
3. Mention the purpose
Always let the prospect know the purpose of the call so that they understand the context. It is much better than keeping them in suspense. Be clear when you provide your purpose statement. Also, mention the next steps following the sales call, which is essentially your CTA. Apart from video meetings, you must state the purpose of your phone calls to prospects as well. However, once you build your relationship with them, you can be less formal in your conversation.
4. Add a clear CTA
Whether you are reaching out to the prospect over a call or through video conferencing, ensure that you end with a clear CTA so that the prospect knows what to do next. You can review the call once at the end in a coherent way while keeping it consistent with the opening of the conversation.
5. Lead the call
As a sales professional, you have to lead the call while allowing the conversation to move smoothly. It is up to you to show authority and be the captain of the ship. This approach, you'll appear confident to the prospect, which may impress them and lead to a sales closing technique. However, don't try to dominate the conversation in your attempt to lead it.
You can fine-tune your virtual sales process all you want, but you won't get very far without the right tools. The following are some of the tools you need:
1. LinkedIn Sales Navigator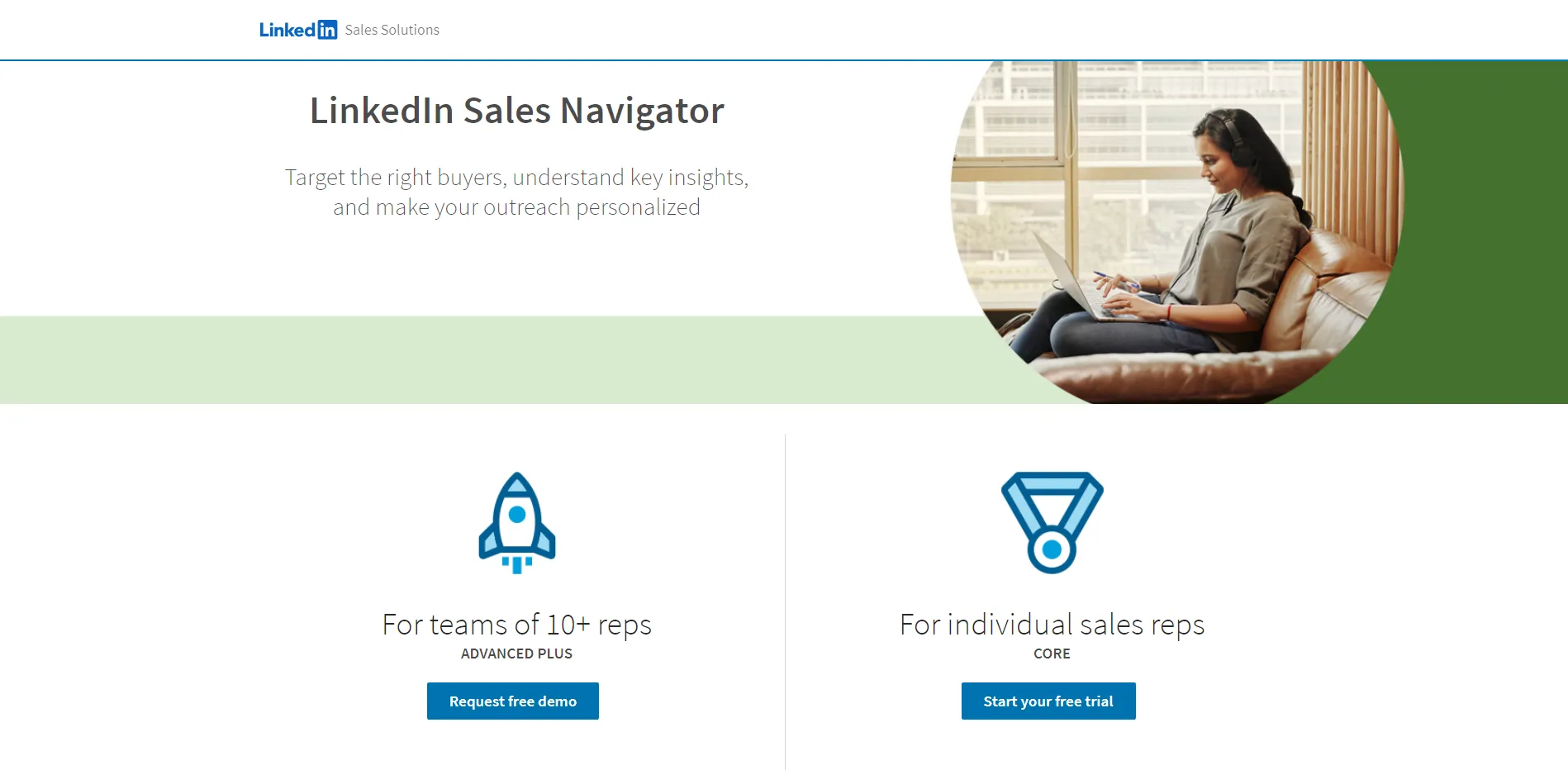 LinkedIn Sales Navigator is an excellent tool for virtual sales teams. Using it, you can find the right prospects and companies with this advanced lead and company search. It also provides recommendations so that you can discover the right leads, which is a must in virtual selling. You can integrate LinkedIn Sales Navigator with your existing CRM to manage prospects effectively. What's more, is that you get real-time sales so that you can stay in the know with your targeted leads. Use InMail to reach more than 500 million people on LinkedIn without being connected to them.
2. SalesBlink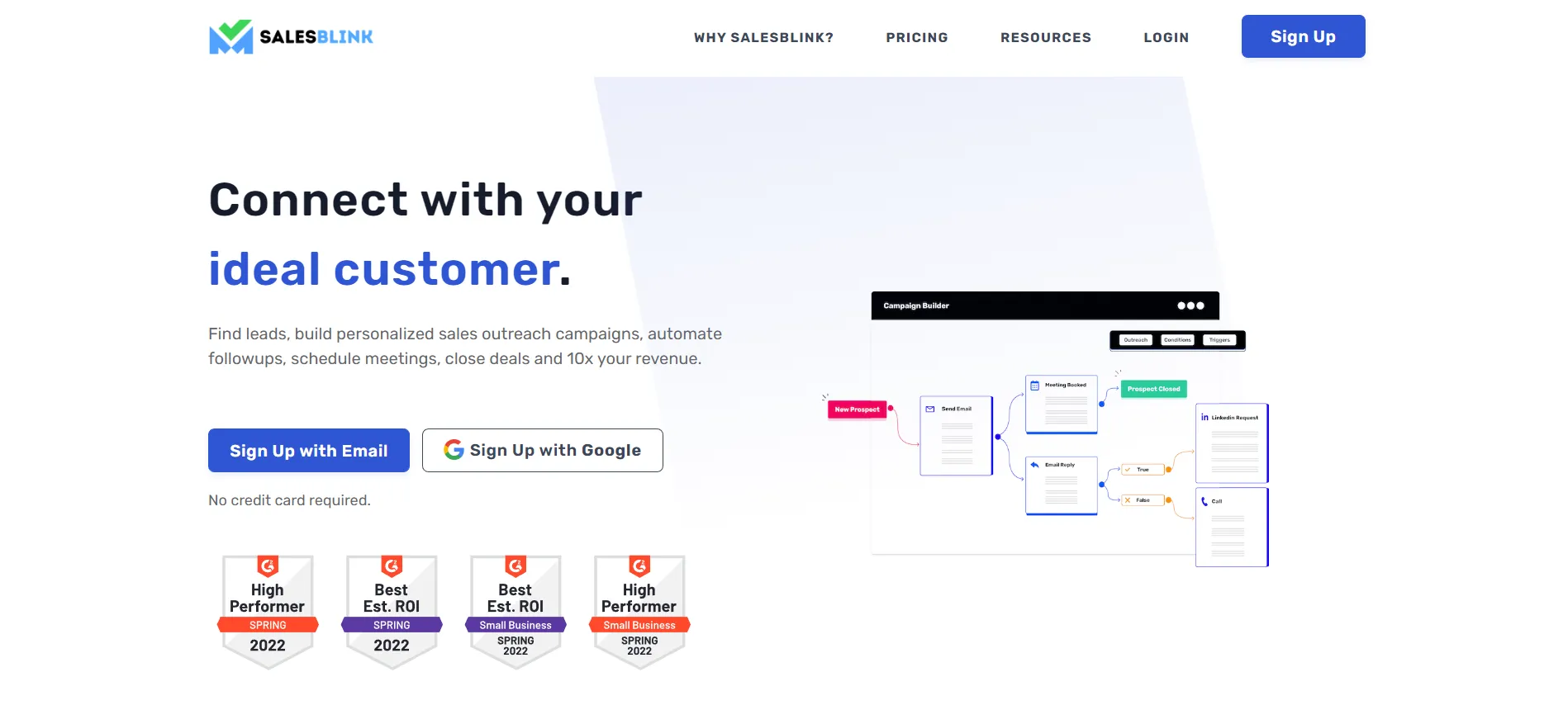 SalesBlink is a handy sales automation tool that supports virtual selling. It helps reps speed up the prospecting stage of the sales cycle with its extensive B2B database. You can easily find the email addresses of prospects in a few seconds. The tool further simplifies multi-channel outreach i.e. through cold emailing, cold calling, and LinkedIn messaging. You have a built-in meeting scheduler that works in favor of scheduling virtual meetings. What's more is that you get a sales pipeline, CRM, and email warm-up features on this platform.
3. PlayStory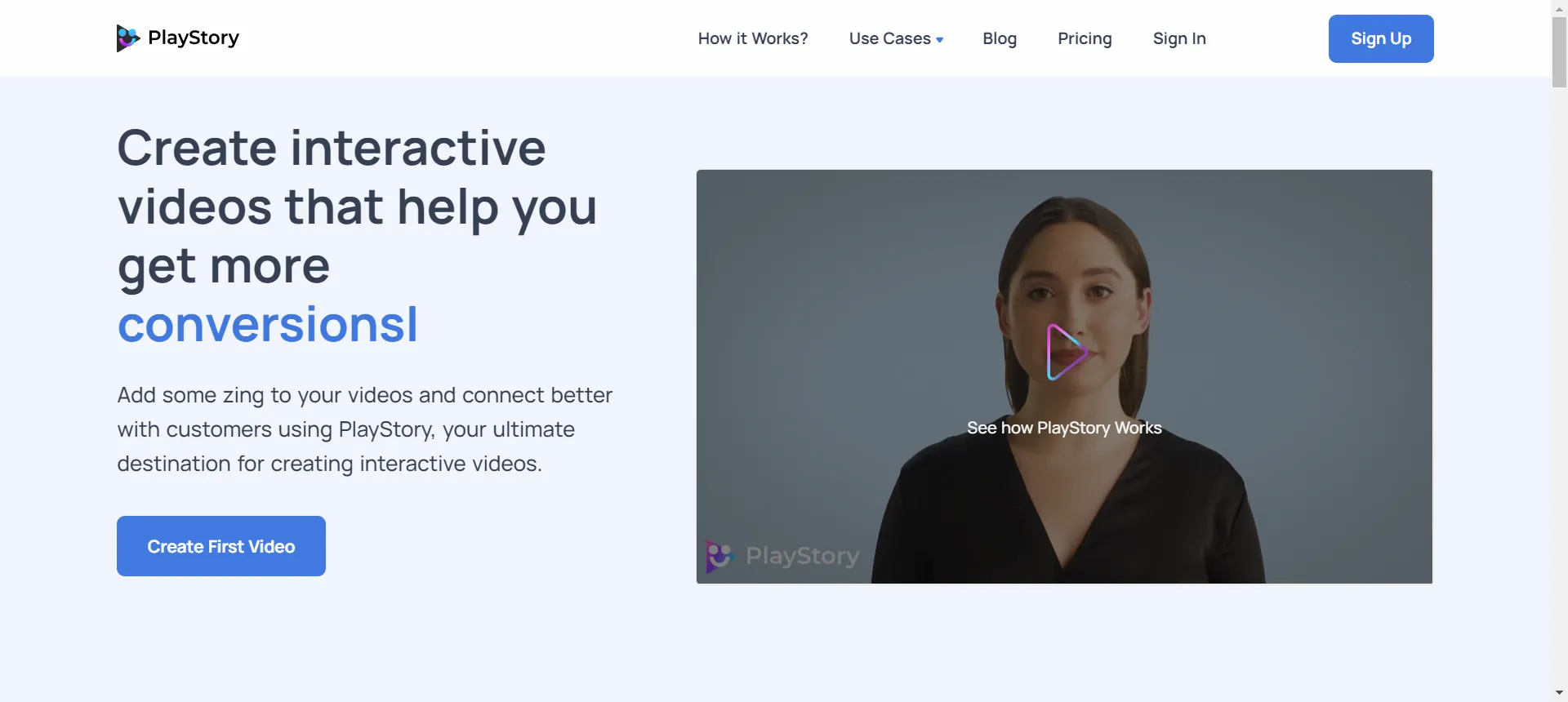 There's no surprise that you need a video-creating tool for virtual sales, and PlayStory can be your perfect partner. You can upload videos, create clips and add interactive elements to your videos. It helps create personalized videos for the maximum engagement of the target audience. The tool lets you share videos, embed them on websites, and get responses from the audience viewing them. You can create videos and add them to your emails, website, blogs, and more.
4. Calendly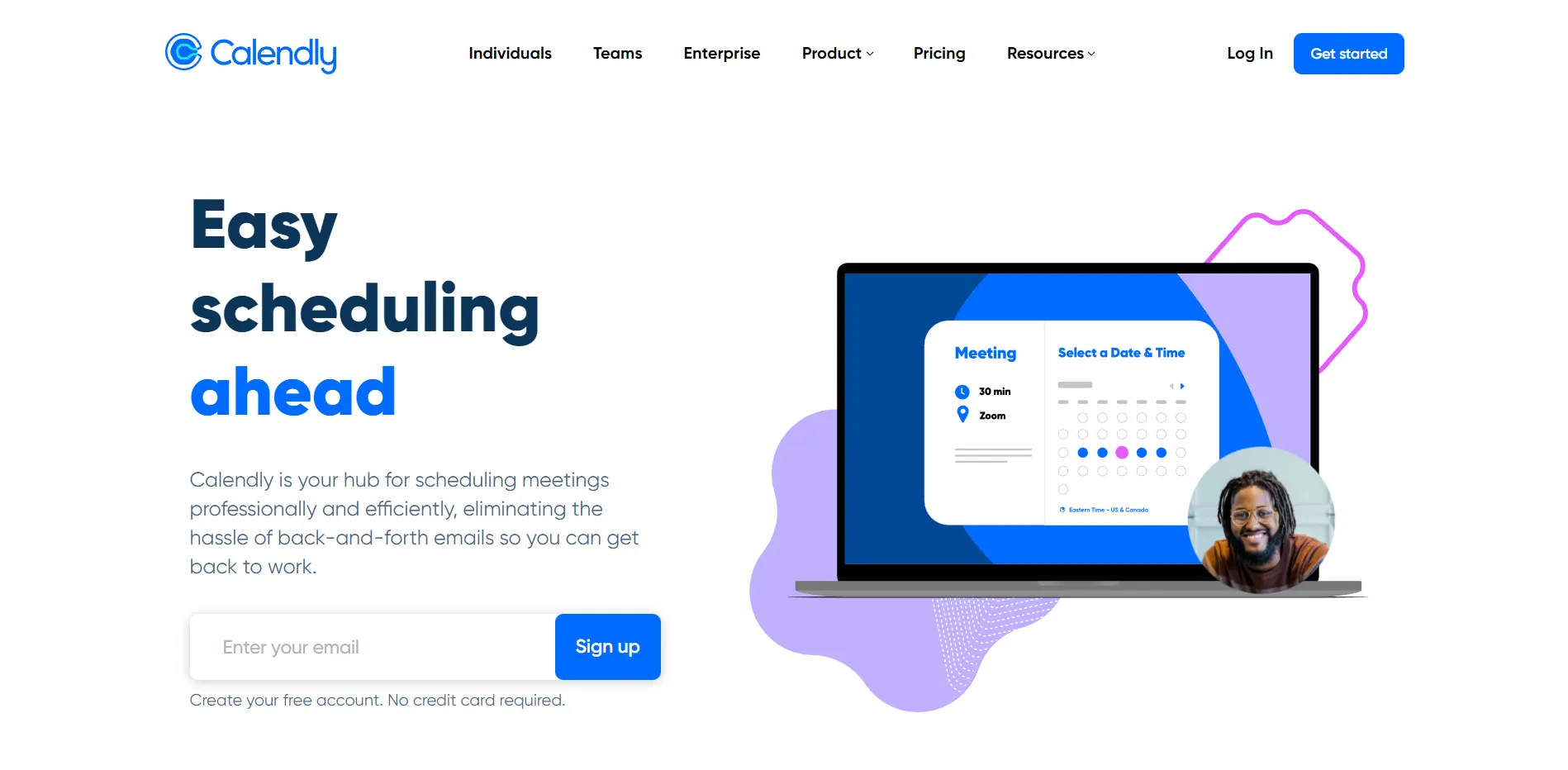 While SalesBlink has an in-built meeting scheduler, Calendly is also an option if you are looking for a standalone scheduler. It is quite helpful in organizing your schedule with this tool. You can add the Calendly link to the email or embed it on your website so prospects can pick a convenient date and time from your calendar. The tool will notify you about upcoming meetings, and there is also a lesser chance of clashes and make your life simpler. You only have to set up your availability for the week and work as per your convenience.
5. Canva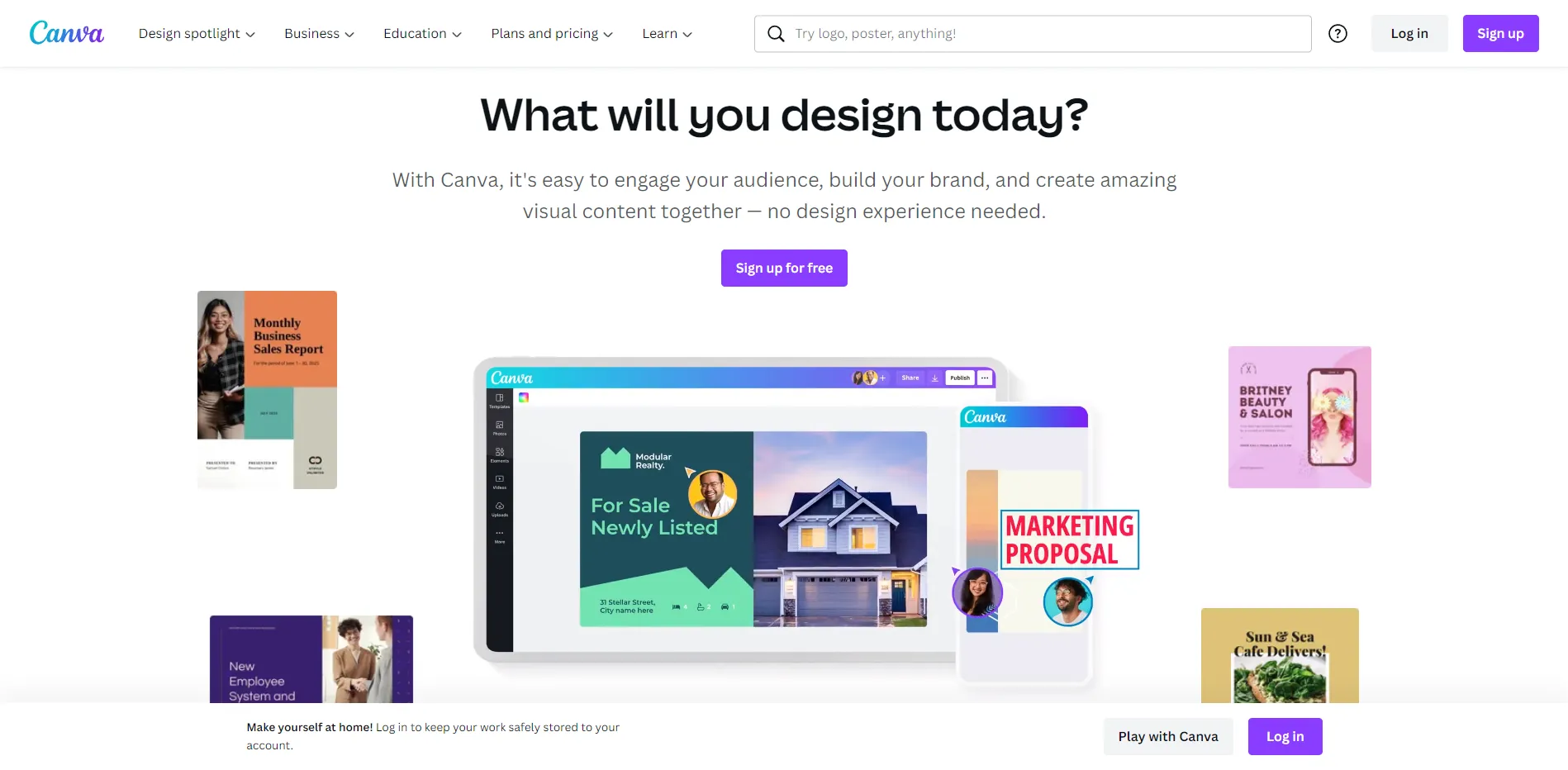 Canva is a designing tool that will help you in virtual selling because, as a remote team, you have to design eye-catching sales content. Using Canva, you can design not just brochures but also prospecting videos. Also, it does not require technical designing expertise, and almost anyone can learn to use the tool regardless of their job title. It helps bring an element of brand building to your sales, thereby getting you more leads.
Challenges of Virtual Selling
Despite tools available for selling virtually, there are some inherent hurdles that you have to face. Some of the challenges are the following,
Retaining prospect's attention – With virtual meetings, there can be fatigue, and you have to compete for your target's attention. No matter how much you try, it isn't easy to hold people's attention during a conversation online, and salespeople will need to adjust their presentations and communication skills as a result.
Creating a connection – It might be tough to create relationships with prospects when there are fewer possibilities to meet in person or attend industry events. There is nothing that works like a face-to-face meeting.
Communication gap – Because the communication is non-verbal, it can be difficult to read body language and gain information from prospects' non-verbal behaviors when selling virtually.
Technology concerns – Virtual meetings rely on each participant having a robust internet connection, and even in today's technologically evolved world, connectivity issues are still quite common. This is one of the biggest virtual selling challenges around.
Difficult Transition – For sales professionals who have been in the industry for decades, the virtual sales process may be particularly out of their comfort zone and the shift would cause them discomfort.
Start improving your virtual sales strategy!
Remember that things will go wrong; even if you are totally prepared, virtual selling will not be flawless. Virtual selling is difficult, especially if you don't know where to start. But, as with any other type of selling, the key is to remain persistent. Continue to attempt, to fail, and to learn from your mistakes.
Virtual selling opens up a whole new world of possibilities. There is no restriction on meeting with prospects face-to-face. Follow our best practices and tips to witness a significant change in your sales numbers. You can make them a part of the virtual sales training you provide to the team. That's exactly what Bob did, and look at him today! So, what are you waiting for? It is time for action.
FAQs
1. How to sell virtually?
To sell virtually, you must be prepared and personalize your approach. Try to build & relationships, follow up and use the right tools that help you increase your productivity. 
2. Will virtual selling work in all industries?
Yes! Virtual selling goes beyond digital businesses. With virtual sales, you get the chance to make your business go global and revolutionize the way you do sales. 
3. Is Virtual selling effective?
It is effective as you have more flexibility and is aligned to the changing needs of prospects. It is easier to reach out to prospects from different countries without traveling.