6 Inbound Sales Strategies And Best Practices To Seal Deals
As per marketing experts, around 62% of people who do not adopt inbound marketing lose their social selling quotas.
So if you're one of those people, it is time you embrace it. It might be that you haven't already discovered the secret of inbound sales but your competitors have! Well, this puts you way behind them.
So what do we suggest? Only that inbound sales process helps to refine your buyer-centric selling standards. And it's taking sales and marketing by the storm. Most of the fast-growing companies you see today are already on their top game to overarch the methodology. Why are YOU falling behind then?
So, this blog here is your complete guide to inbound sales. Read further to explore the in-depth meaning, benefits, best strategies, services, and everything related to inbound and inside sales. Who knows? It might prove to be a game changer for your brand!
What is Inbound Sales?
Inbound sales prioritizes individual buyers' requirements, difficulties, objectives, and interests. This approach is a part of your warm audience. Simply put, when a potential consumer contacts your business to ask questions about a product or service, it becomes a part of inbound sales. It begins with this lead. They typically serve as the counterpoint to the outbound sales approach which involves things like fundraising campaigns, telemarketing calls, or cold contact for clients.
In contrast to outbound sales, the emphasis is on educating, enlightening and nurturing. Also, it involves assisting your lead through the decision-making process rather than closing a sale as quickly as possible. Inbound sales methodology involves examples like:
A potential customer
Filling out your survey
Downloading your e-book or guide
Reaching out to your brand to seek more details, etc.
If you want your sales team to be effective, you should keep the inbound sales strategy in mind. This is because, as the buying process evolves, so must the sales process.
Why Is Using Inbound Sales Tactics Important?
You cannot deny the changes we have seen in our market because of Inbound sales. So, that makes the strategy and tactics important.
The foremost aspect that makes it essential is that it helps to identify your potential customers from a bunch of strangers. These people can be the ones who are struggling with a problem and your brand or services could solve them. These customers, then turn into your inbound leads.
Now, once you finish identifying, you need to connect. Inbound marketing helps your leads to decide if they should be a part of your challenge. Eventually, if these buyers become qualified leads.
After this, we come to the exploring part. Here comes the offering and assessment of your services and products. If these solve the problems of your leads then it's considered a good fit and creates opportunities.
Inbound sales play a major role in taking advantage of these opportunities. Once you clear the stage of exploring, you come to the advising stage. If your buyers find your offers interesting, you need to advise them on the best use of your products. These prospects become your successful buyers once they agree with you.
Is Inbound Sales Easier Than Outbound Sales?
Yes!
Outbound sales refers to businesses pushing their products or services onto prospects by reaching out to them via cold calling, cold emailing etc. It is challenging because potential customers may or may not show interest in your product or service. Targeting such an audience is always a very difficult and time-consuming process.
Inbound sales is indeed easier than outbound sales as the prospects come to you on their own.
Outbound sales leads are frequently more difficult to obtain, but they are still very useful. Salespeople enjoy their assistance in growing their network and market. The qualification process is also simplified. This is because the target is internally determined.
Can We Combine Outbound And Inbound Sales?
It is possible to combine outbound and inbound sales. This can help you produce outstanding outcomes. You can generate leads, qualify them, and turn them into customers by combining the two. Also, utilize data-driven outbound email marketing to draw customers who are interested in your business. To fuel your outbound sales, remember to segment your audience, tailor your content, and employ different marketing sequences and automation processes. You can try using SalesBlink for automating your cold email sequences!
When interested prospects respond to your outbound sales strategies or begin interacting with your brand, nurturing them with inbound methodologies can be easier. Expand on the message that the prospect initially found interesting. Inbound sales reps can accomplish this by responding to specific inquiries from prospects, describing how your products will benefit them, and requesting that they sign up for a free trial or a demo.
How To Use Outbound Sales Tactics in An Inbound Way?
Some outbound sales tactics are lead generation, research, lead qualification, pitching, negotiation, closing the deal, and gathering feedback.
If you see closely, there is hardly any difference between inbound and outbound sales tactics, right? The only difference is your warm and cold audience.
You can use the same outbound sales tactics for inbound sales. This is because some of these tactics work on both cold and warm audiences. For example, you can do research and pitching for both types of audiences. Similarly, you can use outbound sales tactics in an inbound way. The only thing you need to see is how you can use the same tactics for both processes.
Inbound Sales Strategies That Work

Want to know how to increase inbound sales? Well, here are a few strategies for you,
1. Solution-Centric Selling
During the inbound sales process, your aim as a sales rep should be to satisfy all your customer queries. You should try to build a relationship that can work for a long time.
The majority of inbound sales reps adhere to the principles of relationship selling or transactional selling. Yet, a shift towards solution-based selling, which focuses on understanding the prospects' current condition and desired state, is necessary for today's market.
2. SEO
Search Engine Optimization is where inbound marketing functions most effectively (SEO). As most marketers know, SEO is a technique to help your website rank well for specific keywords on search engines. A potential customer is actively looking for a product or service when they conduct a web search. SEO should be an integral part of your inbound methodology and plan.
3. Content Generation
To enhance customer awareness and interest, content marketing is a way of producing worthwhile information and placing it strategically on your website, social media platforms, or elsewhere.
Delivering a blog with relevant content will frequently draw customers to your business, establishing it as a reliable and helpful source. Such thought leadership might drive targeted traffic to your website. This is a common and effective strategy these days. Nearly all brands are adopting content creation and marketing as a base tactic for growth.
4. Email Marketing
Nobody is telling you to follow the age-old process of email marketing. Rather, we suggest using personalization and creativity. You can place an opt-in for newsletters or bulletins on your website and direct visitors to your email marketing campaigns.
These persona-driven emails ought to be precise and full of useful details to pique the visitor's curiosity. This is the time to educate and establish trust by giving them content relevant to their particular stage of the buyer's journey, not to sell but to help.
5. Social Media Marketing
There's no need to go on about the power of social media since everyone is already aware of it. Inbound sales techniques work well when you use social platforms like Twitter, Facebook, or Instagram to draw the target audience towards your product or service. To draw potential clients to your social media account, you can post intriguing content frequently. Also, remember to not just self-promote but also educate your audience and interact with your inbound leads online.
6. Video Marketing
Videos are one of the best formats for conveying information. People frequently go to best interactive video platforms like YouTube or Vimeo to find information, find solutions to problems, or learn more about a service or product. Be visible on these video channels to get in front of your market. To make sure they can discover your company, provide a website link or phone number in the video description.
How Is Inbound Sales Changing?
Everything evolves with time. So has the case been with inbound sales. The benefits, techniques, and uses have become better in past years.
Ask different organizations, and you'll get different answers. Why? This is because all the processes differ in some or the other way. And the same is with inbound sales too!
We have highlighted some changes that happened with this approach in 2022:
Looking at different inbound marketing stages, we have noticed a shift in the role specialization of teams and organizations.
Now, inbound reps directly report to marketing. Why? This is because of technology. Marketing mostly deals with technology and this use of technology makes the sales successful.
The concept of guided selling is also visible now. These solutions provide intelligent guidance to sales reps throughout the process.
Chatbots are getting more and more popular. Even small businesses are using these today on their sites. The AI and algorithms used by these chatbots are becoming more advanced day by day.
Inbound Sales Best Practices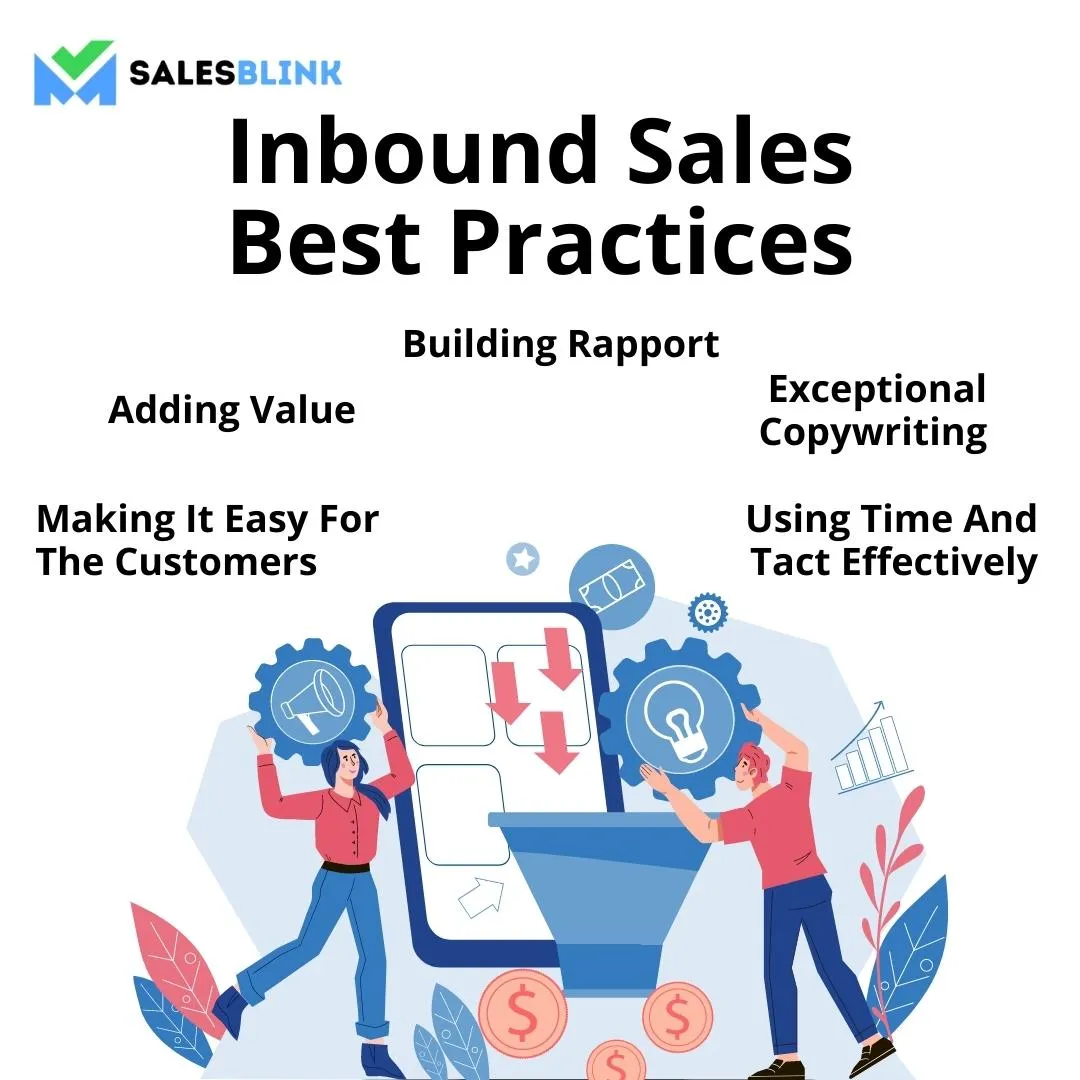 You can follow many sales practices to reach your warm audience. However, some inbound sales best practices can scale up your business beyond imagination. Let's see what all these are:
1. Making It Easy For The Customers
Keep your communications with prospects succinct, pleasant, and direct. The way you present your product or service should be simple enough to understand for your consumers. And avoid contacting potential customers when they are busy. Remove all extra information so that your buyer has a clear value proposition. Let your customer take the initiative to take the next steps.
2. Adding Value
A professional will bring value at every stage of the sales cycle. Give customers more than just a scripted sales pitch. Use your in-depth expertise in the industry to add to the discussion of best practices and to offer workable solutions.
3. Building Rapport
The foundation of inbound sales is cultivating personal connections with customers. Develop a relationship with customers. Also, try to add a personal touch to every phase of your entire sales cycle. Make your customers' experience with your business enjoyable by adding humor. Over time, developing a good rapport with customers does pay off.
4. Exceptional Copywriting
"First impression is the last impression." Your copies are the first thing that your potential customers land their eyes on. Adopting exceptional copywriting skills allows you to communicate and engage more than you can ever think.
Clear and concise. This is what mostly the audience asks these days. Depending upon your customer type, you can add a bit of fun and quirk too.
5. Using Time And Tact Effectively
You should base your decisions on how your customers behave. Understanding your prospects can help you reach out to customers at the appropriate time and in the appropriate manner. You may be able to engage with customers more deeply and meaningfully using inbound selling. To convert buyers into devoted consumers, cultivate loyalty and trust.
4 Must-Know Inbound Sales Mistakes
It's great when inbound sales and marketing succeed. Yet, it can create numerous opportunities for problems to arise. And this can result in customer denial to make a purchase.
While making an sales strategy, people make some mistakes that you need to avoid. So, here are the 4 common mistakes of its:
1. Failing to define a qualifying lead for your sales organization
You cannot consider all leads equal. Some are more promising than others, and each one will probably require various nurturing techniques to close. The first step is to confirm that your sales team has the following:
A clear understanding of what qualifies.
Methods for evaluating leads critically to identify those who suit the target persona.
The prospects you should push through the sales funnel.
2. Not able to prioritize a lead
This point is directly related to the first. There is no real way to separate qualified prospects from those who only waste your salespeople's valuable time. Without establishing a procedure to qualify leads or clearly defining what this entails, sales teams are unable to manage their time effectively and may be pursuing projects that are less worthwhile than others.
3. Not curating accurate information
The appropriate information is essential for both the buyer and the seller.
You should lay out the proper product information to your leads. Additionally, sales teams should be aware of the details that your leads already know and the ones that they need to be aware of. Without a procedure to deal with this, both salespeople and potential customers waste time reviewing the same content.
4. Extending the response time unnecessarily
As we know, what value the time holds. If you're not able to reach out to your prospects in time, you'll lose them. It's a golden rule that you should follow to be successful.
A timely response is crucial. Also, you should successfully qualify and prioritize your leads. Moreover, react immediately after they have taken an action and expressed an interest.
Top Metrics to Track Inbound Sales Success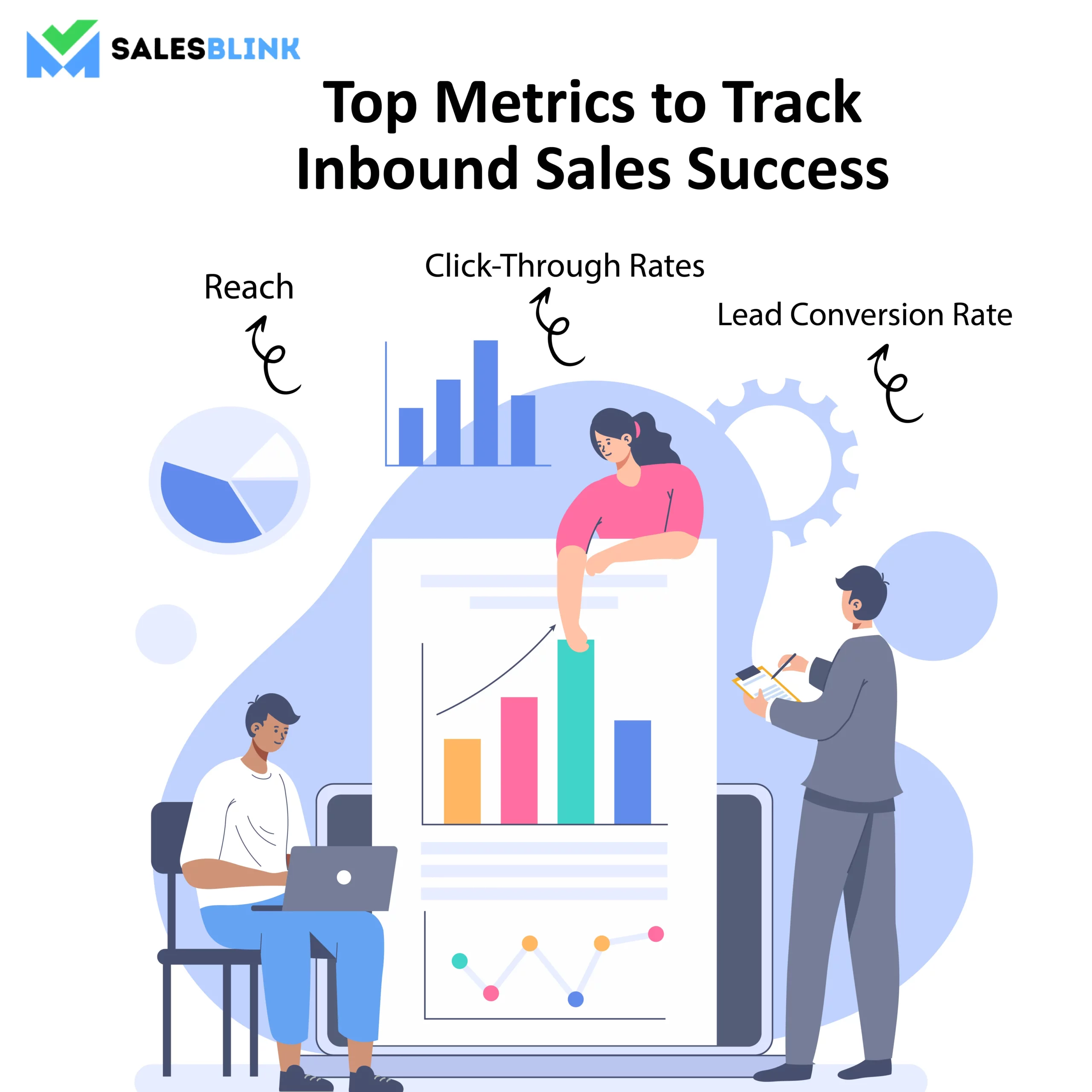 Want to know some leading metrics to track your inbound sales process? Have a look here:
Track Your Reach-
If your reach isn't wide, how will you land more customers? Your reach is a foundation for other processes of inbound sales.Tracking your reach will let you know what strategies you need to focus on more and what is not worth the effort.
Track Your Click-Through Rates-
These matter the most because if your website isn't getting much traffic, how will you generate brand awareness? Website and blog visits are, therefore, important. What type of content marketing is driving more visitors to your website can help you analyze what's good and what's not.
Track Your Lead Conversion Rate-
Lead generation is the ultimate goal of any marketing strategy. It should be a metric to track your improvement. What is that one thing that is resulting in more conversions? You need to keep a track of it and implement it more often to get more conversions through your leads.
Other than these, engagement and bounce rates also serve as core metrics to track inbound sales success. Keeping a track of all these can make your marketing successful.
What You Need To Be Successful In Inbound Sales?
There's no secret to success in the case of inbound sales, only some laws.
Be empathetic towards your customers
No, it's not a cliche. Respecting your buyers and understanding their challenges is something you need to follow to be successful in sales. This makes them more involved with your brand and generates a sense of belonging.
Always listen to your buyers
This way you can know what they want and what they don't. You can make modifications to your services, and products and make them better to land more sales.
Without conducting proper research, you'll never know what you need to follow. You might end up wasting your time and efforts on something that nobody wants.
Be okay with walking away from bad prospects
If you feel that you're not getting proper leads, focus on a different audience and work up your sales techniques to target better prospects. Encountering bad prospects is a part of any marketing and sales strategy, it's okay to walk away and start fresh.
Transform The Way You Target
Today, we have all the information available at our fingertips, don't we? Due to this abundance of information about various services and products available online, consumers are now in charge of how they want to interact with any brand. They desire control over the purchasing process.
Because of this, all brands ought to use inbound sales strategies.
The key benefit of inbound sales is that consumers can find you, sparing you the headache of outbound selling. The ability to increase incoming sales without adding more reps to the team is a significant benefit as well. Now, what are you waiting for? Go ahead and launch your sales plan using all the inbound sales tips we provided. You can then watch your sales skyrocketing.
FAQs
1. What is the difference between inbound and outbound sales?
In inbound sales, a prospect reaches out to you to ask about your product or service. However, outbound sales involves a rep performing cold outreach to get to a prospect who has not shown any prior interest in your offering.
2. What are the phases of an inbound sales strategy?
The different phases of inbound sales strategy include Identifying, Connecting, Exploring, Advising. Prospects move through all 4 phases during their journey as buyers.

3. What is an inbound sales representative?
An inbound sales representative is one who gets in touch with prospects who initiate the interaction using various channels and sells products and services of the company. They have to try their best to close the sale.
4. How to handle inbound sales calls?
To handle inbound sales calls better, try to pick them up with a smile, ask them the right questions, listen to prospects actively, educate your prospect, ask more closed questions aimed at selling.