Reply.io Vs SalesBlink – Which Is Better For Your Business?
Cold emailing rules even in 2023 despite salespeople having so many other channels to choose from. That indicates that neither email nor cold emailing is replaceable.
Emails have their own charm and seem to be less intrusive when compared to cold calls. You would agree that people calling you out of the blue is downright annoying on most occasions. That is why email is a preferred outreach channel.
Here we present two well-known sales engagement and outreach platforms Reply.io and SalesBlink, that can be useful for salespeople in carrying out their tasks.
In this age of automation, many tools help you with automating cold outreach. It is better that you choose a full-fledged tool so that you don't have to invest in other tools to complete your tasks. Before drawing the comparison between Reply.io Vs SalesBlink, let's take a closer look at each of them individually.
Reply.io
Reply is a sales engagement platform using which you can automate outreach across different channels. It helps in generating more leads and growing business revenue. Using Reply, you can put your email campaigns on autopilot without losing out on personalization. The tool allows you to automate time-consuming tasks like sending follow-ups.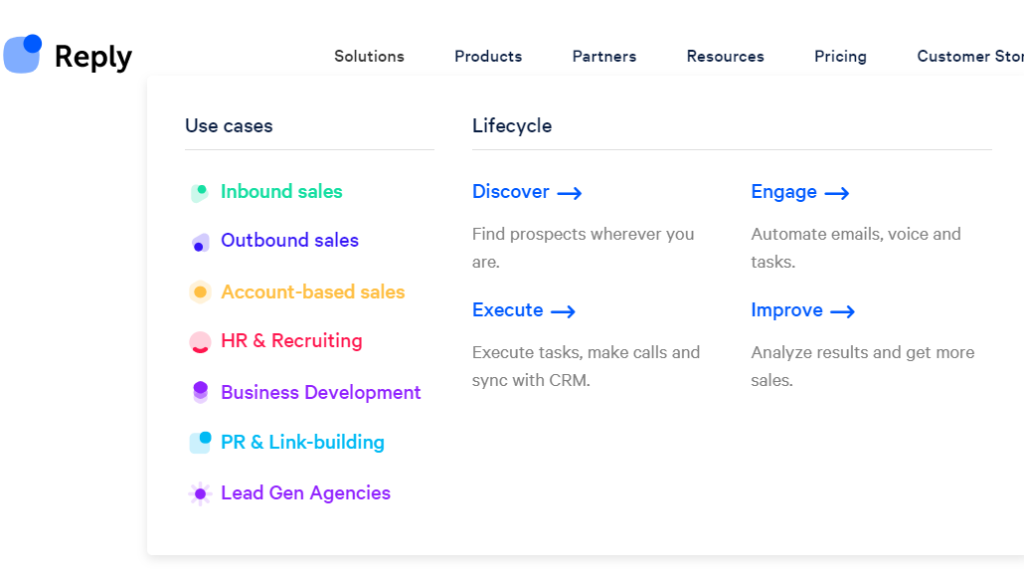 The tool helps find prospects on LinkedIn and enables multi-channel outreach through channels like emails, calls, LinkedIn, SMS, and WhatsApp.
Reply also helps to track and analyze the progress of your messages and gives an insight into the team's performance. So, this was an overview of what Reply is and how it can help you. Let's move ahead and look at it in more detail.
Connecting the email account
The first step after you sign up with Reply is connecting your email account to send emails. Reply supports Gmail, Outlook365, and Exchange. There is also the option to send and receive messages using an SMTP and IMAP setup by entering SMTP & IMAP port and host.
You can then add your sales team members or push the task for later on.
The sales onboarding process involves explaining the essential features through tutorials.
Building sequences
Being an outreach automation tool, one of its striking features is building outbound sequences.
You have the option of creating sequences using the available templates or building them from scratch. The template sequences available are the following:
a. Sequences to convert trial customers to paying ones
b. Sequences for Outbound cold outreach
c. Sequences for converting Inbound leads
d. Sequences to help HR teams recruit better
e. Sequences to engage customers to educate them about the value of products/services and to retain them.
As a user, you are free to build custom templates for a specific purpose and save them for later use. As any team member can use the template, it can bring uniformity in the tone of the outbound sequences in the sales team.
Another feature of Reply worth mentioning is that it allows you to build sequences using multiple channels. You can use emails, phone calls, LinkedIn requests, and much more.
Using multichannel sequences provides better results when compared to using only one channel. It is like making customers choose the channel they prefer for engagement. Also, when you use multiple channels, the saturation of one will not affect the outreach.
Reply lets you handle different channels from one place, making it easier for the sales team.
In-Built Caller
The tool has an in-built caller that lets you contact your leads over the phone. It is a feature that you can enable or disable for each team member. There is, of course, a cost attached to it, which is $20 a month per user.
You can also take down notes during the call so that you don't miss the essential points. It is a handy feature. There is another helpful feature, and that is marking the calls based on your conversation. You can mark the contact as 'called', 'opted out', or 'to call'. So that you know what your next step should be with the prospect.
That is not all; you can record the calls and listen to them later on for reference. It will help you know how you carry yourself on the phone and improve your skills. There are settings to restrict who can listen to the call recording to ensure privacy and security
Chrome extensions
Reply has two Chrome extensions to offer. The first one helps find and scrape emails from LinkedIn profiles to create a list of prospects you can contact.
The other Chrome extension is Name2Email that enables finding prospects' email addresses by entering their name and domain.
Pricing
Reply has three categories of pricing – Individual, Business, Agency, out of which the Agency plan is a custom plan that targets large companies.
The plans in the Individual category depend on the number of contacts per month.
For 1000 contacts per month, it costs $70 per month per user.
For 3000 contacts per month, it costs $90 per month per user.
And, unlimited contacts per month, it costs $120 per month per user.
The above is for monthly billing. If you choose annual billing, the prices are $55, $70, and $90 / user/month, respectively.
The plans in the Business category depend on the number of users you have in your team.
For 3 or above users, it costs $70 per month per user.
For 5 or above users, it costs $60 per month per user.
Above 10 users, it costs $50 per month per user.
Other tools and platforms you can integrate Reply.io with
Here is a list of third-party tools Reply can integrate with,
1. LeadFuze
2. Prospectify
3. Slack
4. Workable
5. Zapier
6. Bullhorn CRM
7. Close CRM
8. Copper
9. Insightly
10. Nutshell
11. Pipedrive
12. Salesforce
13. Zendesk Sell
SalesBlink
SalesBlink is a sales outreach automation suite using which you can search for prospects, put your cold outreach sequences on autopilot, maintain and manage pipelines and prospects.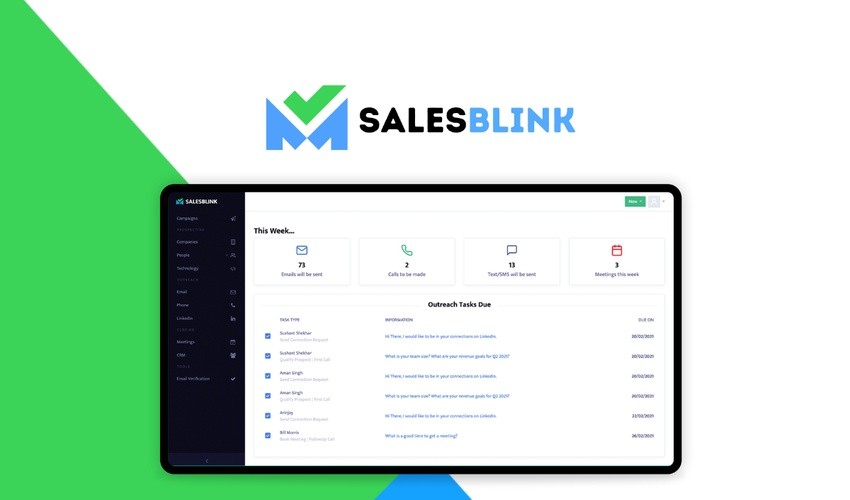 It is a full-stack cold outreach platform that can take you through prospecting to outreach to closing on full throttle. It is a fully-loaded package for automation of multi-channel cold outreach that helps with generating leads and managing them.
Let's take a detailed tour of SalesBlink and its most striking features,
Connecting the email account
After the initial sign-up, the first step is to connect the email address you will use to send emails to prospects.
SalesBlink supports different email clients like Gmail, Office 365, Yahoo, and many more. It is also possible to use other email service providers if you know the SMTP/IMAP hosts and ports.
Prospecting
SalesBlink is the platform for you if you want to find leads. It has a vast business database that instantly finds details of a company simply by entering its website domain.
The email search feature of the software lets you find the email address of individuals by entering their first name, last name, and website domain. The tool verifies all the emails in real-time, and the accuracy is as high as 99%. That ensures that you get only genuine addresses to add to your mailing list for outreach.
You can even search for companies by adding country, industry, and team size filters so that your search is more narrowed down and targeted.
SalesBlink has an email verification tool that verifies email addresses for you instantly. You can verify complete mailing lists by uploading CSV files to the tool. The email verification tool carries out rigorous validation procedures such as SMTP validation, syntax validation, DNS records validation to determine whether the email addresses are valid or not.
This in-built email verifier makes it easy for sales teams to check email addresses before moving onto the outreach stage. You should verify your mailing list before sending emails because your sender's reputation will be at stake if you don't do so. It can affect your email deliverability.
Building campaigns
To start a campaign, you have to give it a name, select a pipeline and upload a list of prospects in the form of a CSV file.
The USP of SalesBlink is its campaign builder. You can use the pre-built templates to help you build your campaign or build it from scratch all by yourself. It is pretty easy to build your campaign as you can add sequences, conditions, delays, and triggers with a simple drag and drop action. You can add a trigger based on the conditions to change the prospect's status on the sales pipeline and CRM.
You can lock the board after creating the campaign so that you don't shift things by mistake.
The pre-built templates are also a good option when you want to save time. They are the following:
1. The Omni Channel
2. Email Follow up Forever
3. Email and LinkedIn
4. SMB Campaign
5. Enterprise campaign
Creating Email Templates
You would want to create an email template for your outreach campaign. SalesBlink's email editor is easy to use and has all the options to personalize your email. Apart from letting you personalize the email copy, it enables you to personalize images as well.
Using the image personalization feature, you can upload a picture of your choice and add a dynamic variable to it, such as the prospect's name or company's name. What's more, you can do this at scale without having to personalize each email manually.
In addition, SalesBlink lets you add an 'Unsubscribe' link at the bottom of the email so that recipients can opt-out of your mailing list when they want to.
LinkedIn Outreach
Using a professional networking platform like Linkedin can leave a good impression on the minds of prospects. You can create LinkedIn sequences easily using LinkedIn outreach and stay ahead of the competition.
Closing
After a successful campaign, you would get responses from prospects, and you might want to schedule meetings with them to discuss your product or service features. There is a meeting scheduler to make the whole experience frictionless. It syncs with your Google calendar. You have to mention your availability in the calendar and provide your shareable calendar link to prospects. They can see when you are available and fix the date and time of the meeting with a few clicks. This way, you need not move back and forth to schedule an appointment with the prospect.
Next, you should know about the Sales Pipeline feature that helps you manage follow-ups and nurture leads from one place. It lets you track the performance of your sales team, manage deals and obtain revenue forecasts. Based on your company's needs, you are free to create your customer pipeline stages.
There is an in-built CRM that makes managing prospect data possible. You can look at the communication history with every prospect so that you know how things have progressed. The CRM allows you to take a look at the entire sales cycle in one place. You can track the progress and check the status of prospect data. It is then up to you how you respond to the requirements and close more deals.
Free tools offered by SalesBlink
Subject Line Generator: SalesBlink has a Free subject line generator that helps generate subject line ideas for your emails. Given that your email's fate depends on the subject line, you have to put in some extra effort to make it catchy. The tool helps you by providing five subject lines and the expected open rates so that it is up to you to decide what is suitable for your email campaign.
Email Signature Generator: Your email signature is what makes the recipient of your cold email know about you. It is essential to create a signature that looks professional and attractive at the same time. Using a signature adds a personal touch to the emails, and when there is an image, recipients are more likely to remember you for a more extended period.
SalesBlink has a Free Email signature generator tool to help you generate your email signature. There are different templates for you to choose from, and you can even customize the font, color and image according to your preference. The best part is that you can also use this email signature for other email clients such as Gmail, Outlook, and Apple Mail.
Pricing
SalesBlink has 3 different plans to offer.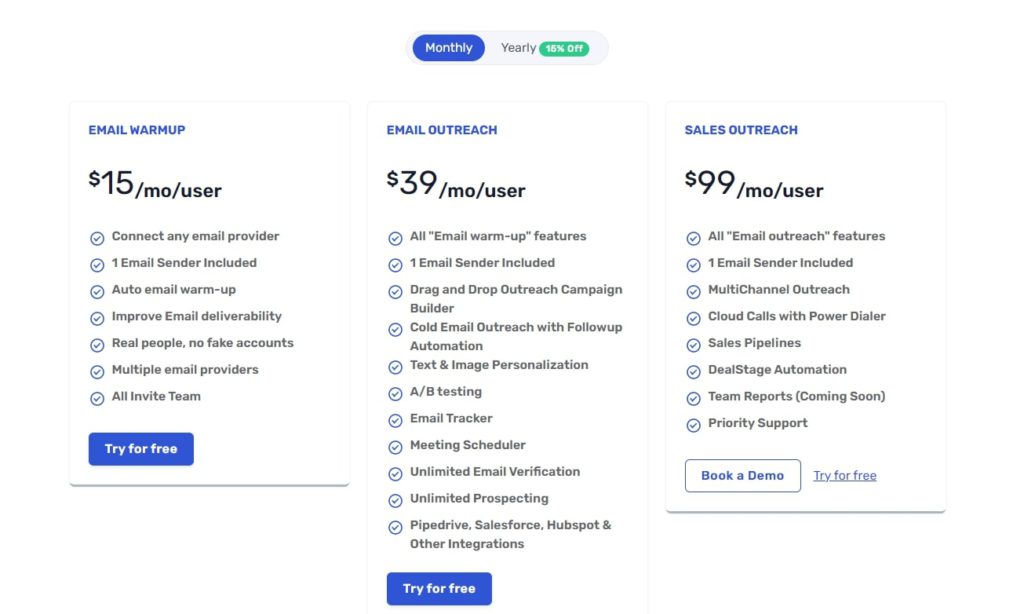 The Sales Engagement plans include:
Basic – $49/mo/user
Professional – $69/mo/user
Enterprise – Request Quote
The Prospecting plan includes
Prospecting Pro Plan – $49/month
Enterprise – Request Quote
The Email Warmup plan is at $19/mo/sender
Reply.io vs SalesBlink
After a closer look at each of the platforms, here's Reply.io Vs SalesBlink.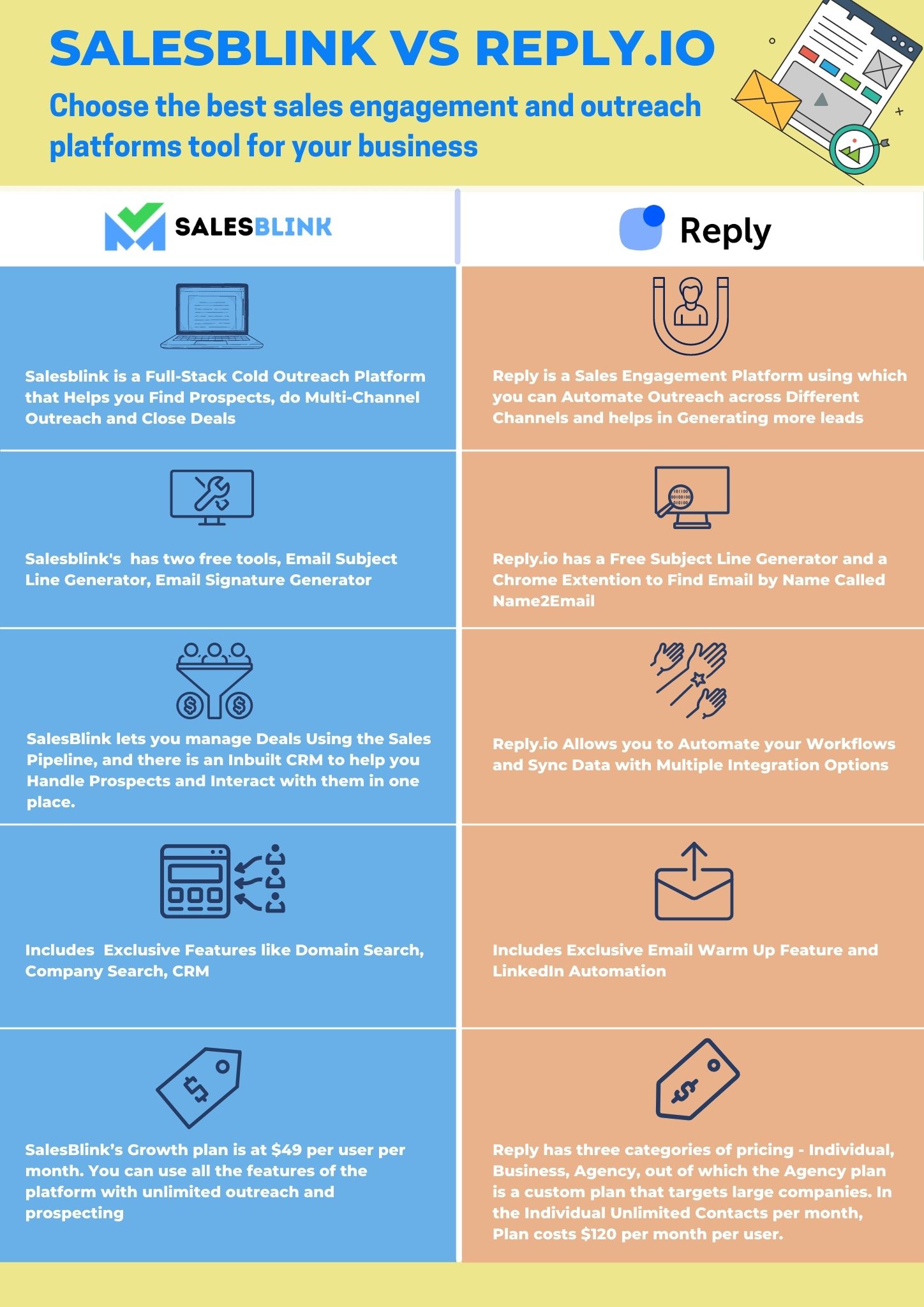 Both Reply.io and SalesBlink are promising tools, but there are certain features that Reply doesn't have and vice versa.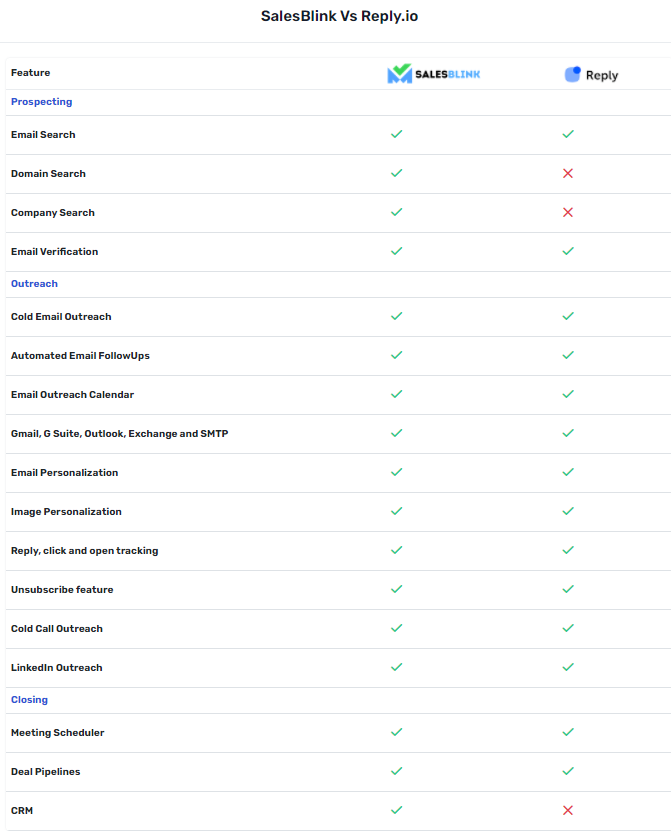 1. Reply.io Vs SalesBlink – Prospecting
SalesBlink has more to offer than Reply.io for the prospecting stage process.
Reply doesn't have any inbuilt features to help you find prospects as it is mainly an outreach tool. However, it has chrome extensions that help scrape emails from LinkedIn profiles and find emails using name and domain.
On the other hand, you have SalesBlink that helps you find emails of prospects and further important details of companies. Thanks to the expansive business database, you can find what you are looking for with a click. The email addresses that the tool provides you undergo real-time verification. There is also a dedicated email verification tool so that you have a clean mailing list.
2. Reply.io Vs SalesBlink – Outreach features.
Reply provides a sequence template for different purposes. If you want to build your customized sequence, you can do that as well. You can save the template for future use as well.
SalesBlink lets you build campaigns with multiple channels from scratch or with the help of the pre-built campaign templates. It is super easy to create campaigns in SalesBlink, as you have already seen above. Both Reply and SalesBlink provide great outreach automation and can take the burden away from the lives of salespeople.
3. Both have something extra to offer.
Reply.io comes with chrome extensions while SalesBlink does not. However, SalesBlink has two free tools to offer – A subject line generator and an email signature generator. Both of them are pretty handy in getting ideas for subject lines and creating email signatures, respectively. Also, to use these two tools of SalesBlink, you don't have to be a paid user; you can visit the website and use the tools free of cost.
4. SalesBlink takes care of closing better than Reply.
SalesBlink lets you manage deals using the sales pipeline, and there is an inbuilt CRM to help you handle prospects and the interactions with them in one place. There is also a meeting scheduler to help prospects schedule meetings seamlessly. All these features are missing in Reply though you can integrate them with other CRM platforms.
5. Reply.io Vs SalesBlink – Price
Coming to the price factor, Reply.io seems to be costlier than SalesBlink. SalesBlink appears to be value for money as you get more features for the prospecting and closing stage, which is not the case with Reply.
Conclusion – Which Tool is Better of the Two – Reply.io Vs SalesBlink?
The Reply.io Vs SalesBlink comparison reveals that Reply.io is a sales engagement and outreach platform, while Salesblink is a sales outreach automation suite.
While Reply is helpful in mainly automating outreach, you have SalesBlink that has a lot more to offer at a reasonable cost. But that doesn't mean that Reply doesn't have the edge over SalesBlink.
It can be tough to pick one of the two. However, as a salesperson, you should choose the one that suits your company's needs and the size of your sales team.
FAQs
What is Reply.io?
Reply is a sales engagement platform using which you can automate cold outreach across different channels. It helps in generating more leads and growing business revenue.
What is SalesBlink?
SalesBlink is a sales outreach automation suite using which you can search for prospects, put your cold outreach sequences on autopilot, maintain and manage deals pipelines and prospects.
Which tool is better – Reply.io Vs SalesBlink?
The Reply.io is a sales engagement and outreach platform, while Salesblink is a sales outreach automation suite. While Reply is helpful in mainly automating outreach, you have SalesBlink that has a lot more to offer