Top 13 Benefits Of Email Verification 
Do you know that you can reduce your bounce rate by 90% by verifying your emails? That can go a long way in improving email deliverability and seems to be a valid reason to invest your time and resources in email verification. But that's not all! There are many other benefits of email verification that help you get the most out of your email campaigns.
Here in this post, we will know the top 13 benefits of email verification, what email verifiers are and why you should use them.
So without much ado, let's get started!
What Is Email Verification?
Email verification refers to the process of ensuring that an email address is valid and linked to an inbox. It helps remove malicious emails from your list so that you can reach out only to those with a functional email address.
There are tools to help you save your time but let's understand the benefits of verifying emails first.
Benefits of Email Verification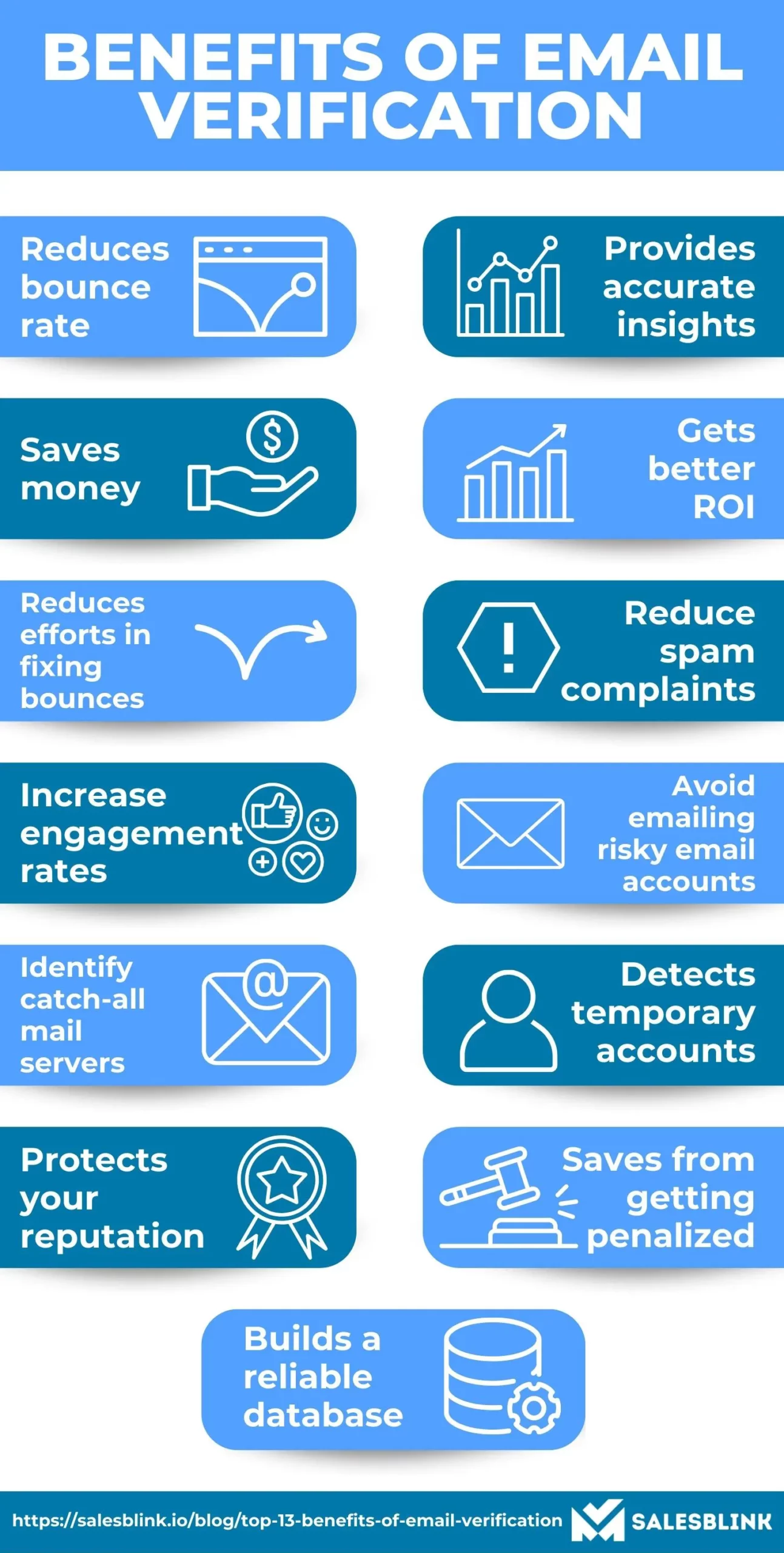 Why is email verification important? Let's find out!
1. Reduces bounce rate
If there are too many bounces, your reputation as a sender can suffer, and it will affect your email campaign as well. Having an email verifier will help you eliminate all the invalid email addresses and reduce the email bounce rate by a good 90%. A good email verification tool will not simply check for the email address in the database but conduct a real-time check to see whether the account is active or not. By increasing Email deliverability, you improve your sender score. It determines whether you are a trusted sender or spammer.
2. Provides accurate insights
After your email verifier cleans the mailing list, you have the valid email addresses in hand. When you run your email campaign, the recipients' actions will be more reliable for analysis. The fact that you are sending emails to real email addresses makes every response from the recipients seem genuine.
3. Saves money
Storing email addresses and sending emails are not free of cost. It takes money to maintain a database and send them. When you carry out the verification of email addresses, the unwanted ones will get removed from the list, and your database's size will reduce. You will also send emails to fewer people. And that translates to saving money. Therefore, it is one of the best address verification advantages.
4. Gets better ROI
One of the benefits of email verification is it reduces the chances of bounces which helps increase ROI. Look at it this way, sending emails costs your company money. There is a cost attached to each email. That is why even a single email bounce can affect your campaign ROI. Emails bounces mean a waste of the money invested in email marketing.
5. Reduces efforts in fixing bounces
If you are using an email list that is not verified for your email campaign, the bounces will start coming. If you are doing things yourself, you have to use a system that unsubscribes hard bounces, but when you use an email service provider, they will move the bad addresses to a separate list.
The service provider will make a note of the bounces as well. There is usually a limit that different email service providers set, and if the number of bounces crosses that limit, you can receive a warning from the service provider. If you don't mend your list-building practices and too many bounces happen in the future, the service provider will ban you.
Now, when you verify your list, all the problems will get resolved. The email verification tool would remove all the undeliverable addresses from the list and save you from all the trouble. That is a huge benefit of verifying your email list and will help in making your marketing strategy effective on the whole.
6. Reduce spam complaints
This is one of the important benefits of email verification. Ideally, the spam complaints should be less than five for every 5000 emails you send. It is essential to keep the spam rate the lowest, or else it will ruin your reputation. Email verification tools can identify email accounts of users who mark emails as spam very often. The verifier will flag such email accounts so that you can save yourself from getting marked as spam.
7. Increase engagement rates
When you start verifying the email addresses on your email list, you can get rid of the ones that don't benefit you in any way. It will reduce the size of your list, but that will increase the engagement rate. When you send emails to those who actively use their email account, you can get a better email open rate and a better email click-through rate.
8. Avoid emailing risky email accounts
Some email addresses are not of a real person. These are the ones that are linked to frauds or chargebacks. It is crucial to stay away from these email accounts as you can get black-listed for sending too many emails to traps.
With email verification, you can make sure that you are not sending an email to such risky email accounts.
9. Identify catch-all mail servers
Catch-all mail servers are those that accept all emails sent even whenever the mailbox doesn't exist. As a digital marketer, it can be a problem for you because it may seem real at first, but it will get kicked back later on. When you use an email verification tool, you would know about this particular server configuration, and that way, you can remove such email addresses from your list.
10. Detects temporary accounts
Fraudsters use randomly generated temporary accounts quite often that they use only for 48 hours. Being real when you collect them, you won't come to know that they are temporary. With an email verifier, you can identify such accounts in the list later on and remove them.
11. Protects your reputation
Over time, when you send emails, you build a reputation among email service providers and internet service providers. The term for this reputation is called sender reputation and is based on several factors. The factors are how many times do recipients mark your email as spam and how many email bounces occur.
With verified email lists, you can relax a bit as you are not sending emails to accounts that will mark them as spam or cause bounces. It will help protect your sender reputation which matters a lot to email marketers.
12. Saves from getting penalized
When your campaign is getting several bounces and spam reports, your email service provider will start warning you, and if this keeps repeating, they will black-list you. In severe cases, it can make you pay a heavy penalty as well. When you use an email verification tool, bounces and spam reports are minimal as you have a clean list. You can then continue your email campaigns without worry.
13. Helps build a reliable database for sales teams
The accuracy of your mailing list is most important, or else the sales team won't be able to make the most of it. If you don't verify the emails on your list, your outreach campaign will not fetch you the desired results, and the metrics won't be as expected. You can prevent that from happening by giving your team a list of verified email addresses in the first place. After all, the outcome depends on your input, and if you provide the team with a verified list, the sales team's efforts will bear fruit.
So, the above were the main email verification benefits.
What Is An Email Verifier?
An email verifier is a desktop tool, plugin, or SaaS product that lets salespeople verify email addresses and ensure that they exist and are valid.
These days, most email verifiers are available as online services, i.e., a plugin or SaaS, because you can access them from any device anytime and anywhere. You only require an internet connection to use them. You also needn't worry about updates as the developer and vendor of the service take care of that.
Why Should You Use an Email Verifier?
As a salesperson or email marketer with a really old database, you are more likely to have invalid email addresses in your list. Some still believe that you can do marketing better when you have more email addresses with you. Sadly, it is not the same anymore. It is the age of quality-over-quantity. Gone are the days when you could purchase a massive list of email addresses from not-so-reliable sources or add email addresses of people who are unwilling to receive your marketing emails. There are stringent laws that protect email users and prevent spamming. GDPR Compliant in the European Union, the Anti-Spam law of Canada, and the CAN-SPAM Act of the US aim at regulating commercial email.
If you have been into buying lists and adding people without their consent, you have to clean your database and get rid of problematic email addresses.
There can be different reasons that render an email address non-functional. An invalid email address would be of no use to you as a marketer or salesperson. Here are the most common reasons that make an email address invalid, and to detect them, you must use an email verifier,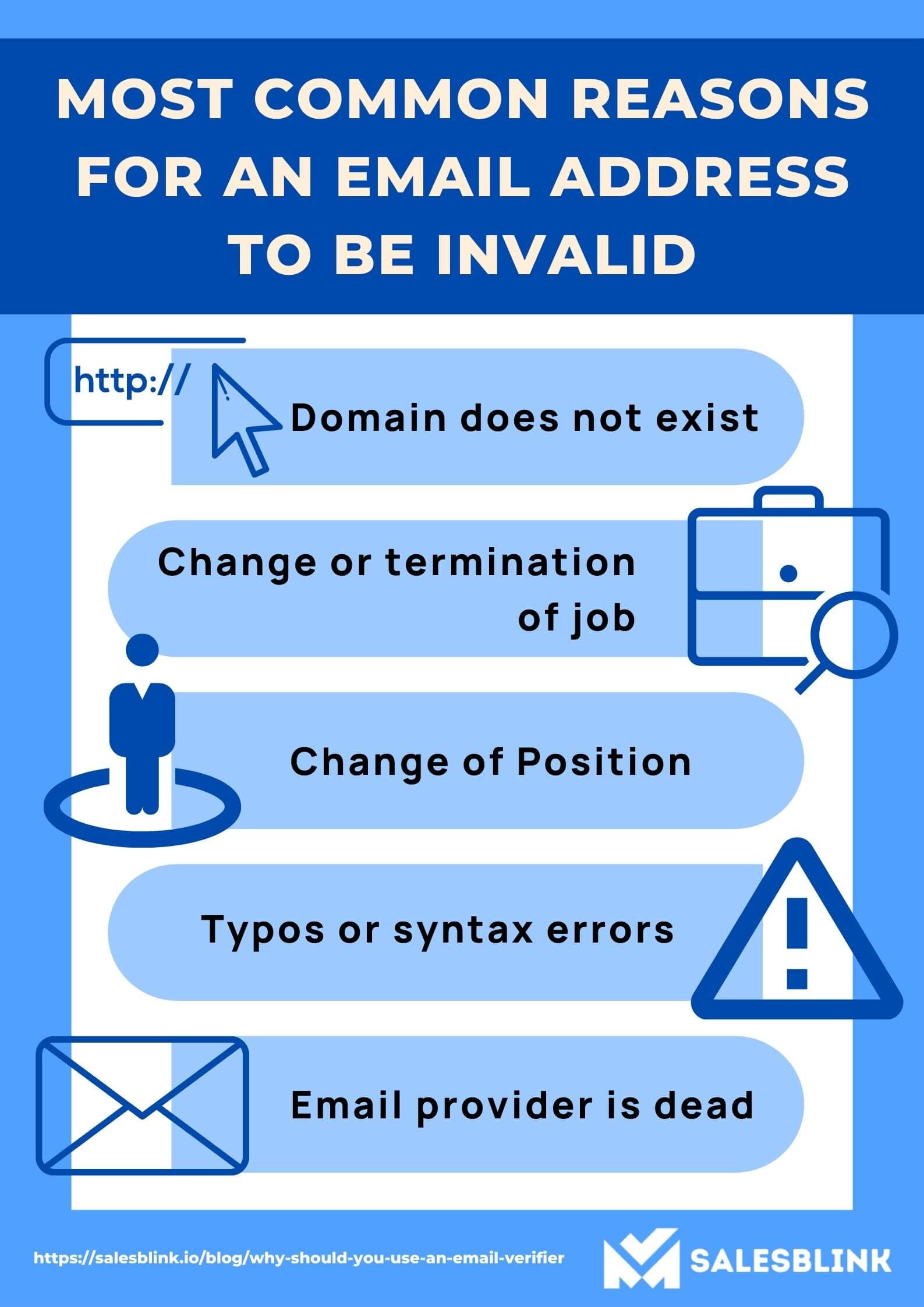 1. Domain does not exist
Email addresses of a company become inactive when it shuts down or changes its domain. When you use an email verifier, you can quickly determine whether the email address is valid or belongs to a non-existent domain. Doing so would help reduce the bounce rate.
2. Change of job
As individuals shift jobs after a while, their previous official email addresses become unreachable and are redirected to somebody else. With email verification, you can find invalid email addresses and eliminate them from the list.
3. Change of position
In larger organizations, the email addresses of employees depend on their position in the company. The format of email addresses is different for low-level, mid-level, and top-level employees. Therefore, if a person gets promoted, their previous email address gets invalid. It is therefore essential to verify email addresses before sending emails. The failure to do so will increase your bounce rate.
4. There are typos and syntax errors
There can be errors in the mail address, such as spelling mistakes or additional spaces. Such emails are invalid, and an email verifier will detect them for you.
5. The email provider is dead
Your emails will not reach their destination when the email provider is dead. Businesses do get closed, and the same applies to email service providers as well. That makes the email addresses of the email service provider invalid. It is therefore essential to check the validity of the email addresses you have in your email list.
All of the above reasons make email verification a must. Remove all the bad email addresses from your list if you want your email campaigns to perform better.
How Does An Email Verifier Work?
All email verifiers don't work the same way, but most of them follow a 3-step process,
1. Syntax check – This makes sure that the email doesn't return unopened because of errors like spaces and invalid characters.
2. Domain check – Domain check will check whether the email address exists at the domain and works fine.
3. Email ping check – Email verification using ping checks determines the active status of an email.
Which Email Addresses Should you Verify?
As you have already seen the reasons for verifying emails, you can understand that an email address may turn invalid at any point in time. That is why you should try your best to verify your email lists,
A few people prefer to verify only the new email lists they get from a source that is not trustworthy. However, this practice won't delete the risk. It is better to verify email lists that you get from sources you trust as well.
Also, you should validate existing email lists as well as the new ones periodically. It is essential to do so because you never know when a person quits his job, gets promoted, a company shuts down, or an email service provider goes out of business. It is, therefore, better to be prepared from your end.
What Should you Look for in an Email Verifier?
After knowing the importance of an email verifier and the benefits of email verification, you might wonder what to consider before choosing one. Here is some help. Do look for the following features in the email verifier:
1. It must be an online service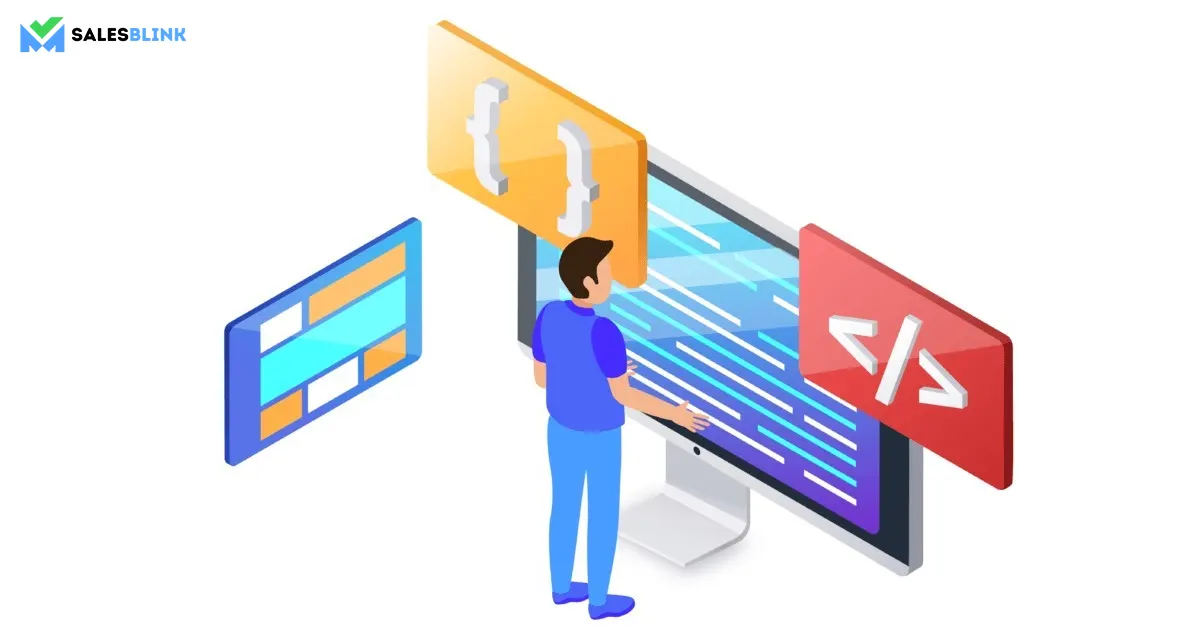 A SaaS email verifier is the best option for you as it won't use your device's resources, and you can access it at any time. An active internet connection is the only requisite.
2. It must be scalable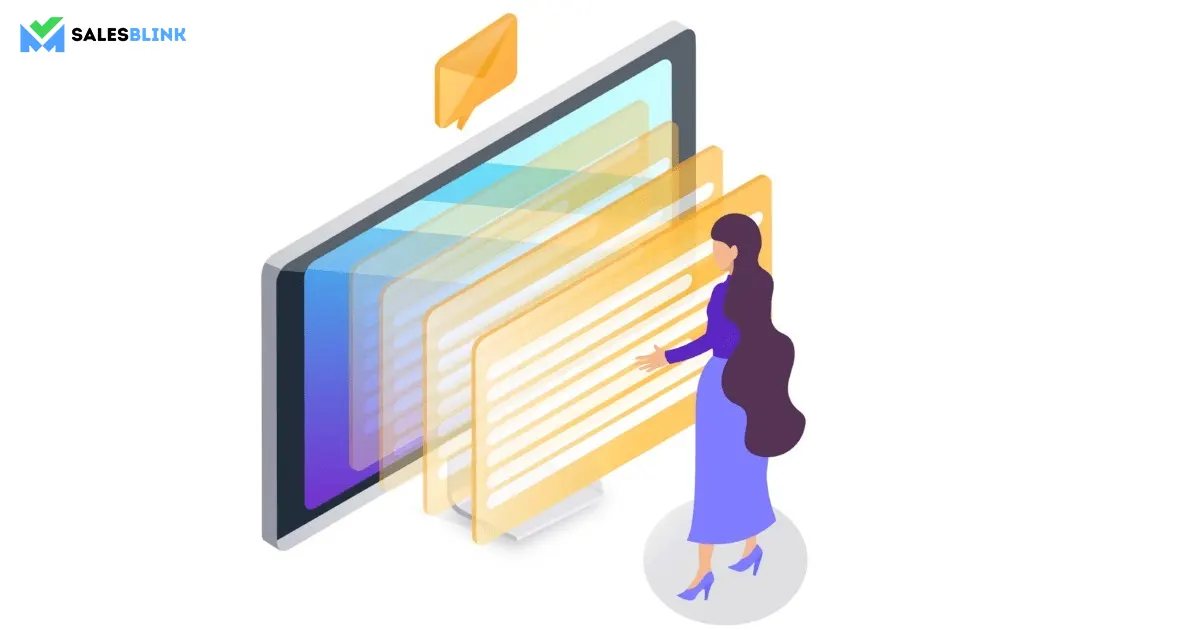 Your tool should be able to handle large email lists. As a marketer, you would want to verify huge lists in one go to save time. So, you have to choose a tool that can fit into this requirement of yours.
3. It must be compatible with corporate and personal emails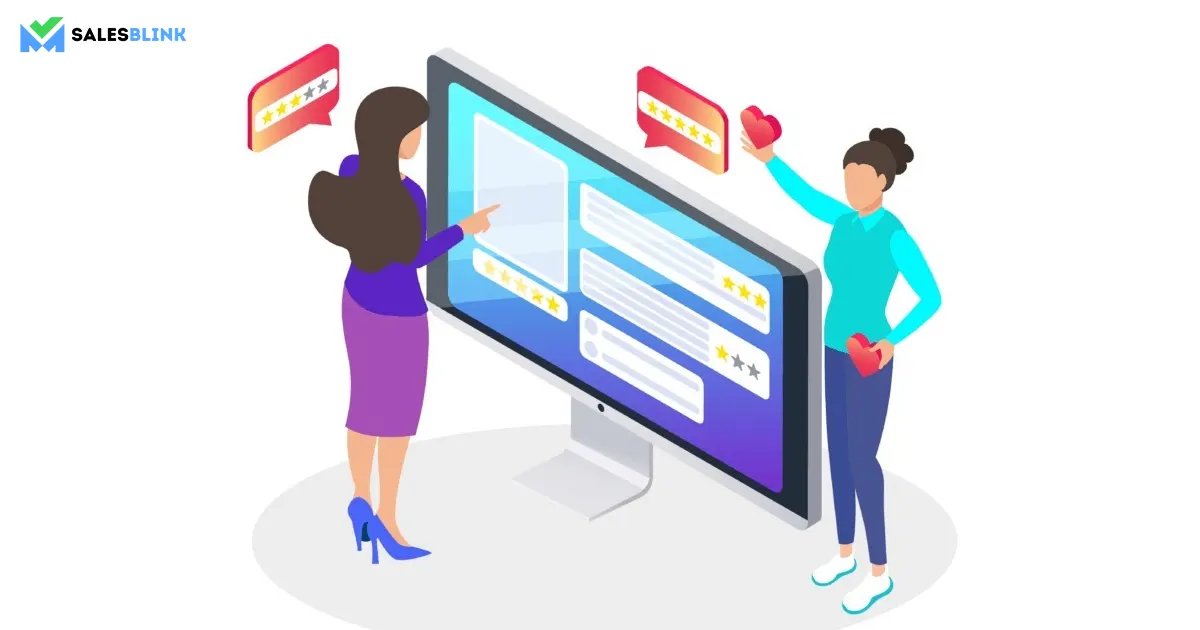 The email verification tool must verify both corporate and private email addresses because you will probably use both kinds of emails in your list.
4. It must have multiple verification mechanisms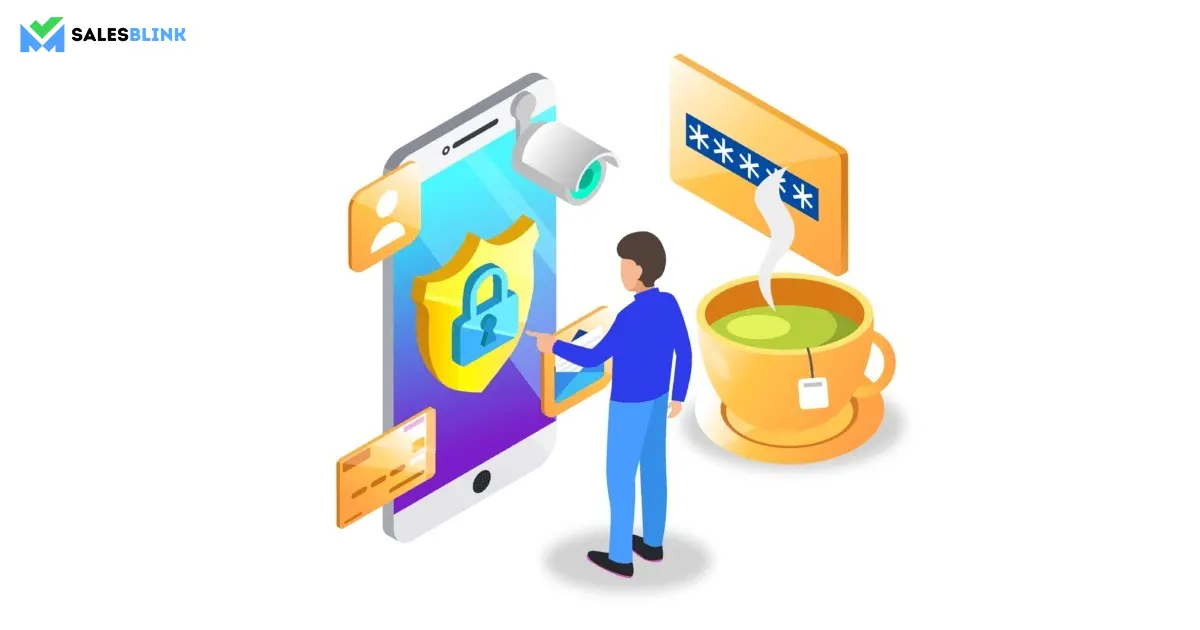 The verification mechanisms of the email verifier should be more than one. Choose one that uses various methods like domain check, syntax check, and email server ping.
5. It must be easy to integrate with other platforms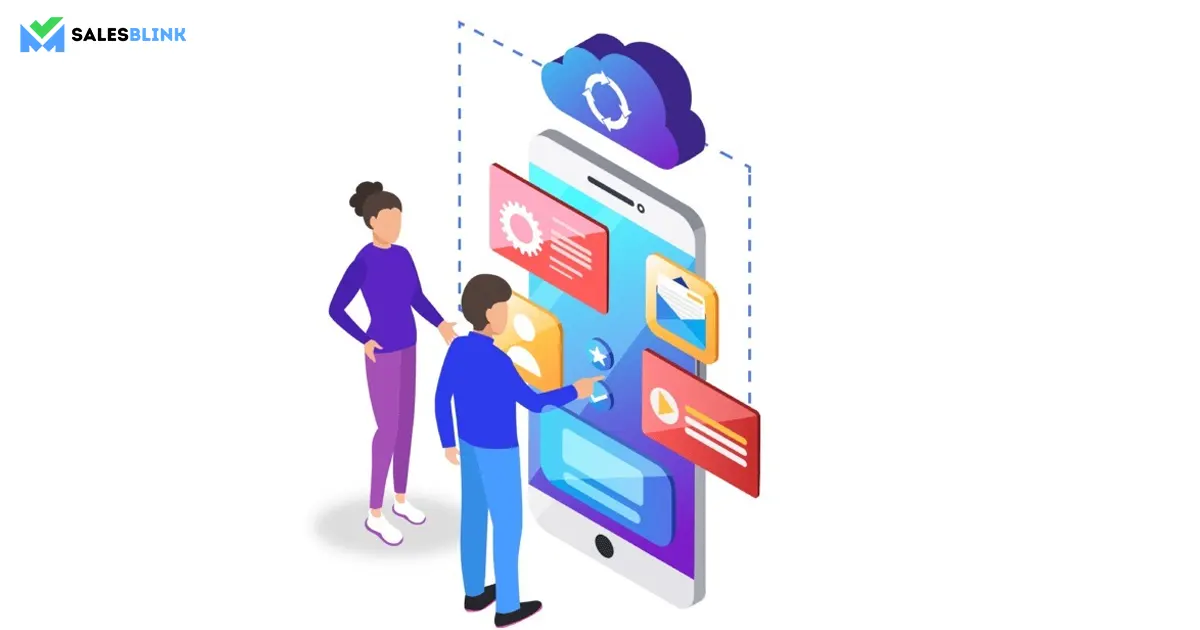 Usually, email verification is a part of the email marketing process. It is, therefore, better to opt for an email verifier that you can easily integrate with other platforms like email generation and outreach tools. It will help you carry out tasks seamlessly.
Email Verification Tool For Cold Emailing
In B2B sales, salespeople resort to cold emailing to reach out to prospects. It is different from email marketing as the recipients don't anticipate an email from the sender as they have not signed up for it. In such cases, it becomes even more important to verify the email addresses before sending cold emails.
SalesBlink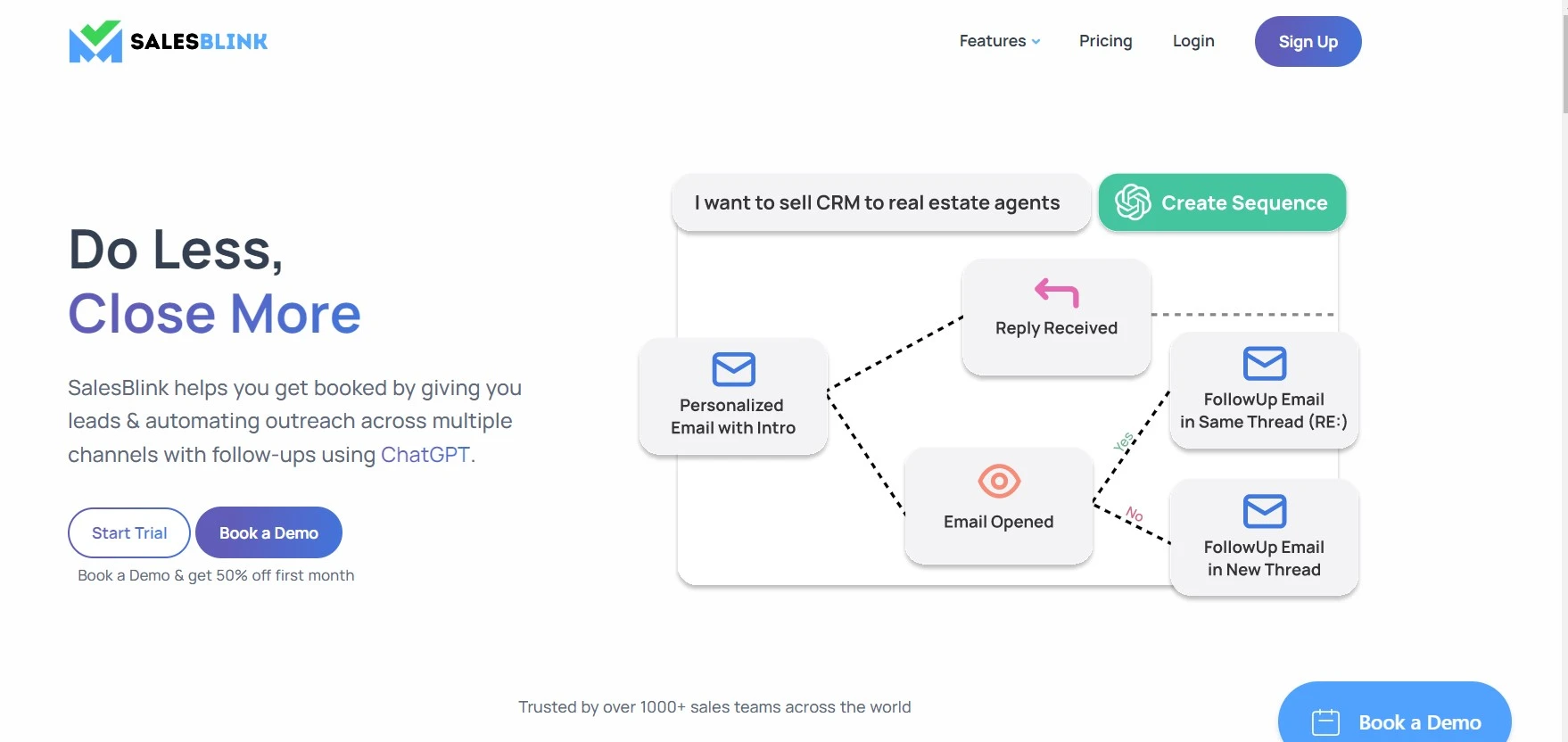 SalesBlink is a sales outreach automation tool that offers email verification. Salespeople find this extremely useful while prospecting. After searching for prospects' email addresses using SalesBlink's Email Finder, you can verify the email addresses with the email verifier. There is the option of verifying one email address at a time and verifying a whole email list of 1000 emails in one go.
Here's how it works,
Go to 'Leads' > 'Lists' > '+ New List'.
Upload your CSV file of contacts and click on 'Next'.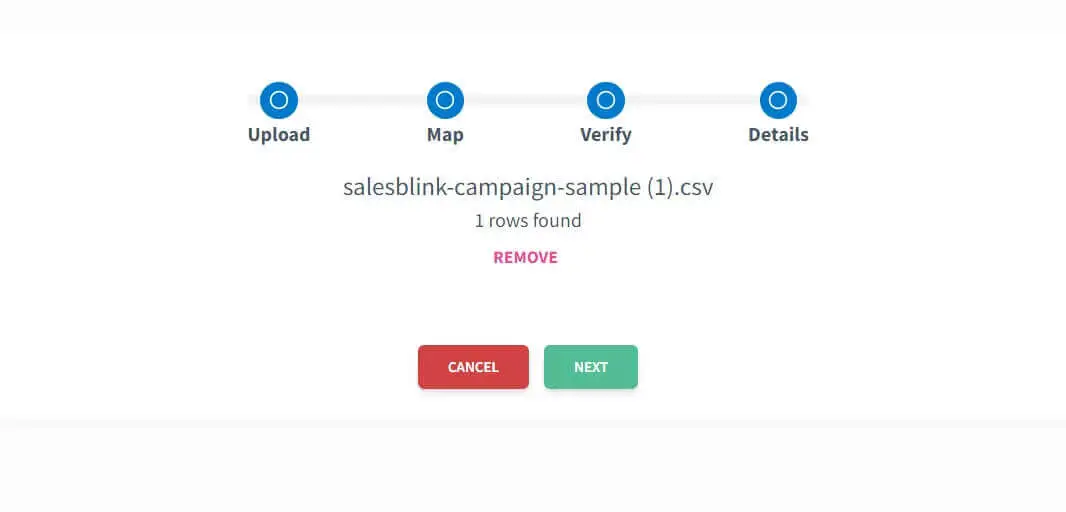 Map the fields with SalesBlink Property.

Once you map the email filed, you can verify the email addresses by checking the 'Verify All Contacts with Email Address'.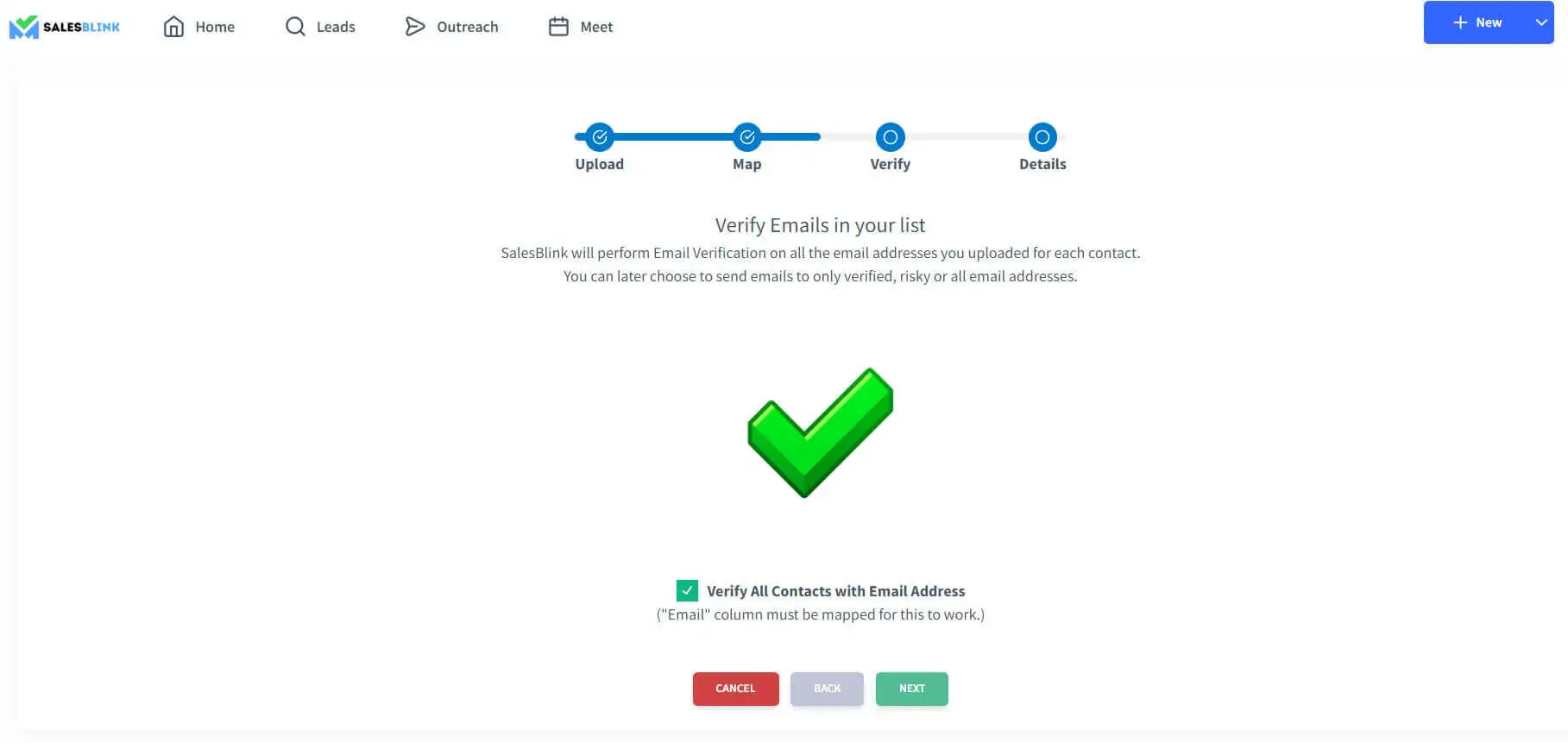 5. You can name the list and click on next. Your list will have verified email addresses in it.
The next step is to perform outreach. Sign up for a trial today.
Start Verifying Your Emails!
If you want your business to grow, you must strive hard to make your email campaigns a success. Only then can you make more sales. It is important to ensure that the email accounts you are sending emails to are valid. Having non-existent or inactive email accounts on your list can only hamper your growth and even cost you money.
You have seen the benefits of verifying emails and they reinforce the need for using an email verifier and eliminate email accounts that are not valid. We hope you will start keeping your lists clean from today!
FAQs
1. What is an email verifier?
An email verifier is an outreach tool, plugin, or SaaS product that lets salespeople verify email addresses and ensure that they exist and are valid. These days, most email verifiers are available as online services
2. Why should you use an email verifier?
Email verifier helps ensure that the email accounts you are sending emails to are valid. Having non-existent or inactive email accounts on your list can only hamper your growth and even cost you money
3. Which is the best email verifier tool?
SalesBlink is a sales outreach automation tool that offers an email verification tool. Salespeople find this extremely useful while prospecting. You can verify one email address at a time and verify in bulk in one go.