34 Helpful Sales Prospecting Tools To Fill Your Pipeline Faster
Are you spending a lot of time and money on generating leads with little growth in your sales? The truth is that only 13 out of 100 leads create opportunities for sales on average.
That means not all leads are worth your resources and trying to convert all of them will waste your time, effort, and money without growing your sales.
So, you need to find the most qualified leads, or prospects, who are most likely to convert into buyers and focus your resources on them. You can do this by following a methodology called sales prospecting, which can get you much higher returns without spending a fortune!
Sounds interesting? This blog will cover the concept and sales prospecting tools in detail. Moreover, it will also offer suggestions of the top sales prospecting tools to help you sail through the sales prospecting process. So, without much ado let's begin!
What Is Sales Prospecting?
Sales prospecting is the process of identifying and contacting potential customers to generate new business. It is the methodology that sales reps use to find and engage with prospective customers (or prospects) and set the sales process in motion.
Prospecting involves finding potential buyers for your product and reaching out to them to take them through your sales funnel and convert them into customers. It is the crucial starting point of your sales process where you must ensure the entry of qualified prospects that you can easily convert down the line.
So, the better you are at finding prospects who are ideal for your offering, the more likely you are to convert them into sales eventually.
Prospects vs. Leads
"Prospect" and "lead" are not the same thing, and you should not use them interchangeably. This is because every prospect is a lead for your business, but not every lead is a prospect.
A lead is any potential customer who's shown interest in your product. This could be by signing up for your newsletter, downloading your ebook, or reading your latest blog post. However, they are not necessarily a good fit for you presently.
On the other hand, a prospect is a lead that fits your buyer profile, has the required buying power, and has an interest in your message or offerings. So, prospects are the most interested and qualified leads that arise from your sales prospecting techniques. And you can convert prospects into buyers much more easily than other leads.
What Are The Best Sales Prospecting Tools?
The right sales prospecting software will provide accurate contact details and data insights, ensuring you never have to struggle to find qualified leads and their details. Here are the best prospecting tools for sales that you must check out-
1. SalesBlink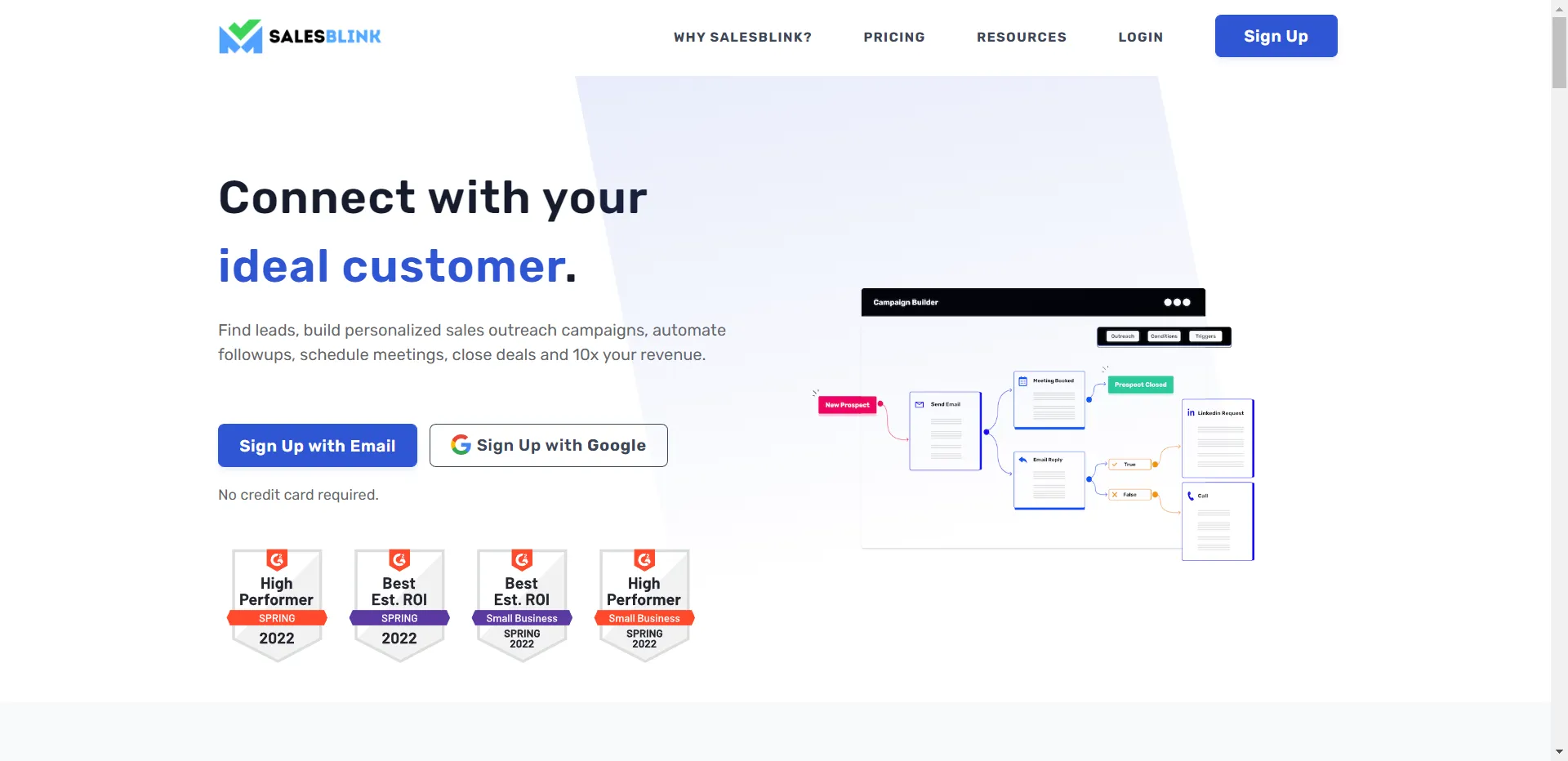 SalesBlink is an all-in-one cold outreach software that includes diverse prospecting features. This powerful yet affordable tool automates your outreach and connects you to the right people so you can find the most productive leads! Moreover, it offers a convenient interface and several integrations, allowing quick adoption and seamless integration with your existing systems.
Features
Website data enrichment
Daily domain leads
Cold email sequences
Automated outreach
CRM integration
Lead capturing, management, engagement, and nurturing
Drip campaign planning and management
Pricing
SalesBlink offers a 14-day free trial, after which you can select one of its three pricing plan as per your needs-
Email WarmUp- $11/mo/user
Email Outreach- $29/mo/user
Sales Outreach- $89/mo/user
Rating – 4.5 out of 5 stars (G2)
2. Clearbit Prospector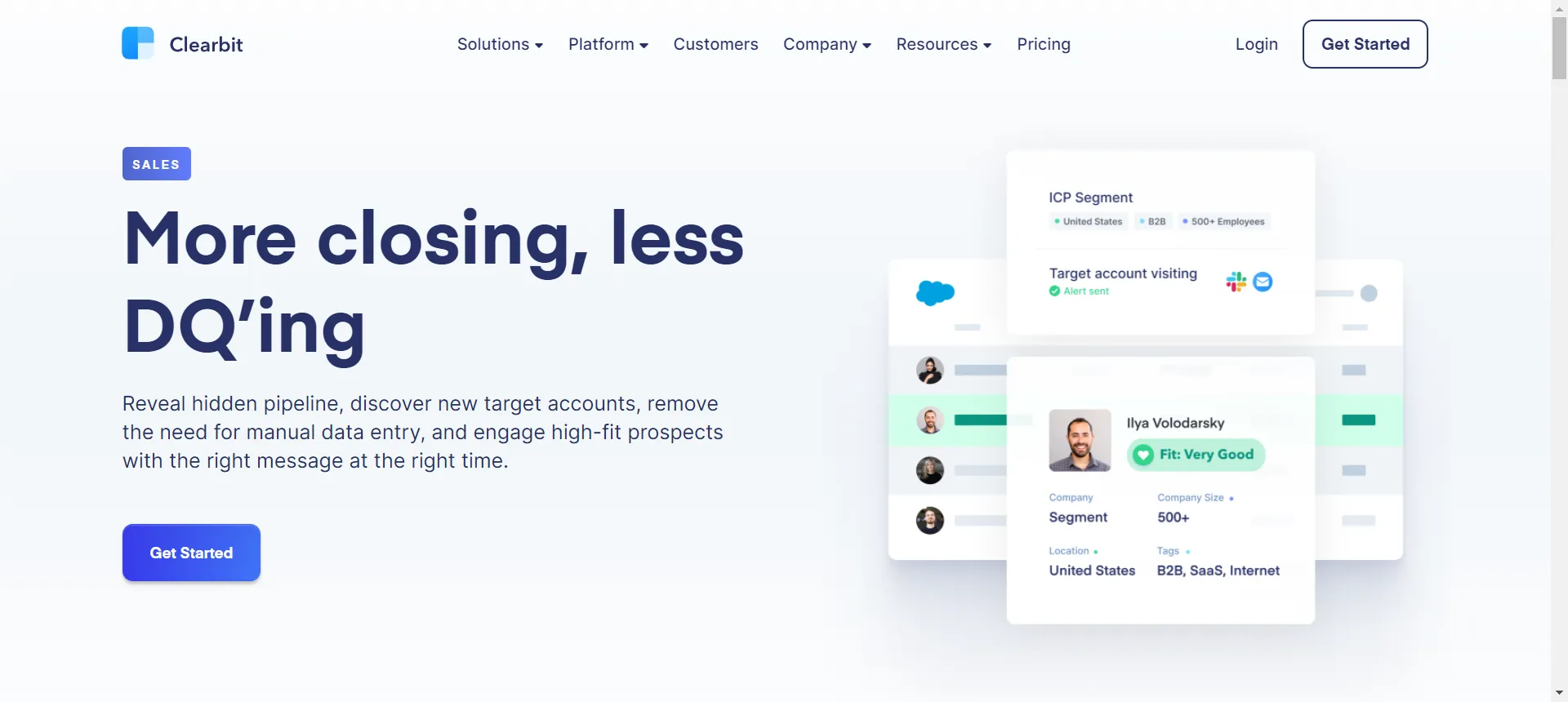 Clearbit is a web-enabled marketing automation platform that provides tools to nurture customer relationships throughout their life cycles. It is a B2C lead generation software that understands your customers' needs, identifies prospects, and personalizes your sales interaction with them.
It also offers several integrations and high customizability.
Features
Lead management
Dashboard
Data integration
Lead Database Integration
Lead Notifications
Lead Engagement
Pricing
It offers multiple custom plans. You have to request a quote to find out.
Rating – 4.4 out of 5 stars (G2)
3. LinkedIn Sales Navigator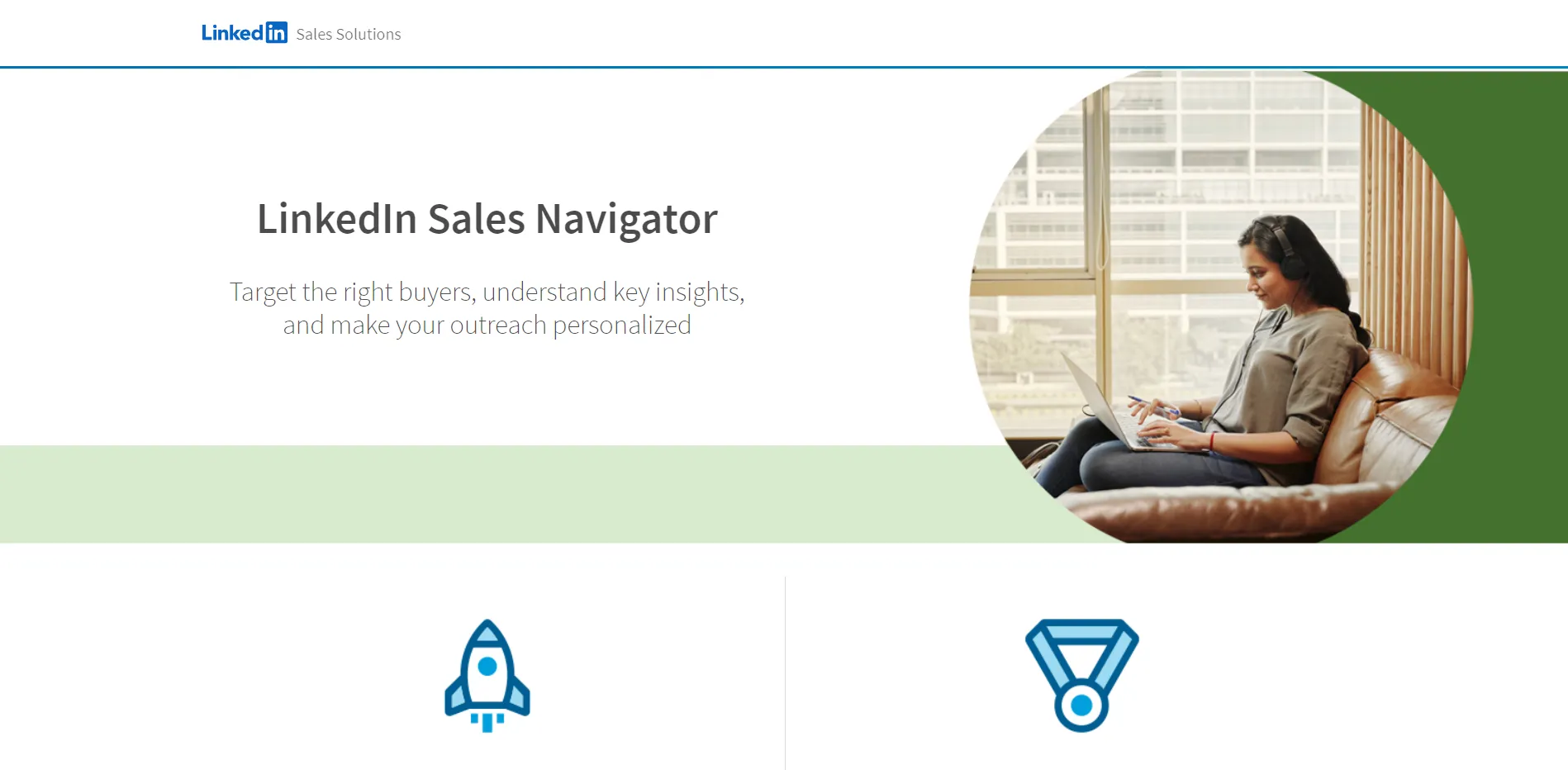 LinkedIn Sales Navigator is an effective LinkedIn prospecting tool designed to help salespeople establish and grow relationships with prospects on LinkedIn. With LinkedIn Sales Navigator, you can easily focus on the right professionals and companies, stay updated on your account status, and connect to new prospects.
Features
Company contact data
Integration with CRM tools
Data segmentation and filtering
High performance and reliability
Detailed reporting and dashboards
Marketing automation tools
Pricing
Linkedin Sales Navigator offers three pricing plans:
Sales Navigator Core- $99/month
Sales Navigator Advanced- $149/month
Sales Navigator Advanced Plus- starts at $1600/year
Rating – 4.3 out of 5 stars (G2)
4. Zendesk Sell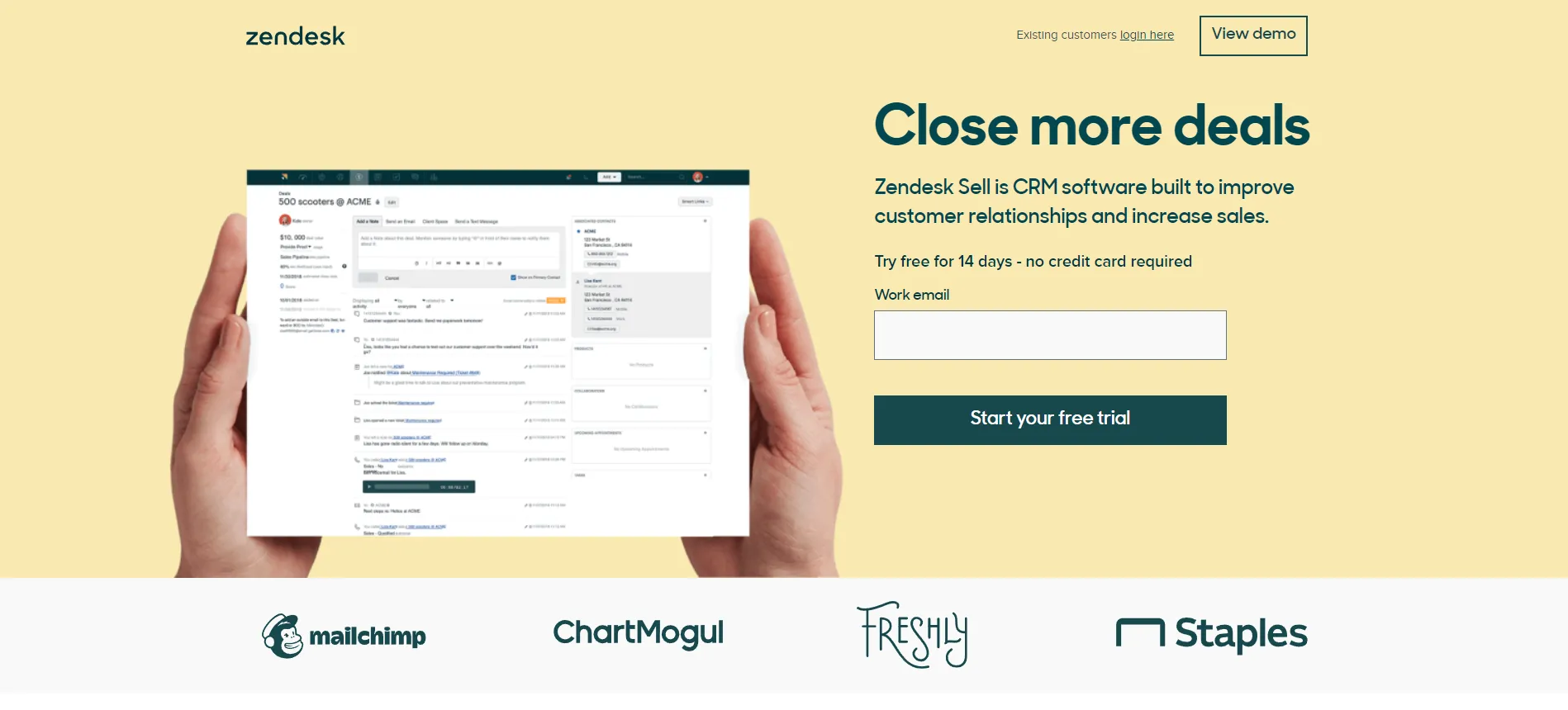 Zendesk Sell is a sales force automation tool that enhances productivity, processes, and pipeline visibility for your sales teams. It simplifies data recording and deal updates so reps and management can always access, analyze, and collaborate on relevant deal data.
Features
Email integration
Forecasting
Lead scoring
Application integration
Sales reporting
Pricing
$19 per month per user to $199 per month per user.
Rating – 4.2 out of 5 stars (G2)
5. Overloop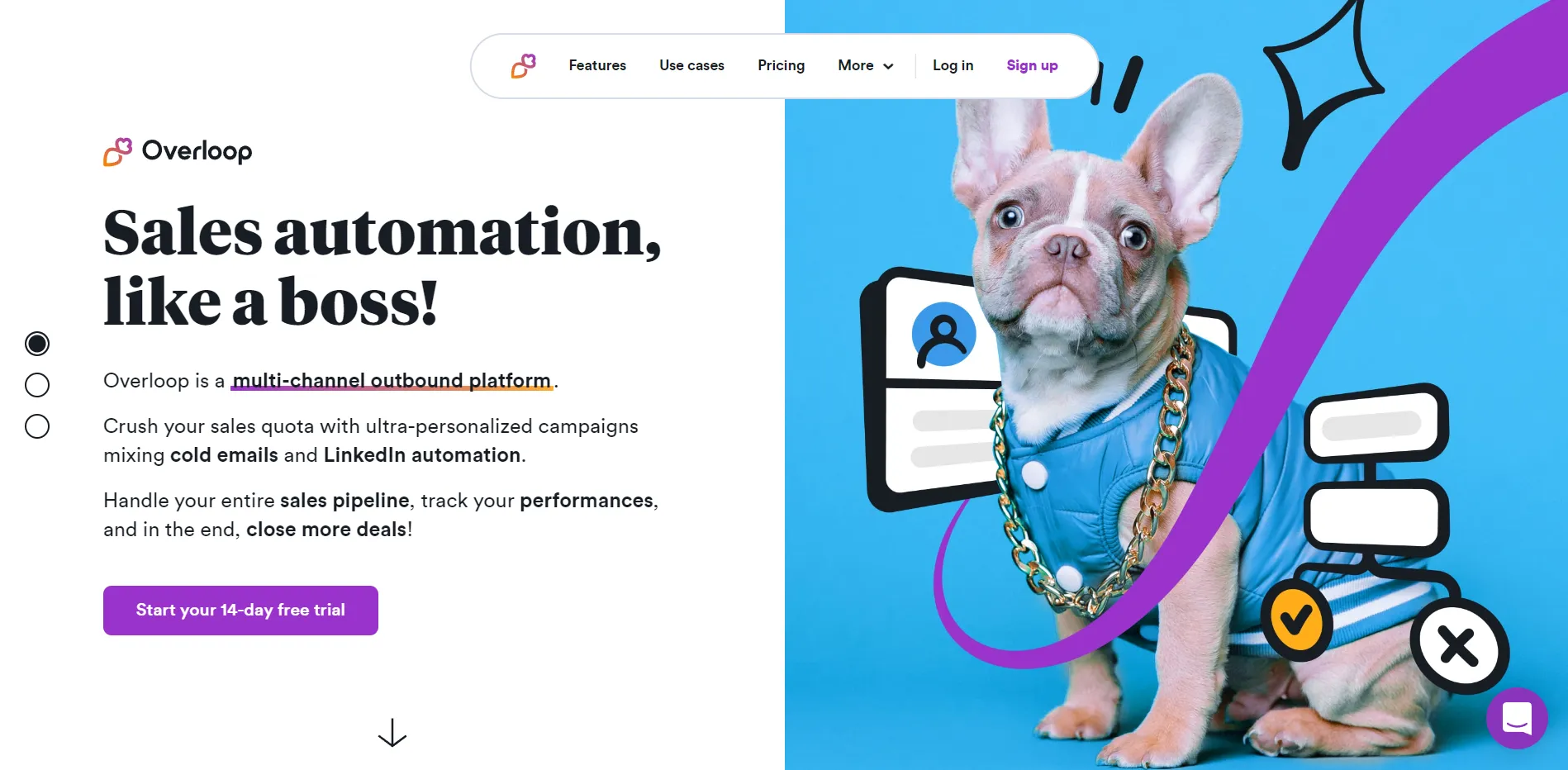 Overloop is a feature-rich CRM designed especially for outbound sales teams. It offers LinkedIn marketing extensions, cold emailing, live chats, web forms, and powerful sales automation features to help you start new conversations with ease.
Features
Cold email campaigns
Lead generation and list building
Workflows and automation tools
LinkedIn extension
Email finder
CRM Features
Contacts and organizations management
Deals and pipelines
Tasks, notes, and mentions
Custom fields
Reporting and forecasting
Inbound Features
Pricing
It costs $99 and also offers a free trial.
Rating – 4.3 out of 5 stars (G2)
6. HubSpot Sales Hub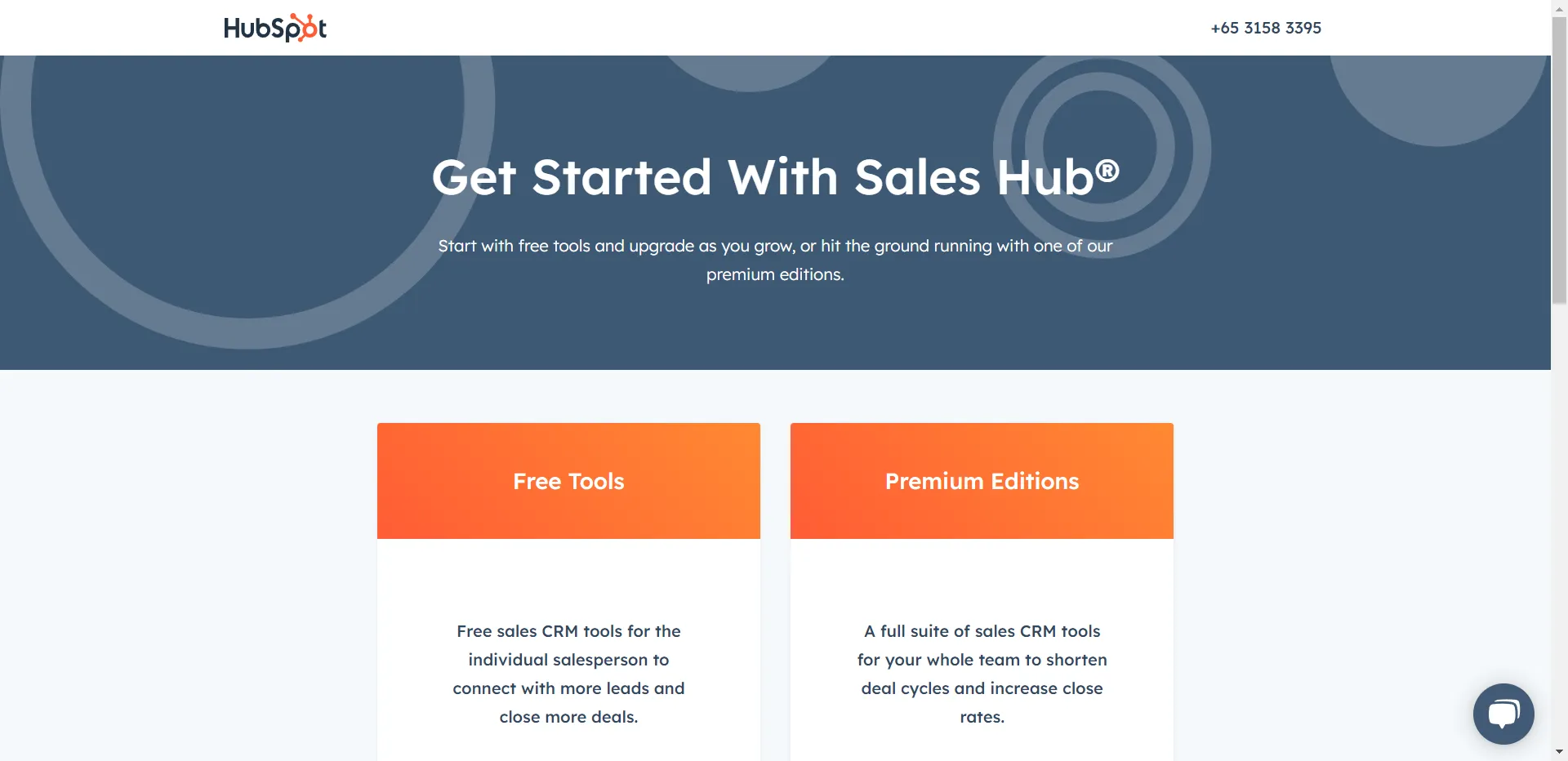 HubSpot Sales Hub is a powerful and convenient CRM that includes sales engagement tools, configure-price-quote functionality, and advanced sales analytics. It offers rich insights, qualified leads, social media insights, and aligned enablement materials to help salespersons operate at maximum efficiency.
Features
Automated CRM database
List segmentation
Landing pages, web pages, and blogs
Social media marketing tool integration
Automated workflows
Social media management
Email analytics
Paid ad tracking
Pricing
HubSpot Sales Hub offers a free version, and its paid versions go up to $1,200 per month for 10 users.
Rating – 4.4 out of 5 stars (G2)
7. Voila Norbert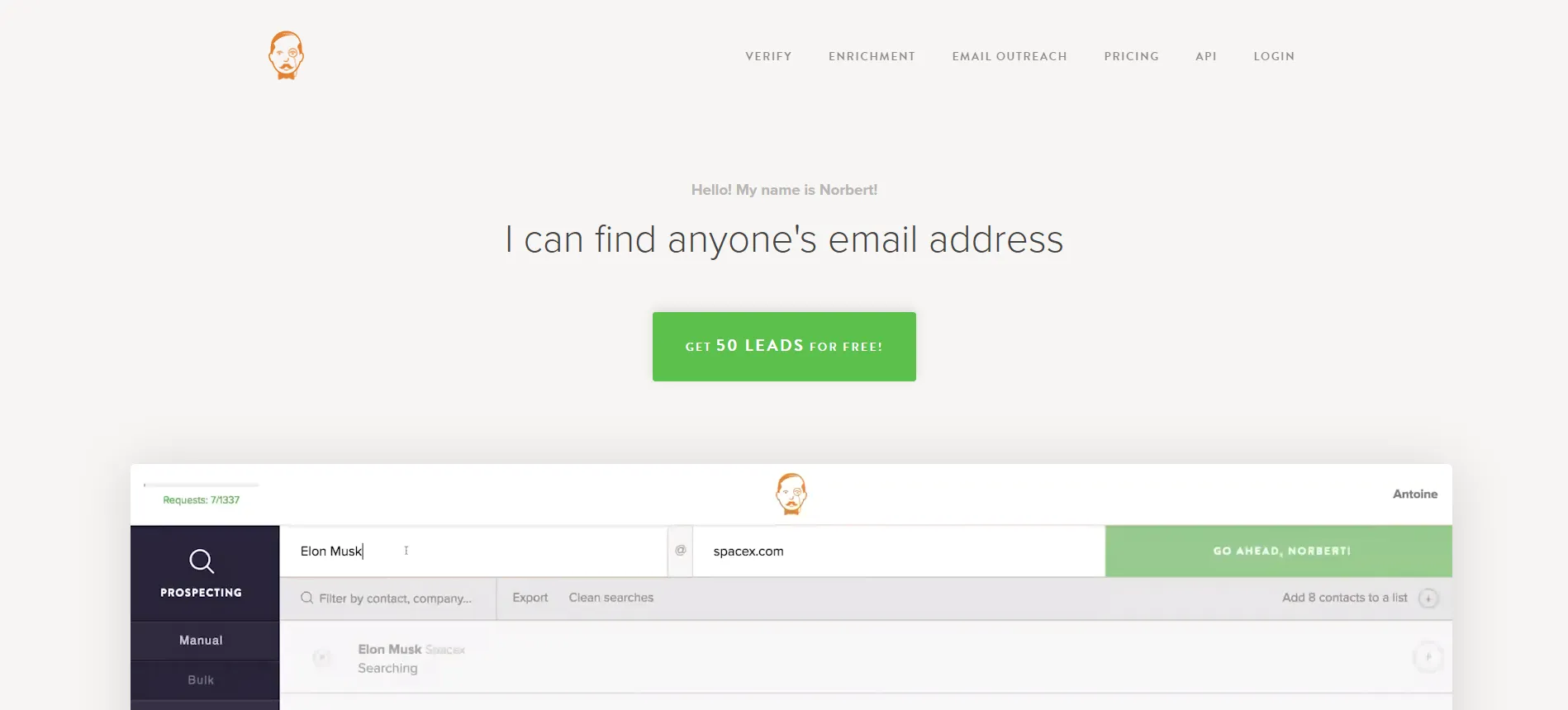 Norbert is one of the most intelligent sales prospecting software for lead generation that finds anyone's corporate email address and enriches it with data that drives conversion. It is a fully featured Email Verification Software designed to help startups and growing agencies.
Features
Bulk email verification
Mail server validation
Lead enrichment
Email tracker
Bulk domain search
Pricing
Its pricing varies from $49 to $499 a month.
Rating – 4.6 out of 5 stars (G2)
8. Anymailfinder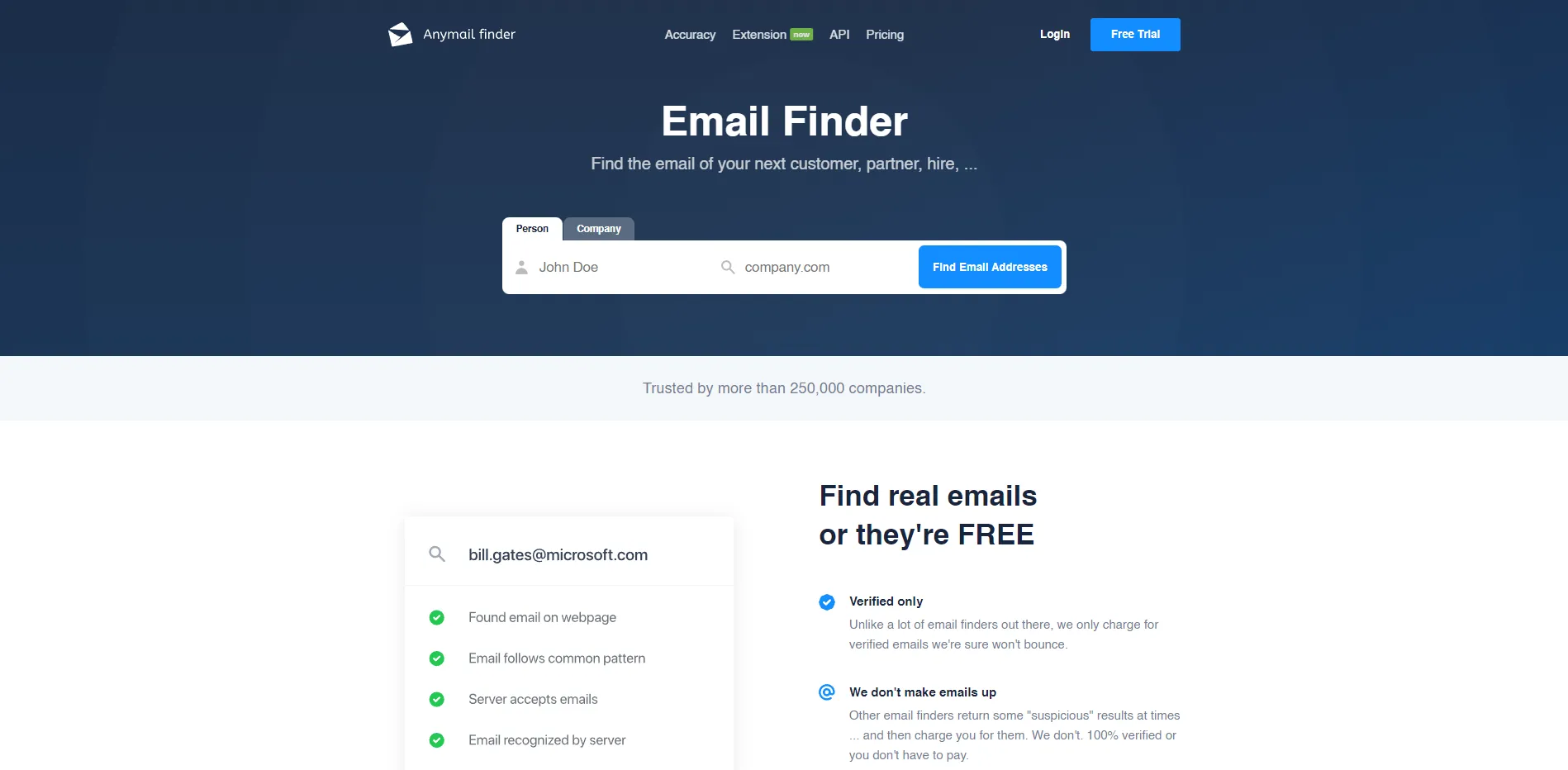 Anymailfinder helps you find real emails for people at any company! It only charges for server-verified emails, while pattern-matched emails are free. It allows easy data importing and works across platforms.
Features
Advanced business intelligence
Data virtualization
Drone analytics
Enterprise search tools
Insight engines
Predictive analytics
Statistical analysis
Text analysis
Pricing
Moreover, this tool offers a long free trial and various paid plans with pricing up to $149.
Rating – 3.4 out of 5 stars (G2)
9. Hunter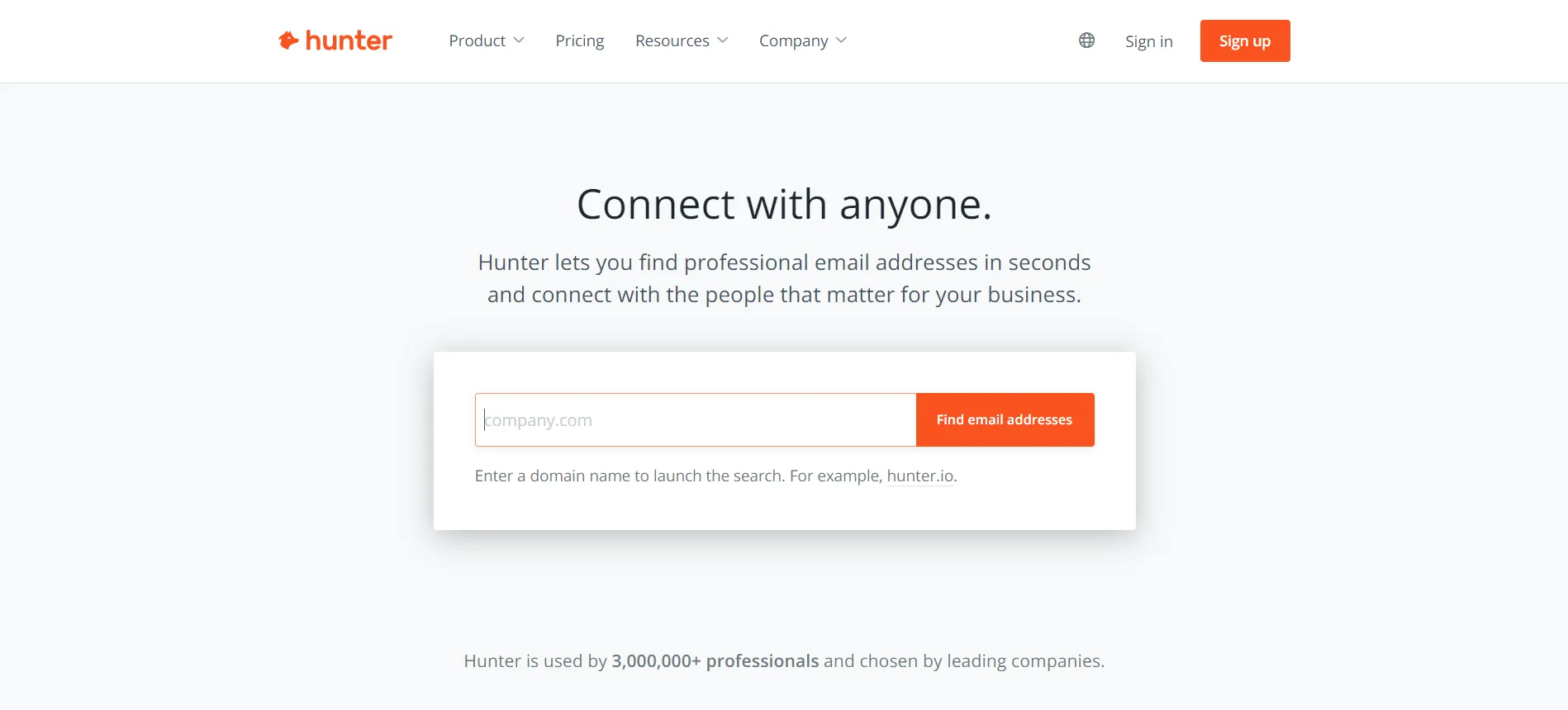 Hunter is a cloud-based solution which is best sales prospecting software around. It crawls the web to find and verify professional email addresses from multiple domains, companies, or specific professionals on the web. The data it finds is easily accessible through a simple user interface. Moreover, it includes a free cold email platform, making it the perfect tool for salespersons and marketers to approach other professionals.
Features
Accurate company and contact data
Data segmentation and filtering
Quick and convenient search reporting
Lead building and management
User, role, and access management
Detailed reporting and dashboards
Advanced APIs
Integration with CRM, social media marketing, and marketing automation tools
Pricing
This tool has a free plan with limited features. And the pricing of its paid versions varies from $49 to $199 monthly.
Rating – 4.4 out of 5 stars (G2)
10. SalesHandy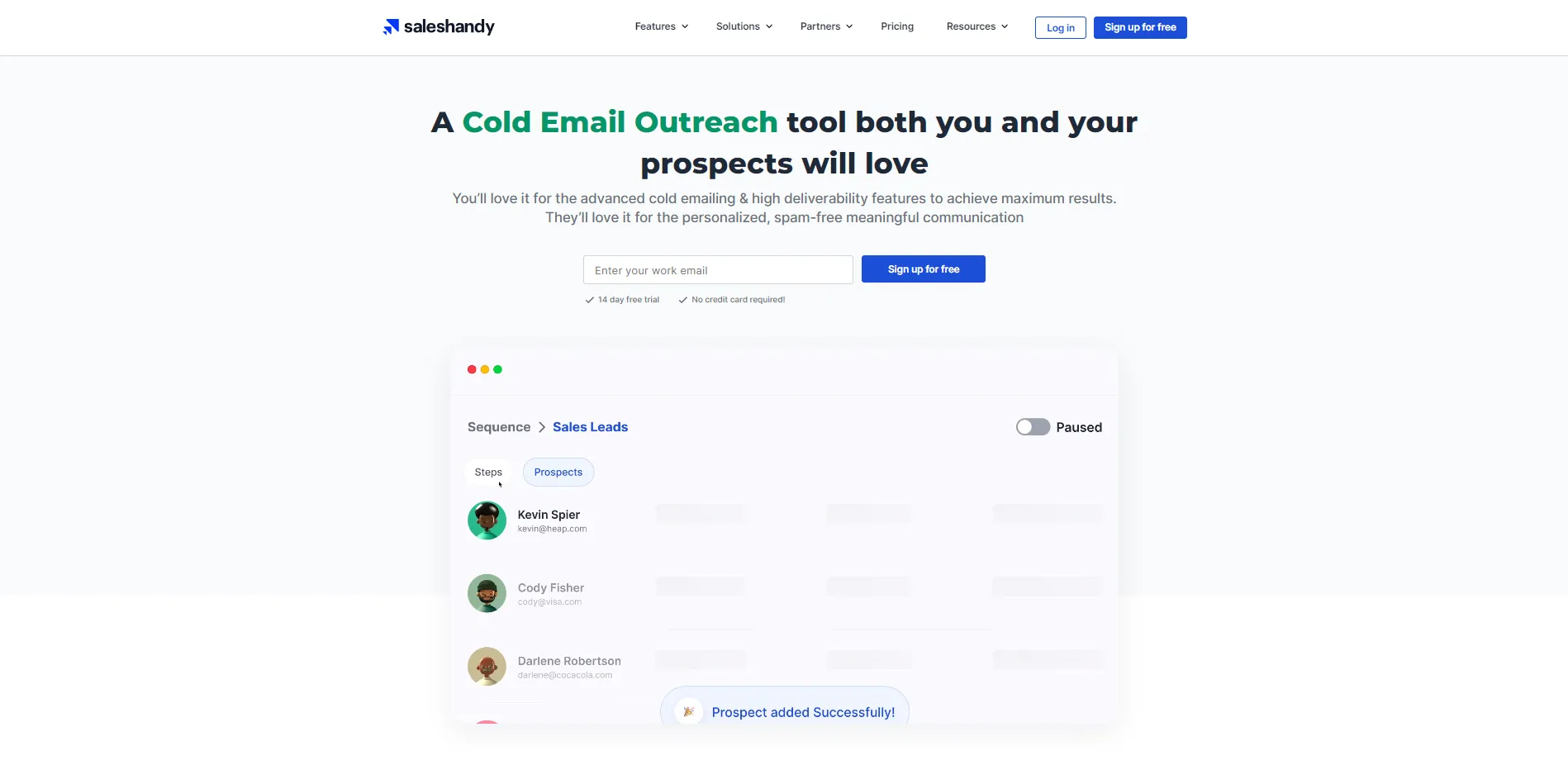 SalesHandy is a data analytics and communication management tool that helps improve the performance and productivity of your sales team. It comes with advanced features like file sharing, email tracking, live meetings, email automation, and centralized document management.
Moreover, it is an affordable and handy tool that offers actionable insights about your prospects' activities and their use of your sales material.
Features
Email platform integration
Notifications management
Inbuilt message templates
Email tracking and automation
CRM integration
Task management
Content management
Lead scoring and prioritization
Email scheduling and automation
Pricing
Its price starts at $25 monthly after a 14-day free trial.
Rating – 4.7 out of 5 stars (G2)
11. Datanyze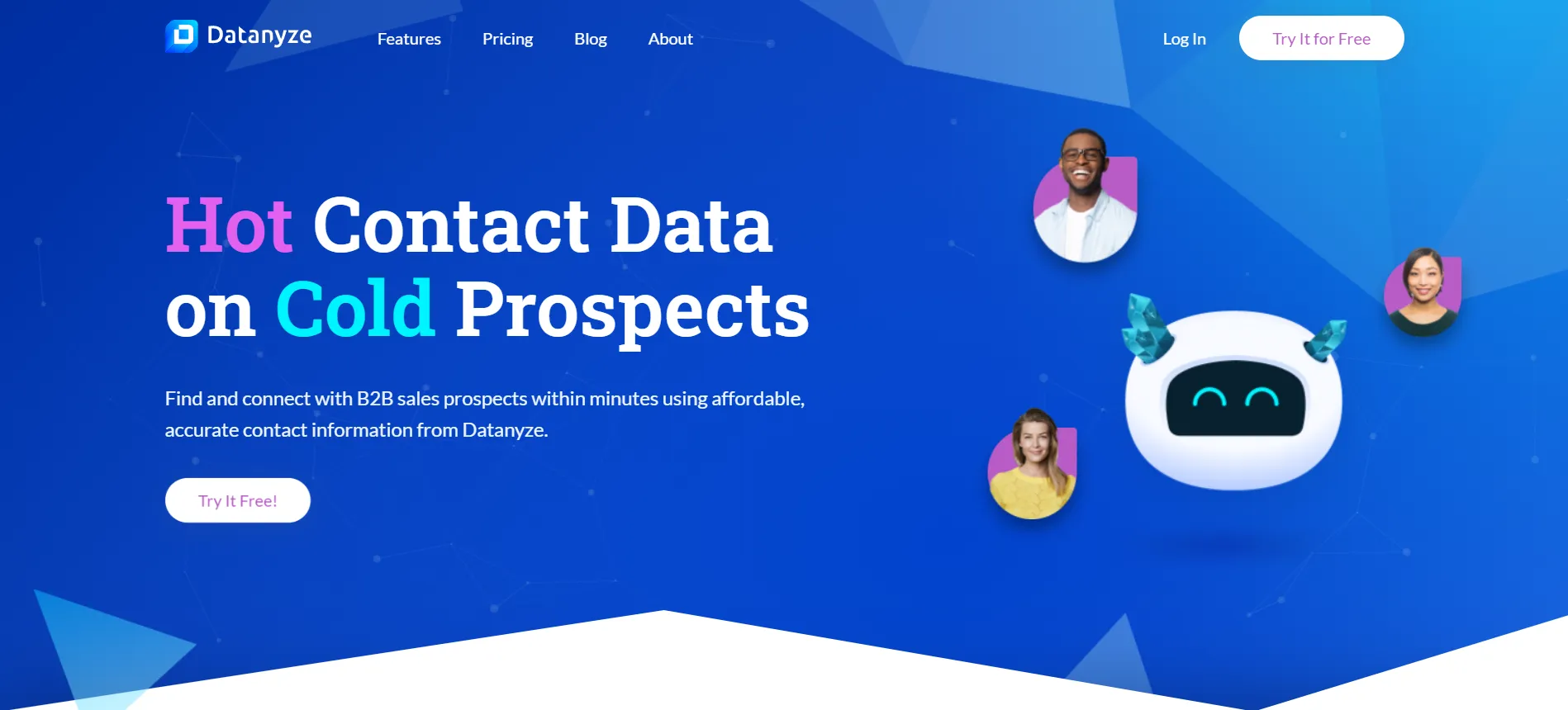 Datanyze helps sales professionals find and connect with B2B prospects. Using a Google Chrome extension, it supplies actionable contact information such as email addresses, direct dial, and mobile numbers directly from your prospect's LinkedIn profile. It offers a seamless customer experience with its smooth interface and an advanced dashboard that helps you find and target the best prospects.
Features
Performance management
Performance metrics
Profitability analysis
Predictive analytics
Powerful dashboard
Key Performance Indicators
Strategic planning
Visualization and presentation
Data analysis and visualization
Pricing
It has a free version while its paid version costs $55 a month.
Rating – 4.2 out of 5 stars (G2)
12. Kixie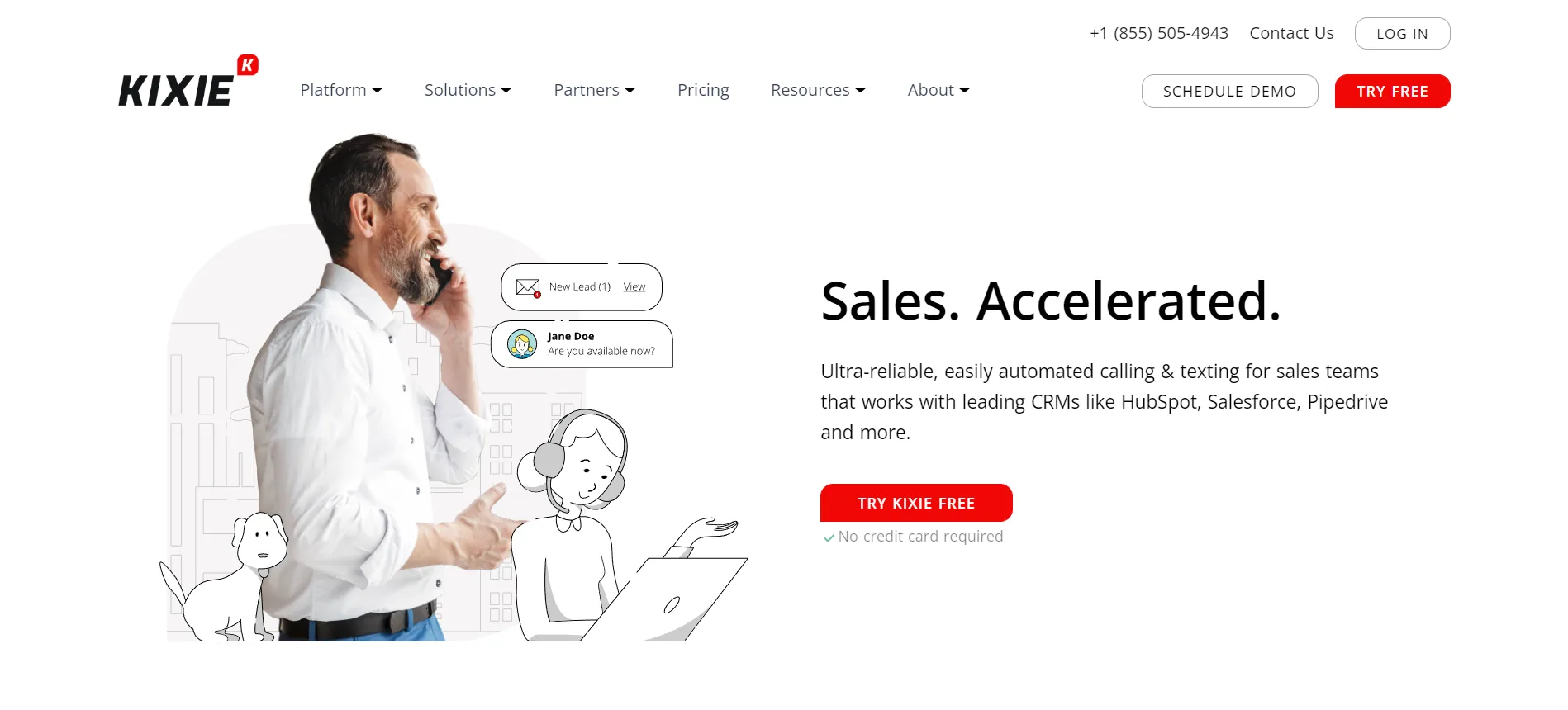 Kixie is a complete solution for call center management. It seamlessly integrates with reputed CRM tools and offers intelligent features like auto-dialing, click-to-dialing, call recording, live chat, etc. It also helps you improve your calling quality, engagement, and sales reputation. And this allows all your customer-facing teams to boost their performance with advanced calling and texting features.
Features
CRM integration
Chrome integration
Quality management
Call routing
Call recording
Outbound call center management
Queue management
Workforce management
Call reporting
Call management
Applications integration and management
Real-time monitoring
Live chat system
Call monitoring
Predictive dialer
Campaign management
Call logging
Pricing
Kixie costs $35 to $65 monthly.
Rating – 4.2 out of 5 stars (G2)
13. AeroLeads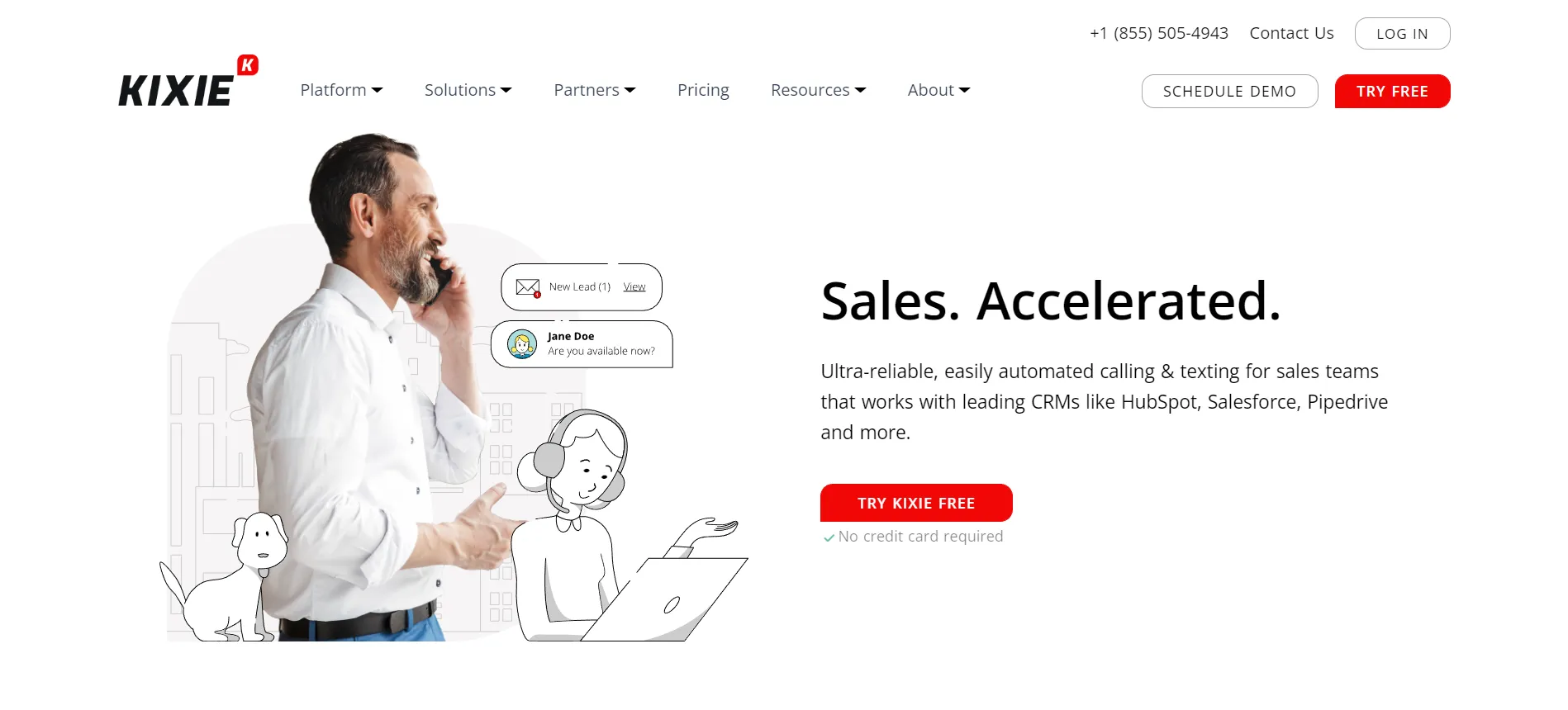 AeroLeads is a powerful Prospect Generation SaaS that automatically finds relevant prospects and their contact details. And the data it finds can be easily saved in your account, exported, or transferred to other CRM tools for future reference.
It taps into hundreds of resources and millions of websites to find relevant leads and extracts data like name, email, contact us pages, address, phone numbers, and more!
Features
Phone number search
Company search
Name search
Bulk domain search
Domain search
Data segmentation
Chrome plug-in
Lead enrichment and management
Email tracker
Pricing
Its pricing starts at $49 and goes up to $499 monthly.
Rating – 4.0 out of 5 stars (G2)
14. Leadfeeder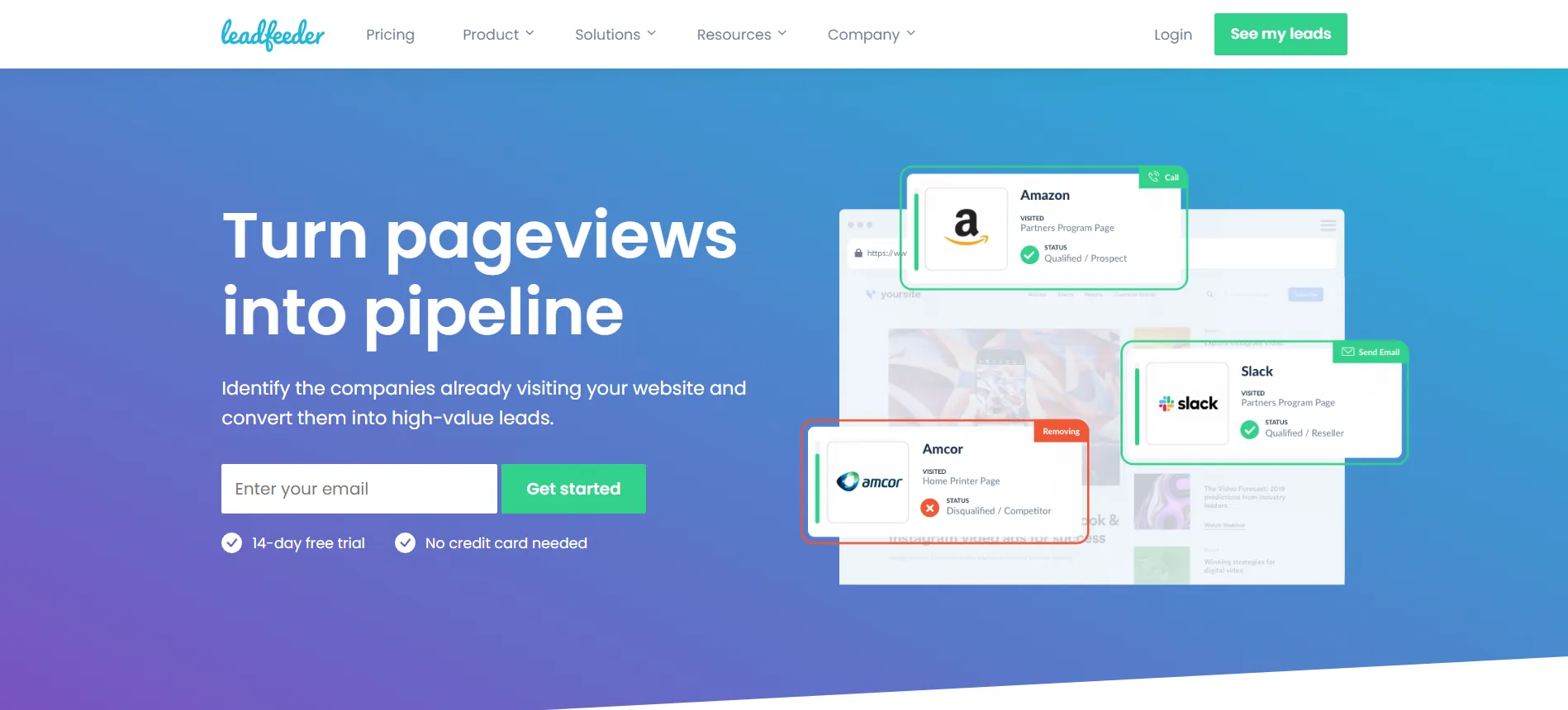 Leadfeeder is a popular B2B lead generation software that identifies the companies visiting your site along with their source, behavior, and purchase intent. Additionally, it offers comprehensive features to help you optimize your entire sales workflow through a simple interface.
So, Leadfeeder is one of the most intelligent yet simplistic lead generation tools that help you analyze your leads and pick out the best prospects.
Features
CRM integration
Email integration
Sales tracking
Opportunity management
Business intelligence
Application integration
Applications management
Online activation
Sales orders management
Lead scoring and distribution
Pipeline management
Sales reporting
Web forms
Pricing
It costs $79 per month and above.
Rating – 4.3 out of 5 stars (G2)
15. Surfe

Surfe (previously Leadjet) is a handy tool that lets you connect your CRM to LinkedIn through a single browser extension. It helps you create and enrich contacts, find qualified emails, and synchronize your LinkedIn conversations. It connects your prospect's LinkedIn profile to your CRM in one click without requiring manual lead capturing and data entry. Isn't that convenient?
Features
LinkedIn integration
Data enrichment
CRM fields editing
Email and video support
Account manager
Reporting
Message templates
Profile history
Pricing
Its price varies from $20 to $59 monthly.
16. LinkPort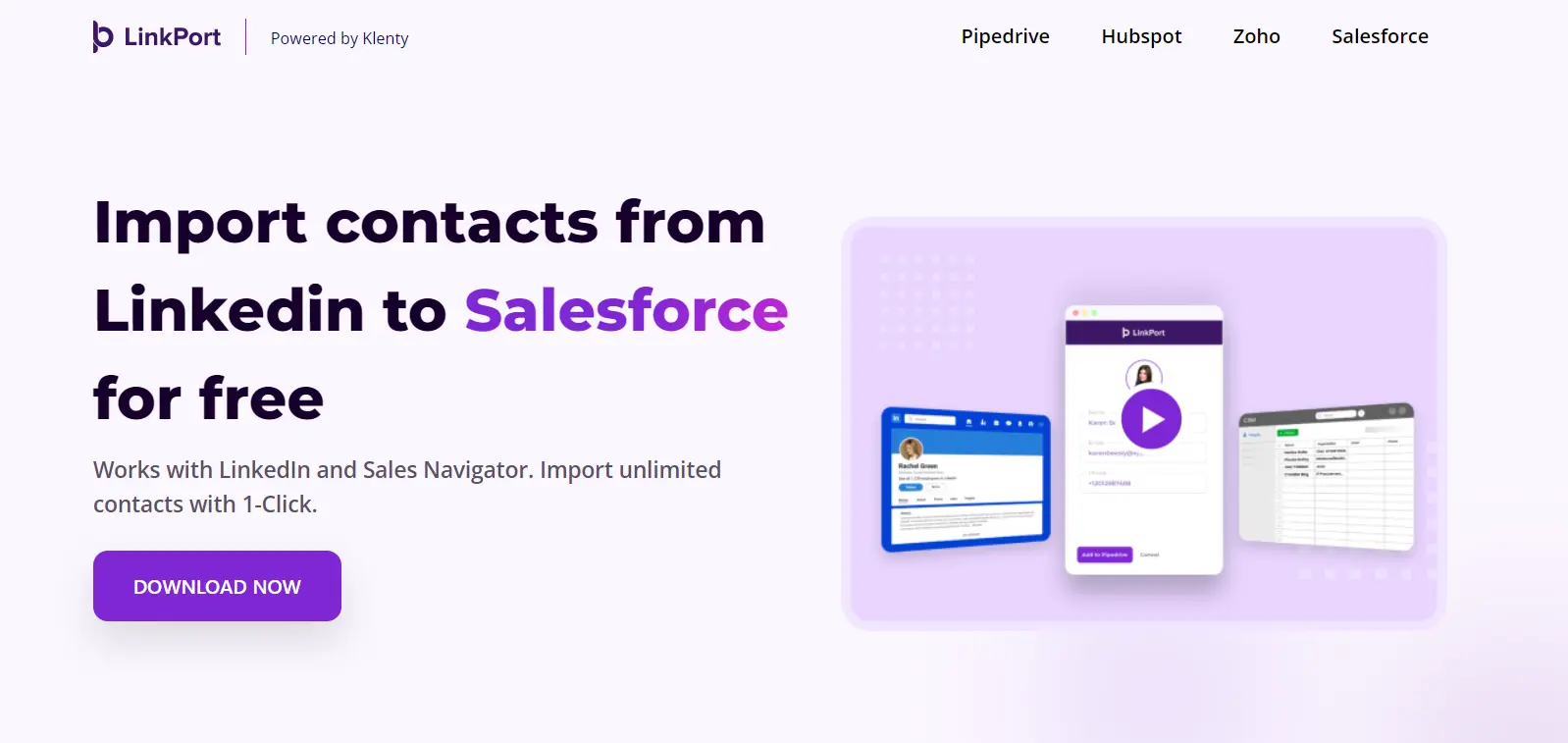 LinkPort is another LinkedIn-to-CRM contact importer that allows sales teams to populate LinkedIn contact details on Pipedrive without leaving LinkedIn. It automatically extracts and enters key contact details such as name, email, phone, or organization!
Features
Import LinkedIn contacts to your CRM with one click
Add unlimited LinkedIn contacts to your CRM automatically without manual copy-pasting
Eliminate switching between LinkedIn and your CRM accounts to update contact details
Integrate the importer with your CRM and LinkedIn sales navigator with a few clicks
Import standard CRM fields easily or make custom fields per your needs
Pricing
It is a free tool!
17. Leadberry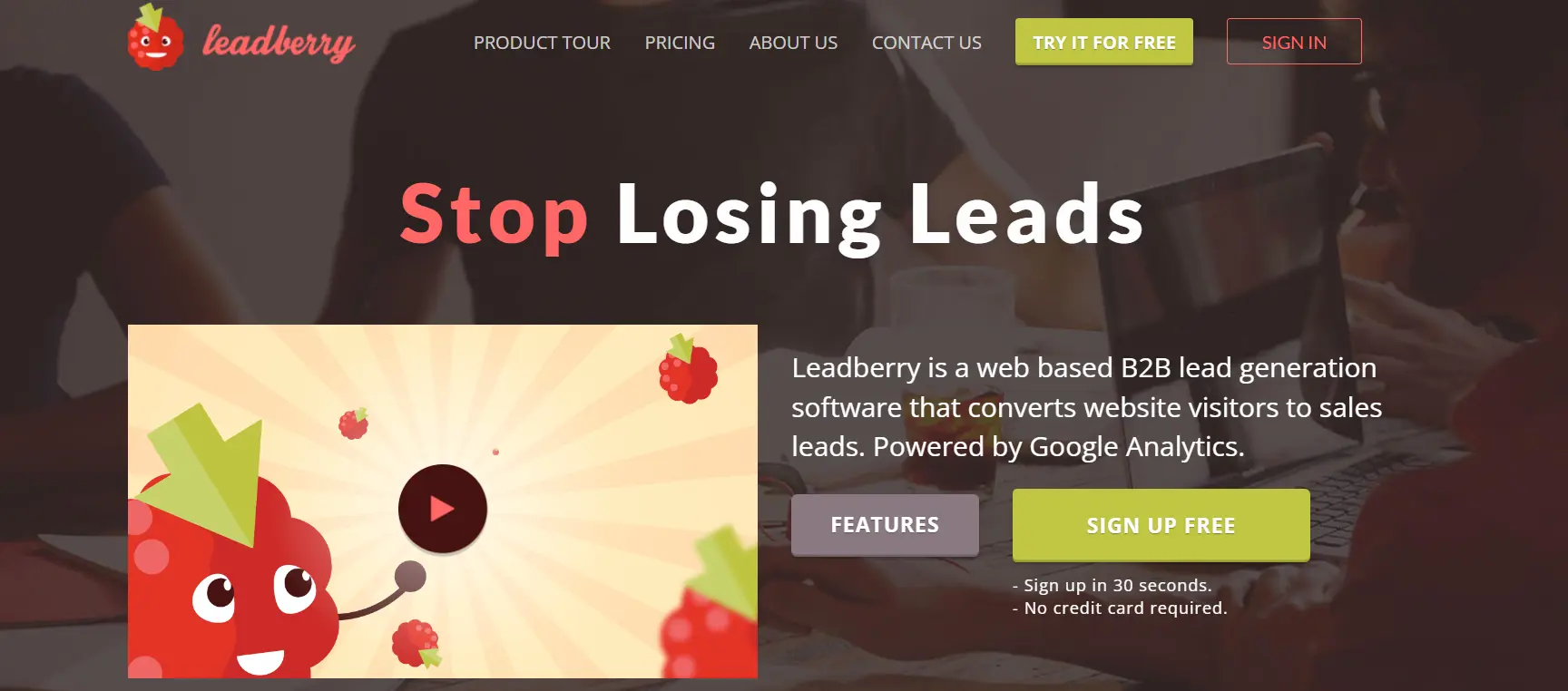 Leadberry is a web-based B2B lead generation software for Windows that converts your website visitors to sales leads. This fully featured lead generation and pipeline management software provides end-to-end solutions in one platform to boost your conversion rate. It is ideal for small enterprises.
Features
Dashboard
Lead capturing
Lead scoring
Lead notifications
Visitor identification
Pipeline management
Lead segmentation
Contact import/export
Contact discovery
Data extraction
Lead enrichment
Pricing
It has a free version, while its paid versions cost up to $44 a month.
Rating – 4. out of 5 stars (G2)
18. LeadFuze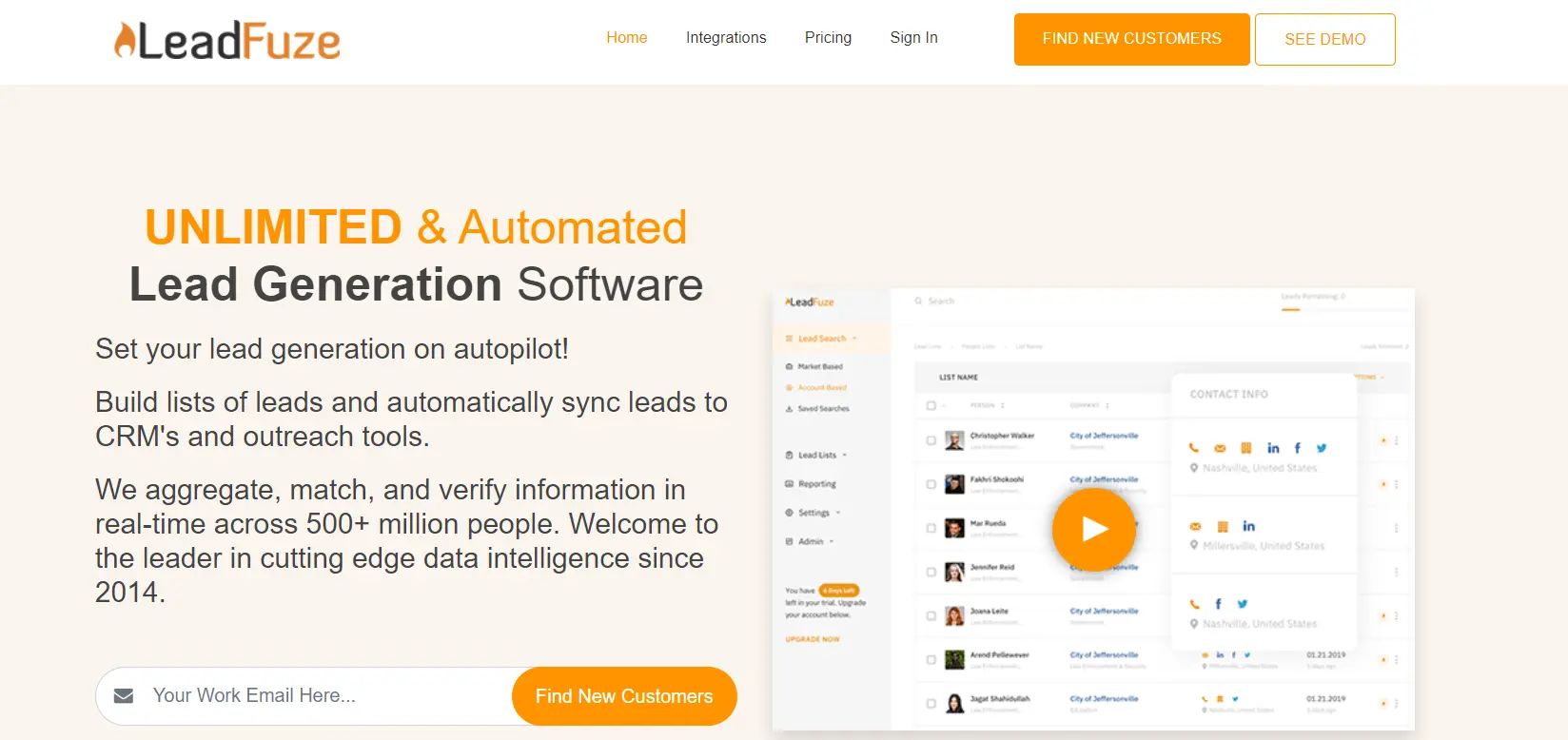 This tool helps you search entire market segments to help salespeople, recruiters, and marketers build their ideal list of leads and candidates. It is a powerful automation tool that analyzes the world's professional data to deliver fresh and qualified leads. Moreover, it delivers personalized email messages to promising prospects on autopilot! This B2B lead generation software is ideal for outbound sales enablement.
Features
Email scraping
Scheduled alerts
Lead source analysis
Tracking visitor
Lead segmentation
Lead capture reports
Contact import/export
Lead scoring
Search from within the app or inside LinkedIn
Contact information of over 200 million B2B professionals
Automatically contacts and follows up with prospects
Pricing
It offers a free trial, and its price starts at around $132 a month.
Rating – 4.6 out of 5 stars (G2)
19. Snitcher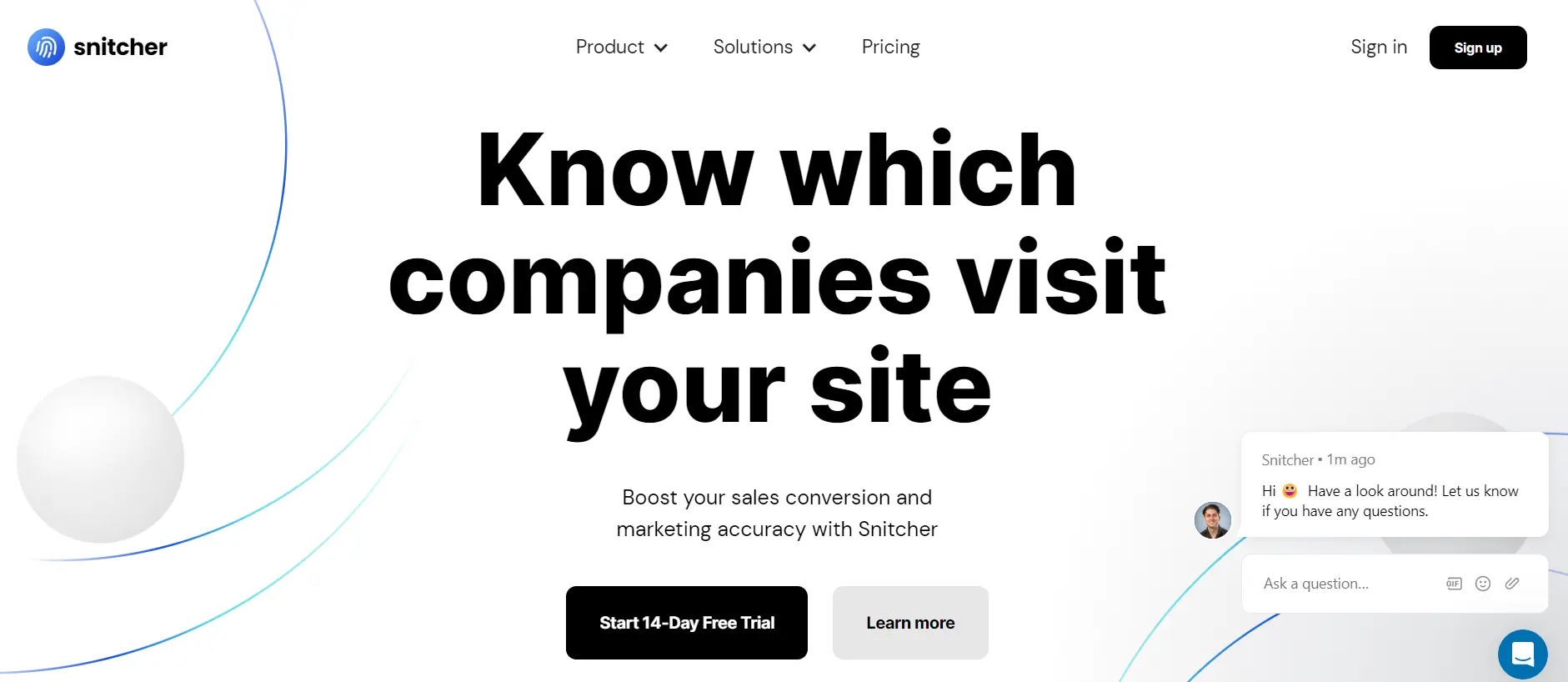 Snitcher integrates with Google Analytics to provide a full overview of all companies visiting your website. It then combines the rich amount of data it gathers about them with the actions they perform on your site. And this results in a list of leads that are most likely to convert. It works on Windows and helps B2B companies find more leads and close more deals at low costs.
Features
Activity tracking
Lead scoring
Campaign management
Source tracking
Other prospecting tools
Pricing
It costs only 39$ monthly and also offers a 14-day free trial.
Rating – 4.5 out of 5 stars (G2)
20. Leadspace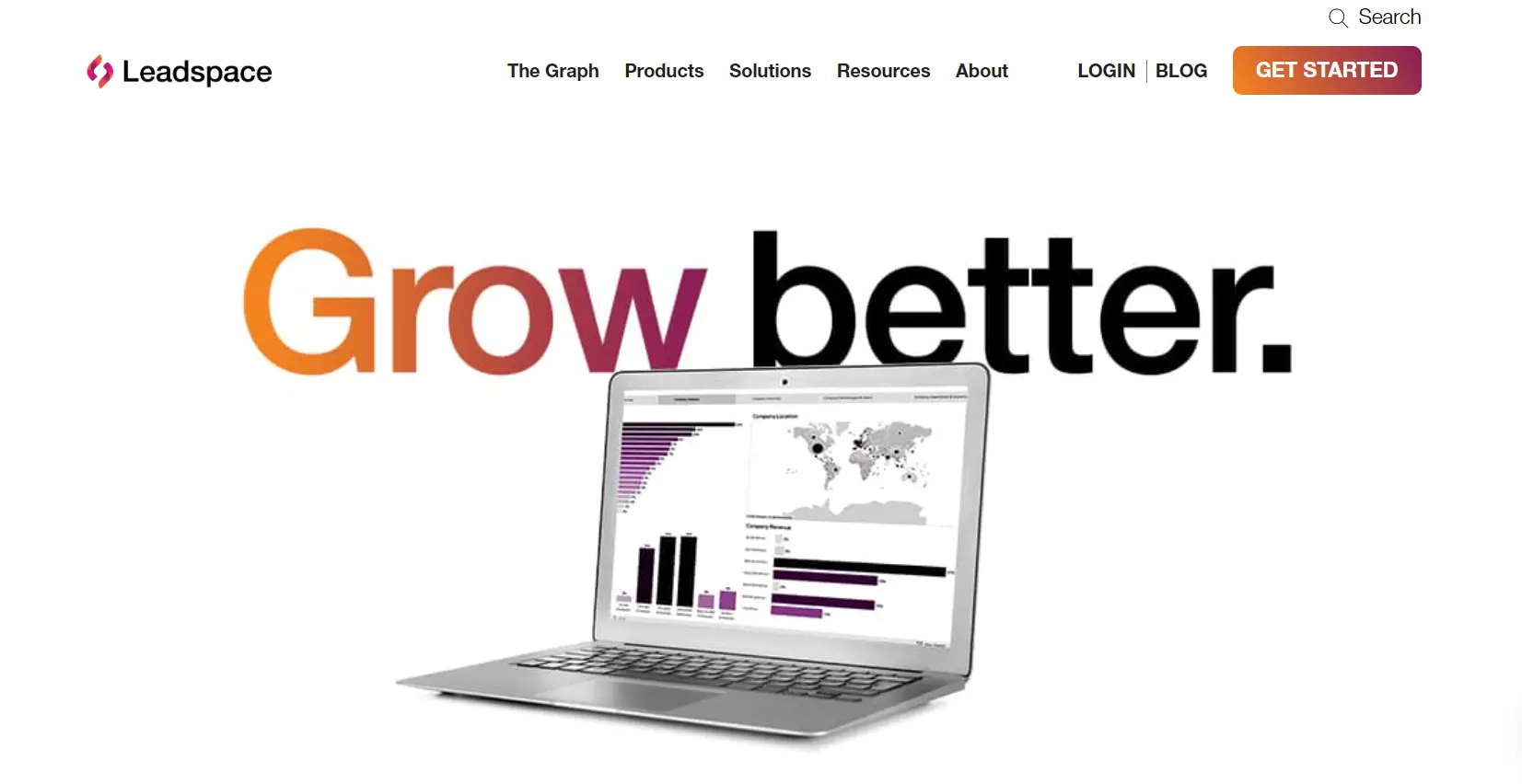 Leadspace is a B2B prospecting tool built to help growing organizations manage their data management challenges. It is a renowned tool that offers multi-source validation and simplifies the analysis, visualization, and use of massive amounts of data across channels.
Features
Accurate company data and contact data
Integration with CRM tools
Marketing automation
Data cleaning and enrichment
Data segmentation and filtering
Data synchronization
Account-level insights
Lead analysis
Lead management
Lead scoring and ranking
AI-driven personalized outreach campaigns
Pricing
It offers custom pricing based on your requirements.
Rating – 4.3 out of 5 stars (G2)
21. FindThatLead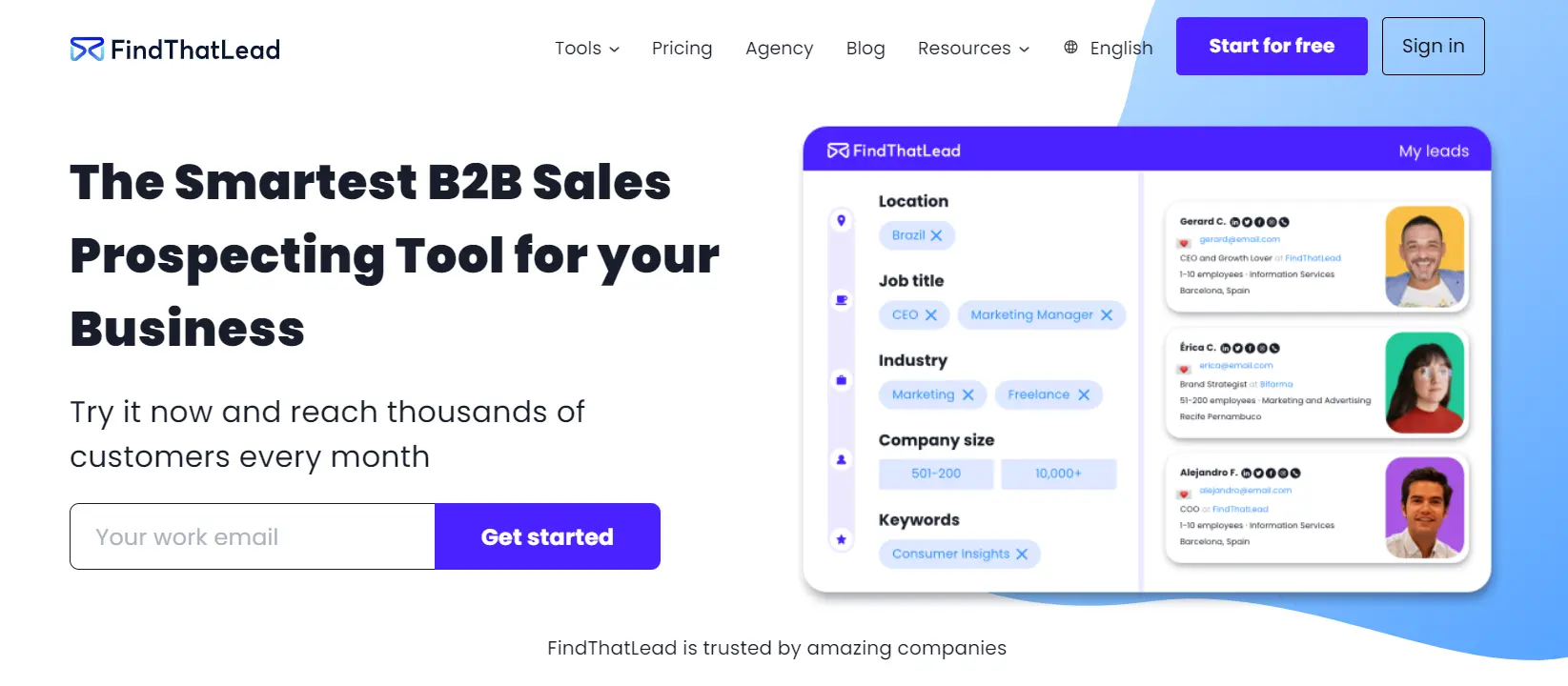 Findthatlead is a popular tool that helps marketers and sales experts to prospect and generate leads to scale their business. It helps you find contact details and generates segmented and qualified lists of leads. It then helps you organize email campaigns to convert them.
Features
Automatic verification of emails
Personalized cold emailing campaigns
Database enrichment
Campaign management
Lead segmentation
Domain check
Single email verification
Catch-all server detection
Pricing
It offers a free trial and custom pricing.
Rating – 4.0 out of 5 stars (G2)
22. Lusha
Lusha is a B2B prospecting tool that helps professionals establish lucrative relations with their leads, contacts, and candidates. It is a popular tool used to enrich and verify business profiles and engage with them effectively.
Features
Data export/import
Advanced analytics
Accurate company and contact data
Data segmentation and filtering
Lead building and monitoring
Integration with CRM and marketing automation tools
Internationalization support
User, role, and access Management
Pricing
Its pricing starts at 59$ monthly and includes a free extension with limited features. It also offers a free trial.
Rating – 4.3 out of 5 stars (G2)
23. Reply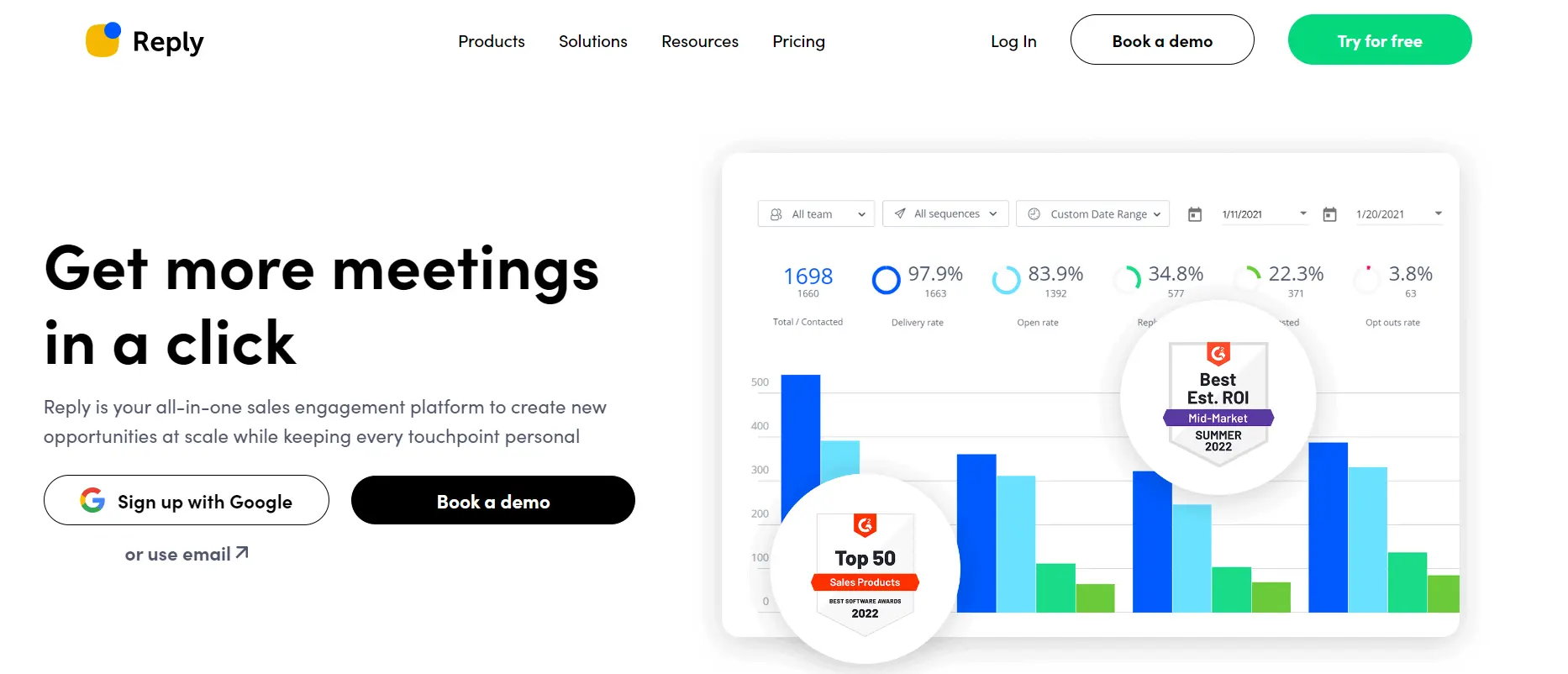 Reply is a sales support platform that automates your sales communication and outreach efforts with high automation without compromising on the personal touch of your prospecting. It offers end-to-end features to manage every aspect of your prospecting and sales process. This SaaS is one of the leading inbound sales acceleration platforms due to its rich features.
Features
Inbound sales management
Outbound sales management
Account-based sales management
HR and recruiting
Business development
PR and link-building
Follow-up board to collaborate and manage activities
Advanced search to find prospects' contact info directly within the platform
Smart calling tools based on trigger actions
Flexible integration options
Excellent support team
Pricing
It offers a 14-day free trial, after which it costs $60 monthly or more based on selected features.
Rating – 4.6 out of 5 stars (G2)
24. Outreach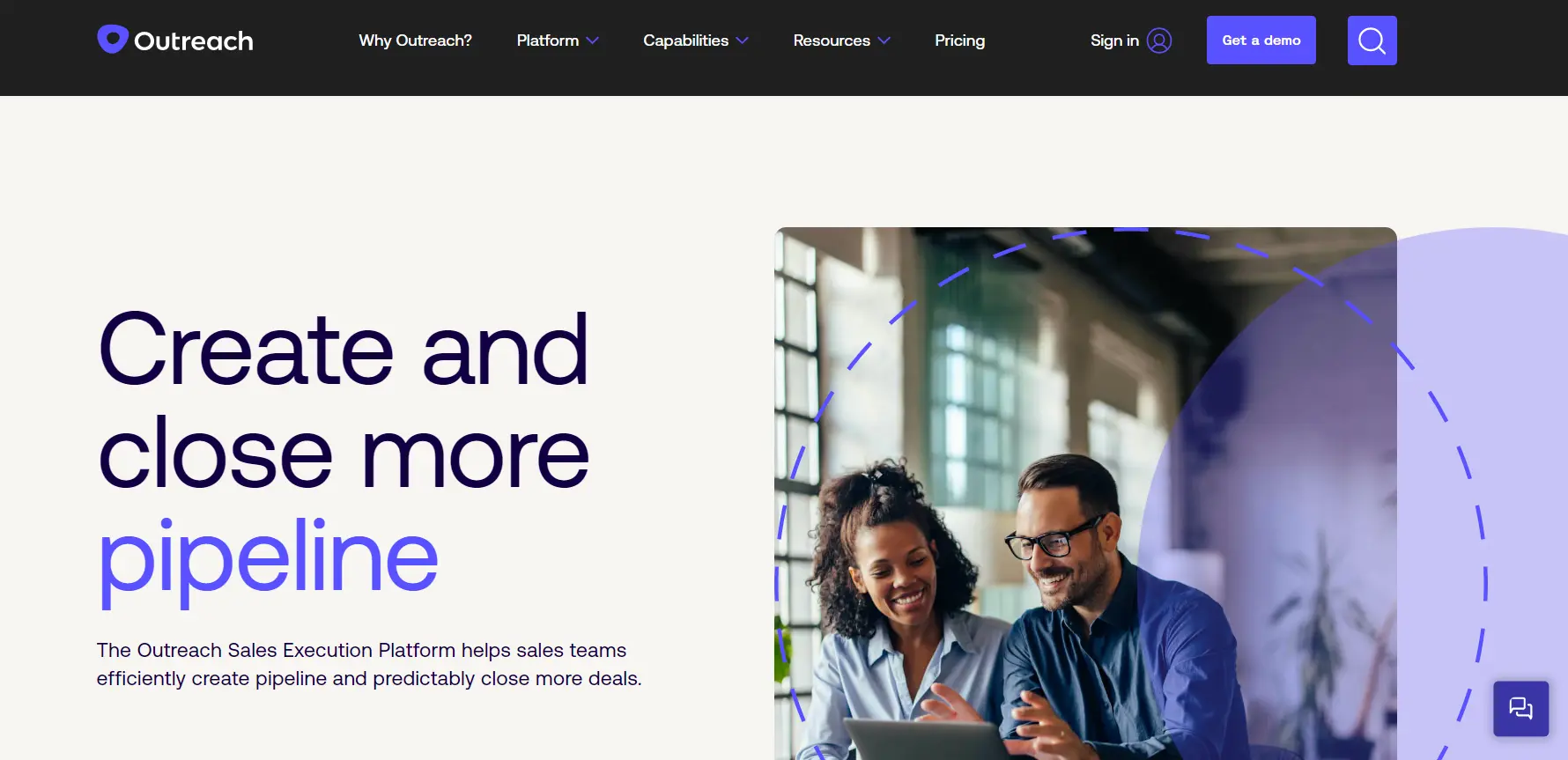 Outreach is a popular sales execution platform provider that helps companies increase their productivity and drive more insightful engagement with their prospects. It is an AI-powered tool that provides sales engagement, conversation intelligence, and revenue intelligence in one integrated platform.
Features
Detailed analytics and intelligent insights
Click-to-Call
Contact management
High personalization
Daily summary
Automated emails
Prospect sorting
Email platform integration
Email scheduling and templates
Integrated workflows
Email tracking
Pricing
It offers customized pricing, usually starting at around $100 per month.
Rating – 4.3 out of 5 stars (G2)
25. LeadIQ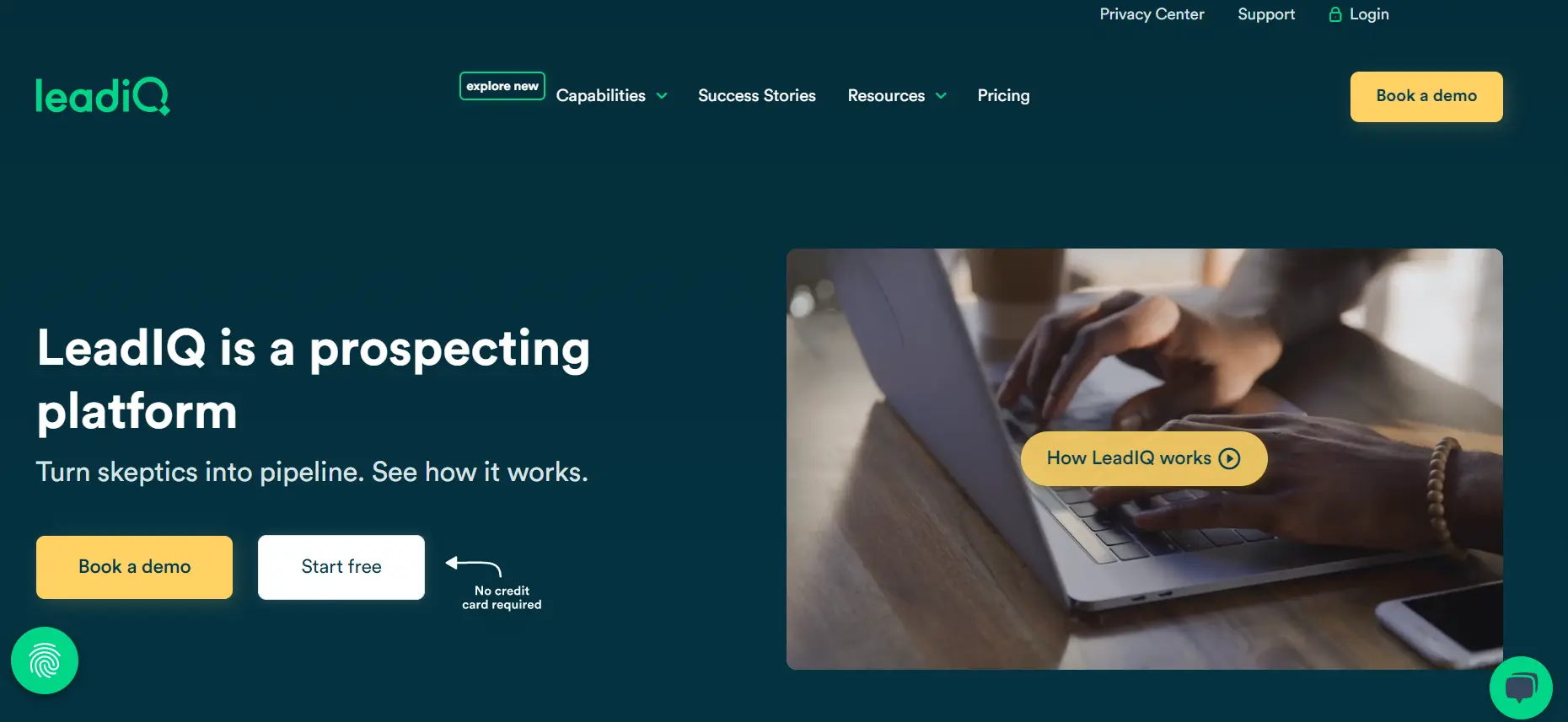 LeadIQ helps optimize the prospecting process by allowing sales reps to find, capture, and sequence contact data directly to your preferred sales tools with a single click! It automates the repetitive parts of prospecting so reps can focus on the activities that bring high conversions.
Features
Accurate contact data database
Lead building
Integration with CRM tools
Marketing automation tools
Data cleaning and enrichment
Data segmentation and filtering
Lead intelligence
Lead validation
Browser extension
Pricing
It costs $120 monthly or more.
Rating – 4.3 out of 5 stars (G2)
26. Salesloft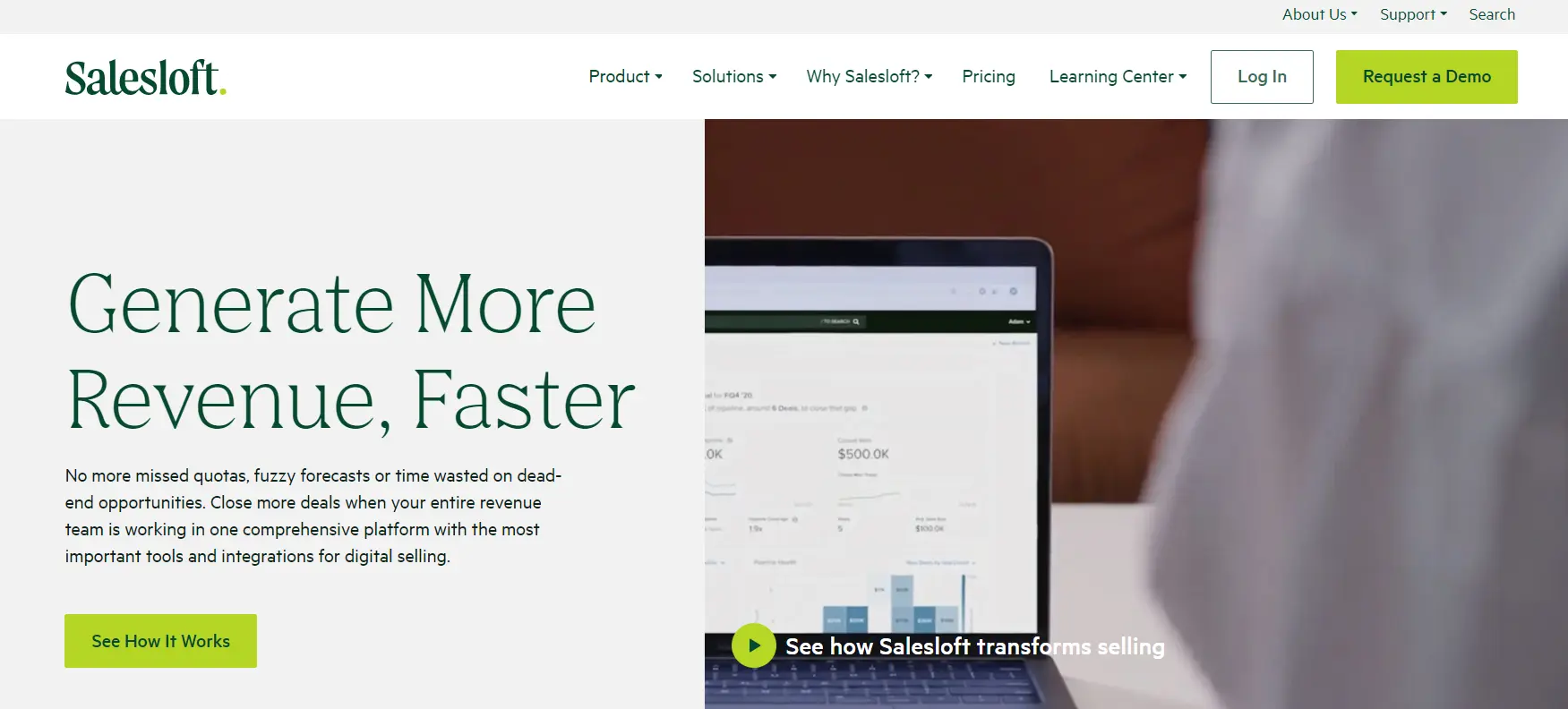 Salesloft is a sales engagement platform that helps teams set and execute personalized communication campaigns to convert more target accounts into customer accounts. This SaaS tool ensures making the most of the selling process with its real-time email tracking, integrated sales dialer, and social outreach abilities. It can multiply your revenue by providing a centralized platform with its key features.
Features
Click-to-Call
CRM integration
Contact management
High personalization
Detailed customer insights
Email platform integration
Advanced workflow management
Email scheduling, tracking, and automation
Analysis of open rates, link activity, and attachment activity
Pricing
It offers custom pricing based on your needs.
Rating – 4.5 out of 5 stars (G2)
27. Albacross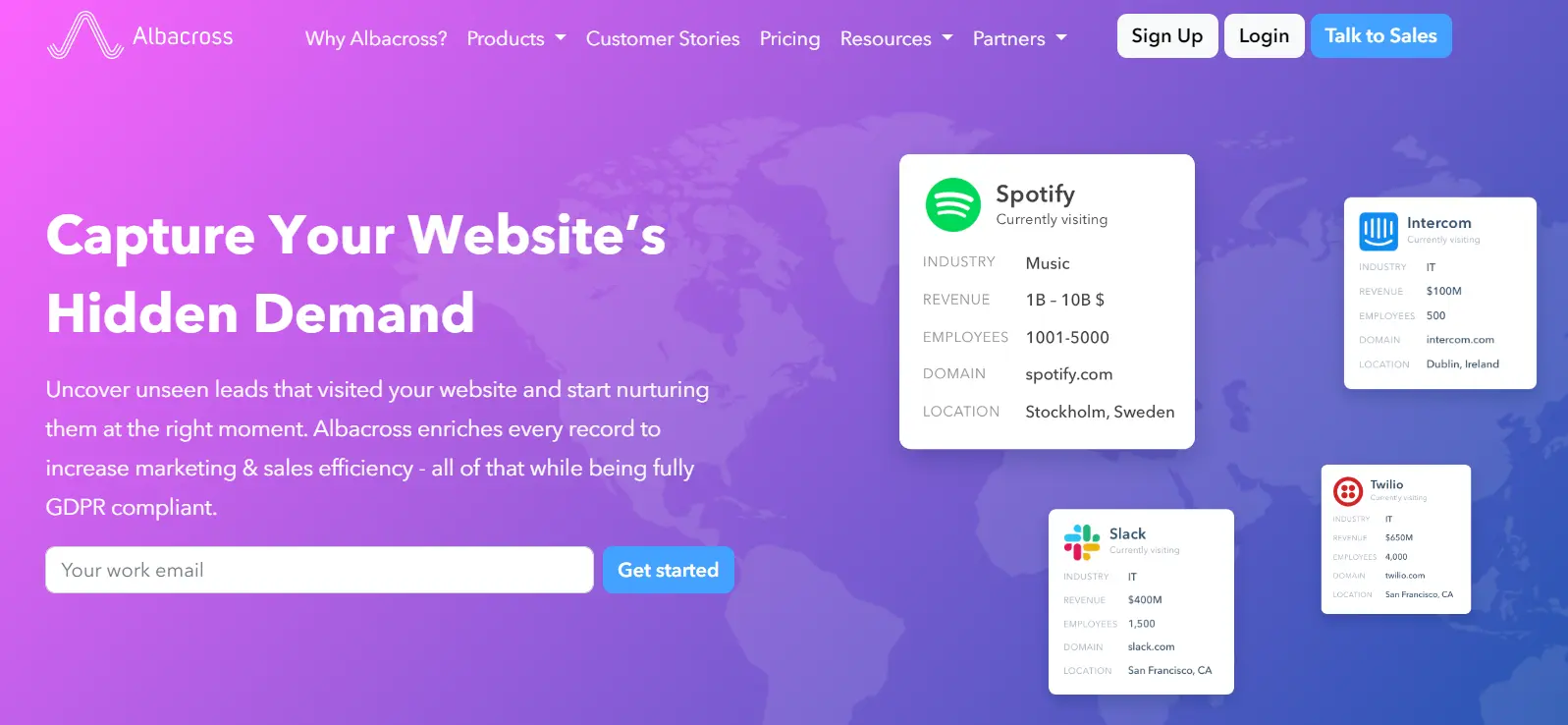 Albacross is a powerful analytics tool that generates more opportunities and increases revenue faster by providing key customer insights. It helps reveal your potential buyers, engage them, find what they want, and find the right point when they are ready to buy.
It provides all you need to know about your prospects, from early-stage awareness to later-stage decisions. And this increases sales productivity, eliminates guesswork, and helps you make the most of available data from multiple touchpoints.
Features
Contact discovery
Lead segmentation
Visitor identification
Contact import/export
Other prospecting tools
Advanced analytics and reporting
End-to-end solutions designed for Web App
Pricing
It offers customized pricing and a free trial of two weeks.
Rating – 4.6 out of 5 stars (G2)
28. SharpSpring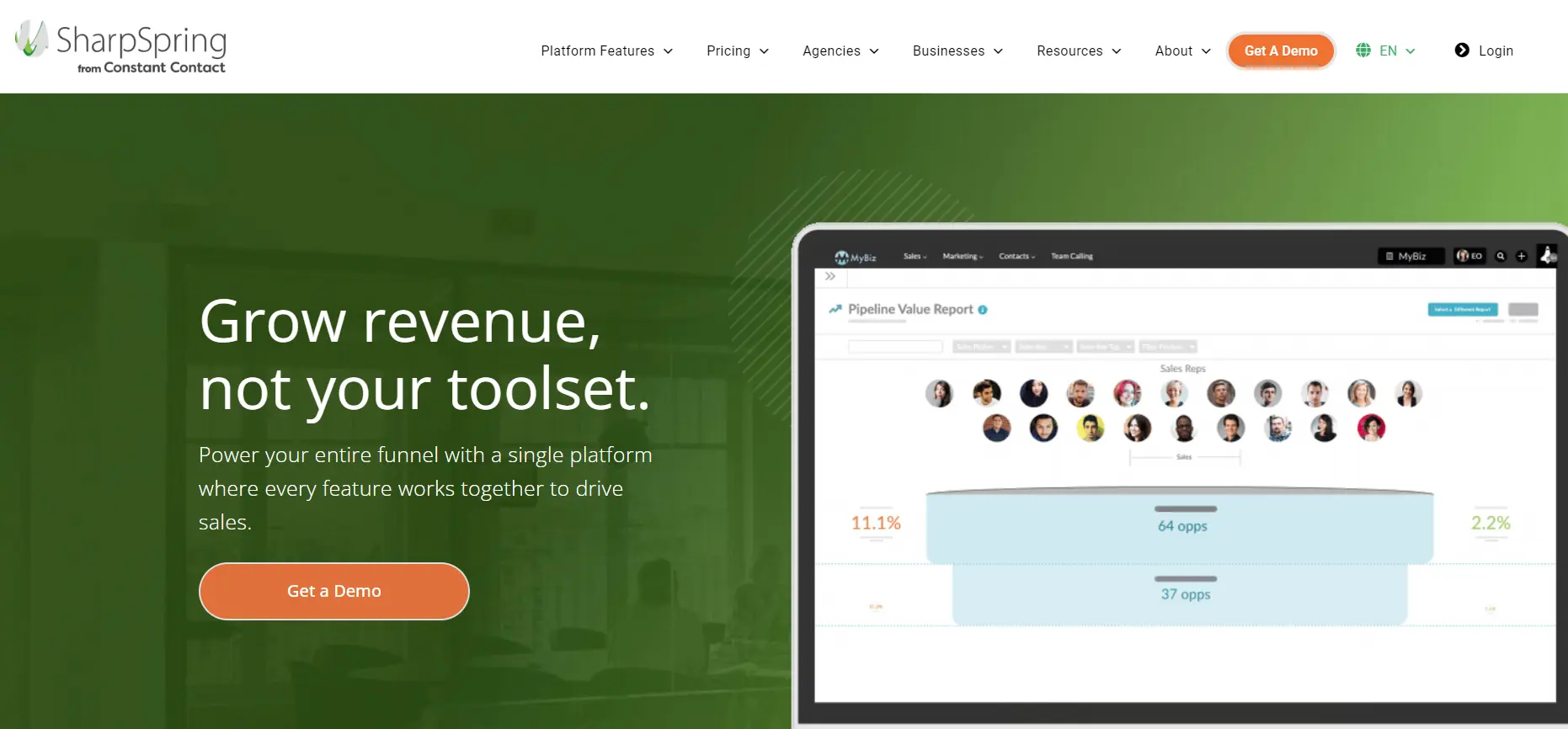 SharpSpring is a comprehensive marketing platform that helps small businesses generate more leads, improve conversions, and drive higher marketing returns. It is a data-driven SaaS that automates most of your marketing and sales activities with its diverse features.
Features
Advanced reporting and analytics
Email marketing automation with high deliverability
Automated email responses
Landing pages and form building
Lead Management
Lead Database
Data quality management
Lead scoring, segmentation, and nurturing
Online behavior tracking
Automated alerts
Other online marketing tools
Pricing
It offers a custom free trial and its price is $449 monthly and above, depending on the selected plan.
Rating – 4.5 out of 5 stars (G2)
29. Apollo.io

Apollo is an all-in-one sales intelligence platform that packs several tools to help you prospect, engage, and drive more revenue. Its B2B database includes over 220M contacts and 30M companies with accurate data. And it offers intelligent automation features to help you make the most of its large database.
Features
AI-powered reporting and analytics
Integrations with marketing tools
Extension for browsers
Lead management
Accurate contact data database
Lead building
Lead database
Lead scoring, segmentation, and nurturing
Pricing
It has multiple plans with prices going up to $99. Moreover, it offers a long trial of one month.
Rating – 4.8 out of 5 stars (G2)
30. Cognism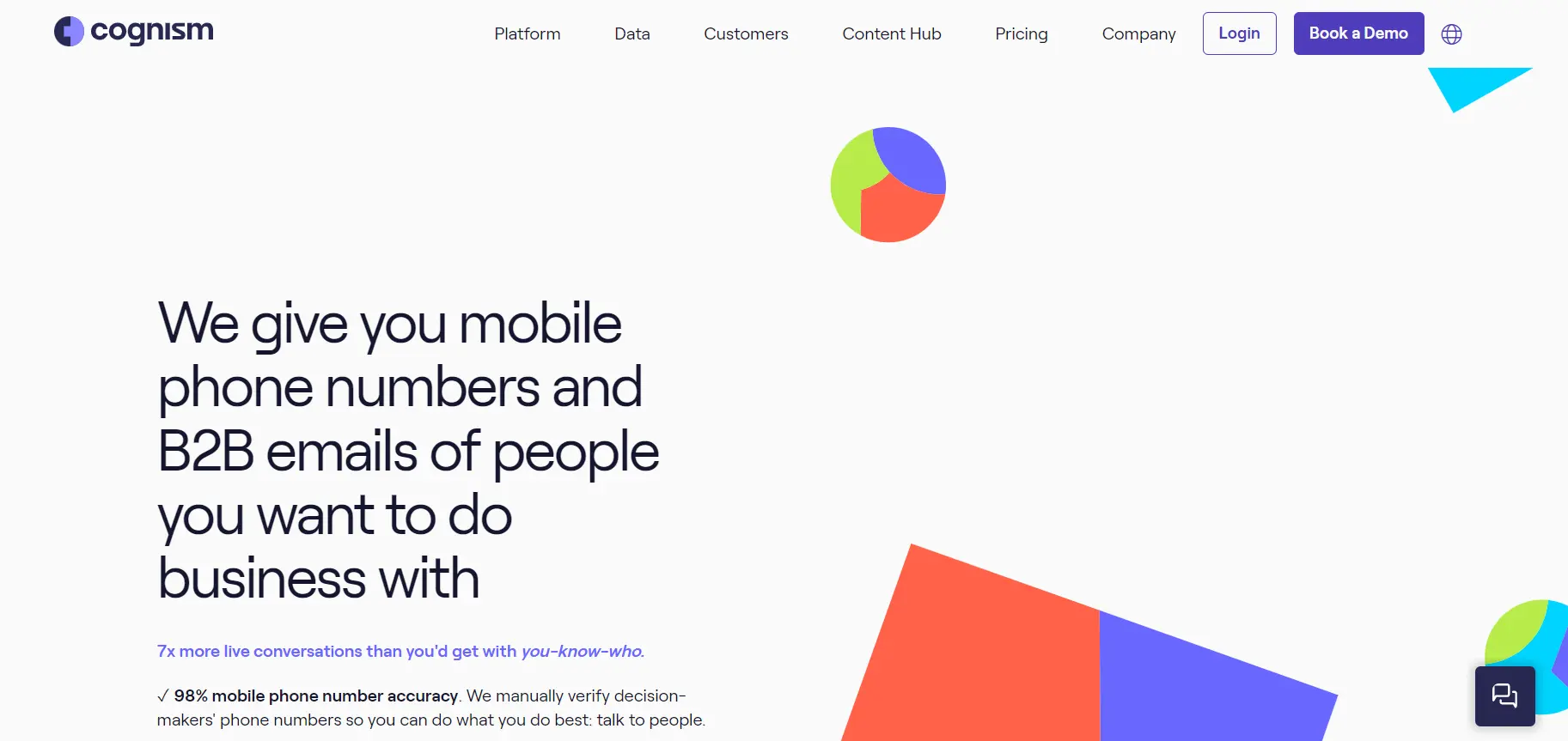 Cognism is a leading platform in international sales intelligence. It helps businesses connect with their prospects by providing accurate contact, company, and event information. This includes firmographics, intent data, techno-graphics, sales trigger events, verified business emails, and verified mobile numbers. Additionally, it provides advanced GDPR and CCPA compliance and seamless integrations with leading CRM and sales engagement tools.
Features
Accurate contact data database
Lead building and enrichment
Integration with CRM tools
Marketing automation tools
Data cleaning and enrichment
Data segmentation and filtering
Lead intelligence
Lead validation and scoring
Pricing
The tool has customized packages to offer.
Rating – 4.7 out of 5 stars (G2)
31. Seamless.AI

Seamless.ai is a B2B lead acquisition software that enables you to directly access business decision makers. It leverages AI to help you connect with potential clients directly to build your pipeline, close more deals, and shorten your sales cycle. The platform helps you find the details of your prospects with minimum effort and also provides a smart search engine to verify the emails and directly dial your potential clients in real-time.
Features
Accurate and real-time data
Lead building tools
AI-powered browser extension
Integration with CRM and automation tools
Data cleaning and enrichment
Data segmentation and filtering
Advanced lead intelligence
Lead validation and quality verification
Pricing
It has a free version, and the prices of its paid versions go up to $147 monthly.
Rating – 4.2 out of 5 stars (G2)
32. Lead411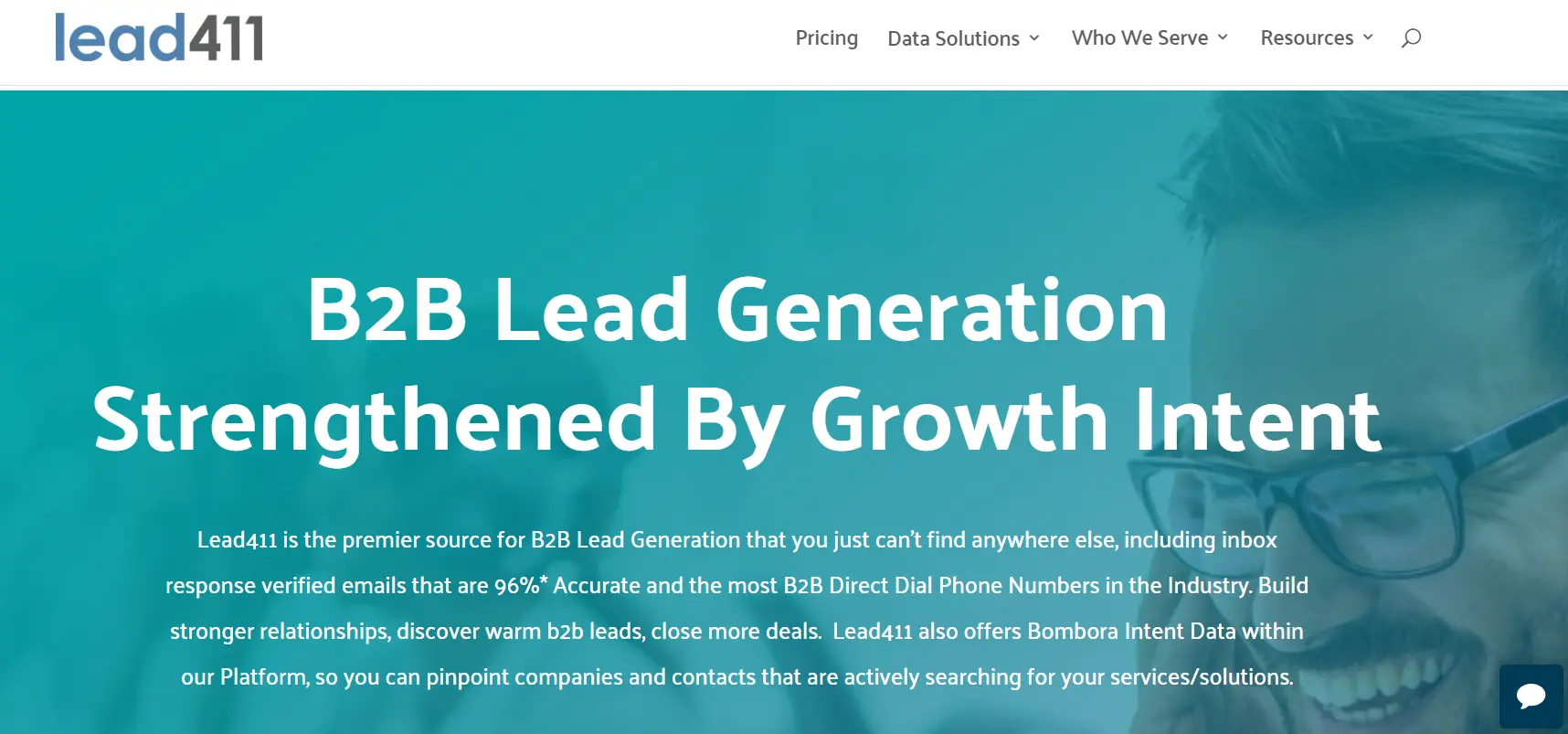 Lead411 provides the most complete and accurate information about the contacts and companies available in your marketplace. It currently has over 450 million contacts among 20 million companies worldwide. And its targeted filters and growth intent data allow you to find the best opportunities for sales. It is perfect for both B2B and B2B companies due to its rich assortment of features.
Features
Automated email and SMS with many templates
Campaign automation and management tools
High customizations and reliability
Large database of accurate contact data
Several software integrations
Data cleaning and enrichment
Lead filtering, segmentation, and validation
Advanced lead intelligence
Pricing
Its price is around $150 monthly and offers a 7-day free trial.
Rating – 4.5 out of 5 stars (G2)
33. Mixmax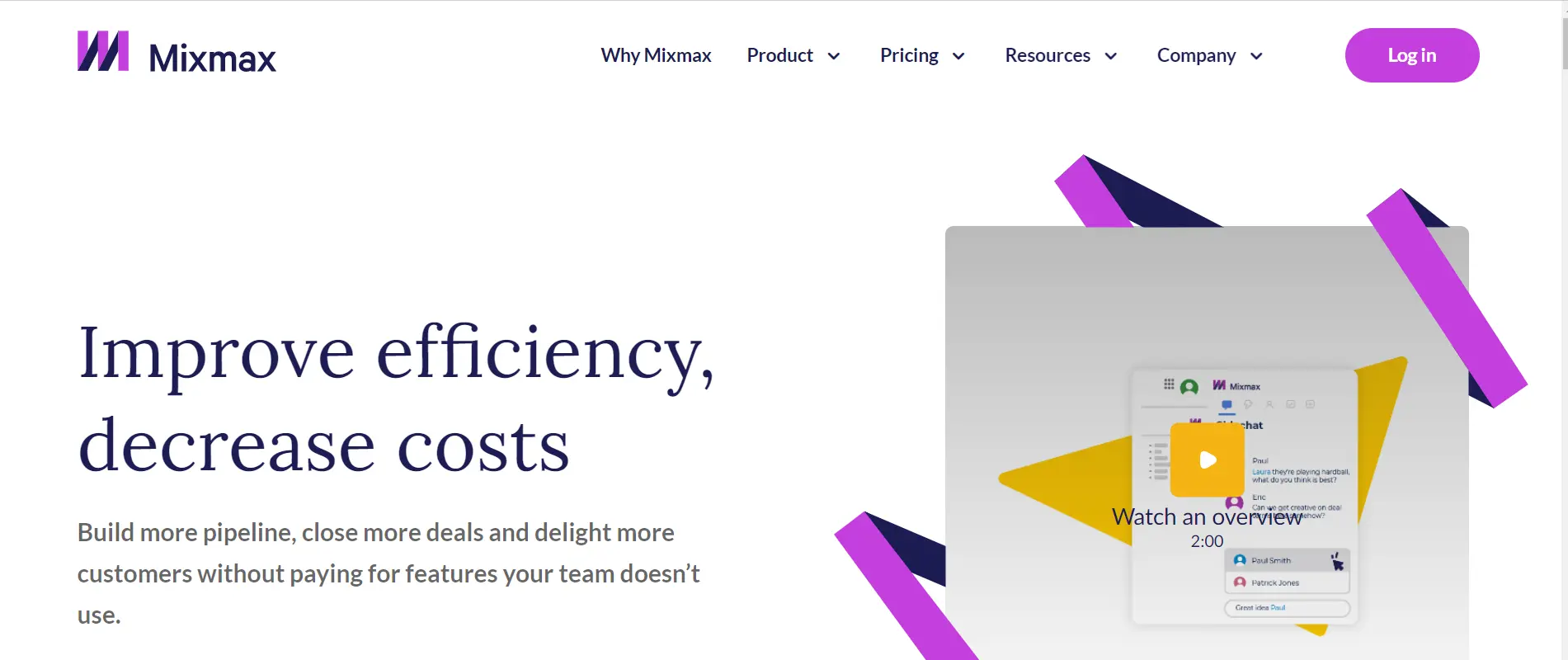 Mixmax is amongst the leading sales engagement platforms for businesses that help you accelerate revenue generation at every stage of your prospect's journey. And it automates repetitive tasks, organizes daily workflows, and provides several handy tools to increase your sales reps' productivity.
Features
Analytics including open rates, link activity, and attachment activity
Customizations
Email platform integration
Email scheduling and automation with many templates
Integrated workflows
CRM integration
Detailed reports
Content management options
Pricing
It costs $ 49 monthly after a 14-day free trial.
Rating – 4.6 out of 5 stars (G2)
34. Uplead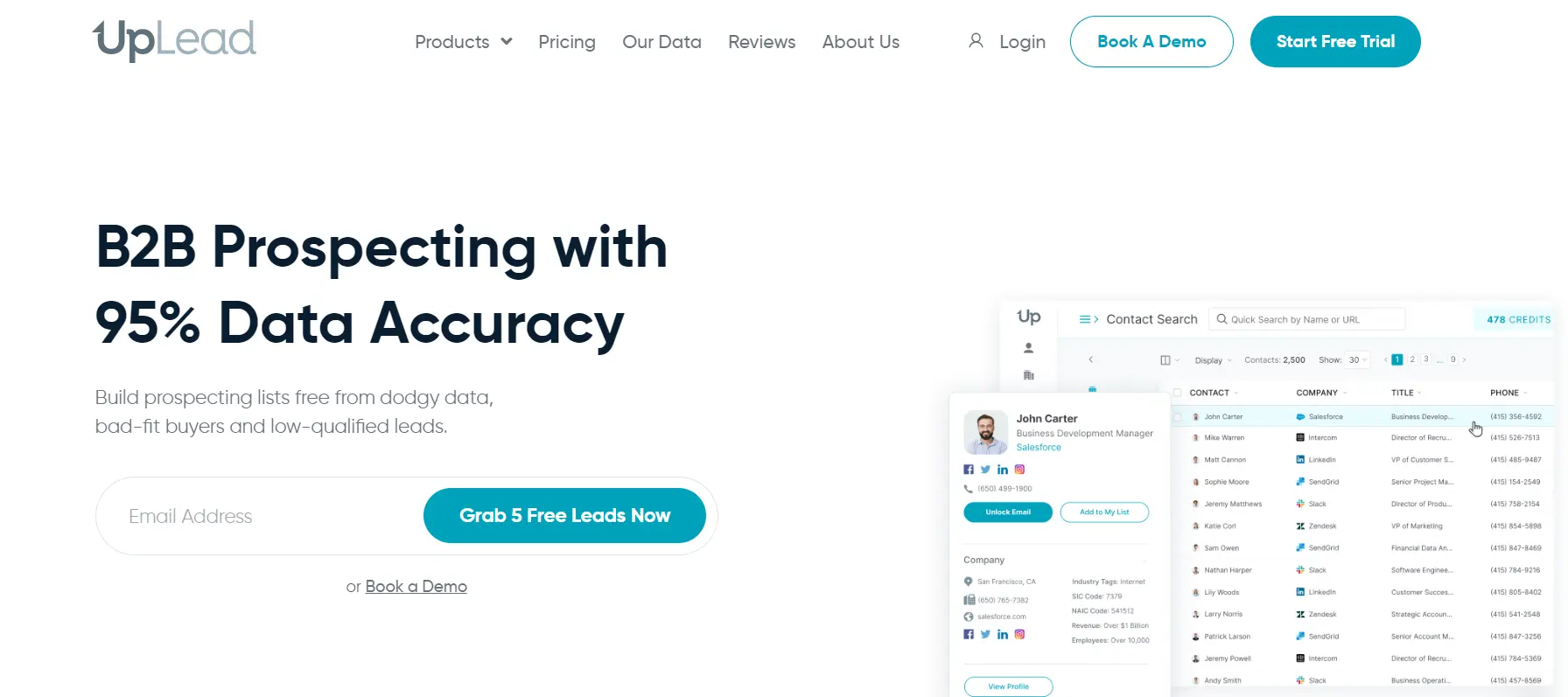 UpLead is a renowned B2B prospecting platform that provides high-quality B2B contact and company data. It has a large database that gives you access to 46 million business contacts globally. Moreover, it lets you easily build a targeted list, form a campaign, and drive sales quickly.
Features
Real-time email verification
Extensive database of contact data and social links with many search criteria
Advanced lead tracking, competitor intelligence, and email pattern intelligence
Several CRM integrations
A robust API
Marketing automation tools
Data cleaning, enrichment, and segmentation
Lead validation and quality analysis
Lead management
Pricing
It offers a free trial, and the price of its paid plans goes up to $299 a month.
Rating – 4.7 out of 5 stars (G2)
Why Is Sales Prospecting Important?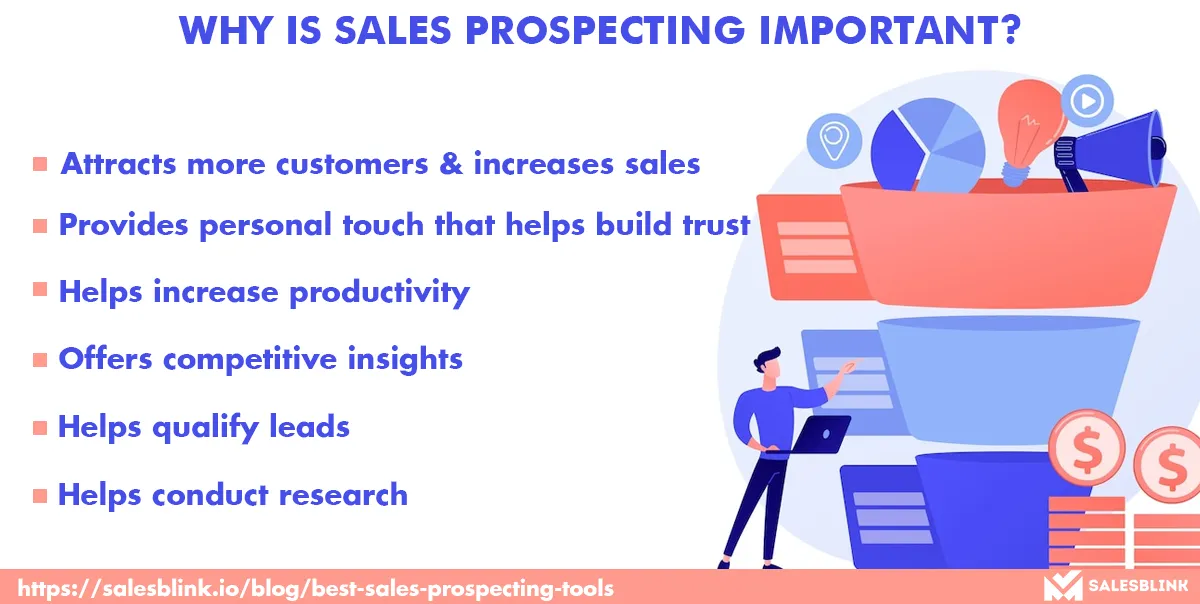 Sales prospecting is the key to finding new qualified leads (or prospects) that will turn into loyal buyers and ensure your revenue. Without prospecting, you will be unable to attract sufficient buyers, ending with limited sales. Here are the major points that make the sales prospecting process important-
1. Sales prospecting is the lifeline of your business. It maintains its growth and revenue by attracting paying customers who often stay loyal to your brand. Moreover, it builds the pipeline of leads that helps you acquire prospects and analyze your lead generation results.
2. You become a trusted advisor for your business and prospects when taking a sales prospecting role. The personal touch and value involved in a planned sales prospecting approach help you build trust and close large deals seamlessly.
3. Sales prospecting increases productivity by helping you identify the strengths and weaknesses of your prospecting process. And this allows you to find any inefficiencies to optimize your efforts over time. Moreover, prospecting helps your team focus on the accounts that matter, optimizing the results of their efforts.
4. Sales Prospecting also offers competitive insights by helping you find other brands your prospects are considering and what factors they focus on while choosing a brand. This enables you to position your products and services better during the entire marketing process while learning from the hits and misses of your competitors.
5. Prospecting involves using basic questions or qualifying criteria to find the most profitable potential customers. It is a qualification process that helps you find prospects' needs, buying motivation, and financial capabilities. And this helps your salespeople increase their selling efficiency and focus only on the top prospects who are likely to buy. This shortens the sales cycle, boosts conversions, and ultimately brings you more sales revenue.
What Are Sales Prospecting Tools And How Useful Are They?
Sales prospecting tools are software that helps sales reps streamline and automate the sales prospecting workflow. Moreover, they bring crucial customer data insights to the fingertips of salespersons, allowing them to find qualified leads and analyze their intent before engaging with them.
You can apply sales prospecting tools for every stage of the sales prospecting process, including:
Tracking down contact information
Identifying and qualifying prospects
Communicating with the prospects
Still not sure if they are worth your money? Here are the top three benefits of using the right sales prospecting tools:
1. Save time
Sales reps are often loaded with administrative tasks, leaving them little time to personalize their outreach and communication. And this makes their engagement bland and standardized.
Sales prospecting tools help reps by offering automation to lighten the load of repetitive tasks like writing sales email templates, creating a prospect list, or editing contracts. As a result, sales reps can focus on adding a personal touch to their engagements, helping them close more deals in a short period.
2. Uncover more qualified leads
Modern sales prospecting tools help salespersons rate a prospect's suitability for their offer by offering key customer insights. You no longer have to directly contact a massive list of leads to find qualified prospects. The prospecting tool will automate this search, helping you focus on productive leads to save costs and time.
3. Improve customer service
Sales prospecting tools integrate with other applications in your company's pipeline, such as customer relationship management tools, database management tools, and email platforms.
This helps you turn prospects into loyal buyers seamlessly. The prospecting tools also make the customer's data readily available for your support team to easily solve any customer issues. So, the right sales prospecting tools improve customer experience, service, and retention significantly.
Choose Your Sales Prospecting Tool!
Sales prospecting raises the efficiency of your sales process manifold when applied correctly. And modern sales prospecting tools have made its application a walk in the park!
However, you must have a competent sales team and experienced sales managers to get good results from sales prospecting tools. Moreover, the software should fit your current applications, expertise, workflow, and budget.
So, go on and check out the above suggestions to find the best match. Our extensive list of the best prospecting tools and lead generation software for sales will help you find the perfect fit without spending hours on research.
All the best!
FAQs
1. What is a sales prospecting tool?
A sales prospecting tool helps sales reps automate the prospecting stage of the sales process. It does away with the countless hours of manual work and adds speed to the workflow. 
2. What tools do you use for prospecting?
There are several tools for generating leads that can help you in the prospecting stage of the sales process. You can choose the complete sales automation software or standalone tools. 
3. What are 3 ways of finding sales prospects?
Asking for referrals, cold calling, and social media networking can help you with prospecting. Using automation tools can help you find leads from their vast databases.