20 Ultimate Growth Hacking Strategies For Startups
Slack grew to an impressive count of 500,000 daily active users in just a year which is quite a feat! This is a splendid example of growth hacking.
Growth is a buzzword in the business world, but many entrepreneurs are still unsure what growth hacking strategies are and how they work! Chances are that you also want to grow, but there may be numerous hurdles in your path.
That's why we bring you the top growth hacking tactics. They can help you reach out to a large audience and expand your business. 
Do note that not every company can successfully implement all the marketing growth techniques. What works for others may not work for you. However, we recommend that you use our growth hacking strategies. We say this because our favourite user, Paul, has seen a 30% increase in his growth rate after implementing them. The guy is tenacious and in our last meeting, he insisted on hanging around for longer. His efforts were fruitful, and the company is a mighty success after 3 months of 'smart work'.
You can undoubtedly give the tactics a try too! What do you say?
Let's get straight into the post now!
What Is Growth Hacking?
It's a method of determining the most effective ways to grow a business through experimentation. Instead of choosing the traditional way, a hacker comes up with a quick, cost-effective, and creative method to facilitate growth. That is why you call it growth hacking.
Moreover, it is not just a marketing technique. You can also use it to develop new products and expand an existing client base.
Why Is Growth Hacking Important?
To find out why growth hacking is essential, let's look at the benefits it offers. After reading them, you probably would consider using growth hacking to build your brand,
1. Enables faster monetization
Using traditional marketing and promotion strategies will take long to get results. Using growth hacking right from the beginning makes it possible to grow your brand faster than conventional methods. If you develop buzz and acquire new people quickly there will be more cash flow.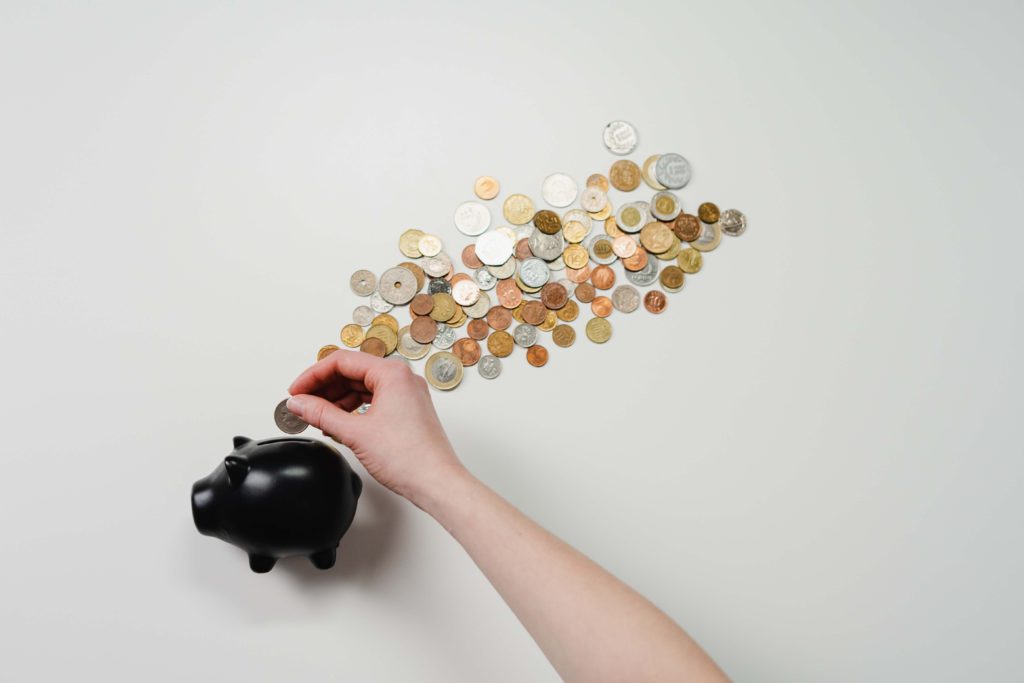 2. Helps embrace growth mentality
By choosing growth hacking, you are more likely to shift your thoughts to your company's growth. It will help you be more active in growing your business instead of your previous laid-back approach.
3. Makes you achieve market dominance
You can get close to becoming a well-known name in your industry. It is even easier to become a market leader when you create a demand for a product or service that doesn't exist. It is possible to scale up faster without any competitors around.
4. Helps you know about new business models and product concepts
Growth hacking helps you better understand your customers and industry. It involves so many experiments that you end up learning new business models. This way, you can implement tactics that help you earn profit.
5. Helps develop better products
One of the most prominent benefits of growth hacking is the ability to develop better products. When you have an excellent product to offer, you get more referrals.
6. Is cost-effective and beneficial
Growth hacking came into the marketing scene when companies wanted to expand without spending heavily on conventional advertising, public relations, and other expensive approaches. The point is to choose more creative, low-cost strategies to increase return on investment and help the business scale up.
7. Helps discover marketing strategies that work
You have to experiment to find a strategy that gets you results. Usually, there may not be a set of strategies you can count on because they keep changing. It's all about figuring out which marketing methods work for achieving a sales goal and using them until they stop giving you results.
"Every decision that a growth hacker makes is informed by growth. Every strategy, every tactic, and every initiative, is attempted in the hopes of growing. Growth is the sun that a growth hacker revolves around." – Neil Patel
Steps To Build A Growth Hacking Framework 
As growth hacking involves conducting plenty of experiments, the right approach is to devise a framework for your growth hacking marketing plan. Here's how to go about it,
Step 1: Use a scientific approach
To build a scientific process:
– Begin by brainstorming
– Build hypotheses based on those ideas
– Implement them and focus on the conclusion
For your business' growth, a good process is one that you can easily scale, predict, and repeat. You have to streamline your internal process using the scientific method as a base.
Step 2: Keep a goal in mind
After you develop the process, you have to set measurable goals. You may have the goal of growing your company's revenue, but you can work on it only when you break the goal down further. For instance, you can achieve your primary goal of increasing revenue by generating quality leads. So, by working on a smaller goal, you move towards achieving your bigger one.
Step 3: Let your team brainstorm and create hypotheses
Brainstorming is a must to experiment effectively. You can add the ideas onto a Google sheet or doc and allow them to become research-backed hypotheses.
Here's how you can do it,
Idea – Add lead magnets to your blog posts to boost conversions
Research – Right now, our conversion rate is low, if we add lead magnets, it can increase.
Hypothesis – By using lead magnets, our conversion rate will increase by x%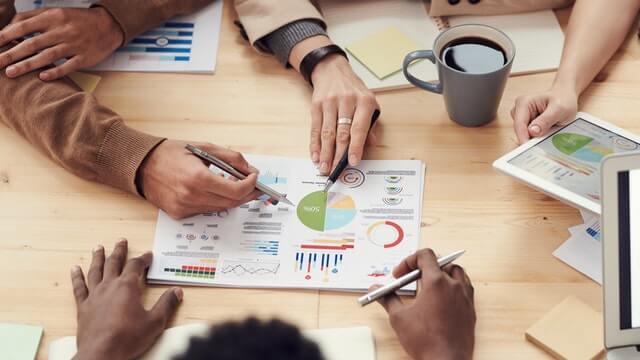 Step 4: Prioritize ideas
After coming up with ideas and writing hypotheses based on them, you may still have a lot more popping up. There is a need to prioritize the experiments and focus on those that will have the maximum impact.
Step 5: Implement experiments
You need to provide your complete attention to implement experiments. You have to think about the details of each of your experiments. Start out by testing one variable at a time in your experiment if you want to get better results.
Find a way to measure results before you start with the experiment and decide your experiment's timeline. Once done, use the results to fuel other experiments you will undertake in the future.
Step 6: Carry out an analysis of your experiments
After your experiment is over, you must analyze the results and get them into action. Find not just the meaning of the results but also how you can put them to use and what to do next. You may also think about how you should have used a different approach while experimenting.
That brings us to the end of the framework. The last step is to share your results with your team so that they stay in the loop.
Growth Hacking Strategies That Work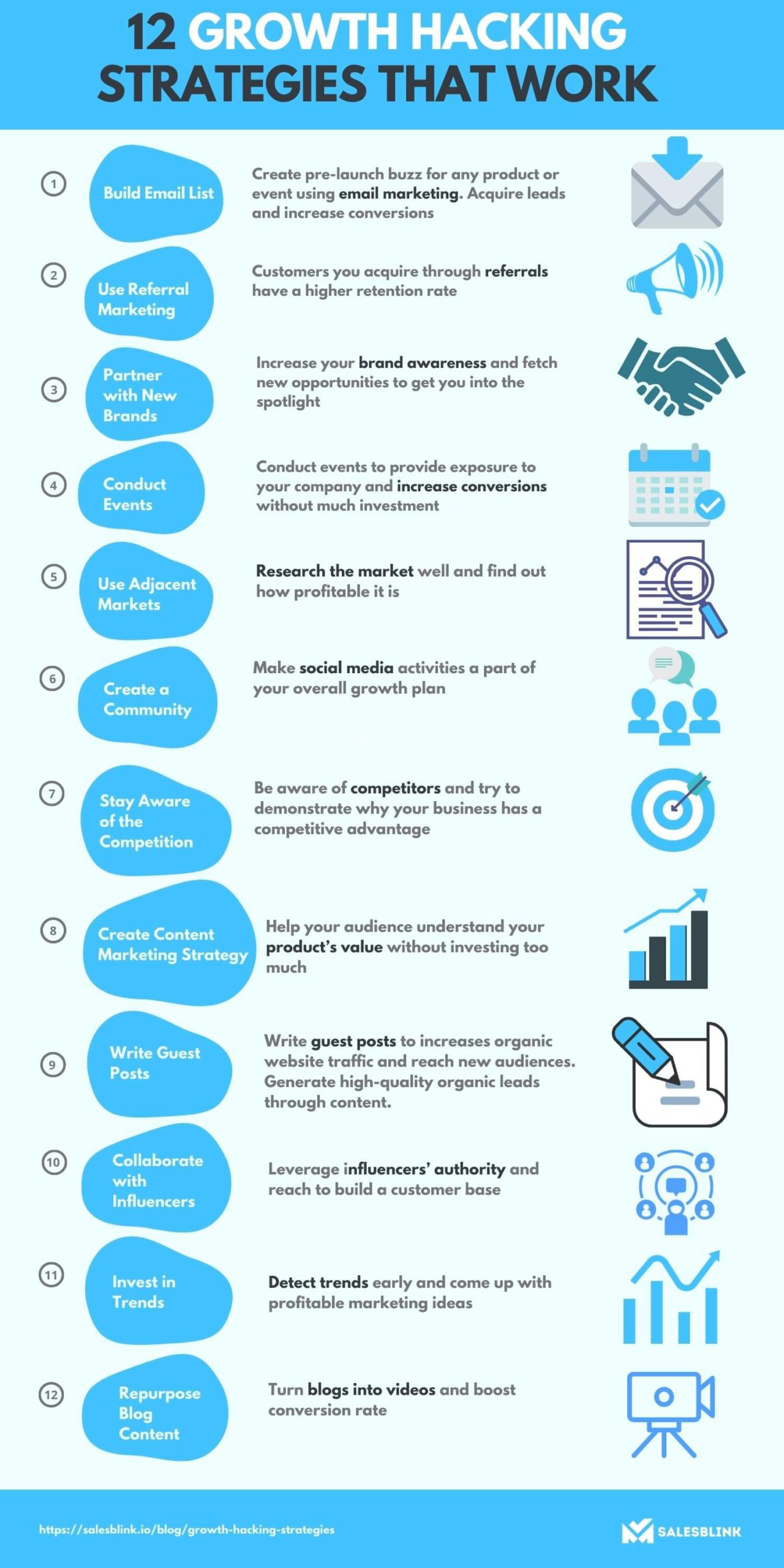 This is the much-awaited part of this blog post! We bring you the top growth hacking strategies to broaden your horizons and significantly increase profits. Have a look at each of the growth hacks for startups,
1. Build an Email list
Keep your email marketing strategy on point if you want your company to grow. Try your best to build one, as it is a great way to connect with your prospects and convey your message. Email lists are extremely beneficial when you launch your product. You can send your teaser and announce the product launch, arousing recipients' curiosity.
Email marketing aids businesses in creating pre-launch buzz for any product or event. It will also allow you to acquire leads which is a sure-shot way of increasing conversions.
2. Make the most of Referral Marketing
Referrals from friends, family, or industry leaders help you get more leads than other methods. The cost involved in acquiring customers through referral is low, and it is therefore helpful in minimizing costs.
Moreover, customers you acquire through referrals have a higher retention rate, resulting in increase in lifetime value. There are referral programs that offer users an incentive each time someone uses their referral code.
3. Partner with new brands
Business partnerships and collaborations generate a lot of buzz. Therefore, they are among the best growth hacking tactics. It will increase your brand awareness and fetch new opportunities to get you into the spotlight. Try partnering with a brand that complements you so that it is a win-win situation for both.
4. Conduct events and take part in them
It may not sound very optimistic, but most new businesses don't run for too long. However, you can prove this statement wrong. Start attending events in and around your industry. It will help you learn how to save your startup and what tools you need to ensure that. You can connect with other people from your industry seek inspiration. Conducting events will also give exposure to your company and lead to conversions without much investment.
5. Make use of adjacent markets
Adjacent market refers to markets that are close to what your business offers. You have to use your skills and create value for customers in the new market. It would be better to test the waters first before going ahead with full zeal. So, before making your move, research the market well and find out how profitable it would be.
6. Create a community for your business
You may utilize social media to promote yourself, solicit market feedback and engage with business contacts. Doesn't it look like one of the easiest growth hacking strategies? To cut down your efforts and market yourself more you can use social media marketing tools and make the most out of these platforms.
It naturally takes time to create content and cultivate an audience. So, you'll need to make your social media activities a part of your overall growth plan.
7. Stay aware of the competition
Be aware of your competitors and try your best to demonstrate why your business has a competitive advantage. Stay in the know of the changes in your competition but don't follow them blindly.
Have a plan in place and try to be present where your competitors are, for example, on social media platforms and communities. Take a look at what they are doing and tailor the approach you follow accordingly.
8. Create a content marketing strategy that works
Develop a content marketing strategy for your company. It helps your audience comprehend your product's value without costing you anything.
Just make sure that you create content marketing strategies that are simple yet effective. Apart from blogs, video tutorials and courses also work well.
By adding CTAs strategically in your content, you can drive more leads to your landing page.
9. Write guest posts
Guest blogging is a fantastic marketing growth hack. Many bloggers use it to increase organic website traffic and reach new audiences. They make it easy to generate high-quality organic leads through content. Adding a link to your website in guest blogs helps improve your SERP ranks.
10. Collaborate with influencers
For new businesses that can't afford to compete with big brands in terms of marketing spending, it is a terrific marketing growth hack to leverage influencers' authority and reach. Businesses can employ influencers and use their followers as a possible consumer base.
11. Invest in trends
Keeping up with the latest trends works in favor of your company's success. Of all the growth hacking strategies, this is the easiest. Additionally, the early detection of trends allows you to develop profitable marketing ideas — or change your business plans to capitalize on a new trend as it emerges.
12. Repurpose blog content
Try adapting your blogs as videos and see how they help you boost your conversion rate. Not just videos, you can create a podcast out of them and make your presence felt on multiple channels. This is quite an effective growth hack strategy and it helps you make the most of your content.
This brings us to the end of the growth hacking strategies.
13. Add social sharing links into the content
You already know about the power of social media. Therefore, it goes without saying that you have to make your content easy to share on different platforms. Add social sharing buttons to your blog posts and even make text tweetable so that they can share your content without leaving your blog post. The point is that you have to place yourself in the readers' shoes to understand what you can do to get them to share your infographics, images, graphs, and striking quotes.
14. Perform A/B testing
As a growth hacker, you need to perform A/B tests. For the uninitiated, A/B testing is also called split testing. Group A and group B get to see two variants of the same thing to find out which one is performing better. You can test a landing page, a web page copy, an email subject line, CTAs, personalization, and more. Ideally, you should change only one element while performing the test and keep the others the same to find which element brings good results.
15. Use HARO
HARO (Helping A Reporter Out) is a platform that lets you showcase your expertise. While it may not be a tool that helps you grow straight away, it is a platform where journalists place their requests across different industries. From here, you can pick the one that suits your niche. Investing time in searching for requirements is a good idea as it can get you a backlink to your website and increase your credibility. Make sure that your thoughts are clear enough so that you don't waste the reporters' time.
16. Focus on answering questions on Quora
If you want to bring targeted traffic to your website, responding to questions on Quora is the best idea. To make the most out of the platform, you must find questions with maximum views. Answering such questions will get you several views and clicks to your link. It would help if you searched for queries with maximum upvotes. At the same time, it is important to write a carefully crafted answer in threads. Overall, you must focus on providing good content to your Quora answers because only quality content can resonate with readers.
17. Create free tools
Providing free content for your blog post and adding value to your audience is a must. However, there is more than what you can do here. You can provide free tools to help prospects know what you are capable of. You can offer calculators, generators, converters, and much more to genuinely help potential customers so that they are intrigued to try your product or service.
This is a tried-and-tested approach, and we have several free tools to offer to prospects, such as
Blog Post Generator
Online Video Converter
No-Code Email Editor
Email Spam Checker
Email Permutator
Commission Calculator
Subject Line Generator
It does help us get more people to sign up to SalesBlink.
18. Perform ranking research
You have to look at the first page of the SERP results & the best way to do so is by searching in an incognito window to get the actual ranking. This way, you can get ideas on what kind of content you have to create. However, you have to see what kind of value you can add to the content. It is also a good move to leave your valuable comments to other websites for a backlink to yours.
19. Get feedback from existing clients
Most often, in the enthusiasm of acquiring new customers, we forget the old ones. But the truth is that the real gold lies with your existing customers. When you want to grow your product or service, getting feedback from your customers is ideal. Find out what features they like and what suggestions they have to offer. When you implement their ideas, inform your customers about it so that they understand that you truly value their opinion.
20. Improve your product
This one is a no-brainer; however, it is sad that most people running startups focus on acquiring new customers instead of retaining existing ones. Statistics reveal that your existing customers are 60 to 70% more likely to close a sale than new ones. You have to invest time and energy into your product and work on improving it because user experience matters a lot. Keep on updating your product and test everything. Welcome your new customers, and ensure that you don't abandon them once they have made a purchase. This can go a long way in getting new customers through word of mouth.
With this we come to an end of our growth hacking tips.
Growth Hacking Examples To Seek Inspiration From
After understanding growth hacking techniques & strategies so well, I am sure you would be raring to look at how real companies made it big. While each company is different, these real-life growth hacking examples might help you get creative.
1. Dropbox
Dropbox made its onboarding process more fun by giving existing customers more free storage when they linked their Dropbox accounts to Twitter and Facebook. That method of gaining new users and expanding the business was absolutely free of cost. The company offered incentives like extra storage space for accomplishing actions on Dropbox, such as sharing a file encouraging consumers to use the service.
Key point: Dropbox is still one of the most well-known referral marketing examples. The program's main benefit was that it worked for both the company and the customers.
2. AirBnB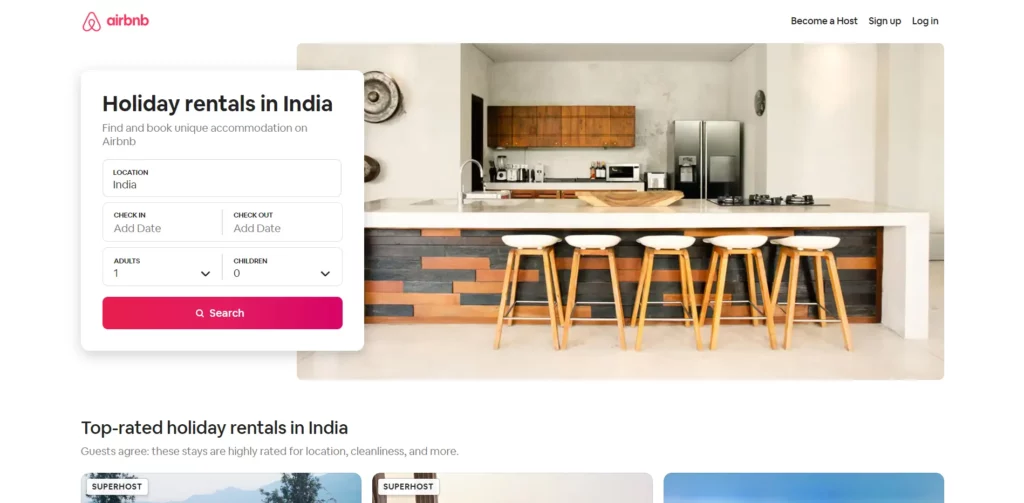 The company's founders realized that individuals looking for alternative lodging frequently used Craigslist. To cash in on the opportunity, they made it easy for AirBnB hosts to copy their ad to Craigslist with a single click, check the information, and post it. This way, they could offer exposure to a wider audience and build a huge customer base. The rest is history!
Key point: Some growth hacks are so simple, that you can't believe how effective they may be.
It also shows that there is no fixed rule. Different hacks can get you different results, it is just that it requires a high level of creativity.
3. Hotmail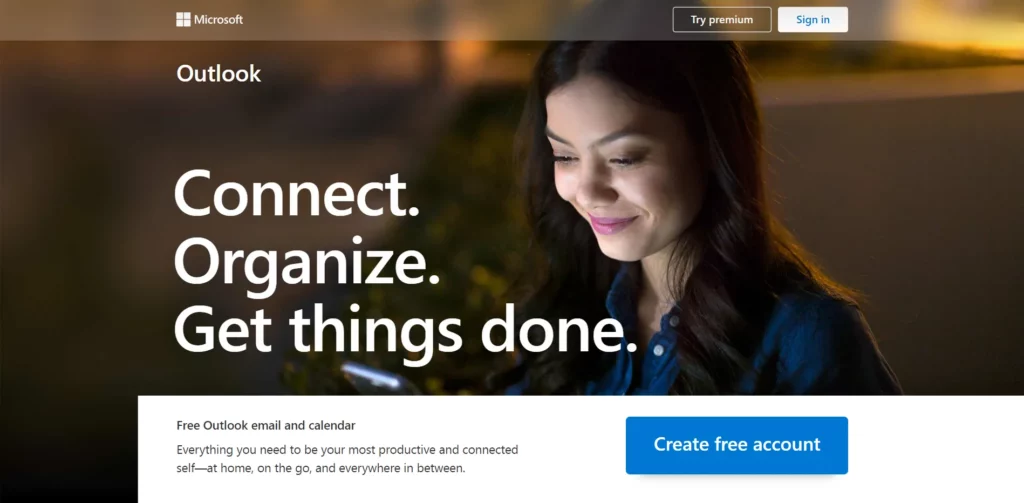 Hotmail used a simple hack of adding a signature line in every email the user sent that invited recipients to sign up for a free email account. That was all it took for the company to grow from zero to 12 million customers in just 18 months.
By the way, the message read 'PS: I love you. Get your free email at Hotmail'
Key point: This is one of the best examples of turning your consumers into free salespeople. The message had a personal tone combined with the fact that it came from a friend rather than the corporation itself, which made more people click on it.
4. LinkedIn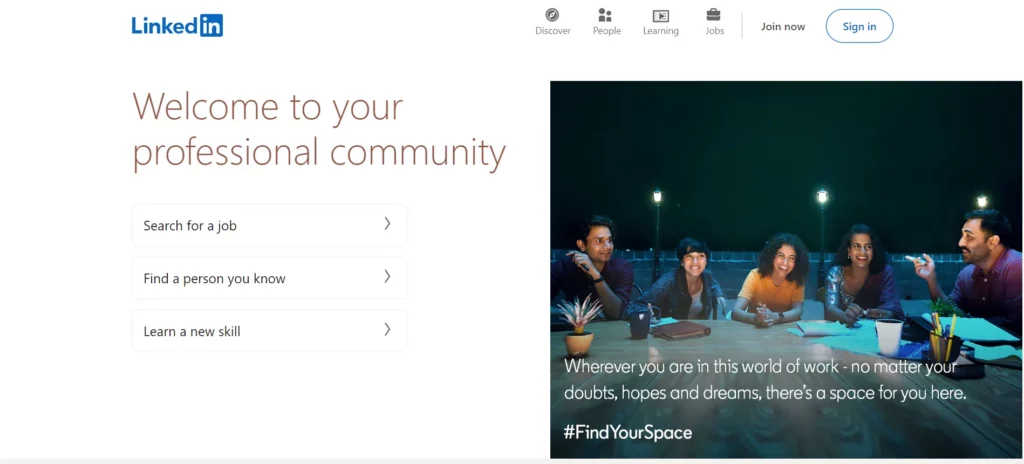 LinkedIn started from a known area and used the concept of business networking. The idea was a success, so it started expanding in other areas, and you know the output! They started paid services for what they were best at doing, which is one reason why they witnessed a boom.
Key point: LinkedIn understood the benefits of using their platform beyond its primary value proposition. They started paying attention to how people were using it and monetized it.
5. Dollar Shave Club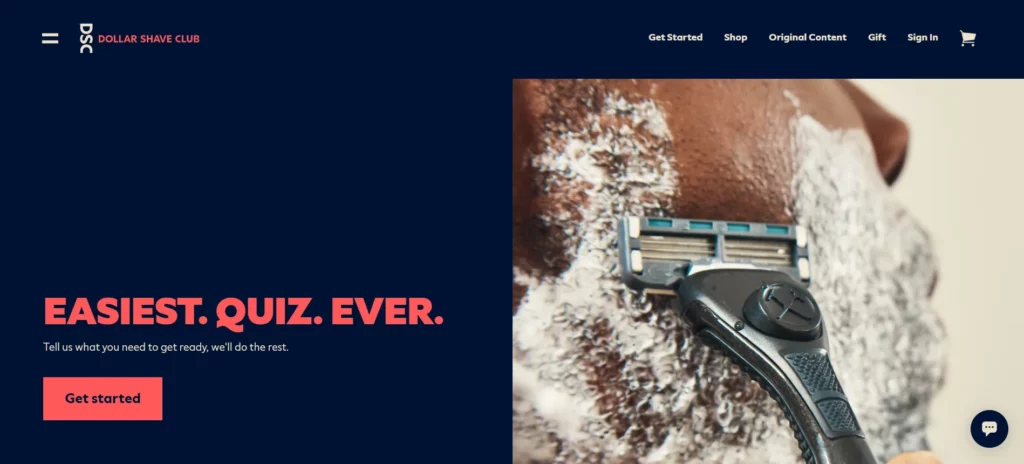 This company created a hilarious interactive video and used it to sell its service of sending clients new razor blades every month for $1. The video went viral, collecting 19 million views in a matter of days and establishing the brand as a household name.
Key point: Nurturing your existing customers will bring you new ones. But nothing beats adding some humor. It can twist even the most uninteresting subject into something with a strong recall value. And we would love to have rib-tickling videos in our lives, don't we?
6. Instagram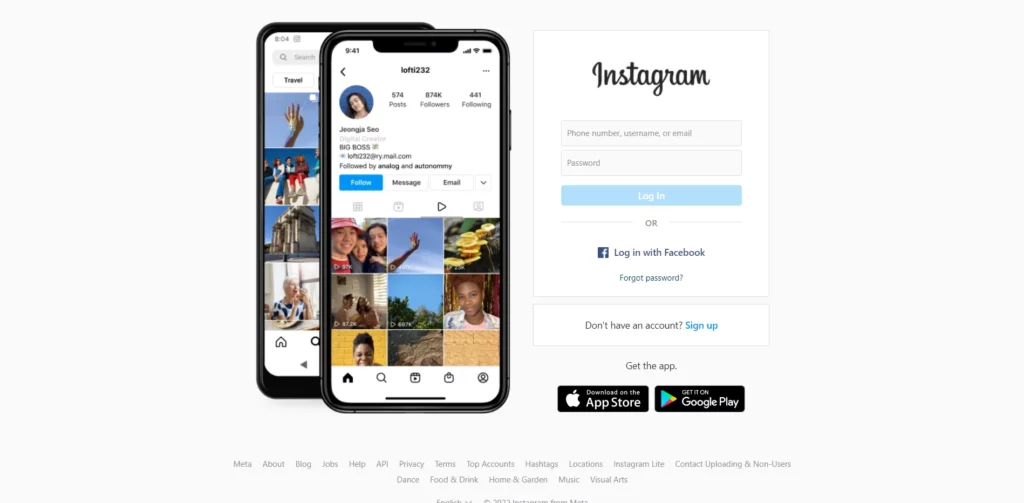 The platform came at the right time and provided exactly what users wanted. It offered a fantastic user experience, and ease of use is its biggest USP till date. You all know that Instagram got 10,000 users in their first hours of launch and has not stopped growing. In the US alone, many Instagram users may cross 120 million by 2023!
Key point: Product-market fit is crucial for your growth. To build a product that people will want to share, you must first figure out what your customers need and what their expectations are. You can gain those insights by conducting in-depth market research.
7. PayPal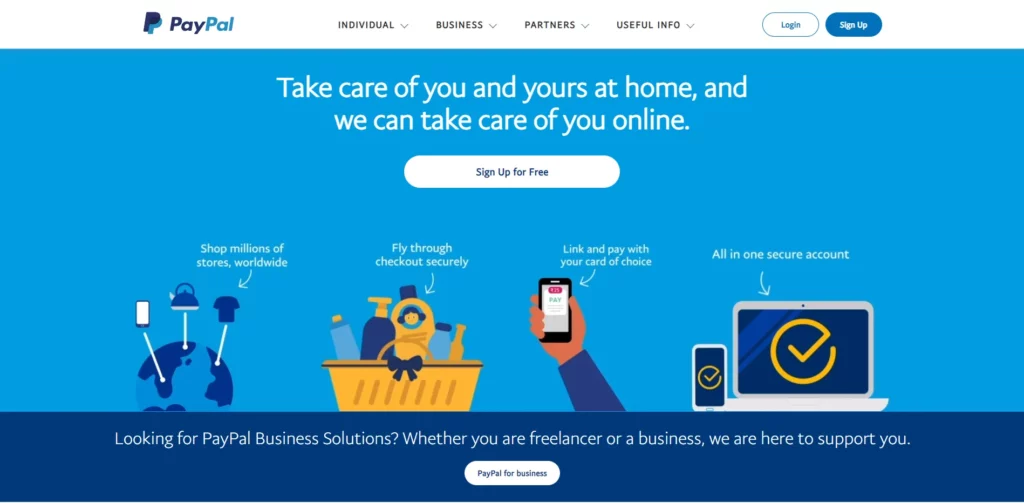 PayPal leveraged referrals to build its business by 7% to 10% each day, but it came at a price. The expense of incentivizing existing customers to refer others was around $60 million. PayPal grew by word of mouth on instant messaging, blogs, and emails back when social media wasn't even a thing. In addition, the company joined hands with eBay, which paved the door for its growth.
Key point: Growth hacking isn't just about being off-beat. Even being old school can also do wonders at times.
Get Ready To Use The Top Growth Hacking Strategies To Scale Up
Growing your business can be quite a task per se. However, you can always experiment with different growth hack techniques. However, the ones we have for you can be quite helpful.
Right from making your company's presence felt to know what your competitors are up to, you can use our strategies to help your business grow.
Do try these business hacks for startups, and let us know how they have helped you.
FAQs
1. What does growth hacking mean?
It involves finding the most effective ways to grow a business. It is mainly using trial and error. Instead of the traditional way of growing a business, it is a faster and more cost-effective method.
2. Which is one of the best growth hacking strategies?
Partnering and collaborating with businesses helps create brand awareness, and it is one of the best growth hacking strategies around. Make sure you choose a brand that is a good match for yours.
3. How can growth hacking benefit you?
Growth hacking helps grow your brand and increase cash flow, you develop a growth mentality, learn new concepts and business models, and develop products in a cost-effective manner.
4. What a growth hacker does?
A growth hacker is a professional who thinks, plans, and executes growth hacks. The primary aim is to make the business grow and generate higher revenue at a fast pace.