What is Outreach Marketing? – Benefits, Tips And Strategies
The primary aim of every business to sell its product or service. To do so effectively, you have to connect with those likely to make a purchase, i.e. your potential customers. That is where outreach marketing helps you out.
Our client Bob was smart enough to choose outreach marketing and with our inputs, he has seen a phenomenal growth in his conversions to the tune of 30%! Do you also want similar results? If yes, stay tuned!
Let's first take a look at what outreach marketing is and the types of marketing campaigns,
What Is Outreach Marketing And Why Is It Important?
Outreach marketing refers to a marketing strategy that aims to search for individuals and organizations who have an interest in your business and possess a strong relationship with your target audience. It involves requesting interested individuals such as influencers, bloggers, and journalists to promote your content. You can develop an outreach marketing strategy yourself or have one created by a professional link-building agency.
The point is that even if you develop interesting content, share it across all of your social media channels, and send emails in bulk to your mailing list on a regular basis, it is likely that don't get enough traffic. This situation is common for most businesses, and there is nothing as frustrating as not seeing your business grow despite putting in effort. It is at this juncture that you would need to try your hand at outreach marketing.
Outreach marketing is essential because it helps a business gain fans, exposure, and credibility. With the help of your marketing campaigns, the fans can turn into customers with proper nurturing, and the exposure can make more people know about your product or service. Above all, with increased credibility, the audience will engage with your brand and are more likely to purchase your product or service and spread the word about your offering. Overall, good marketing campaigns would lay the path for your growth.
Types Of Outreach Marketing Campaigns
There are 4 types of outreach marketing campaigns that are suitable for most businesses. They include the following:
1. Cold sales
The bottom line of every business is to make sales, and for that, you need to perform lead generation. However, these days it is easy to find leads thanks to social media and automated cold outreach software. A little bit of research on platforms like LinkedIn is enough to build a list of prospects with their contact details. You have to reach out to them to introduce yourself and tell them what your product or service is about.
You may start a conversation, have a detailed discussion over the phone, meet them in person and provide a demo. This approach towards marketing campaigns is more relevant for B2B businesses and works well for high-value products or services. In cold outreach, you can expect great results only if you reach out to those relevant to your business and your offering. The outcome would be even better if you choose tools that enable automated cold outreach.
2. Networking
With networking, you can build your network and create new connections. You can choose to connect with people in the press, potential partners, important people from your industry, bloggers, referrals, and many more.
Networking is a must for every business as it helps in building a solid network. It may not give you results instantaneously but can help tremendously in the long run. Because the ROI is not immediate, very few professionals choose networking. It would be advantageous for you as there is less competition in this type of marketing campaign. However, while connecting with people, you have to clarify your intention, as most individuals are skeptical about receiving emails from strangers. You can build relationships with people only when you look genuine, and it is your job to make the other person comfortable.
3. Link Building
Link building is another common form of outreach marketing. Therefore, it is necessary for online business and involves creating backlinks on other websites to enable a high ranking on Google. Also, SEO requires a lot of effort, and link building is an essential part of it. When done correctly, they can help you rank on Google's first page.
4. Blogger Outreach
Bloggers, vloggers, podcasters, and influencers are powerful in the present age and can help your business reach your target audience faster. Simply making a connection with one or two influencers and bloggers/vloggers can help you reach millions quickly.
You can choose to write a guest post for the website of a famous blogger or appear on a vlogger's channel. Blogger outreach is most often mutually beneficial for your business and the person you are collaborating with.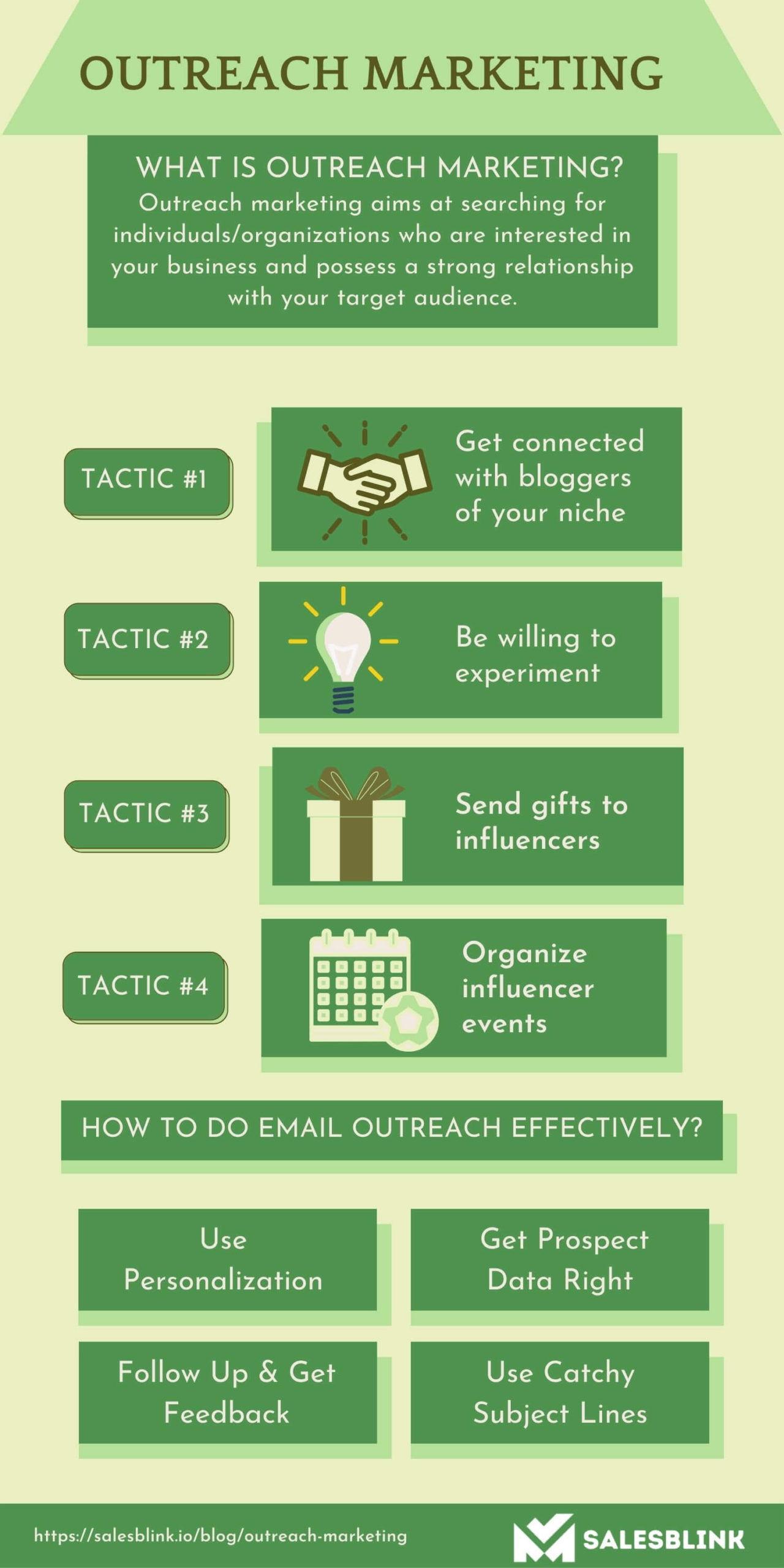 How To Do Outreach Marketing?
Outreach marketing requires a strategy, and you have to build one that can fetch you results. Here is the process of outreach marketing,
1. Set Your Goals And Objectives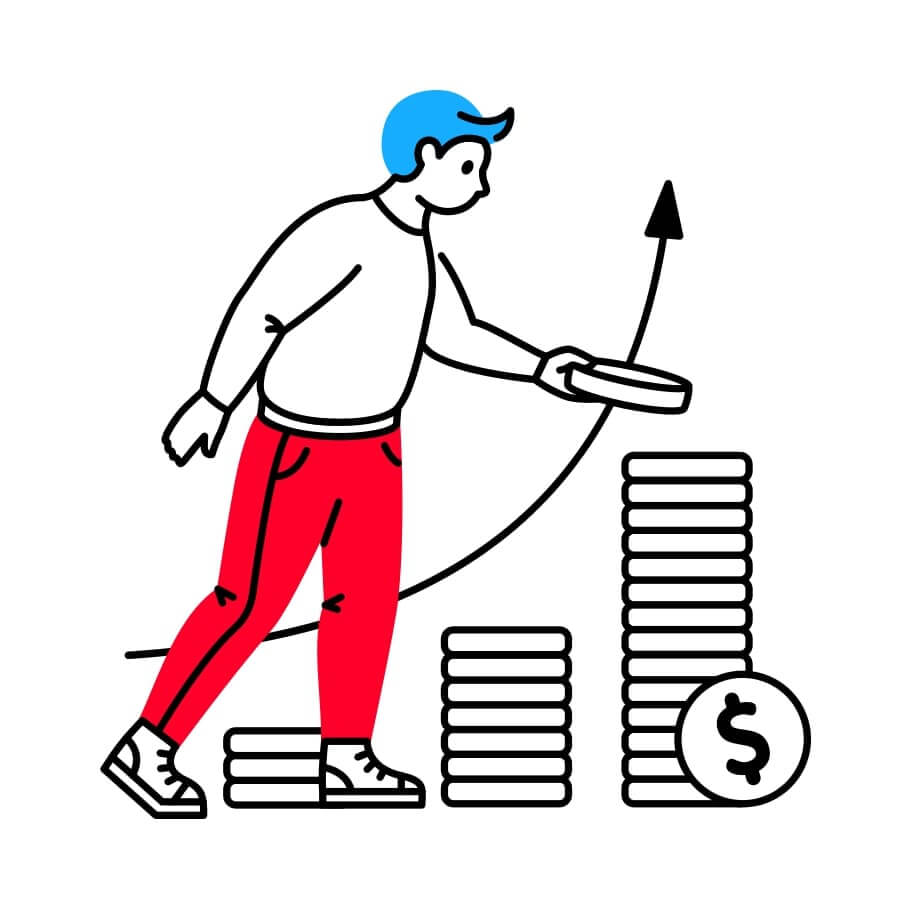 You have to clearly define your goals and objectives when you start outreach marketing. It is essential to understand what you want to achieve and how you want to go about it. You may want to get backlinks alone for your blog posts or appear as a guest on a vlogger's channel or make an influencer give you a shout-out on social media. You have to define what you need before you begin clearly. Ideally, you should write your goals down. Write their titles down in a spreadsheet. Then, use that spreadsheet to keep an eye on the number of backlinks gained for each blog post. Doing so will make tracking your progress much easier!
2. Identify And Reach Out To The Target Audience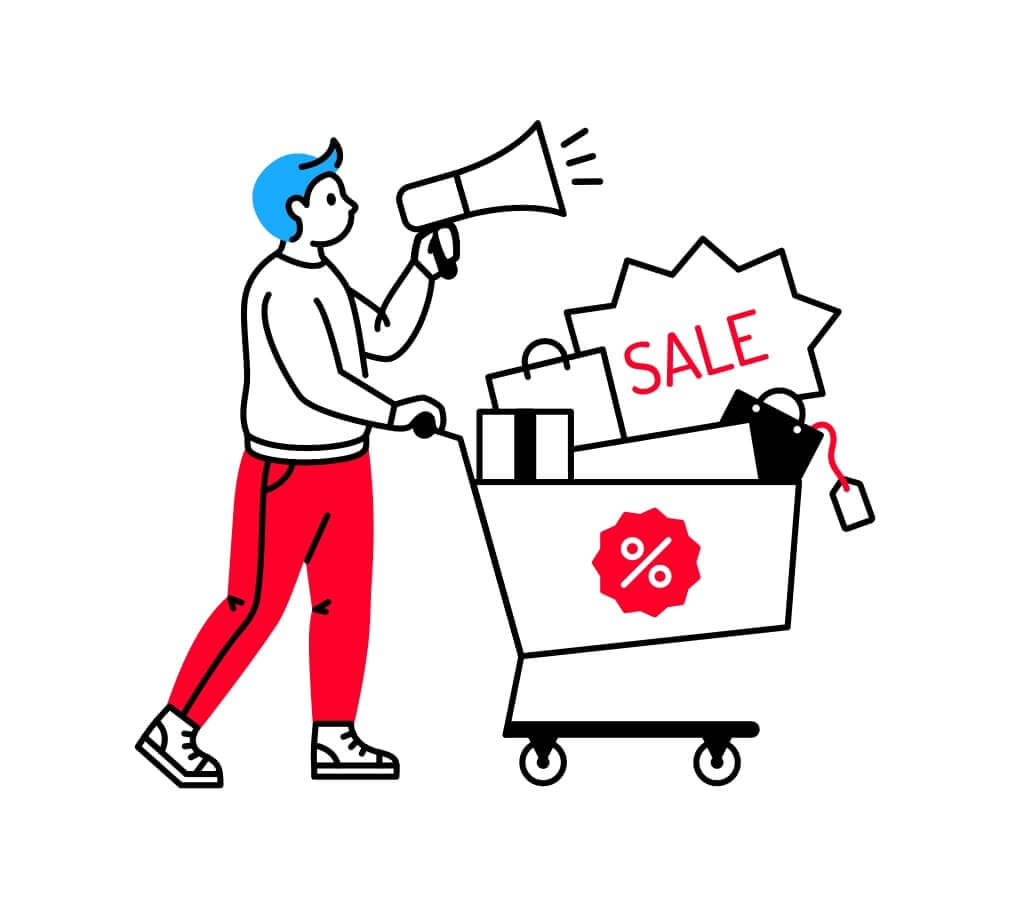 You can reach out to 4 types of people with the help of your marketing campaign, and they are the following,
Sharks: These influencers have several social media channels and millions of followers.
Big Fish: They may not be as massive as the sharks, but you still can significantly boost your business.
Small Fish: These influencers have a relatively smaller audience when compared to the sharks and big fish, but they are putting their best efforts to grow.
Spawns: These are those who have just started and are yet to build an audience.
As you now know the different categories of influencers, you have to find out which one is the best for you. For that, you have to revisit your marketing strategy's goals and objectives.
For instance, if you have to promote a content piece on advertising and add links to it, you have to search for a blogger who writes about advertising. A 'small fish' and a 'big fish' would be enough for you.
Also, here are a few criteria that can help you identify suitable influencers easily,
3. Opt For The Personalization Of Messages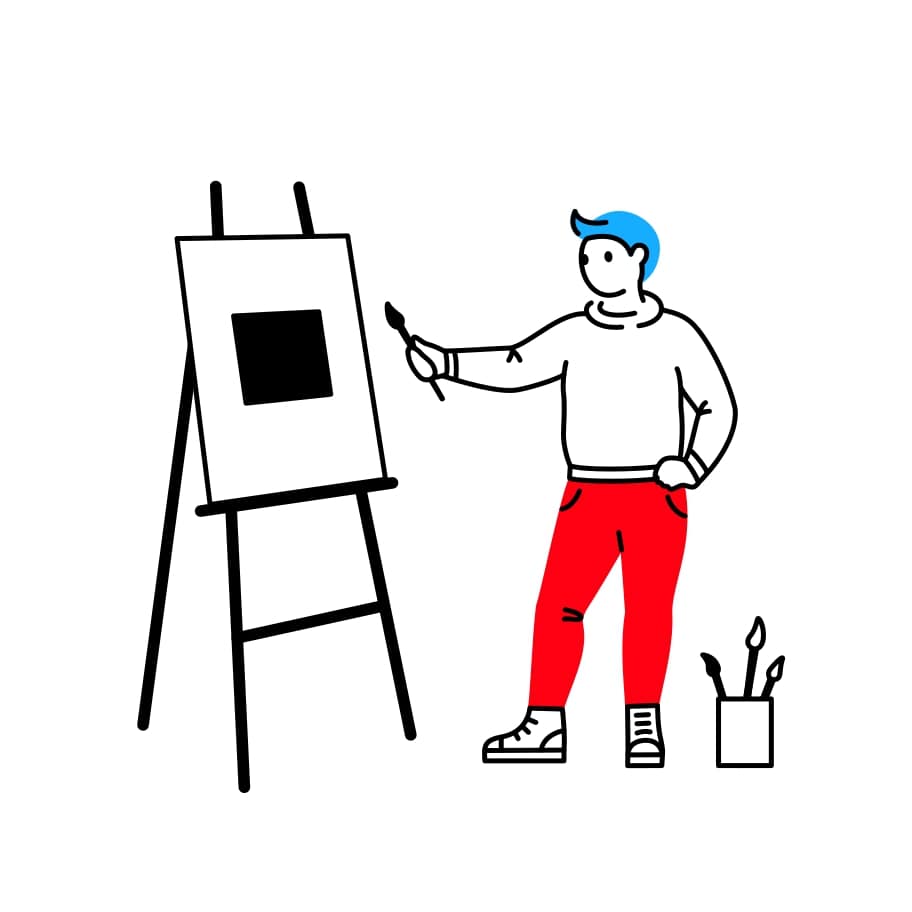 After finding out who your target audience is, you should personalize the messages you send to them. Email Personalization is of utmost importance for the success of your outreach campaign. That is why most outreach tools let you personalize images along with the text.
The primary aim is to draw the attention of prospects to your message and make them engage with it. Personalization doesn't only mean adding the prospect's name in the email subject line and the body of the email.
You have to understand the prospect's needs and offer them something of value to which they can relate to. In your outreach emails, you have to show that you have done your homework before reaching out.
You can choose to personalize the message by finding common ground. It can be about the same University you and the prospect went to, the same industry you both worked for in the past, or the fact that you both hail from the same town. It gives you a chance to begin a conversation with the prospect and draw their attention better. Similarly, you can choose to mention a mutual contact in your outreach email to the prospect. The fact is that they are more likely to listen to you when there is a mutual connection in between. It is much better than being a total stranger to the prospect.
4. Concentrate On Building Relationships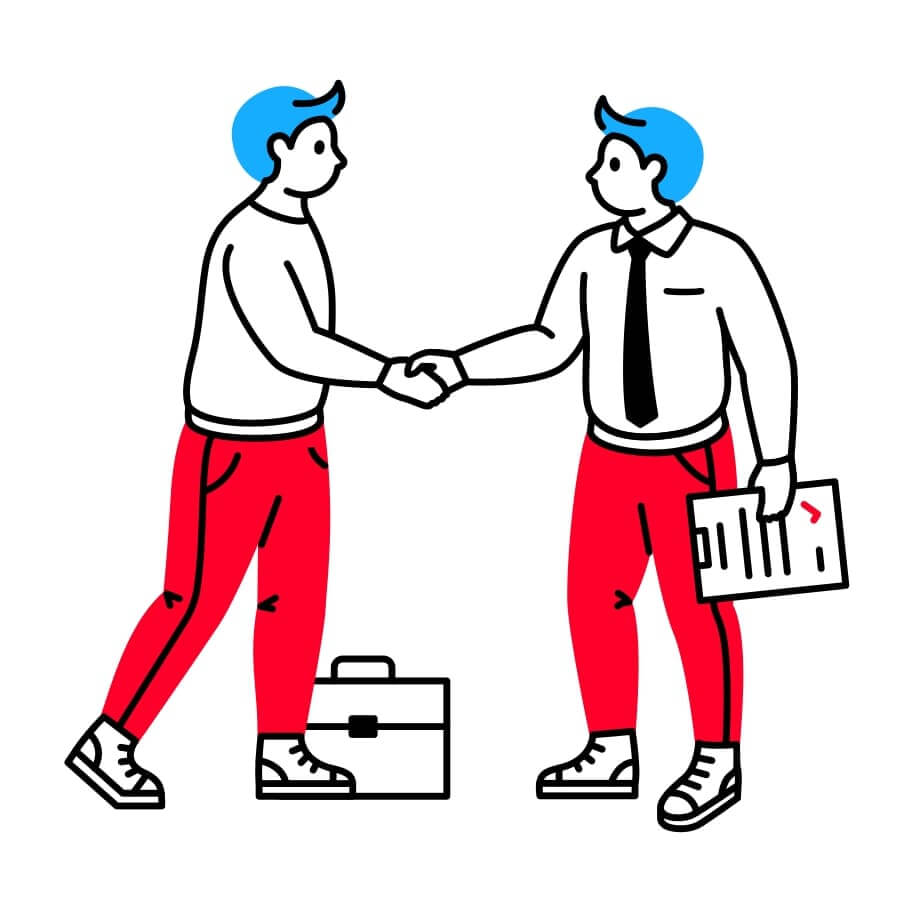 Outreach involves building relationships with people. However, most people just leave after their work is over. They would get the backlinks or the mention for the campaign and not care about the rest. It is not the right approach. You have to put in the effort to build relationships with people.
Benefits Of Outreach Marketing
1. Helps reach the right audience
Every business aims at reaching out to the right audience so that the number of conversions is higher. Outreach marketing helps you do just that. You can join hands with a like-minded influencer and get exposure to the influencer's audience.
For example, if you have launched a new SaaS product, you can ask a well-known SaaS blogger to recommend it to its audience. You can choose to write a guest blog that mentions your software. When the blog visitors read about your product on that blog, they may find it interesting and visit your website to learn more. This way, you will get a lot of traffic from the influencer's website.
2. Fetches faster results
With advertising campaigns and social media marketing, it would take time to witness results. However, you can fetch results faster, and that is because you are exposing your product or service to a website that has a lot of traffic and the niche of the influencer is relevant to your brand.
At the same time, the success of outreach marketing depends on your content quality. The website of the blogger is just a platform for you to present your piece of content. Therefore, you have to make it as engaging as you can to resonate with the audience and feel like knowing more about your SaaS product.
3. Is highly effective
Outreach marketing works well and delivers excellent results. By putting up your content on popular websites, i.e. by guest posting, you can get traffic to your website. You can retarget those website visitors with the help of personalized ads and try to convert them into customers. With the right outreach marketing approach, you can see positive results.
Drawbacks Of Outreach Marketing
Now that you have seen the advantages of outreach marketing, you also have to learn about its disadvantages,
1. Improper selection of influencers can have a negative effect
The biggest disadvantage of outreach marketing is that if you go wrong at any point, you can't enjoy the desired results.
For instance, if you fail to select the right influencer for your product or service and choose an irrelevant one, you may not get traffic. The visitors of the influencer's site may not relate to you and show interest in your offering. Therefore, you have to be cautious while choosing your outreach medium.
2. Consumes a lot of time
Finding the right influencer for your product or service is a difficult task as you have to skim through several sites related to your industry or niche and choose the ones with good web traffic. Not only that, but you also have to ensure that they are accepting requests to use their website to promote your offering. The case is the same for all kinds of influencers including vloggers and podcasters. You will have to wait for approval from the other end. They usually take a look at your website and find out whether they should recommend you or not.
You also have to be careful about following the content creation rules of the influencer's website so that the SEO ranking stays intact. especially when it involves B2B SEO.
3. Involves cost
It can work well for you if you know about outreach marketing like the back of your hand. However, that's not the case with most businesses. They may not possess the required knowledge or have the time to invest in outreach marketing. Therefore, they have to hire a creative agency or an individual who takes care of everything in such situations. You would have to pay them a handsome fee for their services, making the marketing approach expensive for you.
Outreach Marketing Tactics And Strategies
In case you are finding it difficult, take the first step, try implementing the following strategies and see the outcome,
1. Connect with bloggers of your niche
You can benefit by making genuine connections with bloggers. Some businesses give a product or access to their service to bloggers in return for online promotion on their platform.
Take time to research and reach out to those who are experts in your niche. It is better to invest time in those who know your niche.
2. Be willing to experiment
This may be contradictory to the above point, but there is no harm in experimenting. It would help if you tried to collaborate with bloggers or influencers from a vertical you have never associated yourself with before. Find out whether you can place your brand in front of a new audience. See the outcome and decide whether or not you should explore that niche.
3. Send gifts to influencers
It will help if some influencers in your network promote your product or service through word of mouth. Try to make them feel special by sending them gifts without waiting for an occasion.
4. Organize influencer events
Organizing events for influencers is a great way to build a network to promote your product or service on their platform. To get the maximum benefits from these events, ensure that you have a clear definition of what you want to achieve by conducting such events. Try to engage with all the influencers at the event and try getting their feedback.
The marketing ideas mentioned above are more relevant to B2C marketing. Let's now move on to learn what you should do to make your marketing campaigns successful in the B2B space.
How To Do Email Outreach Effectively?
Let's now discuss the first type of outreach marketing which is cold sales. You can do it effectively using email outreach,
1. Make use of personalization
As you have already seen above, you have to personalize your outreach emails. Personalization is more important as you can't win the hearts of prospects by simply reaching out to them with generic emails. You won't be able to engage the reader if you do so in cold email outreach. By choosing to personalize the email, you are making it retain professionalism and making it more interesting. You have already seen how to personalize your cold email outreach messages to build meaningful connections through email marketing. It will cost you only a little extra time to research, but this outcome would be good enough.
2. Get prospect's data right
It is quite evident that there are fewer chances to impress the prospects when you present inaccurate information to them. It holds true for outreach marketing efforts, from cold emailing to social media interaction to cold calling.
Faulty information affects phone outreach the most as you don't have much time to find correct details. That is why you have to review your data and keep it updated. You won't be able to retain the attention of the prospect when you put forward incorrect information.
3. Be consistent with your follow up
Even if you have crafted the best email, chances of the prospect not opening it are high due to their busy schedule. It makes following up an essential task no matter which channel you choose for outreach. By following up effectively, you can stay on top of prospects' minds, and there is an increased probability of the prospect interacting with you.
There are many automated cold outreach tools to help you automate follow-ups so that you don't have to keep track of emails manually.
SalesBlink enables you to generate sales sequences with ChatGPT. You will have the entire sequence created with cold email and follow-up email templates based on a single-line prompt. This is possible because we have trained ChatGPT to provide you with a high-performing email subject line and body with minimal input.
4. Use catchy email subject lines
When you reach out to prospects through email, you have to make sure you use an attractive subject line. Without one, the prospect would not be able to spot it in their already cramped inbox. Most people open the email based on the subject line. You have to reveal very little in the subject line and keep it intriguing and compact. As most email users check emails on mobile devices, your email client cuts off lengthy subject lines, and you lose a part of the message.
Here's an example,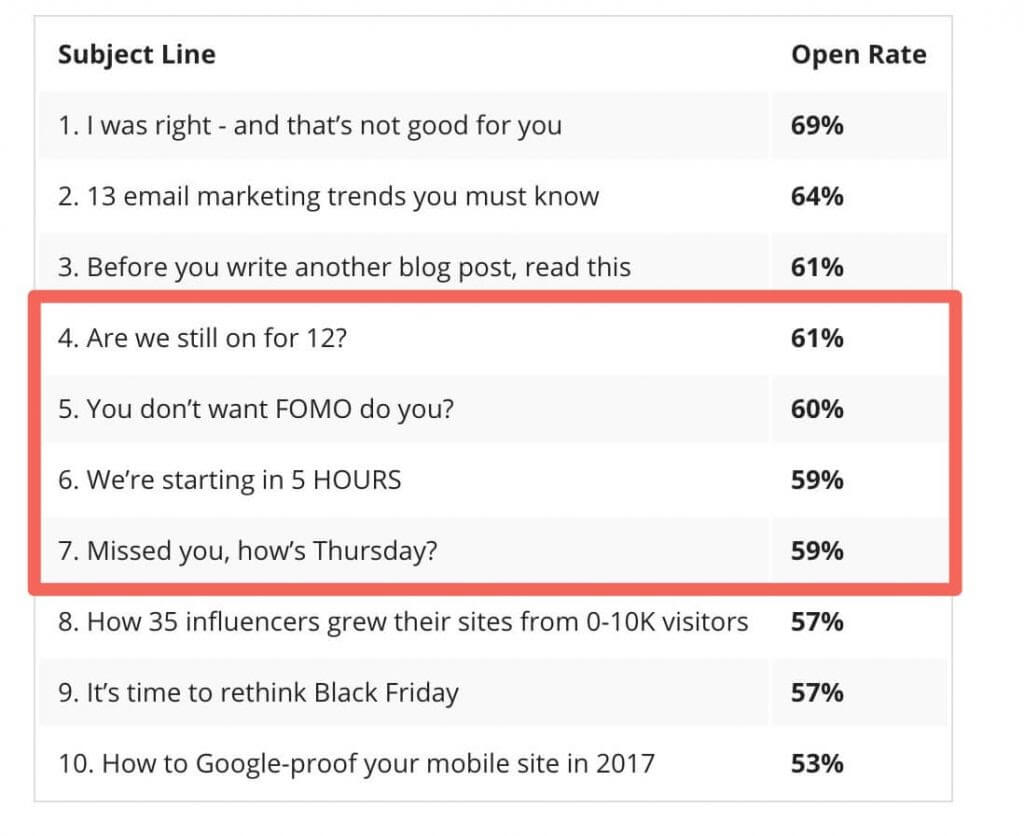 5. Encourage the prospect to give a feedback
Even if the prospect doesn't convert into a customer, you should request them to give you feedback. Negative feedback can go a long way in helping you improve your marketing strategy later on.
Use SalesBlink For Cold Email & LinkedIn Outreach
With SalesBlink, you can automate cold emailing and follow-ups which helps increase the productivity of sales teams. In addition, the tool supports multi-channel outreach by enabling email and LinkedIn outreach.
You can personalize emails at scale with the help of macros or placeholders, which help you get more replies with minimal effort. Here's what it will look like,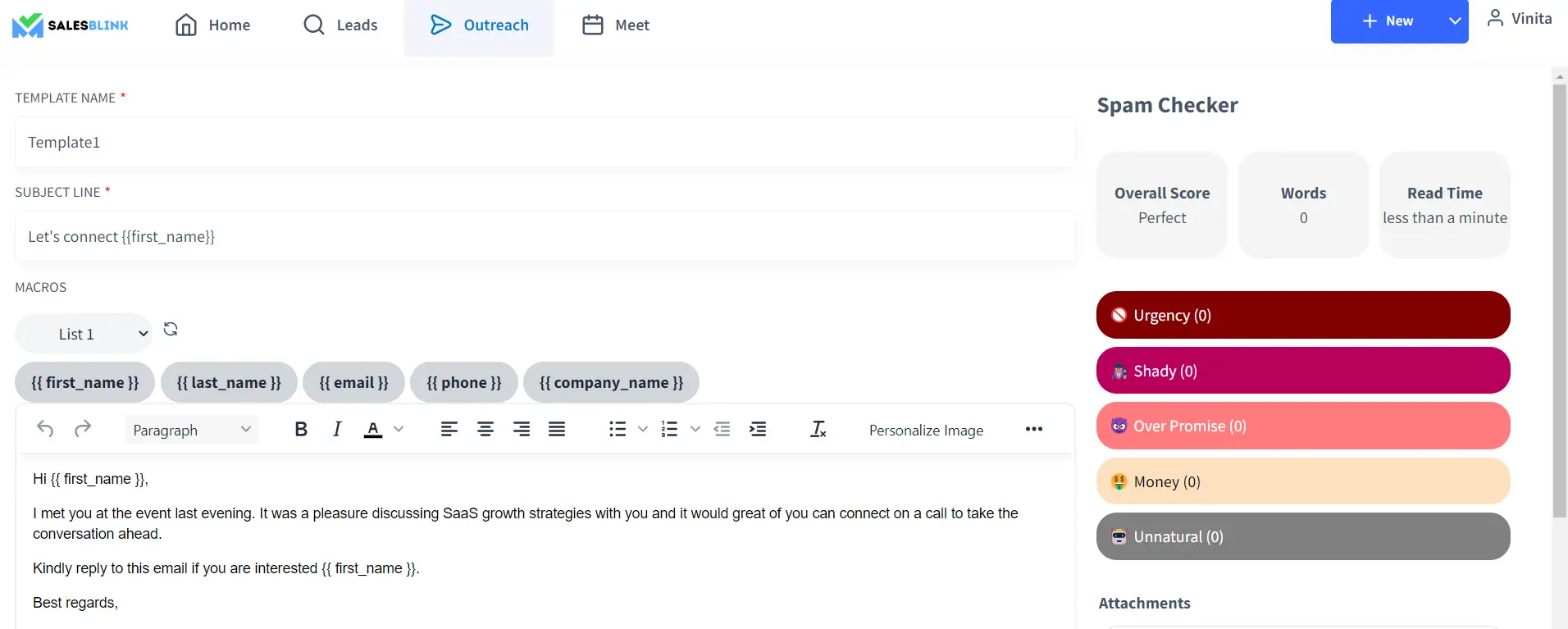 When the email is sent, the value in the corresponding field in the list provided by you appears, making the email look tailor-made.
Apart from personalization, SalesBlink enables A/B testing, adding delays and more to help you make the most of email outreach.

Coming to LinkedIn outreach, you can create a task in your outreach sequence and reach out to prospects. The process is not automated, as it is against LinkedIn guidelines.
Example of Email Outreach
You can see an email outreach template below where there is the use of personalization to spark an interest. The subject line is catchy too and will make the recipient click open the email.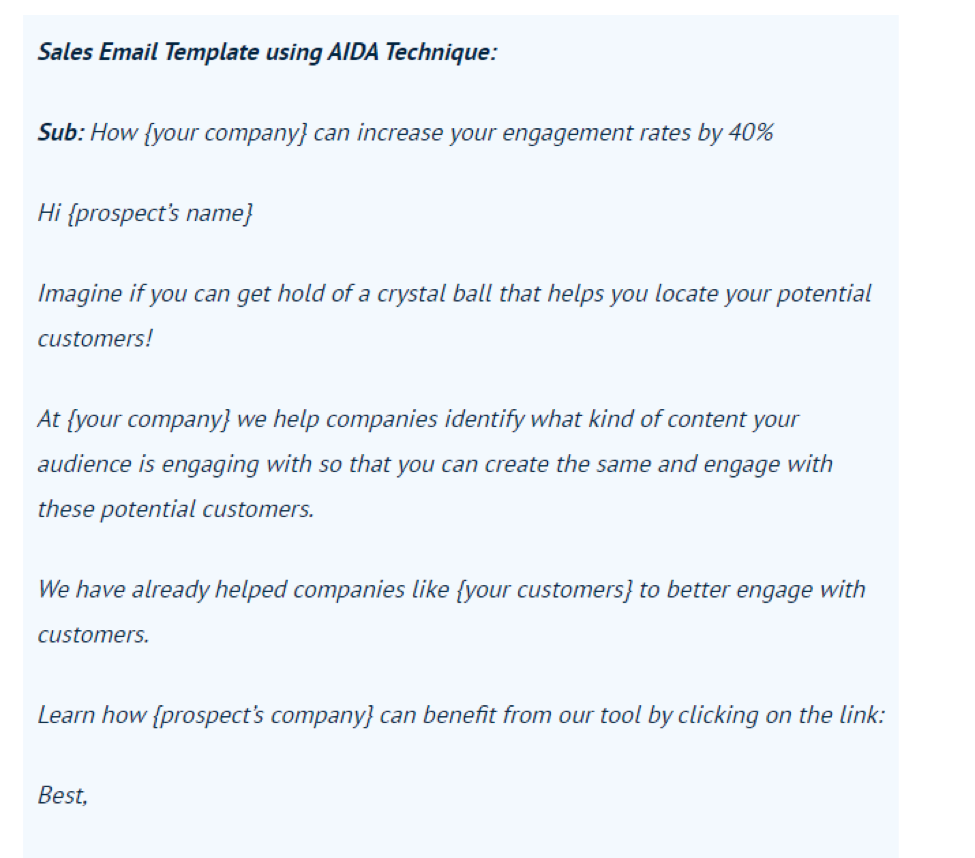 Example of LinkedIn Outreach
Here's how you send a message on LinkedIn. You can see how different it is from an email. It is short, to the point and concise and that's how your outreach message has to be.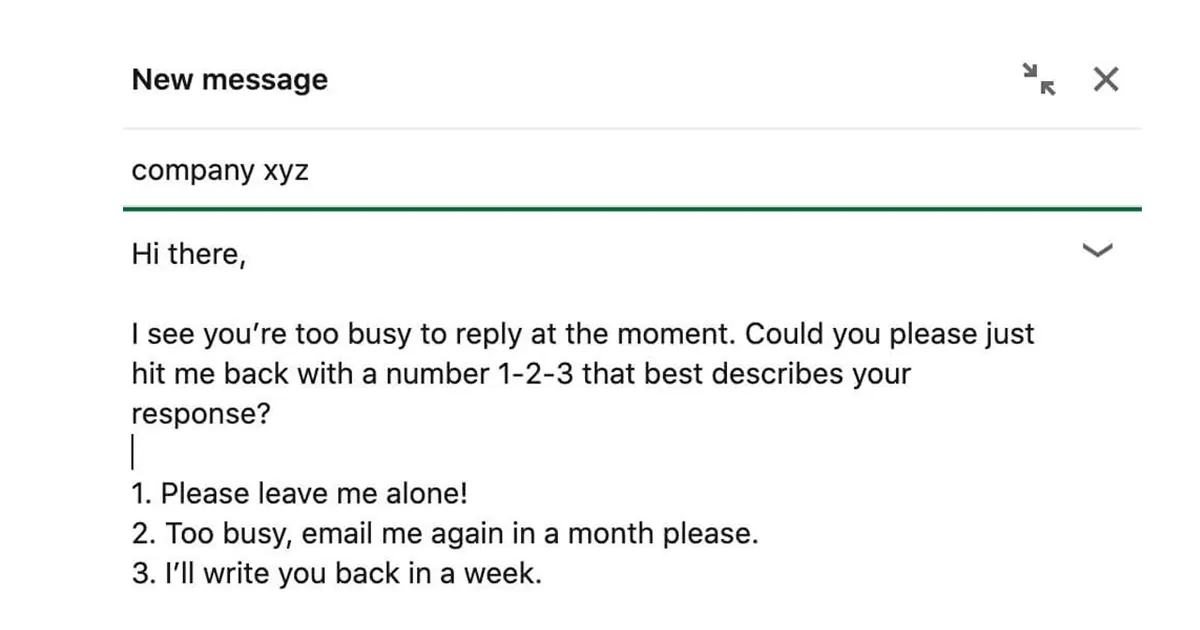 Are You All Set To Start Outreach Marketing?
Now you know about outreach marketing and the strategies that make it effective. You can plan accordingly and execute it when you know what should be a part of your marketing approach. You can add the tactics you read above to your existing ones and get better results by using suitable automation tools.
Thank us later!
FAQs
1. What is outreach marketing?
Outreach marketing refers to a marketing strategy that aims to search for individuals and organizations who have an interest in your business and possess a strong relationship with your target audience.
2. Why is outreach marketing important?
Outreach marketing is essential because it helps a business gain fans, exposure, and credibility. With the help of your marketing campaigns, the fans can turn into customers with proper nurturing.
3. How does outreach marketing help?
With outreach marketing, you can easily reach the right audience, fetch faster and effective results. This is because you are exposing your product or service to a website that has a lot of traffic.