There is no doubt about the fact that your content can fetch you great results. Using your content, you can attract prospects and close more sales. As a salesperson or marketer, you have to write several email copies for your campaigns. Email Copywriting is a time-consuming task that involves the following
1. Write a subject line that strikes a chord and makes the recipient open the email. Here's our Free Subject line generator tool.
2. A compelling email body that the recipient can relate to.
Despite all these efforts, the open and click-through rates may not be too impressive. There may be certain details that you might be missing out on while crafting your email.
What Is Email Copywriting?
Email copywriting refers to writing an email while aiming at converting the recipient into a paying customer. Your email copy comprises the words you use in the introduction email subject line and body of the email.
Cold email copywriting formulas differ from regular writing in that they should be convincing and effectively connect the subject line with the call-to-action. A good email copy is the one that makes the reader engage with the email and most probably convert.
Tips To Expert Email Copywriting
Find the high-rated email copywriting best practices that can take your messages to the next level.
1. Gather knowledge about your audience
First of all, you should gather knowledge about your target audience. Only then it is possible to connect with the prospects. Otherwise, you can't write a compelling email copy to convert prospects into paying customers.
Consider personalizing the email by researching the prospects and making it seem as though you have written it especially for them. Mention their interests and address their pain points.
2. Use an impressive subject line.
The email copywriting process should have a special focus on the email subject line. Readers will not open the email until and unless it doesn't seem interesting or relevant to them. In a way, it decides the fate of your email. You must invest time in making the subject line engaging enough to fetch you great results.
Here's what all you have to bear in mind while writing your subject line,
a) Keep it short – The open rate of short subject lines is the maximum, so it is ideal to keep it only six to ten words long. The short email subject lines get more attention because of the increasing use of mobile devices for reading emails. People like to check emails on the go instead of using their desktops. While long subject lines look good on desktop browsers, they get cut off on the screens of mobile devices. When readers can't read the subject line, why would they even bother to open the email? Thus optimizing your email subject line for mobile devices is important.
b) Use action verbs – Use phrases that create a sense of urgency. The readers should understand what you expect them to do by simply looking at the subject line.
c) Ask a question – When you use a question in your subject line, there are more chances of getting higher clicks. Ask reasonable sales questions that seem relevant to the prospects without looking annoying. It would be best if you never used clickbait in the email subject line, or else the recipient will never trust you again, and you would lose them for good.
d) Make most of the human tendencies – Tap the potential of human curiosities by creating a sense of urgency in the email subject line. The FOMO or fear of missing out tactic works every time. You can mention a time-limited offer or a last chance to grab a deal. If you can draw the recipient's attention that way, you can expect them to open the email. Nobody would want to miss a good opportunity; you just have to convey it convincingly in the subject line.
e) Use real people's names in the sender's name field – Make sure the sender's name of the email is the name of a real person. As you reach out to prospects personally, your email should not look like a generic email generated by a robot. It makes the reader feel better to see the email coming from a real person instead of a company name.
3. Leverage the power of preview text
Users on mobile devices decide whether or not to open the email based on the preview text. It is essential to bear in mind that what you promise in the subject line has to be there in the preview text. Use it to give the readers an idea about the contents of the email. They will open it if it seems relevant to them. Keep it as short and brief as possible.
Using the preview text the right way can help you increase the click-through rate by a good 30%.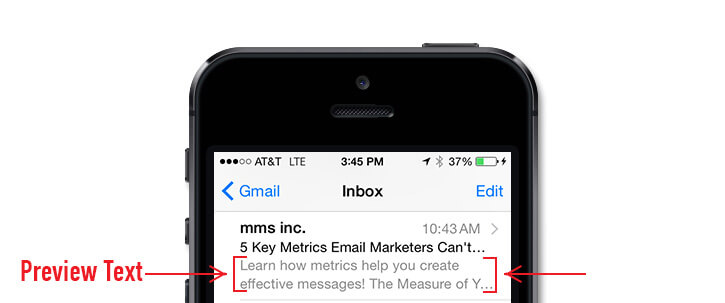 Here you can see the preview text just below the email subject line. If you add relevant content here, don't you think you are more likely to make the prospect open the email?
4. Add a personal touch
The clear-cut fact is that your email copywriting should have a personal touch in it to close more deals. To infuse the personal touch in emails, your email copy should sound like a direct conversation with the customer. Though you may be sending the email to hundreds of people, never show that in your email copy. Keep the tone conversational to bring in some warmth. Only then will you be able to connect with the recipients properly.
In addition, you have to personalize the email to make it seem exclusive for each recipient. This is one of the best email copy best practices.
However, the chances are that you will be sending out hundreds of emails in one go, and personalizing each of them would be a challenging task. That is why you have automated cold outreach tools like SalesBlink that help you personalize cold emails at scale in a few clicks.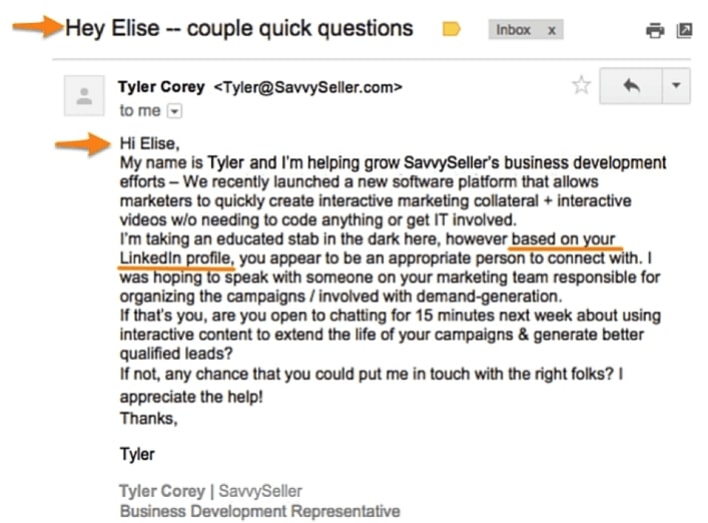 In the above example, you can understand how adding a little bit of personalization can take the whole email to another level. The recipient will sit up and listen to you if they feel you have taken the effort to know about them.
5. Use the right words
When you are writing a copy to persuade recipients to take action by clicking your CTA, you have to be careful with your choice of words. Using the right words can significantly impact the recipient's mind. Use words that convey what you want to say most effectively. Spend time choosing the correct words for your email copy if you are trying to get straight into the prospect's mind.
6. Don't use industry jargon.
When writing your email copy, it is crucial to avoid using industry jargon. The aim is not to show your knowledge of the industry but to help them alleviate their problems. You have to show them how your product or service can work towards overcoming their challenges. There is no need to use technical words that the average prospect cannot understand. If the email copy is loaded with jargon and is difficult to understand, the prospect will ignore you and move ahead, leaving you at a loss.
7. Use 'you 'instead of 'I'
Write your email copy in the second person, i.e. use 'you' and 'your' in the sentences. You may have to use 'we' and 'our; in your sentences. However, it is better to keep the counts as low as possible and write more in the second person because you have to focus on the customer and not yourself (the business). It may seem to be trivial, but it does matter a lot.
8. Keep it short
Nobody has the time or interest in reading long and boring emails filled with praises for your product or service. If you are writing lengthy copies, you must stop doing so. Instead, focus on getting right to the point.
Tell your prospects how you can help them and what you expect from them. Talking about the structure and format of the email copy, keep enough white space in the text by breaking up paragraphs and using spaces properly. Add bulleted lists and keep your sentences short for more clarity.
You may use graphics to capture your reader's attention but don't go overboard and make the email look tacky. There has to be a good balance of both text and images.
9. Avoid sounding spammy
If your email copy is too salesy and has several words that make it look like spam, the spam filters of email service providers will hold the email. It will prevent your email from hitting the inbox of recipients. So, try not to use words and phrases that are aggressively salesy. It is better to avoid using trigger words or use them only sparingly in your email copy. Some of them are 'Be your own boss', 'free', 'extra cash', 'save big', 'risk-free', 'buy now', 'no cost'. The list of such words is quite long.
10. Be relevant
Avoid sending the same email to all the email addresses in your mailing list. Not everyone on your list will find every email you send relevant to them. If that continues to happen repeatedly, it would increase the unsubscribe rate, and you would lose your prospects.
To address this issue, you have to segment your mailing list based on different criteria. It can be age group, the buying habits of prospects, how long they have been on your mailing list, and several other factors that suit your industry.
11. Make use of psychology
This is one of the most top-rated email copywriting tips. And the best part is that you can use psychology in your email copy even if you don't possess a degree. Using certain basic principles can yield terrific results. If you are writing a copy for users on trial, offer an extension to the trial period. This way, they will have more time with your solution and are more likely to convert.
12. Highlight benefits instead of features
If you keep talking about your product's features, your email copy will lose its spark. That is something that most people do in emails, so how do you outshine them? The answer to that is by focusing on the benefits of purchasing your product or service. It will give recipients a reason to buy your product. People most often don't care about what the product features are. They are only interested in knowing what it can do for them. That is what you have to tell them in your email copy. It can be anything from helping users carry out their tasks easily to saving their time so that they wind up for the day early.
However, it is not that you shouldn't reveal product features at all. Just remember that when doing so, you should lay more emphasis on how the product will make the prospect's life easier.
13. Try narrating a story
Not long ago, people used to share knowledge and learn new things through stories. You can also use this approach in your email copywriting process by creating useful and valuable copywriting content.
The main reason that makes storytelling relevant to sales and marketing emails is that it places one in the story's situation and makes the person feel what the story's characters go through. That is what makes a story memorable.
A gripping story can help evoke the right emotions and make the prospect relate to what you are trying to convey. The story can be a random conversation with someone or one stemming from your imagination. It is an effective approach that usually fetches the best results.
There is another way to share a story in your email copy, and that is by adding the customer testimonials of satisfied customers. They work as social proof and go a long way in building trust.
14. Make moderate use of emojis
It is common for salespeople to use emojis in their email subject lines and body. The chief reason to use emojis is to look different from the rest of the email subject lines in cluttered inboxes. You can see better open rates when you add emojis to your email subject lines, which is why many salespeople are using this practice. Emojis further optimize emails for mobile devices where your subject lines will be shorter upon replacing a word or phrase with an emoji. In your email copy, emojis help convey your message better and evoke emotions in the reader's mind. However, you have to use emojis only when it suits the overall tone of your brand. Your target audience should not find it out of context and forced.
15. Add a CTA
Email copywriting is incomplete without a relevant CTA. Every email should have a CTA or call-to-action at the end of it. Your email copy should be such that it drives the reader to take action mentioned in the CTA.
While writing your CTA, you have to bear a few things in mind, such as the following,
a) Make use of action words as much as you can in your CTA. There should not even be the slightest confusion in the recipient's mind while reading the CTA. It should tell the recipient exactly what action they should take.
b) Redirect the recipient to the web page that is relevant to the wordings of your CTA. It should not look like you tricked the recipient, which can be similar to breaking their trust. Avoid making the recipient navigate web pages to reach where you promised to land them in your CTA.
c) Stick to basics while creating CTAs if you don't have time. Simple CTA buttons that say 'Learn more', 'Read more' may sound ordinary, but you aim to convey a clear message even if it is not out-of-the-box. You can still get results when you stick to the not-so-creative CTAs.
However, avoid adding more than one CTA to an email and make sure that it is simple to follow. If you add too many CTAs, the chances of the reader getting confused and abandoning your email are high. And they would end up not clicking on anything. That is why you should stick to only a single CTA that is clear and to the point.
16. Proofread thoroughly
Thorough proofreading before hitting the send button is an essential part of email copywriting. You may have spent days on every detail of the email, but it can cost you your customers if you forget to check your copy for spelling mistakes. No matter how well-designed your copy is, it will look shabby when there are mistakes in something as basic as grammar and spelling. If you are short of time, you can use outreach tools to check your copy.
17. Perform split-testing or A/B testing
Email copywriting has a scientific angle as well. Split-testing them is a great way to ensure that your email campaign is a success. Split-testing or A/B testing involves sending two versions of an email with a certain amount of variation. You have to track the performance of both and reject the one that is performing below the set benchmark. You have to repeat this process to ensure that your emails keep improving.
18. Give a reward to the recipient
While it doesn't cost money to read the email you sent, the recipient is still spending their time on the email. There is no chance of giving their lost time back to them, but you can always reward them with something like an offer or a discount. Value the other person's time and build your credibility.
Ready To Improve Your Email Performance?
Engaging email copywriting skills are a prerequisite for closing more deals. As it is a part of the initial communication, it can make or break your image. Now that you know how to write marketing emails, you can expect good open and click-through rates. Follow all the copywriting best practices you read above to get the maximum benefits out of your email campaign.
FAQs
What is email copywriting?
Email copywriting refers to writing an email while aiming at converting the recipient into a paying customer. Your email copy comprises the words you use in the introduction email subject line and body of the email.
Why is email copywriting important?
Engaging email copywriting skills are a prerequisite for closing more deals.As it is a part of the initial communication, it can make or break your image. It can help you with good open and click-through rates.
Why personalization in emails is important?
The clear-cut fact is that your email copywriting should have a personal touch in it to close more deals. To infuse the personal touch in emails, your email copy should sound like a direct conversation with the customer.