12 Best Sales Books To Level Up Your Skills
Are you that avid reader who spends hours with a book? Even if you are not, perhaps you want to become one! Reading books is undoubtedly the best way to build knowledge in any field, and the same applies to sales as well.
There are many books for sales professionals out there that teach you how to overcome objections, find new customers, and negotiate better deals. Some books have been a source of inspiration for salespeople for decades now. I know a lot of people who have managed to scale up the ladder of success by implementing the tips and tactics sales books have to offer.
But, not all books are the same. Some have more to offer than others. You might want to know about the top-rated ones as a sales professional, right?
We know that you are hard-pressed for time most often and would want to invest your time in a book that is relevant to you. So, how do you know which are the best books for sales? It can be quite puzzling. We have curated a list of the 12 best sales books of all time, especially for you. You can pick the one that intrigues you the most (do thank us later!)
Best Sales Books
Let's look at the top 12 books on sales that can change the way you sell!
1. Way Of The Wolf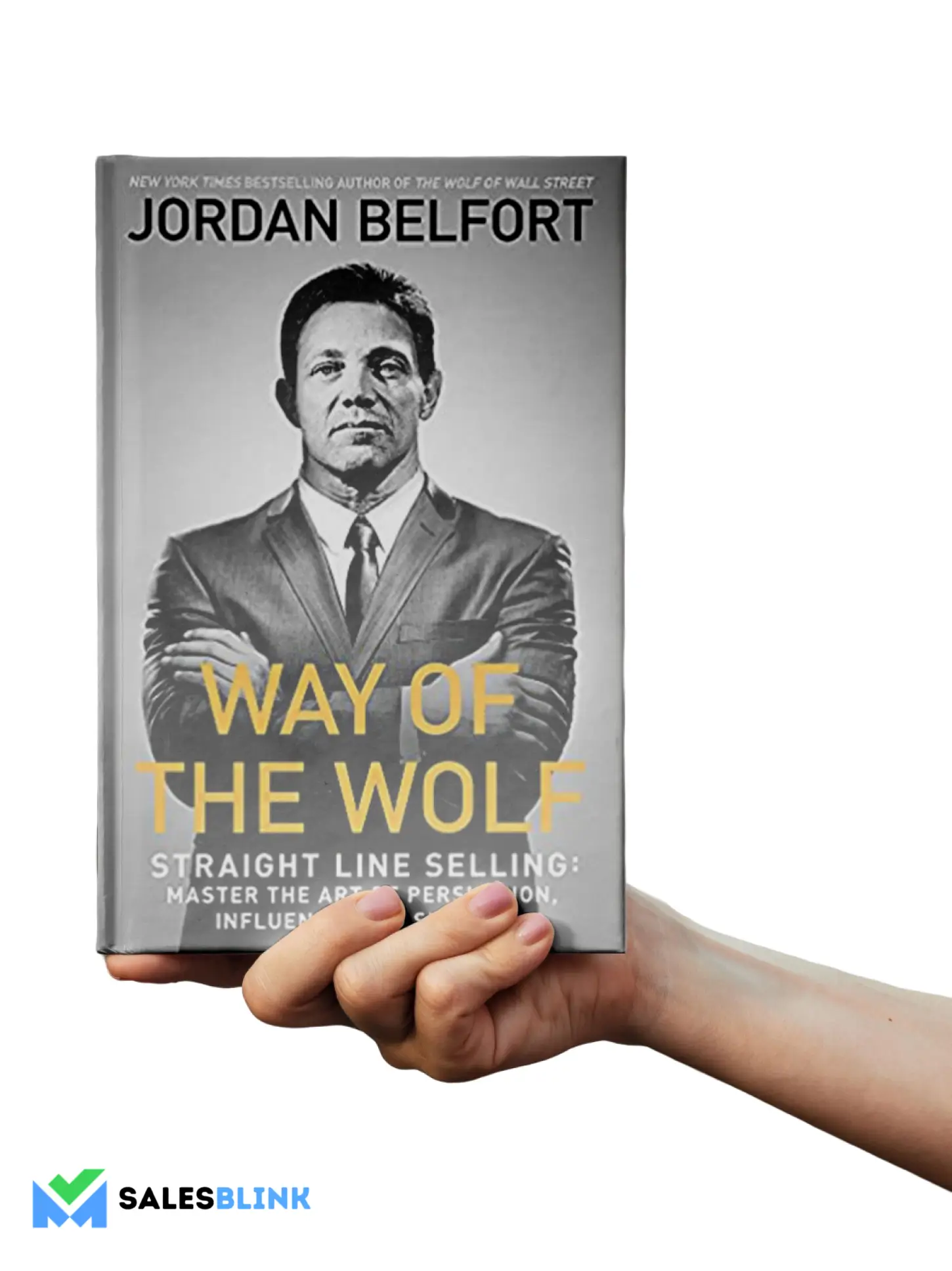 Written by Jordan Belfort, this book is one of the best sales books for anyone who is persuasive and passionate about sales. The book talks about a persuasion system and building trust. It says a salesperson must know sales is about solving problems. Further, the book gives us an idea of how you must understand the nuances of striking a conversation – like understanding your prospect's mind, language, tonality.
Additionally, this Jordan Belfort sales book is a tutorial for those trying to learn the art of creating the best presentations. The book shares relevant and realistic ideas on how you can create world-class presentations. It is a book about using sales techniques and building an emotional connection with your prospects to influence them on the right note.
The author says that you must be able to identify their core needs and beliefs that can help you develop an impactful sales pitch. That would help if you built a rapport with your prospect. The book provides you with an insider perspective of how to create a thorough plan and also own it right from the beginning. Last but not the least, Jordan emphasizes how you must not stress yourself. Instead, enjoy the journey as you aim for the goal because stress can make it challenging for you to achieve it.
Who is this book for? – This book is for anyone wanting to learn persuasion regardless of their background.
Why should you read this? – The book has time-tested sales techniques and strategies that you can apply in real life and increase revenue.
Book Rating on Amazon : 4.7 out of 5
Read the full summary of this book – Way of the Wolf.
2. Never Split The Difference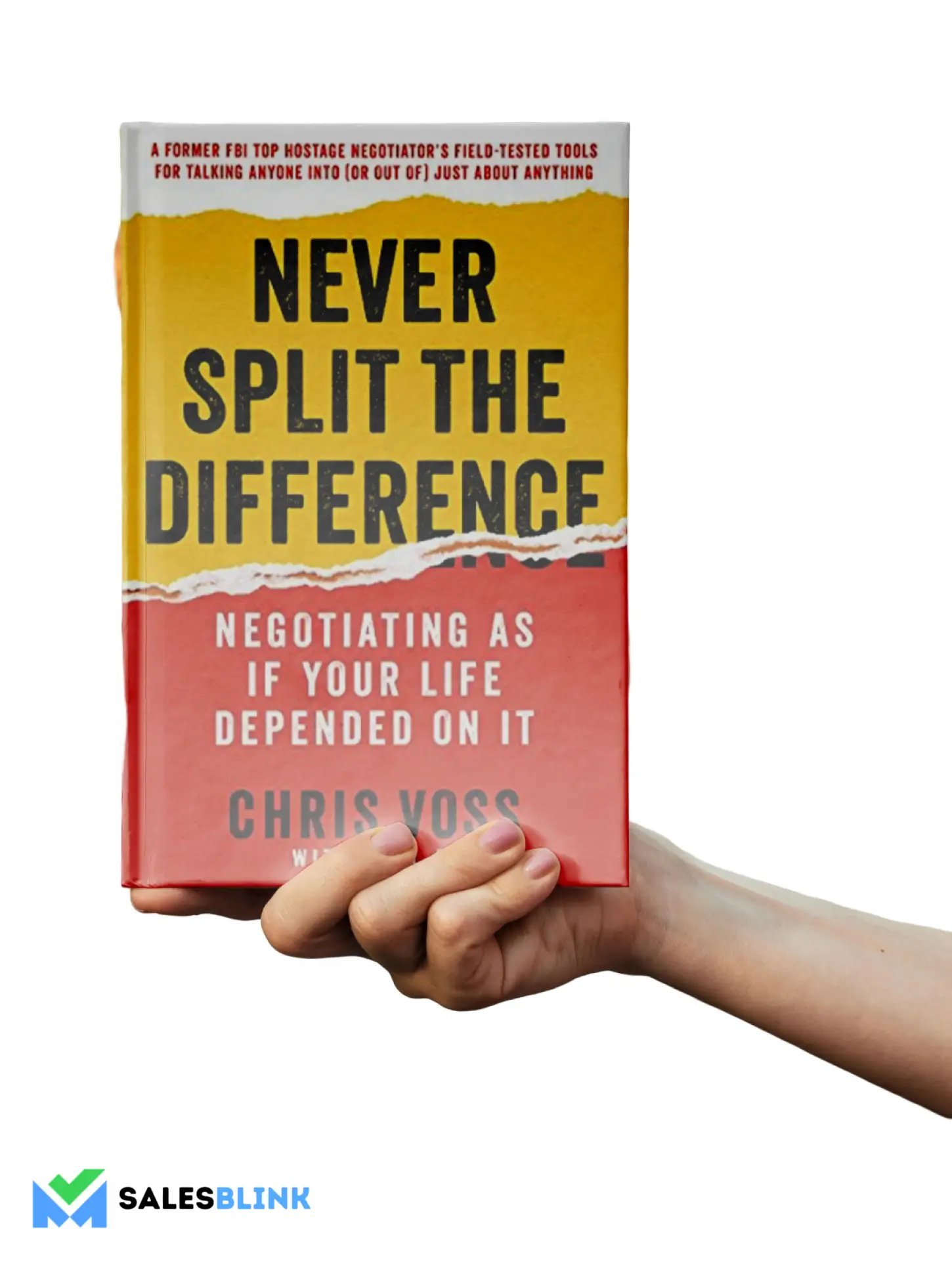 In his book, Chris Voss, a former FBI hostage negotiator, teaches readers how to get what they want in life by using the art of negotiation. According to Voss, the key to successful negotiation is understanding the other person's perspective and using empathy to find common ground. He also recommends never splitting the difference, which means agreeing to a deal that is not in your favor.
Chris Voss argues that successful negotiation is about understanding the other person's wants and needs. He recommends giving them more of what they want and expect. According to him, successful negotiation requires careful planning and preparation. It is also essential to be prepared for the deal-making process: to map out what information you need from the other party, how you will frame your needs and interests, and how you will respond to counteroffers.
Voss also emphasizes the importance of preparation in deal-making. He argues that one must prepare for negotiations and then trust oneself to be able to act appropriately and make good decisions when the time comes.
Who is this book for? – This books is perfect for anyone wanting to learn how to negotiate. It is helpful for both work and personal life.
Why should you read this? – Negotiation skills are required for different situations in life and by reading this book you can master them.
Book Rating on Amazon : 4.7 out of 5
Read the full summary of this book – Never Split the difference.
3. Sell Or Be Sold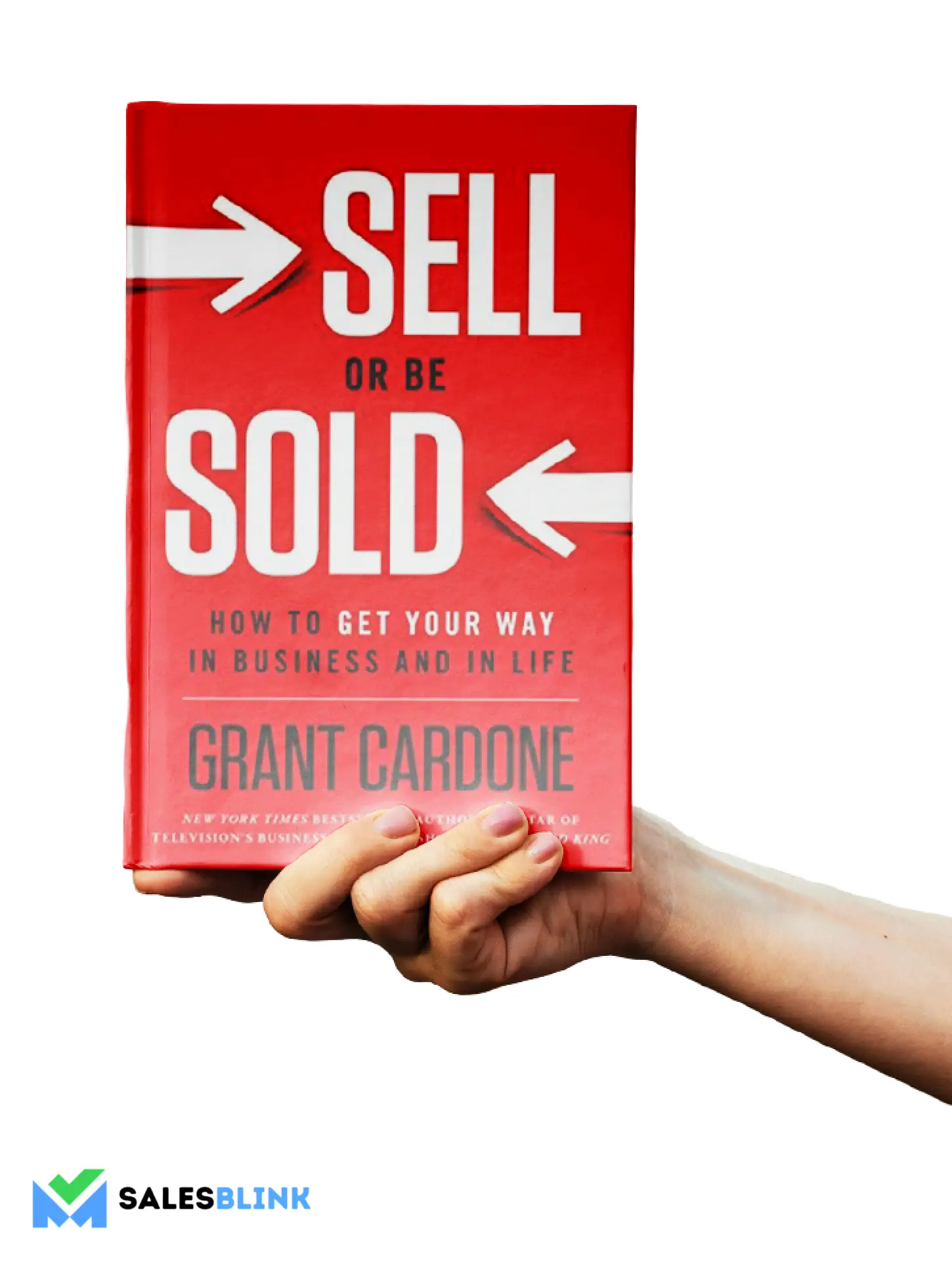 To succeed in business, one must be willing to do whatever it takes. This includes being proactive when making deals. According to the author, Grant Cardone, the best way to make it in today's competitive market is to be aggressive and always put your interests first. In the book, Cardone outlines his philosophy on building a business from the ground up. He stresses that you cannot succeed unless you understand the concept of selling.
The author presents a new perspective on selling and how you can use it ethically to get what you want in life. It is worth noting that Cardone has spent years researching and discovering the key strategies that successful entrepreneurs use to sell their products and services. That means they are all quite effective. In fact, his clients used his strategies and achieved significant success in their businesses.
Who is this book for? – While this book is for salespeople, anyone who wants to win in life can read the concepts of selling in it.
Why should you read this? – If you want to stand out in the crowd and have a new outlook towards selling, this book is certainly for you.
Book Rating on Amazon : 4.7 out of 5
Read the full summary of this book – Sell or be Sold.
4. SPIN Selling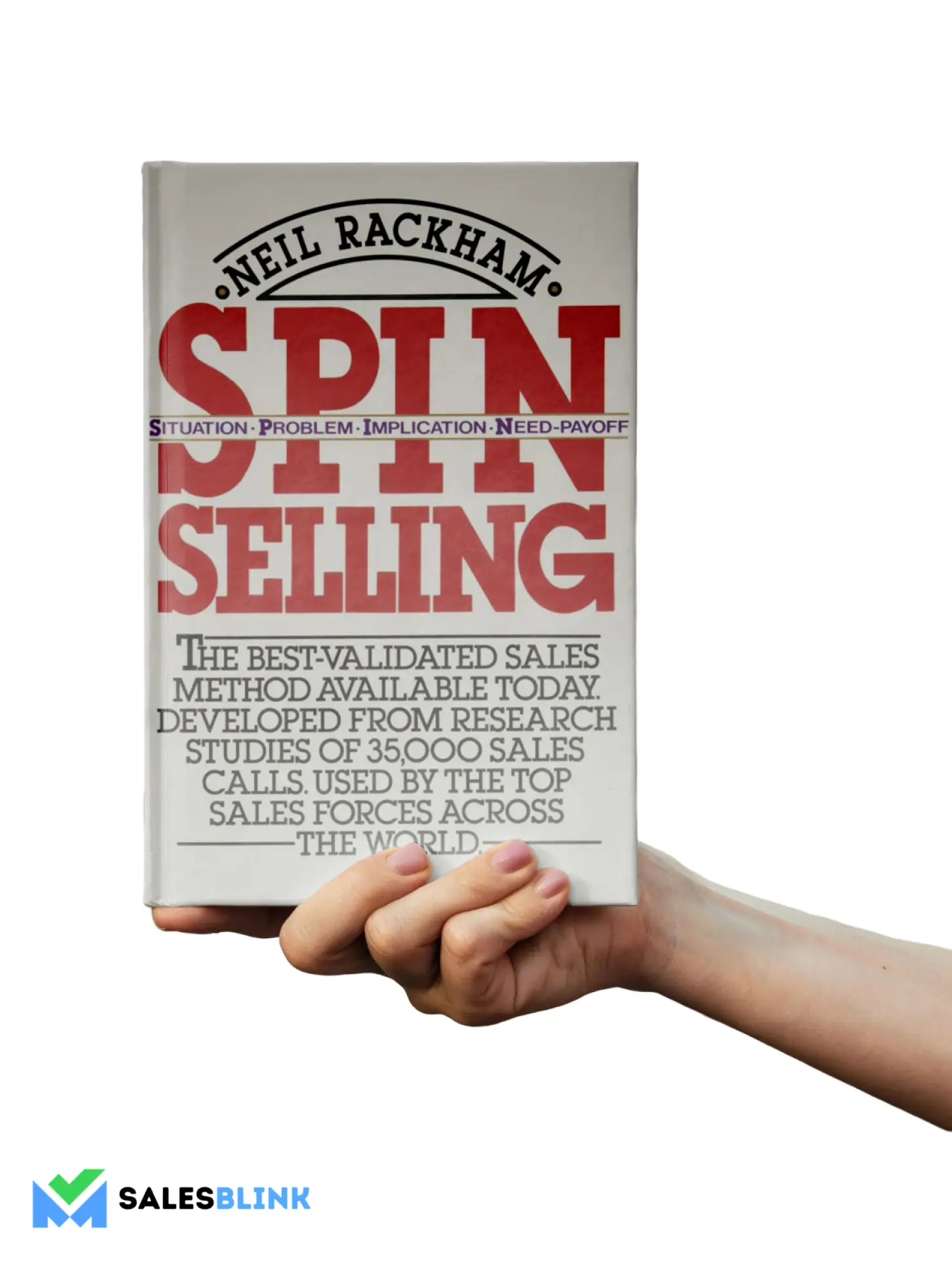 SPIN selling method is a technique that increases the effectiveness of your sales approach. Developed from research studies by top 35,00 sales calls and used by millions of sales forces globally, it is one of the best-regarded methods for sales. If you're serious about becoming a better salesperson, then this book 'SPIN selling' by Neil Rackman is a must-read. It is one of the best sales books about helping salespeople learn how to handle objections during sales appropriately and close more deals by creating better first impressions.
In case you have not heard of the SPIN selling strategy, it involves asking the following questions to prospects:
Situation
Problem
Implication
Need-payoff
The book is the outcome of detailed research that Rackham conducted over the years, and it's full of helpful tips and techniques. It involves using evidence to support your argument. This evidence can come from various sources, including customer data, surveys, case studies, and competitive analysis.
Who is this book for? – Salespeople who want to improve their selling skills will find this book useful.
Why should you read this? – There are real-world selling examples and insights coming from in-depth research by the author.
Book Rating on Amazon : 4.6 out of 5
Read the full summary of this book – Spin Selling.
5. To Sell Is Human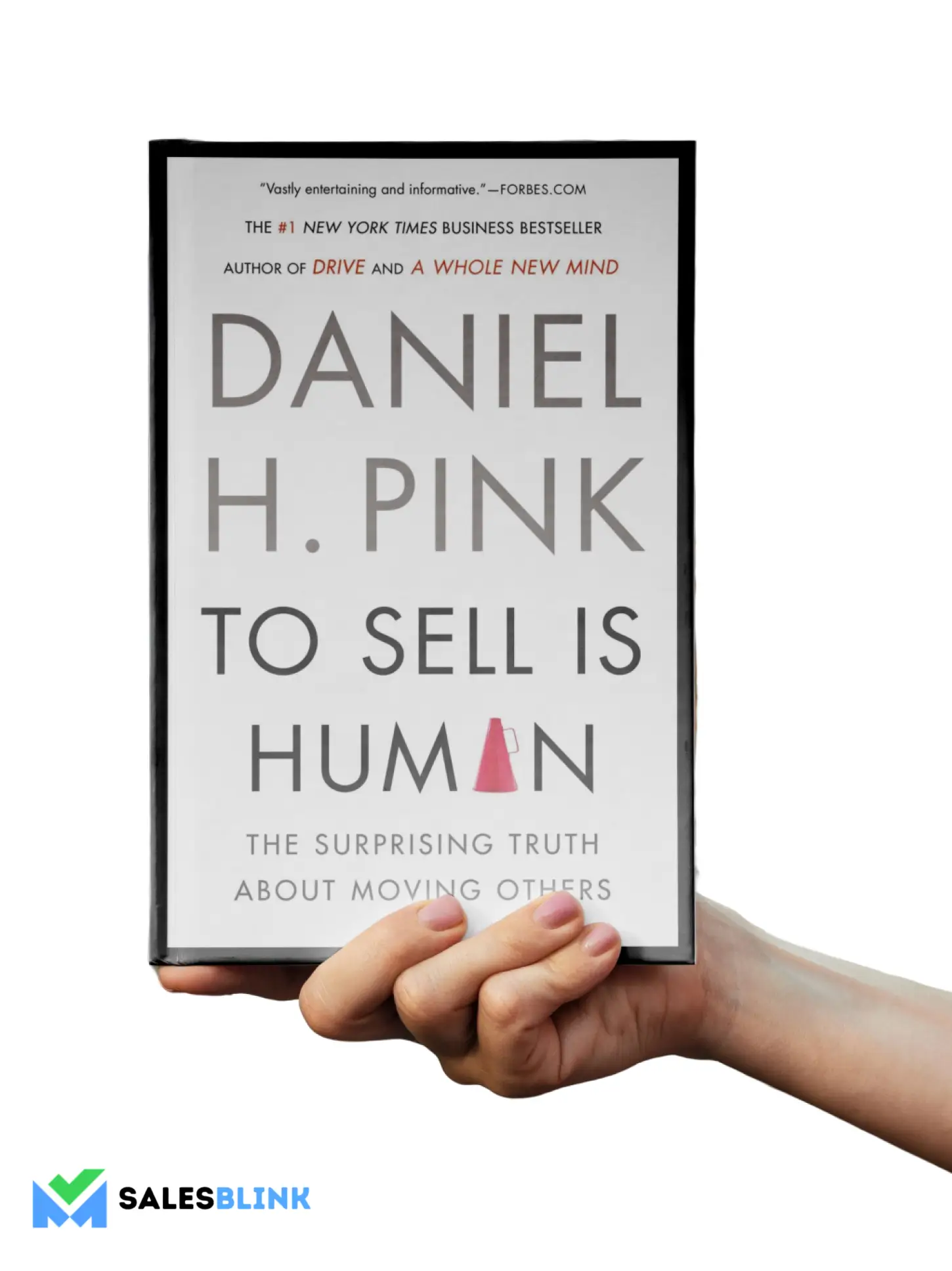 In the book "To Sell is Human: The Surprising Truth About Moving Others," Daniel Pink explores the idea that everyone is in sales. He argues that we are constantly selling ourselves and our ideas to others, whether at work or home. The book offers insights and tips on being more effective in our sales interactions.
He examines how selling has changed over time and how it is likely to continue to change in the future. Pink offers insights into the new techniques and strategies necessary for success in sales today. He argues that selling is everybody's job these days. Plus, one can do well if they know the ABCs of sales- Attunement, Buoyancy, and Clarity.
Further, he emphasizes that as a seller, you must believe in your product and sell to convince customers that it shall enhance lives. Pink often uses examples from his own life to illustrate points in this book. He is one of the first sales leaders to have a son in an early sales role and often discusses the lessons he learned from this experience. The book is filled with interesting facts and stories about how selling works.
Who is this book for? – This book is for salespeople who want to sharpen their skills.
Why should you read this? – The author provides help in understanding the other person's point of view and how to be persuasive.
Book Rating on Amazon : 4.4 out of 5
Read the full summary of this book – To Sell Is Human.
6. The Greatest Salesman In The World
Og Mandino's book is a story of a man named Hafid. The lad grew up in a small village in Turkey but later moved to the United States and made a living by selling paper products door-to-door. Hafid goes on a journey and learns a lot about himself and sales. The story follows Hafid's journey to becoming the greatest salesman in the world. Along the way, he learns many lessons that help him grow as a person and as a salesman. The book is filled with wisdom and teachings that can help anyone achieve success in their life.
The teachings are described in a format of 10 scrolls which are principles that will help any salesman succeed. The scrolls teach that happiness and success come through service to others, self-discipline, positive thinking, and daily personal growth. The book has inspirational quotes and messages that can help anyone achieve their sales goals. This book is a guide to achieving success in life and is an excellent read for anyone who wants to learn more about sales or learn more about themselves. Written in a story format, it is easy to read and follow.
Who is this book for? – This book is for anyone wanting to build their lives and excel at sales.
Why should you read this? – The author shares the secret of success in this book that can help you reach new heights in life.
Book Rating on Amazon : 4.7 out of 5
Read the full summary of this book – The Greatest Salesman in the World.
7.  Fanatical Prospecting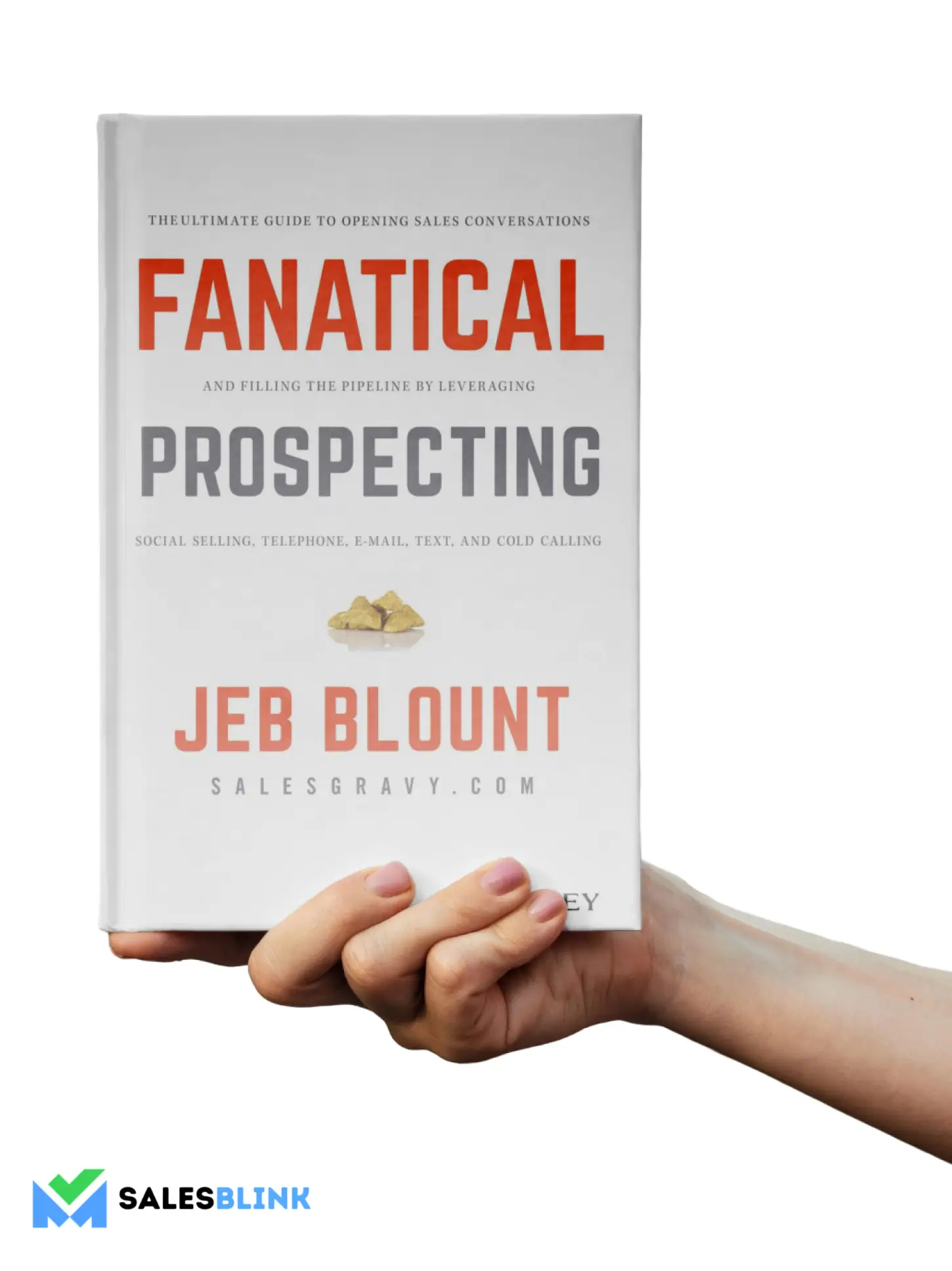 In Fanatical Prospecting, author Jeb Blount helps readers master the art of prospecting. He says that the best way to achieve success in sales is to be relentless in your efforts to secure new customers and clients. He argues that while many think good closers are key to increased sales, the truth is that you must be a great prospector who can find prospects. Thus, for prospecting, he emphasizes three laws:
1. Prospects are everywhere.
2. A no takes you closer to Yes.
3. There is no stopping till you get what you want.
Blount offers a variety of techniques for getting in touch with potential buyers, developing relationships with them, and closing deals.
According to Blount, the key to success is relentless prospecting. He also says that one must connect with as many potential customers as possible and never give up. He also provides helpful tips for overcoming rejection and staying motivated.
In addition to Fanatical Prospecting, Blount has written eight other books. It is a must-read for all sales individuals, leaders, and entrepreneurs.
Who is this book for? – This book is for salespeople who want to learn the approach used by the top performers in sales.
Why should you read this? – The book helps increase productivity in sales and helps you win as a sales person.
Book Rating on Amazon : 4.7 out of 5
Read the full summary of this book – Fanatical Prospecting.
8. New Sales. Simplified.
To be successful in sales, you need to efficiently and effectively communicate with potential clients. This involves understanding their needs and articulating how your product or service can meet those needs. Mike Weinberg provides a step-by-step guide for doing just that in his book. Weinberg's approach is based on the idea that sales are all about creating relationships and that effective communication is key to establishing those relationships. The idea is that it's essential to meet new people and build relationships to be successful.
New Sales. Simplified is one of the best books on sales that discuss proven formulas that can help you learn at different stages of the sales process. The author also offers valuable tips on how one can overcome sales objections. Weinberg breaks down the selling process and provides helpful tips and advice for each stage. His logic is that sales are a process, not a one-time event. He lays out a step-by-step plan that anyone can follow in his book, regardless of experience or industry. The author also explores a few essential questions that every salesperson should ask themselves. Further, he says that the salesperson should also be willing to ask for help, even from their own sales manager.
Who is this book for? – This book is perfect for sales directors as it talks about new business development.
Why should you read this? – The author discusses the mistakes committed by salespeople and how to overcome them which is quite helpful.
Book Rating on Amazon : 4.7 out of 5
Read the full summary of this book – New Sales Simplified.
9. The Challenger Sale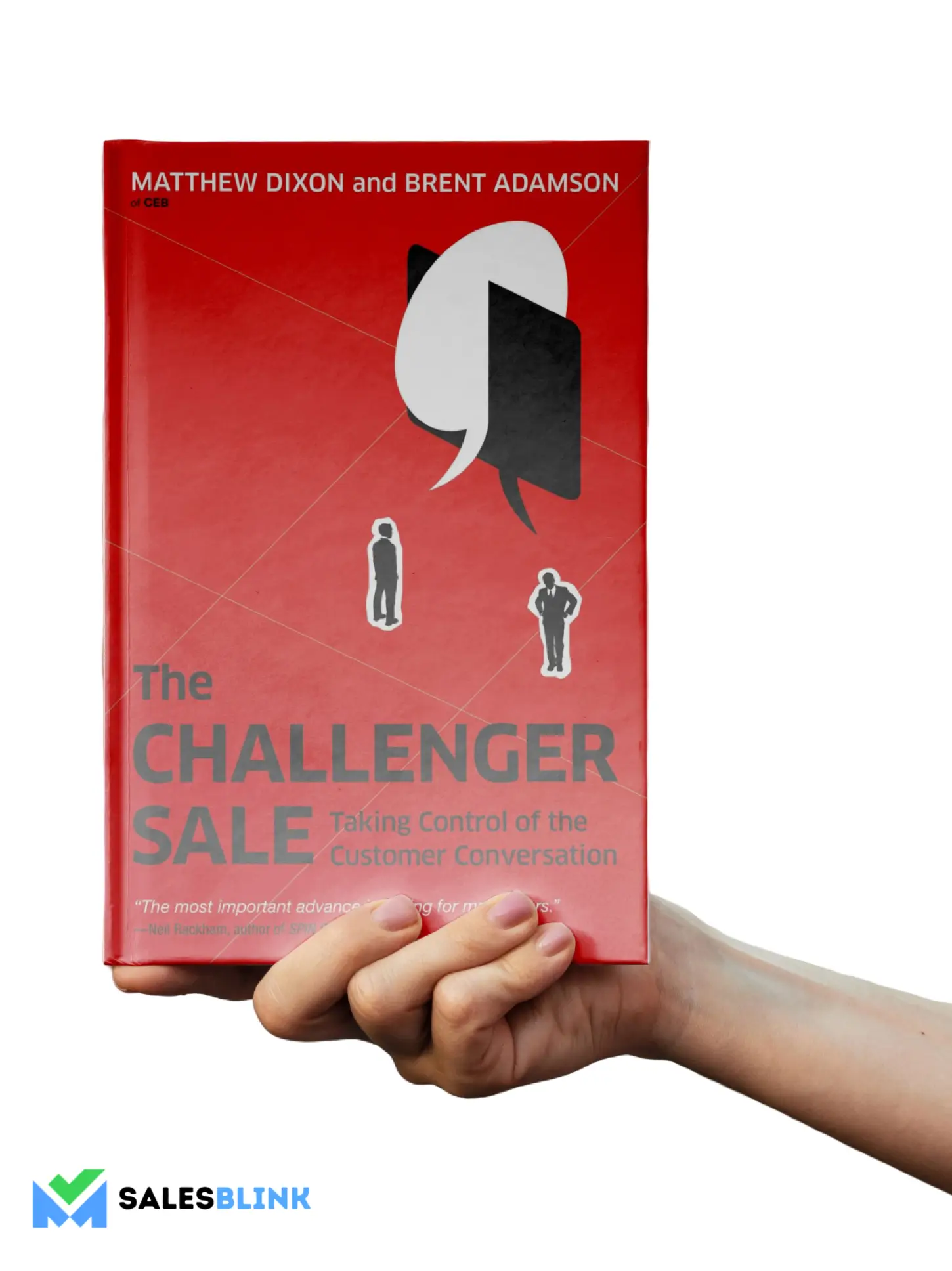 Sales individuals use the "Challenger Sale" technique to distinguish and outshine their competition. This enables them to close more deals. Mike Weinberg breaks down the process of implementing the Challenger model. He also provides readers with the tools they need to execute a challenger sale successfully.
In his book, Mike Weinberg outlines the seven principles of the challenger sale. These principles help salespeople shift their focus from simply meeting quotas to creating long-term customers. Weinberg's philosophy is that salespeople must understand customers' needs and meet them to make sales. There is also a belief that sales professionals should not take no for an answer but instead ask questions and probe for opportunities to sell their products or services. The Challenger Sale is one of the best sales books of all time for anyone in sales or thinking of getting into sales.
Who is this book for? – This book is for every sales professional looking for a path-breaking sales approach.
Why should you read this? – Reading this book will help you understand the The Challenger Sale model to take your sales to another level.
Book Rating on Amazon : 4.5 out of 5
Read the full summary of this book – The Challenger Sale.
10. How I Raised Myself From Failure To Success In Selling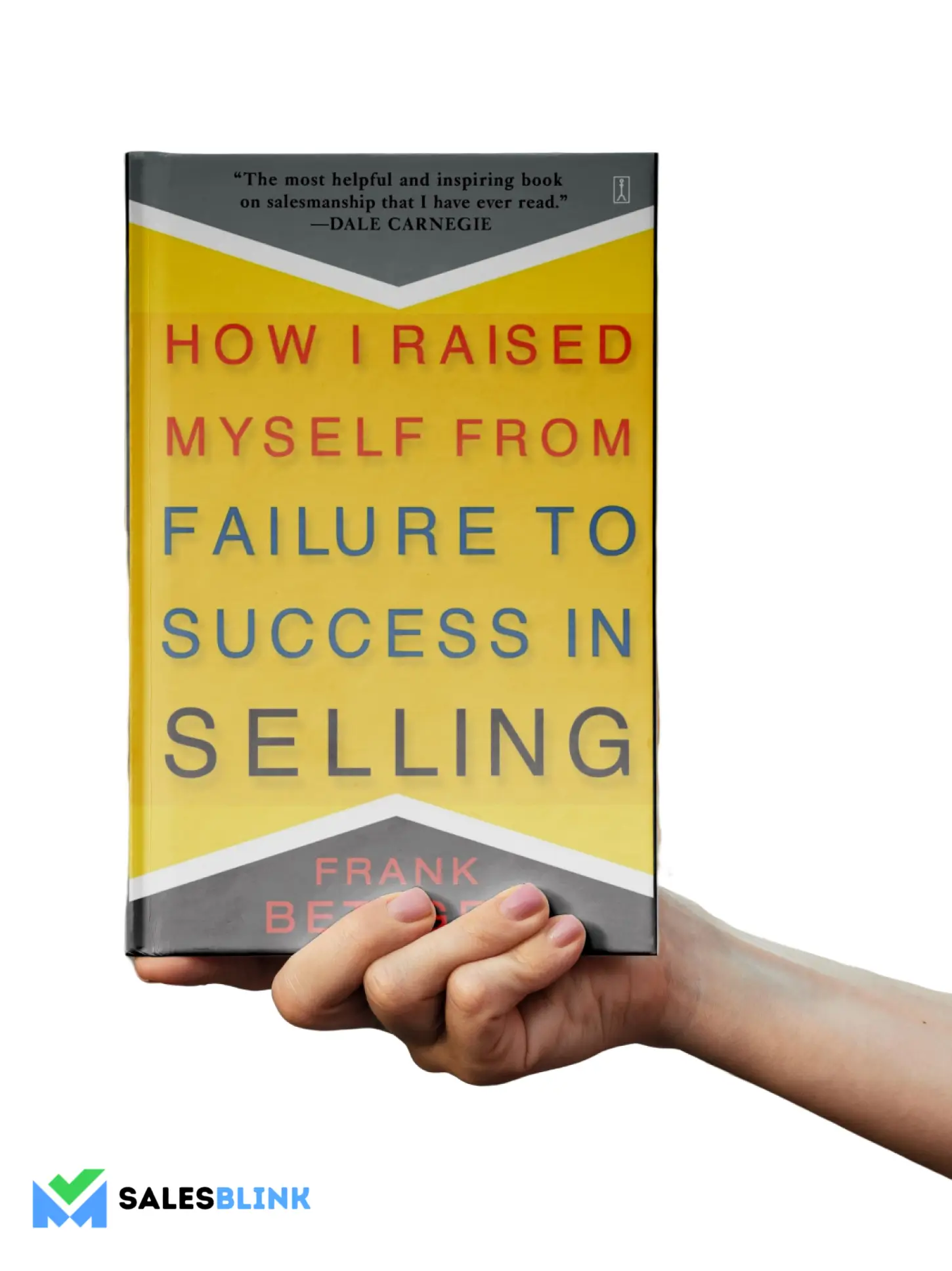 No one is a winner by birth. Failures are a part of life, how we deal with them determines our future. In his book, Frank Bettger tells how he overcame numerous failures to become one of the most successful salespeople in the US. Though Bettger's story is about selling, you can apply the principles learned to any area of life.
Bettger's story is inspiring because he achieved success not through natural talent or luck but hard work, determination, and resilience. He refused to give up, even in seemingly impossible situations. Bettger was a salesperson for over 25 years, and during that time, he failed miserably many times. He even lost his job as a salesperson. However, he refused to give up. Bettger's formula for success is simple: work hard, never give up, and learn from your mistakes.
He shares the five steps he took to turn his life around and achieve lasting success. Bettger's number one rule of success in his book was to "always keep trying." Bettger also realized during his journey that he could learn a lot from his failures. He had to develop a personal philosophy centered on winning, becoming emotionally resilient, and learning how to rebound from setbacks.
Who is this book for? – This book is a must-read for sales professionals.
Why should you read this? – The book works as a guide on how to build lasting bonds with customers.
Book Rating on Amazon : 4.7 out of 5
Read the full summary of this book – How I raised myself from failure to success in selling.
11. The Ultimate Sales Machine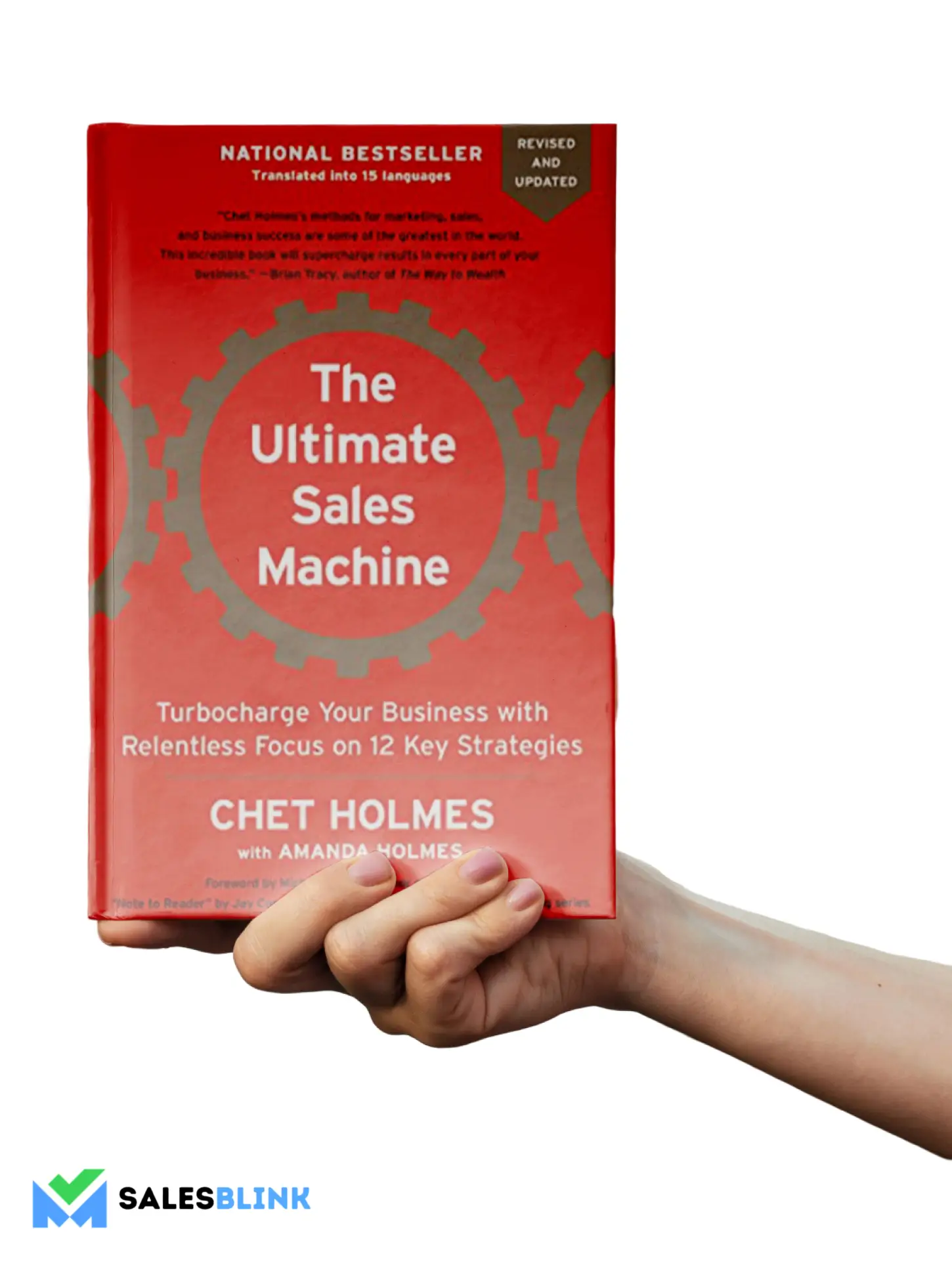 Chet Holmes presents a system for becoming a top salesperson in his book for sales, "The Ultimate Sales Machine." Holmes believes that there are four essential elements to becoming a successful salesperson: Prospecting, Presenting, Closing, and Service. To be successful, you must excel in all four areas. He also mentions a 6-step planner that can help one manage time. It helps you complete a lot of work. Each step is accompanied by helpful tips and examples that will teach you how to sell your products or services effectively.
Holmes discusses the importance of setting clear goals and developing effective sales strategies. He then offers advice on building strong relationships with clients and closing more sales deals. Holmes offers tips on how to create a system that will produce results. He also provides advice on motivating employees and keeping them focused on the company's goals. The book is loaded with tips and techniques for improving your sales skills and is suitable for any team leader.
Who is this book for? – Sales heads of companies or first-time entrepreneurs can fond this book quite useful.
Why should you read this? – The book provides strategies that focus on smart work instead of hard work. They can help you streamline your business.
Book Rating on Amazon : 4.6 out of 5
Read the full summary of this book – The Ultimate Sales Machine.
12. Predictable Revenue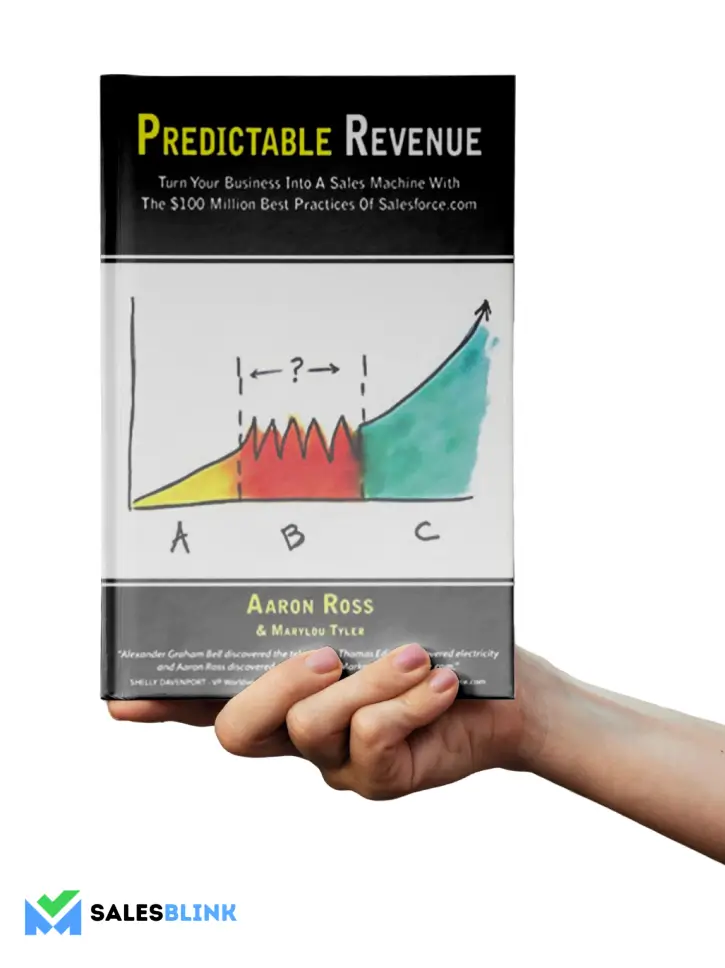 Aaron Ross' book for sales, Predictable Revenue, is about creating a sales process that will predictably generate new customers.
Ross has 20+ years of experience in sales and has used his knowledge to develop this book.
In this book, Ross argues that most companies depend on luck and intuition instead of setting up a repeatable process. He outlines a step-by-step process for creating and implementing a sales funnel to produce consistent results.
Predictable Revenue is one of the best sales books which is about creating and implementing a predictable sales process for your business.
The book has two parts.
Part 1 describes the sales process and the framework that Ross uses to create the process. Part 2 describes how to use this framework to create a sales funnel for your business.
You have plenty of case studies and examples of how the predictability process works. If you are looking to improve your company's sales process, this book is a must-read. It is highly recommended for the head honchos like CEOs, Sales VPs, and entrepreneurs who aim to develop a strategic sales process.
Who is this book for? – The book is a bible for salespeople and is relevant across all industries.
Why should you read this? – The book works as a guide for outbound prospecting. It provides insights into lead generation.
Book Rating on Amazon : 4.4 out of 5
Read the full summary of this book – Predictable Revenue.
Expand Your Knowledge Horizon With The Best Sales Books For Sales Professionals!
As you have seen, a sales book can be an extremely beneficial tool for sales professionals. By reading and applying the techniques and advice found in a sales book, you can increase your sales skills and knowledge, leading to more closed sales and higher commissions. If you look to improve your sales skills, we highly recommend picking up a copy of anyone on our list of the best sales books.
Feel free to share your thoughts on books for sales professionals with us here. We would love to hear from you.
FAQs
1. Which is the best sales book of all time?
All sales books have something to offer to their readers, and the ones you can find in our list are best-sellers. It is difficult to pick one book from the list and label it as the 'best sales book'.
2. Which book is the best for prospecting?
Fanatical Prospecting by Jeb Blount is one of the best books for upskilling your prospecting skills. The author provides several techniques to ace the game of relentless prospecting and is a must-read for salespeople.
3. Which is the best book for upgrading negotiating skills?
Never Split The Difference by Chris Voss, a former FBI hostage negotiator, is the best book to help you with negotiating. The author emphasizes the need to understand the wants and needs of the other person.