Email Signature: Why Is It Important In Cold Emailing?
Do you know there are more 90% of U.S. internet users use email? That means email is effective for communication in the business world. Salespeople prefer this channel when they want to reach out to prospects.
You can use several tactics to make this channel work even better, such as writing eye-catching cold email subject lines, a gripping email copy, and a right-on-point CTA or call-to-action. However, this is not enough. There is another element that you have to add: an email signature. It is a way of establishing your company's identity because, unlike in the real world, you cannot give your business card to the prospect you are sending cold emails to. That's why you have email signatures.
In this blog, we'll see the meaning of email signature, the importance, tips, mistakes to avoid and tools to design them.
What Is An Email Signature?
An email signature is a block of text placed at the end of the emails you send. It usually consists of the sender's name, email address, contact number, URL of its website, and more.
While creating your sales email signature from the online templates is easy, that won't be enough for your cold emails. A signature in sales emails draws the attention of prospects and makes you seem trustworthy so that they feel like sending you a positive response. Learn how to improve sales emails.
How To Create A Sales Email Signature?
Getting your sales email signature right is a must. Usually, people end up adding too little into it or way too much.
Overloaded email signatures distract the prospect, and they wouldn't take the action you want them to take. On the other hand, if you add very little information, the prospects won't connect with you.
Ideally, your business email signature has to help prospects identify you quickly.
Therefore, here's how to create an email signature,
1. Basic Details
While building your sales email signature, ask yourself – Who am I?
To answer the question, you have to add factual details about yourself, such as your name, job title, and links to social media profiles. It helps the recipient know about you, your company, its location, and much more.
Along with these basic details, you can add a few more details like your image so that the recipient knows that the email is from a human. The truth is that a person remembers images for a more extended period. Adding your image to the email signature will make it easier to remember.
As you want the prospect to get back to you, adding your phone number to your sales email signature is ideal. While adding your contact number is essential, you must avoid adding your email address, as the recipient can reach out to you by simply hitting the reply button. The email address in the signature looks somewhat redundant and unnecessary.
Your email signature must have your physical address so that you comply with the guidelines of the CAN-SPAM Act.
2. Social link, tagline, and accomplishments
Ask yourself – What makes me matter?
At this point, you have to outshine the other business email signatures made from templates. You must show what you have that sets you apart from the rest. It can be a link to your best social media account where you showcase your true self. In a way, it would help the prospects know you well and trust you better.
Next, you can attach your company's tagline or a quote that matches your business and industry. It can be funny or quirky.
Then it is the turn of your accomplishments. It can be a book you published, the top brands you worked with, or your article featured in a prestigious magazine. It adds to your credibility and puts you above the rest. After all, how would others know when you don't tell them about your achievements?
3. CTA – Call-to-action
Ask yourself – What do I want the recipient to do?
You can easily squeeze a CTA into your email signature. A CTA is a part of every well-created email signature. A CTA is essential because it helps prospects know what they have to do next. Including a CTA in your signature will ensure that prospects know what action they have to take.
It can be anything you want the recipient to do, including promoting your content. It can be the link to your sales page, a calendar link to help the prospect schedule a meeting, or even a link to your latest blog post. We advise that you hide your connections using a link tracking tool. So that you can monitor how many clicks your email signature has generated.
Bonus –
While the above are the main elements an email signature should have, animation is another creative way to grab the prospect's attention. You can make use of picture or logo GIFs, animated handwritten signatures, animated banner generator, and buttons. However, ensure that you don't overdo it, or else it will distract the prospect from the main point of the email.
Sales Email Signature Examples
Here is a list of sales cold email signatures that will strike a chord with prospects. Let's look at each of them. 
1. A simple email signature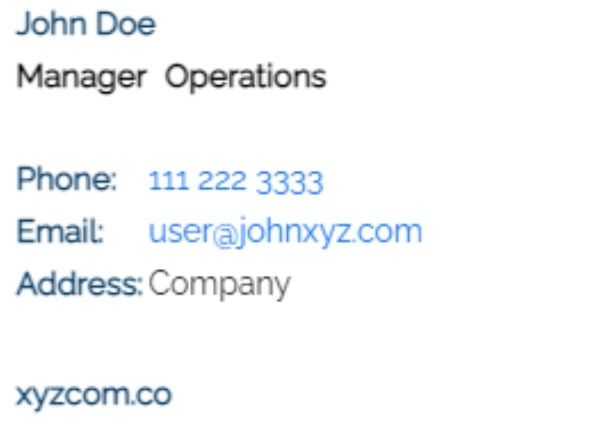 The above is a basic-looking signature with the sender's name and designation that gives the prospect an idea of who has sent them the email. Underneath the designation, there is a URL to the company's website and the physical address, which is mandatory as per GDPR, and CAN-SPAM Act. In the above example, there's is only the essential information. It looks clean, uncluttered, and pleasing to the eye. It contains the information that a prospect would need without any additional frills.
2. Email signature with logo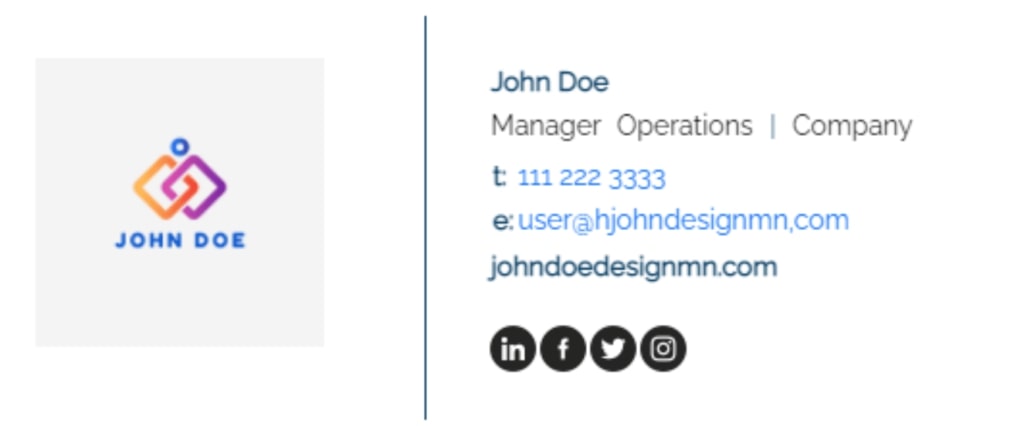 In the above example, the signature catches the attention of the recipient with the company's logo. Keeping branding in mind, the color of the text and social buttons matches the logo's colors.
Apart from the basic details and the physical address, this signature has the sender's phone numbers and links to social media profiles.
3. Email signature with a photo

In the above example, the signature looks more personalized and impactful due to the sender's image. The recipient will quickly find out about the sender and remember the email signature for a longer time, thanks to the visual element. It will help the recipient recall the sender almost instantly upon receiving an email again from the same person. Adding an image helps in personalizing.
4. Email signature with a CTA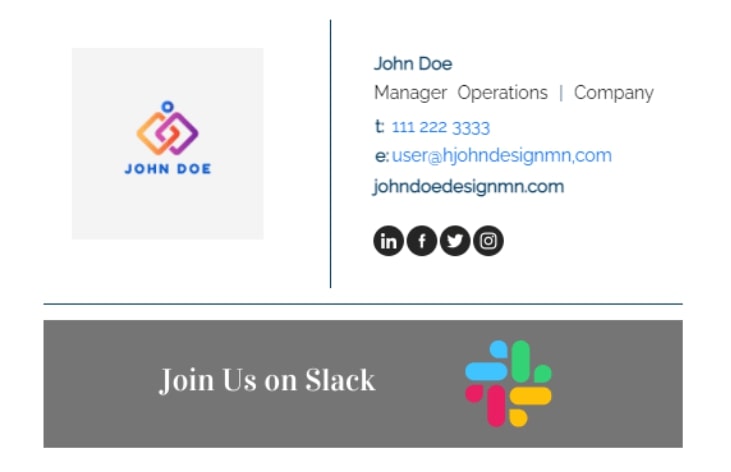 There is a logo of the sender, the basic details, and social links in the above example. Notice that the signature has a CTA in it. The recipient can join the Slack community by simply clicking upon the CTA. This will help save a lot of time and will generate more responses than usual.
Importance Of Email Signature In Cold Emails
Businesses these days understand that an email signature is essential.
Looking at the stats show that 73% of the younger generation prefer email communication with businesses. 59% state that marketing emails affect their buying decisions to a great extent.
The above indicates that email is an excellent way of reaching out to prospects and closing deals. So, you have to make your presence felt when you send an email. And what can be better than placing your e-business card, i.e., your email signature, at the bottom of every email you send. You can use a signature as a tool to attract prospects and build long-lasting relationships with them.
Here's why we are stressing on the importance of signature in email,
1. Shows professionalism
A proper email signature is just like a business card. It is just that it is in an electronic format rather than a physical one. Having an email signature helps prospects know that you are reaching out to them on behalf of your company. It shows your professionalism. For getting a professionally polished look, your signature must have all that we already mentioned above, i.e. your designation in your company, your company's name, contact information, a legal disclaimer, and much more.
2. Increases the awareness of your brand
When your cold emails have these, there is an increase in the awareness of a company's brand. The use of the company's name, logo, corporate fonts, and colors helps the brand become more recognizable among prospects.
3. Personalizes your email
While your emails may look professional with a formal email signature, you can still add personalization elements to them. Adding social links is a great way to invite prospects to connect with you. Another element of a personal touch would be the link to the blog post you wrote recently that the prospect would find helpful.
4. Provides access to your contact details
With the help of your email signature, the prospects can view your contact information. It may be the phone number or alternate email address so that it is possible to reach out to you. There are links to social accounts, including those of LinkedIn, which help you build a rapport with the prospects. Therefore, you must not miss out on adding your additional contact numbers and social media links. A proper email signature will help prospects get in touch with you easily.
5. Gives social proof
You can use the signatures as a canvas to display the customer testimonial. Social proof works well in making your company look trustworthy, and that is why adding it to your signature is an excellent way to draw the prospect's attention. You can use your signature as a place to mention social stats, such as the number of followers on one of your social media channels.
6. Promotes your product or service
If you wish to promote your product or service, you can do so with the help of your email signature. There can be a promotional link that prospects can click open if they want to know more about the product or service you are offering. It will help in closing more deals successfully. In the signature, you can promote your products, services, deals, offers, events, sales webinars, blog posts, videos, and much more.
7. Brings traffic to your website
When you add the URL of the company's website to your email signature, some recipients are likely to click it. This way, you can draw more traffic to your website, which may end in a sale. Apart from the company's homepage, you can add links to the landing page, contact page, about us page, or the company's blog. While adding links, you must ensure that they are relevant to the recipient. Avoid adding links just for the sake of it.
8. Increases social media followers
Businesses are relying on social media for promotion. Social media has a huge role to play in helping a brand grow. Adding social media links to your email signature makes it easy for prospects to connect with you directly on social media platforms. It is a great way to get more followers and grow your social media account. Upon visiting your social media accounts, prospects will learn more about you and your business and probably get interested in you.
9. Boosts response rates
Email signatures can lead to a significant increase in response rates as it helps prospects trust you better. This is because the signature informs prospects who you are, what your designation is, and how they can get in touch with you. It increases credibility, which in turn fetches you a better response.
10. Doesn't cost you anything
You can use email signatures as a part of your marketing and sales strategies without costing you anything. The most significant advantage is that several free email signature generators help create professional signatures without spending money on hiring designers.
Tips To Create An Email Signature
Here are some quick tips that will be helpful to you while creating the best sales email signature,
1. Don't go beyond 4 lines
Avoid making it look too cluttered. Anything beyond 4 lines will make your sales email signature look unprofessional. The prospects will feel that you are pushing your brand towards them and will lose interest in you. While it is okay to promote your product in the signature, you should do so in a subtle manner.
2. Add your image
If you want your email to leave a lasting impression on the recipient's minds, make sure to add your professional-looking image. When the recipient sees your image, they will be glad to connect with a human and not a bot. This may give them the nudge to respond to your email. As already mentioned earlier, an image would help the prospect remember your email better.
3. Add your company's logo
It is good to add your company's logo to your email signature to build a brand identity. When all your business emails have the logo of the company, it will fetch you better results.
4. Be clear and use short words
Instead of saying Chief executive officer, you can stick to the abbreviation CEO in the sales email signature. This will save space and convey the meaning properly to the prospect. Avoid using long sentences. At the same time, try not to use misleading titles that confuse the prospect.
5. Add links to valuable content
Add a link to your website or social media profile only when there is something valuable for the prospect to see. There is no point in adding unnecessary links that are not relevant to prospects.
6. Use simple colors and be consistent
For branding to be effective, maintaining consistency is essential. You can add colors to them to help them stand out from the rest of the email, but the color mustn't overpower the text. Choose 1-2 colors and be consistent throughout.
7. Track links
By tracking your links, it is possible to find out whether someone is opening them or not. Having trackable links in your sales email signature like most other links in your email body will help determine their impact. You can make a few tweaks here and there periodically in the signature format to get the maximum number of clicks.
8. Prefix phone numbers with country codes
When you add phone numbers to the signature, you must not forget to add the country code. This is most often ignored but is of immense value when you have international clients. Your thoughtfulness can prevent you from losing customers.
What To Avoid In Email Signatures?
You now know what has to be a part of your email signature and what its importance is. It is time to know about what you should not do while creating a signature. Here's a list of all of them,
1. Adding too many images
When you use too many images in your email signature, it can trigger spam filters, and your email will not hit recipients' inboxes. This will bring your email deliverability down. Additionally, your entire email signature should not be an image as it may not load properly sometimes, and even if the prospect can view it, it may be challenging to copy details from it.
2. Adding extra links
Too many links can be a distraction for the recipient. It can make them lose their focus and unable to grasp the purpose of the message. That is why you have to limit the number of links in the email signature to 2-3.
3. Not making it mobile-friendly
Most users open their emails on mobile devices, and therefore it is essential to optimize your email signature for such devices. Your signature should not look cut-off or disproportionate when the reader opens the email on a mobile device like a smartphone or a tab. The reader should not face any difficulty in viewing your signature.
4. Details you don't want prospects to use –
If you don't answer phone calls on your mobile phone, it is better to avoid adding that number in the email signature. Not mentioning your number is much better than giving your number and not attending it.
Tools To A Design Email Signature 
After knowing the do's and don'ts of creating an email signature, it is time to know about designing it. Several tools can help you design a sales email signature that looks professional enough. Here is a list of some of the free email signature generators,
1. Gimmio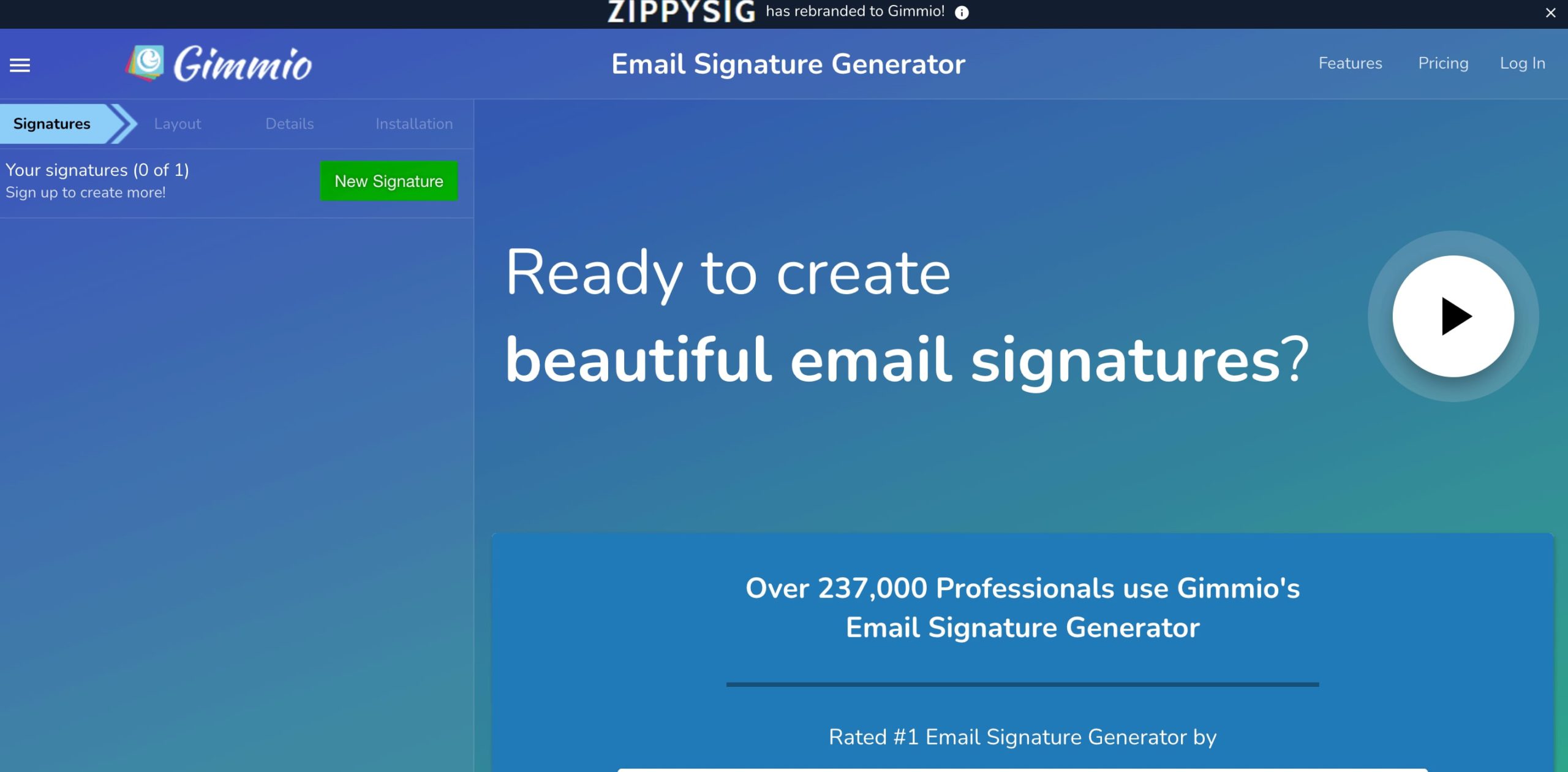 The Gimmio signature generator has more than 45 free email signature templates to offer for you to create your signature. Add images of your choice, choose fonts, pick social icons and banners. Using it, you can create a top-quality HTML email signature instantly. Plus, the signature is compatible with most email clients that make this tool a sought-after signature generator. Overall, creating your email signature is relatively easy with this HTML signature generator.
2. HubSpot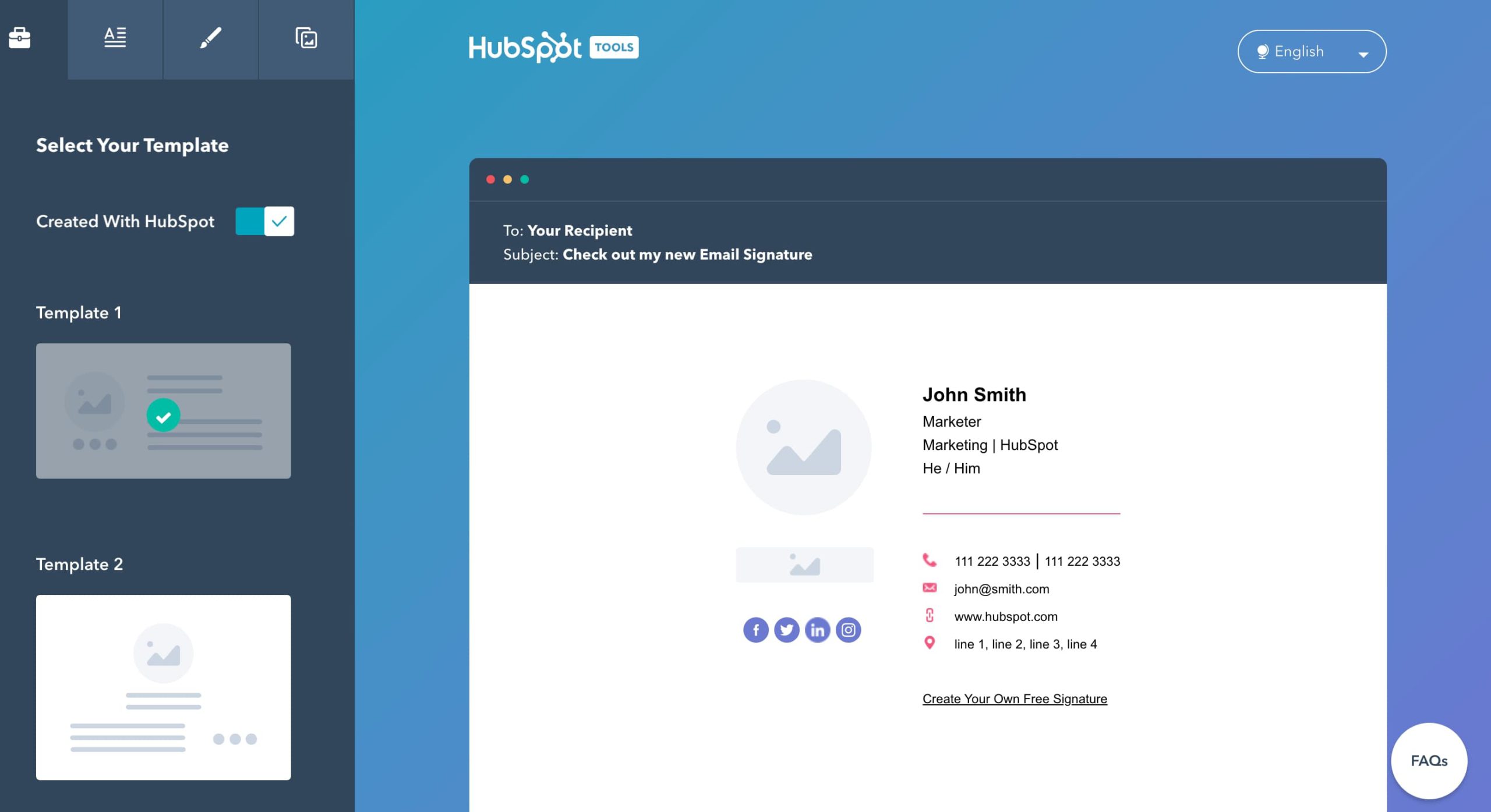 HubSpot offers a professional email signature generator free of cost using which you can create high-quality business signatures. The interface of the HubSpot email signature creator is relatively user-friendly. The process is simple, and you needn't worry about the layout as the templates look appealing. The best part is that the HubSpot email signature tool is compatible with most other email clients.
3. Design Hill
Design Hill is an easy-to-use and free email signature generating tool. You have to select a template, add the details, upload a photo or logo and customize the color. Your email signature will be ready with a clean design. The tool lets you add CTAs as well. Additionally, the Design Hill signature is compatible with the major email clients.
Get Ready To Create Your Email Signature!
As you have already seen, your sales email signature is an e-business card, a powerful marketing tool that fetches impressive results. Right from generating traffic and creating brand awareness to promoting your product, your signature, when designed carefully, can provide you with a lot of benefits.
And all of this comes without any investment from your side. Thanks to so many free sales email signature generators available online, you can create your customized business signature in a few minutes. Add all the elements to your outreach email signature so that you can reap the maximum benefits. 
FAQs
1. What is an email signature?
An email signature is a block of text placed at the end of the emails you send. It usually consists of the sender's name, email address, contact number, URL of its website, and more.
2. Why are email signatures important?
Right from generating traffic and creating brand awareness to promoting your product, your signature, when designed carefully, can provide you with a lot of benefits.
3. Why adding images in email signature is important?
If you want your email to leave a lasting impression on the recipient's minds, add your professional-looking image. When the recipient sees your image, they will be glad to connect with a human and not a bot.